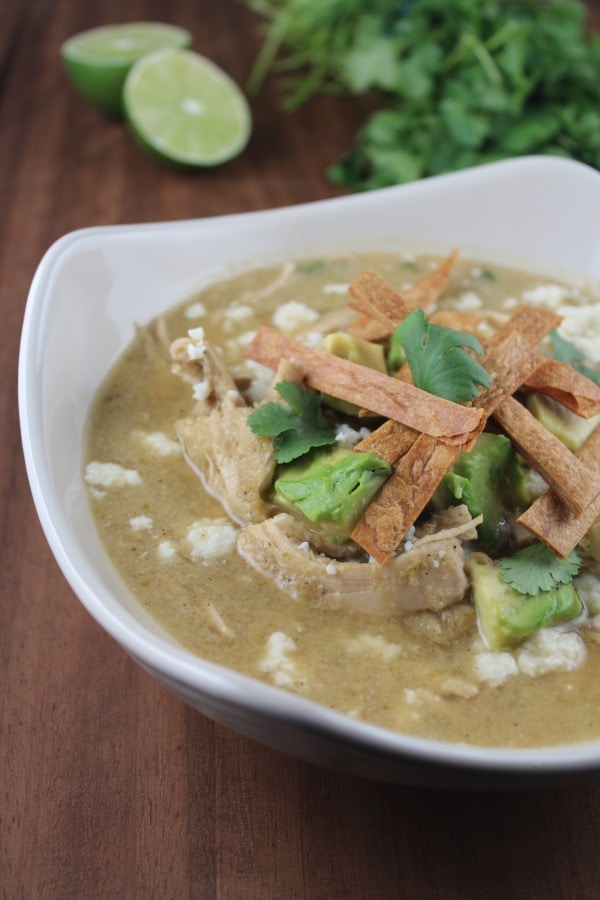 Ever since my Longaberger Flameware Dutch Oven arrived I had been dying to make something in the beautiful little pot.  I felt like soup was the perfect option for the newest addition to my Longaberger family of Flameware!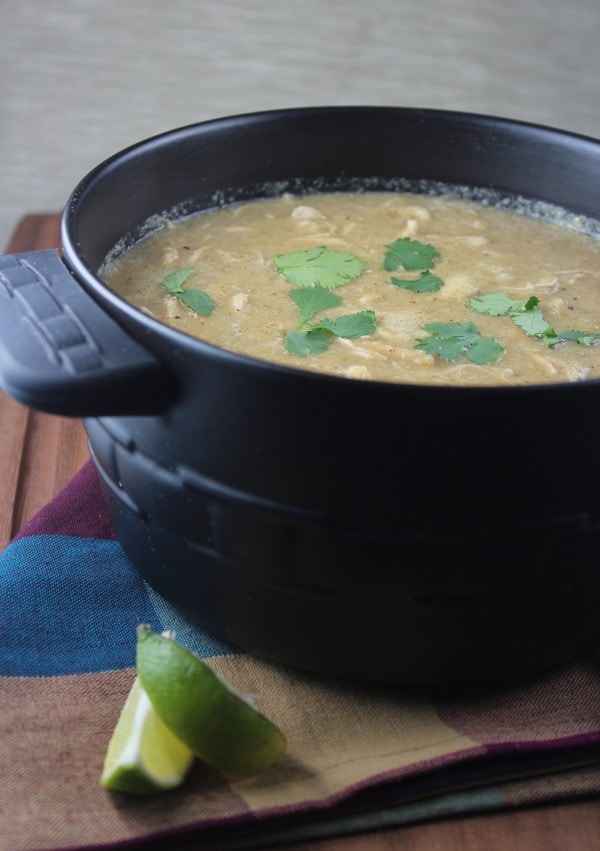 The dutch oven worked PERFECT for this dish and the soup itself could not have been tastier!
The idea for the Chicken Enchilada Soup came from a craving I'd been having for my Dad's Chicken Enchiladas.  The only thing I remember him using in the enchiladas was green chilies, which I had, the rest I kind of winged it on!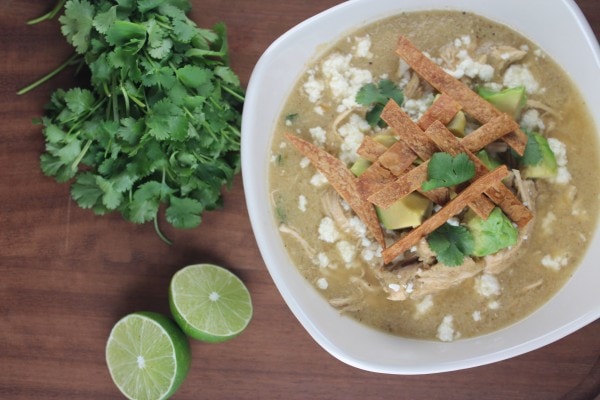 Luckily for me, winging it totally worked this time!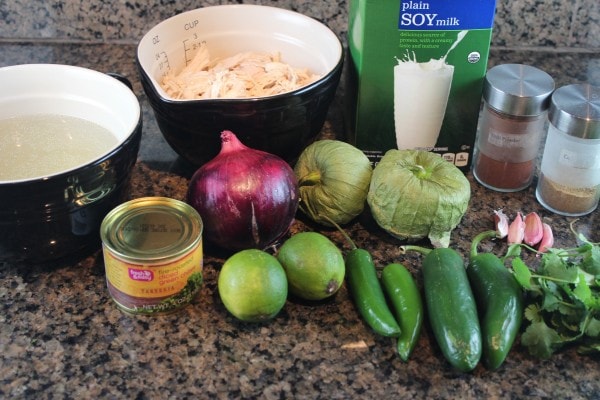 Ingredients (serves 4)
2 tomatillos (husked)
2 serrano chilies (sliced and de-seeded)
2 jalapeno peppers (sliced and de-seeded)
1 tbsp olive oil
1 red onion (diced)
3 garlic cloves (minced)
4 oz can diced green chilies
2 cups chicken broth
1 cup soy milk (or regular milk)
1 lime (juiced)
1 tsp chili powder
1 tsp cumin
1/2 tsp black pepper
1/2 tsp kosher salt
1/4 cup fresh cilantro
3 cups shredded chicken
Optional Toppings
cotija cheese
avocado
tortilla strips
lime wedges
fresh cilantro
Begin by placing the tomatillos, jalapeños and serrano peppers on a baking sheet and into the oven under the broiler on high.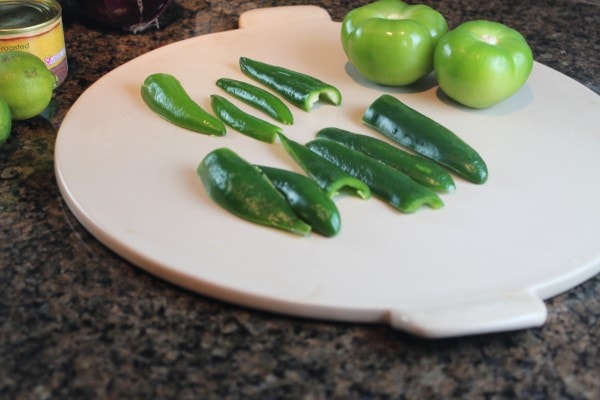 Broil for 5 minutes or until the tomatillos and peppers begin to blacken on the outside. Remove and allow to cool.
In the meantime, add the olive oil to the dutch oven over medium heat.  Next, add the onions and garlic.
Cook for 5-7 minutes, then peel the tomatillos and peppers, roughly chop them and add them to the pot.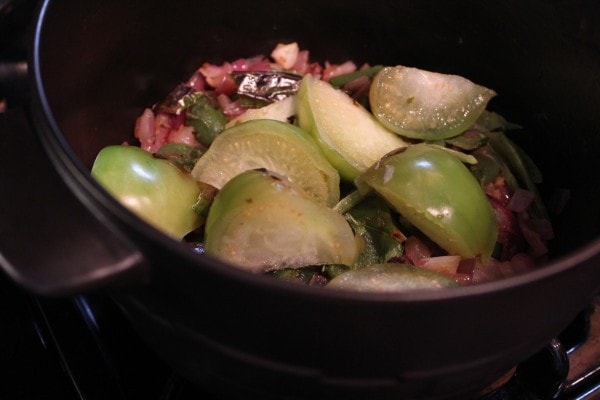 Next, add the green chilies, chicken broth, milk, lime juice, chili powder, cumin, salt, pepper and cilantro.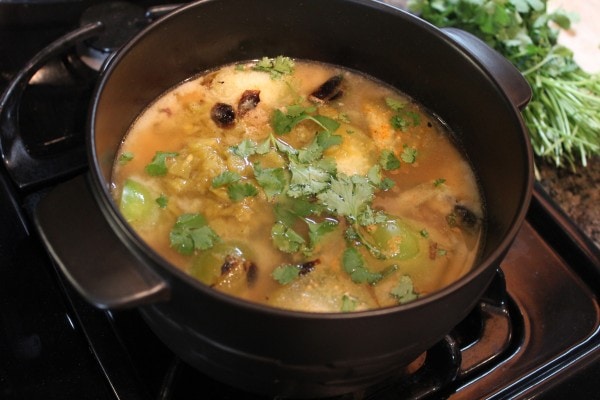 Simmer for 3-5 minutes, then use an immersion blender to puree the soup!
Mines pink (which makes it even more fun!)  Don't have an immersion blender?  That's ok.  Just pour the soup from the pot into a blender, puree, then return the soup to the pot!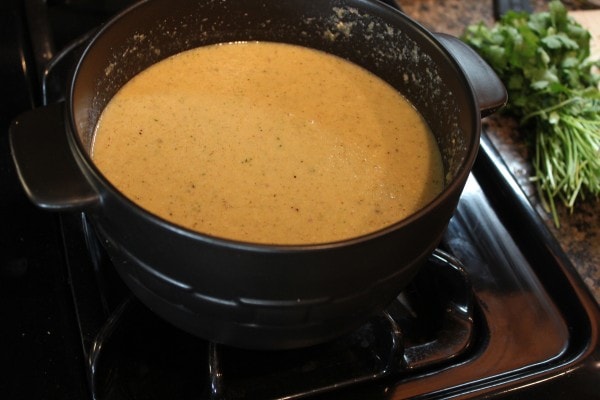 Now that the soup is beautifully pureed, it's time to add the chicken!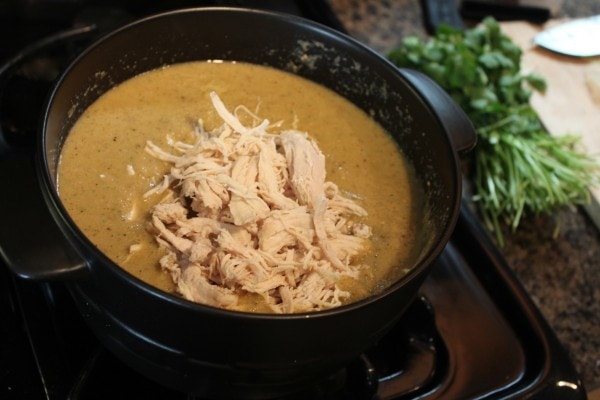 Mix together well, cover and simmer on low for 15-20 minutes.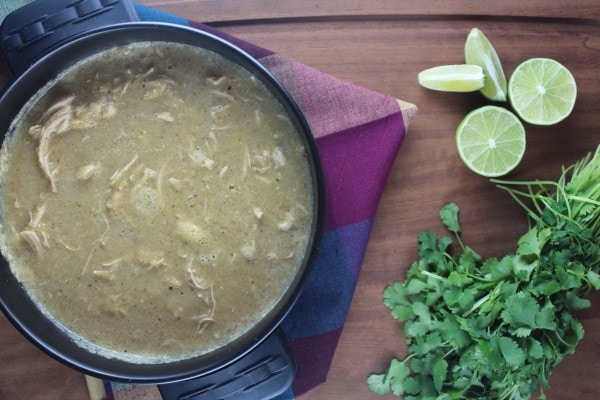 Bada-bing, bada-boom, soup deliciousness awaits you!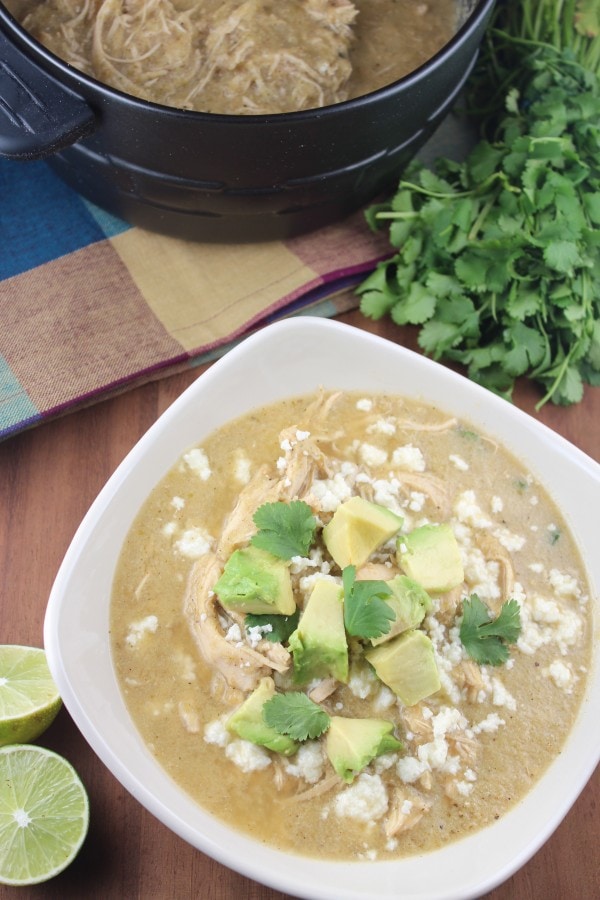 Top with the awesome-ly optional ingredients as desired!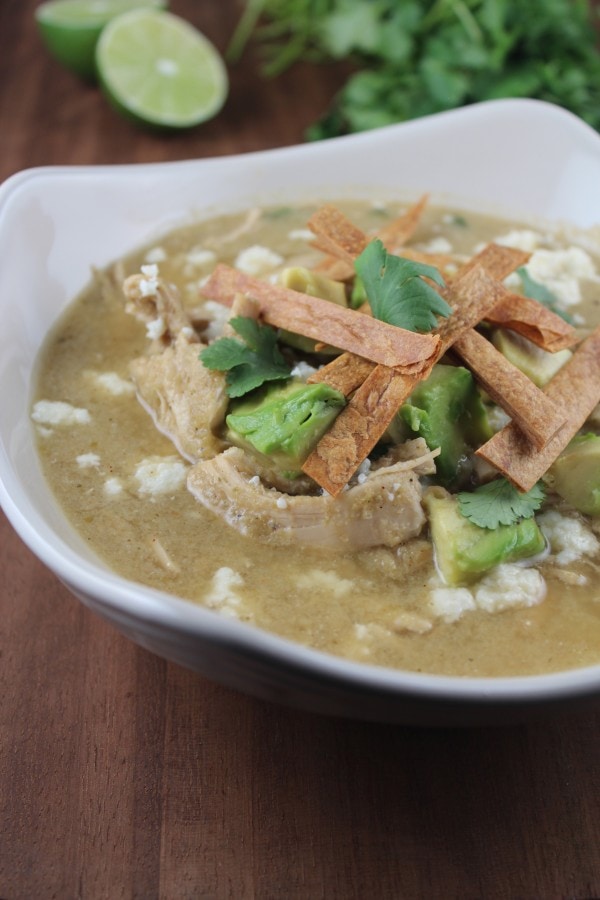 Without the cheese and tortilla strips on top, this recipe is gluten-free and paleo!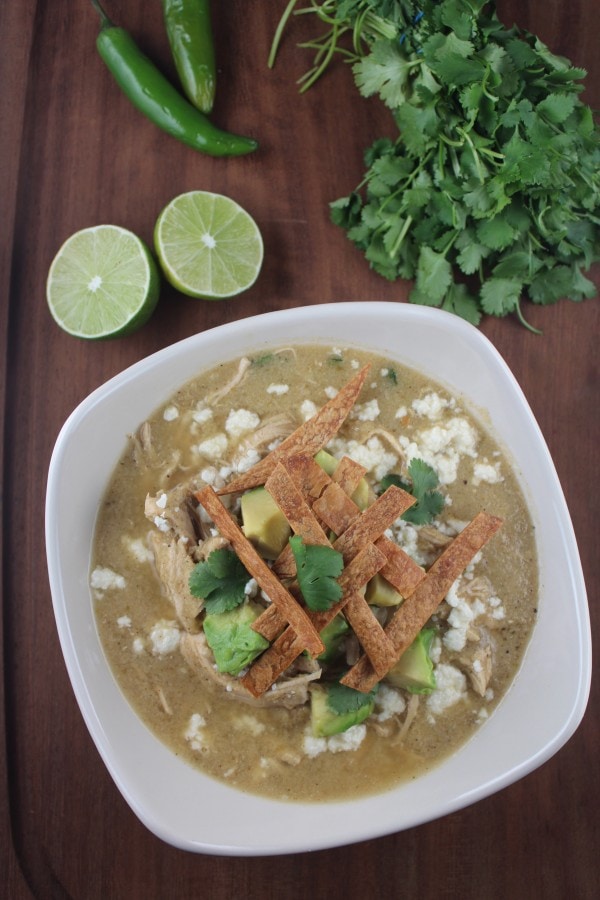 No canned sauces or cream-of-something soups needed, just delicious, fresh and healthy ingredients!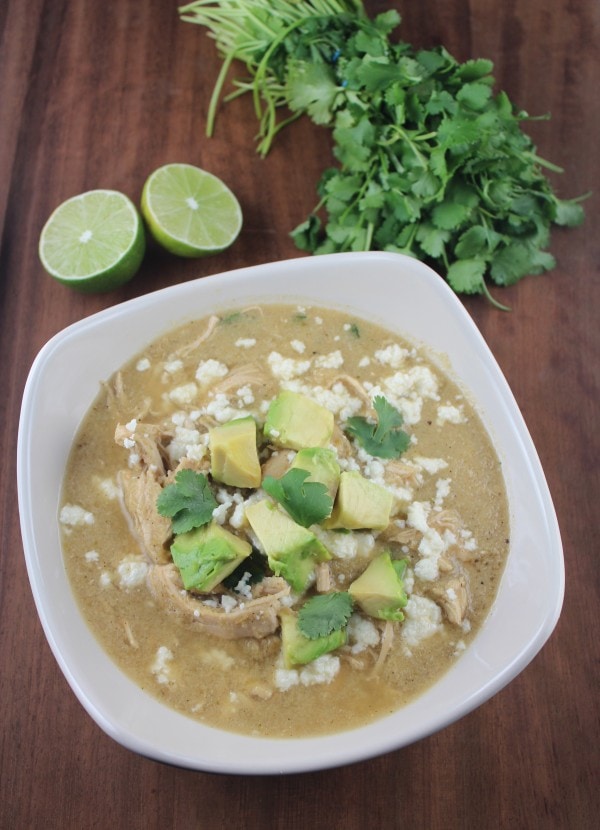 This soup can be easily prepared start-to-finish in an hour, so why not make it for dinner tonight?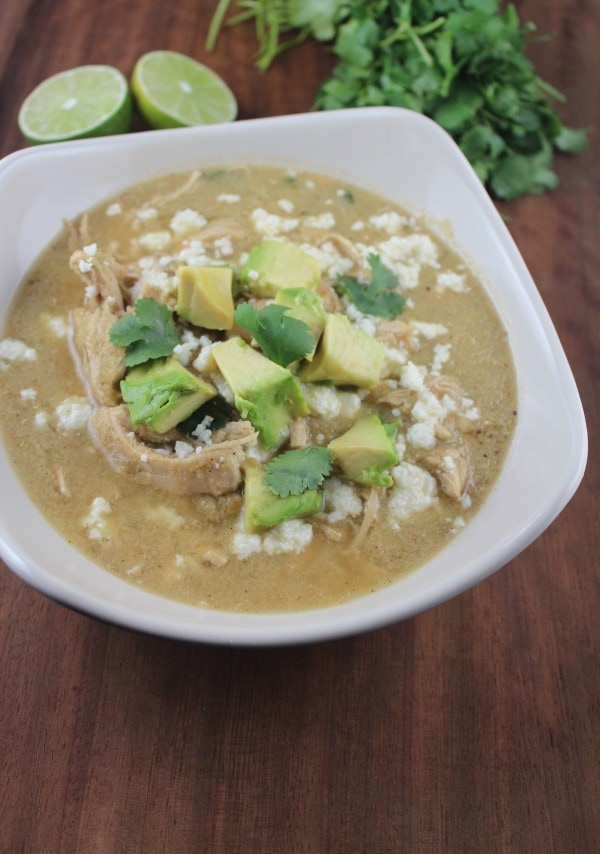 ♣ Vegetarian Option: Substitute "veggie crumbles" or tofu for the shredded chicken and replace the chicken broth with vegetable broth.
♦ Gluten Free Option: The soup is gluten-free (omit the tortilla strips on top or use corn tortilla strips).
♠ Paleo Option: Omit the salt and replace the soy milk with almond milk to make this recipe paleo. (Also, do not top with cheese or tortilla strips.)
Green Chili Chicken Enchilada Soup
Ingredients
2 tomatillos (husked)
2 serrano chilies (sliced and de-seeded)
2 jalapeno peppers (sliced and de-seeded)
1 tbsp olive oil
1 red onion (diced)
3 garlic cloves (minced)
4 oz can diced green chilies
2 cups chicken broth
1 cup soy milk (or regular milk)
1 lime (juiced)
1 tsp chili powder
1 tsp cumin
1/2 tsp black pepper
1/2 tsp kosher salt
1/4 cup fresh cilantro
3 cups shredded chicken

Optional Toppings

cotija cheese
avocado
tortilla strips
lime wedges
fresh cilantro
Instructions
Begin by placing the tomatillos, jalapeños and serrano peppers on a baking sheet and into the oven under the broiler on high.
Broil for 5 minutes or until the tomatillos and peppers begin to blacken on the outside. Remove and allow to cool.
In the meantime, add the olive oil to the dutch oven over medium heat.
Add the onions and garlic.
Cook for 5-7 minutes, then peel the tomatillos and peppers, roughly chop them and add them to the pot.
Add the green chilies, chicken broth, milk, lime juice, chili powder, cumin, salt, pepper and cilantro.
Simmer for 3-5 minutes, then use an immersion blender to puree the soup.
Add the chicken.
Mix together well, cover and simmer on low for 15-20 minutes.
Top with optional ingredients as desired
http://whitneybond.com/2013/02/21/green-chili-chicken-enchilada-soup/