This weeks Chopped Challenge sent me on a whole new adventure, one which turned out to be pretty amazing! After my old neighbor and friend, Thomas Kamakani gave me Poi, I knew an adventure was in front of me.
Not even having the slightest clue what Poi was, I set out to the great land of "google" to learn what this Hawaiian favorite was all about… and where I could possibly find it in San Diego!  Turns out, there was a japanese market, that also had a small section devoted to Hawaiian favorites which carried the ingredient and was only about 10 miles from my house.
I arrived to a rather confusing small village of stores know as Marukai Value, Marukai Market and Marukai Living.
To my credit, if you were looking for food you would probably select "Marukai Market", correct?  Well, Marukai Living actually holds the Hawaiian gem known as Poi, but I am oh so glad I first stumbled upon Marukai Market. How had I not known about Japanese markets until this point?  It's like I opened a door to a whole new culinary world!
I have so much to say about the amazingness that was, my first Japanese market experience, that I'm going to save that for another post and get to the Chopped Challenge for this week!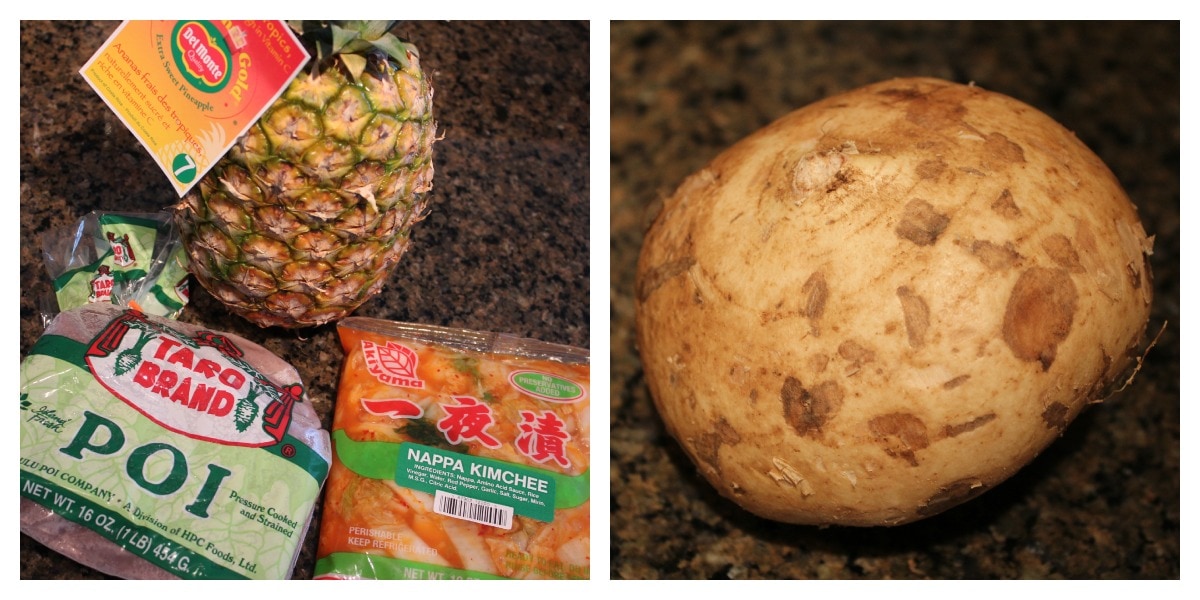 This Hawaiian style mystery basket included the aforementioned Poi from Thomas, Jicama from Krista Lombardi, Pineapple from Jackie Te and Kimchee from Cristina Dotson.
I combined this magical basket of ingredients into Hawaiian Pineapple Kimchee Pulled Pork Sliders, topped with Mango Avocado Jicama Salsa and a Sweet Chili Poi Sauce.
Ingredients (Hawaiian Pork)
½ pineapple (chopped)
10 oz kimchi
1 tbsp paprika
2 tbsp chinese five spice
½ cup brown sugar
3 cloves garlic (minced)
1 tbsp fresh ginger (minced)
4 lb pork shoulder
½ cup teriyaki sauce
½ cup white wine vinegar
¼ cup honey
½ cup soy sauce
2 cups mango avocado jicama salsa (recipe below)
1 cup poi sweet chili sauce (recipe below)
12 hawaiian sweet rolls
Begin by adding the pineapple and kimchi to a crock pot over low heat.
Next, combine the paprika, chinese five spice, brown sugar, garlic and ginger in a small bowl.
Rub the pork with this mixture then place into the crock pot on top of the pineapple and kimchee.
Next, pour the teriyaki sauce, white wine vinegar, honey and soy sauce into the crock pot.
Turn to high and cook for 5-6 hours.
Half an hour before serving the pork prepare the Mango Avocado Jicama Salsa.
Ingredients (Mango Avocado Jicama Salsa)
½ jicama (thinly sliced)
¼ fresh pineapple (chopped)
½ red onion (chopped)
½ mango (chopped)
1 avocado (chopped)
1 lime (juiced)
1 tbsp avocado oil (or olive oil)
½ tsp black pepper
1 tsp chives (chopped)
Combine the first 5 ingredients in a medium bowl.  Squeeze the lime juice and drizzle the avocado oil over the salsa. Toss, then sprinkle the black pepper and chives on top.
Next, mix together 1 cup of poi with 2 tbsp sweet chili sauce.
Now, remove the pork from the crock pot and shred, then place on top of the hawaiian sweet rolls, drizzle with the kimchee, pineapple sauce from the crock pot.
Top with the salsa.
The flavor combination here is amazing!
Finally, place a little Poi Sweet Chili Sauce on the top of the bun.
So the real question is, did I make the Hawaiian's proud with this dish?
Well, according to my roommate (definitely not Hawaiian, but an avid taste tester of the blog), it was delicious!