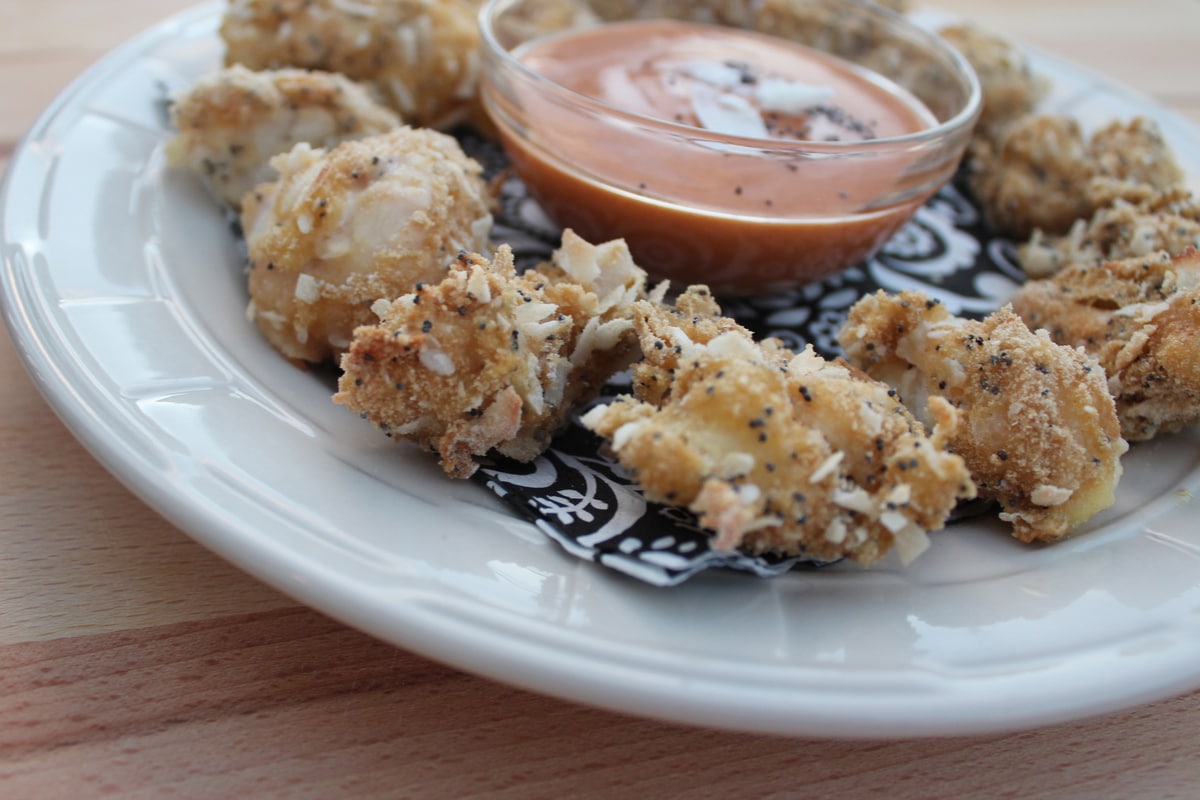 Oh happy day, it's "Chopped Challenge Thursday"!
This weeks "Mystery Basket" included Buffalo Sauce from Paul Kim, Coconut from Amy Black, Poppy Seeds from Dottie Warmbier and Apple Butter from Whitney Hicks.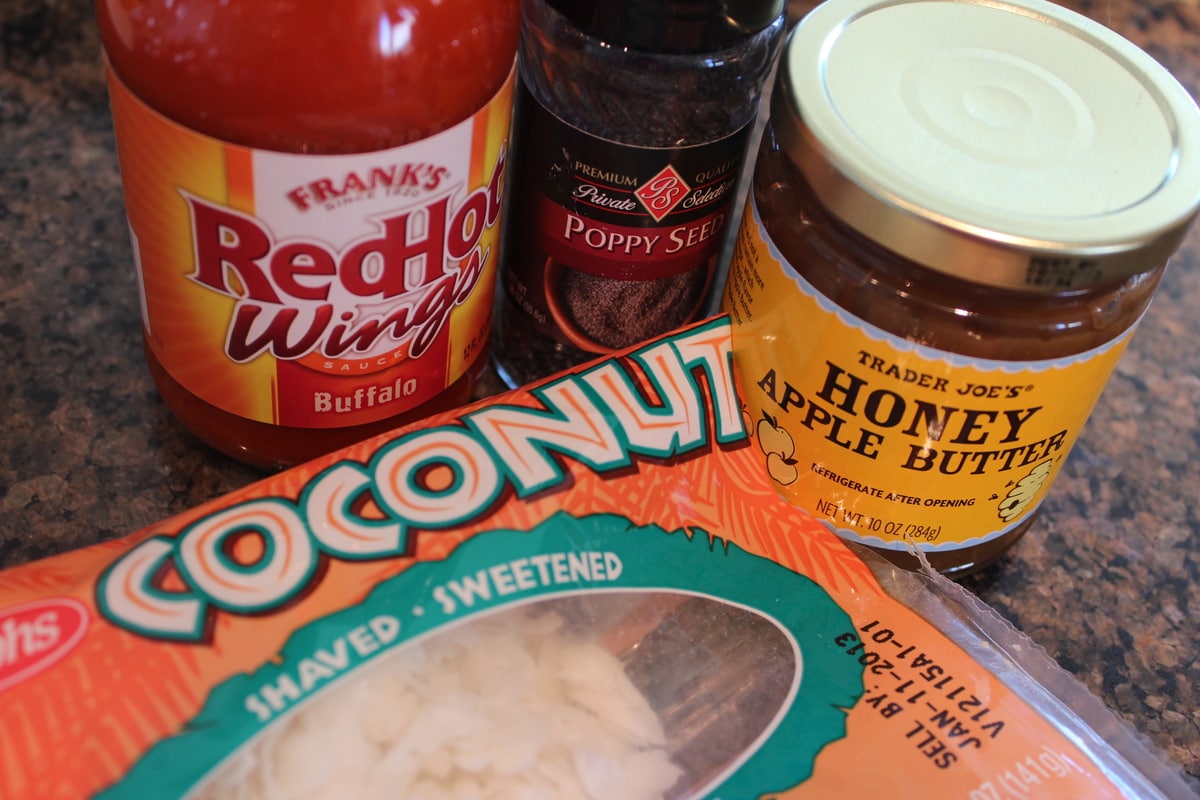 Coconut, apple butter, poppy seeds, I could have practically made my Passion Fruit Poppy Seed Muffins with these ingredients.
I couldn't believe it when I saw both coconut and poppy seeds in my "mystery basket" this week. Up until last weekend I had never cooked with either ingredient! I feel like I have a certain psychic connection with my loyal blog readers a lot of the time!
Now the ingredient that threw me for a loop this week was the buffalo sauce. Not because I don't know how to use the ingredient, I think it's pretty obvious from my extensive list of buffalo recipes that I not only know how to use the ingredient, but also have a slight obsession with it. From buffalo chicken pasta to buffalo potato salad to buffalo chicken burgers and buffalo macaroni salad.
Even with almost a dozen buffalo dishes under my belt, I have never combined the delicious sauce with poppy seeds, coconut or apple butter!
After much deliberation I decided to make a coconut and poppy seed crusted chicken, then combine the buffalo sauce and apple butter into a dip… say what?
I know, it sounds weird and to be honest, I had no idea if it was going to be the greatest discovery ever or taste like a third-graders science project, but somehow I made it work!
The final result of "Chopped Challenge Thursday" Week Four: Coconut Poppy Seed Popcorn Chicken with Buffalo Sweet Sauce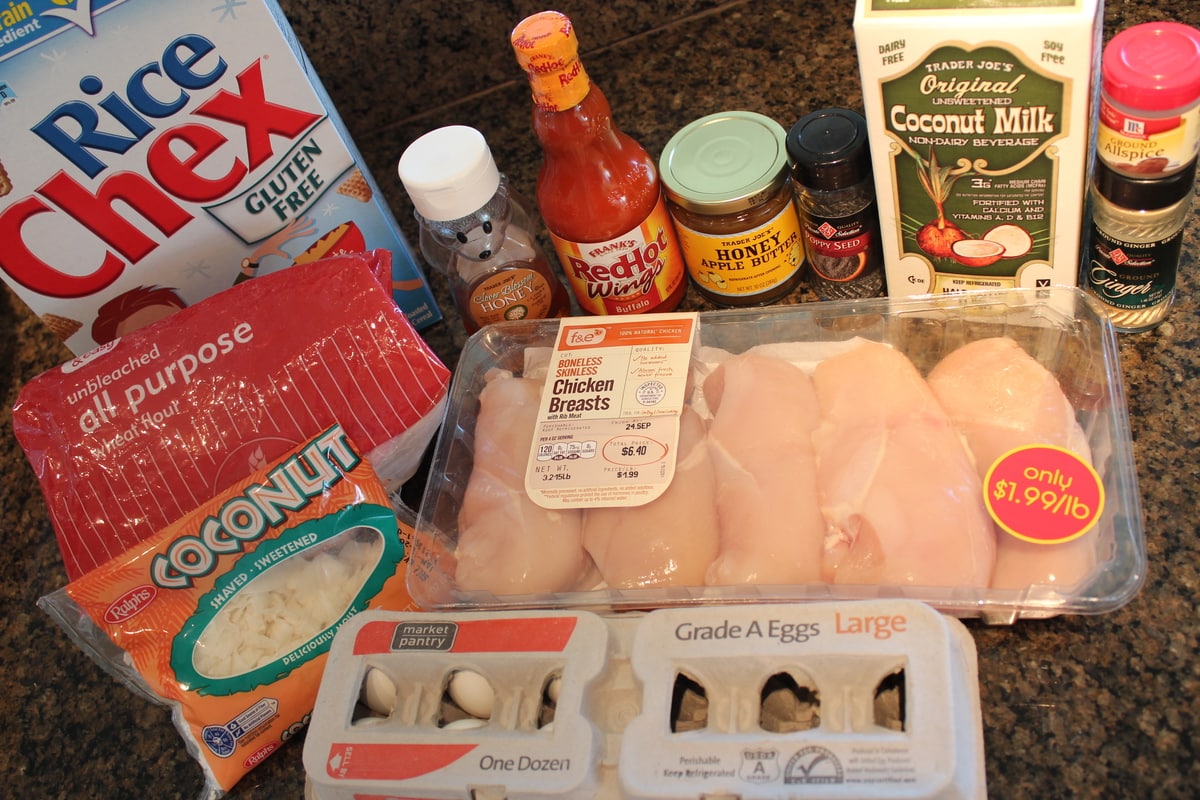 Ingredients – Popcorn Chicken
2 lbs chicken breast (cut into cubes)
3 cups flour
6 cups rice chex
1 cup shredded coconut
2 tbsp poppy seeds
3 eggs (whisked)
1 cup coconut milk
Buffalo Sweet Sauce
1/2 cup apple butter
2 tbsp buffalo sauce
1/4 tsp ground ginger
1/2 tsp allspice
1 tbsp apple cider vinegar
1/2 cup sour cream
Start by using a food processor to turn the rice Chex into a fine crumb mixture. After no large pieces of cereal remain, add the coconut to the food processor.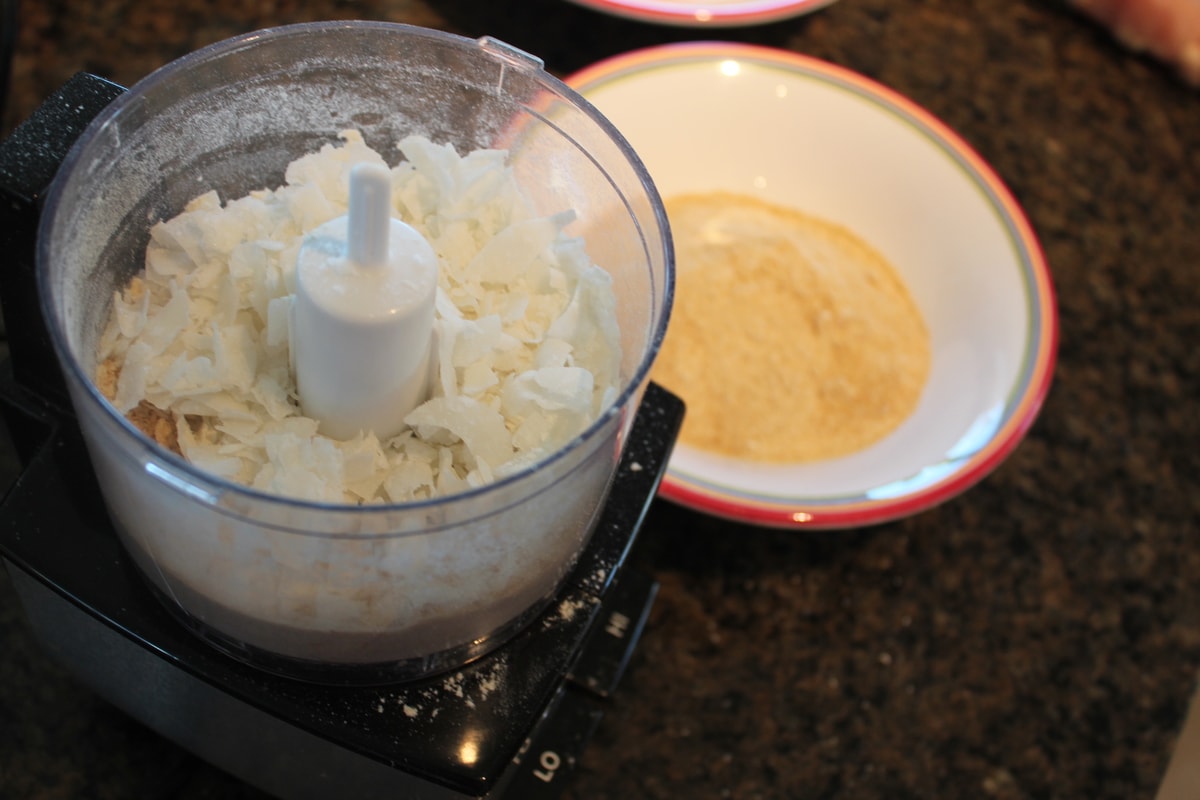 Pulse for 15 seconds then place the coconut crumb mixture in a bowl, add the poppy seeds and mix together.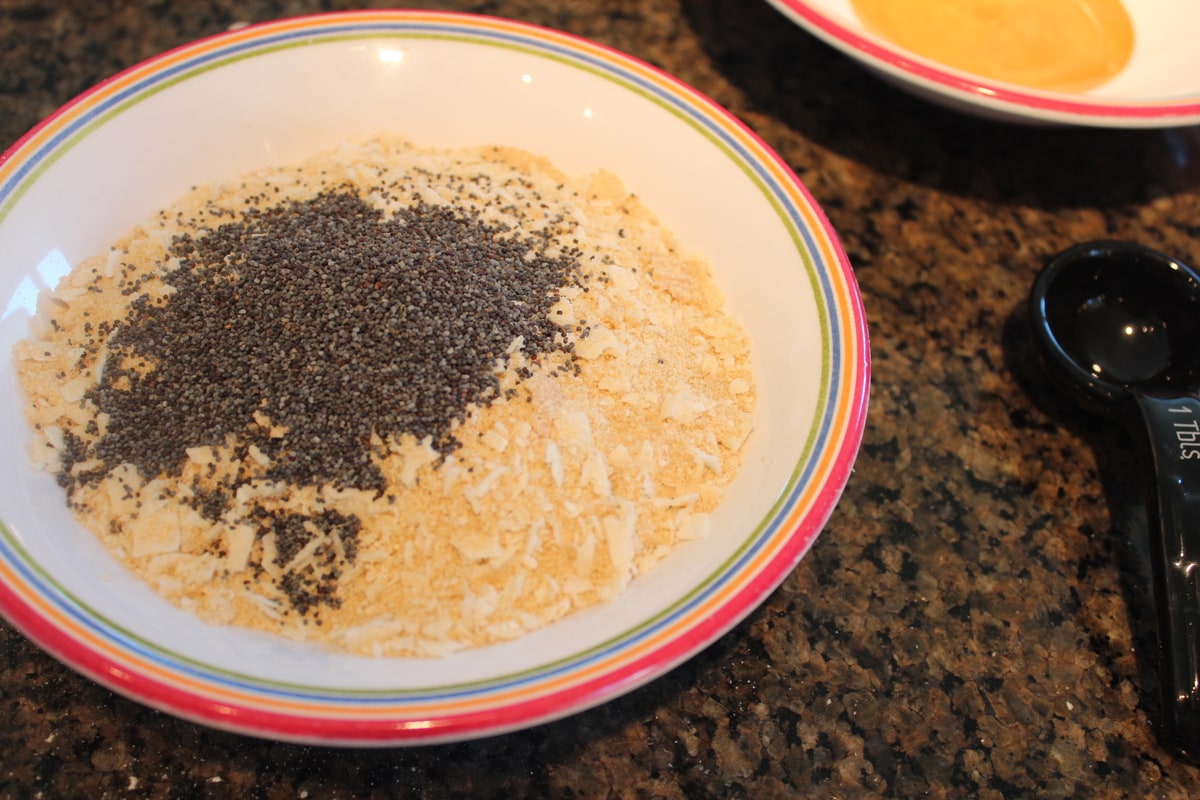 Next, set up the chicken breading station. Start by placing the flour in one bowl, in another bowl combine the eggs and coconut milk.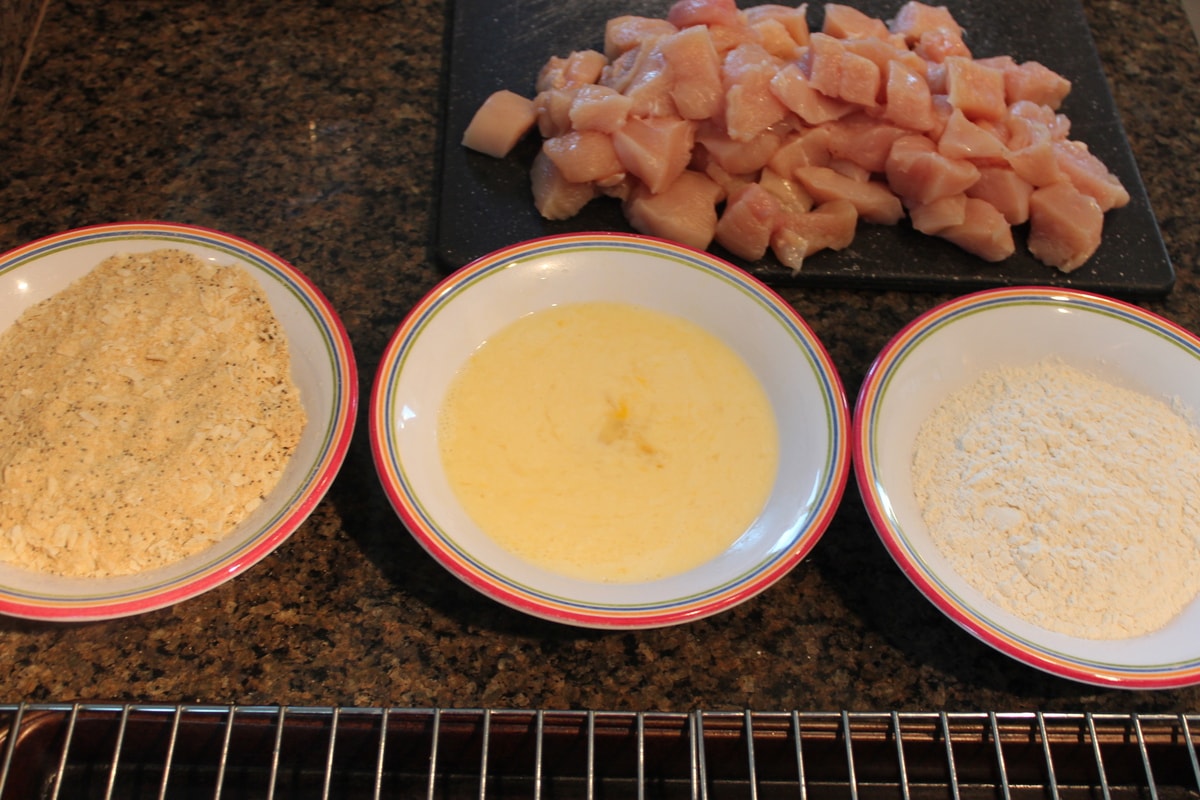 Bread each little piece of popcorn chicken by dipping it in the egg and milk mixture, then in the flour, back into the egg and milk, then over to the coconut poppy seed mix.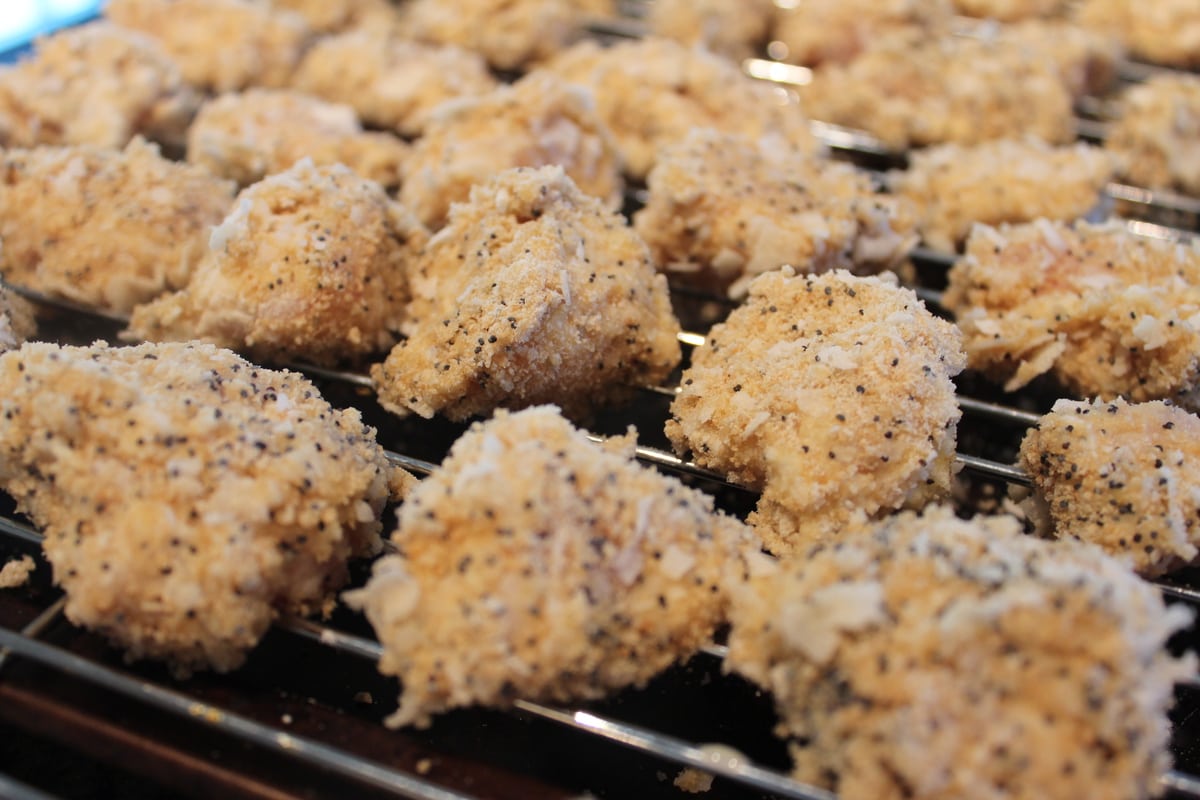 Place the breaded chicken onto a wire rack on top of a baking sheet so that any excess breading falls through the rack and onto the baking sheet.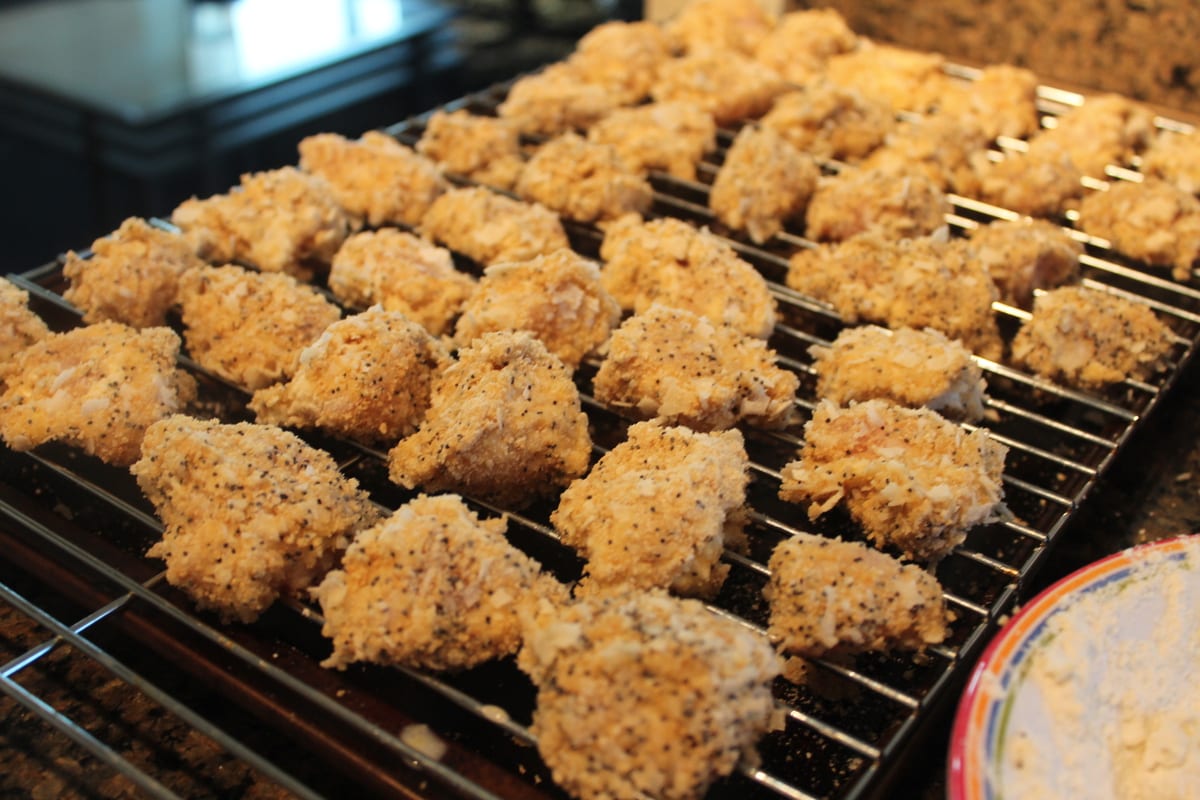 Place these little nuggets in the oven at 375° for 25-30 minutes.
While they're in the oven, it's time to prepare the Buffalo Sweet Sauce.
Start by combining the apple butter and buffalo sauce.  I know, this sounds really weird, trust me, I had my reservations, but once I tasted it I knew that it could work!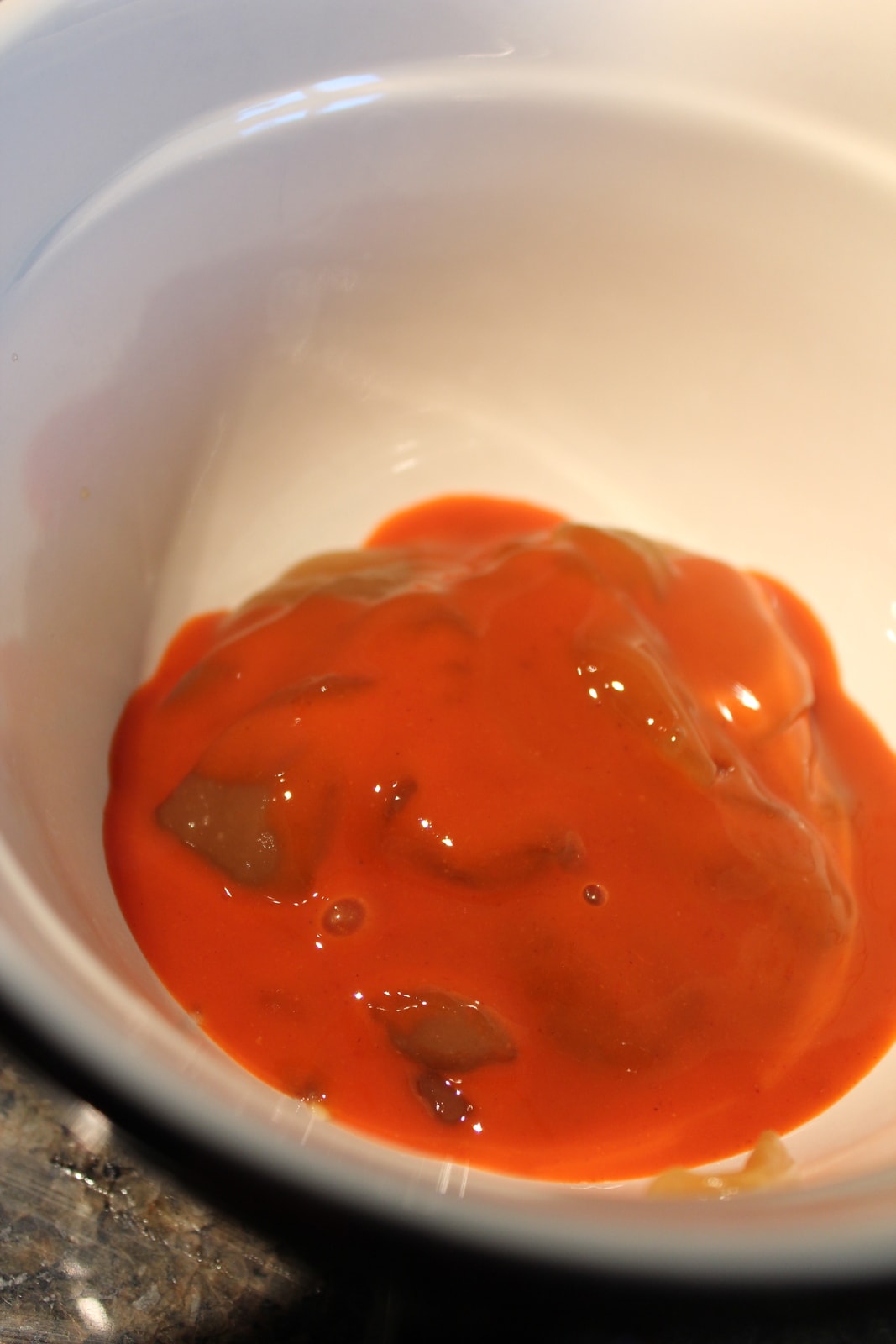 Next, whisk in the ginger, allspice, apple cider vinegar and sour cream. The sauce is now complete and once the chicken is crispy, the dish is ready to be served!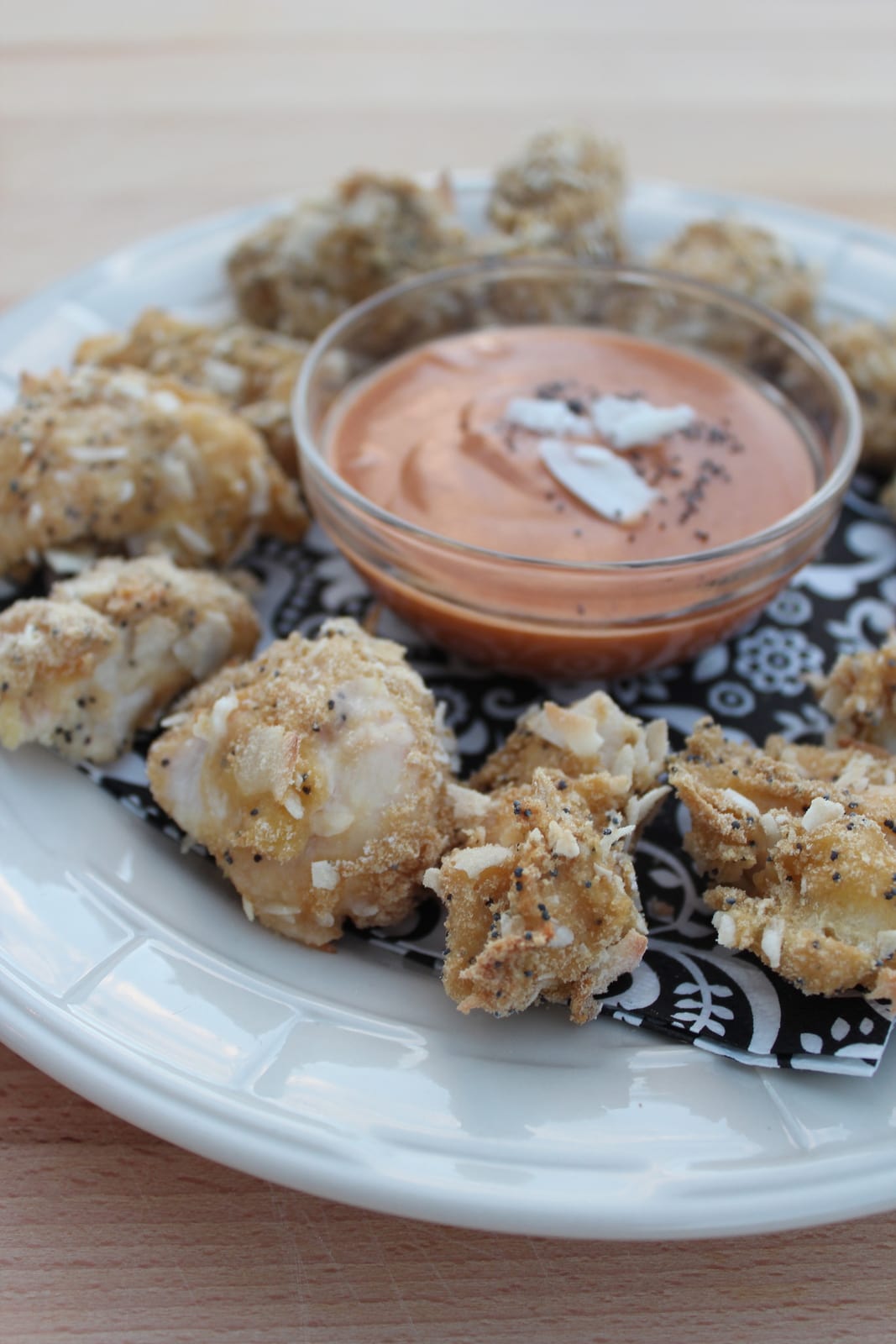 Baking the chicken instead of frying it reduces the calories by 30% and cuts the saturated fat in half.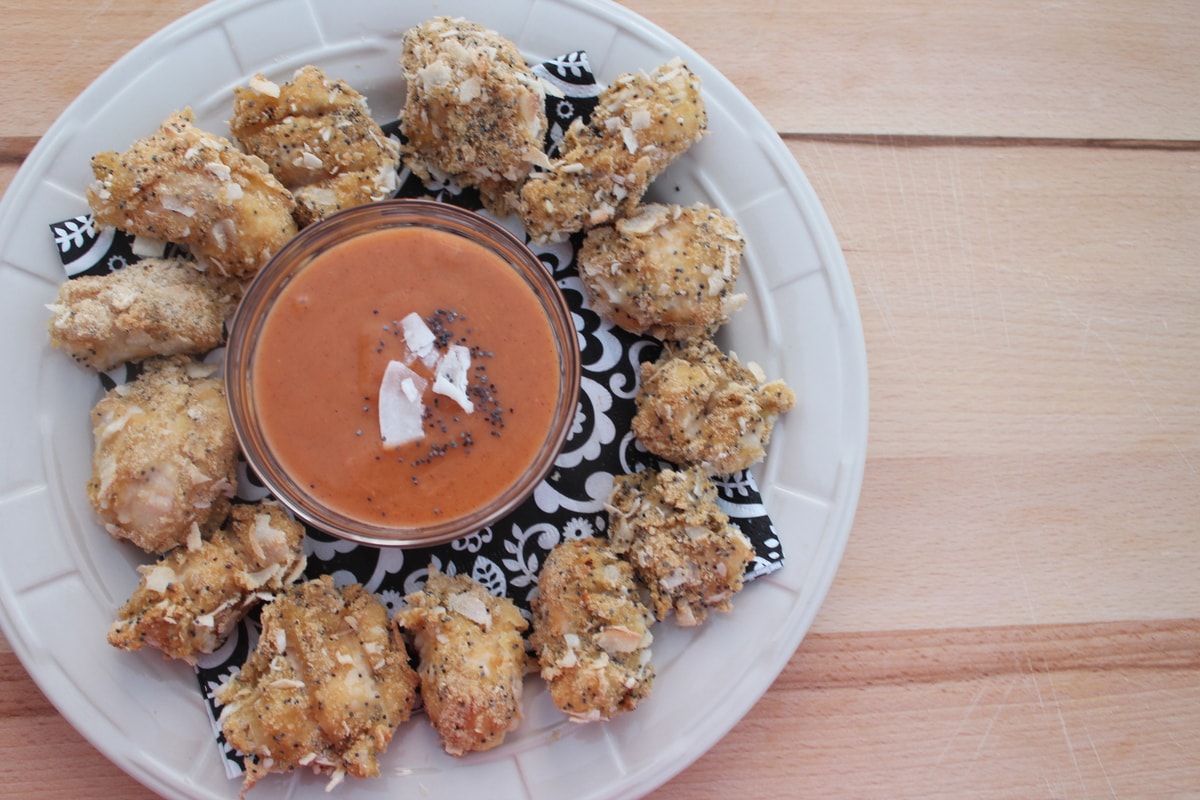 These would be a great snack for a party…
… or an easy weeknight dish that the whole family would love!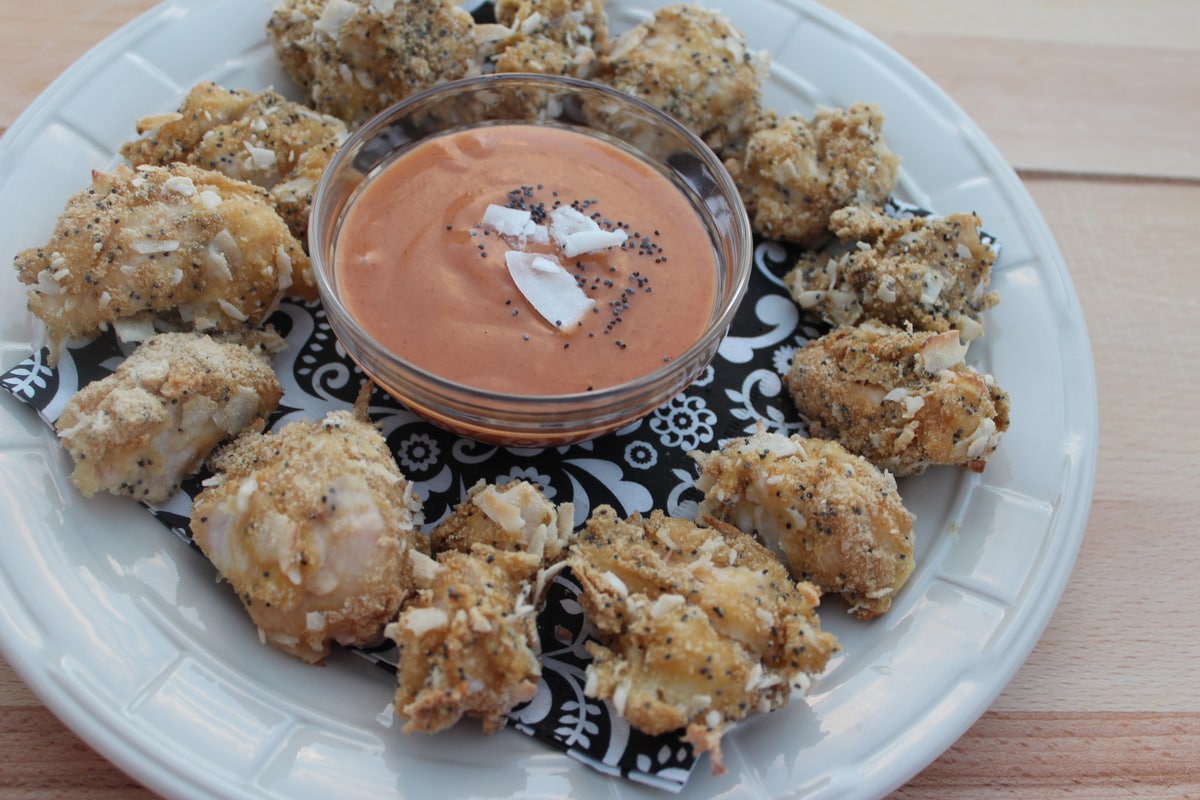 I also added some oven fries by simply slicing up a couple of potatoes, drizzling olive oil on top and sprinkling with salt.