Slow Cooker Buffalo Chicken Chili is packed with flavor, but low in calories! Healthy, delicious and easy to make? Sign me up!
This simple crock pot chili recipe is low in calories and gluten free. It only takes 15 minutes of prep time, then the slow cooker does the rest of the work! You're going to seriously impress your family & friends with this new spin on chili!
This chili is even MORE AMAZING when served with Gluten Free Jalapeno Cheddar Cornbread or Buffalo Cheddar Biscuits!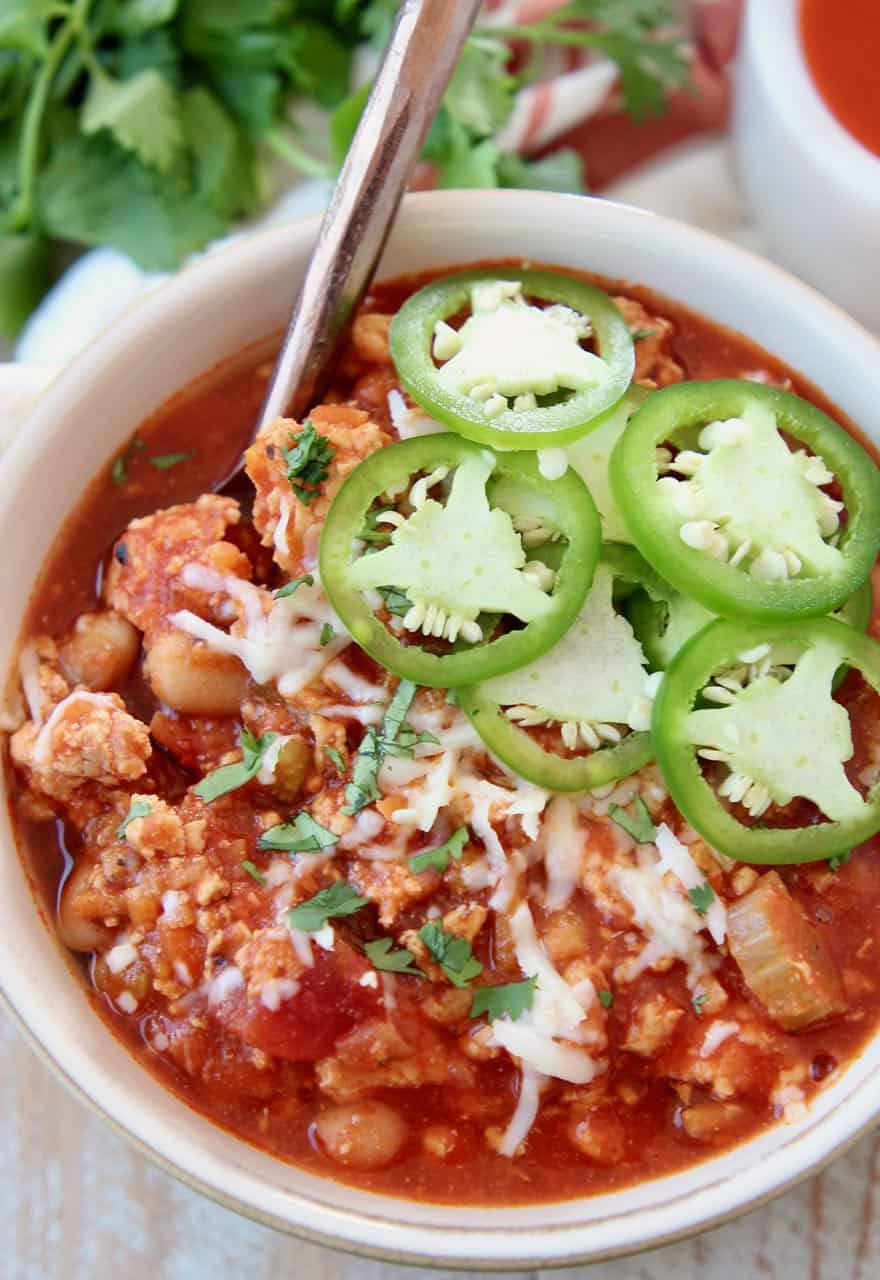 When it comes to flavor, spice and everything nice, this Buffalo Chicken Chili recipe has got it going on! Think of this recipe as chili's ode to the chicken wing! All the delicious flavors of a chicken wing in a healthy chicken chili recipe.
There's nothing I love more than when healthy and flavorful come together in perfect harmony. And that's exactly what happens in this chili recipe! Using ground chicken breast as the meat in this chili lowers the fat and calories, while still boosting the protein.
Buffalo sauce, green chilies and several spices really enhance the flavor and spice in this chili recipe. But don't worry, if you don't like your chili too spicy, I've got suggestions for you below!
Looking to make this recipe low carb or whole 30 approved? I've got simple suggestions for how to do that also!
This chili is easy to make your own and GUARANTEED to become your new favorite chili recipe! This buffalo chicken chili is easy to serve as a weeknight dinner. Spend 15 minutes prepping it in the morning, or the night before, then let it slow cook all day.
It's also great for game day! Pop it in the crock pot in the morning and by halftime, you and your friends will be digging into a bowl of THE BEST Buffalo Chicken Chili!
This chili will also make you famous at your next potluck. I promise that everyone will be asking you for the recipe! I've made this chili for dozens of events and parties and everyone always goes back for seconds!