Shredded chicken tossed with tangy buffalo sauce, tucked inside warm tortillas, topped with a creamy cilantro lime sauce, life doesn't get much better than these Buffalo Chicken Tacos!
This easy recipe is made in just 29 minutes, perfect for weeknight dinners! Take these tacos to an entire other level of buffalo sauciness by serving them with Buffalo Queso Dip!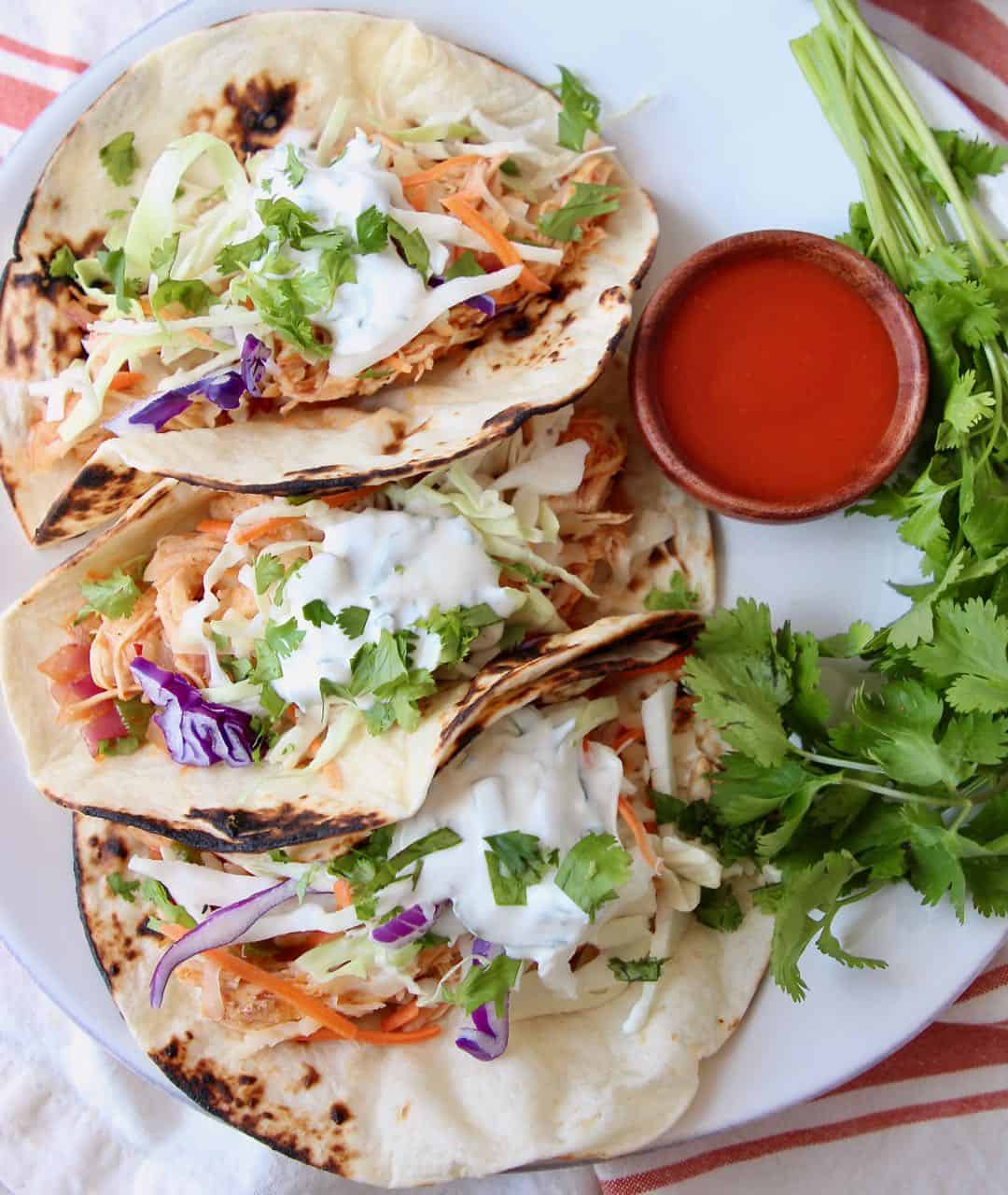 Over the years, I've been given the nickname "The Queen of Buffalo Sauce". My love of the hot sauce has been apparent since day one on the blog. This recipe for Buffalo Chicken Cheesy Penne was one of the first recipes I ever posted on the blog. And it was the first of dozens of buffalo sauce recipes that I would share over the years.
Buffalo sauce is flavorful, tangy and low in calories, vegan and gluten free (most brands!) making it a healthy sauce choice. I generally use Frank's Red Hot Buffalo Sauce. I love the flavor and it's vegan, gluten free and contains ZERO calories!
In this recipe, I'm using buffalo sauce to make homemade Buffalo Chicken Tacos. What's not to love? First and foremost, they're tacos and I've yet to meet a taco I didn't love! Second, they're saucy, flavorful, quick and easy to make!
I served the tacos topped with pepper jack cheese, slaw and creamy cilantro lime sauce. But the great thing about tacos is that you can make them your own. Swap out the pepper jack cheese for blue cheese or the cilantro lime sauce for ranch dressing. Add some avocado or shredded lettuce instead of the slaw.
No matter how you top these tacos, I guarantee they'll be a hit in your kitchen!