Learn how to make the most tender beef, just like Chinese restaurants, in this easy recipe for gluten free Kung Pao Beef. The beef is cooked on the stove, stir fry style, then tossed with rice noodles for a delicious meal!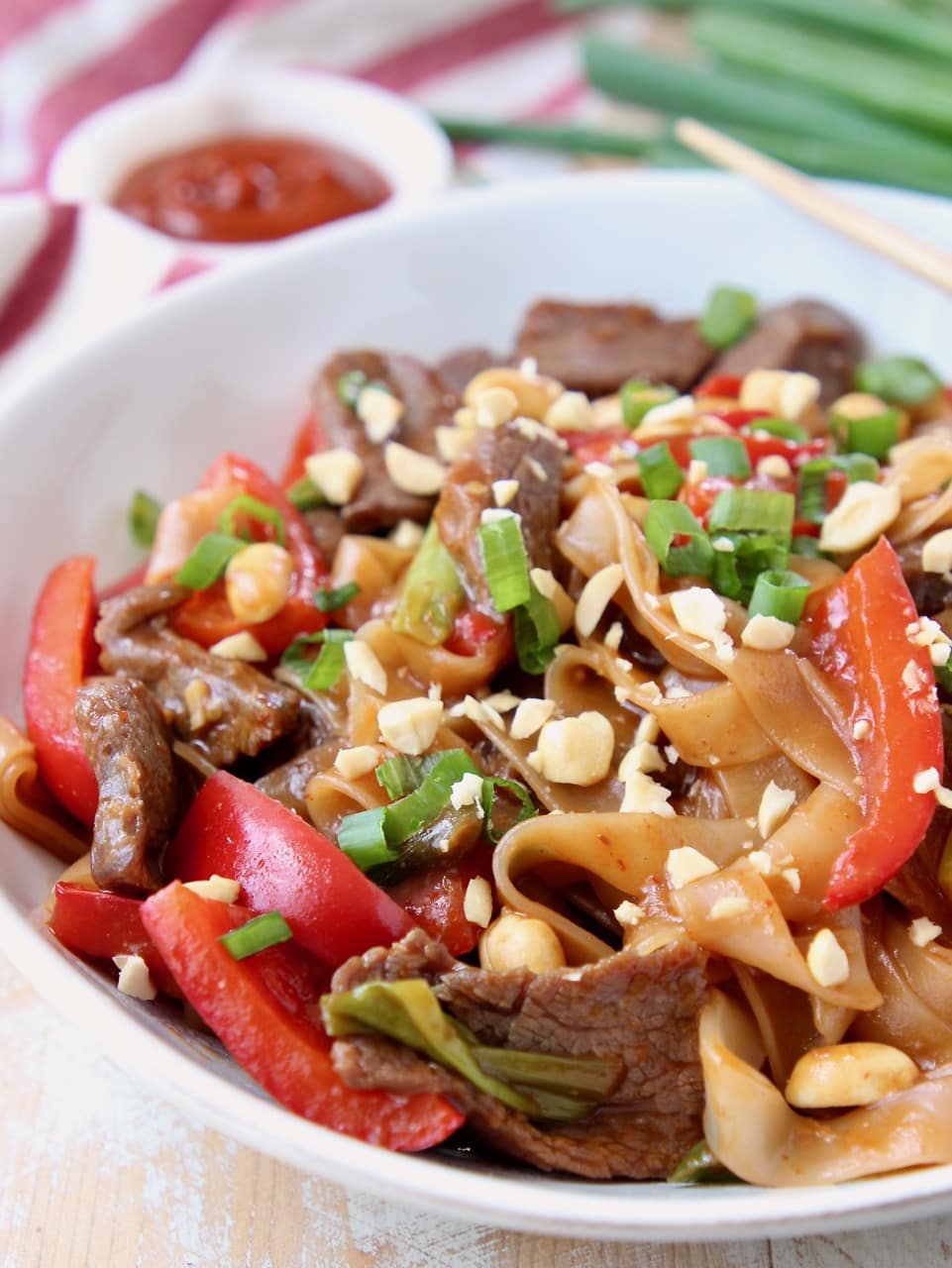 Have you ever wondered how your favorite Chinese restaurant gets an inexpensive cut of meat to taste so dang tender? The technique is called velveting and it's actually SO EASY!
Simply marinate strips of meat in a combination of cornstarch, baking soda, soy sauce and mirin for 30 minutes. I used a flank steak to make this Kung Pao Beef, but this technique can also be used on other proteins.
It's seriously a GAME CHANGER! Kurt immediately said this was the best Asian dish I've ever made! And with over 100 Asian recipes on the blog, that's saying a lot!
Instead of serving the beef over rice, I tossed it with rice noodles. There's just something about sitting on the couch with a pair of chopsticks and a big bowl of noodles. It's Chinese comfort food and I can't get enough of it!
I have a whole menu of go-to noodle dishes that I rotate through each week. Spicy Vegetable Pad Thai, Drunken Noodles and this Kung Pao Beef Noodle Bowl are regular players on the weekly menu!
After making these recipes, you'll quickly realize how easy it is to make delicious Chinese food at home! Then you'll be ditching the take out menus for good!
Making your own Chinese recipes is also the best way to eat gluten free Chinese food. My gluten free Chinese recipes are some of the most popular on the blog! Gluten Free Chinese Honey Chicken and Gluten Free General Tso's Chicken are definitely on the MUST-TRY list!
I made this Kung Pao Beef Noodle Bowl gluten free by using gluten free soy sauce. The remainder of the ingredients in this dish should be naturally gluten free. But always be sure to check the labels on ingredients like mirin and sweet chili sauce just to be sure! If you're not on a gluten free diet, traditional soy sauce can be used in this recipe.
Once the beef has tenderized for 30 minutes, it only takes 15 minutes to toss this entire recipe together! Faster, easier and BETTER than take out, yes please!