You won't be able to put your fork down after trying one bite of this Roasted Cauliflower Salad with Creamy Basil Avocado Dressing! It's loaded with delicious ingredients like raisins, kale, cashews & apples! This salad is healthy, vegan & great for those on a low carb diet.  It's delicious as a side dish or entree and can be served at room temperature or cold.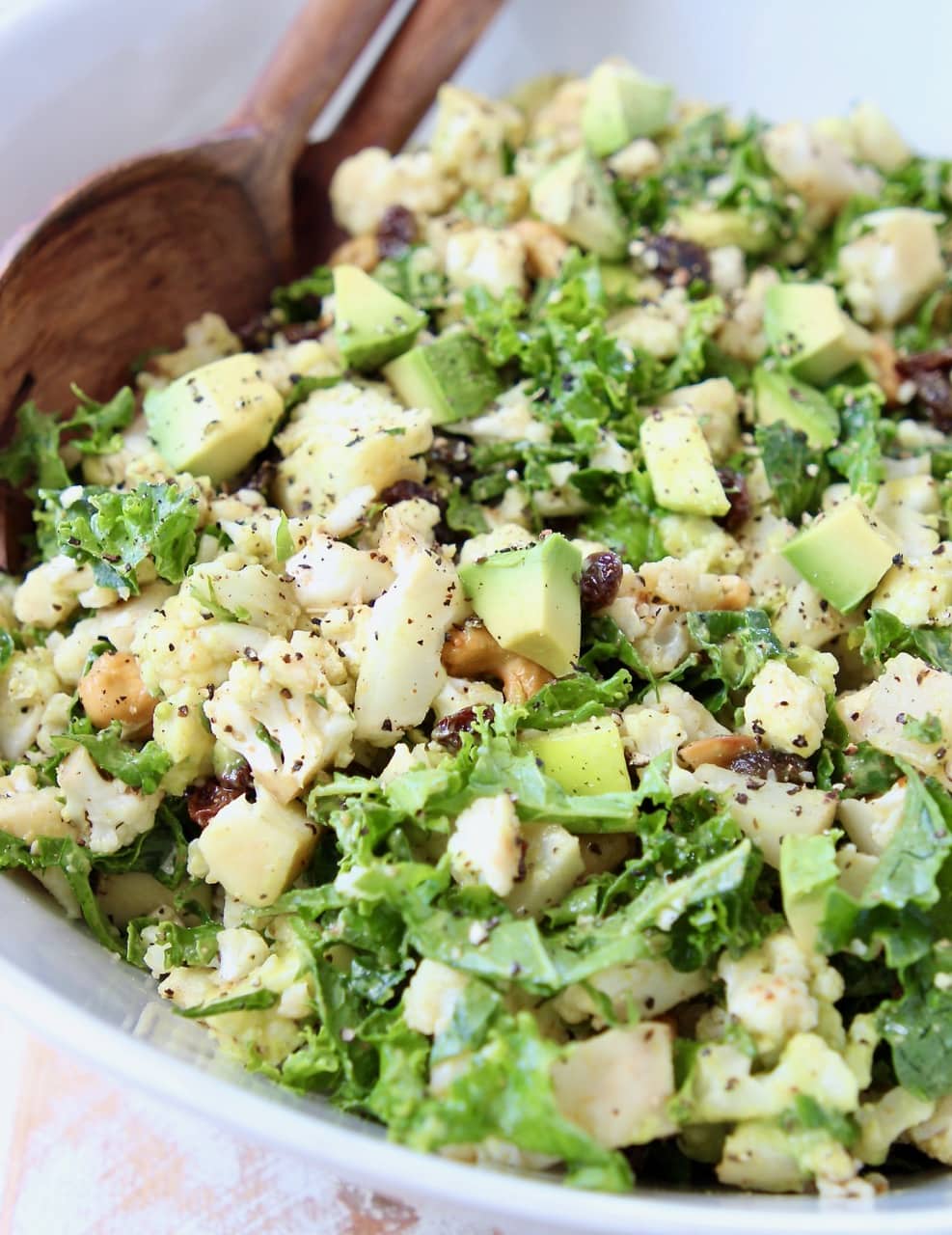 Today's post is sponsored by my friends at California Avocados.
Cauliflower is so hot right now. The trend that's been going on for a few years now is not going away anytime soon! And I have to say, that makes me so happy!
Cauliflower is used a great low carb substitute for chips in this recipe for Cauliflower Nachos. It's also a great vegetarian substitute for chicken wings in this Korean BBQ Fried Cauliflower recipe.
It can be turned into Cilantro Lime Cauliflower Rice and used as a healthy base for Vegan Burrito Bowls. It can also be tossed with buffalo sauce and turned into Buffalo Cauliflower Tacos.
The possibilities with cauliflower really are endless and it's a great addition to a healthy diet. This nutrient rich vegetable is a good source of antioxidants, fiber and vitamins.
In this recipe, I'm tossing roasted cauliflower with a deliciously flavorful and healthy avocado basil dressing. I also added some of my favorite sweet and salty salad mix-ins, like raisins and cashews.
The creamy dressing is so easy to make, just toss everything in a blender and puree. You can easily whip it up while the cauliflower is roasting, then toss the entire salad together in under 30 minutes.
This is a BIG SALAD! It's great for meal prepping to eat for lunch or dinner throughout the week. Because the cauliflower is rich in fiber, just eating this salad will easily fill you up.
Kurt loves this salad! I'll make it once and we'll eat it for lunch throughout the week or as a side dish with dinner.
This cauliflower salad is also the perfect side dish for a party or big family dinner. You can easily make it ahead of time and store it in the fridge until you're ready to serve it.
The best part of this salad is that it's so delicious and everyone can eat it! It's vegan, gluten free, dairy free and low carb, making it a great fit for anyone, no matter their dietary needs.