Satisfy your stuffing cravings anytime of the year with this quick & easy stuffing biscuit recipe, perfect for breakfast or making turkey sliders with Thanksgiving leftovers!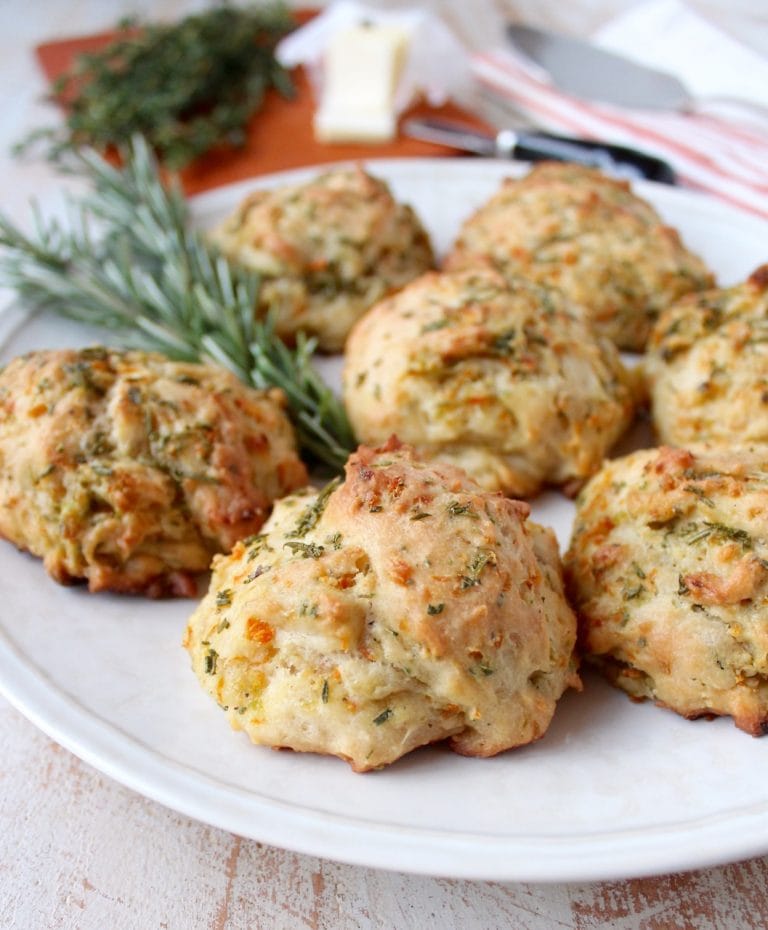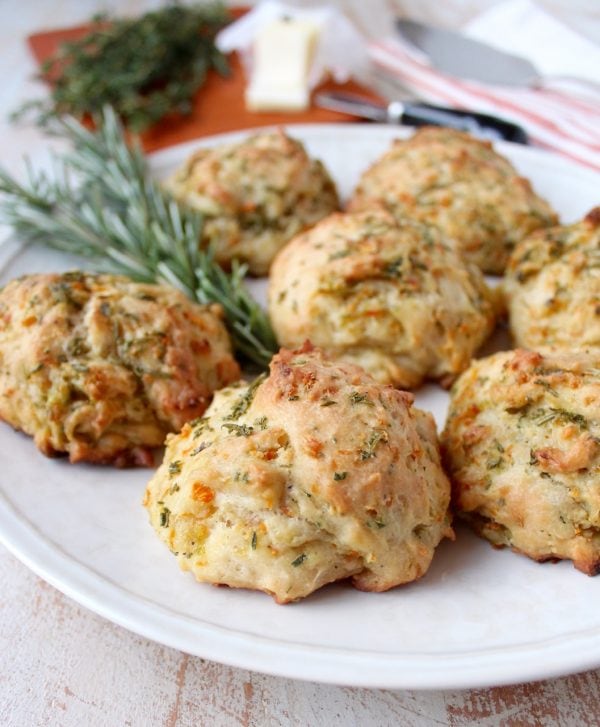 It's the week of Thanksgiving and I have so much to be thankful for! I'm building my dream home with the most wonderful man in the world (I might be slightly biased ;-)), I have an amazing family, the best friends a girl could ask for and my job is sharing delicious recipes with the world, which in my opinion, is the best job in the world!
In fact, as of today, this easy stuffing biscuit recipe is my 1,000 post!!
That's 1,000 times I've sat down with my laptop and shared my words, pictures, recipes and inspiration on this blog.
It's crazy that what started with this 3 sentence first post, and this first recipe post for Creamy Orzo with Roasted Vegetables, has turned into a full time career, writing for the Today Show, appearances on TV stations across the country, a cookbook deal and so much more!
I thought it would be fun on this 1,000 blog post to look back on 10 fun facts about my blogging journey, from my most popular recipes to the many different opportunities that have come my way through blogging!
The blog was originally called Little Leopard Book, named after a leopard print notebook I used to carry around and write ideas in. I rebranded in August 2015 to WhitneyBond.com.
The 5 recipes that I make regularly at home for dinner are One Pot Buffalo Taco Spaghetti, Indian Butter Chicken, Slow Cooker Swedish Meatballs, One Pot Mediterranean Beef & Macaroni and Italian Polenta Turkey Casserole
My Dad and Grandma Meme taught me how to cook growing up.
I published my first cookbook "Buffalo Style: Ditch the Wings, Keep the Sauce" in September 2013.
The two most popular recipes of all time on the blog are Slow Cooker Beef Ragu & Buffalo Chicken Cheesy Penne.
My first TV appearance was on The CW San Diego on April 25, 2013.
This pin for Veggie Fajita Rice Bowls is my most popular pin on Pinterest.
I have my own app in the Alexa app store, "Whitney Bond's Recipe Search" which will verbally walk you through any recipe on the blog!
These Slow Cooker Buffalo Cheesy Sausage Balls are the most requested recipe that I take to parties.
My most viral video on Facebook is this Bruschetta Grilled Chicken Zoodle Bowls video, which has been viewed over 4.7 MILLION times!