I asked and you responded, "what generally unhealthy dish would you like to see transformed into something healthy and delicious?"
The response was unanimous, Mac and Cheese.  So today I bring you the first ever "Transformation Tuesday"  where I turn a generally unhealthy dish into something healthy and yummy. Today I transformed Traditional Mac and Cheese into Spaghetti Squash with White Cheese Sauce.
The result was a delicious, gluten-free, vegetarian dish that packs way less calories, fat, carbs and sodium than any macaroni and cheese dish you will eat at a restaurant!
The Cheesecake Factory Macaroni and Cheese SIDE DISH packs 51 grams of fat, 1309 calories, 768 milligrams of sodium and 92 grams of carbs, and that's just the side dish to the main course!!
My dinner portion of Spaghetti Squash with White Cheese Sauce comes in at 275 calories, 12 grams of fat, 335 milligrams of sodium and 10 grams of carbs for a 1 cup serving. Even if you double the serving size to 2 cups, you will still save 759 calories and 27 grams of fat!
Just to make the picture even more clear, if you are counting Weight Watcher points, one side of macaroni and cheese at The Cheesecake Factory counts for 25 points, while my dish weighs in at only 4 points!
Prep Time: 15 minutes
Cook Time: 45 minutes
Ingredients (serves 4)
1 large spaghetti squash
1 tbsp olive oil
1 tsp black pepper
1 tsp kosher salt
1 cup part-skim mozzarella (shredded)
1/4 cup parmesan cheese (shaved)
1/4 cup ricotta cheese
1/2 cup goat cheese
1/4 cup soy milk
1/4 cup fresh basil leaves (to garnish)
Start by cutting the spaghetti squash in half lengthwise, remove the seeds and brush with the olive oil then sprinkle with the salt and pepper.  Place cut side down on a baking sheet and roast in the oven at 400°F for 45 minutes.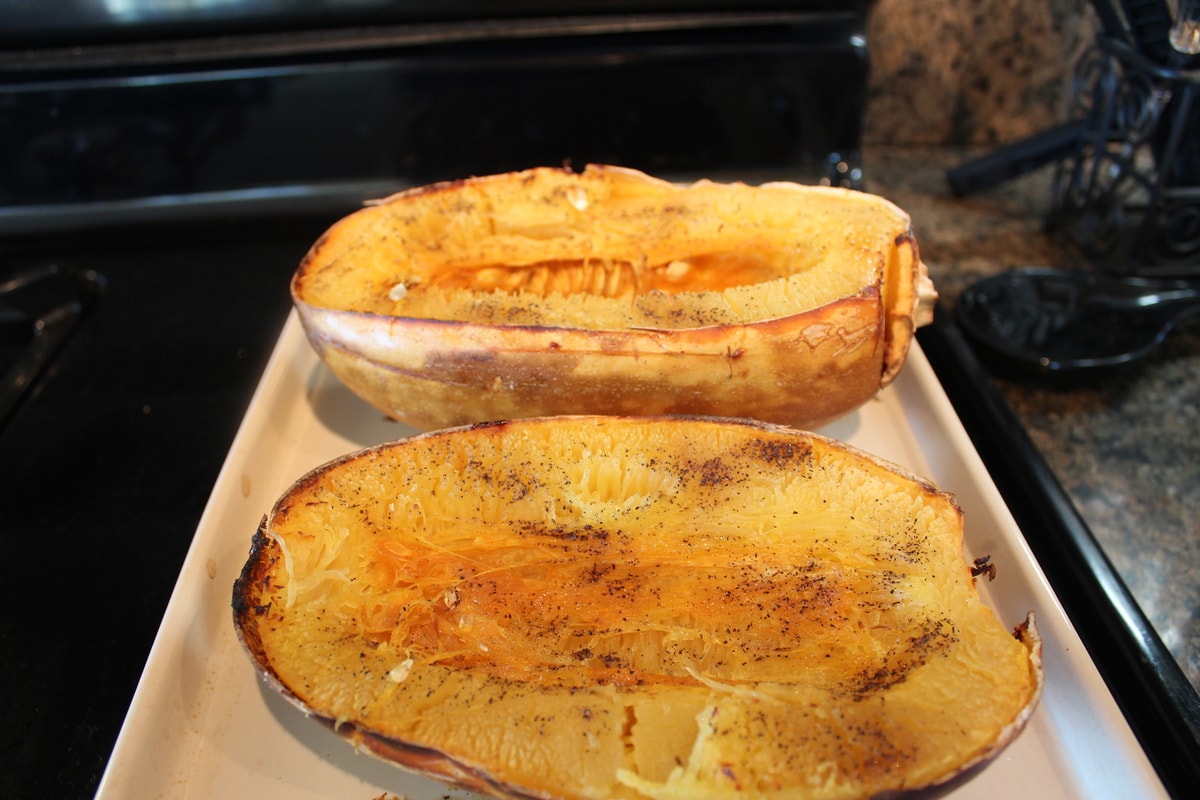 Remove from the oven and watch this how-to video on what to do next!
Once all of the spaghetti squash has been added to the sauce, separate into four bowls and top with the fresh basil to serve.