Fill up on vegetables in the MOST DELICIOUS way with these Veggie Enchiladas, stuffed with mushrooms, zucchini, yellow squash & homemade red sauce! This recipe is gluten free, vegetarian and easy to make in under an hour!
Serve these enchiladas with Creamy Avocado Salsa on top and Mexican Rice on the side for a complete, delicious meal!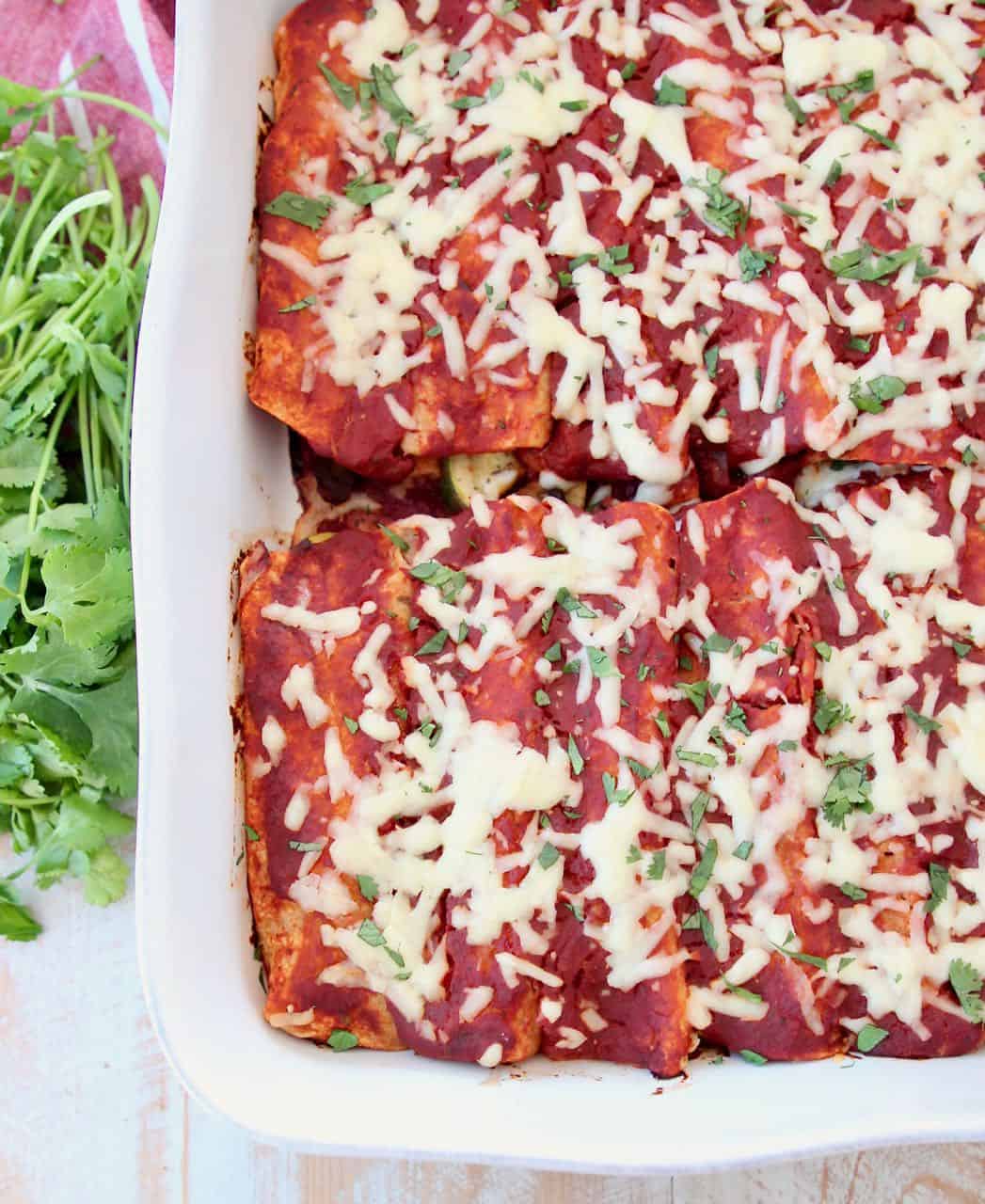 Saucy tortillas stuffed with a yummy filling and topped with cheese, now that's my kind of meal! I've been a huge fan of enchiladas since I was a kid. Beef enchiladas with red sauce have been on my families menu for as long as I can remember.
As an adult, I've switched up the enchilada game to include Chicken Enchiladas and Cheesy Corn & Avocado Enchiladas. Also, Creamy Sriracha Beef Enchiladas and even PUMPKIN Enchiladas! It might sound crazy, but it's just so crazy it works!
These Mushroom Squash Veggie Enchiladas are another example of how easy it is to make delicious vegetarian enchiladas. Simply simmer the homemade red sauce, sauté the veggies, then roll them up in corn tortillas and top them with cheese.
If you're really in a hurry, you can purchase a jar of pre-made red enchilada sauce. But I highly recommend spending an extra 10 minutes to make the flavorful homemade enchilada sauce if you can!
Even when making your own sauce, it only takes 30 minutes of prep time to get these enchiladas in the oven. And in under an hour, dinner is on the table! Winner winner, veggie dinner!