Buffalo Chicken Stuffed Peppers – Whole 30 Recipes
This post may contain affiliate links.
You definitely want to add these Buffalo Chicken Stuffed Peppers to your list of Whole 30 Recipes! They're healthy, gluten free, dairy free and delicious!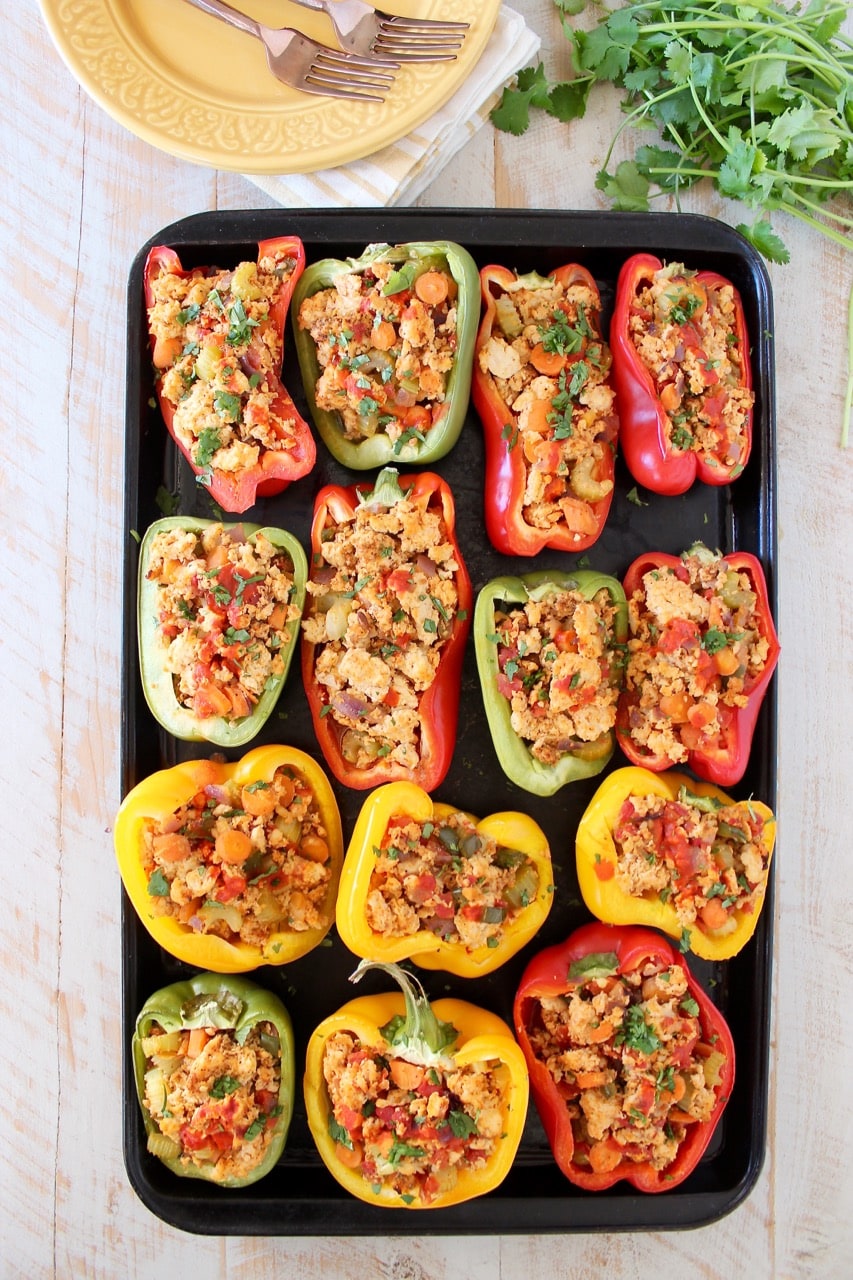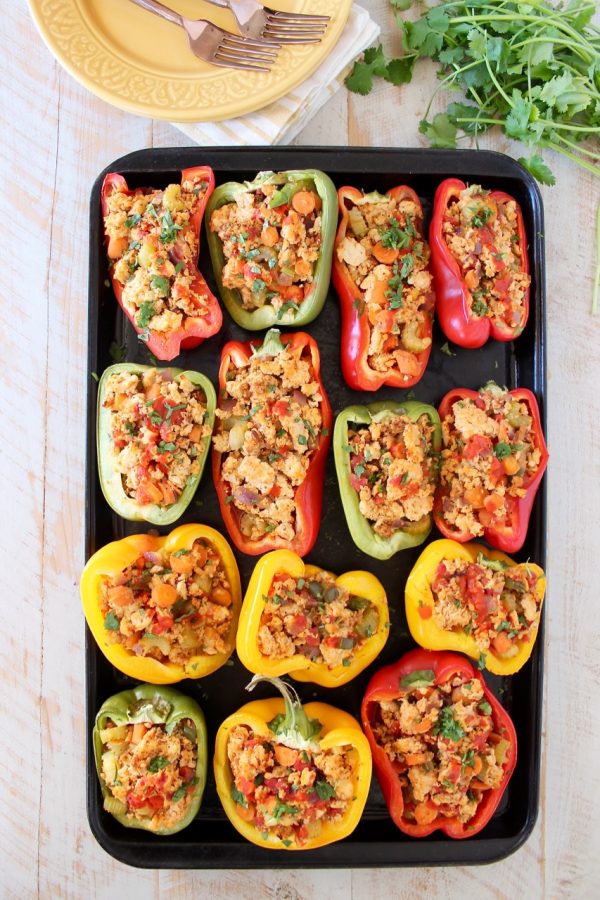 It's the 1st of March and also the first day of "Whole 30 March" on the blog! I decided to share a month of Whole 30 recipes for a few reasons. I wanted to create new healthy recipes both for the blog and for my weekly menu.
There have been several friends and followers that have requested Whole 30 recipes on the blog. And I realized that you could have buffalo sauce (certain brands, of course!) while eating Whole30 and then I was in!
I've never been a "diet" person but I do believe in balancing healthy, clean eating along with indulgent meals. A well rounded diet let's you enjoy the foods you love, along with making sure you eat your peas and carrots!
The Whole 30 recipes I'll be sharing this month are not just for those on the Whole30 diet. These recipes, like Balsamic Salmon Zoodle Bowls, Turkey Taco Salad and Chipotle Chili Sweet Potatoes, are perfect for those with gluten or dairy allergies. All of the recipes are made with real food and are free of legumes, grains, dairy and sugar.
I spent a lot of time developing recipes that fit within Whole30 compliance, but also taste great. You'll never feel like you're missing out on a really great homemade meal when you make these recipes!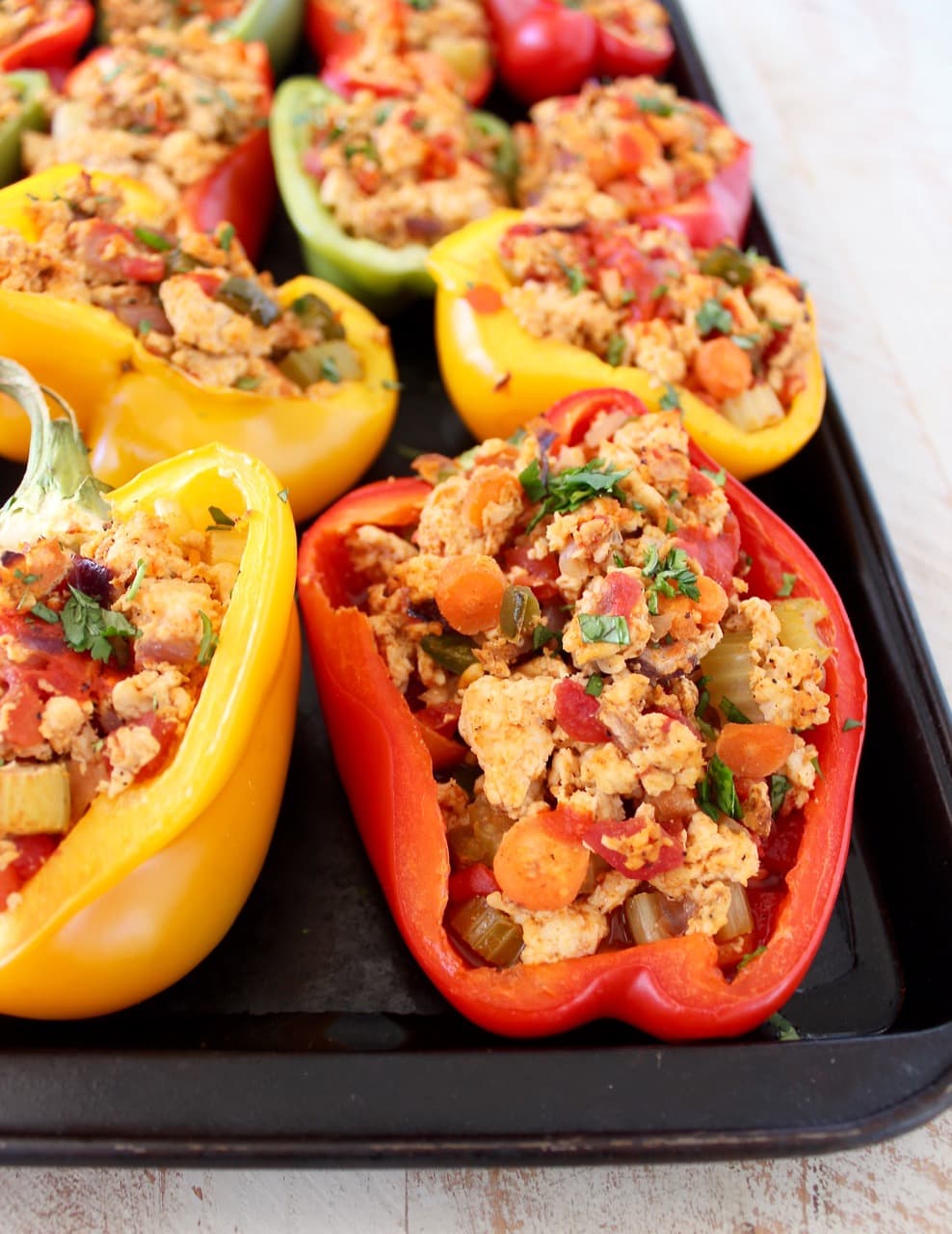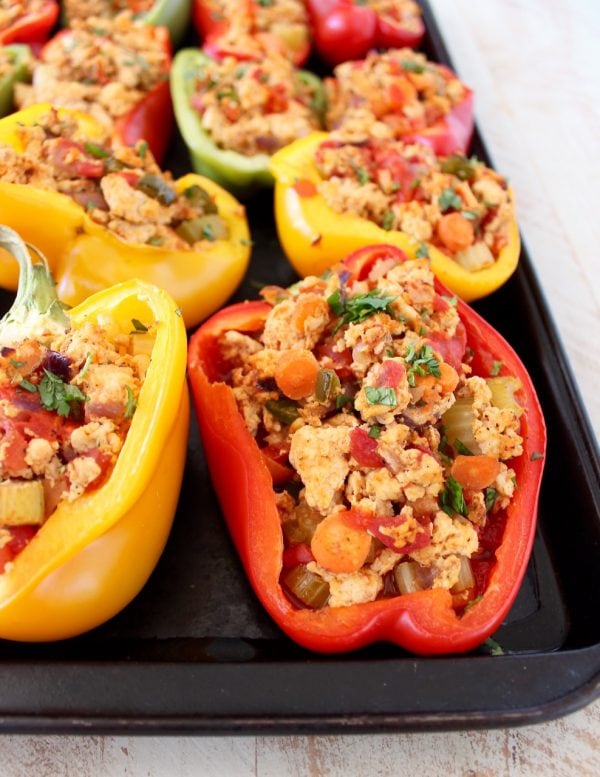 Of course, I'm sure it's no surprise to friends of the blog that my first recipe features buffalo chicken! Tabasco Buffalo Sauce contains Red Cayenne Pepper, Distilled Vinegar, Water, Salt and Garlic, making it totally Whole30 approved. Yay!
For this recipe, I mixed in some of my other favorite spices and veggies to make a totally flavorful dish!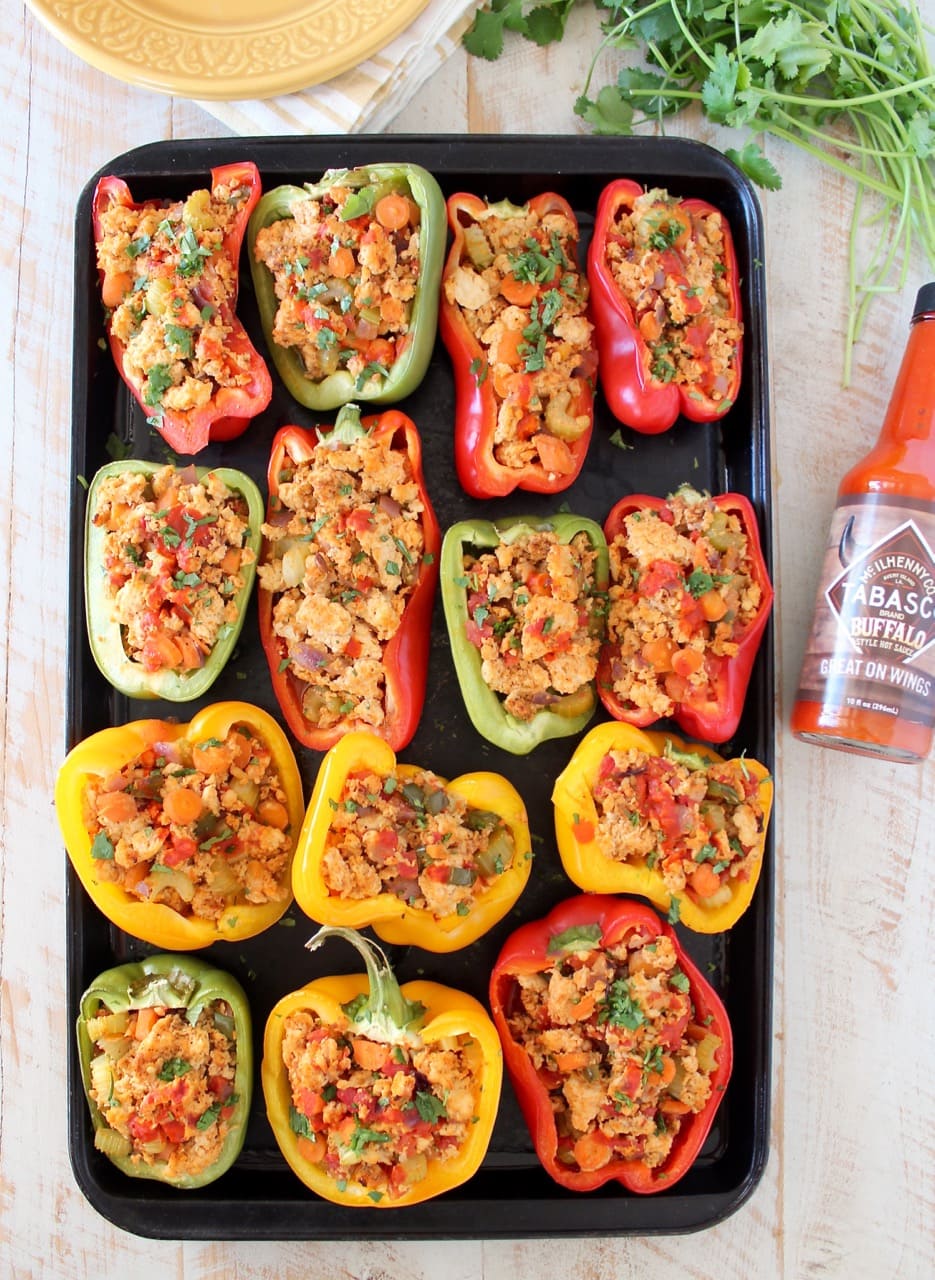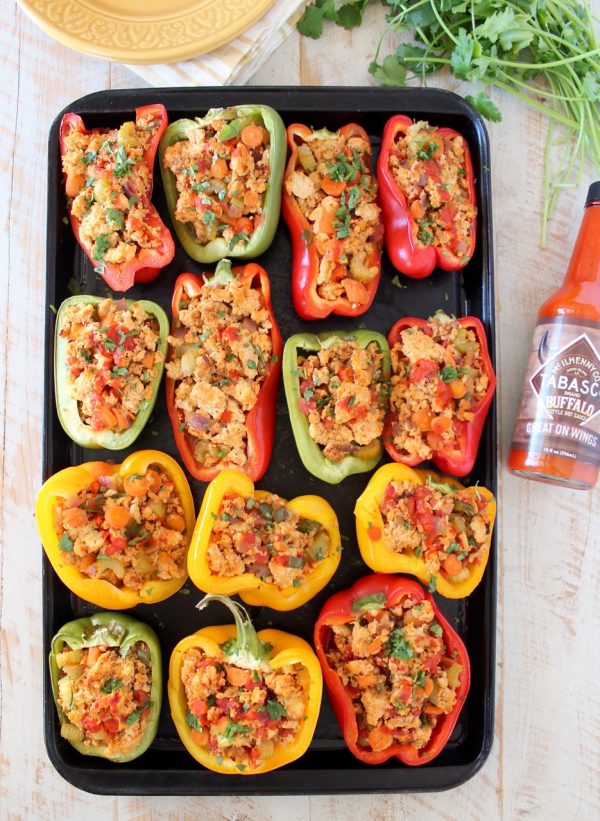 How to make Whole 30 Buffalo Chicken Stuffed Pepepers
To make these Buffalo Chicken Stuffed Peppers saute onions, carrots, celery, jalapenos and garlic together. Add the ground chicken and cook through. Add buffalo sauce, diced tomatoes with green chilies, chili powder, paprika, cumin, salt and pepper.
Simmer for 5-10 minutes. Stuff the buffalo chicken mixture in bell pepper halves. Drizzle with more buffalo sauce and bake for 20 minutes.
This recipe makes 14 stuffed half peppers. Three or four is plenty for a meal. If you're cooking for two, you can easily prep them all and bake half for dinner one night. Refrigerate the other half and bake them for another meal later in the week.
You could also double the recipe and refrigerate or freeze extra for easy meal prep!
I definitely gave these babies an extra drizzle of buffalo sauce before digging into them! I have been called the "Queen of Buffalo Sauce" and I must live up to my name! 😉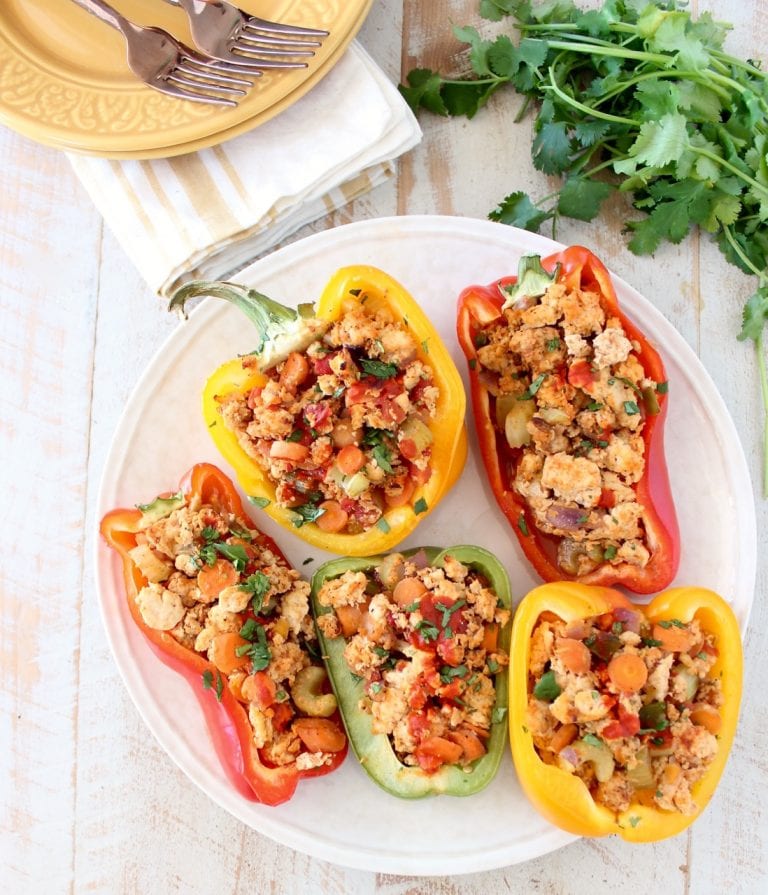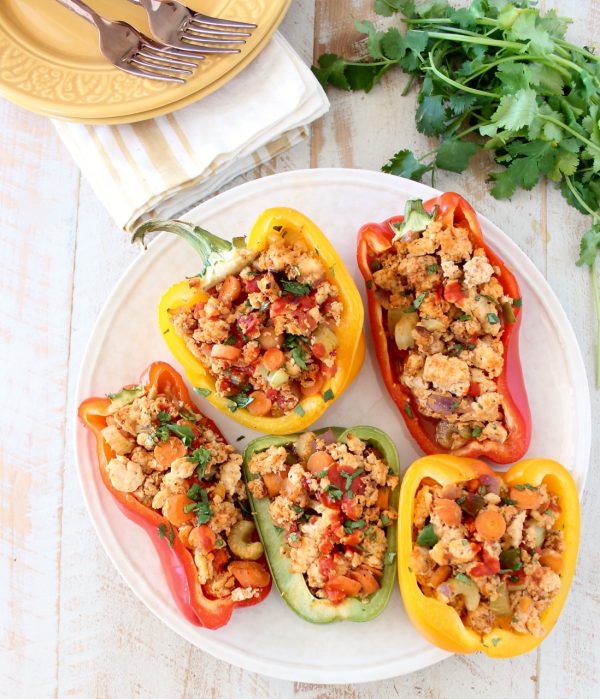 More Whole 30 Recipes!
I've listed a few of my favorite Whole30 recipes below. You can also check out this post which includes 30 Easy Whole30 Meals + a handy Whole 30 shopping list!
Lemon Herb Salmon – a simple, flavorful salmon dish that's perfect served with a fresh, green salad!
Chipotle Lime Chicken Fajita Skewers – these skewers are a Bond family favorite! They're so easy to make and the chipotle lime marinade is THE BEST fajita marinade ever!
Italian Stuffed Portobello Mushrooms – stuffed with Italian seasoned ground turkey and roasted cherry tomatoes, these mushrooms are filling & delicious!
Rosemary Steak Skewers – these skewers take meat & potatoes to a whole new level!
Italian Flank Steak with Roasted Cherry Tomatoes – this steak can be roasted, grilled or sous vide. No matter how you cook it, you're going to love it!
Tomato Basil Chicken Skewers – seriously flavorful chicken skewers are delicious served with roasted or steamed veggies as a side dish!
Roasted Cauliflower Avocado Salad – the BEST vegan cauliflower salad ever is tossed with the most delicious creamy basil avocado dressing!
Grilled Cajun Chicken – the Cajun marinade for this chicken is so scrumptious & pairs perfectly with Bell Pepper Cajun Slaw!
Instant Pot Thai Beef Lettuce Wraps – use your Instant pot to whip up this flavorful Thai beef! This recipe can also easily be made in a slow cooker.
Bruschetta Salmon – fresh and tasty tomato basil bruschetta tops this balsamic glazed salmon recipe!
Turkey Taco Salad – this popular Whole 30 recipe will fulfill your taco cravings while on the Whole30 diet!
Mushroom Spinach Chicken – Italian seasoned grilled chicken is topped with sautéed mushrooms and spinach for a tasty, healthy meal! Pair it with these Whole30 compliant mashed potatoes made with sweet potatoes & coconut milk.
Chai Spiced Butternut Squash Soup – creamy comfort food made with chai tea and roasted butternut squash! This soup recipe is so delicious, vegan and easy to make in just 40 minutes!
Tools & pantry items used to make Buffalo Chicken Stuffed Peppers: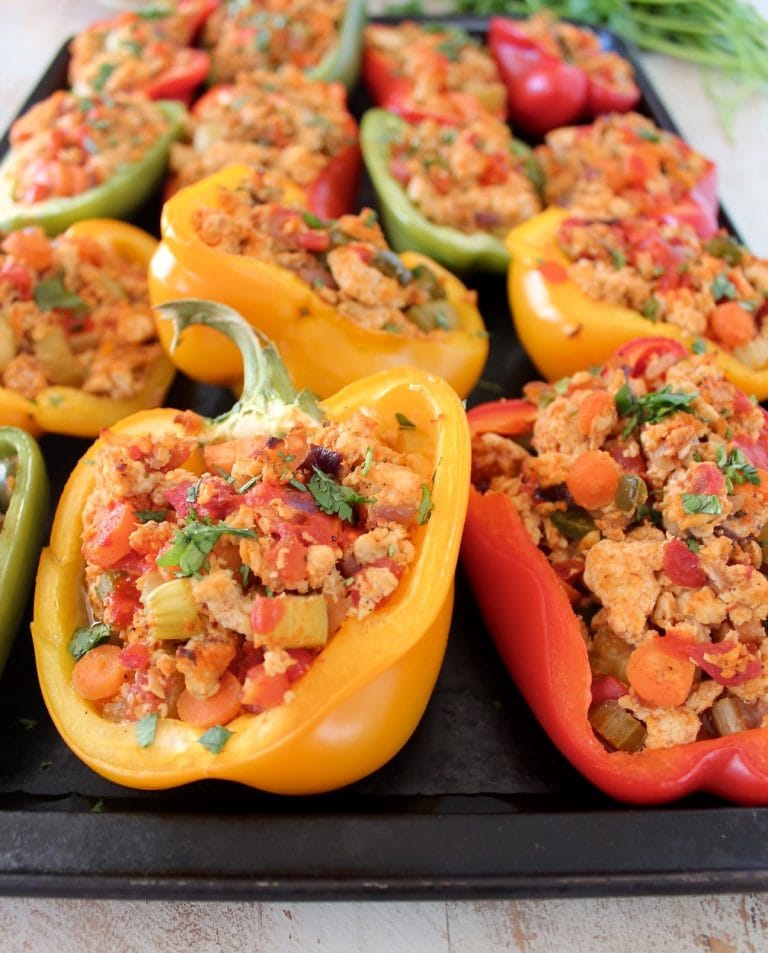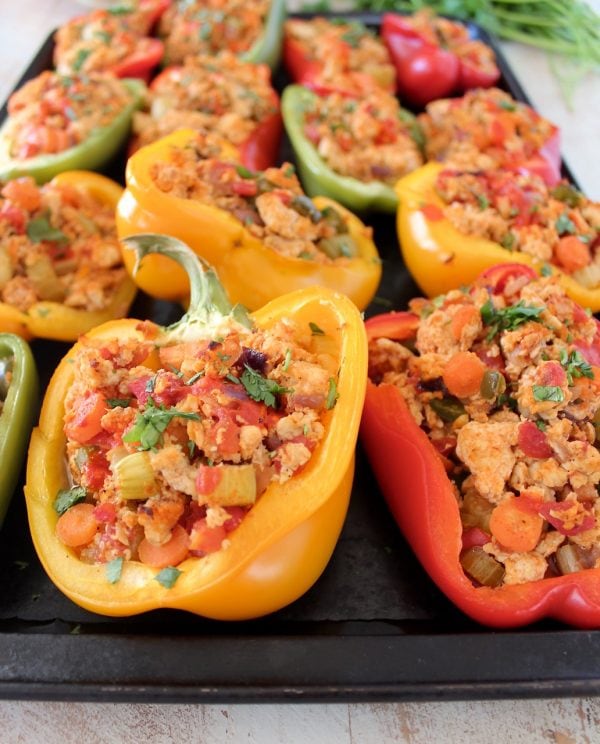 Don't forget to pin these Buffalo Chicken Stuffed Peppers for later. When you make it, be sure to share a pic on Instagram and tag me @WhitneyBond or use the hashtag #WBRecipes!
Made this recipe and loved it? Be sure to rate it 5 stars below!
Whole30 Buffalo Chicken Stuffed Peppers
Ground chicken, spices, veggies and buffalo sauce are baked in bell peppers for a healthy recipe that's gluten free, dairy free and Whole30 compliant!
Instructions
Preheat oven to 350°F.

Add 1 tbsp olive oil to a large skillet over medium high heat.

Add the diced onion, carrots, celery, jalapeno and garlic, saute 4-5 minutes.

Add the ground chicken and cook through.

Add the ¼ cup buffalo sauce, diced tomatoes with green chilies, chili powder, cumin, paprika, black pepper and kosher salt.

Stir to combine, reduce heat and simmer 5-10 minutes.

Remove from the heat and set aside.

Slice the bell peppers in half lengthwise and remove the seeds and membranes.

Spoon the buffalo chicken mixture into the bell pepper halves and place in a baking dish.

Drizzle with the remaining 2 tbsp buffalo sauce and place in the oven for 20 minutes.
Notes
Prep Ahead: This recipe can be made up to 5 days in advance and stored in the refrigerator until ready to bake and serve.
Reheat: Once baked, these stuffed peppers will stay good in the refrigerator for 5-7 days. To reheat, cover with foil and place in an oven at 350°F for 10-15 minutes. Or reheat in the microwave for 2 minutes. I always recommend an extra drizzle of buffalo sauce on these peppers when reheating them so they don't dry out.
Nutrition Facts
Calories
135
kcal
(7%)
Carbohydrates
7
g
(2%)
Protein
12
g
(24%)
Fat
6
g
(9%)
Saturated Fat
1
g
(5%)
Cholesterol
55
mg
(18%)
Sodium
339
mg
(14%)
Potassium
576
mg
(16%)
Fiber
2
g
(8%)
Sugar
4
g
(4%)
Vitamin A
3595
mg
(72%)
Vitamin C
80.8
mg
(98%)
Calcium
25
mg
(3%)
Iron
1.2
mg
(7%)
We are a participant in the Amazon Services LLC Associates Program, an affiliate advertising program designed to provide a means for sites to earn advertising fees by advertising and linking to amazon.com.