Quesabirria Tacos
This post may contain affiliate links.
Tender braised, flavorful beef birria and lots of melty oaxaca cheese, makes this THE BEST recipe for Quesabirria Tacos! Served with rich, birria broth on the side for dipping, after just one bite, you'll be asking for more of these incredibly delicious, authentic Mexican tacos!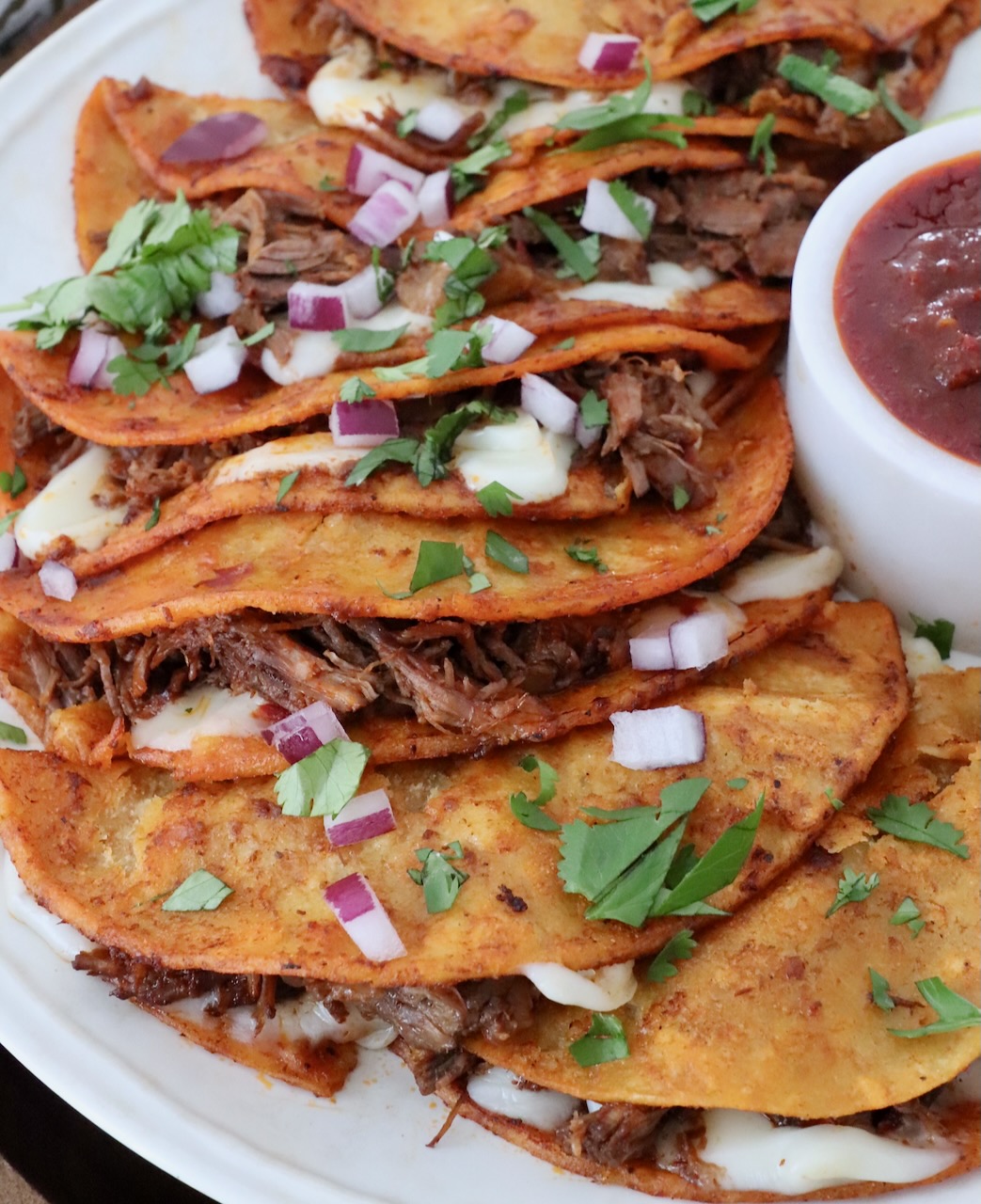 Quesabirria tacos are also known as birria tacos, queso birria tacos, or red tacos. The name "red tacos" comes from the color of the tortilla after you dip it in the tomato chili birria broth. No matter what you call these tacos, they're downright delicious! Rich, beefy birria, paired with melty cheese is a match made in taco heaven!
If you're not familiar with birria, it's an authentic Mexican dish made by marinating goat meat, lamb or beef, in a combination of guajillo chiles, chipotle peppers in adobo sauce, spices, tomatoes and vinegar. The meat is then slow braised on the stove in a large dutch oven, or in a slow cooker.
After preparing the birria, it's easy to make these tacos in just a few minutes. I love to prepare a big batch of birria stew over the weekend, then use the leftover birria meat in different recipes throughout the week. Obviously, I always serve these quesabirria tacos on Taco Tuesday!
While birria is originally from the state of Jalisco in Mexico, these quesabirria tacos are from Tijuana, just about 20 miles down the road from me in San Diego. They've become incredibly popular in food trucks and restaurants, but now you can easily make them at home anytime, using this simple, scrumptious recipe!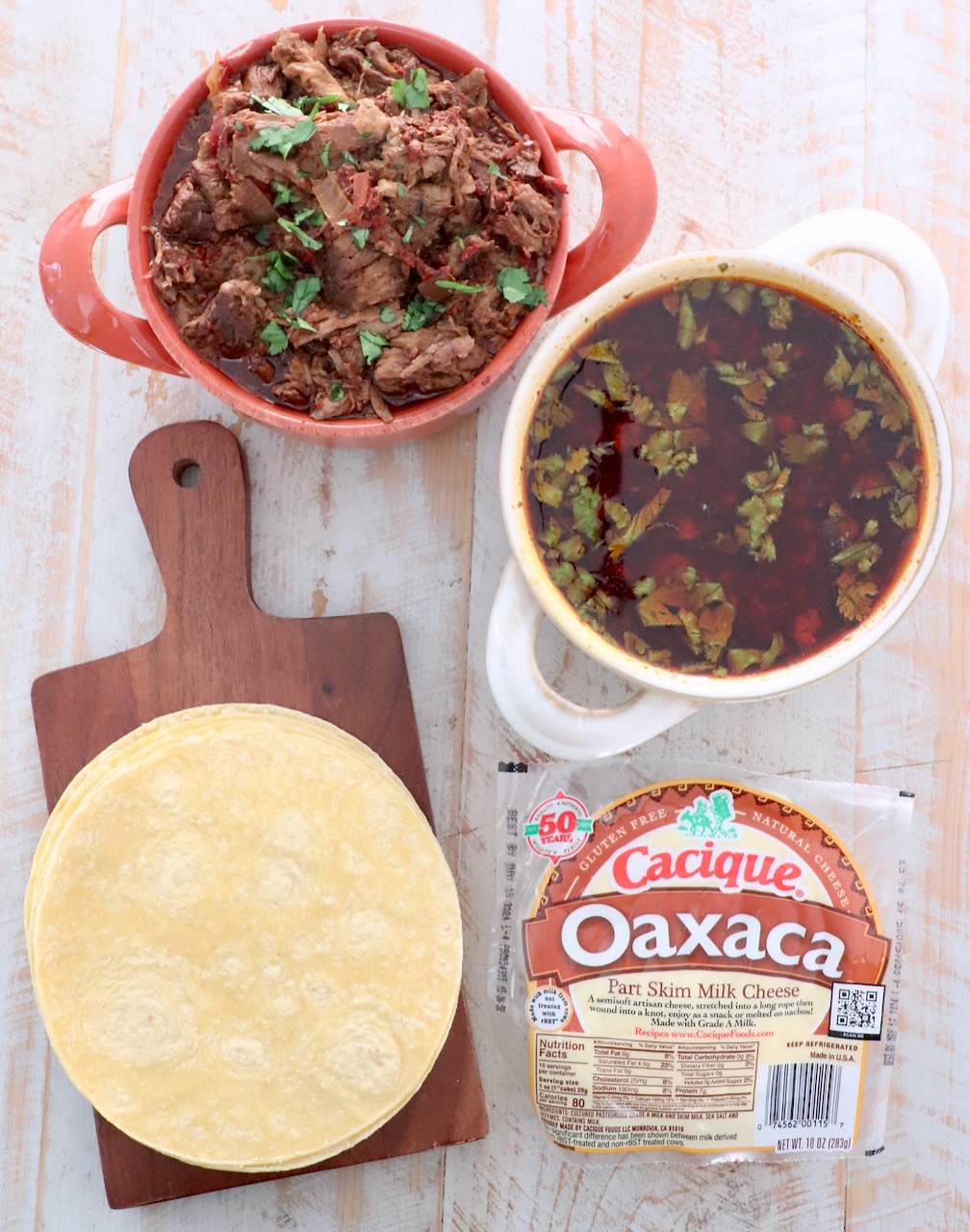 Ingredients
Birria (prepared) – click the link to the left to grab my homemade birria recipe. It's easy to make with beef chuck roast, dried chiles, spices, vinegar and beef broth. After preparing the birria, keep the shredded beef birria separate from the braising liquid, also known as consomé, to make this recipe.
Corn tortillas – for this recipe you'll want fresh, thick corn tortillas that can hold up to being dipped in the consomé without falling apart. Thin tortillas will not work for this recipe. And older tortillas, that are not as fresh, are also more likely to fall apart.
Oaxaca cheese – this semisoft Mexican cheese melts perfectly in these quesabirria tacos. If you can't find oaxaca cheese at your local grocery store, I recommend using Monterey jack or mozzarella cheese in it's place.
Instructions
For this recipe, you'll want to start by preparing the birria. You can use my marinated birria recipe that's easy to make on the stovetop, in the oven or in a slow cooker. You can make the birria up to 5 days in advance and store it in the refrigerator until you're ready to make the tacos.
While birria takes time to make, this is what gives it the wonderful depth of flavor. And I promise that after you slow braise beef birria in a pot on the stove, or in a slow cooker, it will be well worth the time and effort once you try these tacos!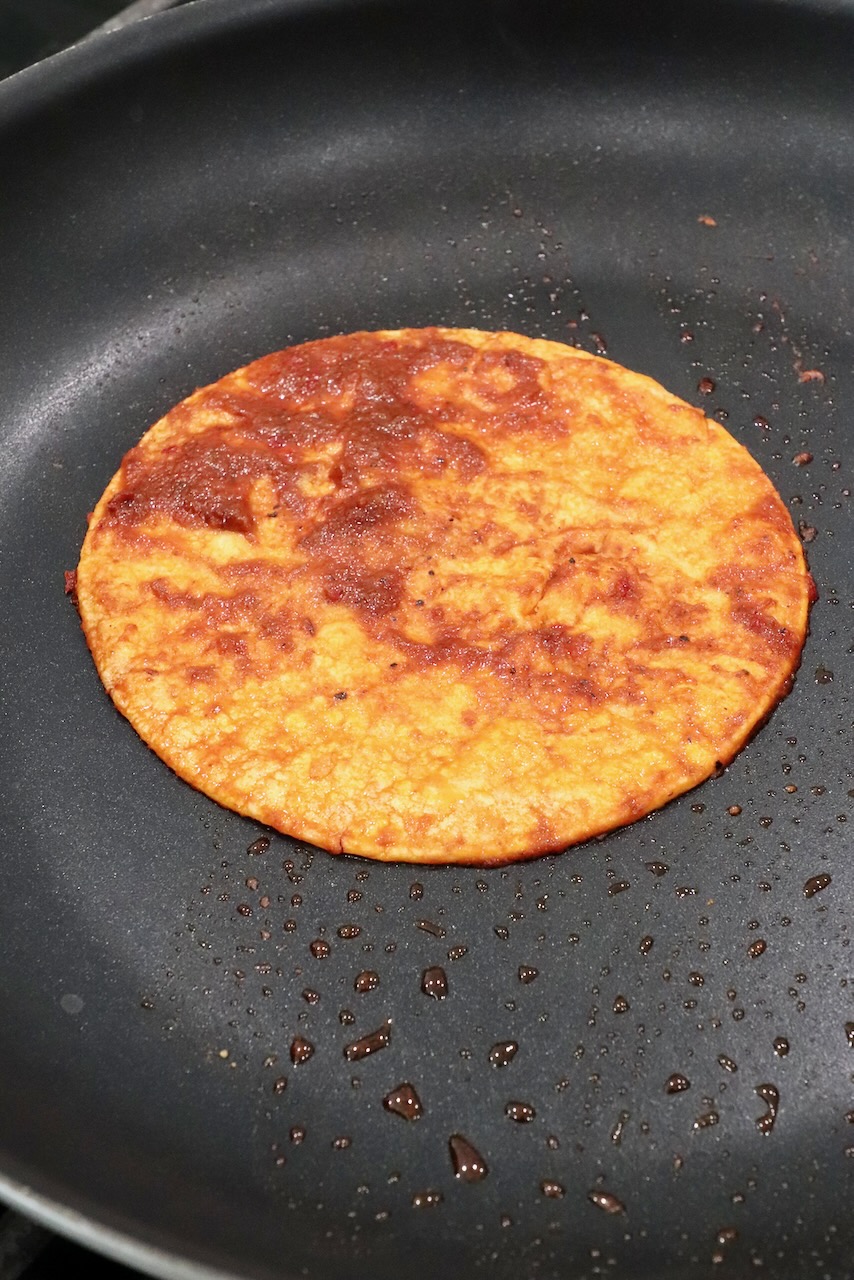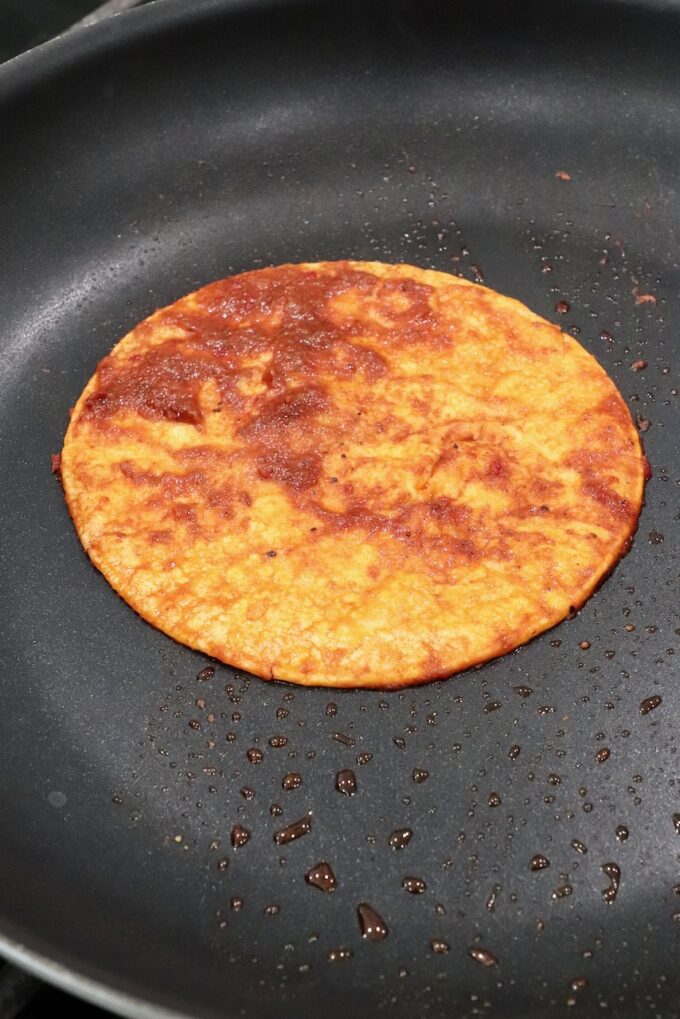 Heat a large skillet, or cast iron griddle, on the stove over medium-high heat. Cover with cooking spray, or brush the skillet with vegetable oil.
Dip a corn tortilla in the consomé (broth) from the birria. Make sure it's covered on both sides.
Add the tortilla to the hot skillet. Cook for 30 seconds, then flip.
Add shredded (or thinly sliced pieces) of oaxaca cheese to one side of the tortilla. Top the cheese with shredded beef birria, then fold the tortilla over the beef and cheese.
Cook for 30-60 seconds, or until the cheese melts in the tacos.
Remove the quesabirria taco from the skillet and repeat, making as many tacos as you'd like.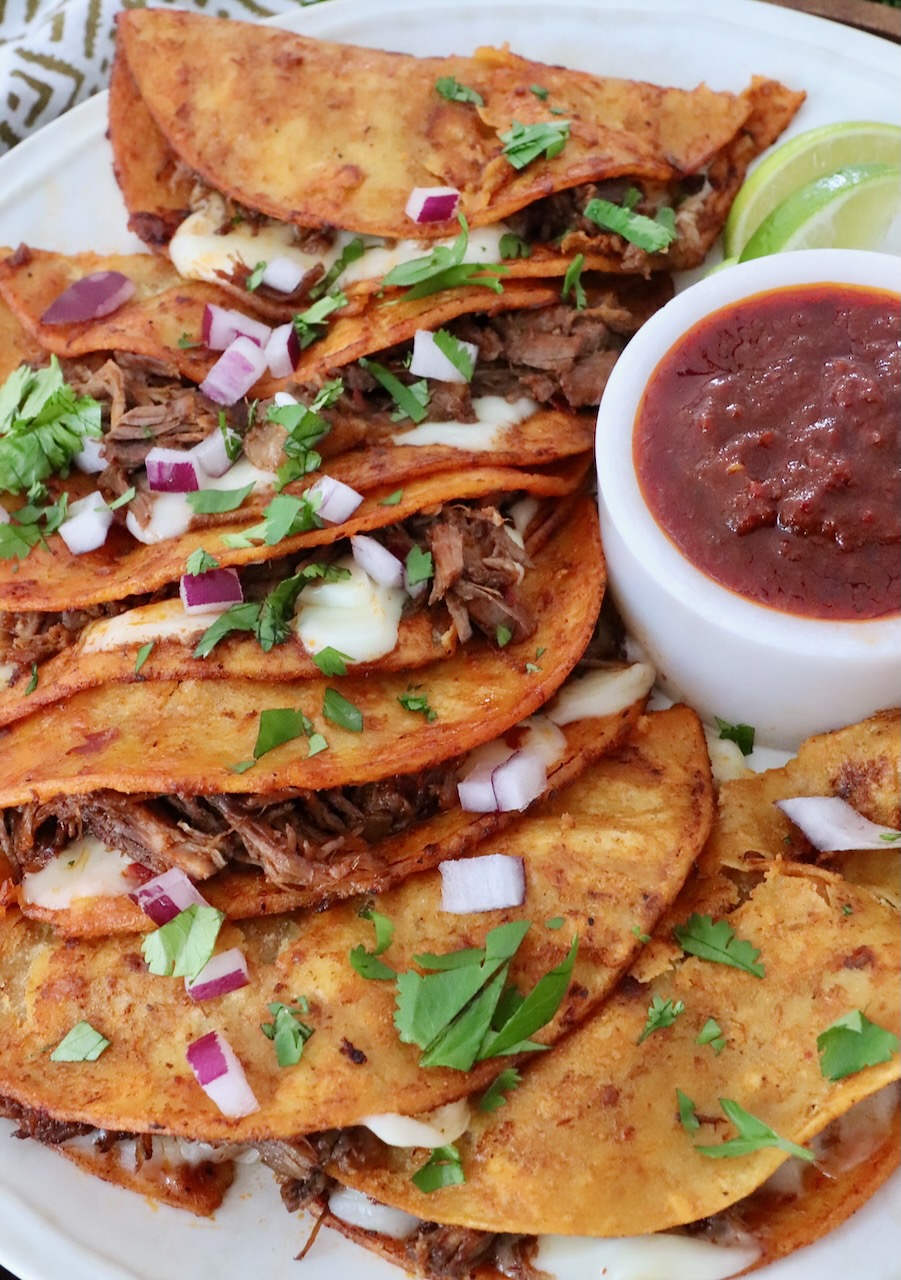 We are a participant in the Amazon Services LLC Associates Program, an affiliate advertising program designed to provide a means for sites to earn advertising fees by advertising and linking to amazon.com.