Slow Cooked Beef Barbacoa
This post may contain affiliate links.
No need to head to Chipotle when you can make mouth-watering beef barbacoa at home in a crock pot! This easy recipe is perfect for adding to tacos, burritos, tostadas, nachos or even eggs for breakfast!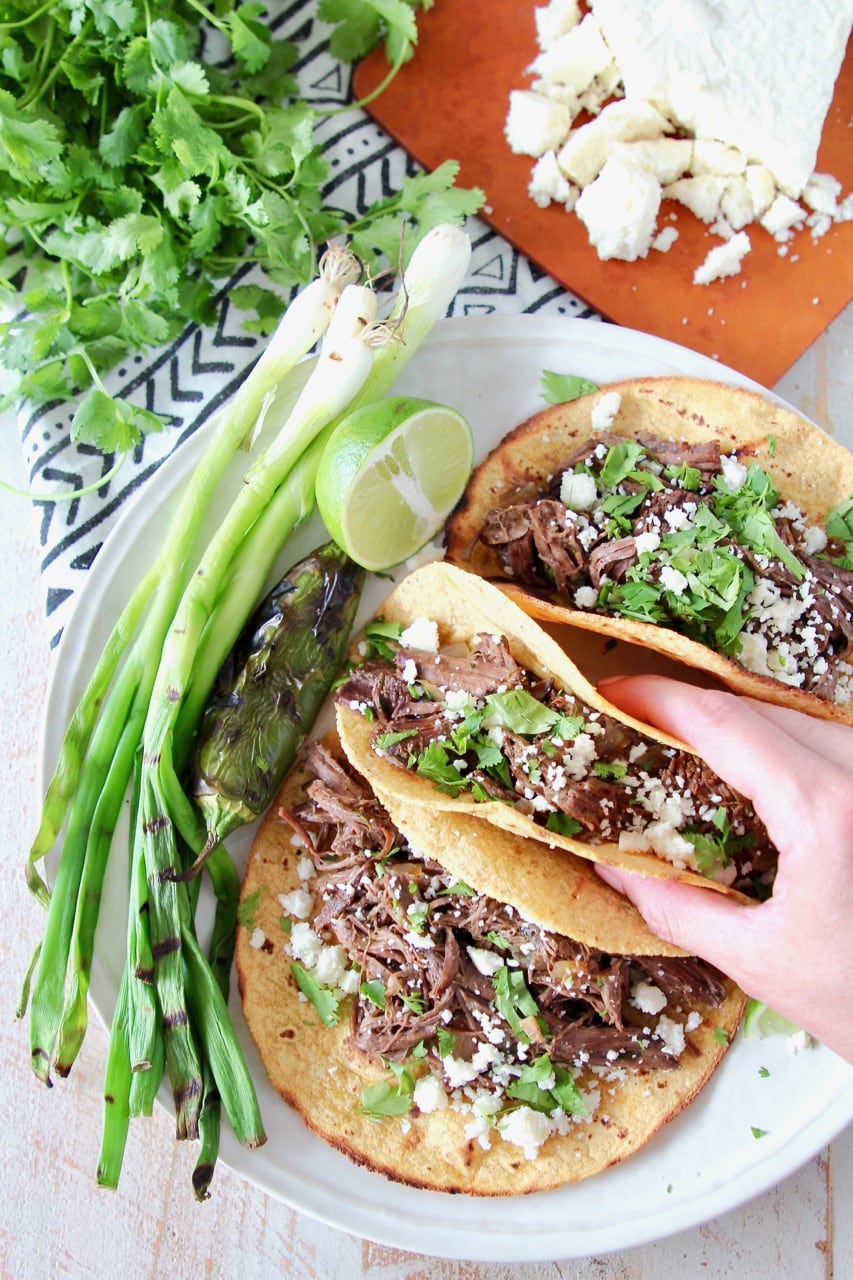 For several years now, Slow Cooked Beef Ragu has been one of the most popular recipes on the blog. It was even named one of The Best Recipes That Came From Food Bloggers in 2014 on Huffington Post! This honor still remains one of my proudest blog accomplishments!
Inspired by the great Italian slow cooked beef recipe, I decided to make an equally amazing Mexican slow cooked beef recipe for barbacoa!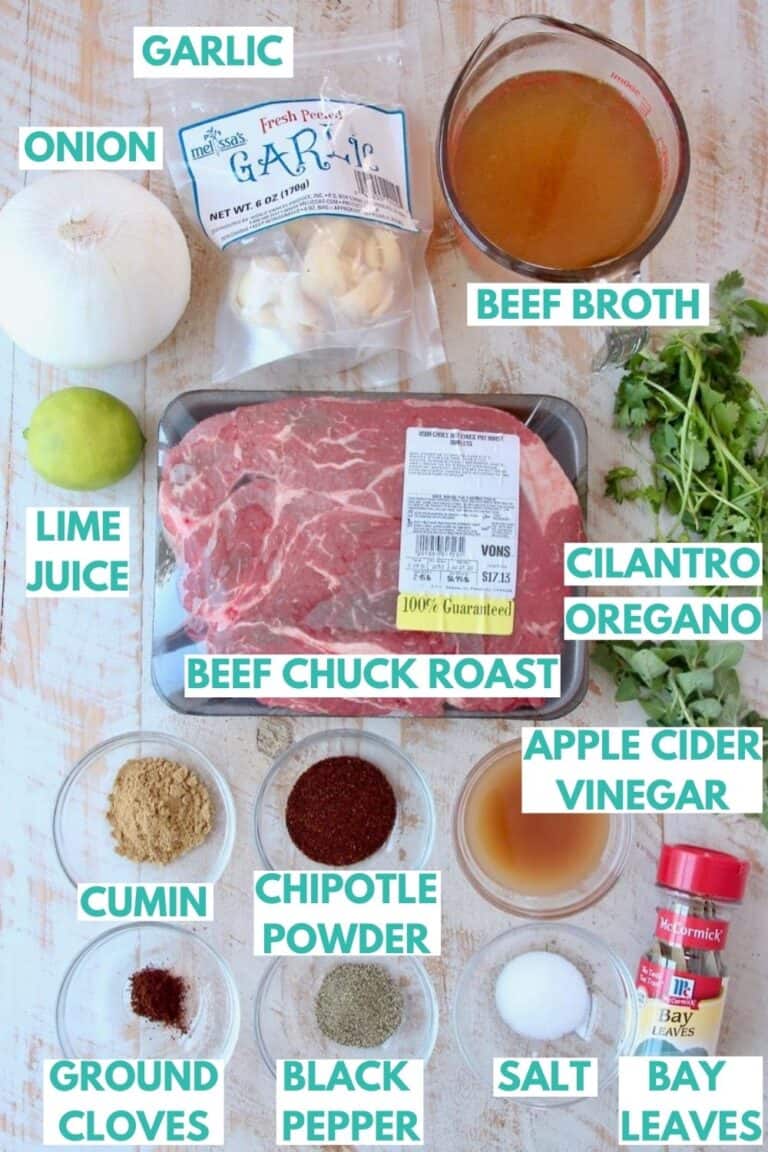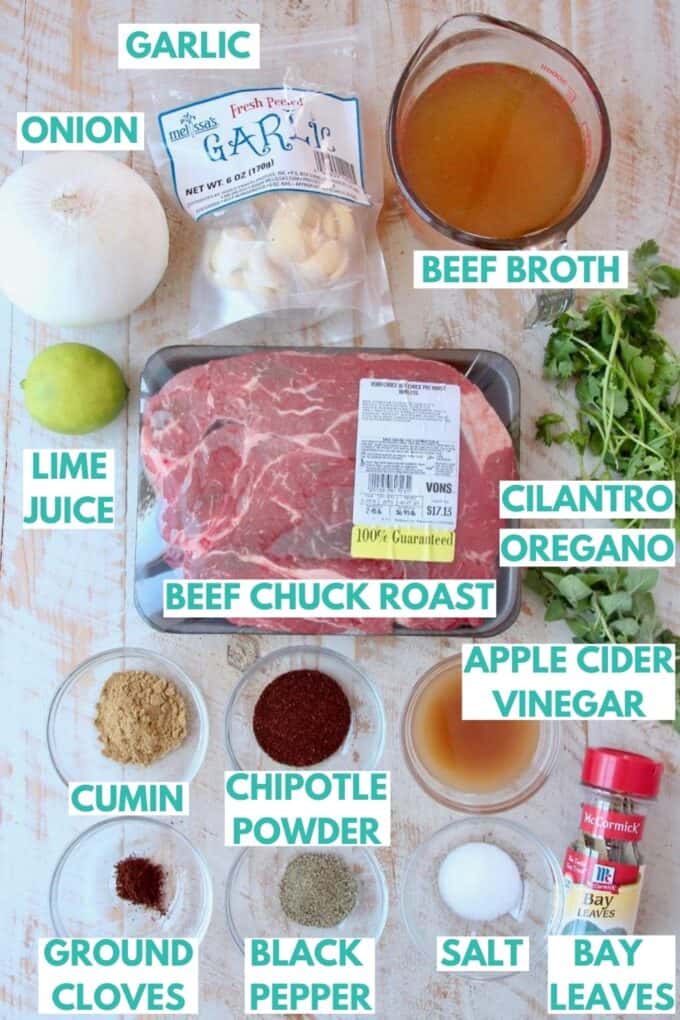 Ingredients
Onion
Garlic Cloves
Beef Broth
Lime Juice
Beef Chuck Roast
Apple Cider Vinegar
Fresh Oregano
Fresh Cilantro
Salt
Ground Cloves
Black Pepper
Ground Cumin
Ground Chipotle Powder
Bay Leaves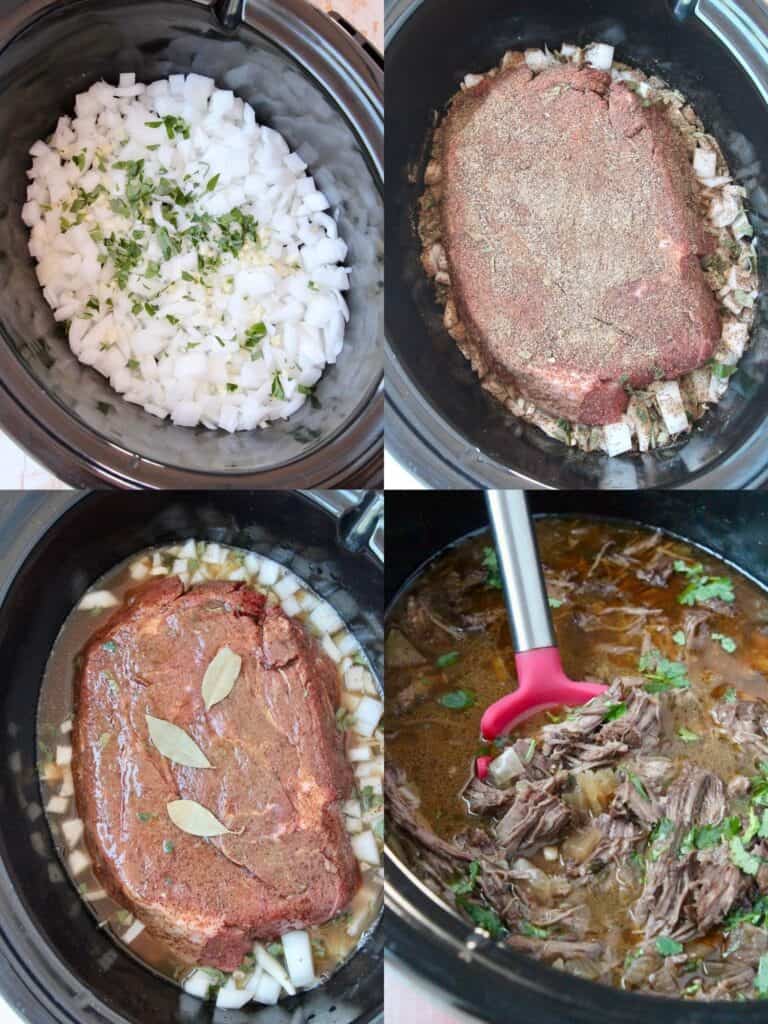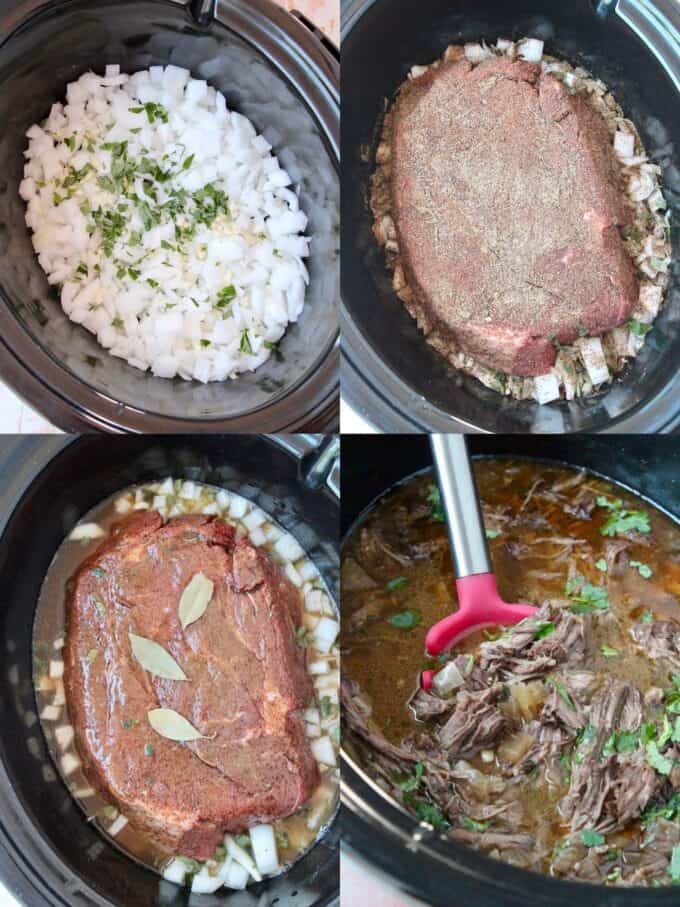 Step by step instructions
To make this beef barbacoa recipe, add onions, garlic and oregano to a slow cooker. Rub the beef with a combination of chipotle chili powder, cumin, salt, black pepper and ground cloves. Place the beef in the crock pot, then add lime juice, beef broth, apple cider vinegar, cilantro and bay leaves.
Slow cook on high for 6-8 hours, then shred with two forks or meat claws. (One of my favorite kitchen accessories that's under $20!)
Once the meat is shredded, it's your time to decide what kind of barbacoa party you want to have. A taco party, tostada party, nacho party, burrito party! I even added it to eggs for a breakfast party!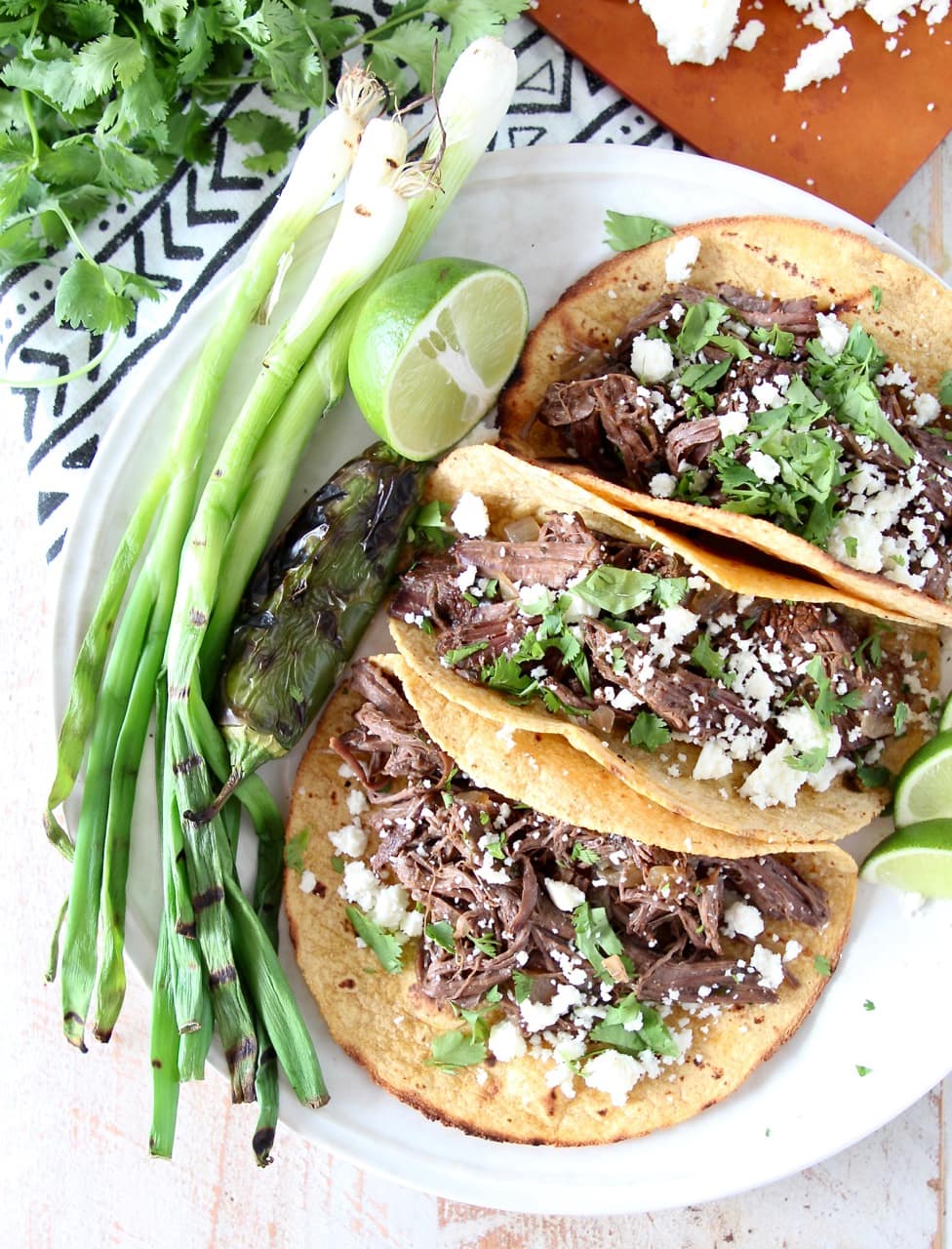 What kind of meat do you use?
For this crock pot barbacoa recipe, I used a beef chuck roast. It's a large and inexpensive cut of beef that's perfect for the slow cooker.
Traditional barbacoa is often made with other parts of the cow, but when making barbacoa at home, a beef chuck roast is easy to find and easy to use to make an authentic beef barbacoa recipe.
What is the difference between carnitas and barbacoa?
Carnitas is traditionally made with braised pork cooked in lard or oil, while barbacoa is traditionally made with slow cooked beef rubbed with Mexican seasonings and cooked in a broth.
What is in the barbacoa at Chipotle?
If you love the beef barbacoa at Chipotle, then you'll love this recipe. They're both made with garlic, chipotle peppers, cumin, salt, pepper, oregano, cloves and bay leaves.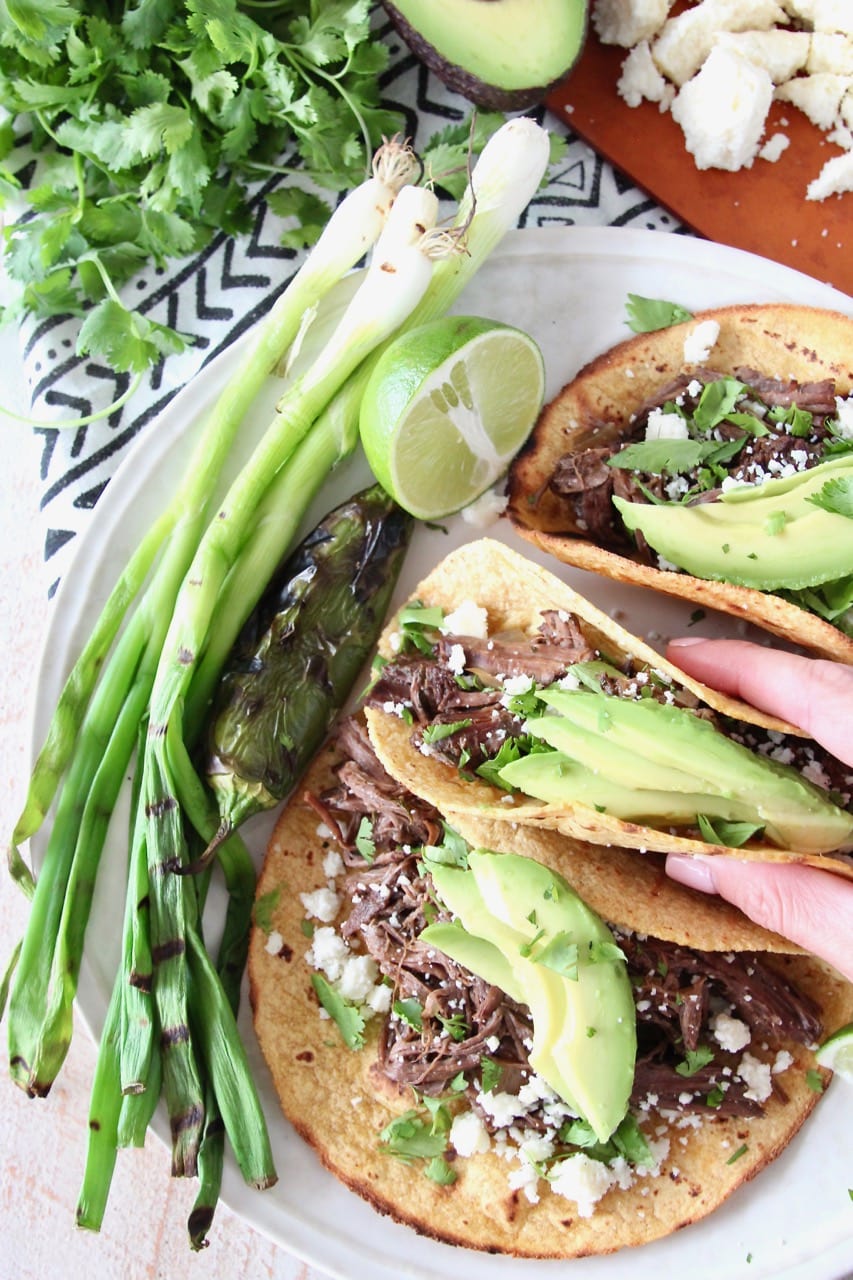 8 ways to serve beef barbacoa
Tacos: Warm up some corn tortillas, add the shredded beef and top with crumbled cotija cheese, fresh cilantro and sliced avocados. You can also add some fresh or grilled jalapeno slices and serve lime wedges on the side for juicing on the tacos.
Tostadas: Bake a few tostada shells, then spread refried beans on the shells. Top with the beef, shredded pepper jack cheese, pickled jalapenos and guacamole.
Nachos: Cover a large baking sheet with tortilla chips, spread the shredded beef barbacoa over the chips. Sprinkle 4 cups of shredded pepper jack cheese over the beef, top with sliced red onions and pickled jalapenos. Place in the oven at 400°F for 10 minutes. Remove from the oven and top with guacamole and fresh cilantro.
Burrito: If you love Chipotle Barbacoa Burritos, then wrap this beef barbacoa up in a large flour tortilla with rice, black beans, salsa and guacamole. (Because guac isn't extra at home! 😉 )
Breakfast tacos: Warm up some corn or flour tortillas, add scrambled eggs, shredded beef, sliced avocado and hatch green chili salsa. (Trader Joe's has a great one!) You'll be totally hooked on these tacos for breakfast!
Mashed potatoes: Serve the shredded beef barbacoa over Mexican Mashed Potatoes for a Mexican style comfort food recipe that's totally gluten free!
Low Carb Taco Bowls: Ditch the tortillas for Cilantro Lime Cauliflower Rice. Create 4 taco bowls that are only 14 carbs each when served with 1 1/2 cups of cauliflower rice and 1/4 of the beef barbacoa from this recipe.
Chilaquiles: add shredded beef barbacoa to Kurt's Famous Chilaquiles for an incredibly flavorful breakfast or brunch!
With all of these great ideas, you can make this Crock Pot Beef Barbacoa recipe for Taco Tuesday, then eat it different ways throughout the week!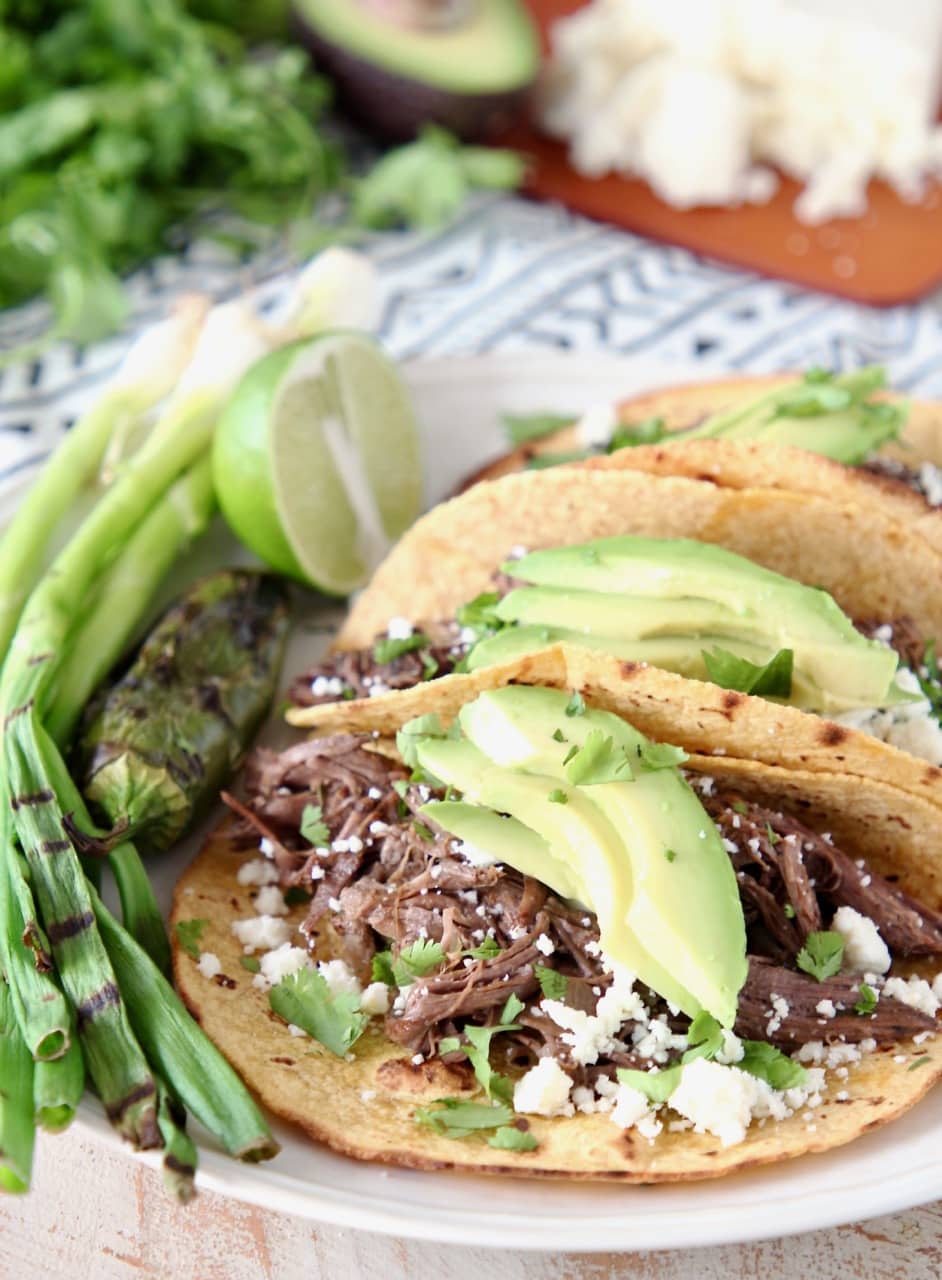 More Crock Pot taco recipes
Looking for more taco recipes to make in your Crock Pot? Try these!
Don't forget to pin this Beef Barbacoa recipe for later and when you make it, be sure to share a pic on Instagram and tag me @WhitneyBond or use the hashtag #WBRecipes!
Crock Pot Beef Barbacoa
No need to head to Chipotle when you can make mouth-watering beef barbacoa at home in a crock pot! This easy recipe is perfect for adding to tacos, burritos, tostadas, nachos or even eggs for breakfast!
Instructions
Place the onion, garlic and oregano in the bottom of a crock pot.

Combine the salt, pepper, chipotle powder, cumin and ground cloves in a small bowl.

Rub this mixture on the beef chuck roast and place in the crock pot.

In another medium bowl, combine the lime juice, apple cider vinegar, beef broth and cilantro.

Pour this mixture over the beef, then add the bay leaves to the crock pot.

Cover and cook on high for 6-8 hours.

Remove the bay leaves and shred the beef.

Place in tortillas, or on tostadas, and add the toppings of your choice!
Notes
The nutritional information provided does not include the optional toppings.
This recipe is gluten free when served on corn tortillas. Always make sure the beef broth used is gluten free.
Nutrition Facts
Calories
391
kcal
(20%)
Carbohydrates
26
g
(9%)
Protein
31
g
(62%)
Fat
18
g
(28%)
Saturated Fat
7
g
(35%)
Cholesterol
97
mg
(32%)
Sodium
671
mg
(28%)
Potassium
673
mg
(19%)
Fiber
4
g
(16%)
Sugar
1
g
(1%)
Vitamin A
360
mg
(7%)
Vitamin C
3.9
mg
(5%)
Calcium
90
mg
(9%)
Iron
4.5
mg
(25%)
We are a participant in the Amazon Services LLC Associates Program, an affiliate advertising program designed to provide a means for sites to earn advertising fees by advertising and linking to amazon.com.