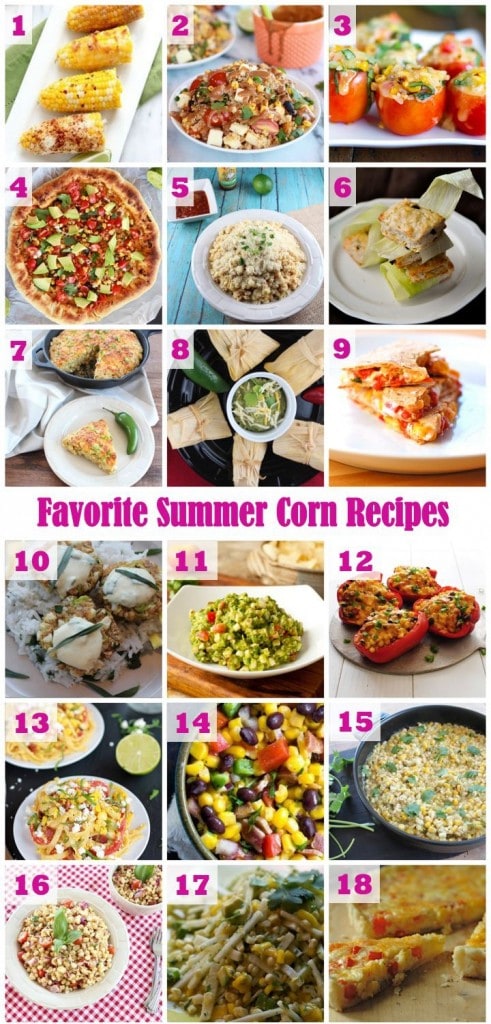 It's the middle of summer and we're loving all of the fresh summer produce, especially corn! Right now is the best time of the year to buy corn so you have to take advantage of the low price and large ear size while you can!
This week I've compiled a list of our favorite summer corn recipes from WhitneyBond.com as well as several recipes from our favorite fellow food bloggers (trying say that 10 times fast!)
Whether you're looking for traditional corn on the cob or an inventive new way to cook up the summer veggie, you'll find it here! Summer won't last forever, and neither will your chance to try these delicious eats so stock up, get cooking, and dig in!
1. Corn on the Cob: Four Ways {Baked by Rachel}
2. BBQ Grilled Corn, Jalapeno, and Peach Quinoa Salad {Half Baked Harvest}
3. Roasted Corn and Basil Stuffed Tomatoes {Pinch of Yum}
4. Grilled Corn and Chipotle Pesto Pizza with Queso Fresco {Half Baked Harvest}
5. Deconstructed Mexican Street Corn {WhitneyBond.com}
6. Corn, Cheese and Sundried Tomato Scones {Fork Spoon Knife}
7. Gluten Free Jalapeno Cheddar Cornbread {WhitneyBond.com}

8. Chicken and Sweet Corn Tamales with Green Chili Avocado Salsa {WhitneyBond.com}
9. Mozzarella, Basil, and Corn Quesadilla {Pinch of Yum}
10. Zucchini Corn Cakes with Tarragon Remoulade {WhitneyBond.com}
11. Grilled Corn Guacamole {Pinch My Salt}
12. Black Bean, Corn and Quinoa Stuffed Peppers {Bev Cooks}
13. Summer Grilled Mexican Street Corn Fettuccine {Half Baked Harvest}
14. Corn and Black Bean Salsa {Homesick Texan}
15. Spicy Creamed Corn {WhitneyBond.com}
16. Italian Corn Salad {WhitneyBond.com}
17. Grilled Corn, Mango and Jicama Salad with Honey Vinaigrette {Pinch My Salt}
18. Red Bell Pepper and Sweet Corn Quiche {Dixie Caviar}