This juicy turkey burger recipe can be cooked on the stove or on the grill. It's easy to make and topped with the most delicious Tomato Basil Bruschetta for a healthy, flavorful meal!
Serve these burgers in lettuce wraps without the cheese to create a gluten free, paleo and whole 30 compliant meal! Without the buns, this turkey burger recipe is only 3 carbs per serving and perfect for those of the keto diet.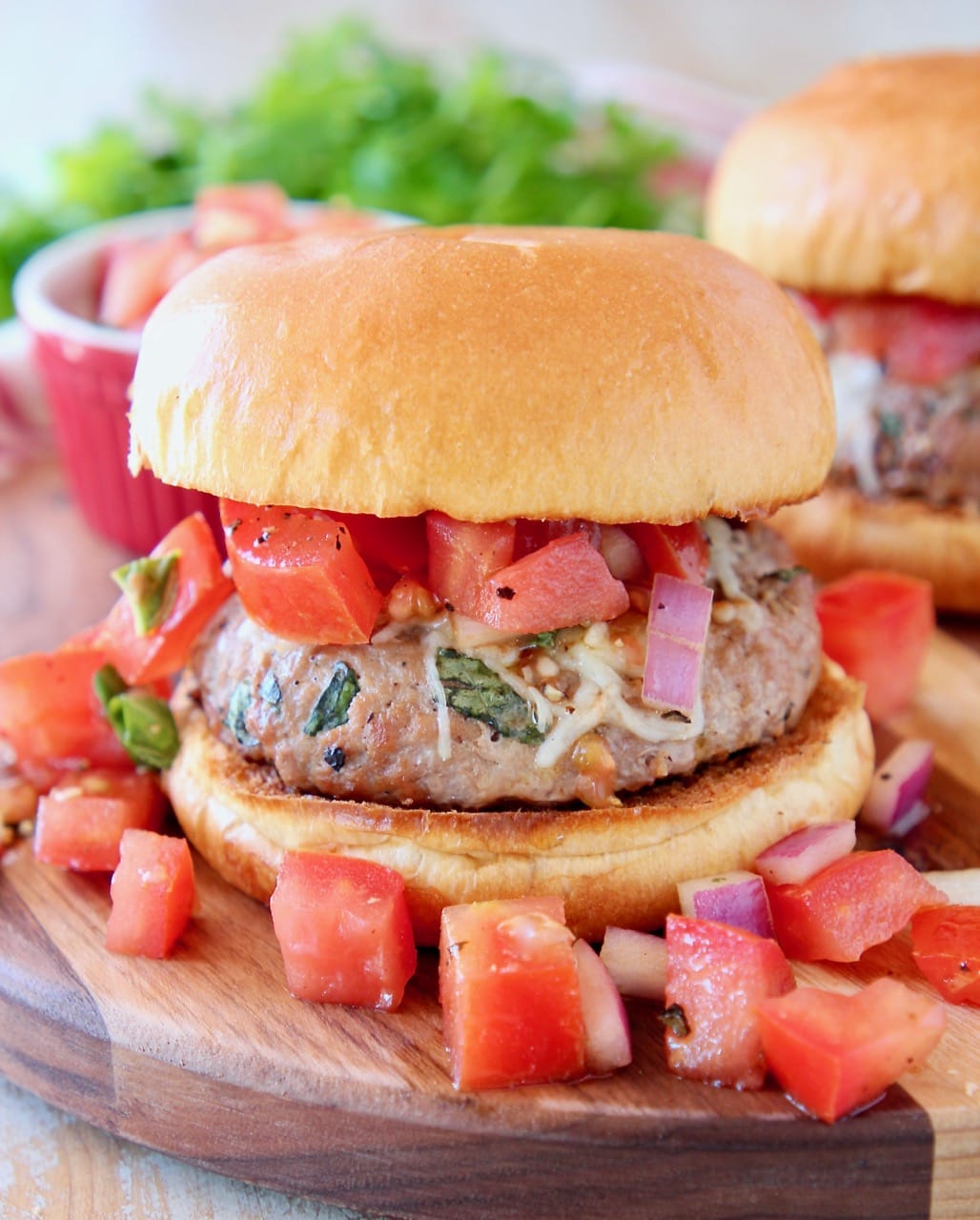 If you've ever been to the blog before, you know how much I love topping recipes with Tomato Basil Bruschetta!
Grilled Chicken Zoodle Bowls, yup I topped those with bruschetta & they've been shared over 130,000 times on Pinterest! Bruschetta Baked Brie, oh yes I did! Creamy brie, topped with flavorful balsamic bruschetta, yes please!
And once you try this Bruschetta Salmon recipe, you'll never eat salmon any other way! Now for this turkey burger recipe topped with tomato basil bruschetta.
Turkey burgers get a bad rap for being dry and tasteless. But I can tell you that these turkey burgers are quite the opposite. They are so juicy and flavorful! I can guarantee you'll be adding them to your regular grilling menu!
No grill? No problem! This turkey burger recipe can easily be cooked on the stove in a cast iron skillet, or heavy-bottomed pan.
This recipe is easy enough to make for a weeknight dinner, but also perfect for parties and BBQ's. The bruschetta topping and turkey burgers can both easily be prepped ahead of time. When it's party time, all you have to do is toss the burgers on the grill!