THE BEST Carne Asada Tacos are easy to make at home with a simple & flavorful chipotle lime marinade, skirt steak and corn tortillas! This authentic Mexican recipe is simple enough to grill up during the week, but also perfect for parties and BBQ's.
 Add your favorite taco toppings like cilantro, onions, radishes and queso fresco!  And don't forget the sides! I love to serve these tacos with Restaurant Style Mexican Rice and Mexican Street Corn!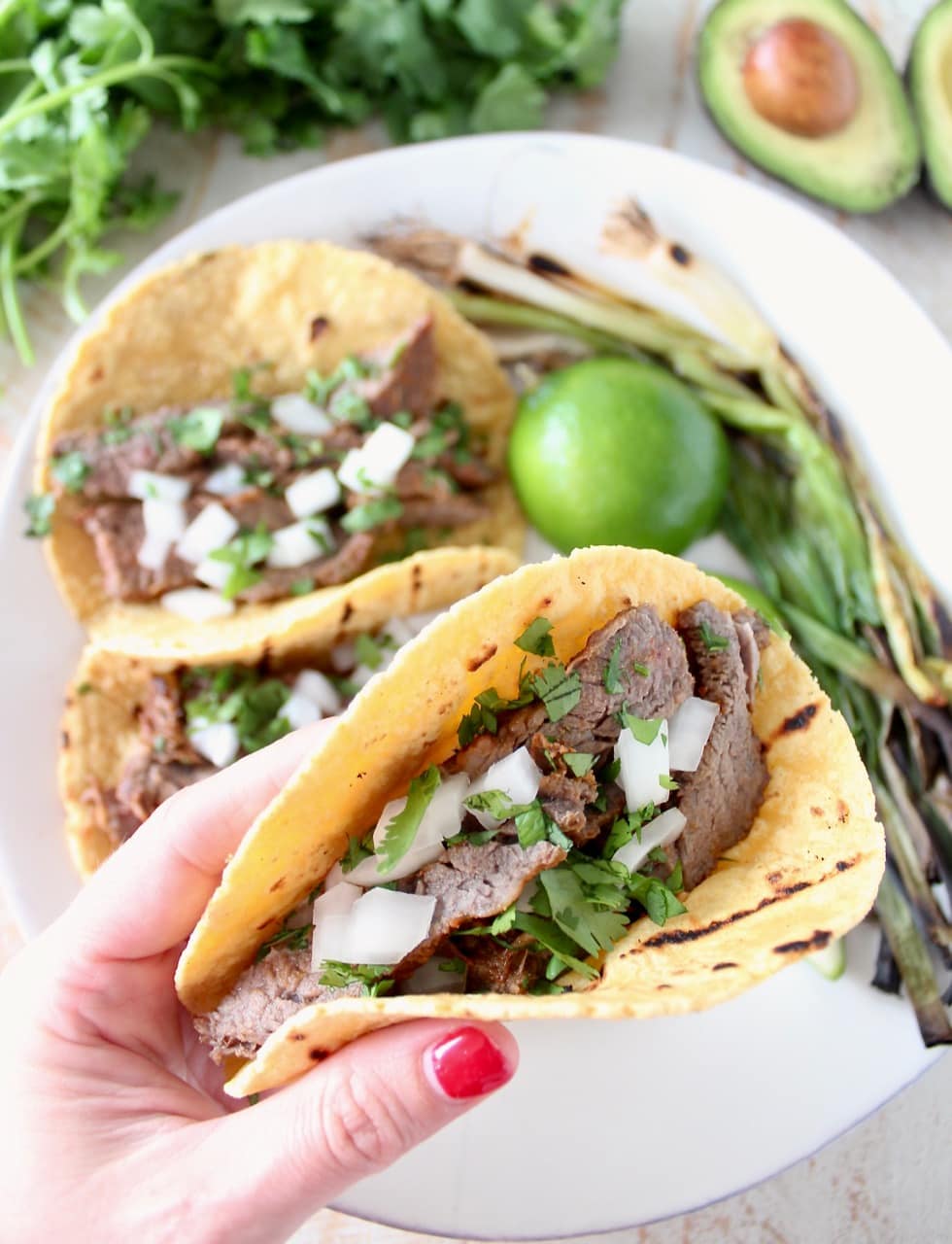 Today's post is sponsored by my friends at the California Beef Council.
When I was asked to join the "Feed Me!" Podcast on an episode about tacos, I couldn't say yes fast enough! My love for tacos runs deep y'all!
In my world, there's no better way to start your day than with delicious breakfast tacos. And I love to serve these Green Chili Chicken Rolled Tacos at parties.  I make a taco bar every year at my annual Super Bowl party. And these Slow Cooker Pineapple Sriracha Tri Tip Tacos are always the most popular!
When I'm looking for an easy weeknight meal to toss in the slow cooker, I turn to my Slow Cooker Beef Barbacoa recipe. It's so flavorful and easy to make!
I live in San Diego, just about 20 minutes from the Mexico border. People here take carne asada tacos very seriously. The key to a great carne asada taco is an incredibly flavorful marinade, delicious beef and simple, fresh toppings.
When grabbing a Carne Asada street taco in Mexico, you're most likely going to need 3 or 4 tacos. The idea is that the tacos are small and easy to eat while standing on the side of the street. Our favorite tacos in Tijuana come from a cart on the side of  the road. They make each one fresh to order and serve them with two toppings, fresh cilantro and onion.
I've taken this simple taco concept and brought it to this recipe. The flavorful chipotle lime carne asada marinade is the key to this easy recipe. Your biggest challenge will be getting the sliced meat from the cutting board into a tortilla before eating it all!