You're going to LOVE this Chicken Enchilada Casserole recipe, made with THE BEST creamy avocado green enchilada sauce! It's gluten free & easy to make in under 30 minutes! Quinoa adds fiber and protein to this healthy, simple recipe.
Serve your new favorite Mexican dish topped with fresh Pico De Gallo or Creamy Avocado Salsa!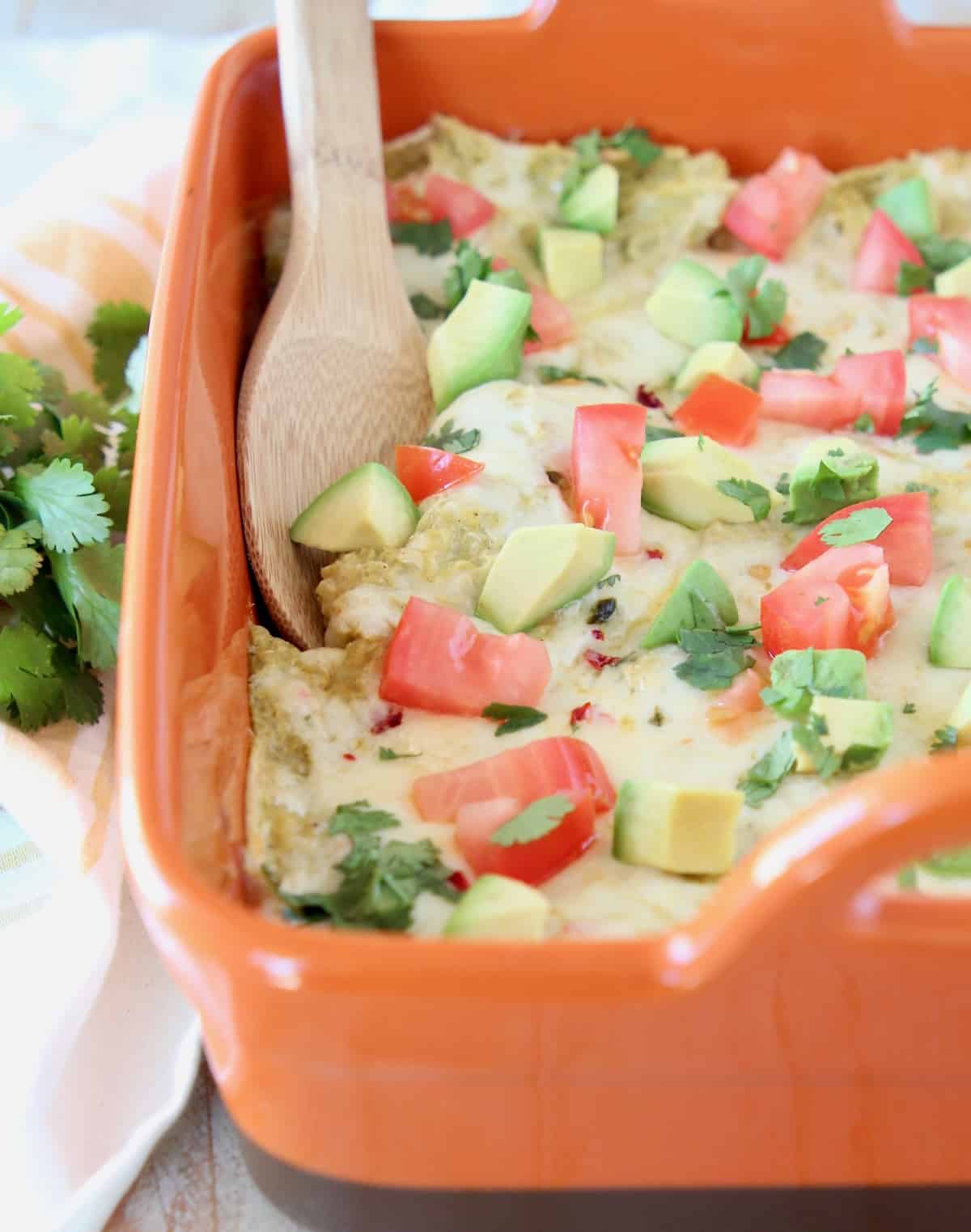 All the deliciousness of enchiladas in an easy layered casserole, sign me up! Add in my favorite creamy avocado sauce and you've got a winning dinner in under 30 minutes!
The sauce in this casserole really is the star of the show. The first recipe where I introduced the world to this amazing avocado sauce was this recipe for Mexican Stuffed Shells. I really love finding any excuse to crossover Mexican and Italian food!
I then added the avocado green enchilada sauce to these Chicken Enchiladas.  A more classic take on enchiladas and totally delicious! In 2014, I added the sauce to this Taco Pasta Bake. Another Mexican pasta fusion dish, that is still one of my favorite recipes on the blog!
Needless to say, I love this sauce! I love the flavor of it, but I also love how easy it is to make this great recipe! Just toss all the ingredients for the sauce in a blender or food processor. (I use my NutriBullet, because I'm totally obsessed with this kitchen gadget!) Blend and voila, your sauce is ready to go!
For this enchilada casserole recipe, I mixed the sauce with quinoa and shredded chicken for a nutritious meal. Each serving of this chicken enchilada casserole provides 25 grams of protein and 7 grams of fiber and is only 443 calories.
Healthy, easy AND delicious, this is one enchilada casserole you're going to want to eat over and over again!