You'll feel like you're on vacation when you're sipping on this Frozen Strawberry Daiquiri recipe! It's easy to make at home & perfect for parties or poolside sipping! A delicious combination of basil simple syrup, strawberries, rum and lime juice create the perfect summer cocktail!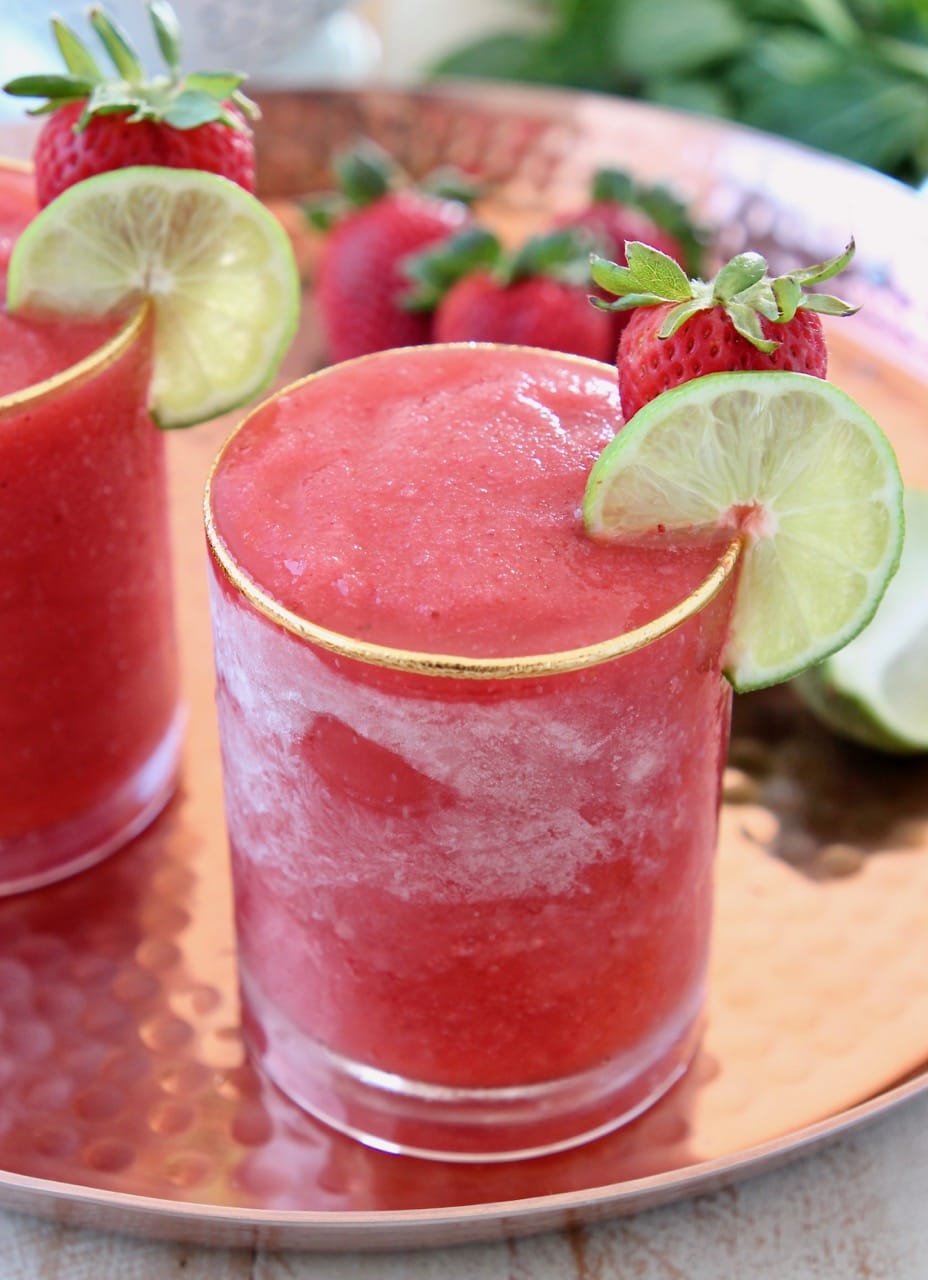 Do you ever sit at home wishing you were on vacation on a tropical island? While I can't instantly transport you to Jamaica (man I wish that was a thing!) I can give you this delicious strawberry daiquiri recipe to whip up! Just close your eyes, take a sip and you'll instantly be transported into vaca-mode!
Growing up, it was a real treat when my parents would let me order a strawberry daiquiri at a restaurant. (A non alcoholic one, of course!) Now that I'm a grown up (sometimes, haha!) I get to enjoy the same delicious drink, with booze!
For this daiquiri recipe, I added my own little spin with basil simple syrup. Simple syrup is easy to make by boiling a combination of half water and half sugar together until the sugar dissolves.
I love to make flavored simple syrup's to add to cocktails. It's as easy as adding an herb, vegetable or fruit to the simple syrup while it's boiling. Strain the simple syrup at the end, then add it to your favorite cocktail.
I've made grilled jalapeno simple syrup to go in a Watermelon Margarita, it's sweet, spicy and so delicious! I've also made mint simple syrup to add to this Frozen Coconut Mojito. So refreshing in a cocktail with that minty, fresh flavor!
The basil simple syrup in this cocktail adds just a hint of basil to this sweet strawberry daiquiri. After you whip up the simple syrup, all you have to do is toss all of the ingredients in a blender. Blend until smooth and the cocktail is ready for sipping!