If you're craving a gyro but don't have a vertical rotisserie at home, try this recipe for Greek Tacos instead! It has all of the delicious flavors of a gyro. Greek spiced ground turkey with cucumber tomato salsa and feta cheese in warm pita bread! Best part is, it's quick and easy to make in just 29 minutes!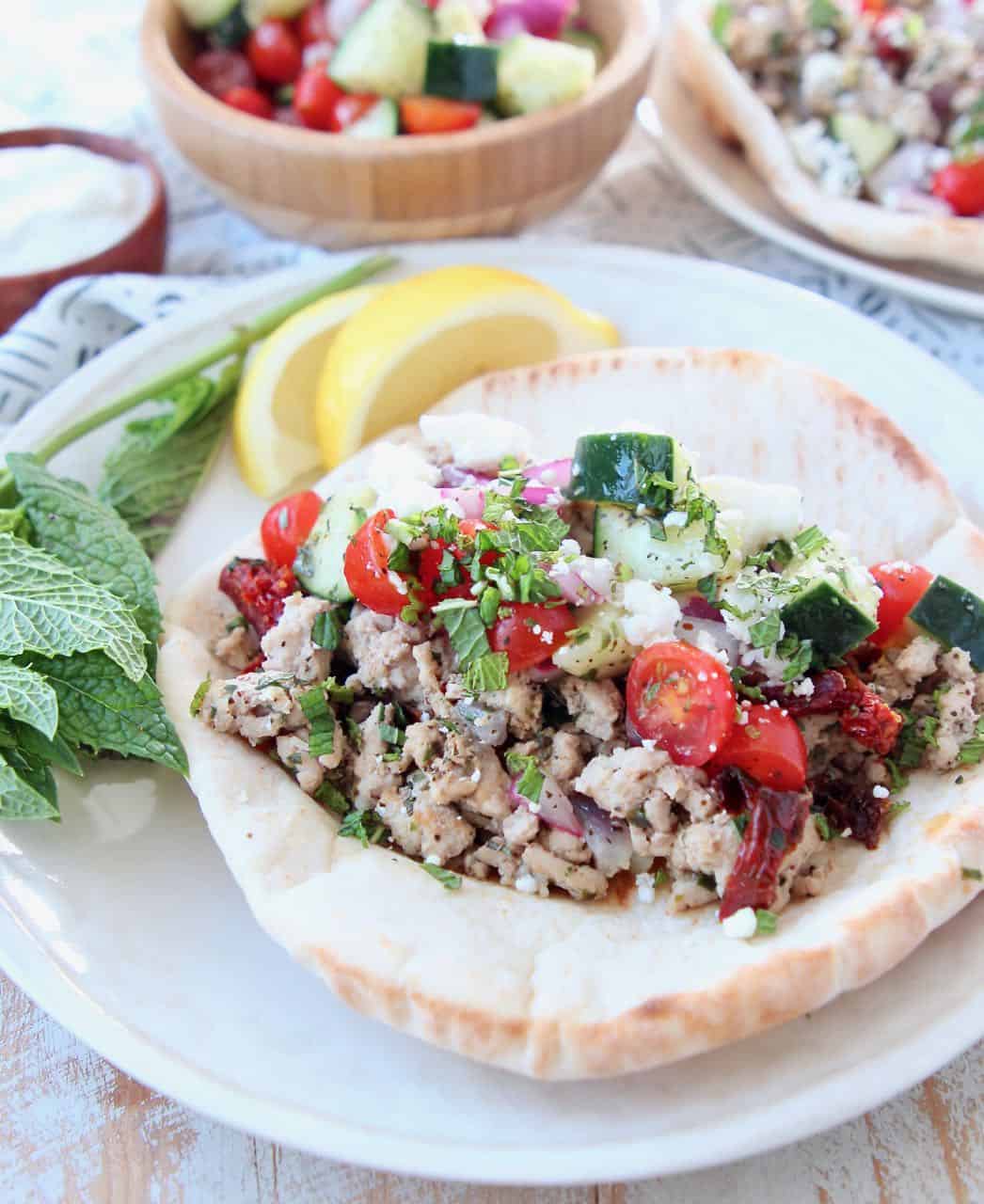 While this is not a traditional taco or a traditional gyro, it's a wonderful fusion of the two. And it's TOTALLY DELICIOUS!
I've been making these "Greek Tacos" for years now. And it's still one of the recipes I get most excited to make. The combination of flavors and textures is on point!
A gyro is traditionally made with meat cooked on a vertical rotisserie. Since I'm guessing most of you don't have a vertical rotisserie hanging in your kitchen, I'm bringing the flavor to your stovetop. I used ground turkey in this recipe, but ground lamb or ground beef can be used for a more traditional gyro.
The meat is topped with a tomato cucumber salsa, which I could seriously eat by the spoonful! It's so light, fresh and flavorful, and perfect on these tacos. Then of course I finish it off with crumbly, salty feta cheese, a squeeze of lemon juice and some fresh mint. Like I said, flavor combination, on point!
Over the years I've also added tzatziki sauce and hummus to these gyros. Both are great additions to the dish. But I'm updating the recipe to now say that tzatziki sauce is a MUST on these gyros! The light, creamy, greek yogurt sauce really ties the entire gyro experience together.
So much flavor packed into a recipe that's easily made in 29 minutes, winning!
I made this recipe on San Diego 6 News years ago. One of the anchors said she still makes it for her family all of the time. She said it's one of their favorite meals! I guarantee it will become one of yours too!