Mini Ice Cream Cakes are so easy to make & perfect for parties or keeping in the freezer for a sweet treat! Just bake up mini chocolate cupcakes, then top them with your favorite ice cream & pop them in the freezer. Before serving, top them with whipped cream, chocolate syrup & sprinkles!
Kids and adults alike will rave about these Mini Ice Cream Cakes for years to come! They're so much fun and the recipe can easily be prepped days or even weeks in advance.
Got a birthday party coming up? Make Mini Ice Cream Cakes! Summer pool party? Homemade Mini Ice Cream Cakes are better than anything from a box!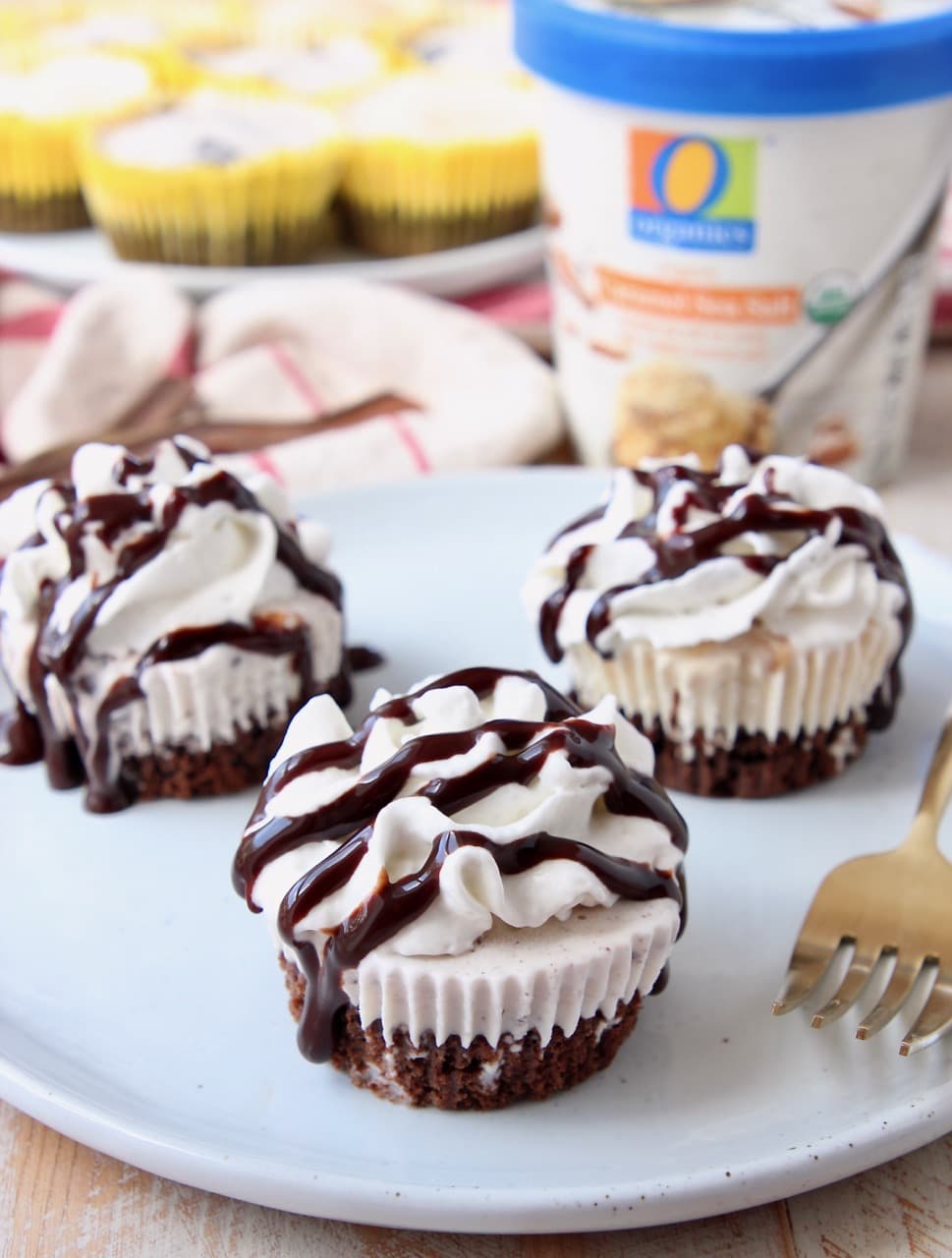 This is a sponsored conversation written by me on behalf of Albertsons Companies. The opinions and text are all mine.
What was your favorite cake growing up? You know that one cake you requested every year for your birthday. For my brother, it was a giant cookie cake and for Kurt, it's carrot cake. For me, my birthday cake was (and still is!) an Ice Cream Cake.
Yes, my birthday is in December so it seems really impractical to have a cake made of ice cream in the middle of winter. But as someone who loves ice cream, I consider it a year-round dessert!
I wanted to make an Ice Cream Cake for 4th of July this year, but with dozens of people coming, I wasn't sure I could make one big enough for everyone. That's when the idea for Mini Ice Cream Cakes came in to play! This recipe makes 48 mini cakes, perfect for a big party or for storing in the fridge so you always have a sweet treat on hand!
The great thing about these mini ice cream cakes vs. one large ice cream cake is that these little guys will stay good in the freezer for two months! A standard store bought ice cream cake will only last 7 days in the freezer.
The other great thing about these cakes is how easy they are to make. I used a box chocolate cake mix to whip up the cake batter in less than 5 minutes, then added a tablespoon of batter to 48 lined muffin tins.
After extensive testing, I can tell you that one tablespoon of batter makes the perfect size cupcake to ice cream ratio for these mini cakes!
I then used O Organics® Ice Cream, that I picked up at my local Vons, to top the chocolate cupcakes. One more great thing about this recipe, you can make different flavors! I made half with O Organics Caramel Sea Salt Ice Cream and the other half with O Organics Cookies & Cream Ice Cream.
Almost everyone at the 4th of July party tried one of each and the votes were split down the middle. I mean really, how can you chose between Salted Caramel goodness and classic Cookies & Cream?
These Mini Ice Cream Cakes can be eaten right out of the cupcake wrapper with or without toppings. They can also be served on a plate, out of the wrapper, with a fork and the toppings of your choice.
I added whipped cream and chocolate syrup. For the 4th, I also added some patriotic sprinkles! Such a delicious and fun little dessert!