Tons of veggies are tossed with a creamy yellow curry sauce, then spooned over rice in this easy Vegetable Curry Casserole recipe!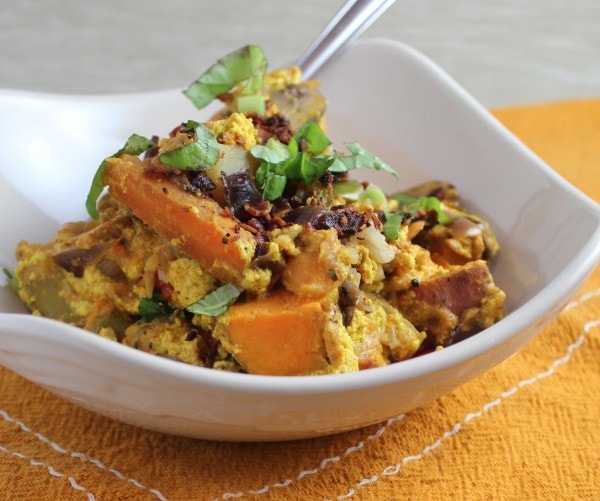 Wow!  It's been quite the February for the blog… and it's only the 7th!!!
On Sunday, we hit our "Thousand by Valentine's Challenge" by reaching 1,000 "likes" on Facebook!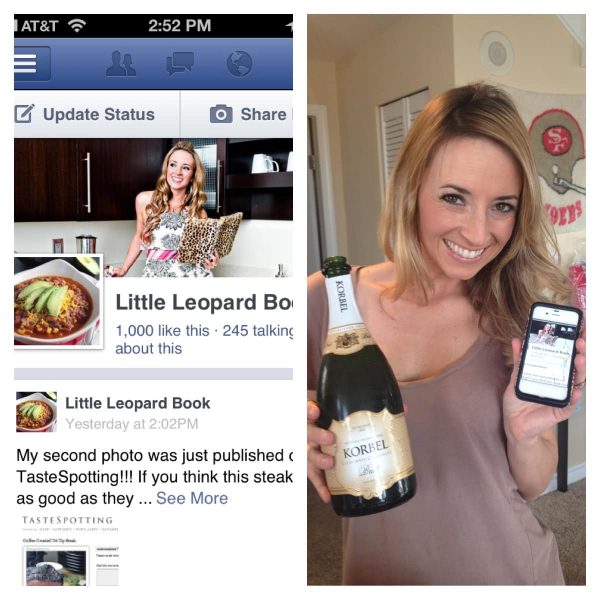 I celebrated by sipping champagne and watching the Superbowl with great friends (and of course delicious food!)
After the celebrating commenced, it was back to business! There were chef interviews, featured guest posts, new business cards and of course, new recipes!
The idea for this dish came from a combination of things:
1. This weeks Chopped Challenge: Bacon, Cheddar Cheese, Rice and Potatoes
2. Dinner for my vegetarian web developer (must feed the man that knows "the code"!)
3. My friend Tessa's request for a "Healthy Casserole" dish that is (and I quote) "simple, delicious, healthy and packed with veggies!"
4. My overwhelming craving for curry last night!
So, here goes my thought process: Vegetarian Curry (check numbers 2 and 4 off of the list!), then top part of it with crumbled bacon (check part of number 1 off the list), then layer rice on the bottom of a pan, vegetables on top, sprinkle with cheddar cheese (bam! check 1 and 3 off the list!)
If you didn't follow my reasoning, no worries, you really only need to know a couple of things: this dish is amazing, it can be prepared vegetarian (or with bacon) and it's a new, innovative casserole recipe that can only be found on WhitneyBond.com!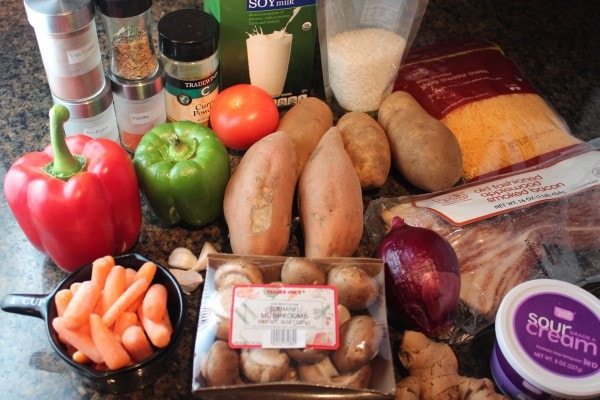 Ingredients
1 tbsp olive oil
1 red bell pepper (sliced)
1 green bell pepper (sliced)
1 red onion (sliced)
1 lb potatoes (cut into chunks)
1 lb sweet potatoes (cut into chunks)
1 cup carrots (sliced)
1 cup mushrooms (sliced)
2 tbsp fresh ginger (chopped)
3 cloves garlic (minced)
1/2 cup curry powder
2 tsp bay leaves
2 tsp coriander
2 tsp cumin
2 tsp sweet paprika
1 tsp chili powder
1 tsp red pepper flakes
2 tomatoes (pureed)
2 cups sour cream
2 cups milk
2 cups white rice
1/2 cup cheddar cheese
4 slices bacon (fried and crumbled – optional)
2 tbsp green onions (chopped – garnish – optional)
2 tbsp fresh basil (chopped – garnish – optional)
Heat the olive oil over medium heat in a large skillet, wok or dutch oven.  Next, add the bell peppers, onions, potatoes, sweet potatoes, carrots and mushrooms.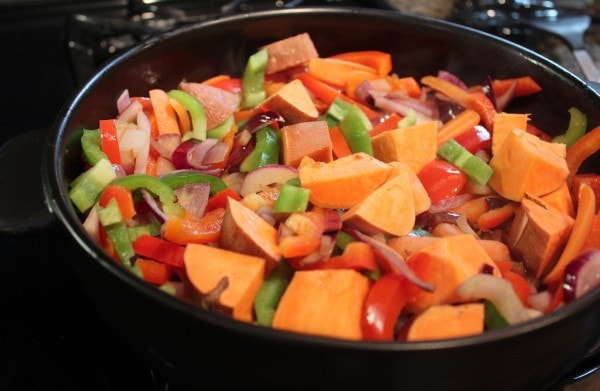 Saute for 12-15 minutes.  In the meantime prepare the curry sauce by adding the fresh ginger, garlic and all of the spices to a blender, spice grinder or food processor.
Blend well, then whisk the spice mixture in with the pureed tomatoes, sour cream and milk in a medium saucepan over low heat. Simmer for 3-5 minutes.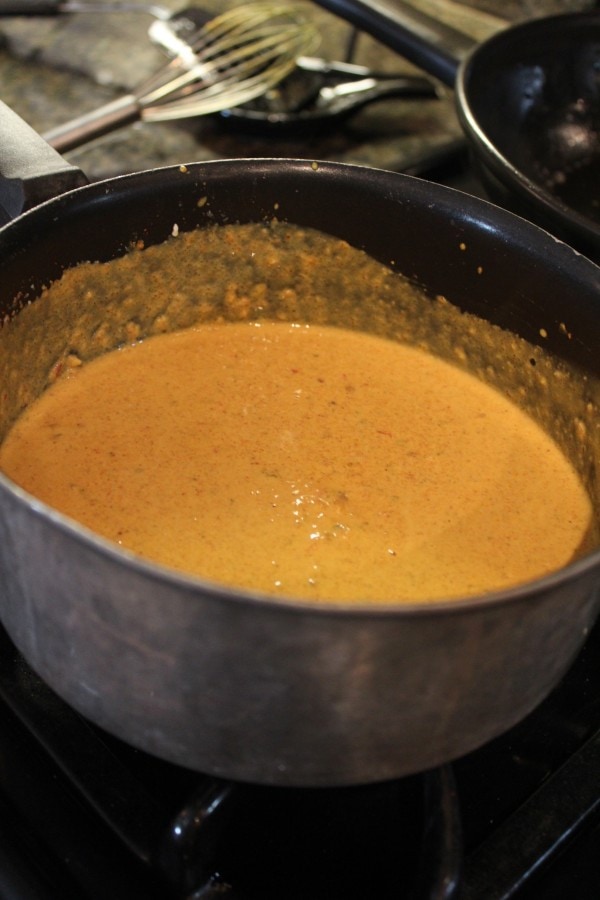 Next, layer the rice (uncooked) in the bottom of a 9″ x 13″ baking dish.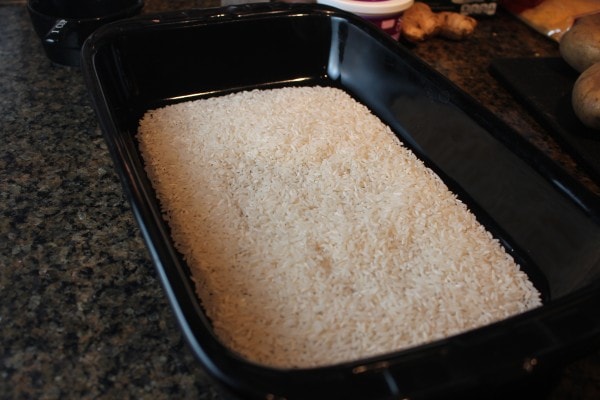 Once the vegetables are cooked, remove from the stove and spread on top of the rice.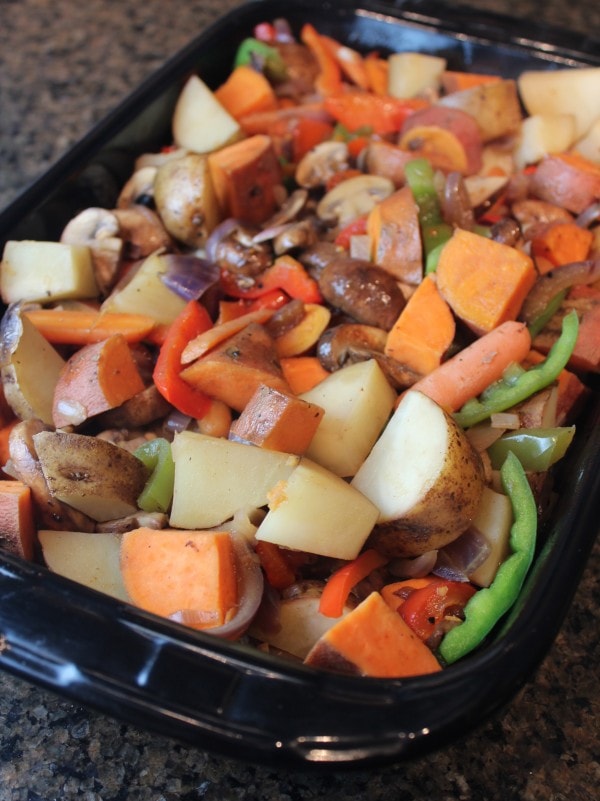 Next, pour the curry sauce on top and sprinkle with the cheddar cheese.
Bake at 350° for 30-40 minutes or until cheese is bubbly and the vegetables are tender.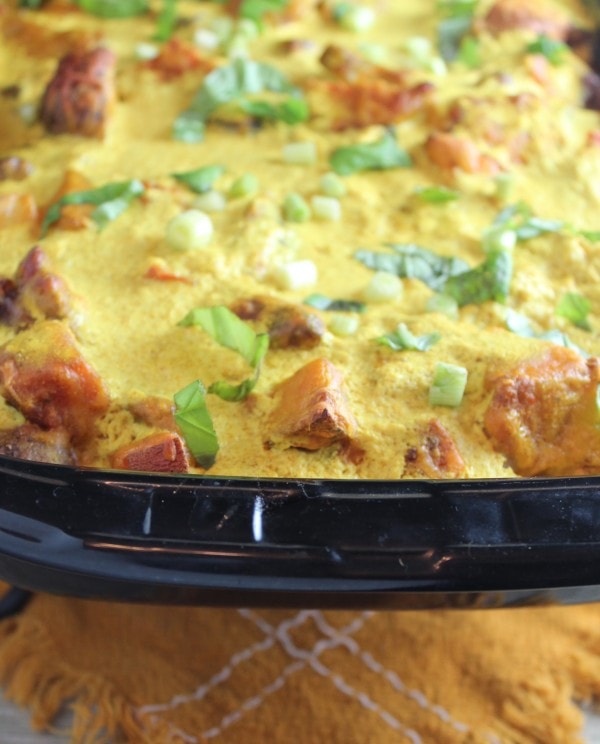 Top with the green onions and basil if desired.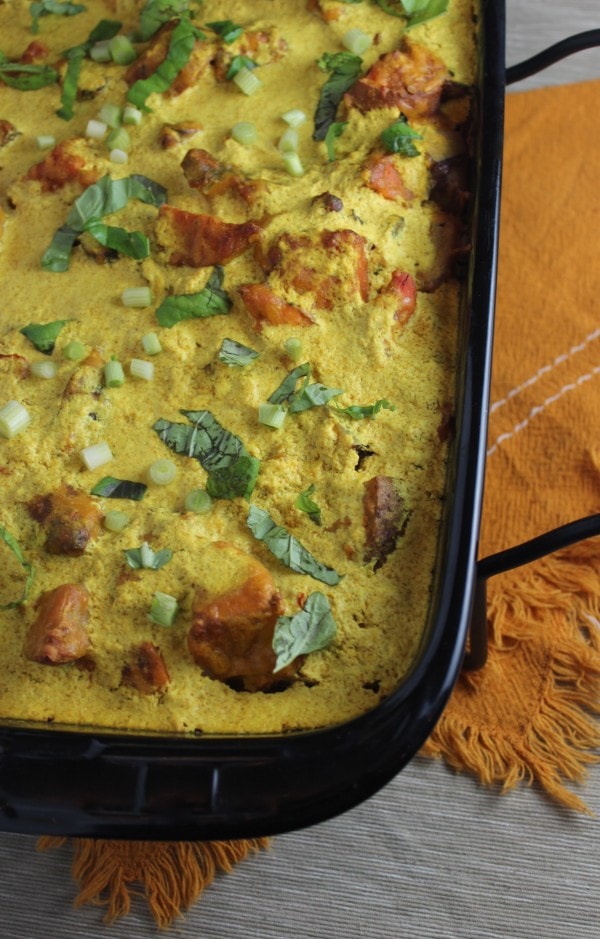 Next, spoon the casserole into serving bowls and sprinkle with crispy bacon (if you're feeling the need for a little meat!)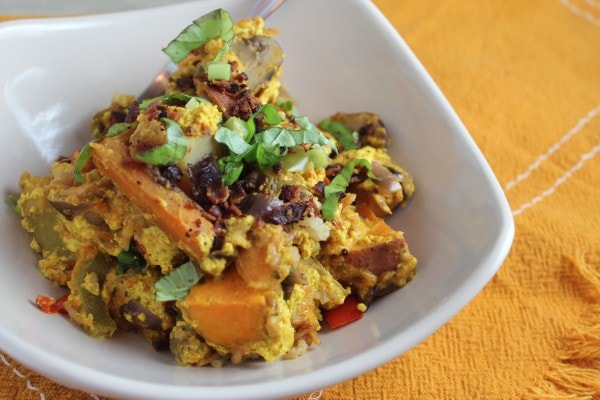 I will admit, one of the reasons that I absolutely love this recipe is because I am totally obsessed with the yellow curry sauce! Ever since I made it for my Indian Chicken Curry Pitas I was totally hooked!
Now grab a fork and dig in!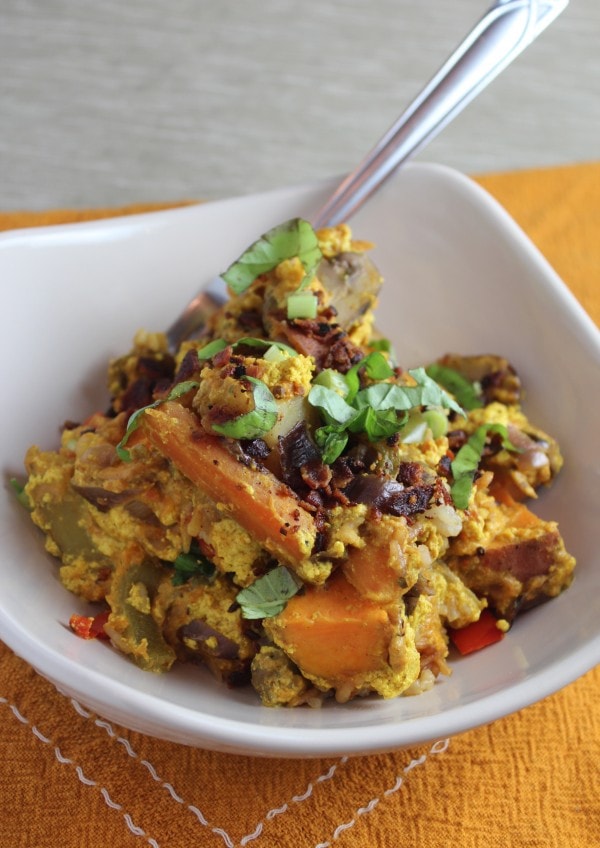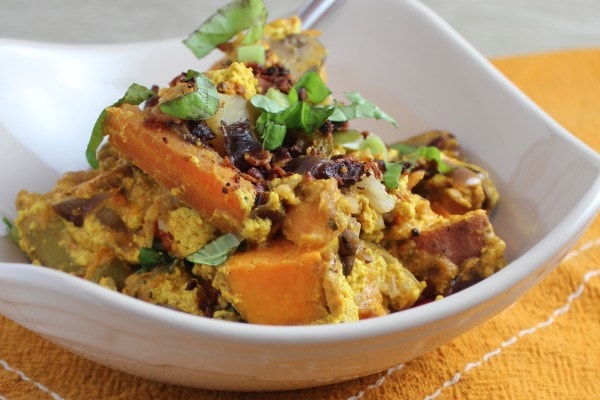 Vegetable Curry Casserole
Tons of veggies are tossed with a creamy yellow curry sauce, then spooned over rice in this easy Vegetable Curry Casserole recipe!
Total Time
1
hour
20
minutes
Ingredients
1

tbsp

olive oil

1

red bell pepper

sliced

1

green bell pepper

sliced

1

red onion

sliced

1

lb

potatoes

cut into chunks

1

lb

sweet potatoes

cut into chunks

1

cup

carrots

sliced

1

cup

mushrooms

sliced

2

tbsp

fresh ginger

chopped

3

cloves

garlic

minced

1/2

cup

curry powder

2

tsp

bay leaves

2

tsp

coriander

2

tsp

cumin

2

tsp

sweet paprika

1

tsp

chili powder

1

tsp

red pepper flakes

2

tomatoes

pureed

2

cups

sour cream

2

cups

milk

2

cups

white rice

1/2

cup

cheddar cheese

4

slices

bacon

fried and crumbled – optional

2

tbsp

green onions

chopped – garnish – optional

2

tbsp

fresh basil

chopped – garnish – optional
Instructions
Heat the olive oil over medium heat in a large skillet, wok or dutch oven. Add the bell peppers, onions, potatoes, sweet potatoes, carrots and mushrooms.

Saute for 12-15 minutes. In the meantime prepare the curry sauce by adding the fresh ginger, garlic and all of the spices to a blender, spice grinder or food processor.

Blend well, then whisk the spice mixture in with the pureed tomatoes, sour cream and milk in a medium saucepan over low heat. Simmer for 3-5 minutes.

Layer the rice (uncooked) in the bottom of a 9" x 13" baking dish.

Once the vegetables are cooked, remove from the stove and spread on top of the rice.

Pour the curry sauce on top and sprinkle with the cheddar cheese.

Bake at 350°F for 30-40 minutes or until cheese is bubbly and the vegetables are tender.

Top with the green onions and basil if desired.

Next, spoon the casserole into serving bowls and sprinkle with crispy bacon (if you're feeling the need for a little meat!)