Easy Indian Vegetable Curry Casserole
This post may contain affiliate links.
You're going to fall in love with this easy Vegetable Curry Casserole! Tons of vegetables, rice & Indian style yellow curry sauce are all cooked together in this incredibly flavorful meal!
It's easy to make, gluten free, vegan & makes a ton of food, perfect for feeding a big family or eating throughout the week!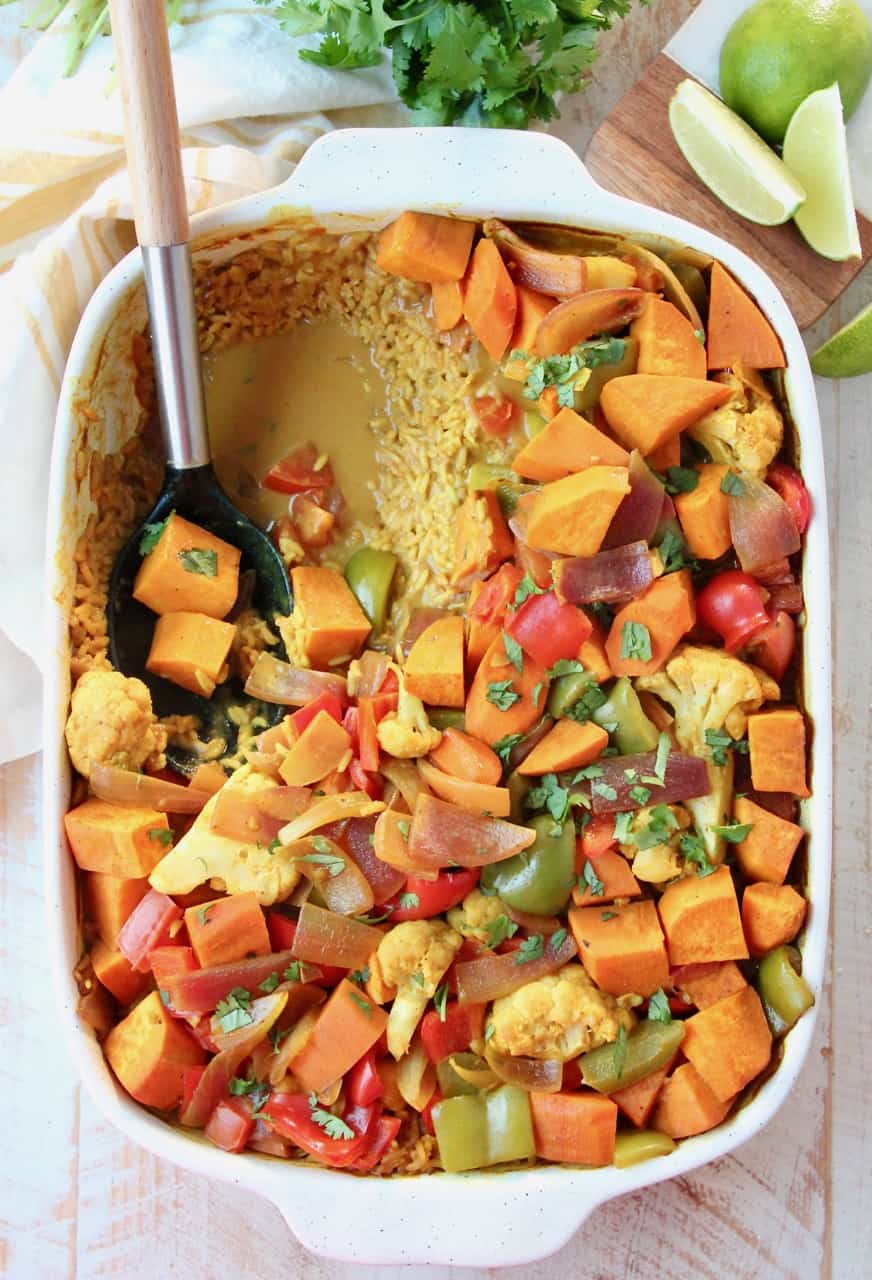 Whenever I'm looking for a delicious way to get my fill of veggies, I always turn to this casserole! It's low in calories, yet loaded with vitamins. In fact, just one serving of this casserole provides 90% of your daily Vitamin C needs and 410% Vitamin A! That's a lot of vitamins!
Veggies like sweet potatoes and carrots add a natural sweetness to this dish, so only a small amount of sugar is added to the curry sauce. Speaking of the sauce, it's made with light coconut milk, which contains one third of the amount of fat and calories as regular coconut milk.
This healthy casserole is perfect for meal prep! It makes enough for 8 servings and is delicious leftover. I like to make it on Sunday or Monday, then eat it throughout the week!
The great thing about this casserole is that you can totally make it your own, using your favorite vegetables or whatever you have on hand. The secret to this dish is the light and flavorful sauce that brings this casserole to life!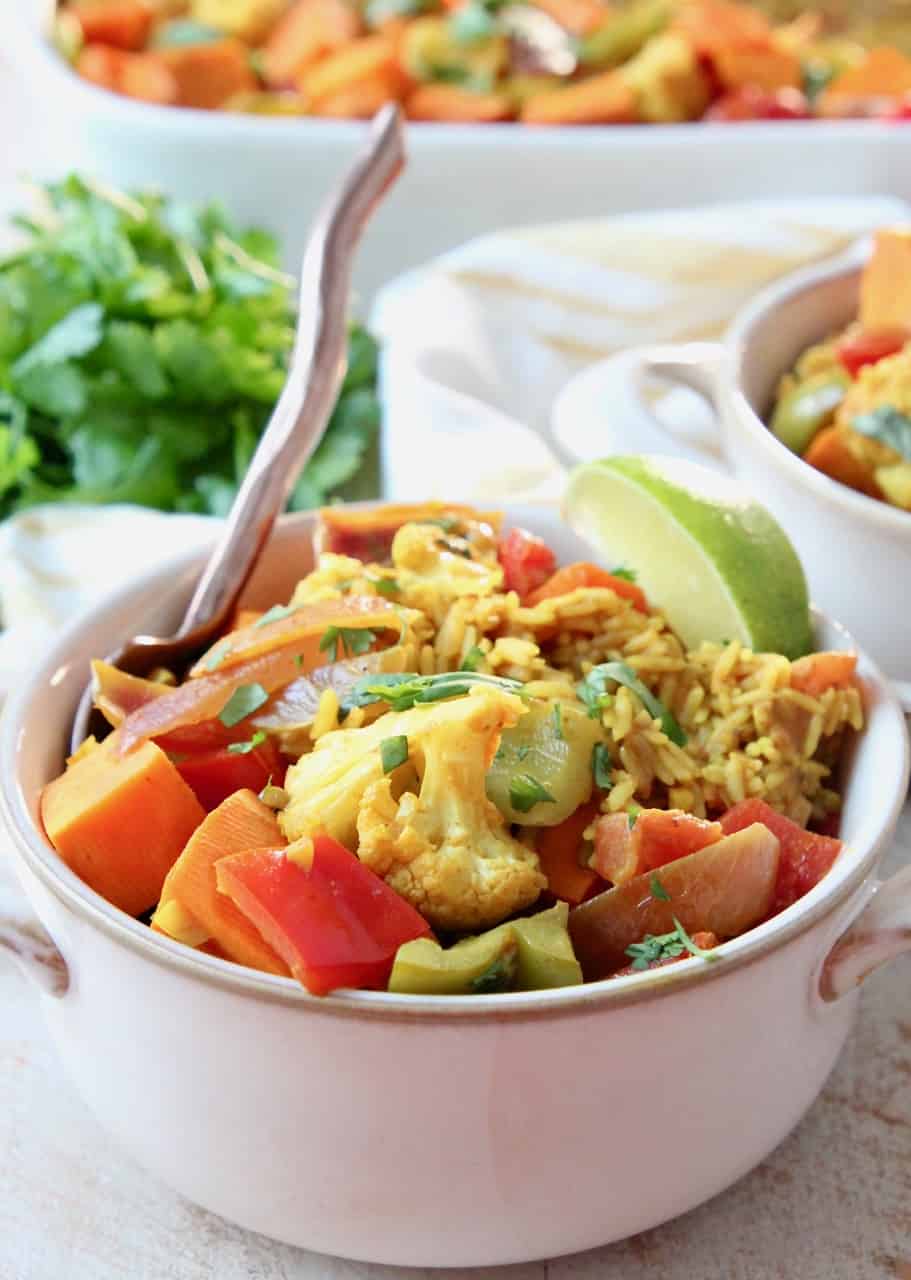 Ingredients you'll need
Olive Oil
Onion
Fresh Garlic Cloves
Fresh Ginger – quick tip – always keep a knob of fresh peeled ginger in a plastic storage bag in the freezer. It will keep the ginger fresh for months and it's easier to grate the ginger into dishes when it's frozen!
Curry Powder – any yellow curry powder found at the grocery store will work for this recipe. I like to use Indian Yellow Curry Powder, with a base of coriander, turmeric and cumin. Curry powder is sold in both mild and spicy varieties, so be sure to pay attention to the label!
Cayenne Pepper adds just a hint of spice to this dish. You could also use Indian Kashmiri Chili Powder, which has a more mild flavor, yet is more authentic to what is traditionally used in Indian curry recipes.
Tomato Paste
Brown Sugar
Light Coconut Milk – light coconut milk has 1/3 the amount of fat and calories than normal coconut milk and it works perfectly in this dish!
Vegetable Broth or Stock – let me tell you a secret, they're the same thing!
Vegetables – I used a combination of sweet potatoes, bell peppers, carrots and cauliflower in this recipe. See below in the "tips and tricks" section for suggestions on other vegetables that could be added to this curry dish.
Tomatoes
White Rice – basmati rice or brown rice can also be used in this casserole.
OPTIONAL ADDITIONS –

Fresh cilantro – add chopped cilantro to the casserole before serving for a burst of color and fresh flavor!
Lime wedges – serve a few lime wedges on the side of the casserole for juicing over the top. Lime juice adds a wonderful bright, citrus flavor to finish off the dish.
Greek yogurt or coconut yogurt (to keep it vegan!) – a dollop of yogurt on top of this dish adds a cool creaminess and is a must around our house!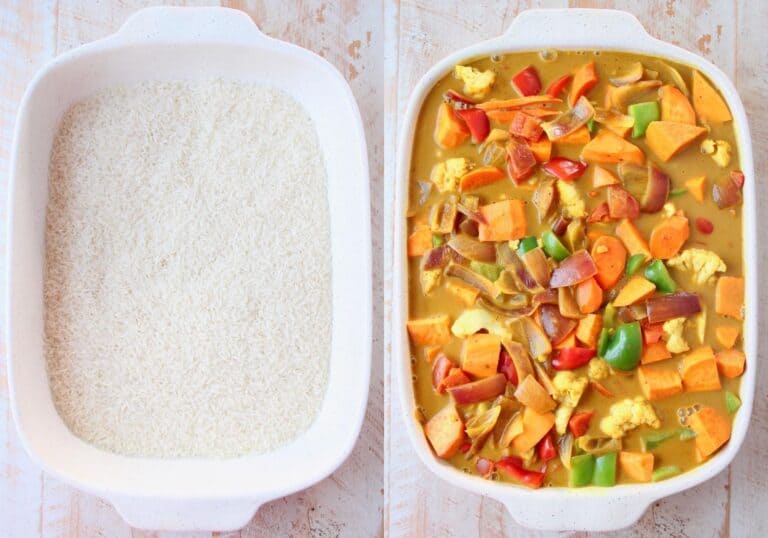 Step by step instructions
Prepare the curry sauce. Add olive oil to a large pot or dutch oven on the stove over medium high heat. Heat the oil, then saute onions, garlic and ginger together in the pot. Add curry powder, cayenne pepper, tomato paste, brown sugar, light coconut milk and vegetable stock. Stir until all of the ingredients are combined.
Add the vegetables to the sauce. Add large diced bell peppers, sweet potatoes, carrots, cauliflower and tomatoes to the curry sauce.
Prepare the casserole. Spray a 9″ x 13″ casserole dish with cooking spray. Add rice to the bottom of the casserole dish. Pour the curry sauce and vegetables over the rice.
Bake the casserole. Cover the casserole dish in foil. Place in the oven at 350°F and bake for 40 minutes.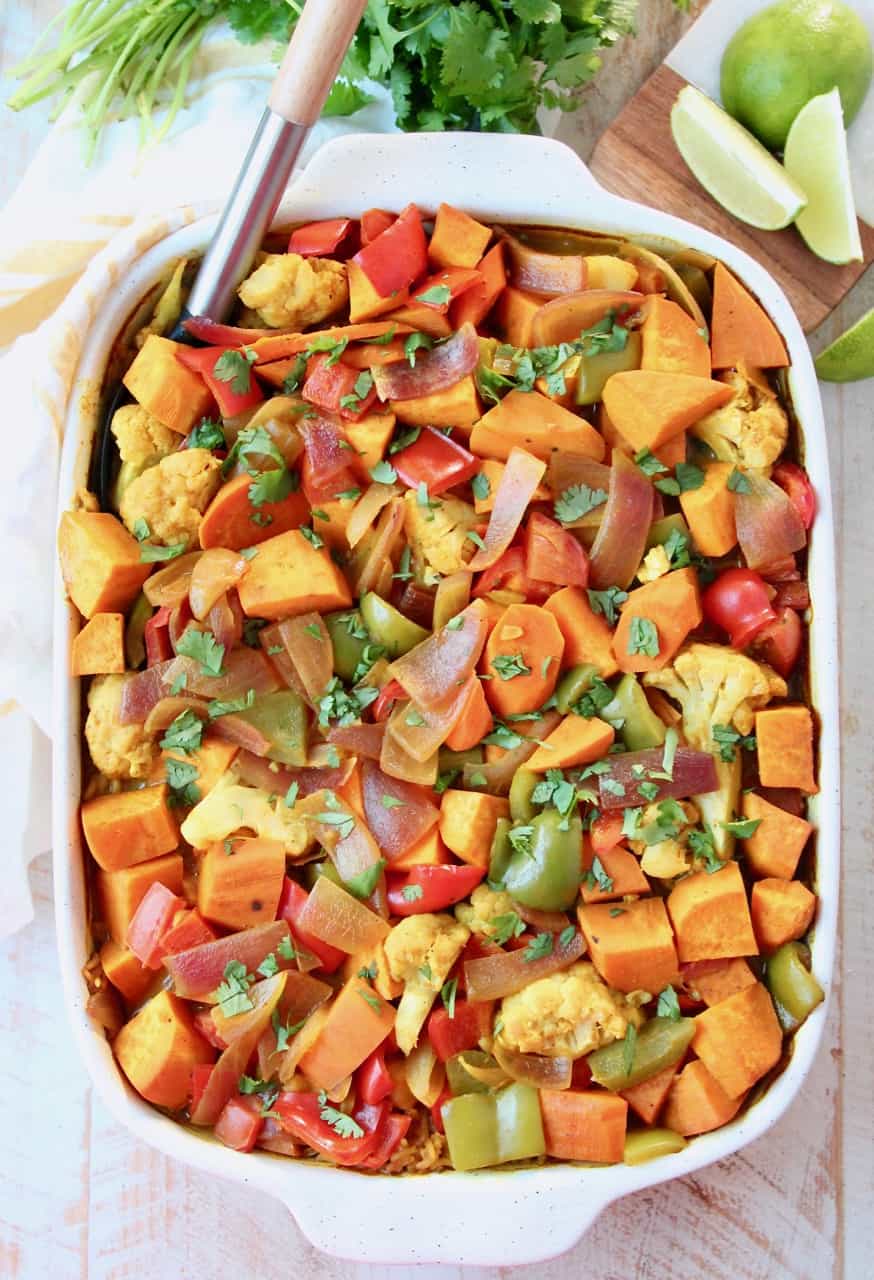 Whit's tips and tricks
Do not over-bake the casserole. Cooking the casserole longer than 40 minutes will make the vegetables too soft and overcook the rice. This recipe has been tested and perfected to create the perfect flavor and texture!
Feel free to substitute in different vegetables. Broccoli florets, diced red potatoes, sliced zucchini or cubed butternut squash would all be delicious in this casserole! Feel free to mix and match, you'll just want to end up with 12 cups of vegetables for this casserole.
Spice up the curry! As is, this curry recipe is definitely on the mild side. Spice it up by adding more cayenne pepper or fresh diced peppers, like Thai chilis, serranos or jalapenos.
Feel free to put the curry together ahead of time. Once the curry sauce is made, toss in the vegetables, then store the curry vegetables in the refrigerator for up to 2 days. When you're ready to bake the casserole, add the rice to the bottom of a casserole dish, top with the prepared curry vegetables and pop it in the oven.
Leftover cooked vegetable curry casserole will stay good in the refrigerator for up to one week. To reheat leftovers, place them in a microwave safe bowl, cover and microwave for 2 minutes.
This dish is delicious on it's own, but it also pairs perfectly with a couple slices of warm naan bread! Try out this naan recipe or pick up store-bought naan in the bakery section at your local grocery store.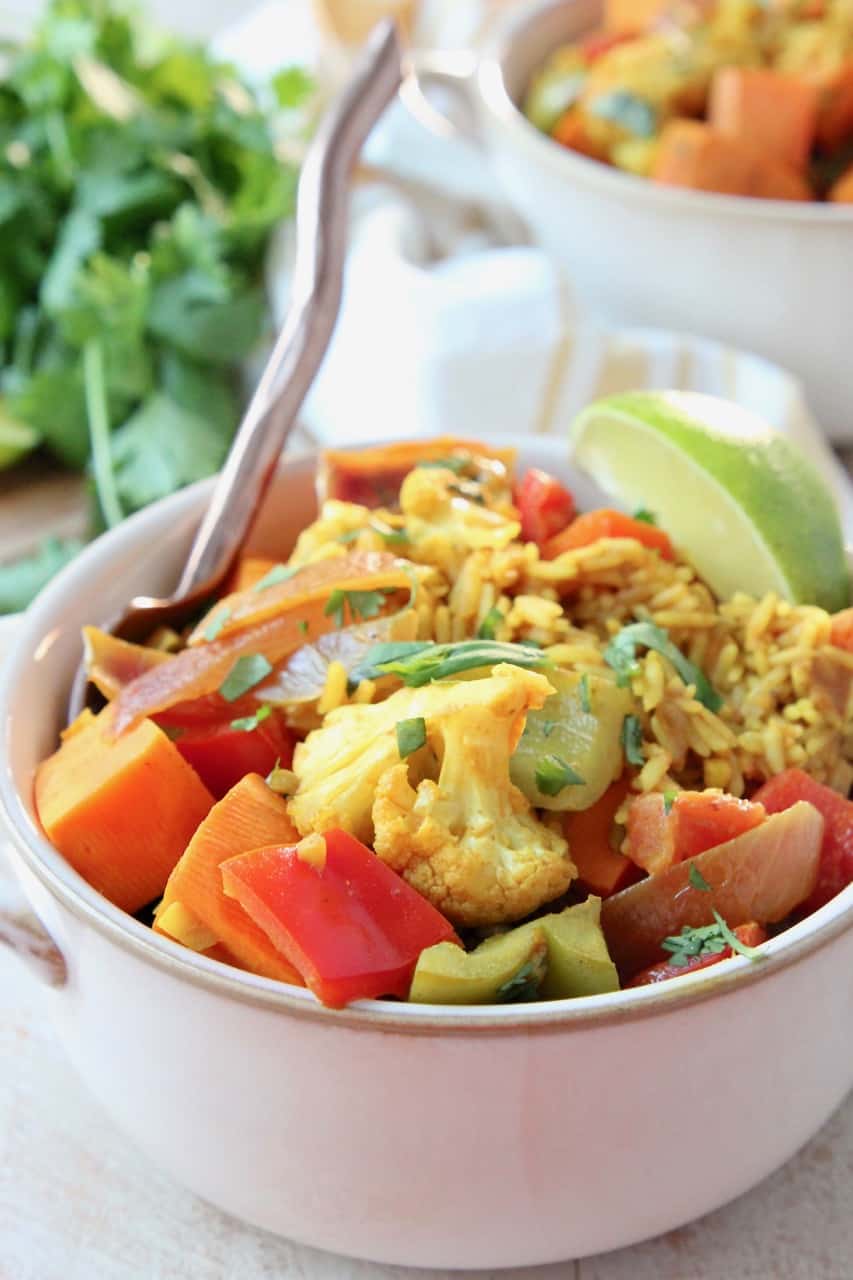 More curry recipes to try
Vegetable Curry Casserole
Tons of vegetables, rice & yellow curry sauce all cook together in this Vegetable Curry Casserole, creating an incredibly flavorful meal, that's easy to make, gluten free & vegan!
Ingredients
Optional Toppings
2

tablespoons

fresh cilantro,

chopped

1

lime,

sliced into wedges for serving

½

cup

greek yogurt or coconut yogurt
Instructions
Preheat the oven to 350°F.

Heat the olive oil in a large pot or dutch oven on the stove over medium high heat.

Add the onion and cook for 6-8 minutes, or until the onions begin to brown.

Add the ginger and garlic, cook for 1 minute.

Add the curry powder and cayenne pepper, toast the spices in the pot for 30 seconds.

Add the tomato paste and stir into the other ingredients until well combined, about 30-60 seconds.

Add the brown sugar, coconut milk and vegetable broth, stir to combine all of the ingredients.

Add the bell pepper, sweet potatoes, carrots, cauliflower and tomatoes, toss the vegetables in the curry sauce.

Spray a 9" x 13" baking dish with cooking spray.

Spread the rice in the bottom of the baking dish, cover with the vegetables and curry sauce.

Cover the baking dish with a piece of foil.

Place in the oven to bake for 40 minutes.

Remove from the oven and serve with fresh cilantro, lime wedges and yogurt, if you'd like.
Notes
Vegetable substitutions: feel free to add, take away or substitute vegetables based on what you have on hand. Just make sure you have 12 cups of vegetables to make the casserole.
Spice up the casserole by adding 1 tablespoon of cayenne pepper instead of 1 teaspoon.
Leftovers: the casserole will stay good in the refrigerator for up to 1 week and makes great leftovers! Reheat covered in the microwave for 2 minutes.
Nutrition Facts
Serving
4
g
Calories
446
kcal
(22%)
Carbohydrates
84
g
(28%)
Protein
8
g
(16%)
Fat
9
g
(14%)
Saturated Fat
5
g
(25%)
Sodium
293
mg
(12%)
Potassium
923
mg
(26%)
Fiber
9
g
(36%)
Sugar
17
g
(19%)
Vitamin A
20480
mg
(410%)
Vitamin C
74
mg
(90%)
Calcium
115
mg
(12%)
Iron
4
mg
(22%)
We are a participant in the Amazon Services LLC Associates Program, an affiliate advertising program designed to provide a means for sites to earn advertising fees by advertising and linking to amazon.com.