Palak Paneer
This post may contain affiliate links.
Palak paneer is a classic Indian dish made with pureed spinach, tons of delicious spices and Indian cottage cheese. This vegetarian recipe is made with whole spices, garlic ginger paste and kashmiri chili powder, to give it an authentic flavor, just like your favorite Indian restaurant!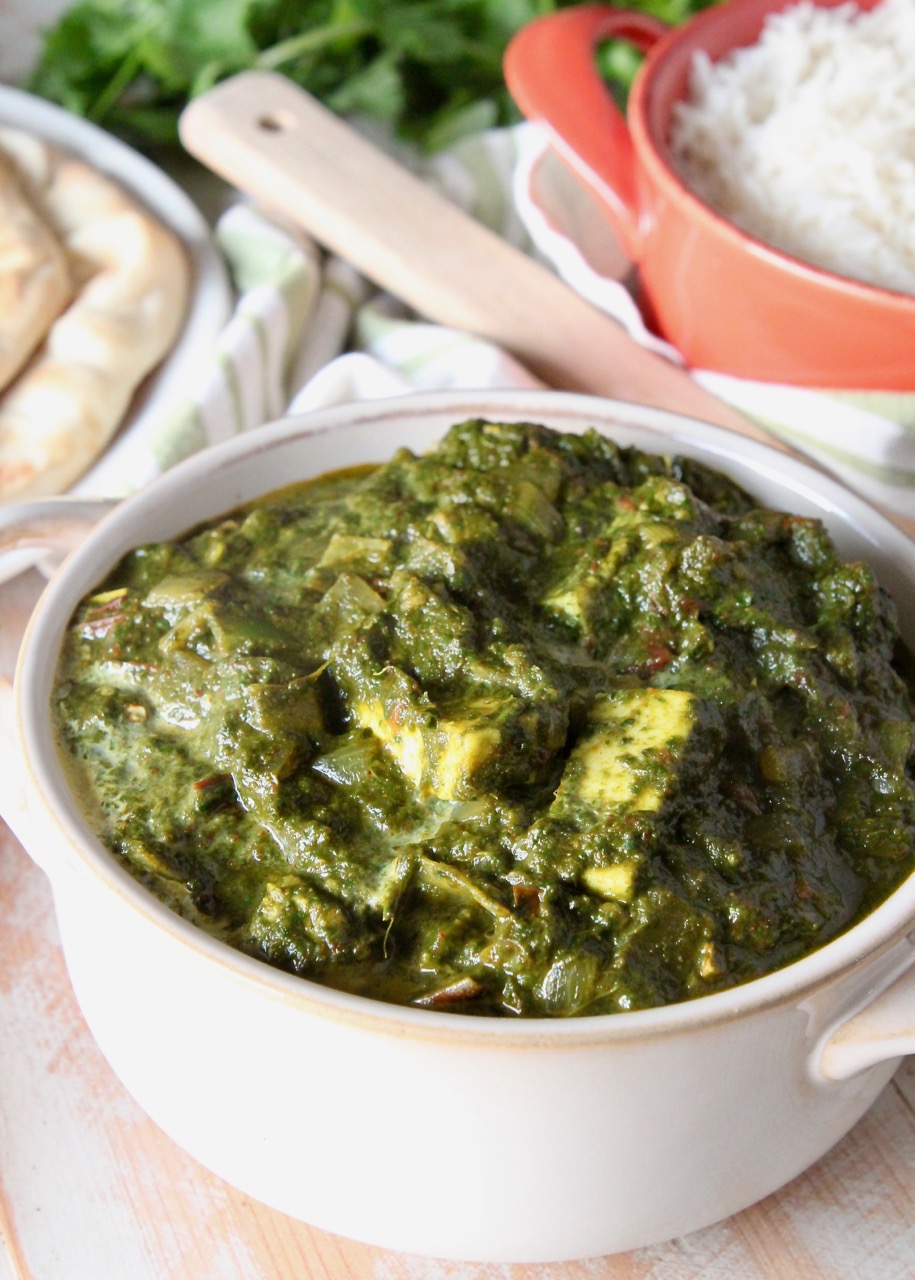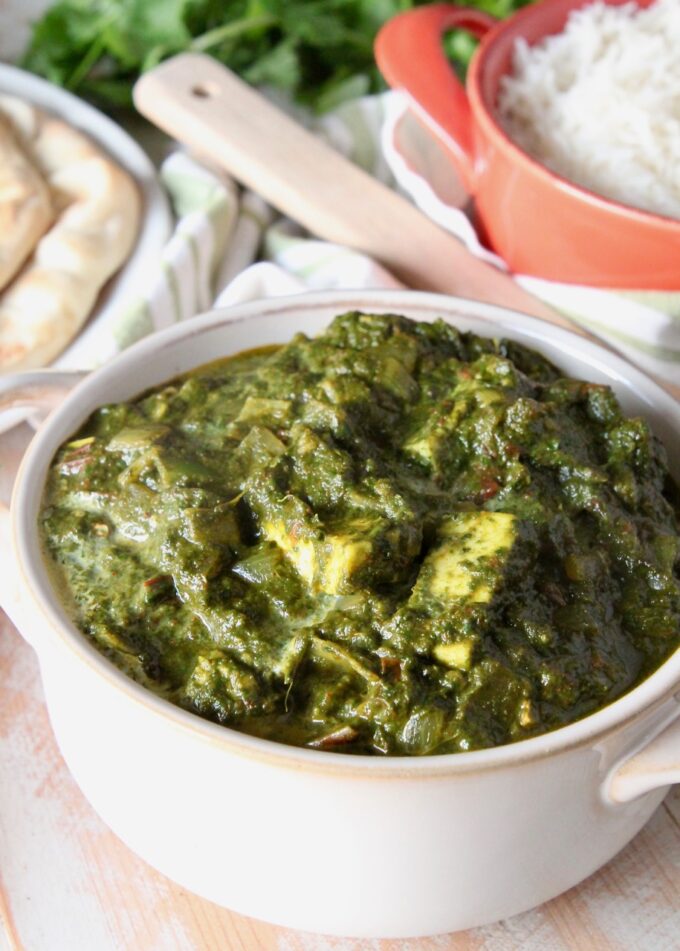 When spending a lot of time at home in 2020, I set out to perfect my favorite Indian restaurant dish, palak paneer. After a lot of research, ordering herbs and spices on Amazon and testing the recipe several times, I've now PERFECTED this palak paneer recipe.
It's got a hint of spice and so much flavor. It's incredibly creamy and easier to make than you might think! While it does take quite a few ingredients to make an authentic palak paneer, you basically just add all of the ingredients to one pot on the stovetop, so clean up is a breeze.
I do recommend getting all of your ingredients out and ready to go before starting the recipe. This will make it easier to follow along each of the simple steps for making amazing homemade palak paneer every time!
Pair it with basmati rice and warm naan for an authentic Indian dining experience!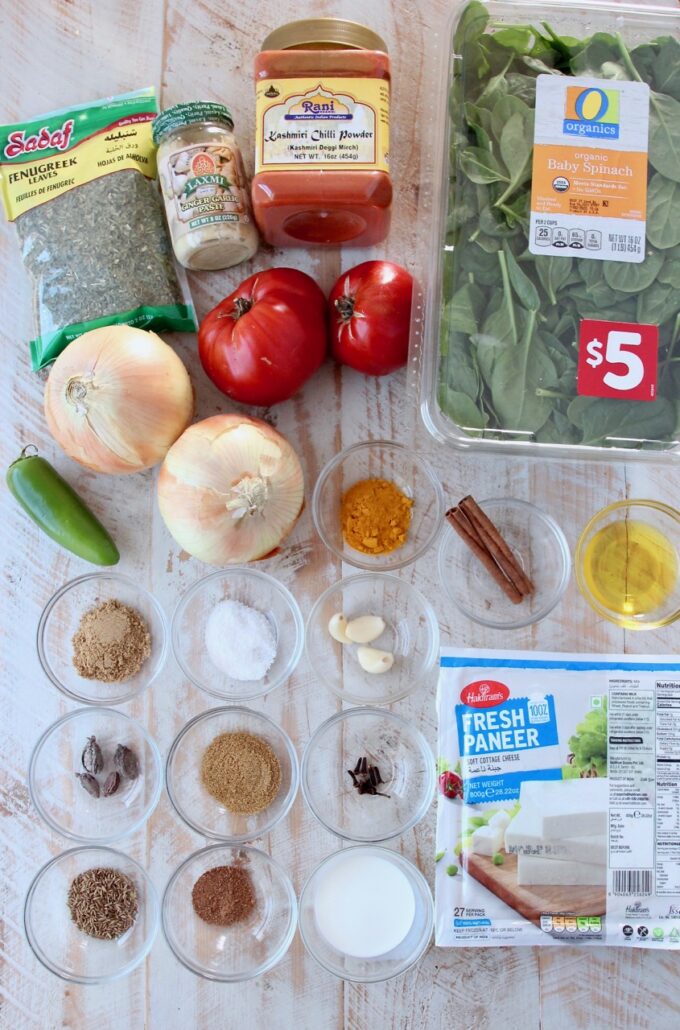 Ingredients you'll need
To make a truly authentic palak paneer at home, you will need some specialty ingredients that you might not have in your pantry. Some of which, you will probably only find at an Indian market or online. I've noted the hard to find ingredients below, and linked to the brands that I purchased on Amazon.
I promise, you'll continue to use the ingredients to make this dish over and over again, so it's worth the initial investment to stock your pantry!
Spinach – for this recipe, I used fresh spinach leaves. Check out the frequently asked questions section below for how to make it with frozen spinach.
Ghee – olive oil or butter can also be used in place of the ghee.
Cinnamon sticks
Whole cloves
Cardamom pods – these small herbs pack a strong aromatic flavor. While you might find ground cardamom at the grocery store, you'll probably have to order whole cardamom pods online, find them at an Indian market, or specialty grocery store.
Cumin seeds
Garlic cloves
Jalapeño – or your favorite fresh, spicy pepper.
Yellow onion
Salt
Nutmeg powder
Ginger garlic paste – you might be able to find this paste at the grocery store, or you can order it online. You will probably find garlic paste and ginger paste sold separately at the grocery store, near the produce section. You can always buy one of each, then use 1/2 tablespoon garlic paste and 1/2 tablespoon ginger paste to make the recipe.
Turmeric powder
Tomatoes
Cumin powder
Coriander powder
Red chili powder – I recommend Kashmiri chili powder for the most authentic flavor.
Fenugreek leaves – this essential Indian herb has a distinct maple syrup flavor, with a slight bitterness. I have not been able to find it in traditional American grocery stores, so I order it on Amazon. You can also find it in Indian markets. It might be labeled kasuri methi. While you can find substitution ideas online, I haven't found anything that's quite like the real thing, so I do recommend ordering this herb online when making palak paneer at home.
Paneer – while I used to only be able to find this Indian cottage cheese at Indian markets, it's now available at Costco, Sprouts and other major grocery store chains and big box retailers. It freezes well, so I usually buy it in bulk at Costco, or an Indian market, so that I always have it on hand when I want to make palak paneer at home. In 2020, I also tried my hand at making homemade paneer in the Instant Pot. I used this recipe and it turned out perfect!
Heavy cream – this is an optional ingredient that you can drizzle on top of the dish for extra creaminess.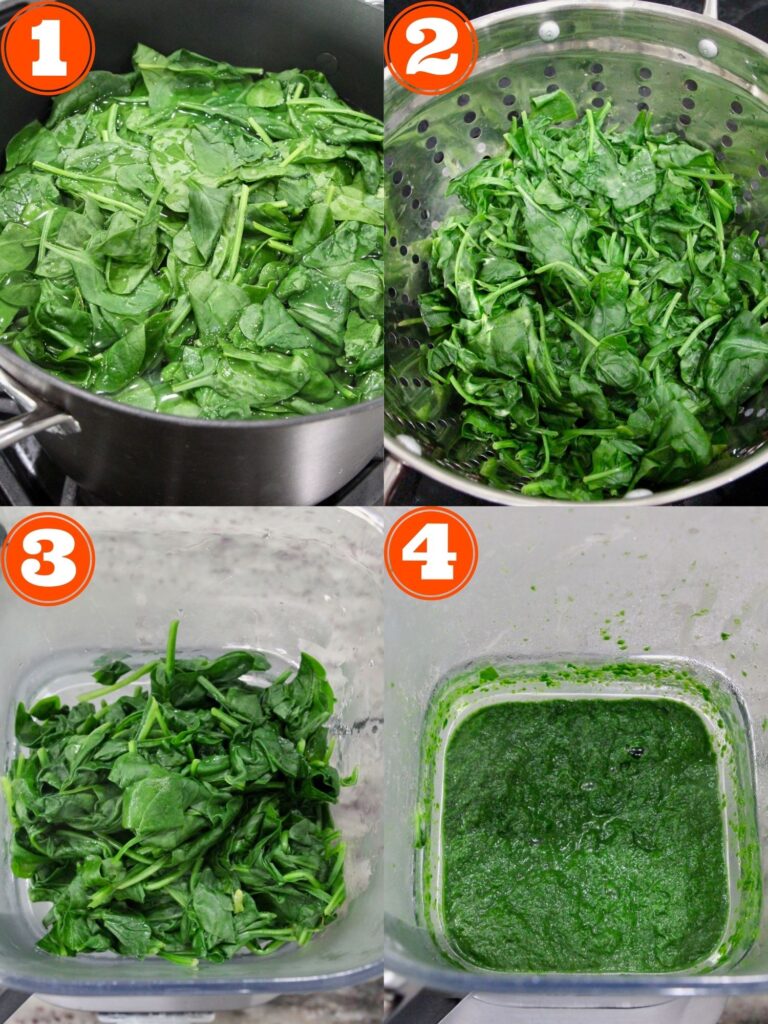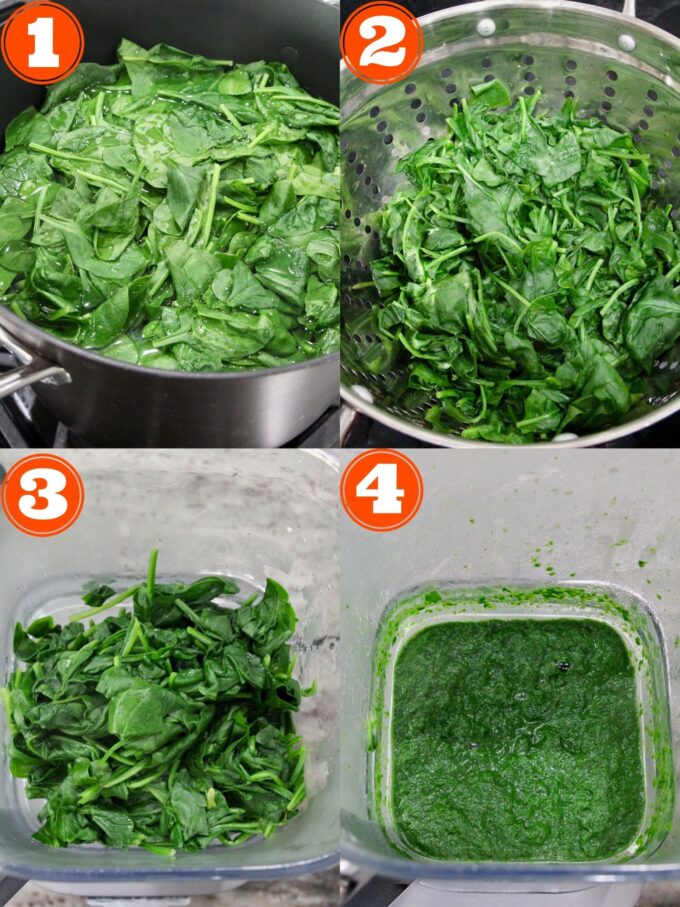 How to make spinach puree
Bring a large pot of water to boil on the stove. Add two pounds of fresh spinach leaves and cook for 2 minutes.
Drain the spinach from the pot.
Add the cooked spinach to a large blender or food processor.
Blend for 30-60 seconds, or until smooth. If the spinach is getting stuck in the blender, add 1-2 tablespoons of water to help it puree in the blender.


Step by step instructions
Once the spinach puree is prepared, follow these 8 simple steps to make the palak paneer.
Heat ghee, olive oil or butter in a large pan, or dutch oven. Add cinnamon sticks, whole cloves, cardamom pods and cumin seeds.
Once the whole spices begin to splatter, add minced garlic, jalapenos, onions, salt and nutmeg powder.
Cook until the onions begin to turn soft and slightly brown. Add ginger garlic paste, turmeric and chopped tomatoes.
Add salt, cumin powder, coriander powder and chili powder. Crush the fenugreek leaves in the palm of your hands, then add them to the pot.
Use a slotted spoon to remove the cinnamon sticks and cardamom pods from the pot. Stir together the remaining ingredients.
Pour the pureed spinach into the pot.
When small droplets of oil begin to appear on top of the spinach, add the cubed paneer.
Stir in the paneer and transfer the palak paneer to a bowl for serving. Top with a drizzle of heavy cream on top.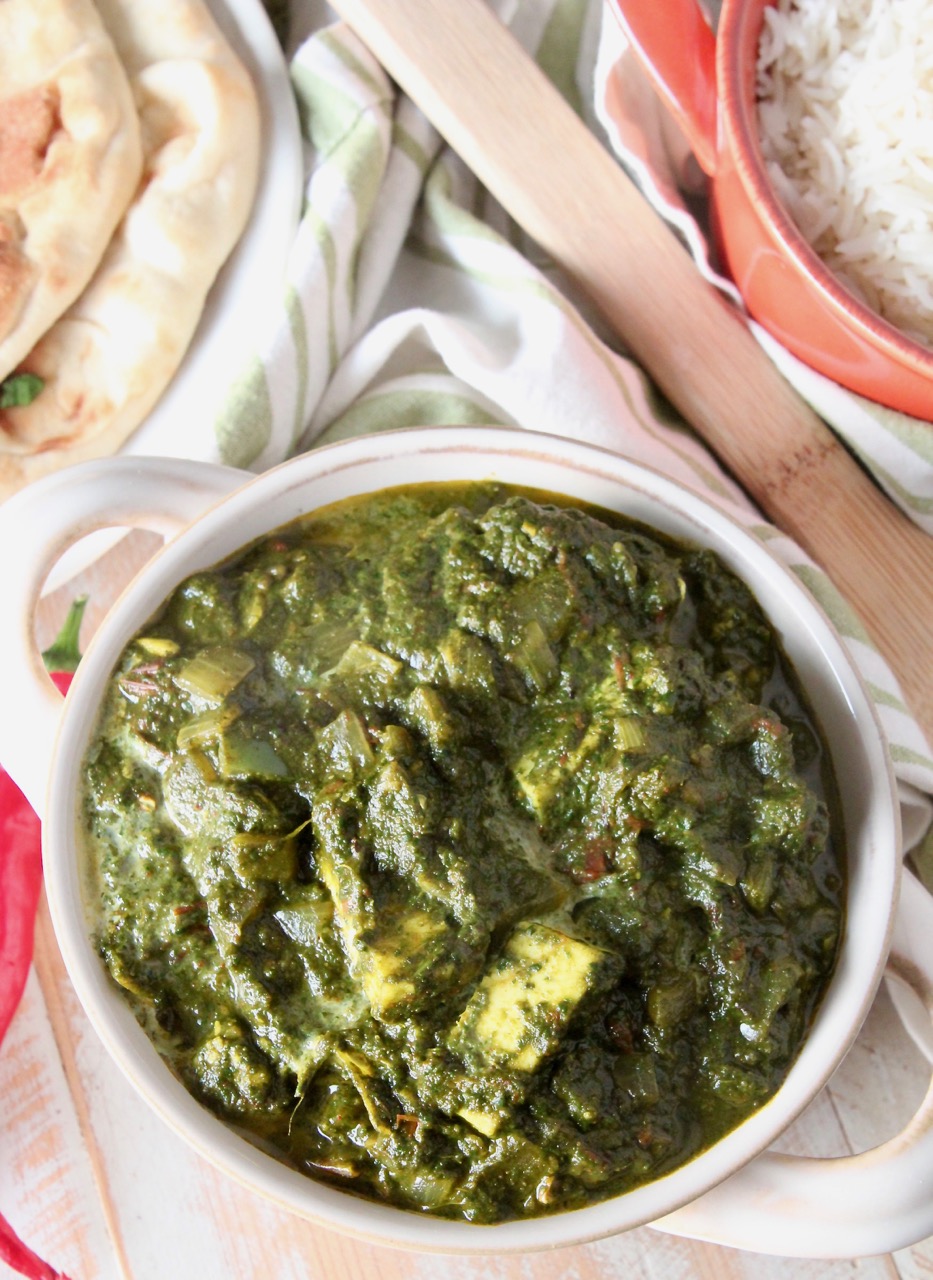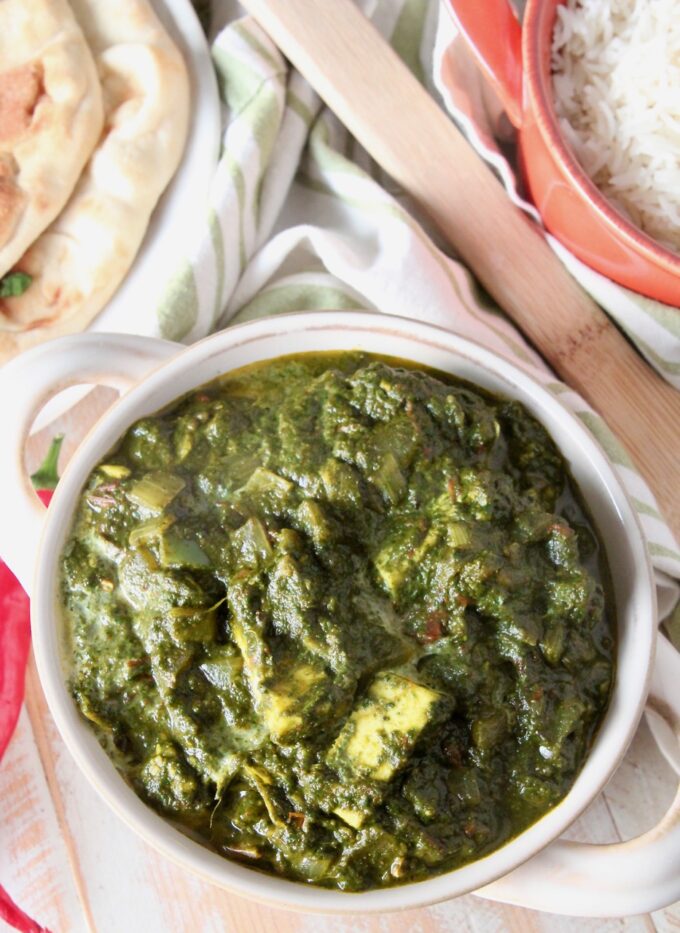 How to make it vegan
To make vegan palak paneer, you'd actually be making palak tofu. Simply replace the Indian cheese, paneer, with cubes of firm tofu. You will also want to use olive oil, instead of butter or ghee, and omit the heavy cream drizzled on top.
Frequently asked questions
What's the difference between palak paneer and saag paneer? Palak means spinach in Indian culture, whereas saag, simply means greens. If you're making palak paneer, you're only using spinach, whereas if you're making saag paneer, you can use other greens like mustard greens or baby kale leaves.
Can you make it with frozen spinach? Yes, simply substitute 20 ounces of frozen spinach, for the 2 pounds of fresh spinach. You do not need to boil and drain the spinach. Simply add the frozen spinach to a blender with 1-2 tablespoons water and puree the spinach until it's smooth.
Is this recipe gluten free? Yes, this recipe is naturally gluten free.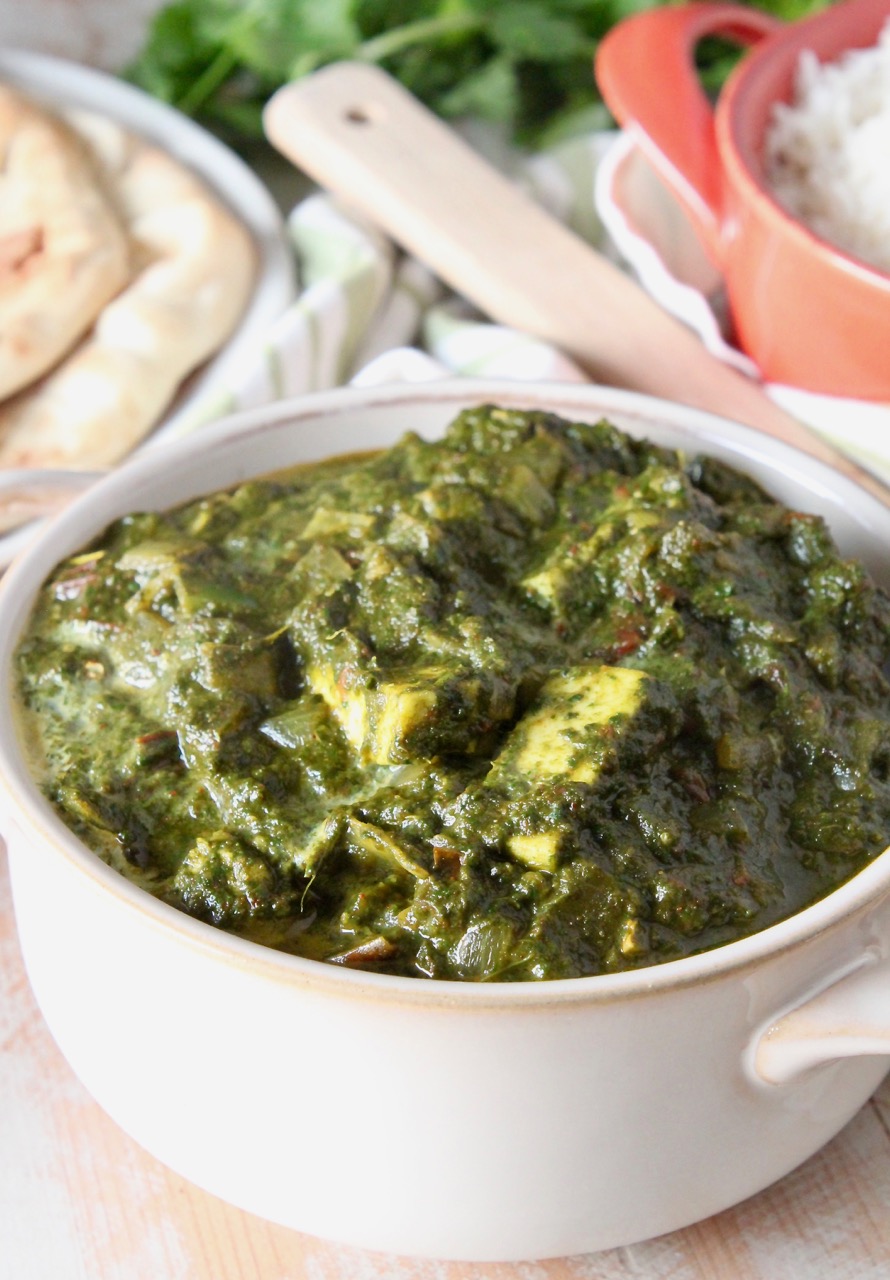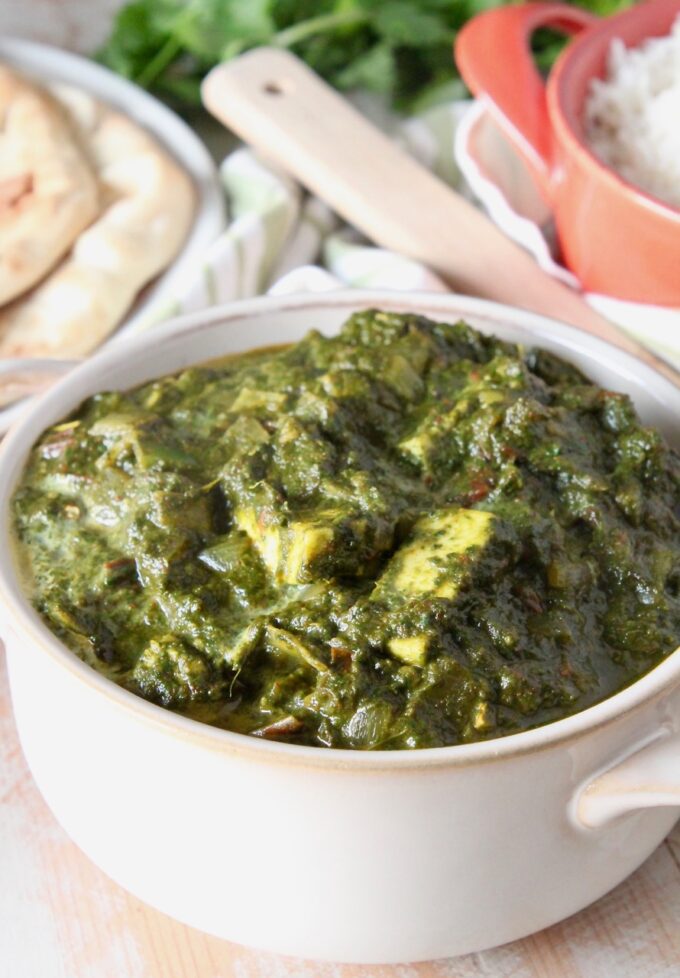 We are a participant in the Amazon Services LLC Associates Program, an affiliate advertising program designed to provide a means for sites to earn advertising fees by advertising and linking to amazon.com.