Creamy Orzo with Roasted Vegetables
This post may contain affiliate links.
Creamy orzo is tossed with roasted vegetables in this delicious recipe made in under an hour, perfect as a side dish or entree!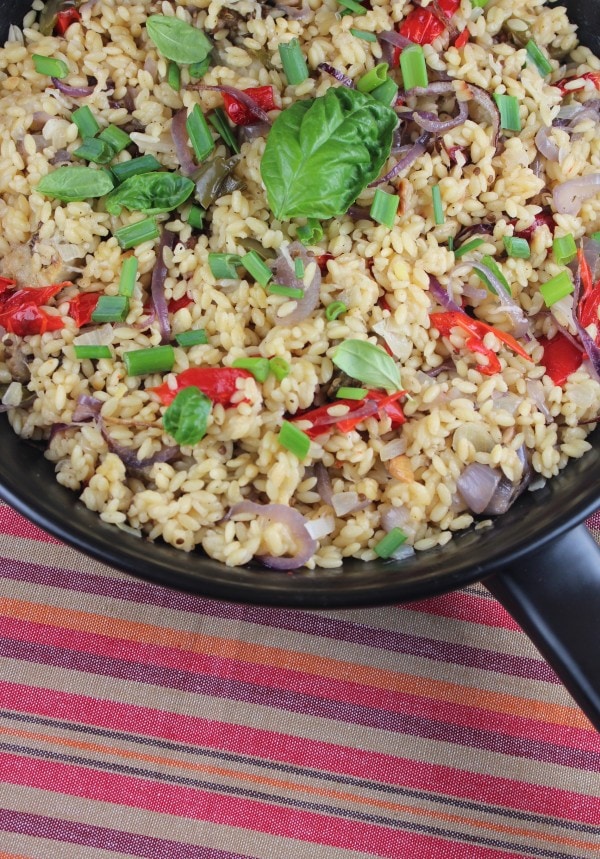 SOOOOO excited to share my first cooking post on the blog! Lunch is a time where I like to experiment for two reasons:
I never plan what I'm going to have for lunch because every day is different in my life and I don't know where I'll be or what I'll be doing so therefore when I'm home and have time to cook lunch I just use what's already in my kitchen to make instead of shopping specifically for the meal.
I'm only cooking for myself at lunch so if it sucks I'm the only one that suffers haha! But on the other side if it's awesome I get to eat it all myself 🙂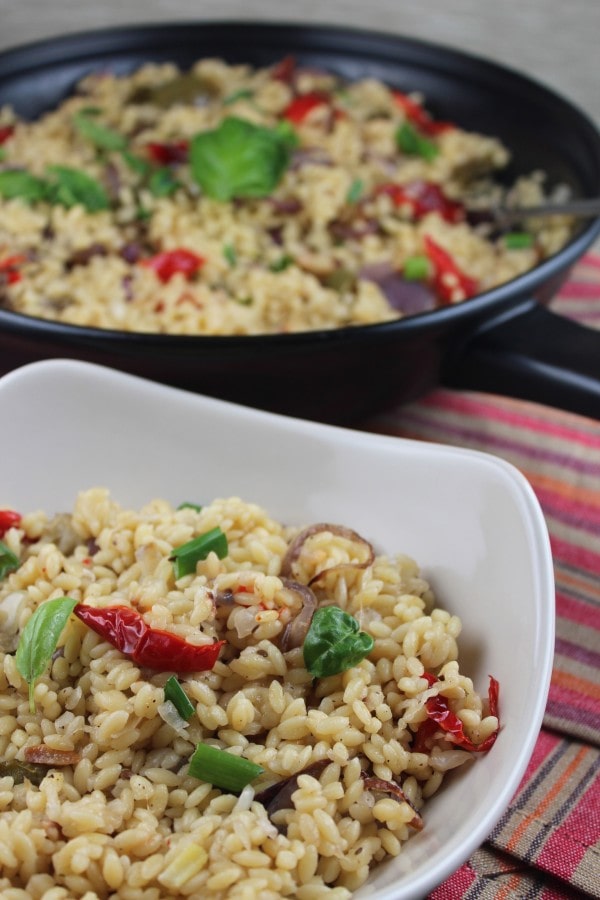 This morning I had my girl Rachael Ray on and she was making a lemon risotto on 30 Minute Meals and I love myself a good risotto, so I took to my cabinets to see what I could find to make my own version of Rachael's yummy little dish! As I got looking through my cabinets I saw that Trader Joe's bag of Orzo staring me in the face.
I've never cooked with orzo but as I adventure into new food frontiers I find myself grabbing 2 or 3 items I've never cooked with before each time I go to the store and incorporating them into my new dishes. So today became project Creamy Orzo, basically an Orzo Risotto of sorts. So here we go!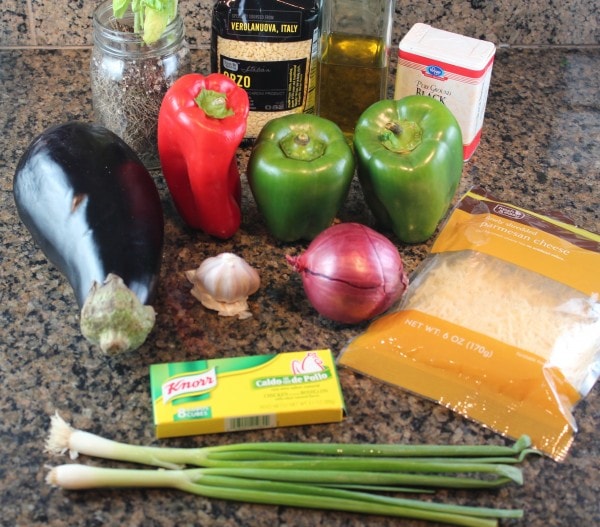 Ingredients (serves 2- as meal, 4- as side dish)
2 red onions (1 chopped, 1 sliced)
1 eggplant
1 red bell pepper (quartered)
1 green bell pepper (quartered)

2 tbsp olive oil (separated)

1 tsp kosher salt
1 tsp black pepper

6 garlic cloves, (2 minced, 4 whole)

2 cups orzo

4 cups chicken stock

1/2 cup parmesan

1/4 cup fresh basil (chopped)
Begin by slicing one red onion and both bell peppers. Cut the eggplant in half. Arrange the vegetables with 4 garlic cloves on a baking sheet, then drizzle with 1 tbsp olive oil, salt and pepper.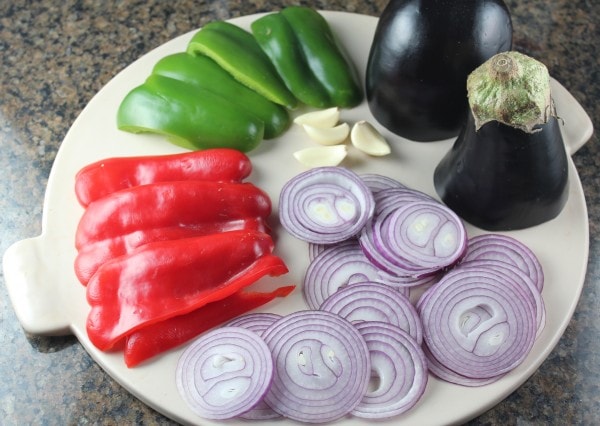 Next, place the vegetables in the oven at 350°F for 30 minutes while preparing the orzo.
Begin preparing the orzo by bringing 4 cups of chicken stock to a boil.
While the stock is heating up place 1 tbsp of olive oil in a large skillet then add the chopped onion and minced garlic.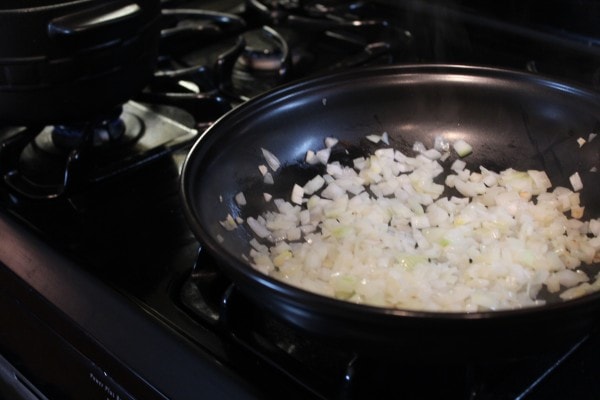 Cook for 1-2 minutes then add the orzo, cook for 1 minute then begin adding the chicken stock 1/2 cup at a time.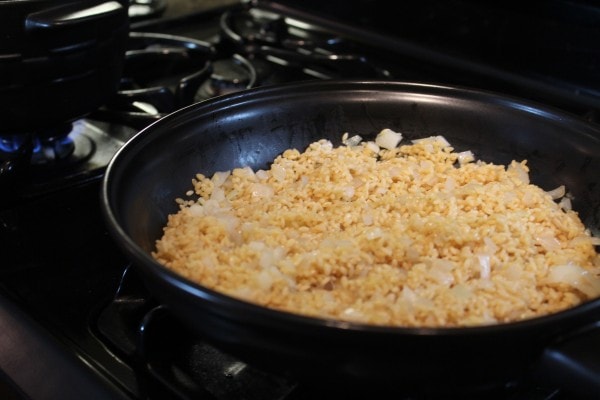 Every time the orzo starts to look dry add another 1/2 cup of stock until all of the stock has been used and the orzo is soft and creamy! This should be about a 15 minute process.
Next, add the parmesan cheese and mix into melty goodness!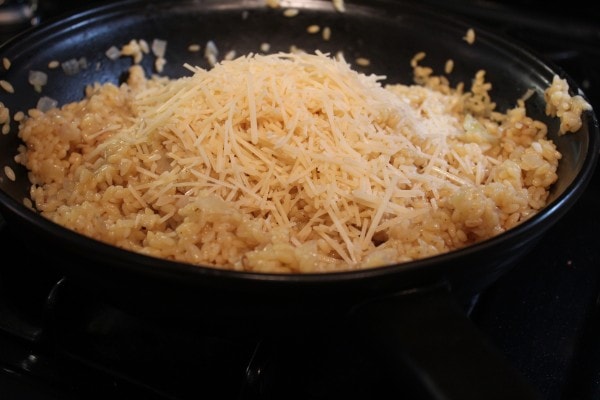 Remove the vegetables from the oven, chop the bell peppers, onion and garlic. Simply scoop the inside of the eggplant out and add them all to the orzo along with the fresh basil.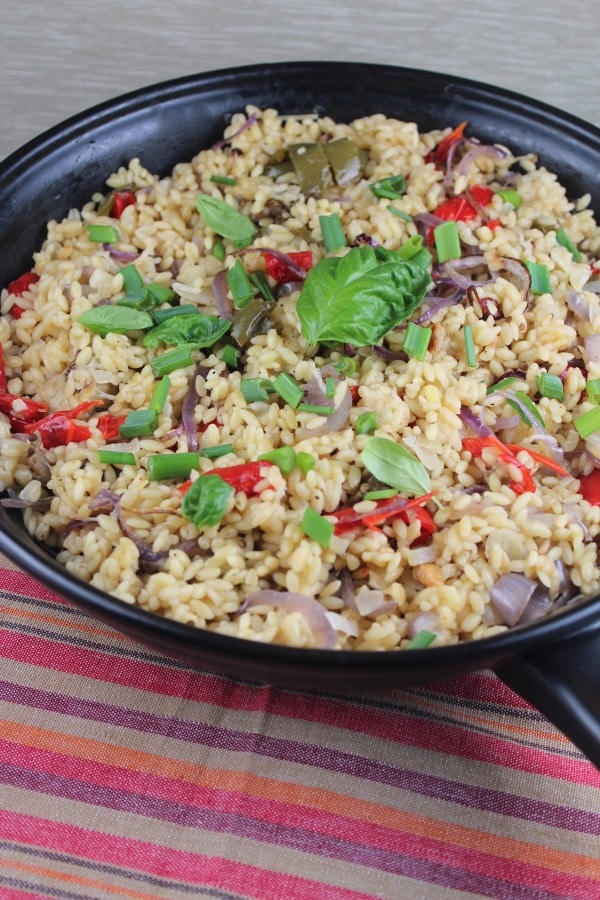 This dish could be served as a vegetarian entree or side dish for Chicken Parmesan or Italian Crusted Pork Loin!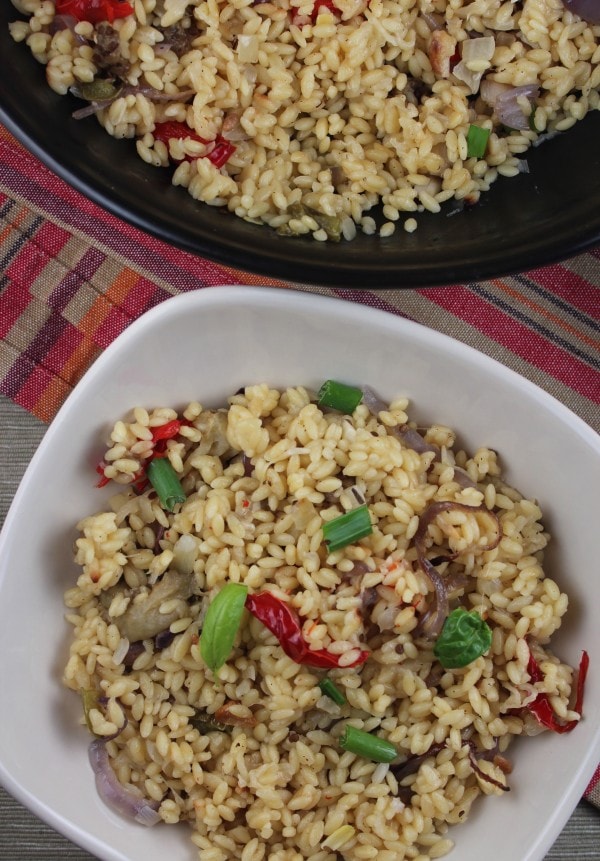 The orzo is creamy and delicious on it's own, but the addition of flavorful roasted vegetables makes it oh-so-scrumptious!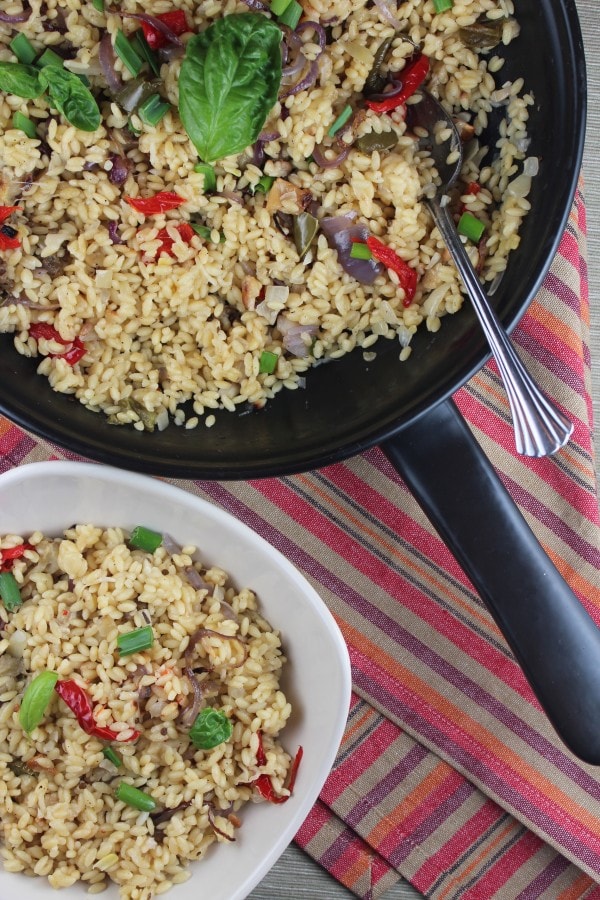 We are a participant in the Amazon Services LLC Associates Program, an affiliate advertising program designed to provide a means for sites to earn advertising fees by advertising and linking to amazon.com.