Bacon Tomato Avocado Pasta Salad
This post may contain affiliate links.
Crispy bacon, juicy tomatoes and creamy avocado dressing make THE BEST pasta salad recipe! This BLT Pasta Salad is quick and easy to prepare. It's delicious served warm or cold and the perfect side dish for summer BBQ's!
Serve it on the side of Grilled Tomato Basil Chicken Skewers, Buffalo Turkey Meatball Subs or Onion Fried Cheeseburgers! And don't forget a glass of Grilled Strawberry Lemonade to go with it!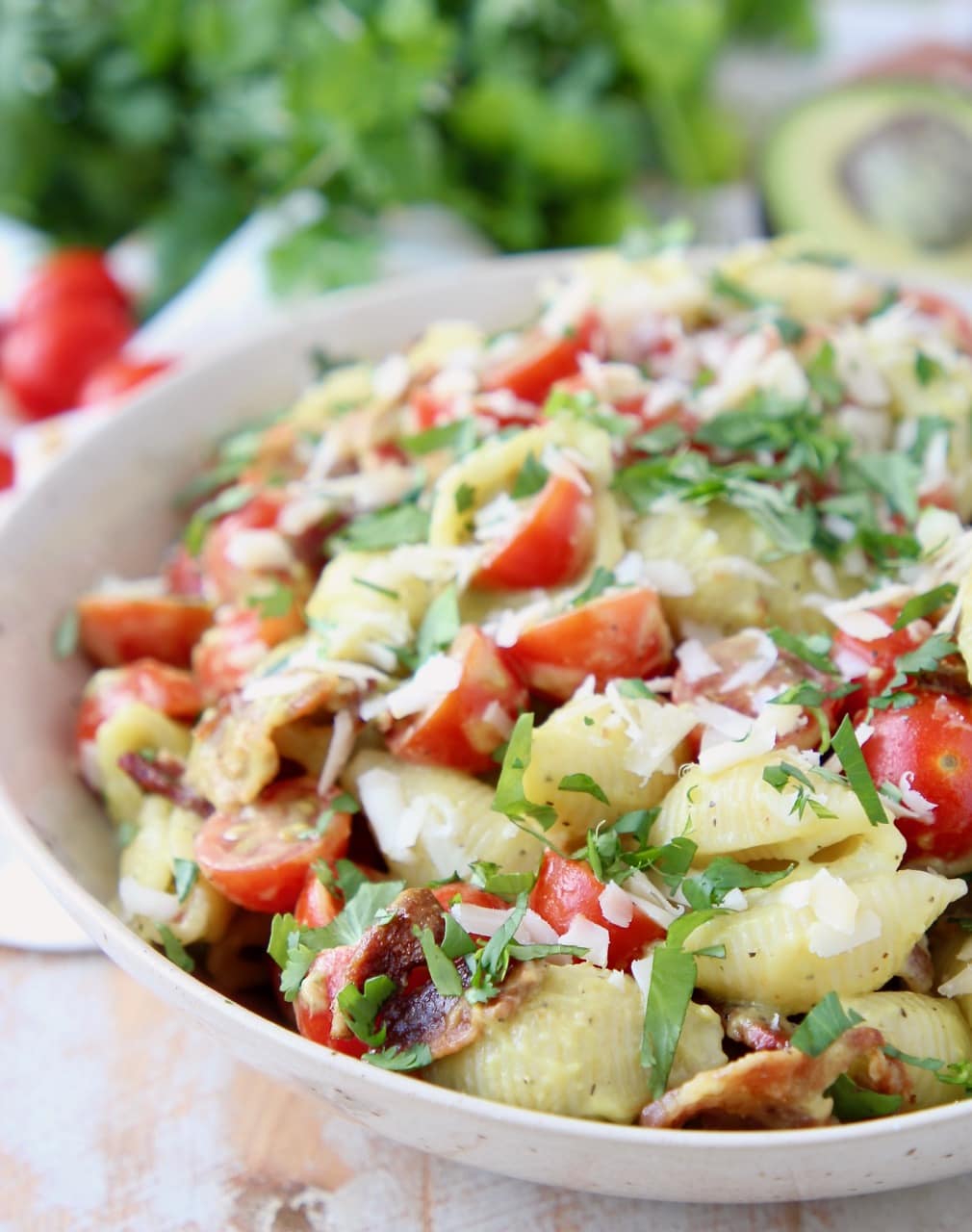 I was never a big fan of potato or pasta salads growing up. Blasphemy, I know! I'm not a big fan of mayonnaise, which is the base for a lot of potato and pasta salad dressings.
I also found a lot of pasta salads to be boring. They were lacking in that delicious kick of flavor I was looking for!
But today, I'm here to introduce you to THE SECRET ingredient for making a creamy, flavorful pasta salad dressing without mayonnaise. Avocado! That's right, the creamy avocado dressing in this salad packs a serious punch of flavor and the texture is deliciously creamy.
Bonus, it's so much healthier than a mayonnaise based dressing! And you only 6 ingredients to make it, two of which are salt and pepper! Simply add all of the ingredients to a blender and boom, you've got one tasty pasta salad dressing!
I love replacing mayonnaise with avocado on a BLT sandwich. So I decided to make a BLT Pasta Salad with my homemade avocado dressing. Who can deny the combination of crispy bacon, creamy avocado and juicy tomatoes? I know I sure can't!
This recipe will be your new go-to summer and BBQ staple! My family loves this recipe. And every time I make it for a party or BBQ, it gets rave reviews from all my friends!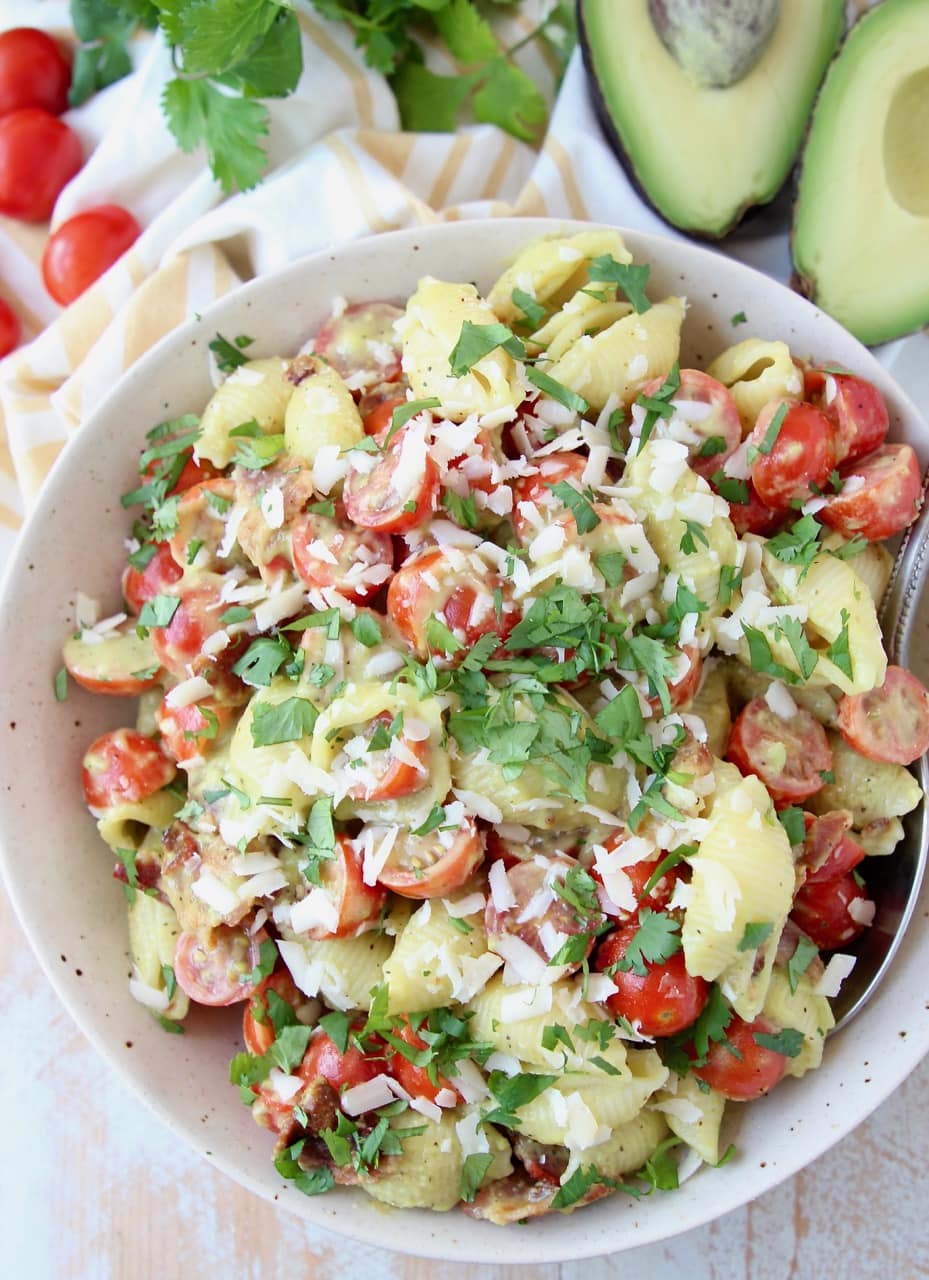 Step by step instructions
Cook the pasta. Bring a large pot of salted water to boil on the stove. Add small shell pasta to the boiling water. Macaroni noodles or penne pasta would also work for this recipe. Boil the pasta according to package directions, approximately 8 minutes or until al dente. Drain and set aside to cool.
Prepare the avocado dressing. Add avocado, white balsamic vinegar, lemon juice, salt, pepper and olive oil to a blender or food processor. Blend until smooth.

Quick Tip! Traditional balsamic vinegar will work fine for this recipe. It will simply result in the dressing being more brown in color than green in color. White balsamic vinegar can be found in most major grocery stores with the other vinegars.

Toss the salad together. Toss the cooked pasta shells and prepared avocado dressing together in a large bowl. Add the halved cherry tomatoes and cooked and crumbled bacon. Toss everything together. Top the salad with fresh grated parmesan cheese.
How to cook crispy bacon
To make deliciously crispy bacon in the oven, place a wire rack on top of a foil-lined baking sheet. The foil isn't 100% necessary, but it helps make clean-up a breeze! Place bacon slices across the wire rack. For this recipe, I cooked 4 bacon slices to make 1/2 cup of cooked, crumbled bacon.
Cook the bacon in a 400°F preheated oven for 20 minutes. You can adjust the time based on you desired level of crispiness. Subtract 5 minutes for non-crispy bacon or add 5 minutes for extra crispy bacon.
You can purchase bacon bits at the grocery store or make your own crumbled bacon at home for this recipe. I like to make my own, so I cook the bacon in the oven while the pasta is boiling.
Can you make pasta salad the night before?
This pasta salad recipe can be made the night before. I do recommend waiting to add the bacon until before serving the salad. Once tossed with the dressing, the bacon will begin to lose it's crispy texture.
If I'm making this salad ahead of time, I cook the pasta, make the dressing and slice the tomatoes. I then place each ingredient separately in the refrigerator. I toss everything together fresh before serving.
It takes about 2 minutes to toss together. I do this because the texture of the ingredients is better right after everything has been tossed together.
How long will pasta salad keep in the refrigerator?
Leftover pasta salad can be kept in an airtight container in the refrigerator for up to 5 days.
Can you heat up cold pasta salad?
If you prefer the pasta salad warm, rather than cold or at room temperature, you can microwave the salad. I recommend microwaving for 60-90 seconds. Check the pasta salad and see if your desired temperature has been reached.
Is pasta salad bad for you?
Just like any salad, what you put into the pasta salad determines whether it would be considered bad for you. A healthy pasta salad dressing and fresh vegetables can make a better for you pasta salad.
The avocado dressing on this salad is filled with healthy fats from the avocado and olive oil. The tomatoes are a great source of vitamin C, potassium and vitamin K. This recipe contains 269 mg potassium, 18% daily vitamin C needs and is only 270 calories per serving.
To add more vitamins and very few calories to this salad, feel free to throw in some extra veggies! Sliced red onion, diced bell peppers & spinach can all be tossed in with the cherry tomatoes for extra health benefits.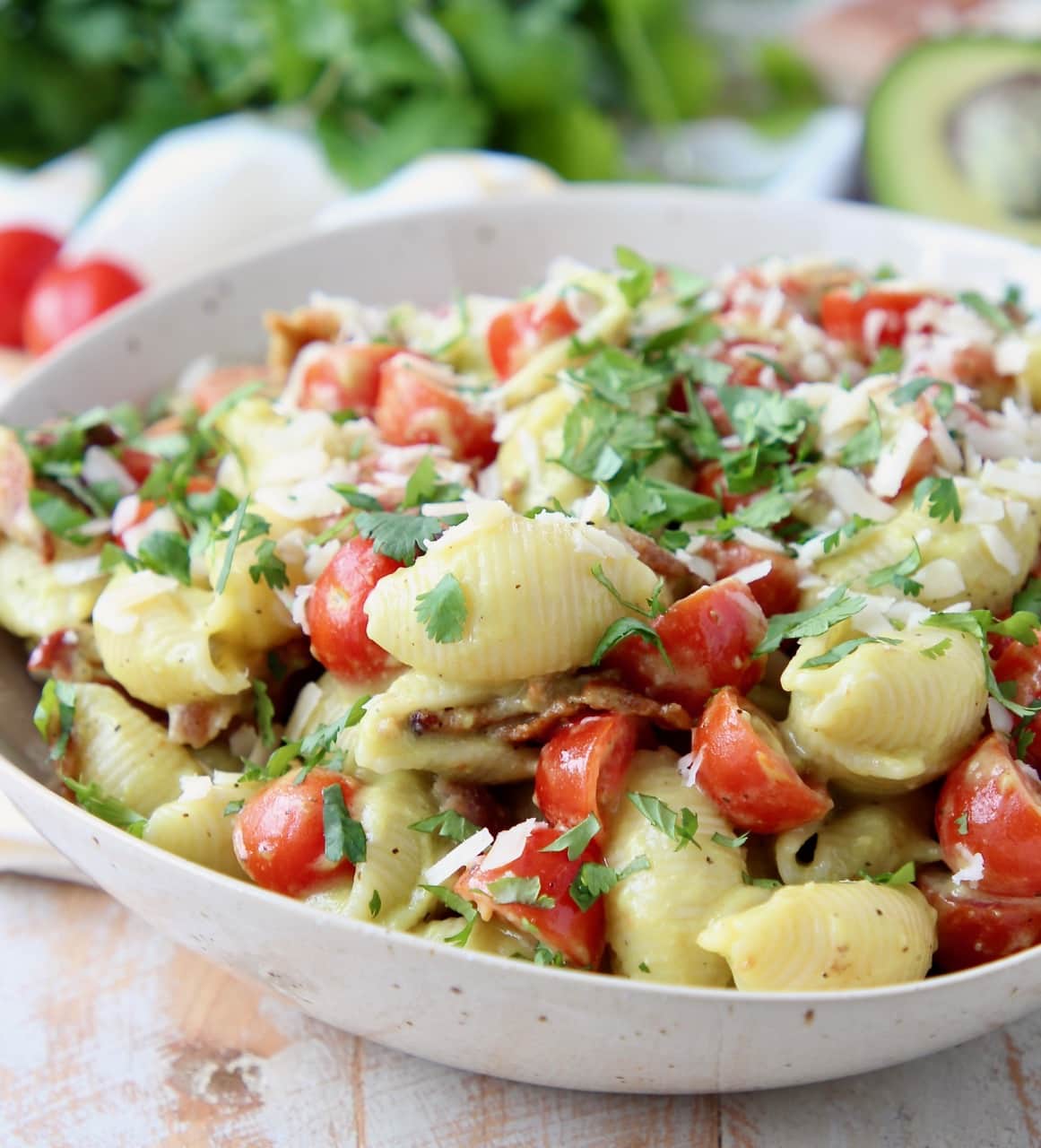 What to serve it with
Pasta salad is a delicious side dish for a BBQ. Try it with these amazing recipes on the grill!
Made this recipe and loved it? Be sure to rate it 5 stars in the recipe card below!
Bacon Tomato Avocado Pasta Salad
Crispy bacon, juicy tomatoes & creamy avocado dressing make THE BEST pasta salad recipe! It's quick, easy & delicious served warm or cold!
Instructions
Bring a large pot of salted water to boil.

Add the pasta and cook according to package directions or approximately 8 minutes.

Drain and set aside to cool for 5-10 minutes.

Prepare the avocado dressing by combining all of the ingredients in a blender or food processor.

Toss the pasta with the avocado dressing, cherry tomatoes and bacon.

Top with fresh grated parmesan cheese and serve.
Notes
Cook the bacon. If you don't already have cooked bacon available, be sure to cook the bacon prior to starting the recipe. Place 4 slices of bacon on a wire rack on top of a foil lined baking sheet. Place the bacon in a 400°F oven for 20 minutes, or until your desired level of crispiness.
Vegetarian Option: Omit the bacon to make this recipe vegetarian.
Gluten Free Option: Use gluten-free pasta to make this recipe gluten-free.
Macaroni or penne pasta can be used instead of small pasta shells in this recipe.
Nutrition Facts
Serving
6
g
Calories
270
kcal
(14%)
Carbohydrates
29
g
(10%)
Protein
6
g
(12%)
Fat
14
g
(22%)
Saturated Fat
2
g
(10%)
Cholesterol
4
mg
(1%)
Sodium
189
mg
(8%)
Potassium
269
mg
(8%)
Fiber
2
g
(8%)
Sugar
3
g
(3%)
Vitamin A
300
mg
(6%)
Vitamin C
14.4
mg
(17%)
Calcium
64
mg
(6%)
Iron
1
mg
(6%)
We are a participant in the Amazon Services LLC Associates Program, an affiliate advertising program designed to provide a means for sites to earn advertising fees by advertising and linking to amazon.com.