Delicata Squash Salad
This post may contain affiliate links.
This Delicata Squash Salad recipe will become your new favorite fall salad! It's healthy, flavorful, and easy to make in 30 minutes. The base of the salad is made up of spinach and kale, tossed with avocado vinaigrette dressing.
It's topped with roasted delicata squash, dried cranberries, apples and candied pecans for a delicious combination of sweet and savory flavors, and tender and crunchy textures!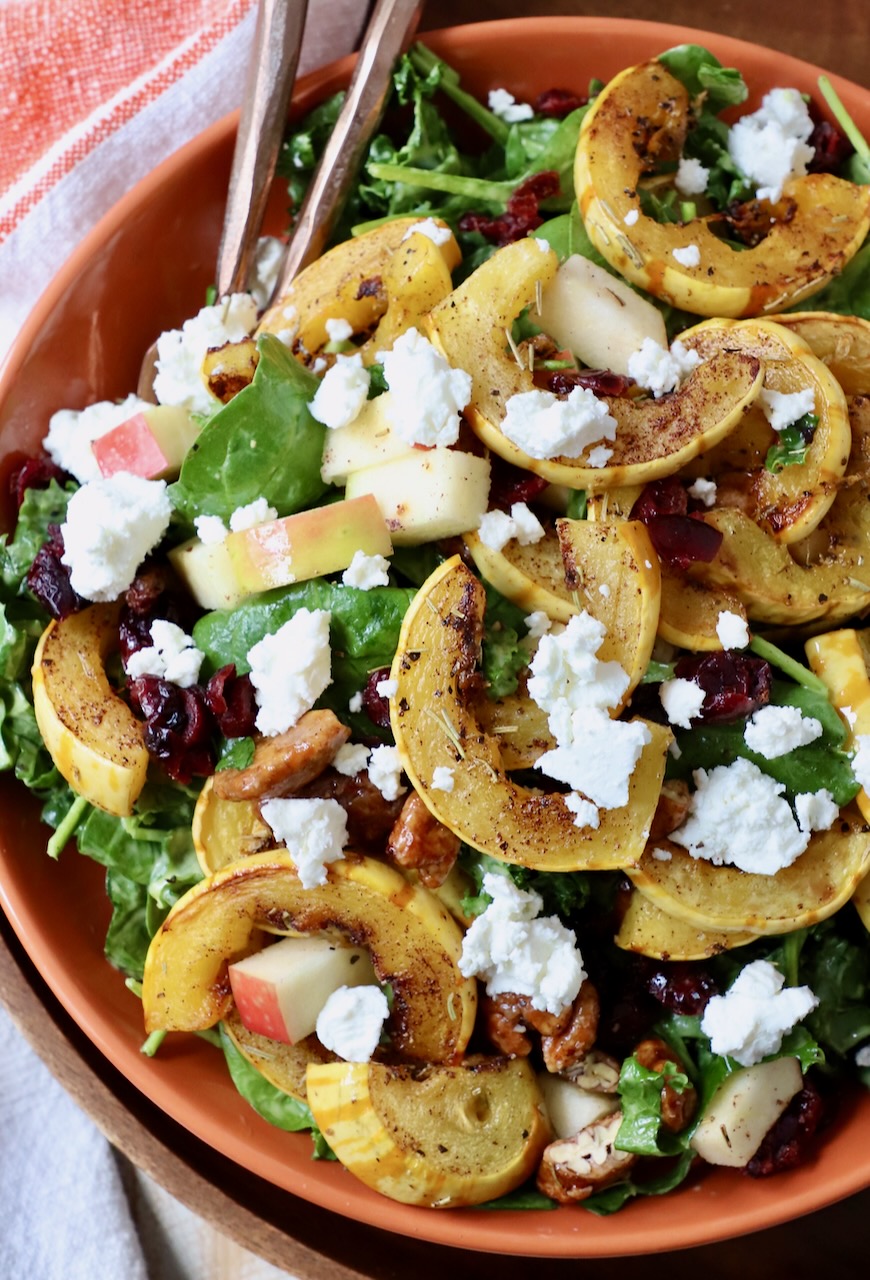 Tender roasted delicata squash, crunchy pecans, crispy apples and creamy goat cheese, are combined for an incredible fall salad! This recipe has a wonderful variety of both textures and flavors. It's impressive enough to serve as a side dish for a holiday dinner, but also filling enough to make it a meal.
I'm a huge fan of delicata squash. It's the only variety of winter squash, where you can eat both the skin and the flesh. The skin of the squash is so delicate (hence the name!) that after the squash is roasted, the skin and flesh can both be added to this salad.
It's also a sweeter variety of squash, that becomes even sweeter when it's roasted. Combined with the base of kale and spinach in this salad, there's a great balance of sweet and savory. The bright yellow flesh and striped skin of delicata squash also makes it a beautiful salad addition, perfect for an impressive Thanksgiving, or holiday salad.
Delicious, beautiful and easy to make in 30 minutes, now this is a salad that I'm keeping in regular rotation at my house!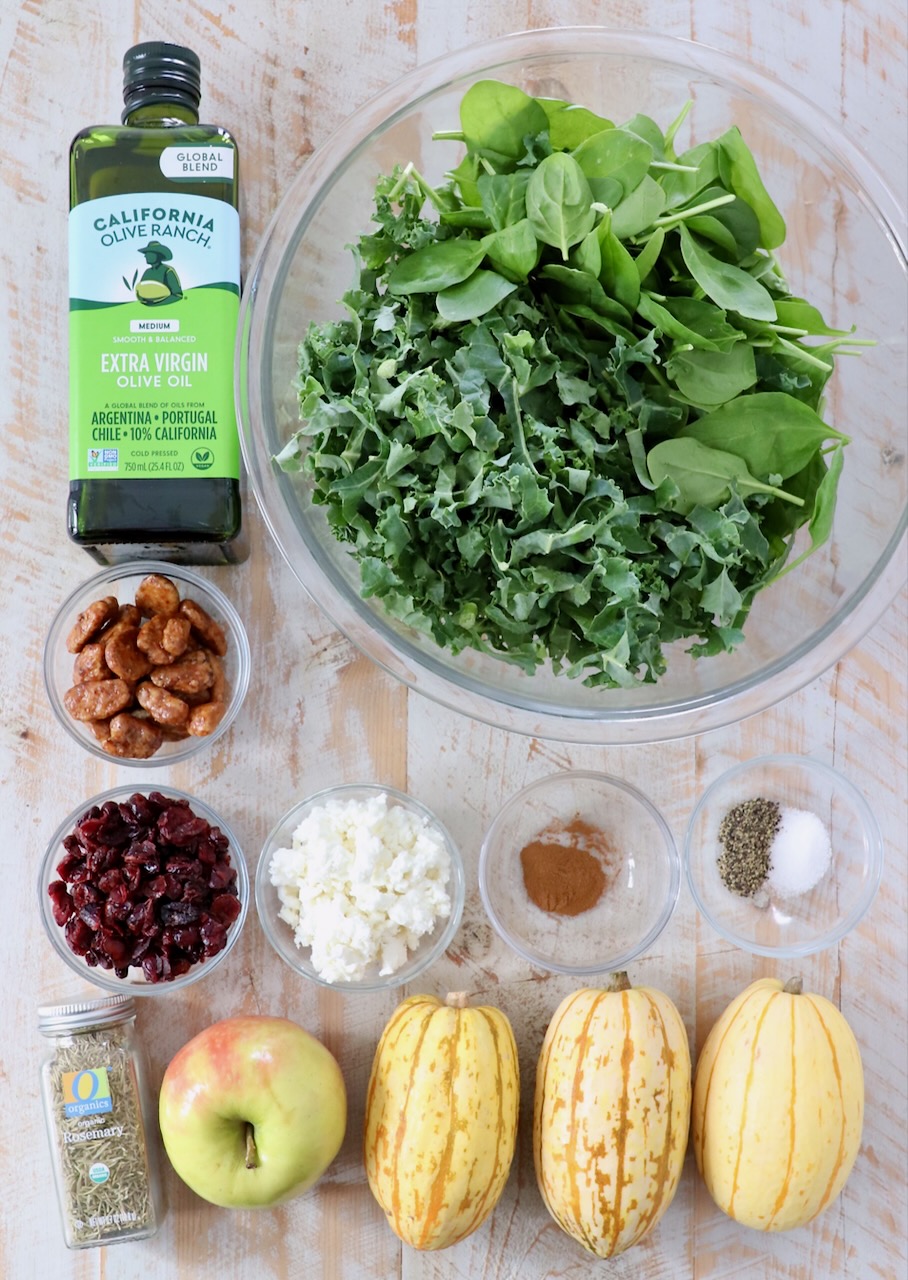 Ingredients
Delicata squash – this winter squash is smaller in size than other squash like butternut, or spaghetti squash. An average delicata squash is approximately 1 pound. For this recipe you'll want about 1 1/2 pounds of squash. On the day I was making this salad, all of the delicata squash at the grocery store were particularly small, so I ended up using 3 to make the salad. For more tips on delicata squash, including how to slice it and the best way to cook it, check out this post for How to Cook Delicata Squash.
Olive oil – or another neutral-flavored oil, like avocado oil or vegetable oil.
Dried rosemary + ground cinnamon – to season to the squash.
Salt + black pepper – also to season the squash.
Kale + baby spinach – for the base of the salad. You could also use a spring mix, arugula, or just use spinach or kale, instead of combining them. I like the variety of textures, which is why I used both in this recipe. No matter which greens you use, or how many you combine, you'll need a total of 6 cups of leafy greens for this recipe.
Apples – when adding diced apples to a salad, you'll want crispy apples that don't brown too quickly, like honeycrisp, fuji or pink lady. For this recipe, I used pink lady apples. They add a great crunch and tart flavor to this salad.
Candied pecans – click the link to the left for my homemade recipe for candied pecans. You can also purchase pre-made candied pecans at the grocery store. You can also use regular pecans, if you'd like to reduce the sweetness added to the salad.
Dried cranberries – these tart little pieces of dried fruit pair perfectly with this fall/winter salad.
Goat cheese (optional) – leave the cheese off if you want to make the salad vegan.
Avocado vinaigrette dressing – fresh avocado, white balsamic vinegar, lemon juice, olive oil, salt and pepper make up this simple creamy dressing that pairs perfectly with this salad.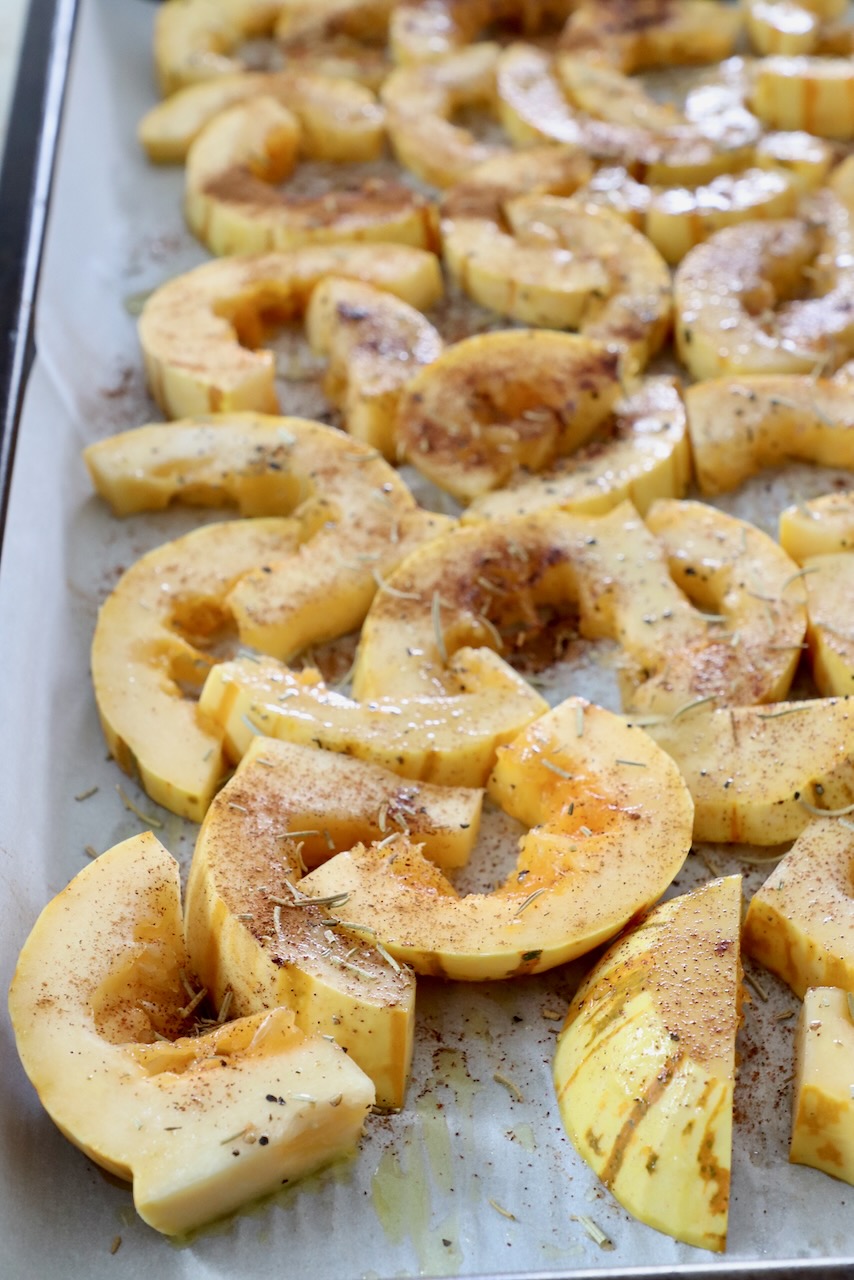 Instructions
Prep the delicata squash. Slice the ends off of the delicata squash, then slice it in half lengthwise from root to tip. Use a fork to scoop all of the seeds out of the squash. Slice the squash into 1/2 inch thick slices.
Season the squash. Place the squash on a parchment-lined rimmed baking sheet, drizzle with olive oil, then season with rosemary, cinnamon, salt and pepper. Toss until the squash is fully covered in the seasoning, then spread the squash out in an even layer on the baking sheet.
Roast the squash. Place the seasoned squash in a preheated 425°F oven for 20 minutes.
Prepare the salad dressing. While the squash is roasting, add avocado, white balsamic vinegar, lemon juice, salt and pepper to a blender. Blend until smooth, then with the blender still running, pour the olive oil into the blender so it will emulsify into the salad dressing. Set the vinaigrette dressing aside.
Prepare the kale. If you're using a bag of chopped kale, you can skip this step. Otherwise, you'll want to remove the thick stems from the kale, chop it up and add it to a large bowl.
Toss the greens with the dressing. Combine the chopped kale and spinach leaves in a large bowl. Add the vinaigrette dressing and toss until it's fully coated.
Add the toppings. Once the delicata squash comes out of the oven, let it cool for 5 minutes, then add it on top of the salad, with the dried cranberries, candied pecans and diced apples. Add some crumbled goat cheese on top before serving, if you'd like.
We are a participant in the Amazon Services LLC Associates Program, an affiliate advertising program designed to provide a means for sites to earn advertising fees by advertising and linking to amazon.com.