How To: Make Your Own Moscow Mule Bar
This post may contain affiliate links.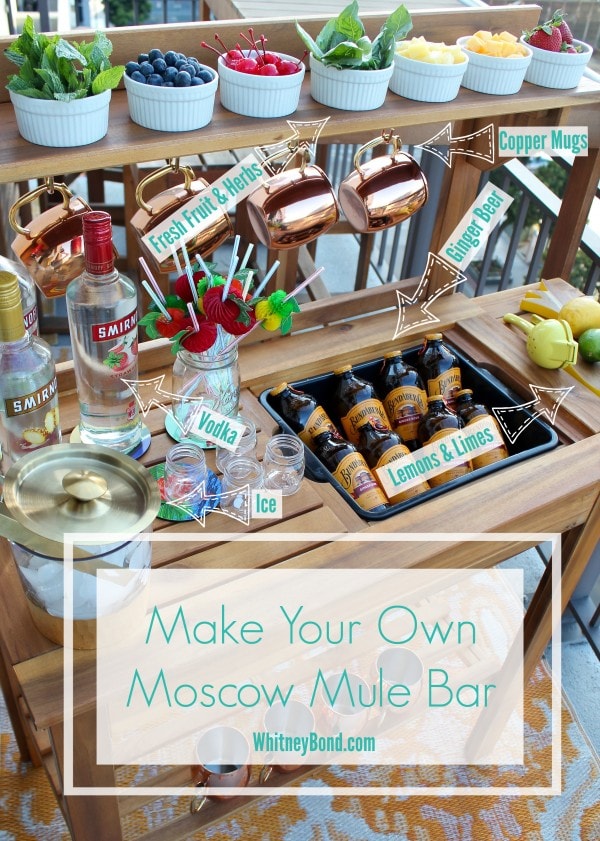 Everyone loves a refreshing Moscow Mule in the Summertime, so why not create a "Make Your Own Moscow Mule Bar" for your next party!
What you'll need:
Vodka
Ginger Beer
Fruit & Herbs
Ramekins or Small Bowls for Fruit & Herbs
Ice Bucket, Tongs & Ice
Cutting Board & Knife
Lemons & Limes
Optional additions:
Fun Straws
Mason Jar Shot Glasses
Tropical Coasters
Citrus Juicer
This bar can be made on any table or countertop, but I turned a potting bench from World Market into a bar! With the built in sink, perfect for storing ice and cold bottles of ginger beer, and the hooks for hanging the copper mugs, I couldn't resist creating a "Make Your Own Moscow Mule Bar" out of this bench!
You'll want to stock the bar with unflavored vodka and 2-4 flavored vodkas, plenty of ginger beer and as many fresh fruits and herbs as you'd like!
You can add a menu to the bar or let your guests make up their own Moscow Mule flavor combinations!
Here are a few ideas to get you started:
Peach Basil | Peach Vodka + Ginger Beer + Basil + Lemon Juice
Strawberry Mint | Strawberry Vodka + Ginger Beer + Mint + Lime Juice
Pineapple | Pineapple Vodka + Ginger Beer + Diced Pineapple + Lime Juice
Cherry Limeade | Vodka + Ginger Beer + Maraschino Cherry Juice + Lime Juice
Triple Berry | Vodka + Strawberries + Blueberries + Raspberries + Lemon Juice
Your guests will love trying out your signature mules and making up their own!
Creating this "Make Your Own Moscow Mule Bar" for a Summer party? Be sure to share your photos on Instagram and tag me @WhitneyBond!
And don't forget to pin this post to your Summer party boards on Pinterest!

Some of the links within this post are affiliate links. Thanks for supporting all of the great WhitneyBond.com affiliate partners like World Market!
We are a participant in the Amazon Services LLC Associates Program, an affiliate advertising program designed to provide a means for sites to earn advertising fees by advertising and linking to amazon.com.