Make Your Own Taco Bar
This post may contain affiliate links.
A Make Your Own Taco Bar takes the hassle out of cooking while hosting a party & guests will love it! It's perfect for Superbowl, birthday parties & more!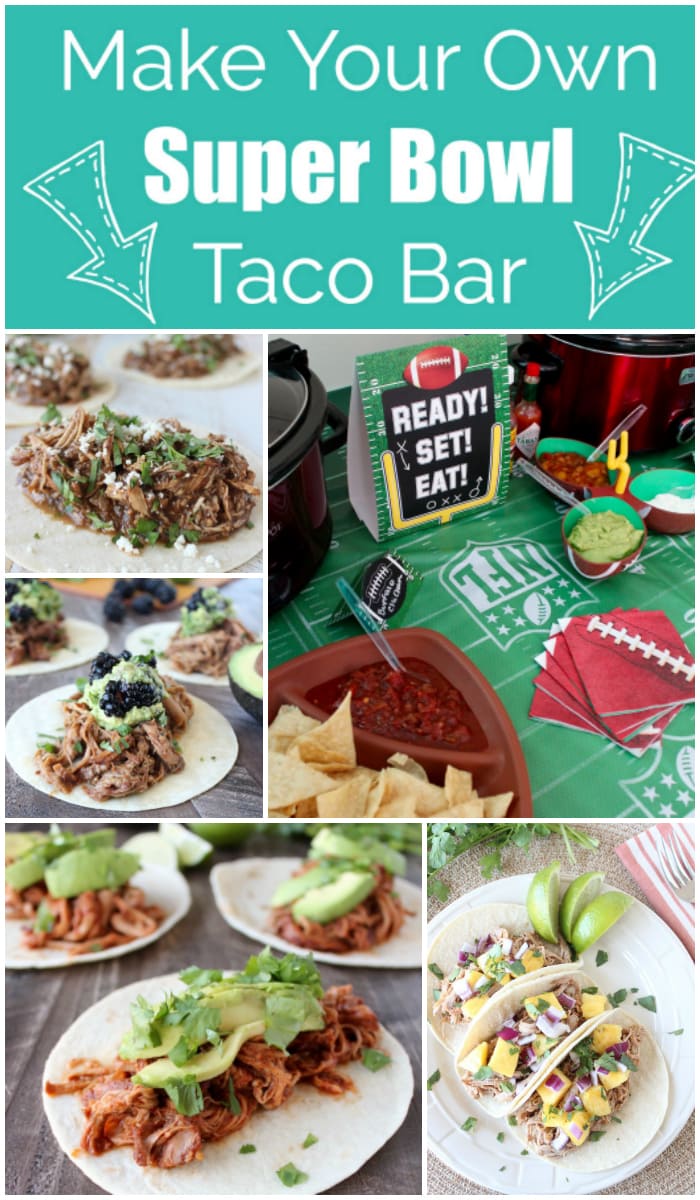 For as many years as I can remember, hosting a Super Bowl party has been a tradition at my house.
Since I love everything game day, from the game itself, to the commercials, to the delicious dips, chips and tacos that come with it, throwing a Super Bowl party has always seemed like the natural thing to do!
While I love to cook, (I think that's pretty obvious by the whole food blogger thing! 😉 ) I don't want to miss out on the touchdowns, puppy commercials or half time show by being in the kitchen all day, that's why I started hosting the "Make Your Own Taco Bar" at my Superbowl Parties a few years ago.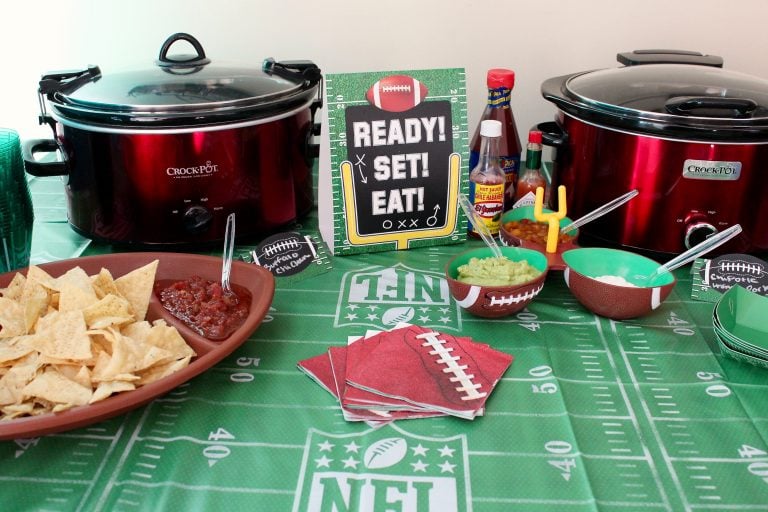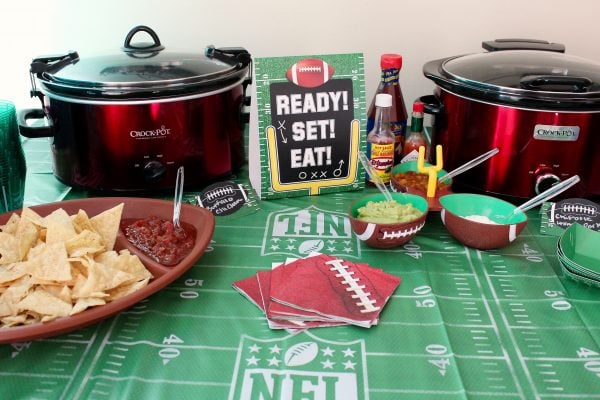 I start off by preparing a few different meats in slow cookers the night before Superbowl Sunday, let them cook on low all night, then set on warm all day on Superbowl so people can make warm and delicious tacos at any point throughout the day!
The best thing is, you can impress your friends with a scrumptious taco spread without spending anytime in the kitchen during your event!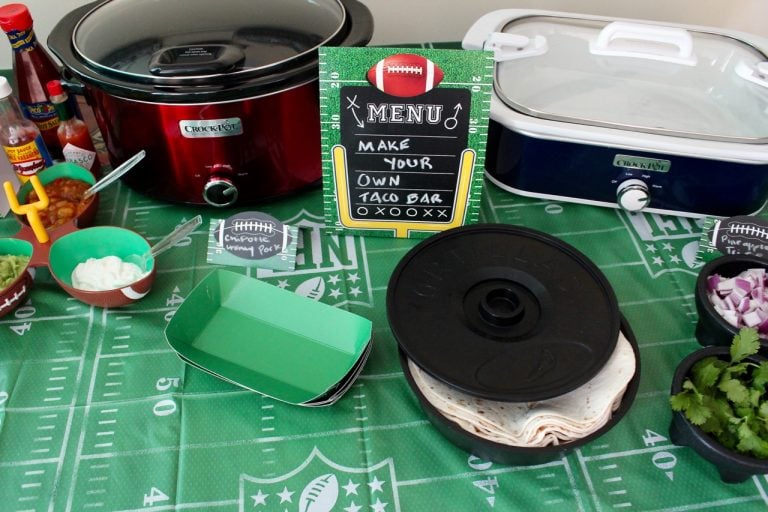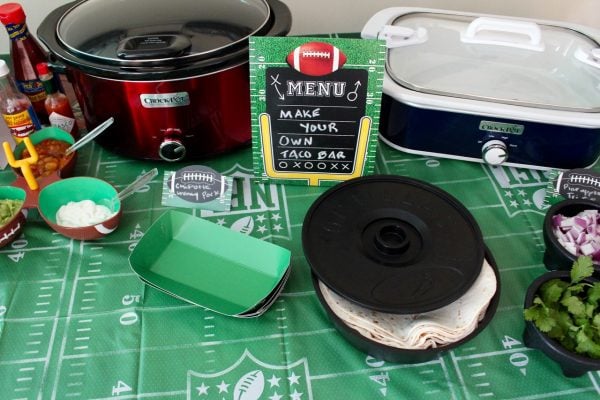 Here's what you'll need to make it & how to do it!
Supplies:
Food:
Tortillas
Tortilla Chips
Salsas
Guacamole
Sour Cream
Diced Onions
Cilantro
Jalapeno Slices
Hot Sauce
Cheese (grated)
Assortment of slow cooked meats
Instructions:
Prepare the slow cooked meats the night before the Superbowl party

I usually pick one chicken, one pork and one beef slow cooker recipe from the list above so that there will be plenty of options for everyone, no matter what their favorite meat is!
I always prepare a Slow Cooker of buffalo chicken as well. It's as easy as placing boneless, skinless chicken breasts in the slow cooker, cover with buffalo sauce and cook on low for 8 hours or on high for 3-4 hours. After it's finished slow cooking, use two forks to shred up the meat and serve with the taco bar or in Buffalo Chicken Dip, Buffalo Chicken Dip Taco Cups or Buffalo Chicken Dip Pizza (yes, I love buffalo chicken dip!)

The morning of the party, shred the meats in the slow cookers and set each slow cooker to warm.
Place the Football Field Tablecloth on a large table.
Add the slow cookers filled with meats to the table.
Place small chalkboards in front of each slow cooker & label what's in each one.
Warm the tortillas in the microwave or oven and place in a Tortilla Warmer on the table.
Place the shredded cheese, diced onion, cilantro and sliced jalapenos in the Salsa Bowls.
Place salsa, guacamole and sour cream in the Football Condiment Dish with Goal Post, add Plastic Spoons for serving.
Place remaining salsas and tortilla chips in the Football Chip & Dip Bowl.
Add the Football Plates and/or Football Field Food Trays, Football Plastic Cups & Football Napkins to the table.
Voila! With just 10 steps your Superbowl Taco Bar is ready to go!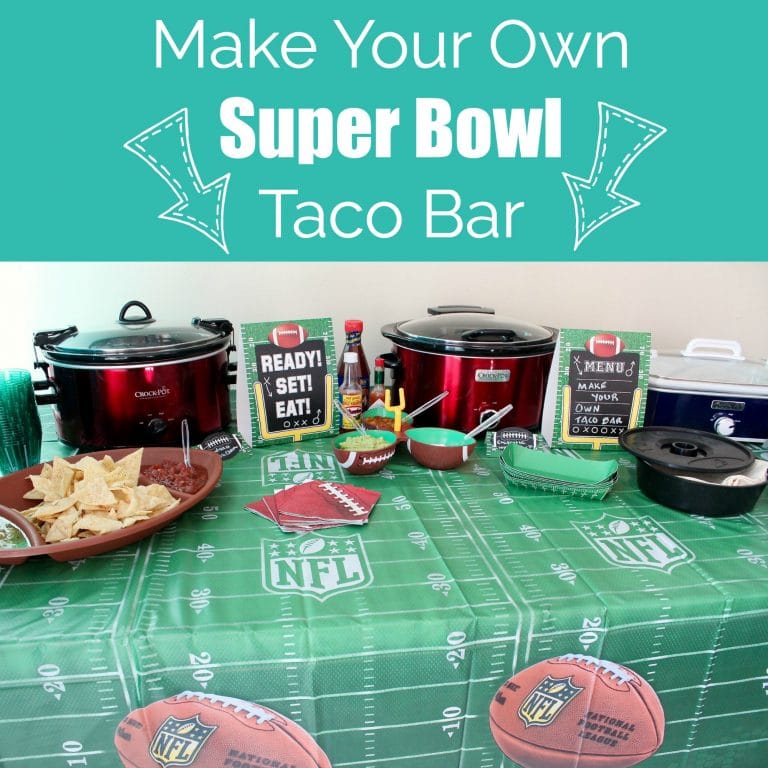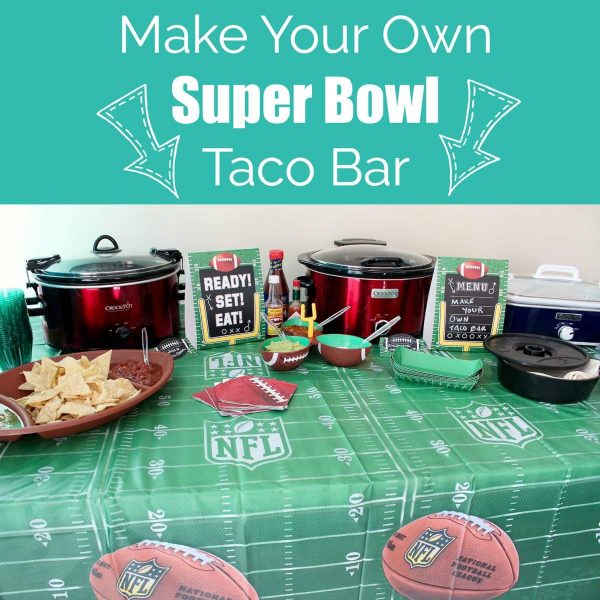 We are a participant in the Amazon Services LLC Associates Program, an affiliate advertising program designed to provide a means for sites to earn advertising fees by advertising and linking to amazon.com.