Top 10 Smart Home Devices for the Kitchen
This post may contain affiliate links.
Thanks to the power of high speed internet, it's never been easier to turn your entire house into a smart home. Using these 10 smart kitchen devices, I guarantee you'll be excited to make breakfast, lunch and dinner every day!
Smart kitchen appliances make cooking quicker and easier, especially when you're on-the-go.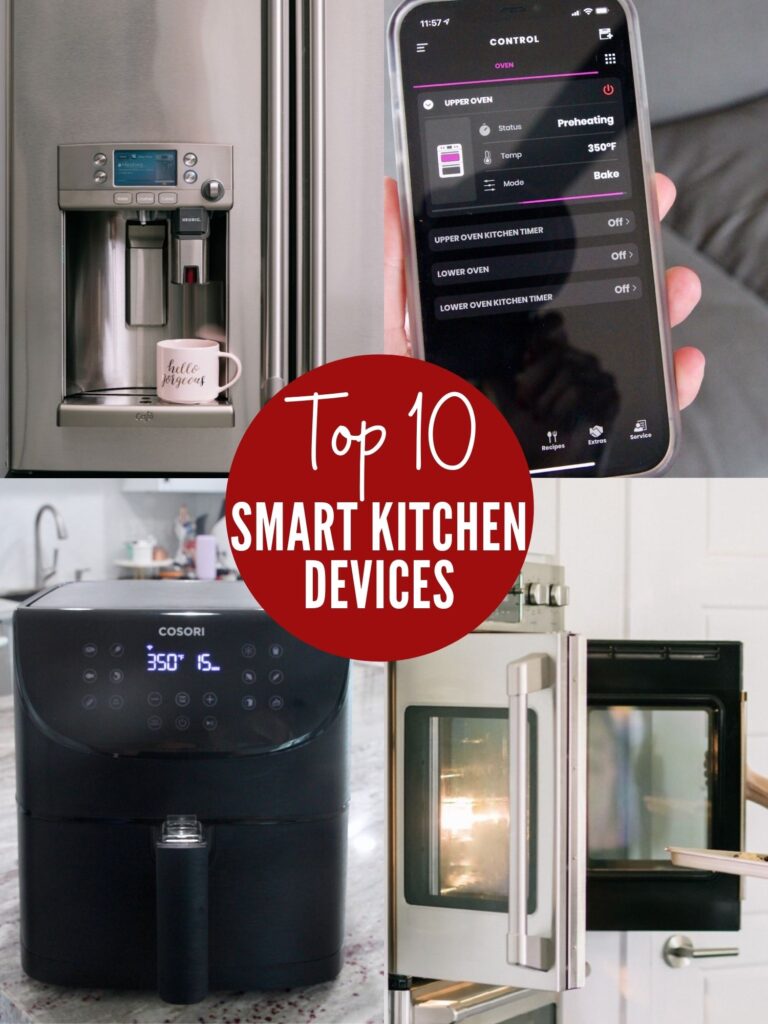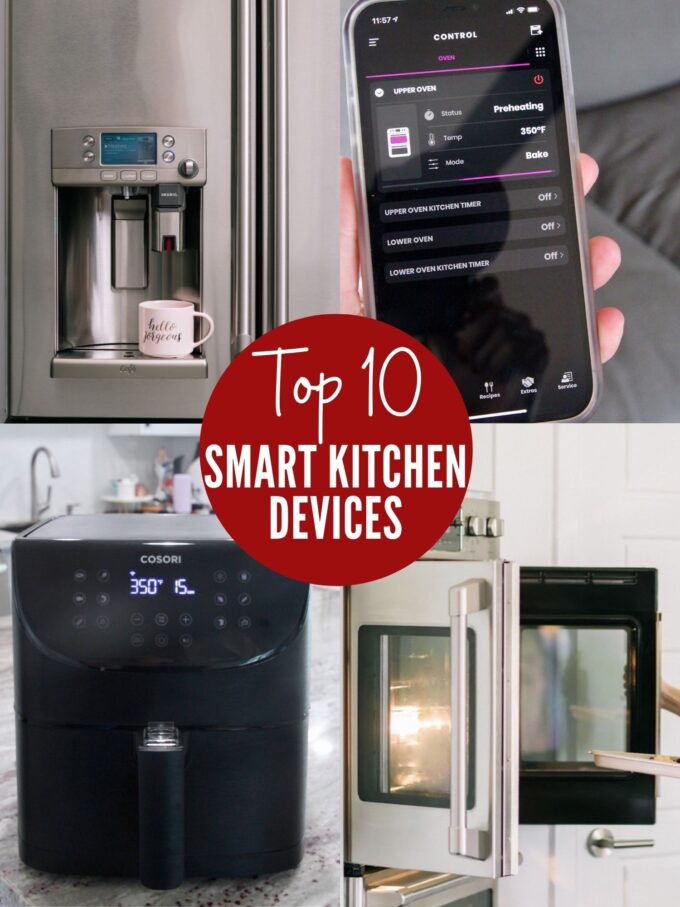 Thank you to my friends at Cox for sponsoring today's post.
When remodeling our house in 2017, we decided to build an entirely smart home. From the lights, to the blinds, to the refrigerator, we have over 100 WiFi connected devices in our house. And that's where Cox Panoramic WiFi comes in! This WiFi provides reliable access throughout the home to all your smart devices.
Of course, the kitchen is the heart of my home and today I'm sharing how I use smart appliances throughout the kitchen to make cooking faster and easier.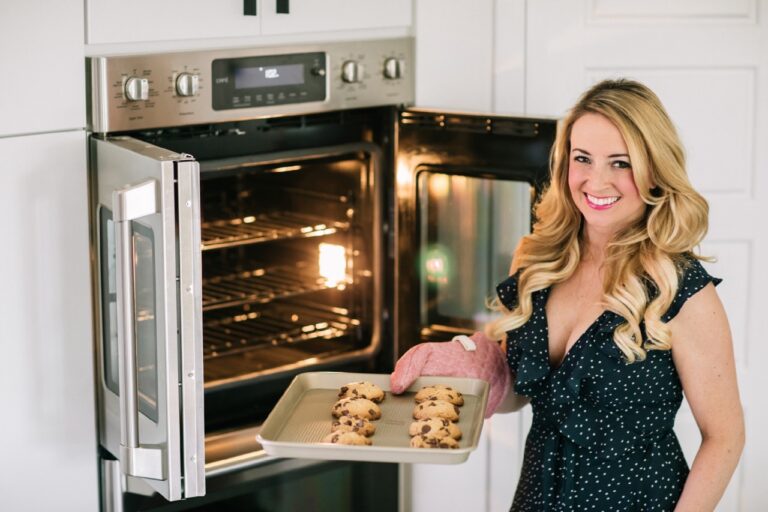 When it comes to smart kitchen devices, you'll find ones that connect to Bluetooth and WiFi. I highly recommend using the devices that connect to WiFi. This way you can monitor them, even when you're not at home. When a device is connected through Bluetooth, it's only available when your phone and device are in range, generally that's 300-400 feet.
When a device is connected to WiFi, you can literally monitor it through your phone from the other side of the world! Seriously, I was in France a few years back and I was able to check in on my refrigerator, oven and dishwasher back in California.
Why would I want to do that you ask? The app monitors if the refrigerator or freezer doors have been left open, or if there's a leak in the refrigerator or dishwasher. It's nice to be able to check in on the appliances while traveling for a little peace of mind!
While at home, I love to use both WiFi connected large and small appliances, all of which I can monitor in one place, on my phone. It's especially handy when I'm really busy or cooking multiple things at once. Check out my top 10 smart home devices for the kitchen and start "smart cooking" today!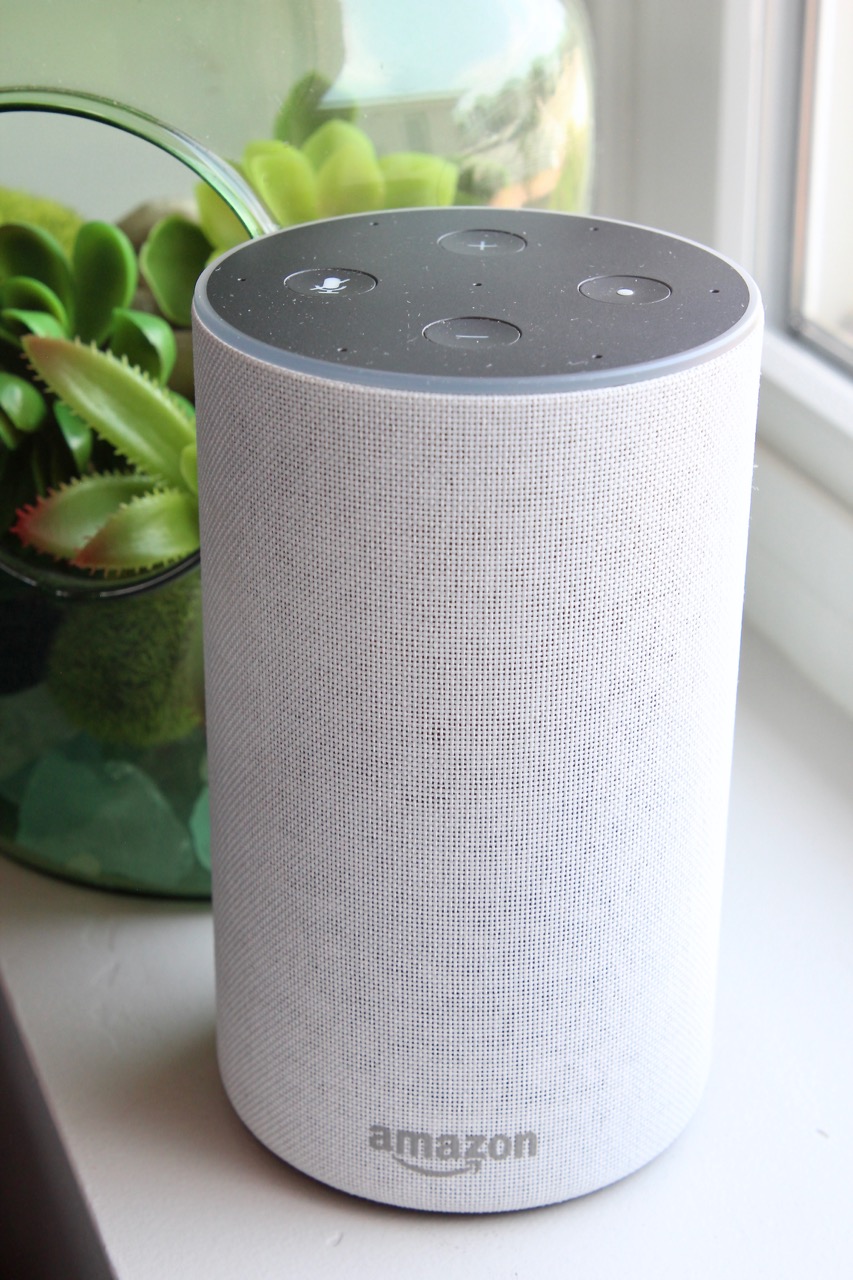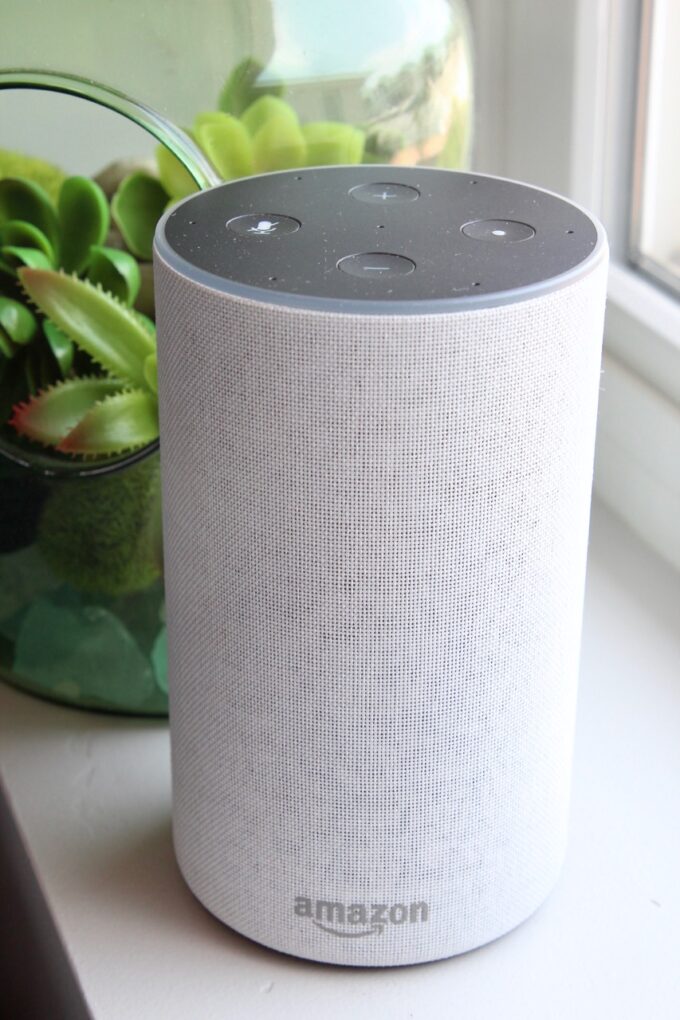 Smart home hub
An Amazon Alexa echo device or Google Home device is definitely necessary when you have over 100 WiFi connected devices throughout your house. When in the kitchen, it's useful for playing music (because who doesn't like to dance while they cook?), setting timers and connecting to the smart appliances in your kitchen.
I use it to play Spotify, set timers, preheat the oven and heat water in the refrigerator.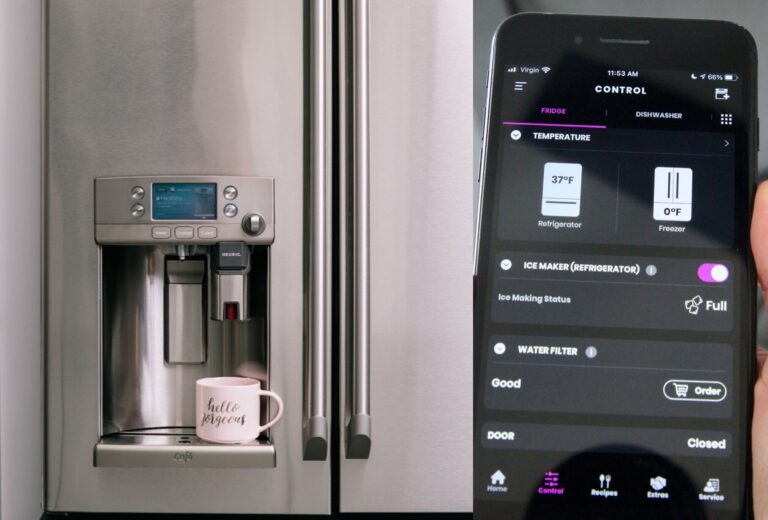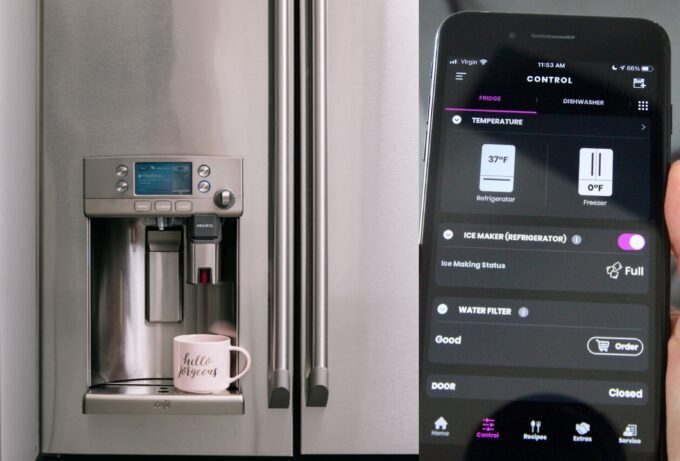 Smart refrigerator
The GE smart refrigerator will allow you to monitor the temperature of your fridge and freezer, the ice level in your ice maker and the status of your water filter. It will also alert you if the freezer or refrigerator door has been left open. Or if the temperature in the fridge or freezer begins to rise.
This GE Café series, seen pictured here, also has a built in Keurig for making individual cups of coffee or heating water for tea or soup. The corresponding Smart HQ app will allow you to heat water for coffee, tea or soup from the app on your phone, or through Alexa.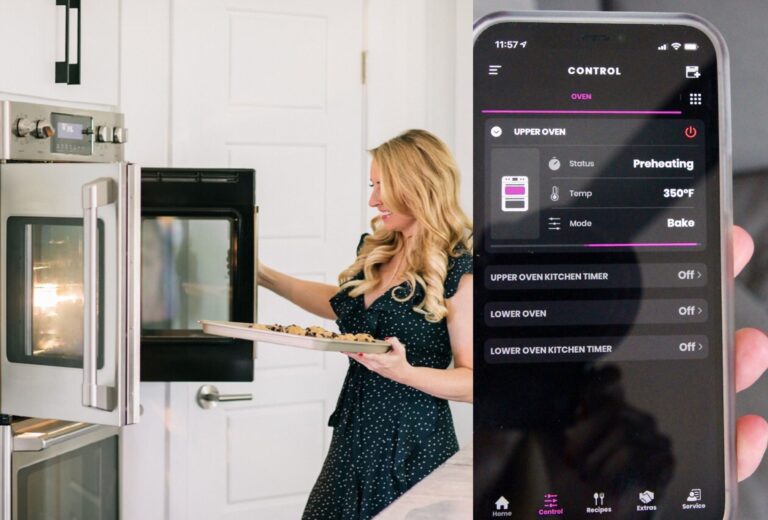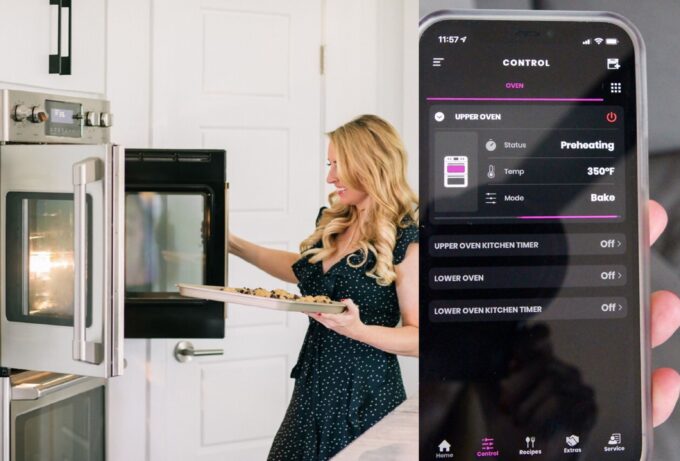 Smart oven
The GE smart oven allows you to preheat your oven from anywhere via the Smart HQ app on your phone. This is convenient if you're at the grocery store and want to go ahead and preheat the oven for dinner. Just pop on the app and the oven will begin preheating!
You can also monitor the cooking time on your phone. This is especially convenient if you're in another area of the house and want to check how much time is left on the timer.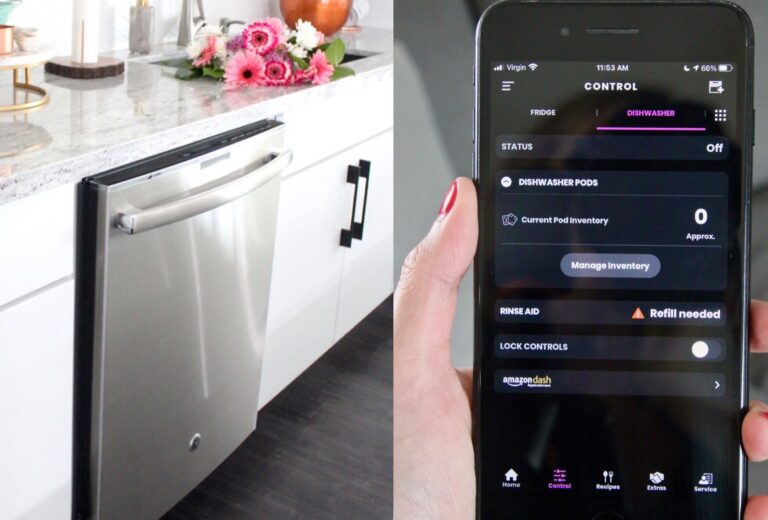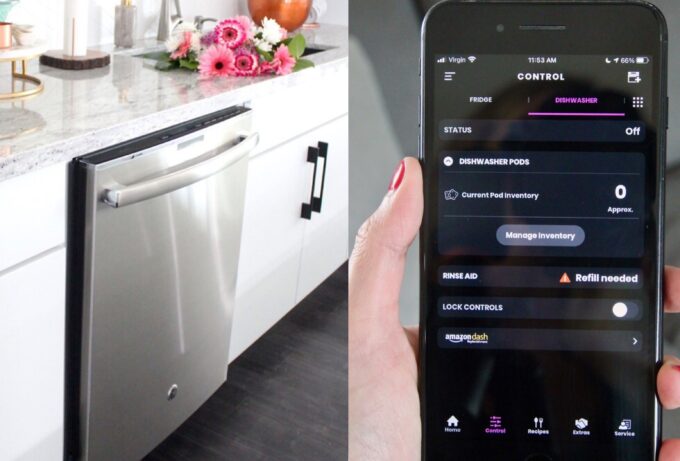 Smart dishwasher
The GE smart dishwasher also connects to the Smart HQ app, which allows you to view the status of your dishwashing cycle. It will also alert you when more rinse aid is needed or if it's time to order more dishwasher pods.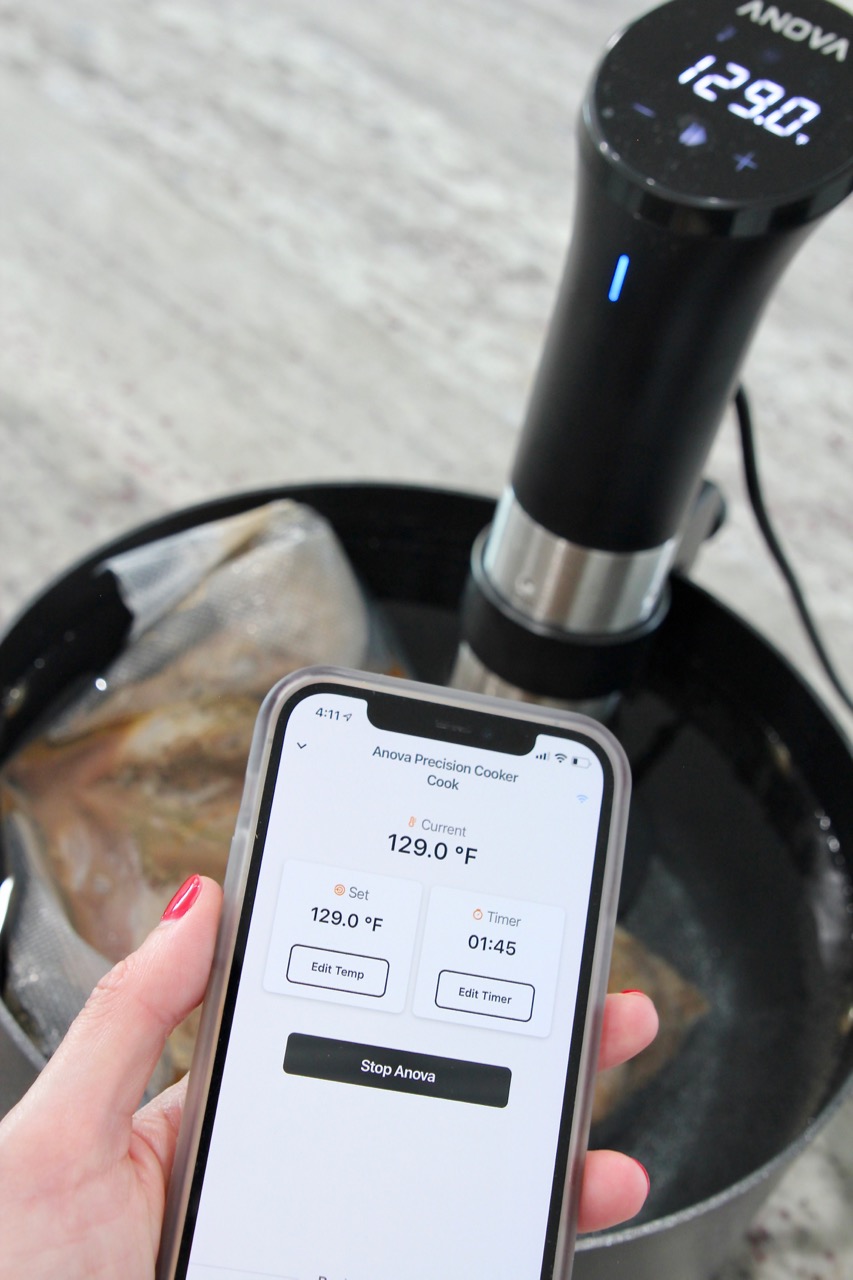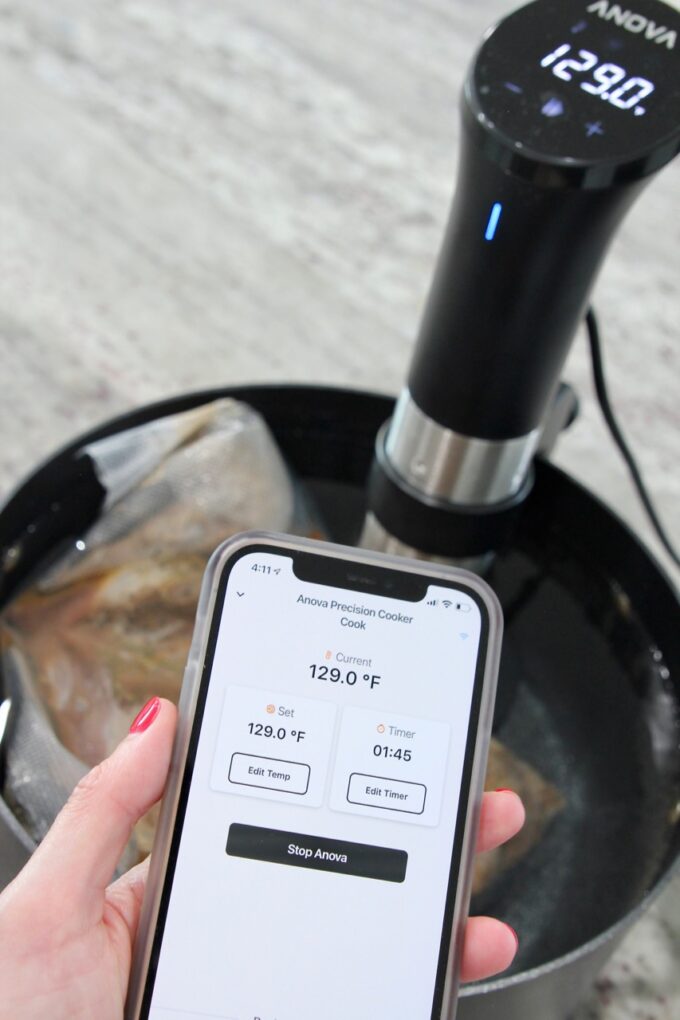 WiFi sous vide
The Anova WiFi connected sous vide is one of my favorite small kitchen appliances. You can use it to make any of my sous vide recipes, from tri tip to pork chops!
The connected Anova app allows you to monitor and adjust the time and temperature on your phone. A convenient way to know when dinner is ready!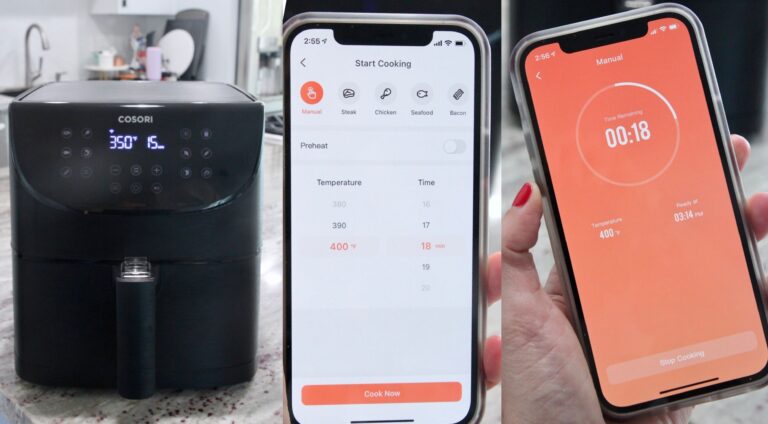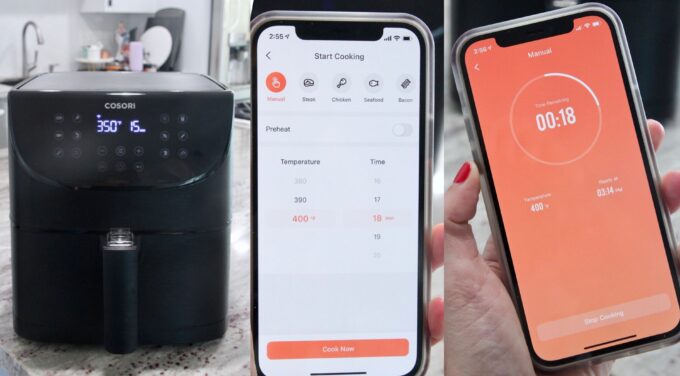 WiFi air fryer
The Cosori air fryer is my new favorite WiFi enabled kitchen appliance. You can use the VeSync app to connect your phone to the device and use it to browse recipes and use the preprogrammed settings to make a recipe. You can also manually set the time and temperature for the recipe of your choice.
The app will alert your phone when the cooking time has ended. I love this function for when I'm cooking a side dish in the air fryer and the main course on the grill. Keeping my phone nearby let's me know exactly when my side dish is ready!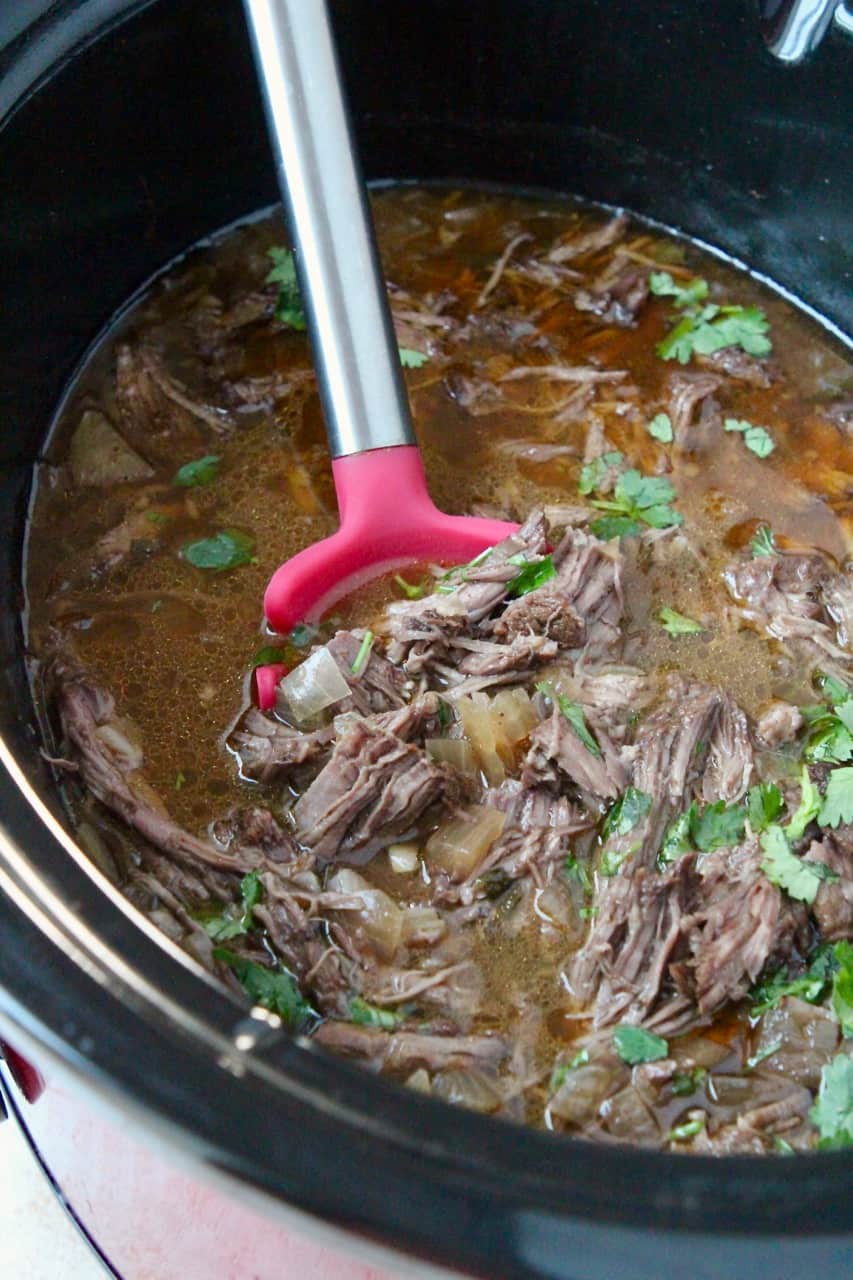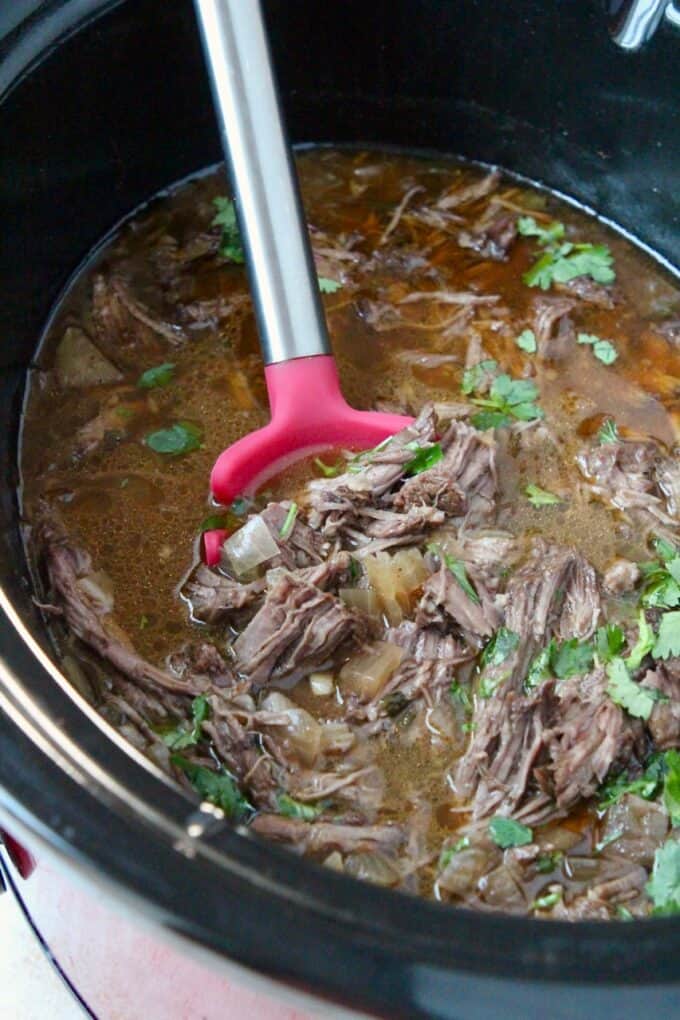 WiFi Crock Pot
If you've been around the blog a while, you know that I love my Crock Pots! You can use the WiFi Crock Pot to make any slow cooker recipe and monitor or adjust the time and temperature from your phone.
Running late coming home from work? No problem, just hop on the app and adjust the Crock Pot temperature down to the warm setting!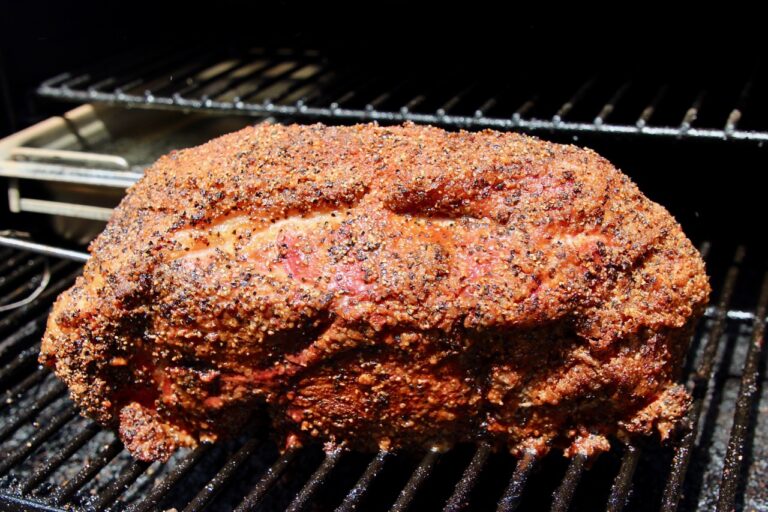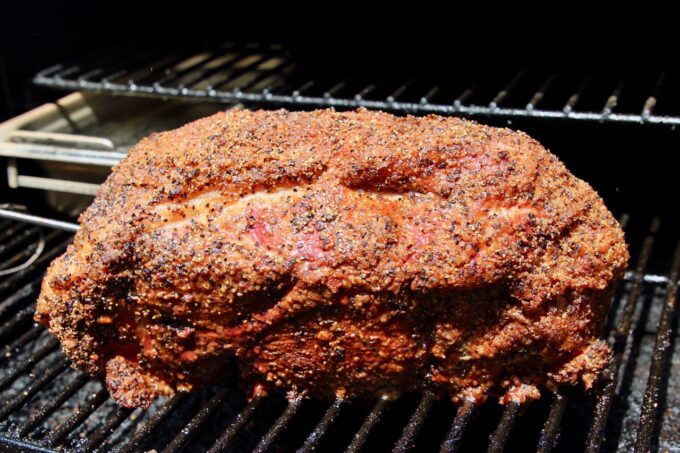 WiFi meat thermometer
There are a lot of Bluetooth enabled meat thermometer's on the market, but I recommend using a WiFi connected meat thermometer. The WiFi connected thermometer will let you monitor the temperature from anywhere. This is especially helpful if you're grilling or smoking a large piece of meat, like the juicy pork shoulder you see pictured above!
Monitor the temperature of the meat from across the street at your neighbors house, walking the block with your dog or playing at the neighborhood park with your kids. By monitoring the internal temperature of the meat on your phone, you'll know exactly when it's time to come home and remove the meat from the grill or smoker.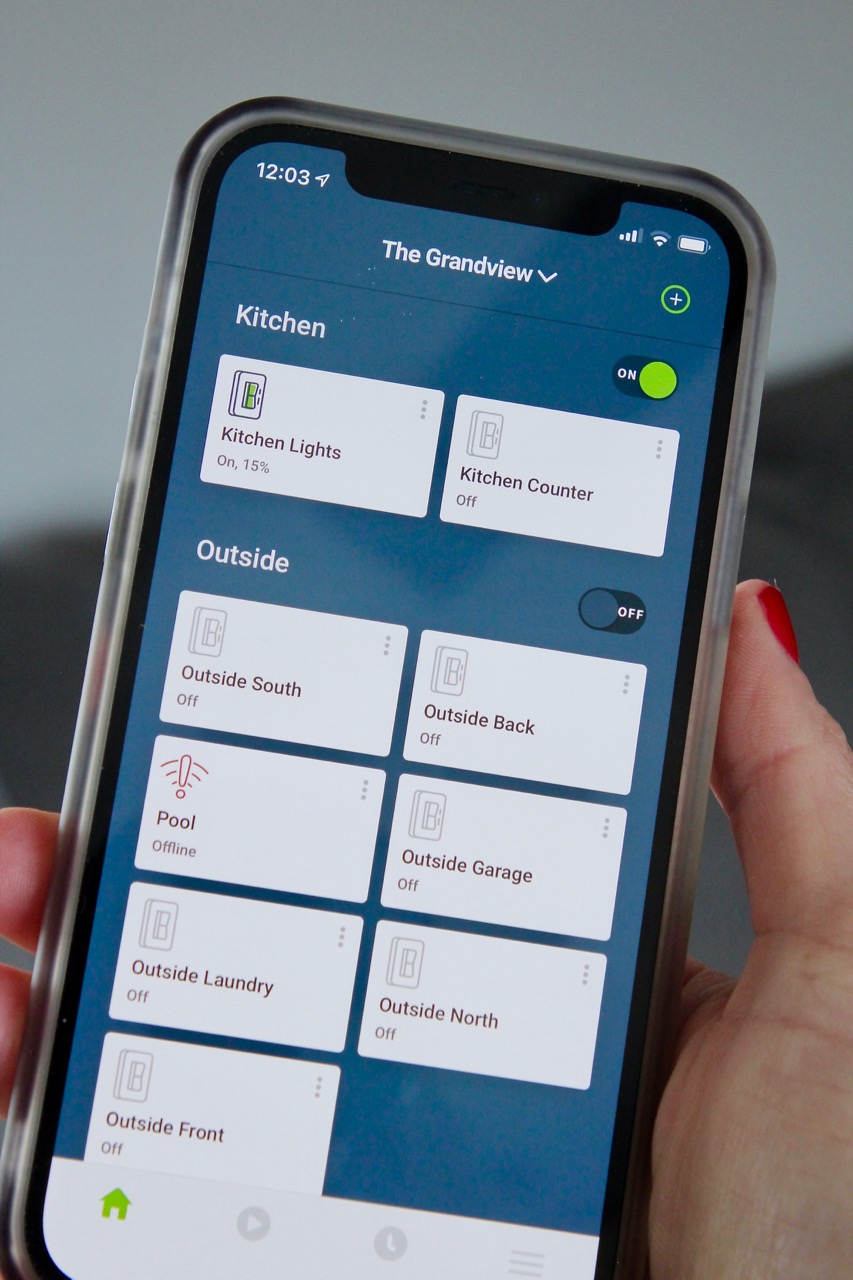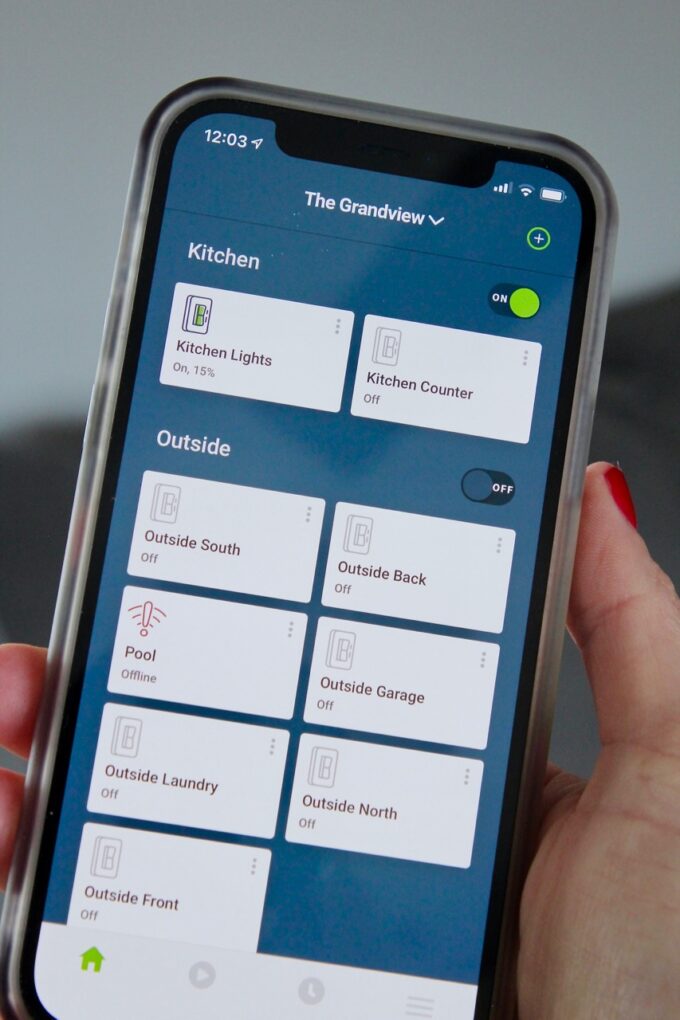 Smart lights
One of the best parts about using Alexa-connected smart devices in the kitchen, is the fact that you can control them hands-free.
If your hands are covered in cookie dough and you need to adjust the lighting, use Leviton Smart Light Switches to ask Alexa to adjust the kitchen lights to 100% or turn on the kitchen counter lights.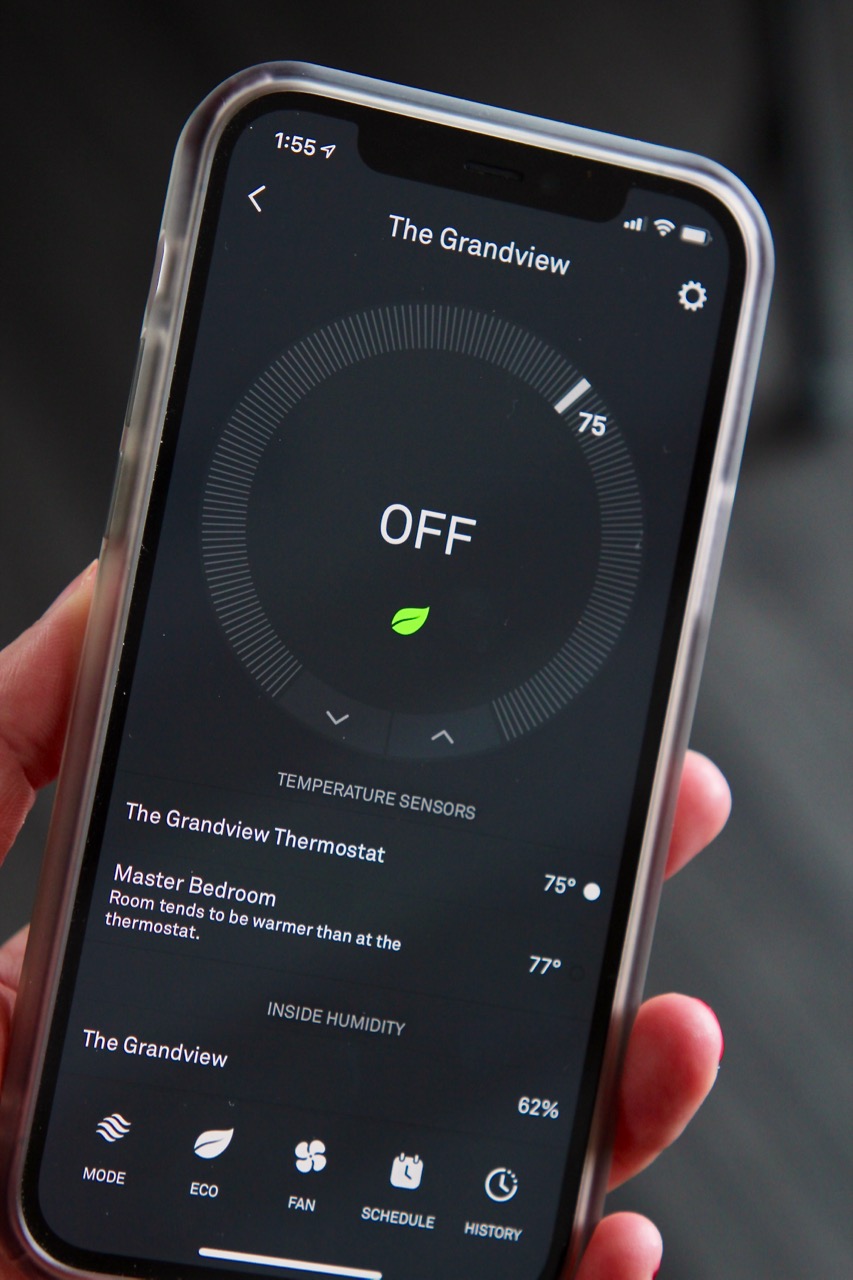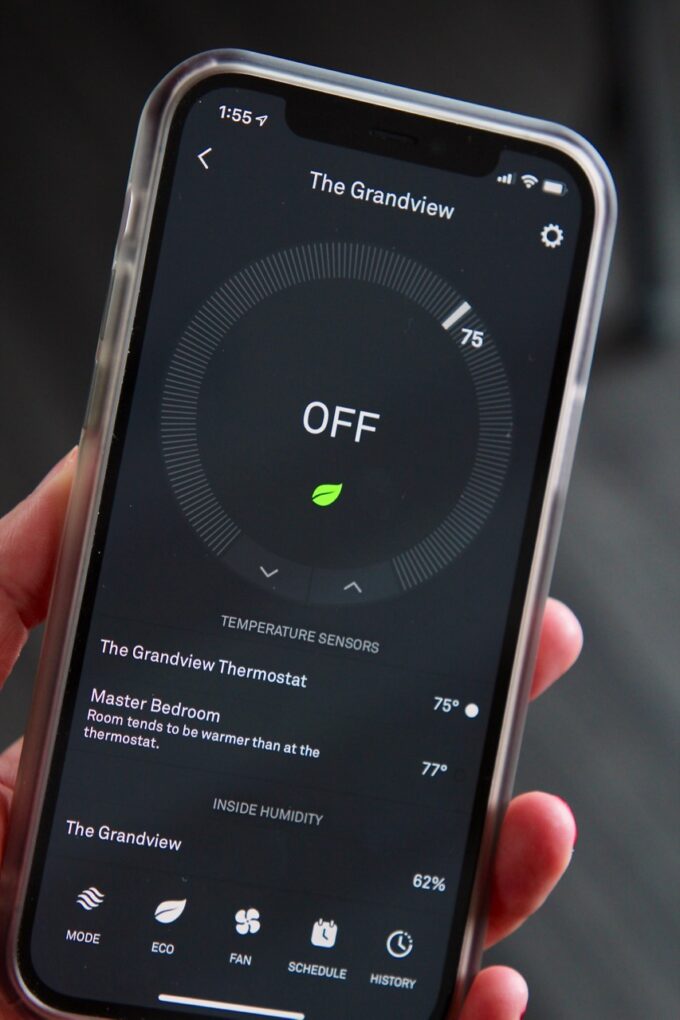 Nest
Using a Nest thermostat, if the oven starts to heat up the kitchen, simply click on the air conditioning from the app on your phone or ask Alexa to set the air conditioner to a lower temperature.
A day in the life
To see how I integrate all of these smart devices into my everyday life at home, check out this fun video!
And be sure to check out Cox.com/smarthome to see all of the latest smart offerings from Cox!
We are a participant in the Amazon Services LLC Associates Program, an affiliate advertising program designed to provide a means for sites to earn advertising fees by advertising and linking to amazon.com.