Kitchen Remodel Reveal: Before & After
This post may contain affiliate links.
Come see the before and after of my kitchen remodel, including everything from knocking down load-bearing walls, to installing smart appliances, to designing a 12 foot island!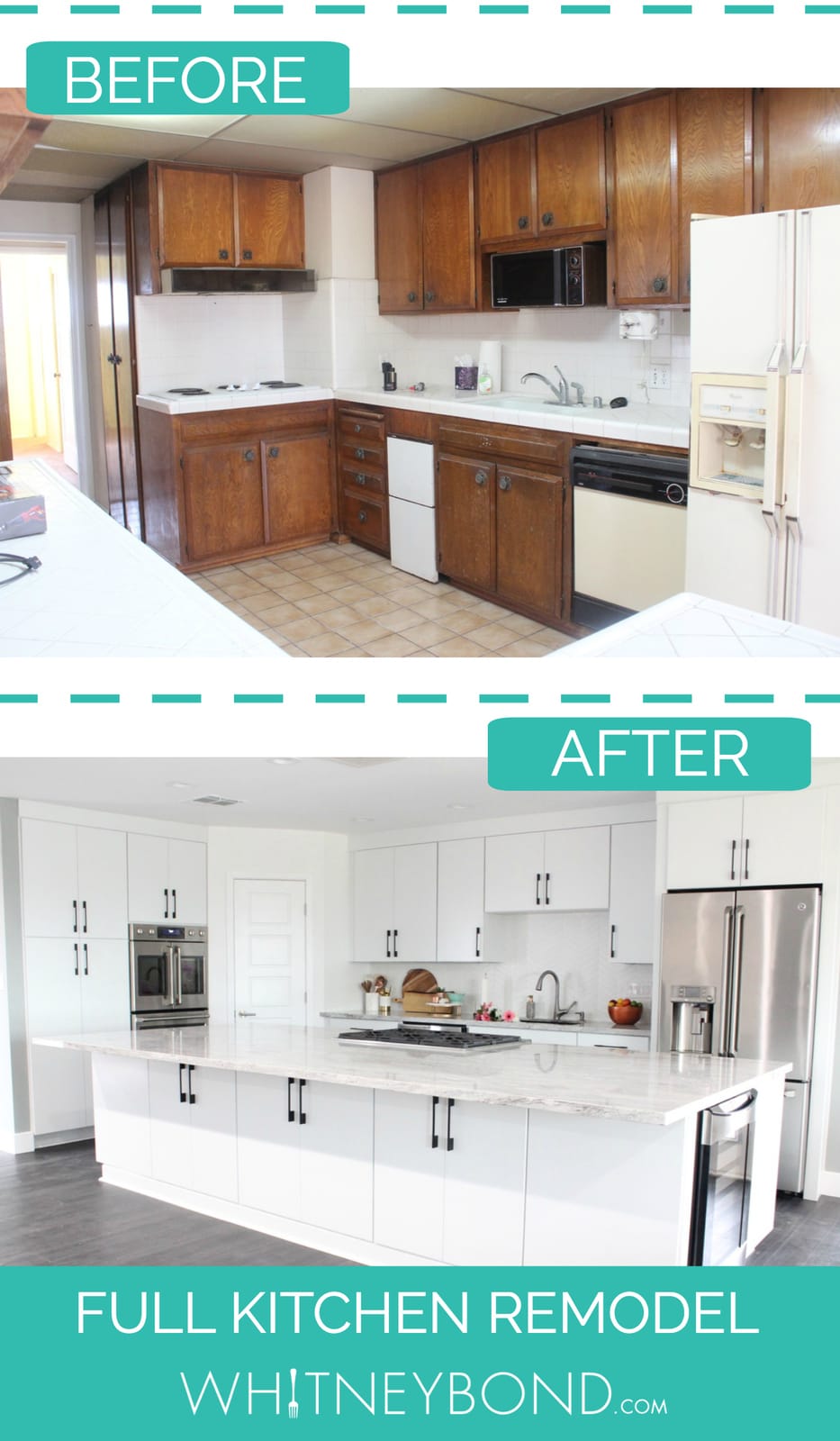 THE DAY IS FINALLY HERE!!!
Since we closed on our house on August 5, 2017, Kurt and I have been working tirelessly to demo and rebuild this 1950's house!
A little backstory on the house and how it came to be.
When Kurt and I first started dating, he took me up to the street that our house is on and told me that someday we would live on this street. The views are breathtaking, but the housing selection is limited, as the street is only 3 blocks long. Lo and behold, 5 months after we began our house search, a house on this street came up for sale!
I couldn't believe it and when I told Kurt, neither could he! See, it just happened to be April Fools Day when the house went on the market and Kurt thought I was playing a prank on him. No prank here, our dream house (or might I say, our dream plot of land with a view!) had come available and we had to have it!
After a long and grueling escrow period, where the house had to be treated for mold and termite damage, on August 5, 2017, the house was finally ours!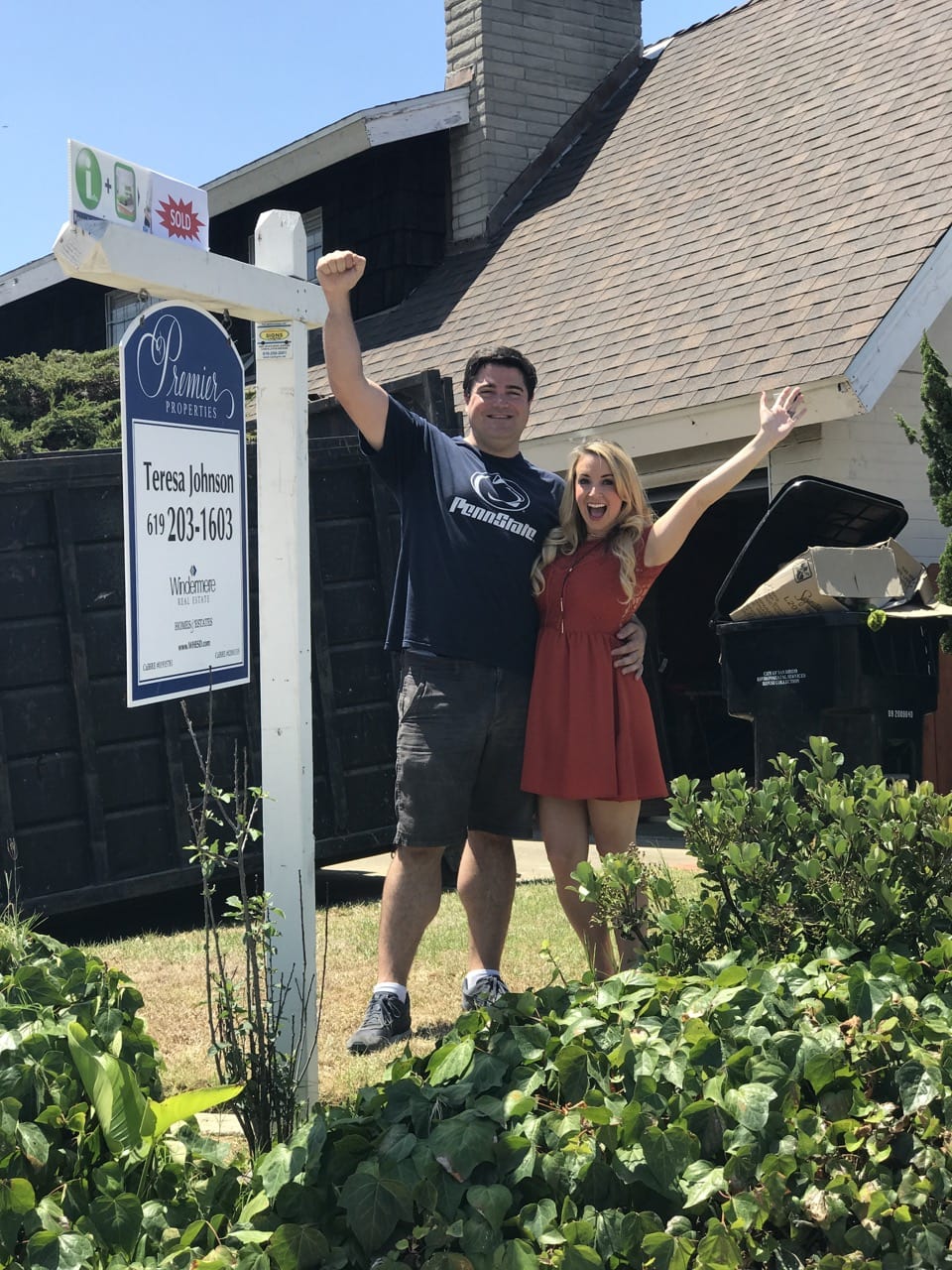 With a giant dumpster in the driveway, the demo began!
Here's a little peak at what the kitchen looked like before the kitchen remodel.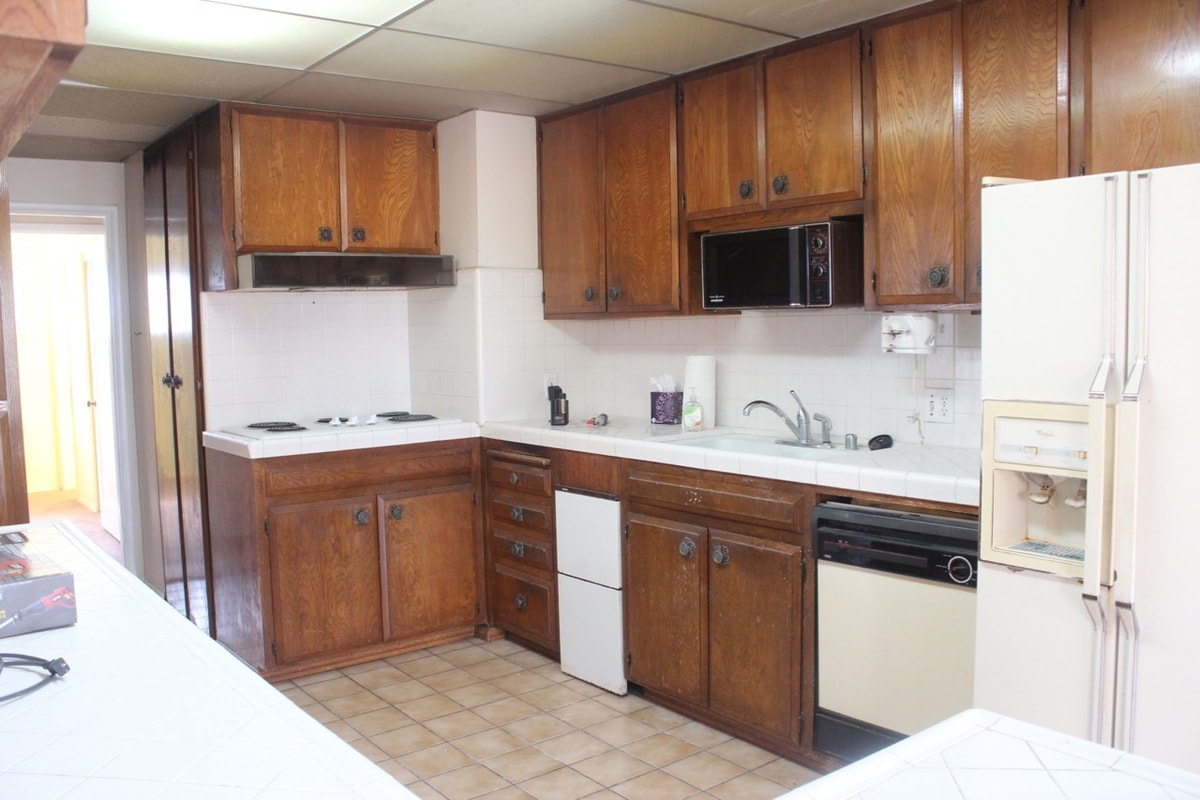 I would like it noted that what looks like a trash compactor to the left of the sink was literally just a door to nothing. Like, why? So many questions about this house before the remodel!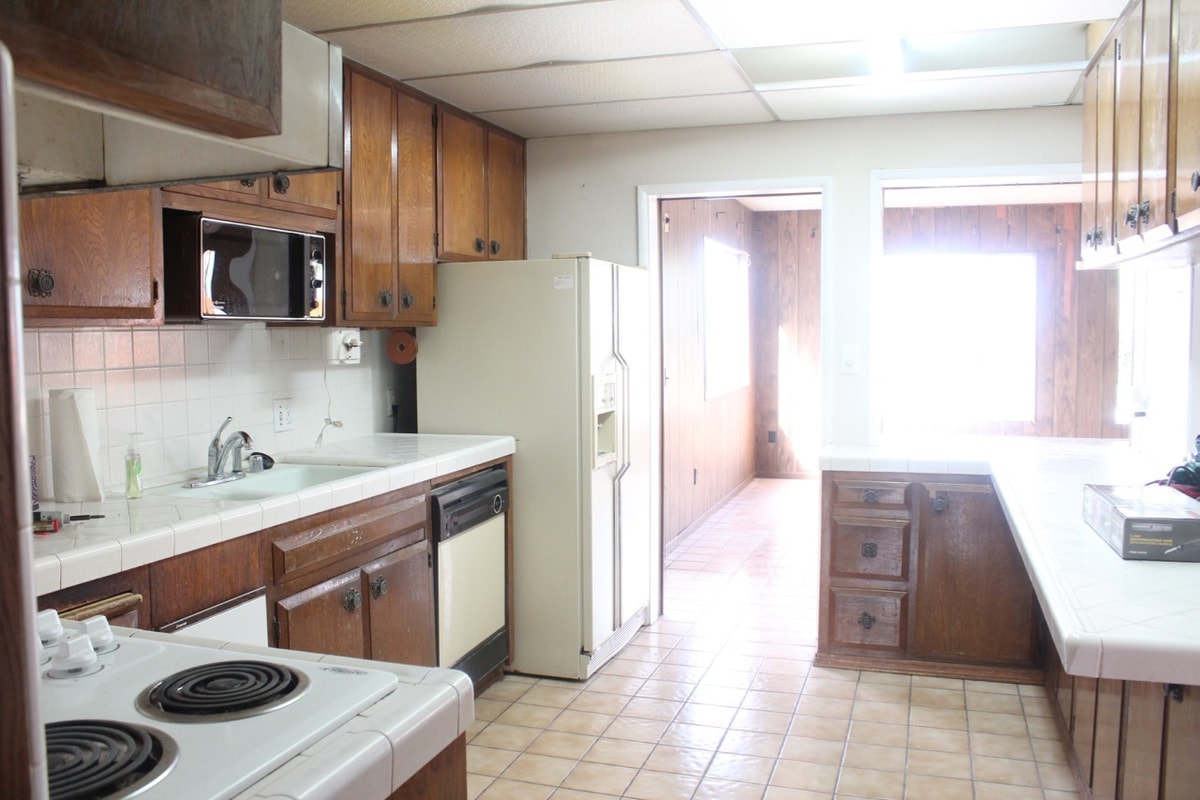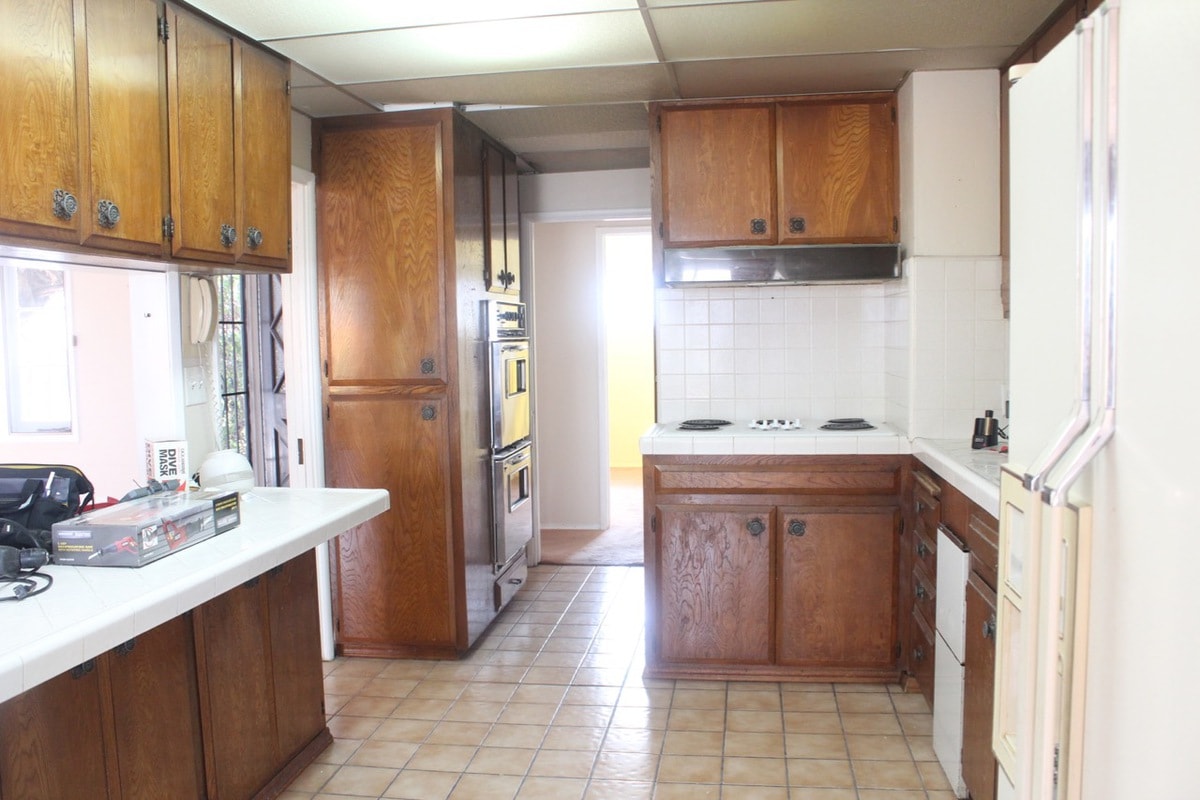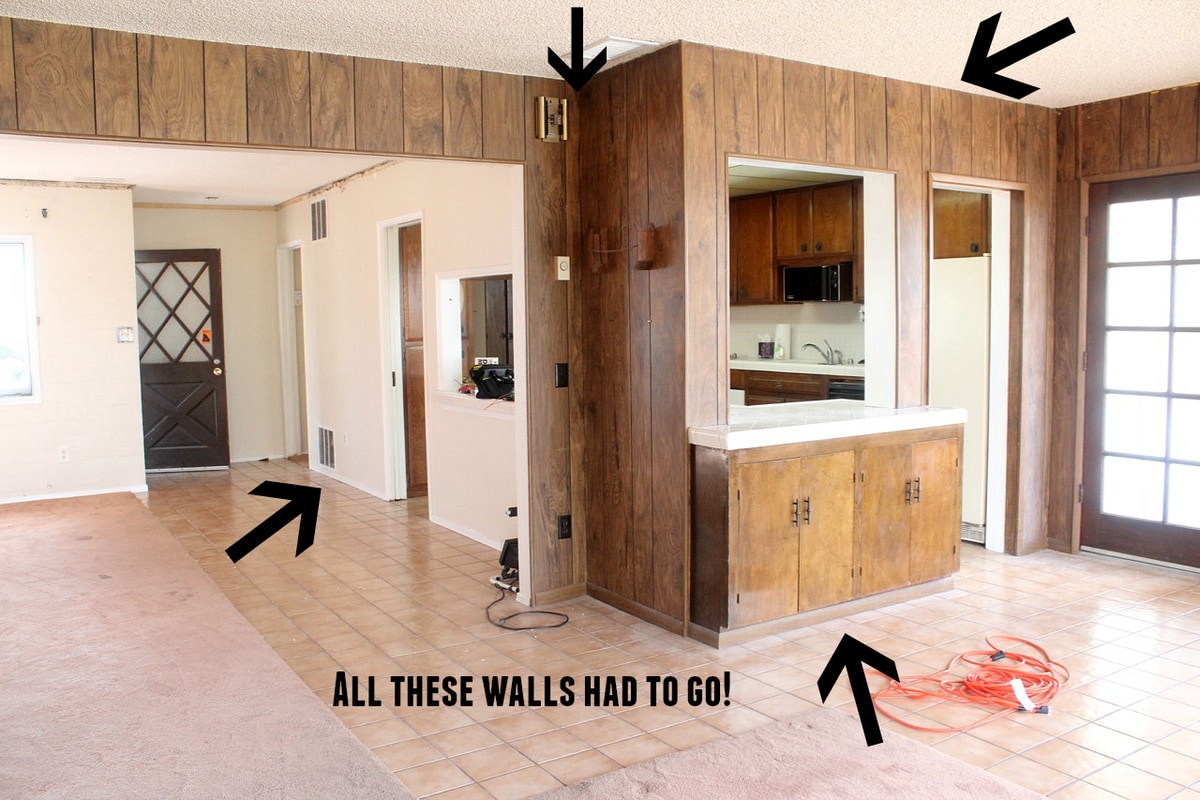 SO MUCH WOOD PANELING!
And all those walls blocking off the kitchen had to go. Only problem, the wall covered in wood paneling, yeah that was the original end of the house before it was added on to in 1976, so guess what, it was load bearing!
Then this happened…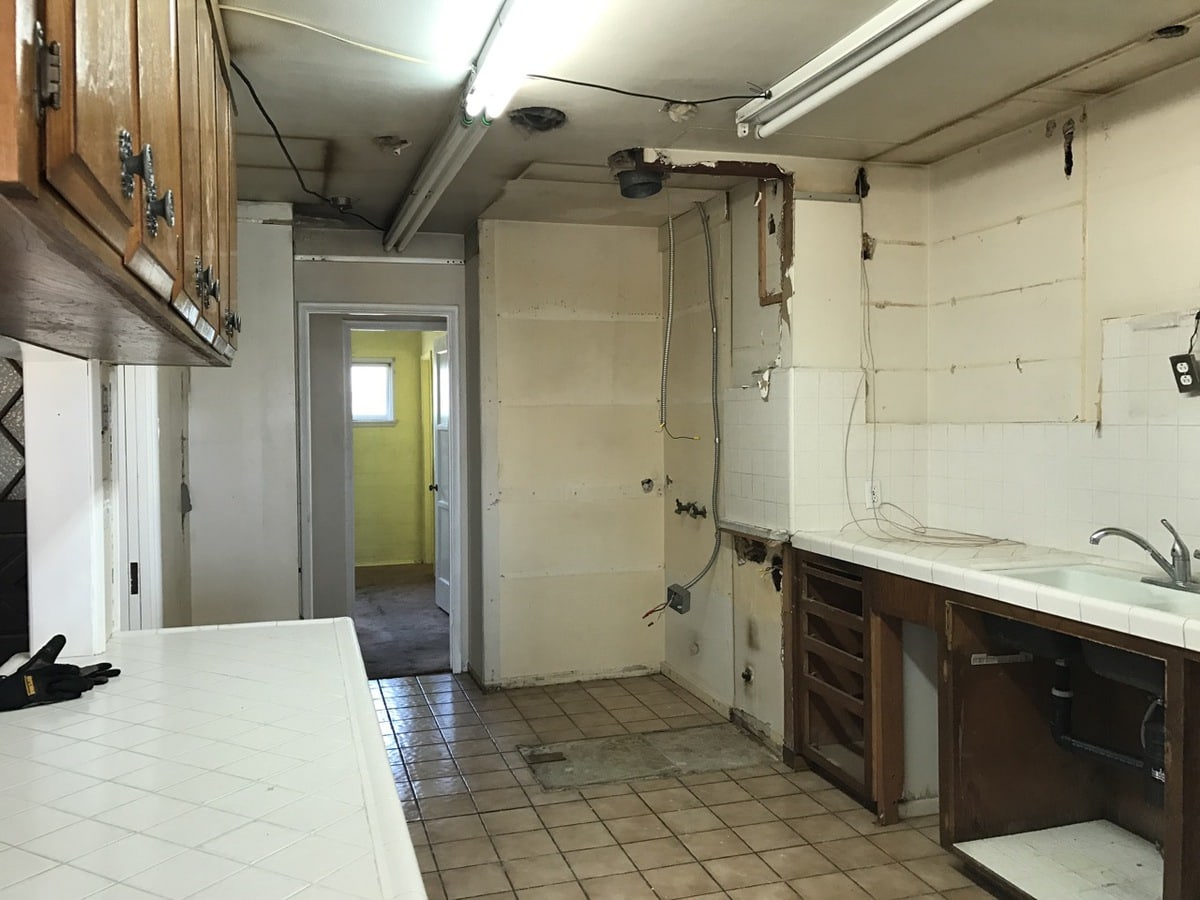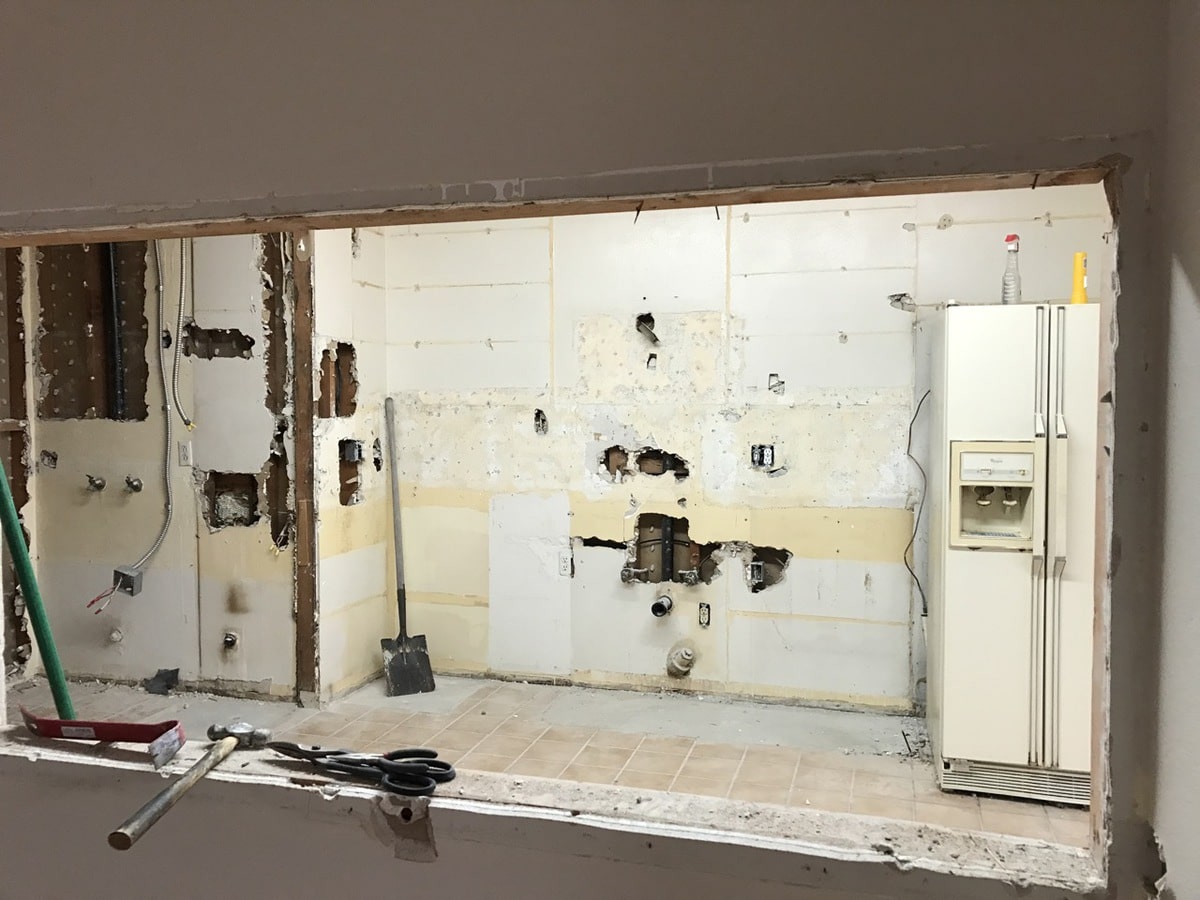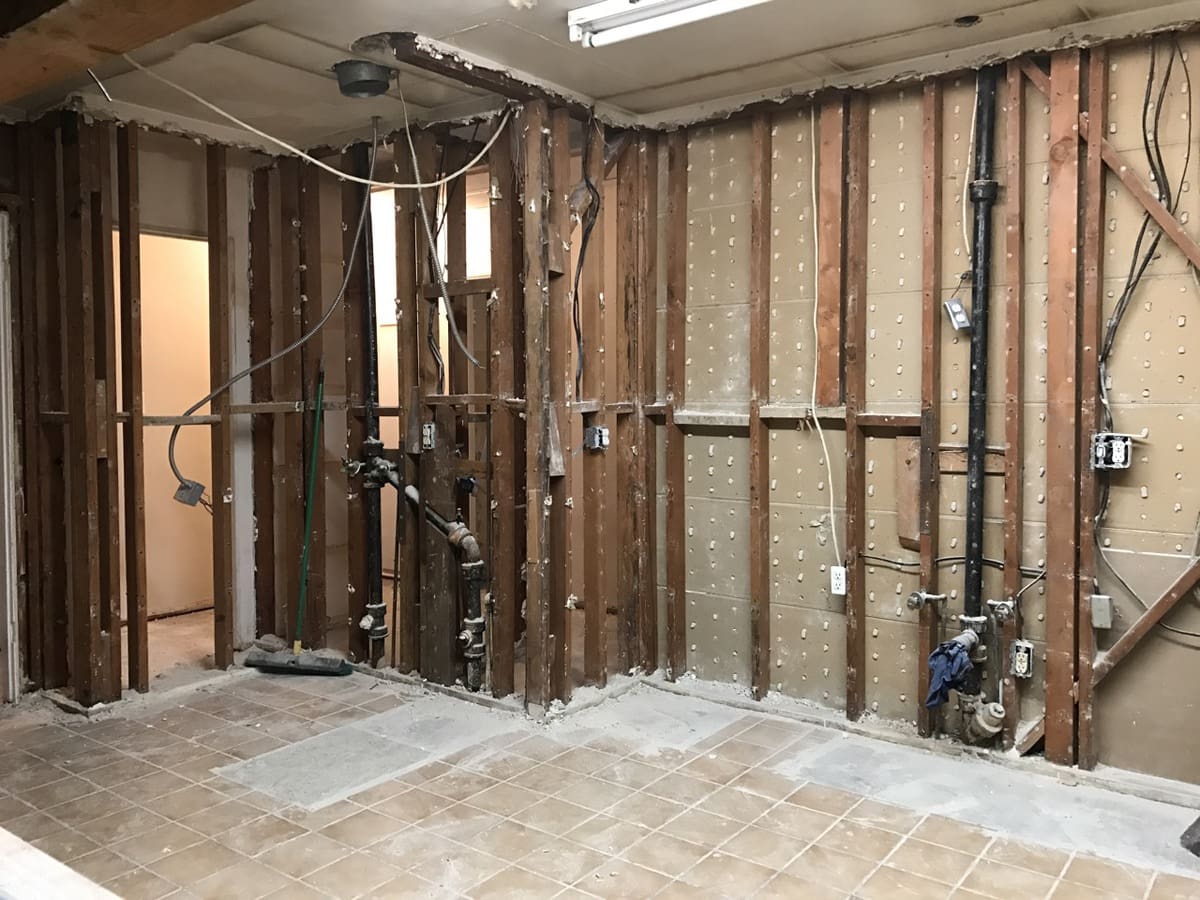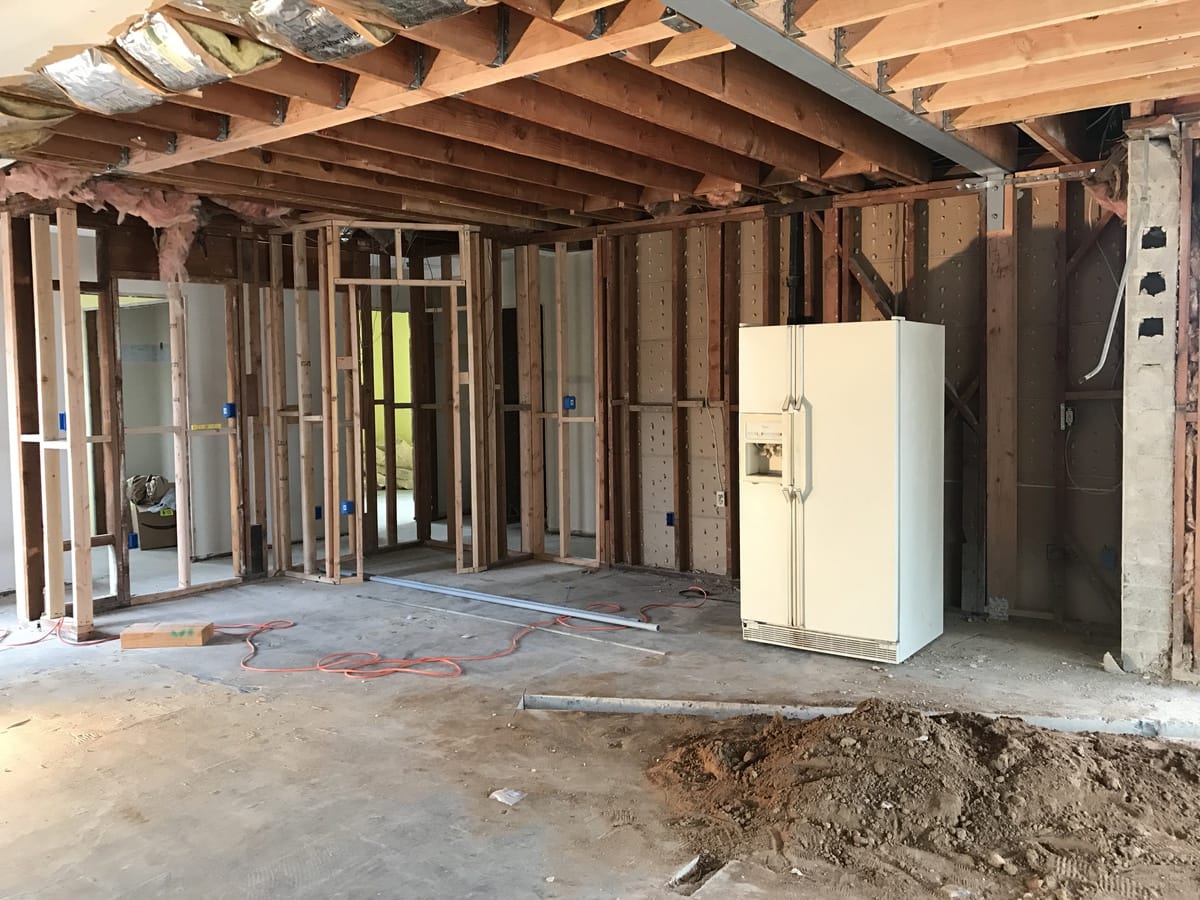 And about that load bearing wall… yes, that's a steel beam in the ceiling, replacing the wall that was formerly in it's place, preventing our second story from falling down. Probably a good thing 😉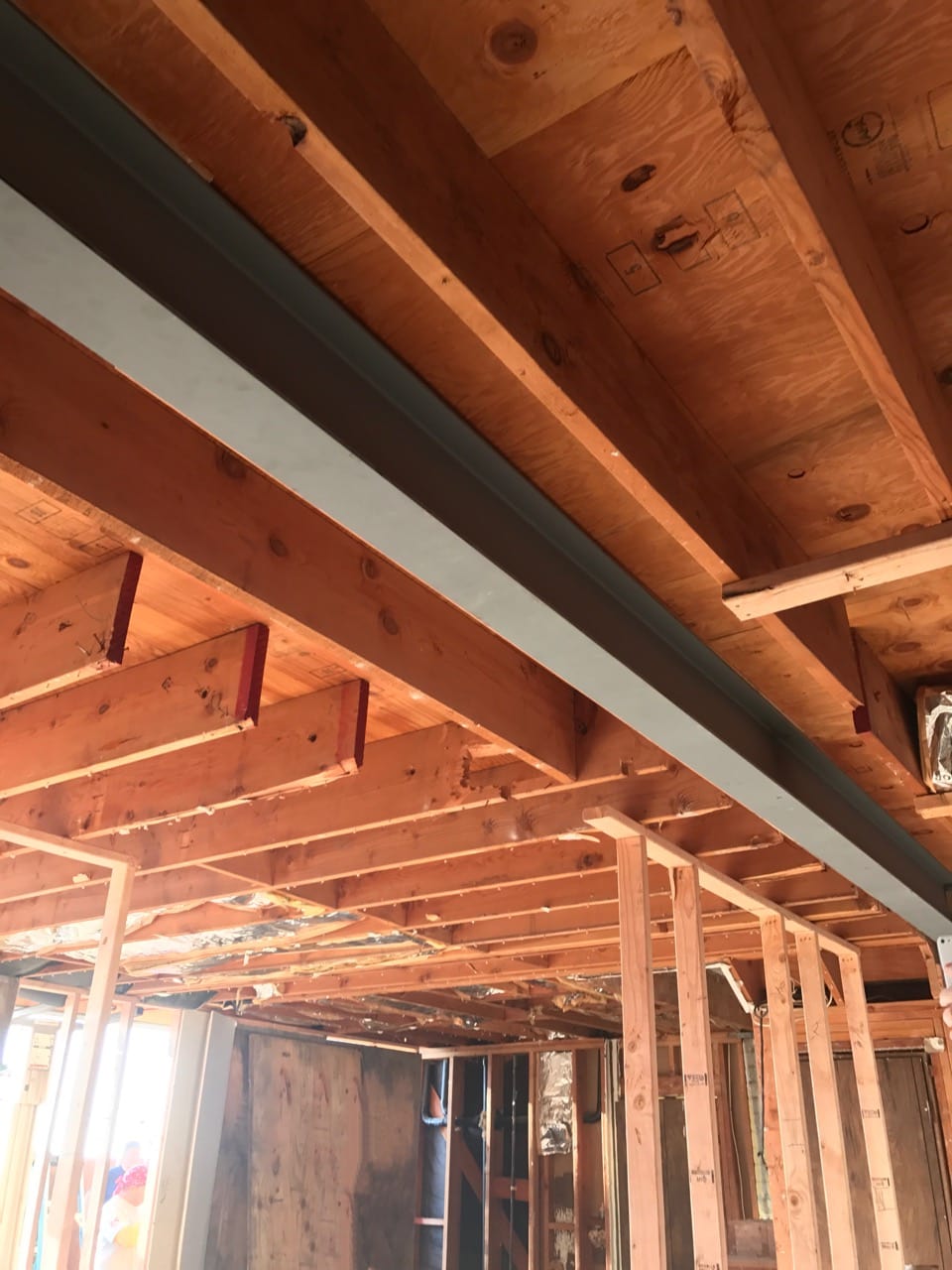 And during all of the demo and remodeling, I pretty much looked like this every day. This is real life people, not HGTV! Haha!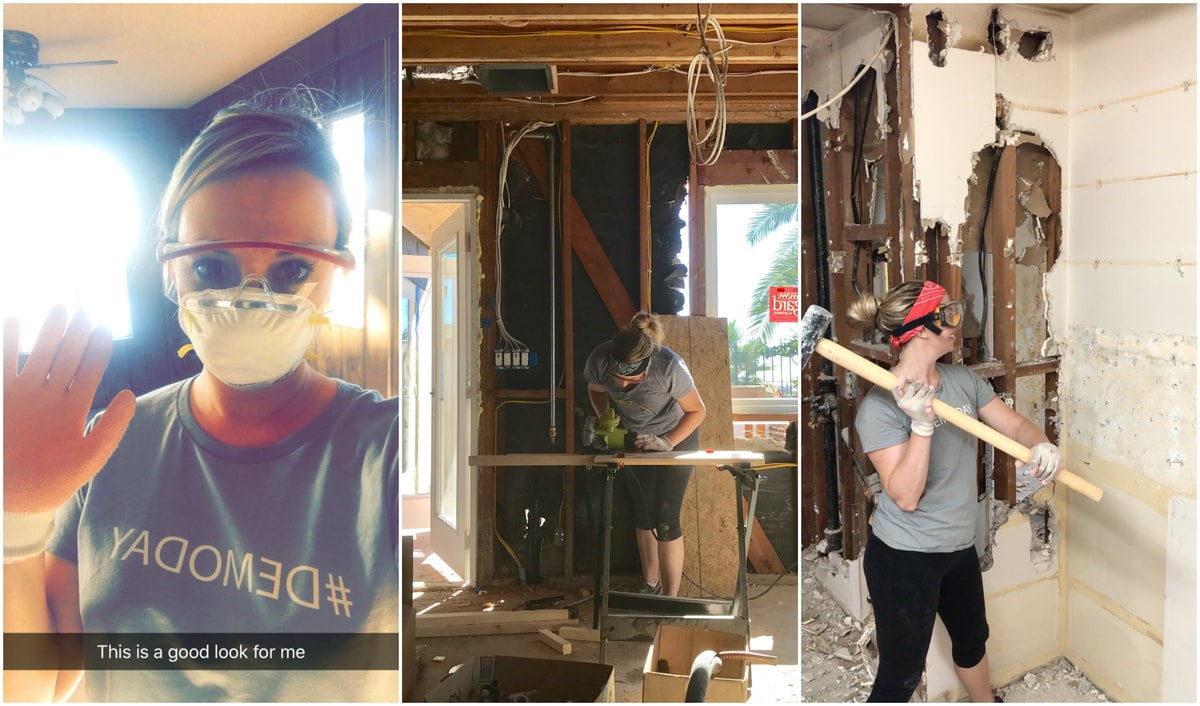 But the view and the support of Kurt made it all worth it!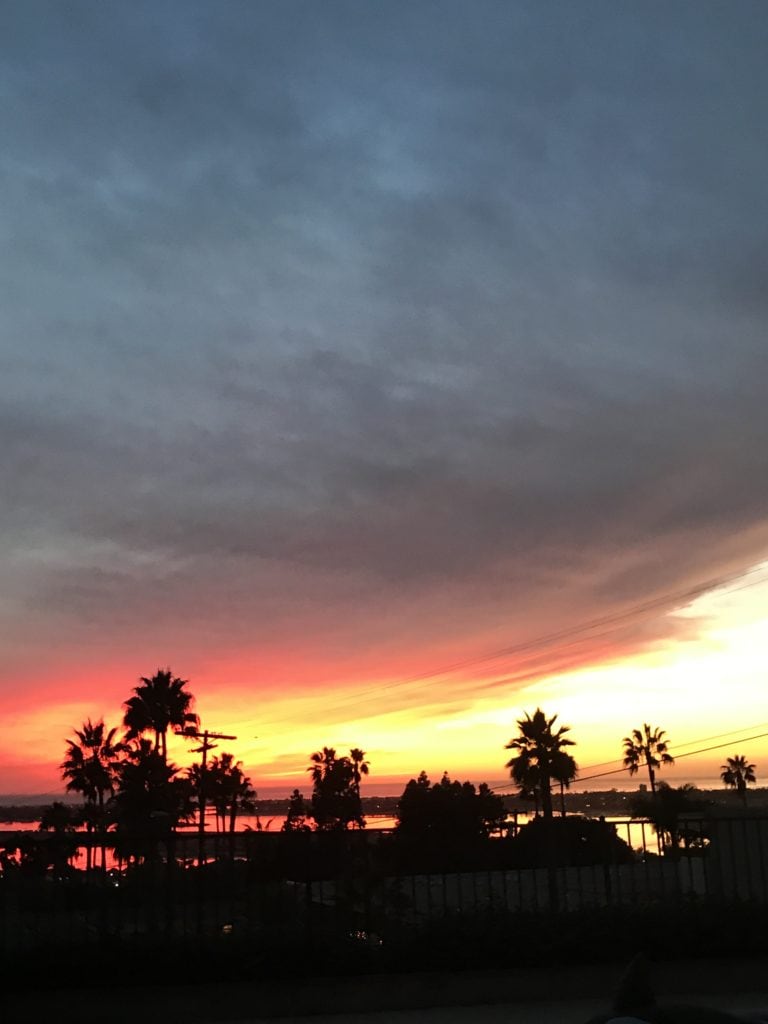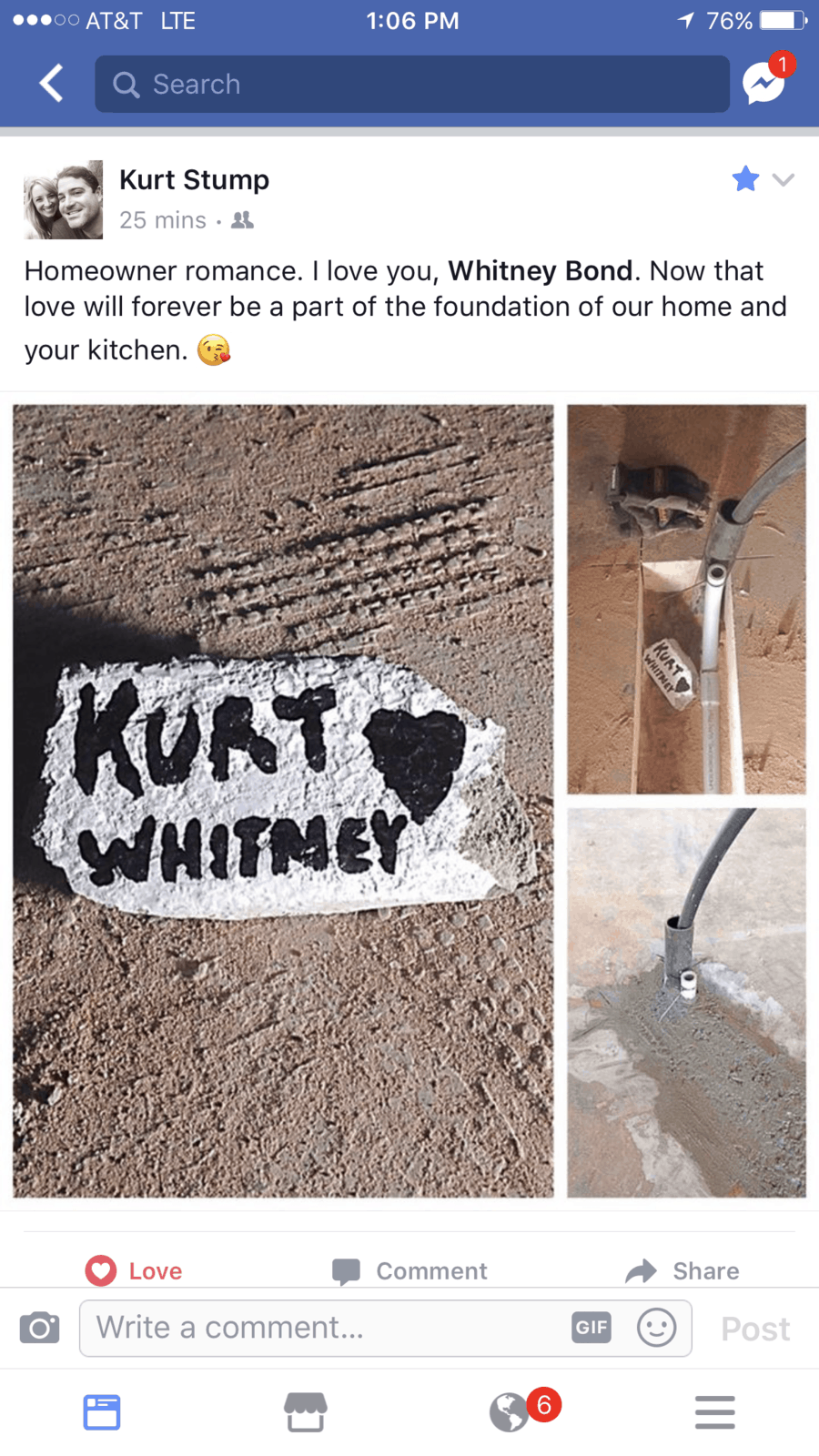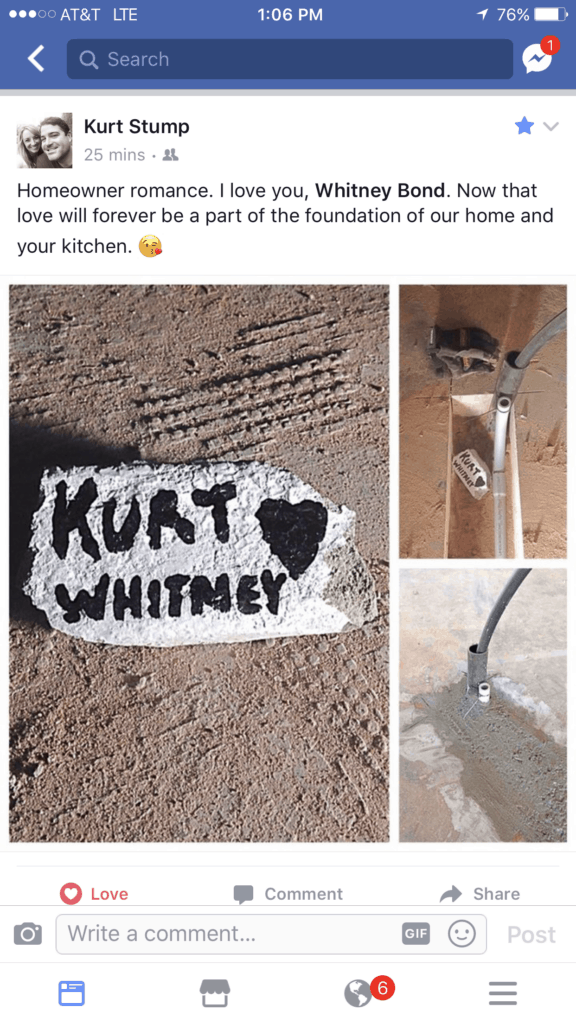 I'm not crying, you're crying! 🙂
And eventually things started to come back together!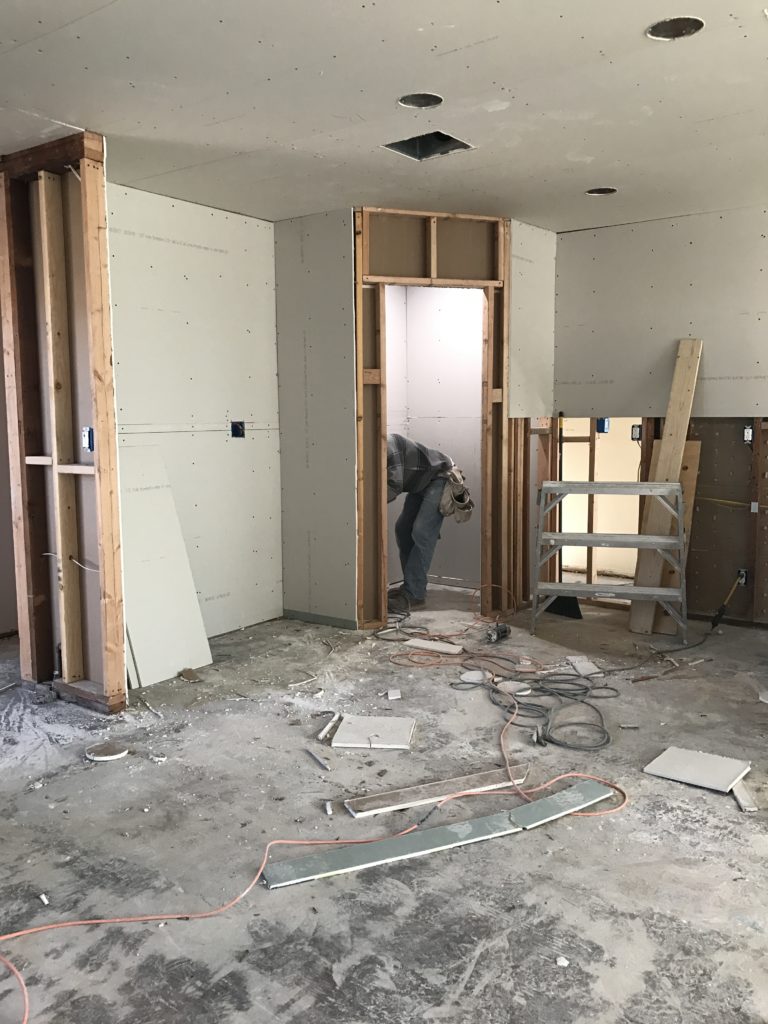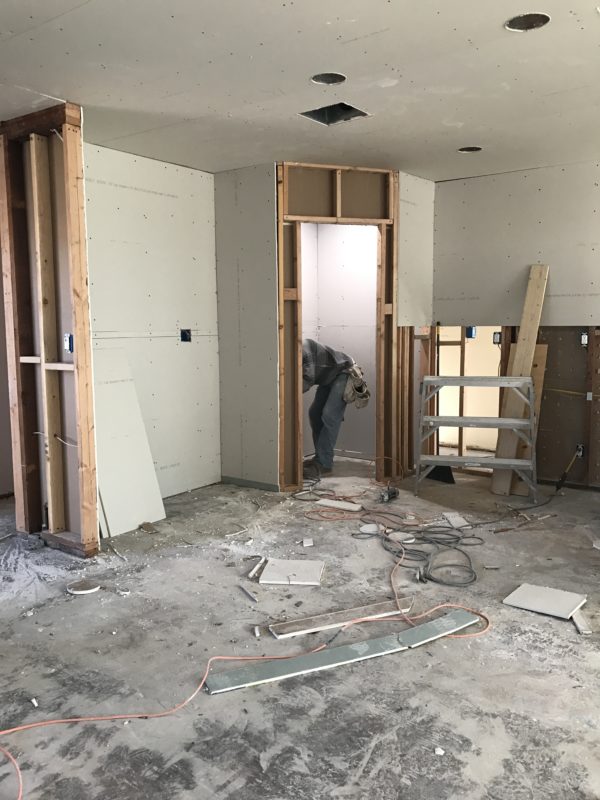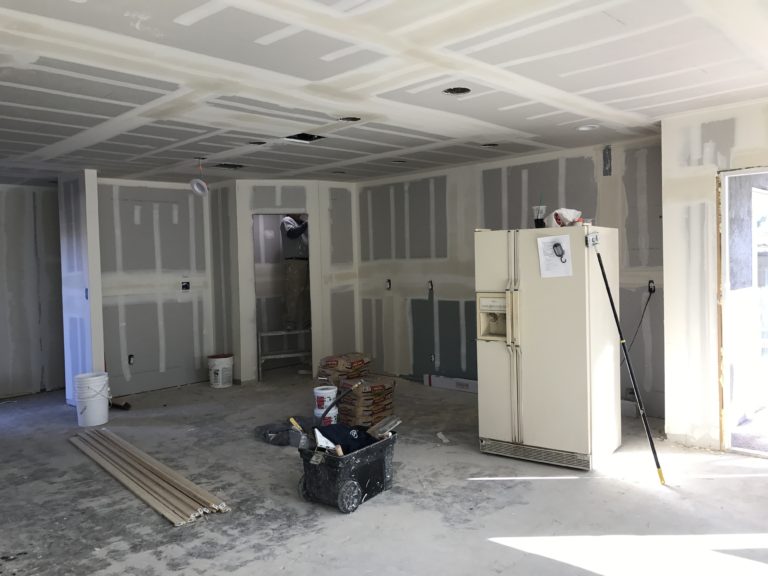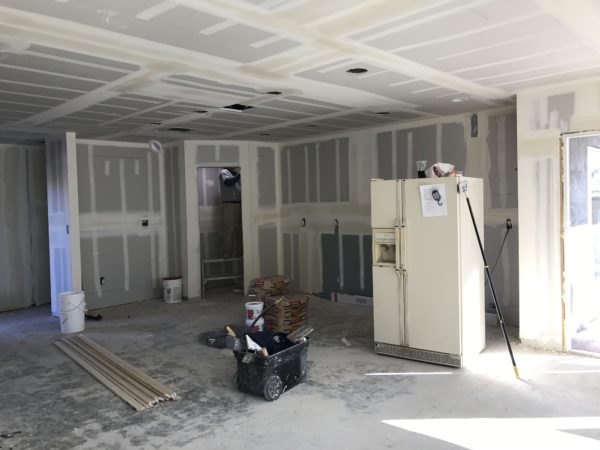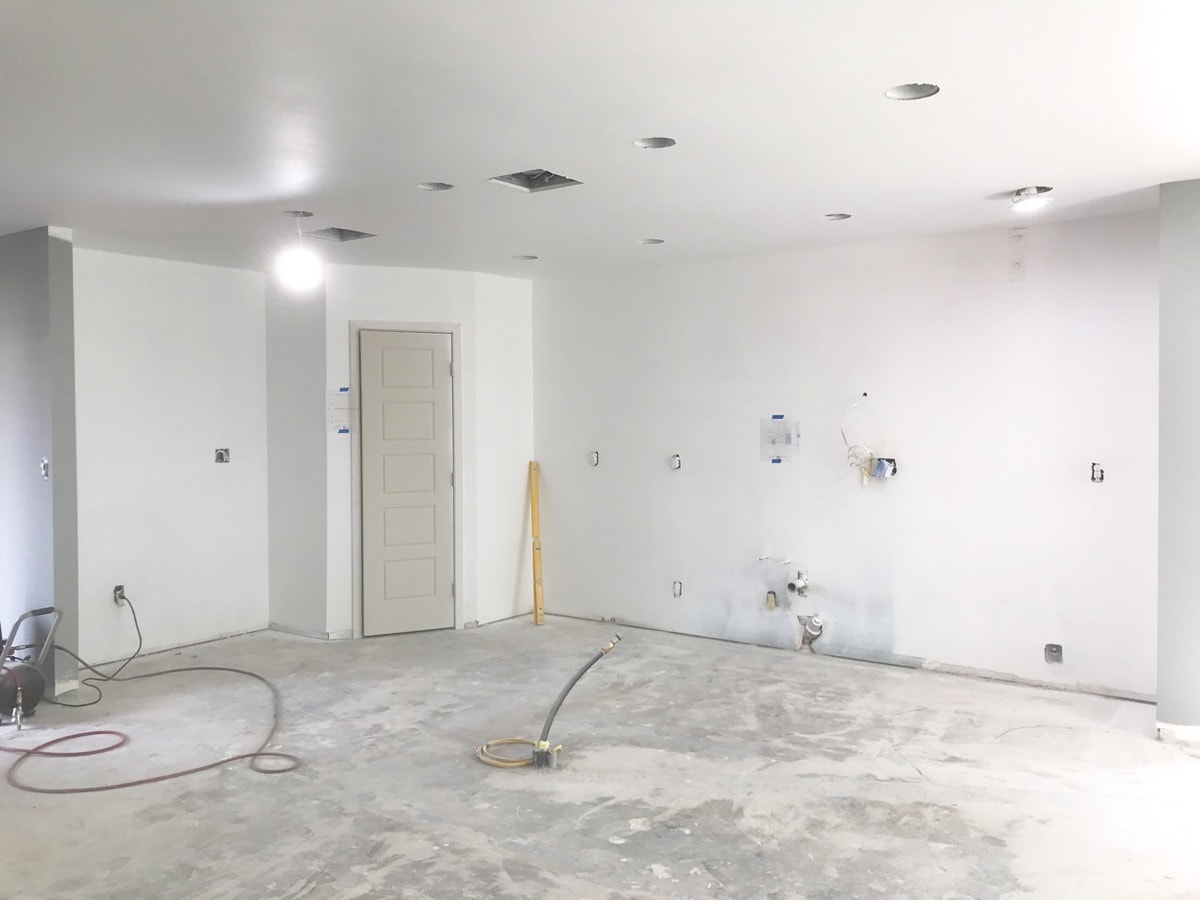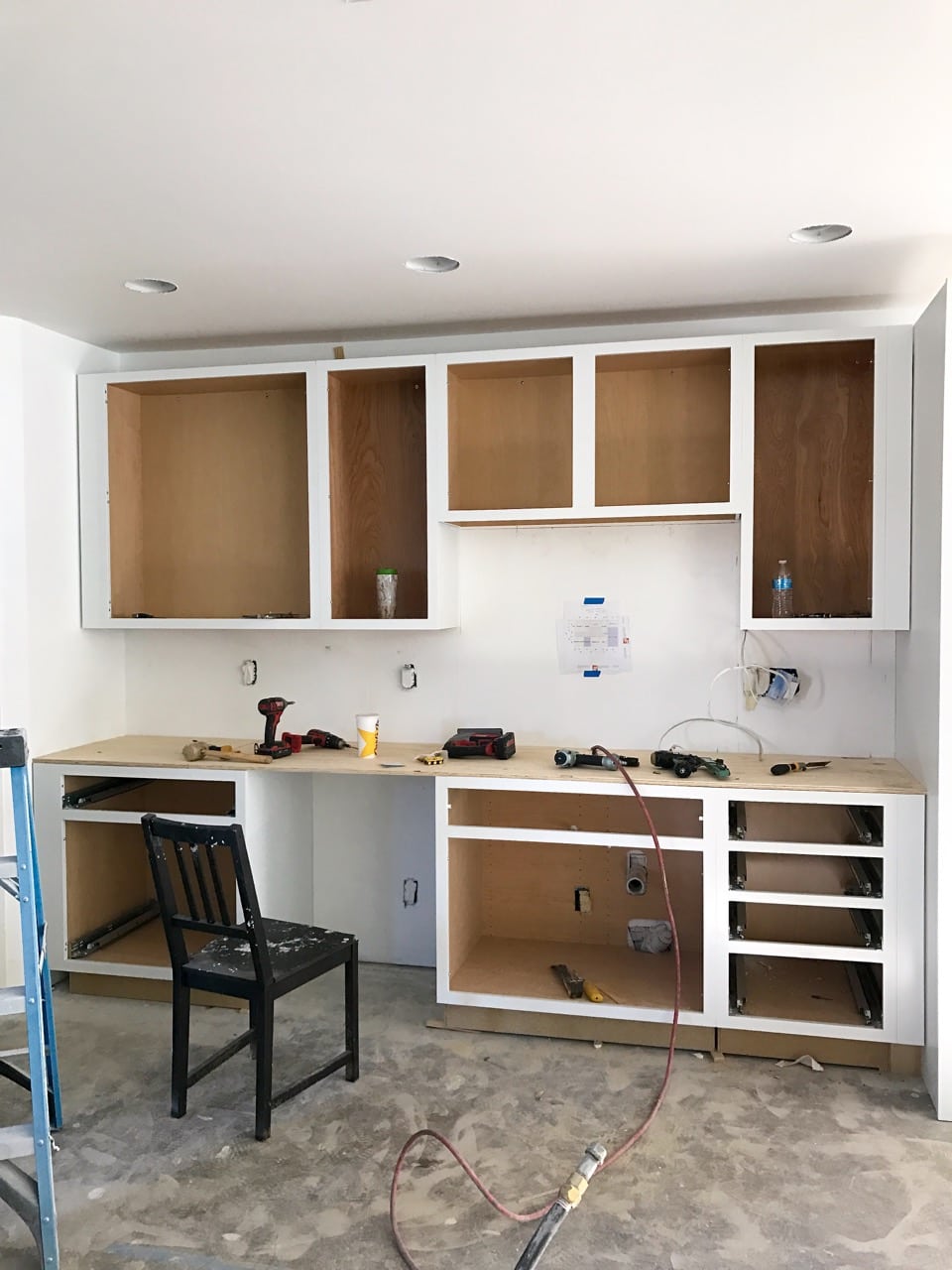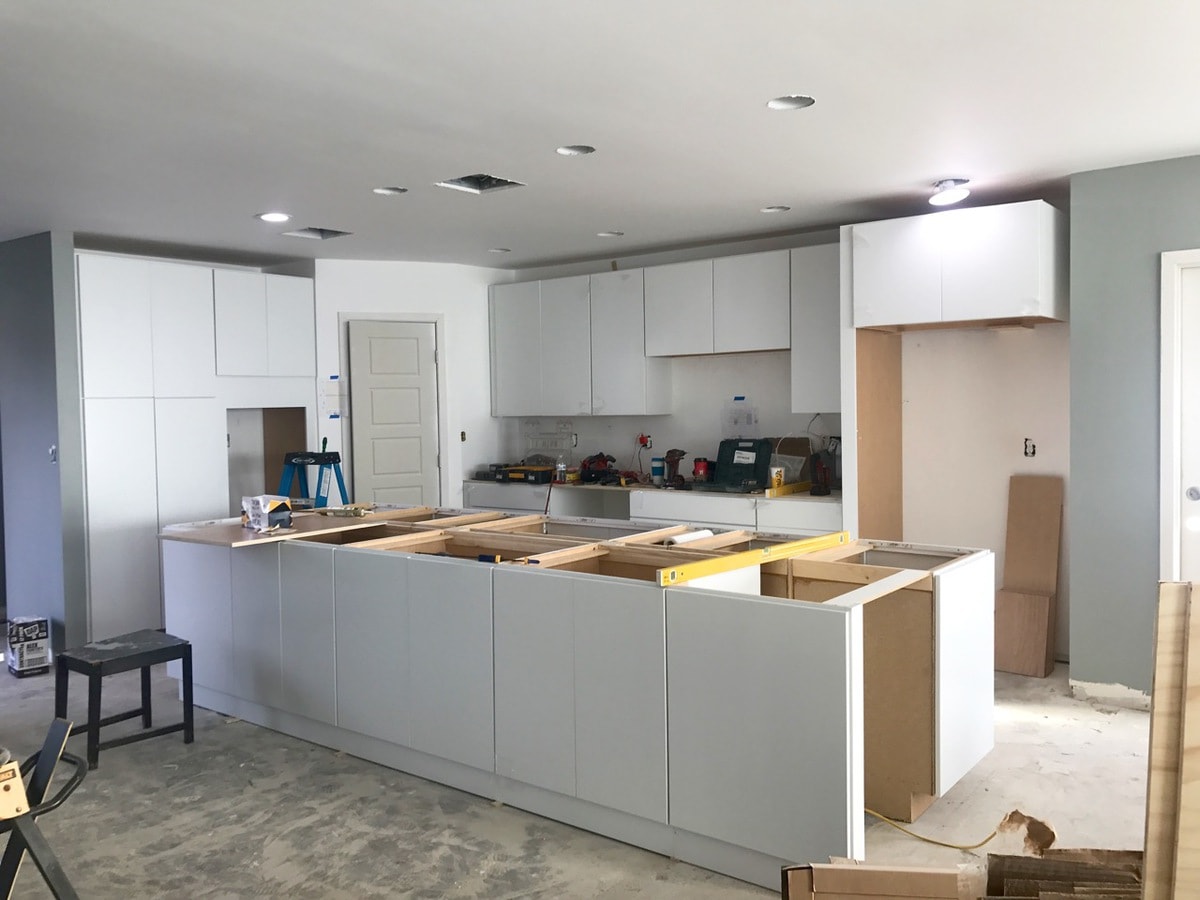 And now, she's a BEAUTY!!!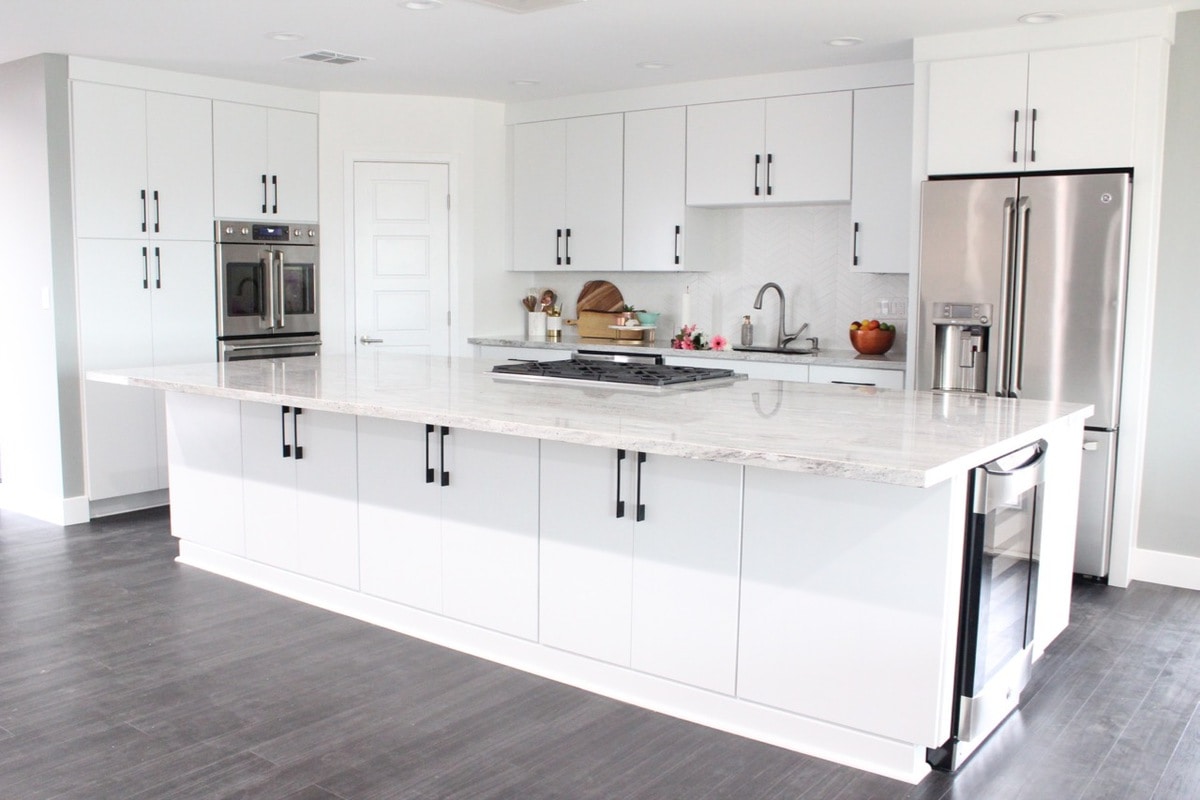 Since the kitchen remodel completion, I've traded in my saws, hammers, goggles and gloves for dresses, cookies, cocktails and cheese plates!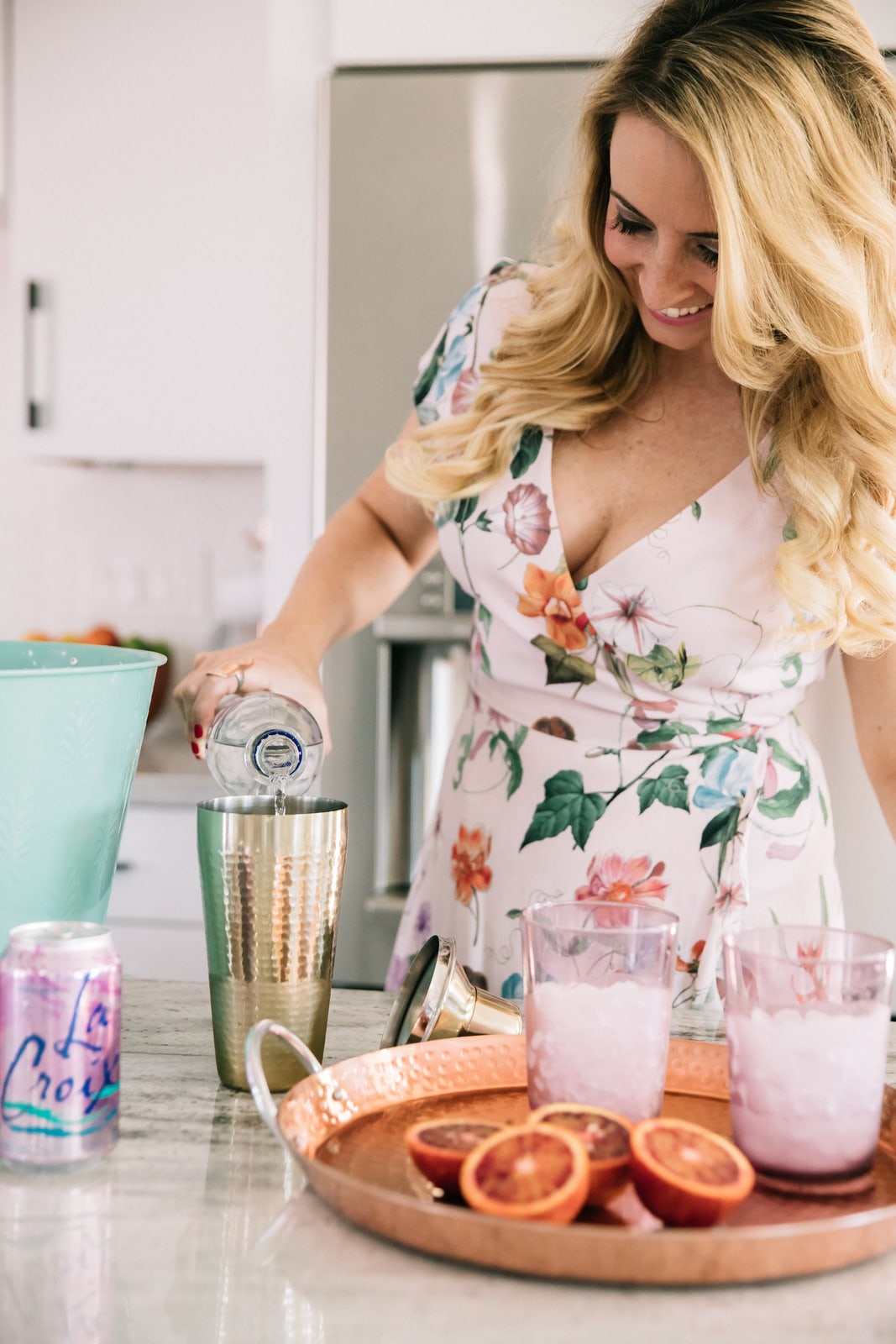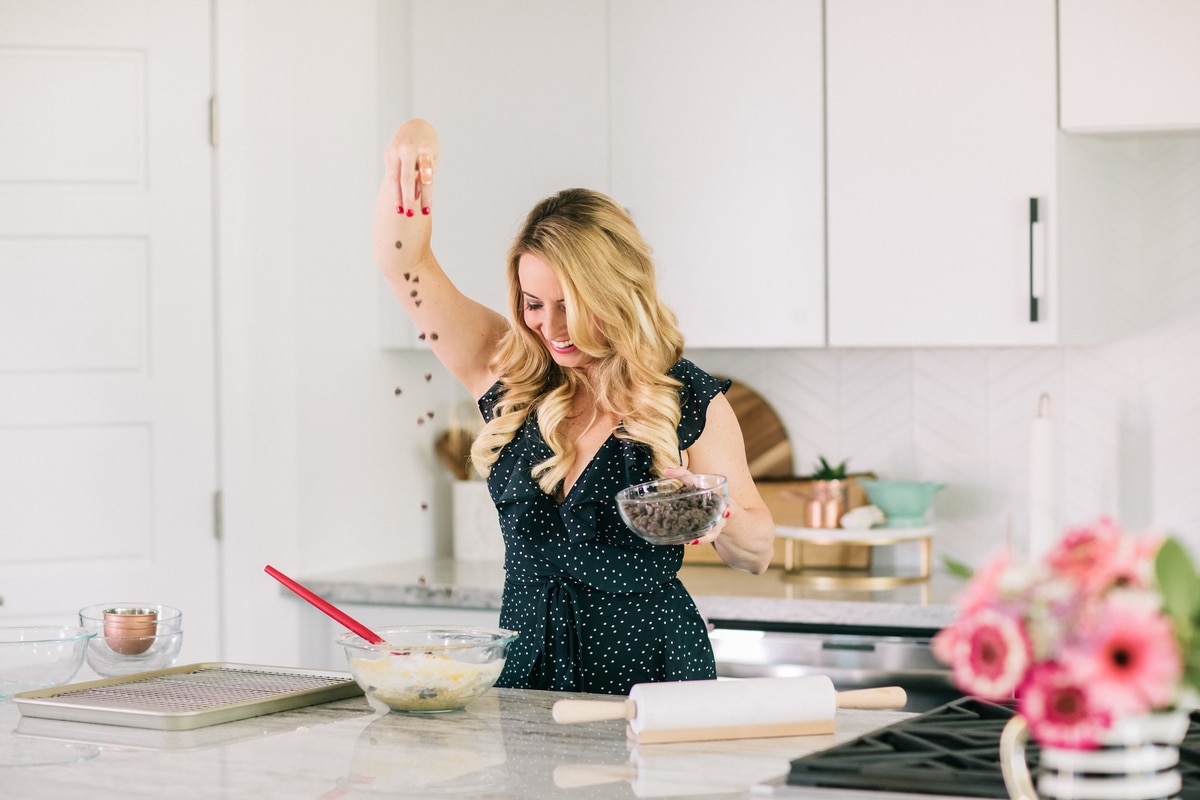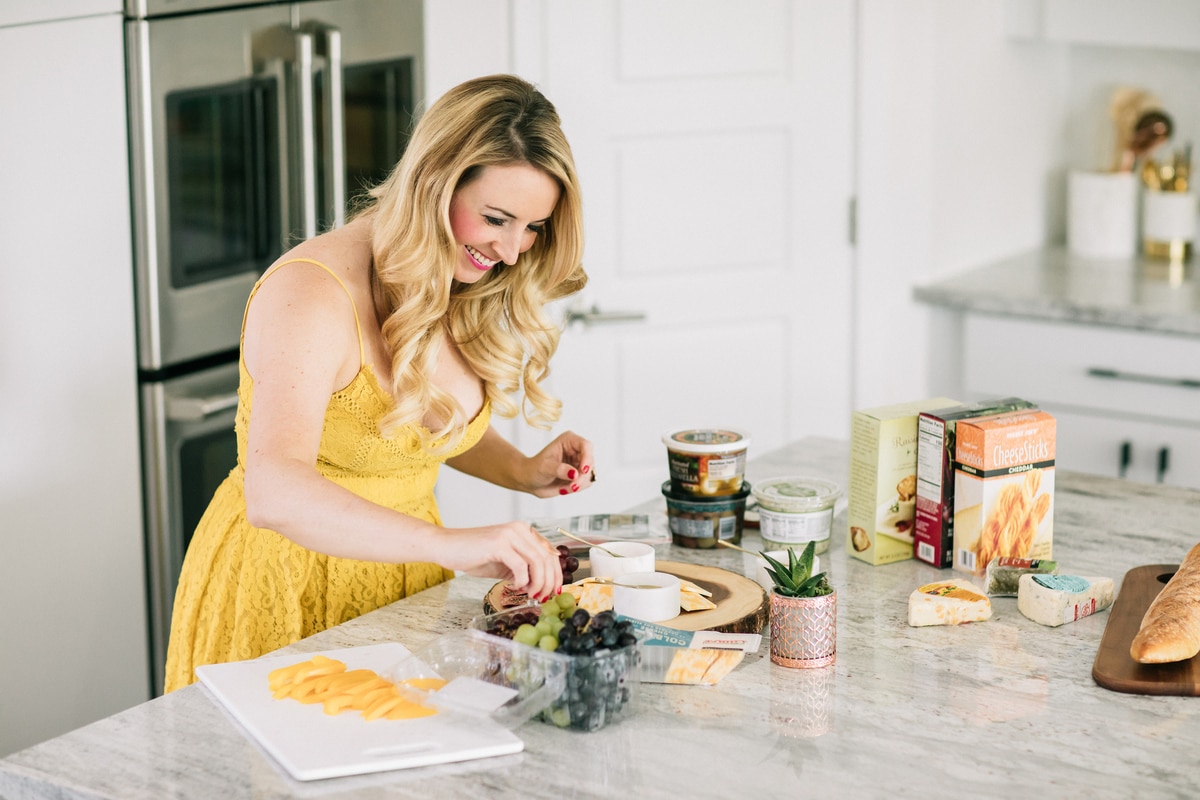 Thank you to my amazingly talented photog bestie Stacy Keck for capturing these images of me in the new kitchen!
Now for some of my favorite features in the kitchen remodel. Let's start with organization! I am totally obsessed with keeping my kitchen organized to make cooking easier (because obviously I do a lot of it!) so I spent hours scouring Pinterest for the best ideas and built the most organized kitchen possible!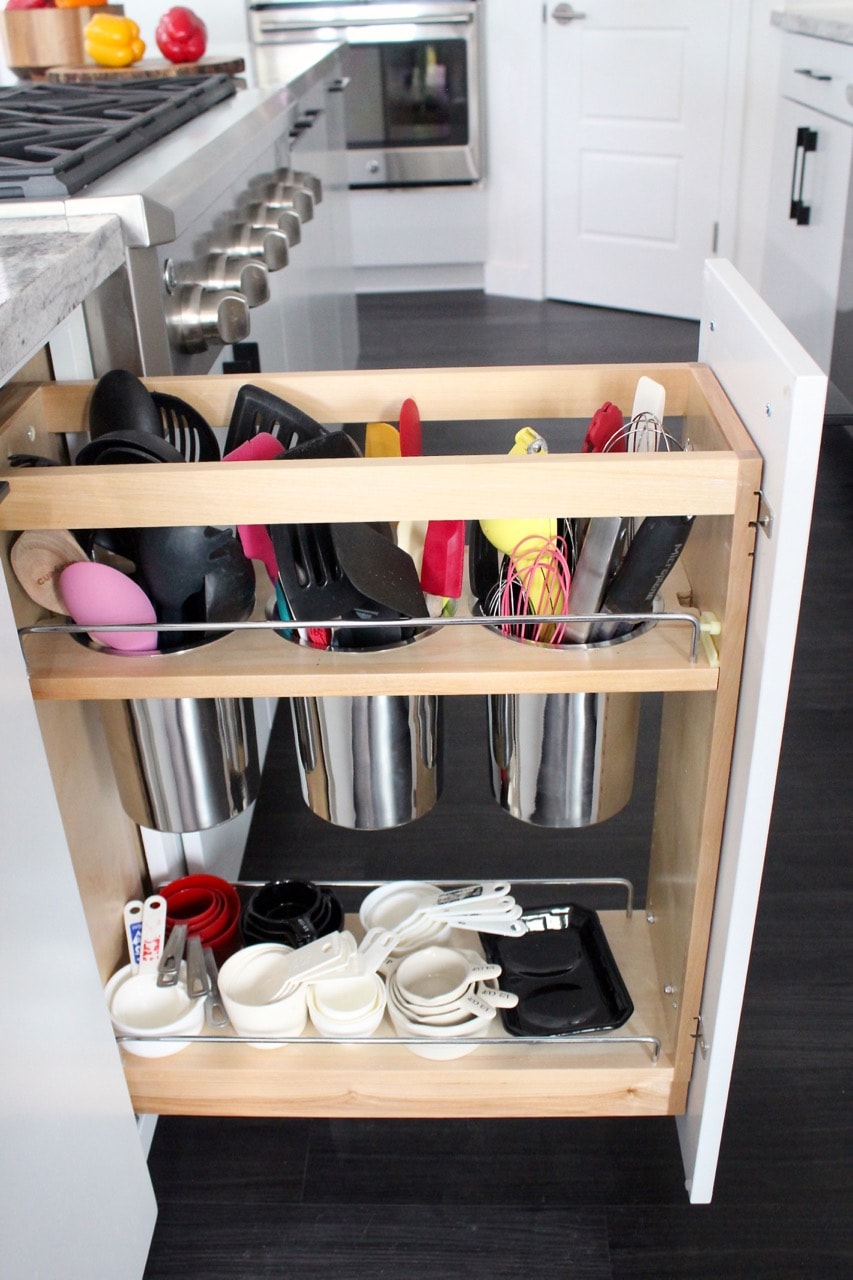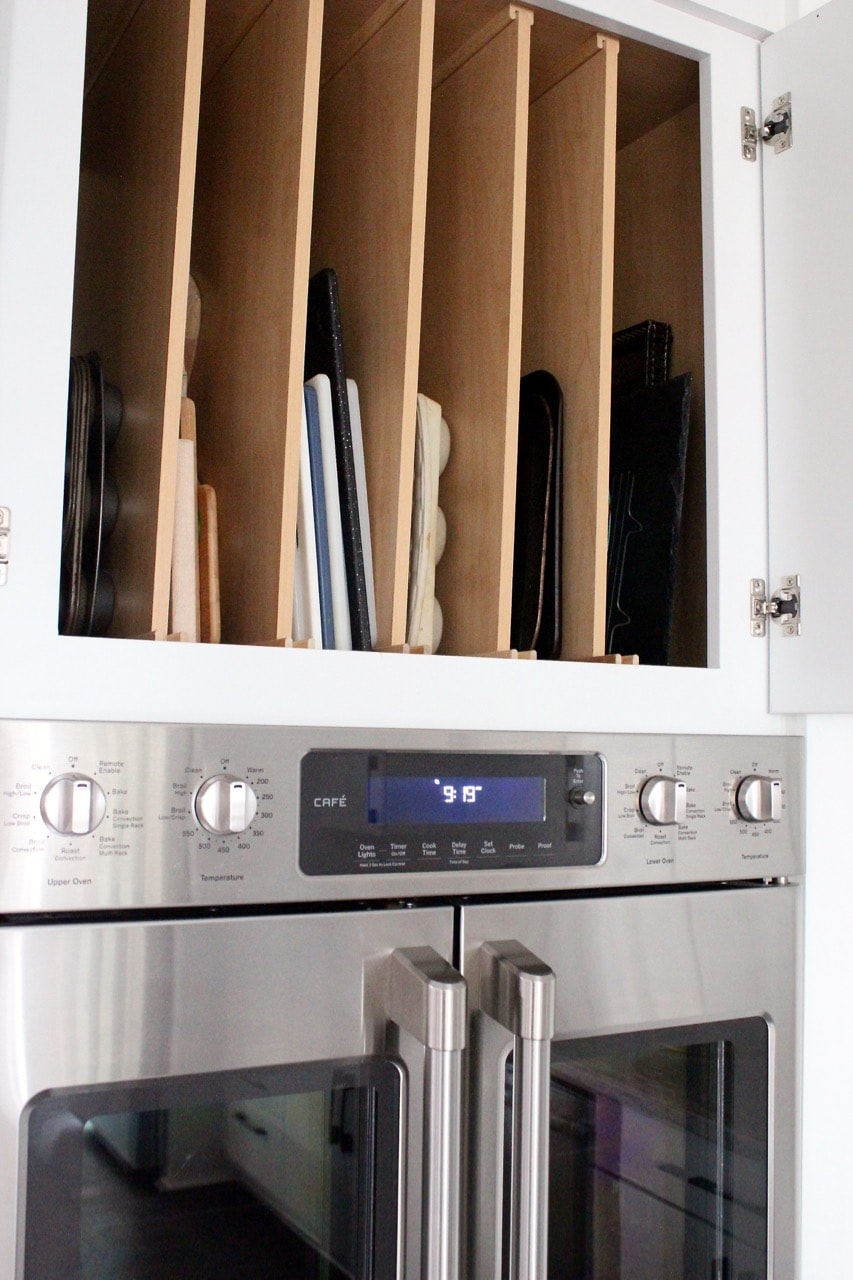 I purchased these Sliding Undersink Organizers online and installed them myself after the kitchen cabinets were complete. I love how easy it is to find the soap or cleaning product I need without digging through a hot mess under the sink!
These undersink organizers could easily be added to any kitchen any time, not just part of a kitchen remodel!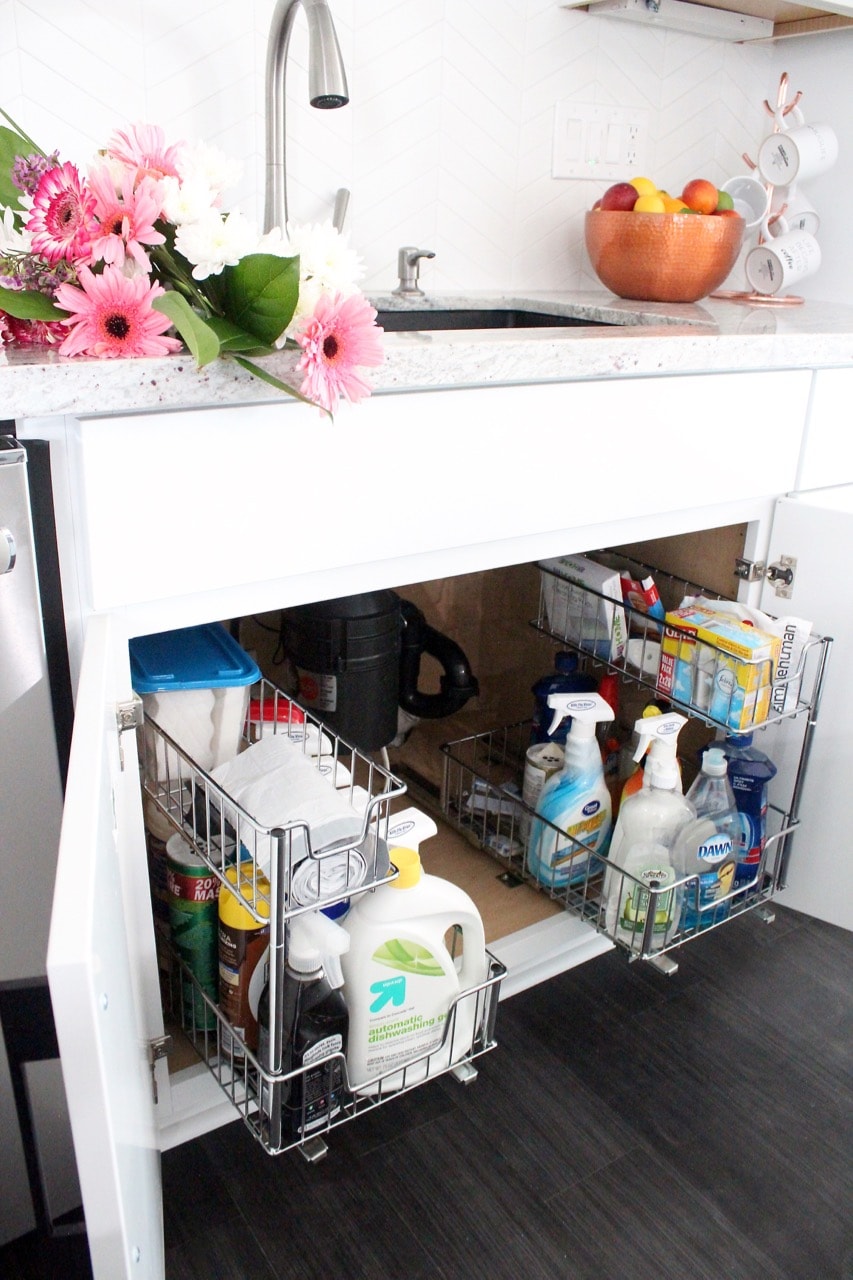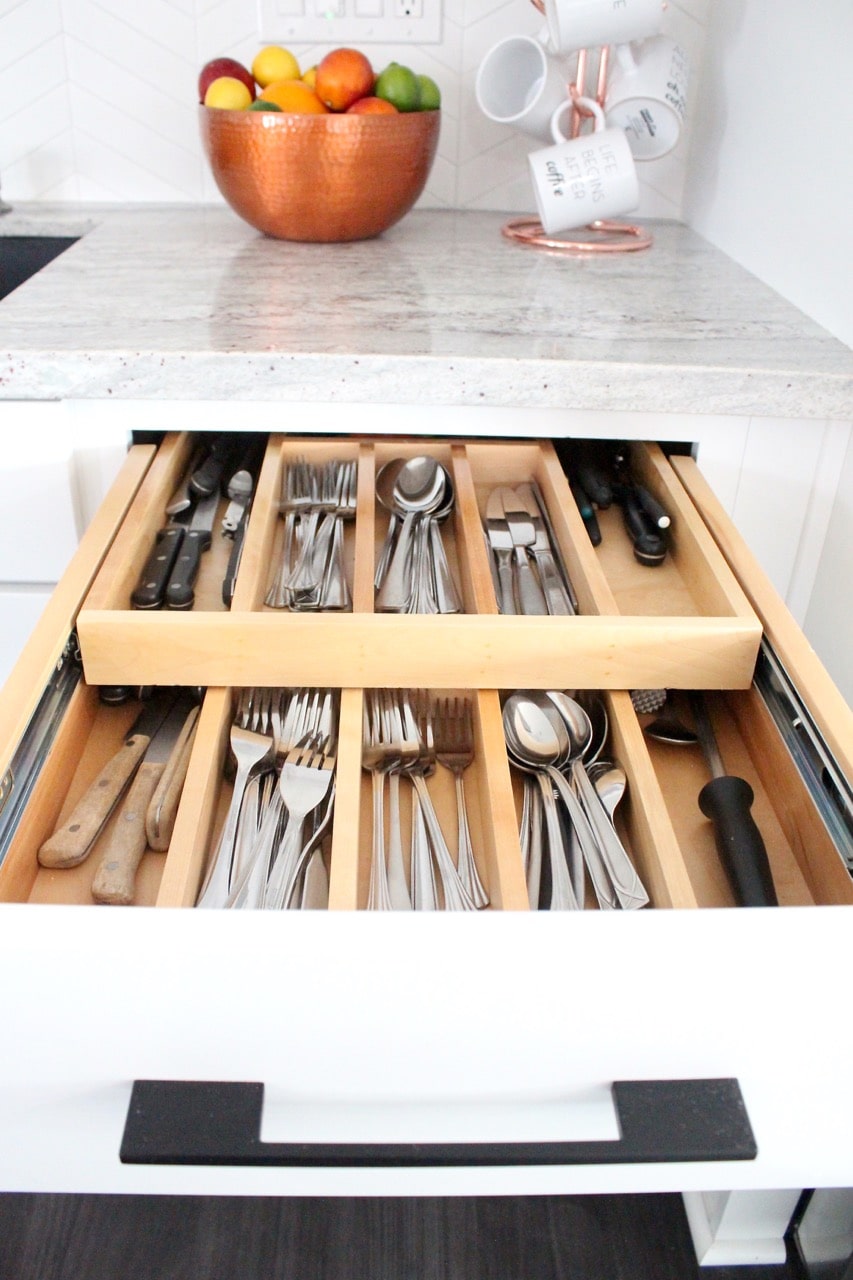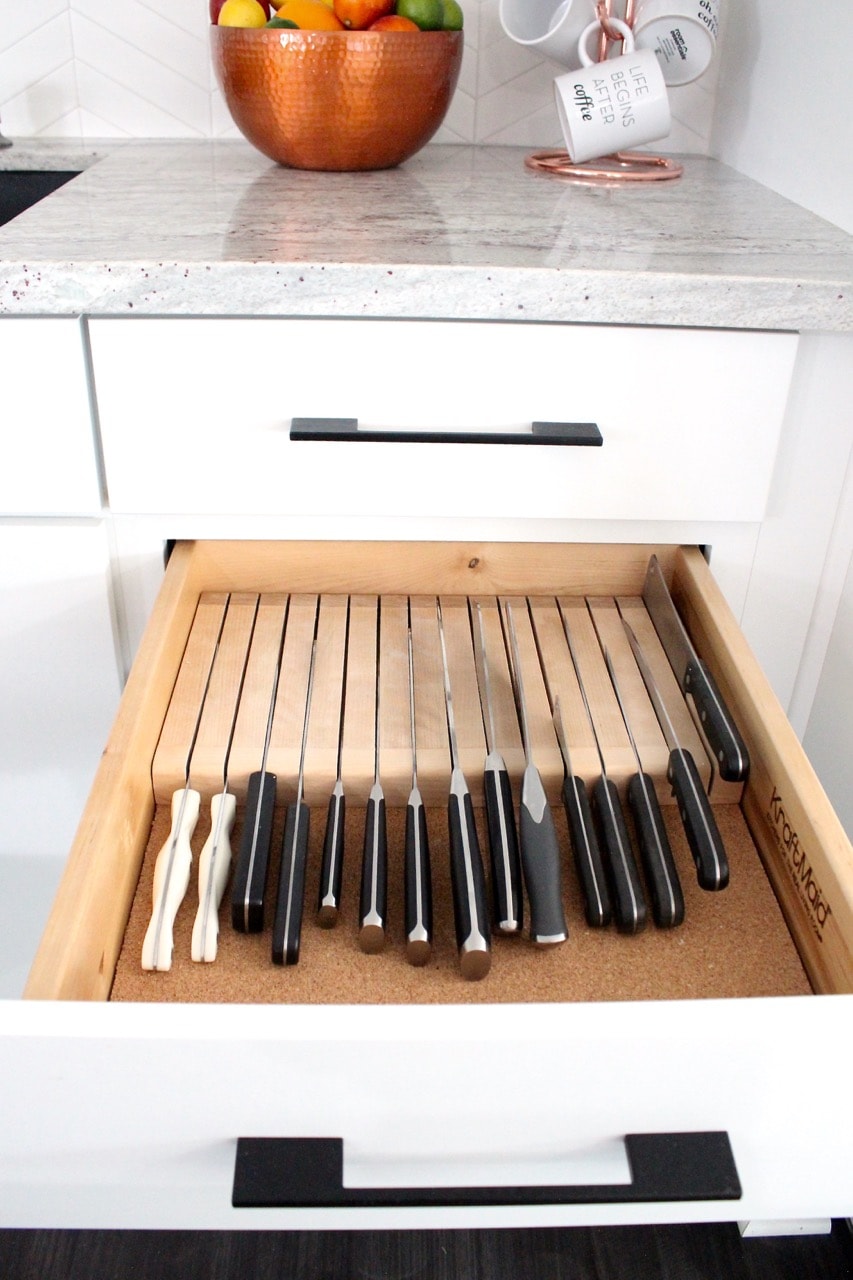 Now Kurt thinks this is the biggest waste of space ever, but I think this is the greatest thing ever! Hands up if you feel like you've wasted WAY too many hours of your life trying to find the matching lids for plastic storage containers! (HAND SO HIGH IN THE AIR!) So I added this pull out organizer for plastic containers and I love it and I think it's the best and I definitely save at least 10-60 seconds a day not searching for matching lids anymore, so that's a win in my book! 😉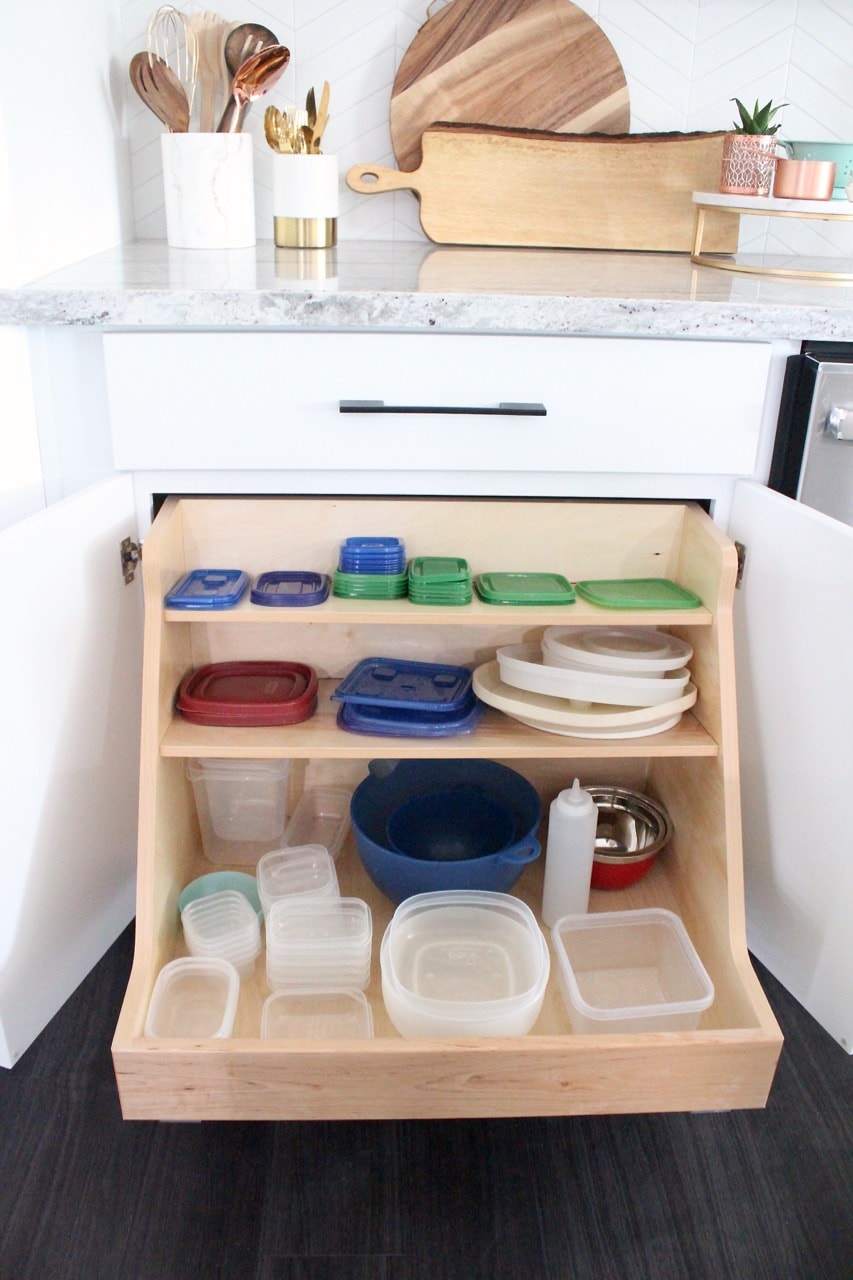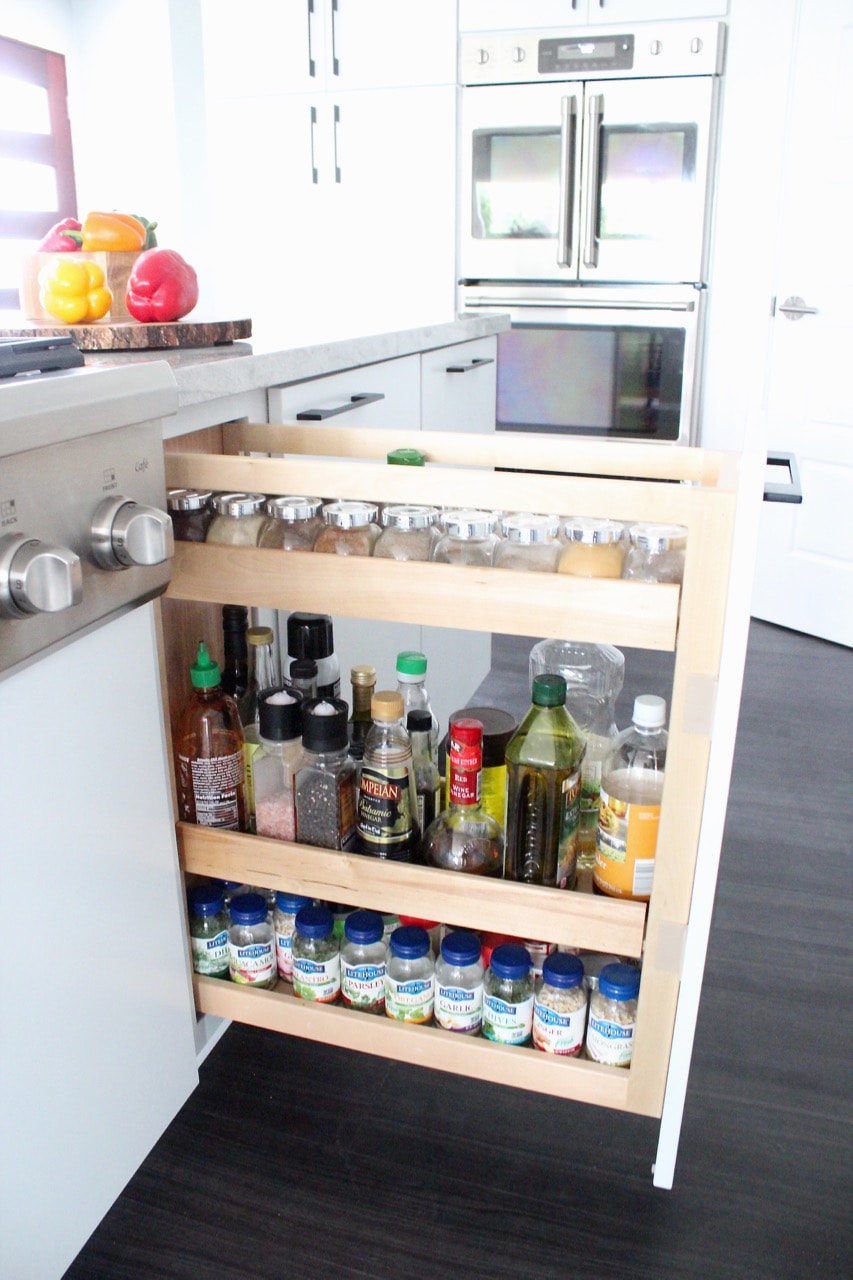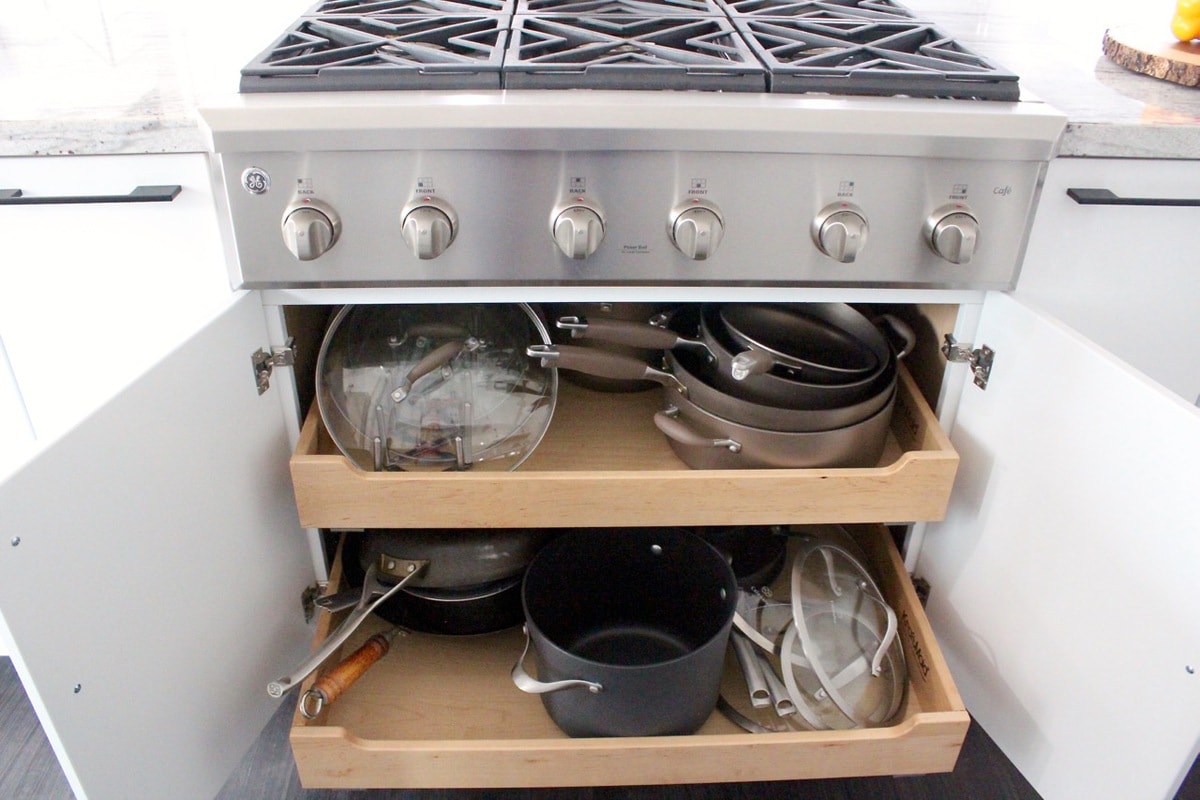 Totally obsessed with my appliance pantry! Since I own 14 crock pots, an Instant pot, 2 food processors, a meat grinder, sausage maker, 3 juicers, 2 coffee makers, a toaster, soda stream, indoor grill… and the list goes on… an appliance pantry was VERY NECESSARY!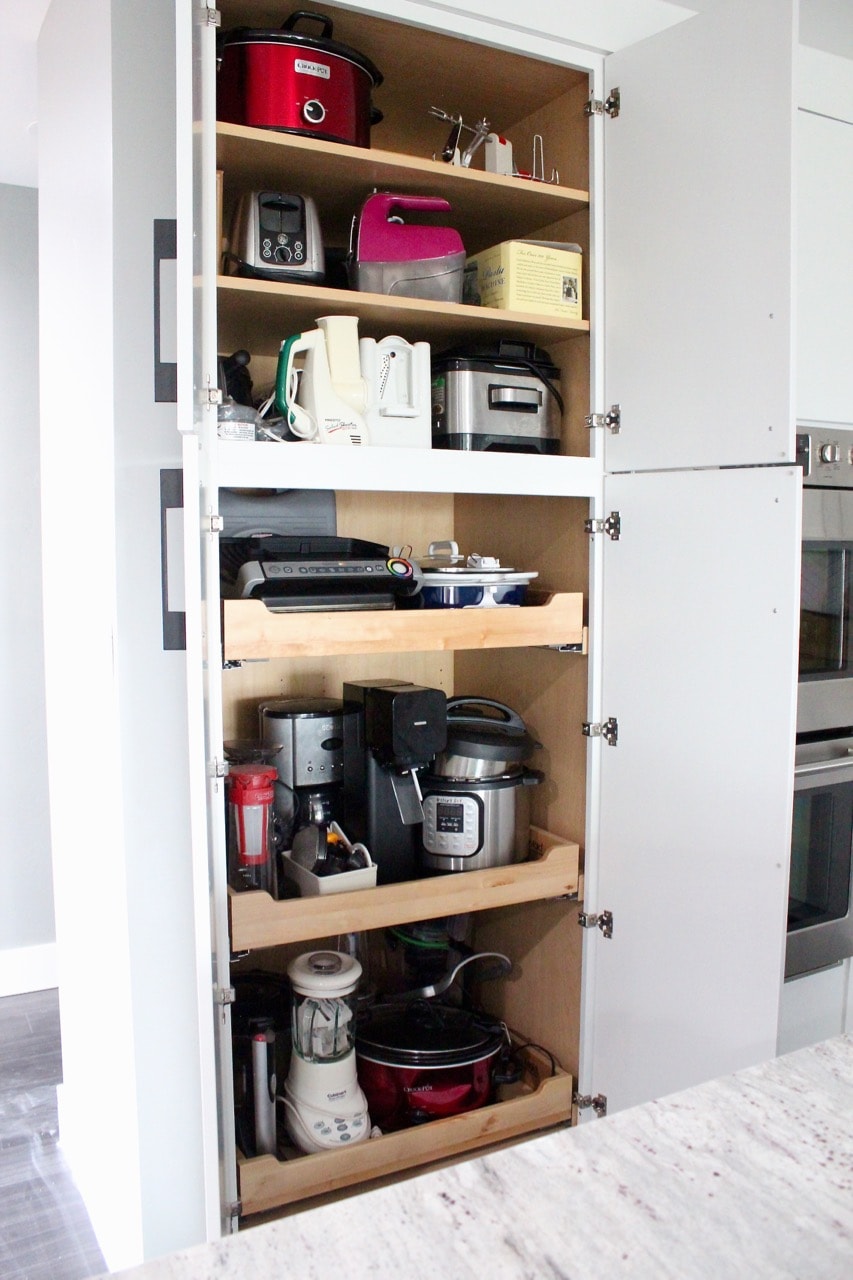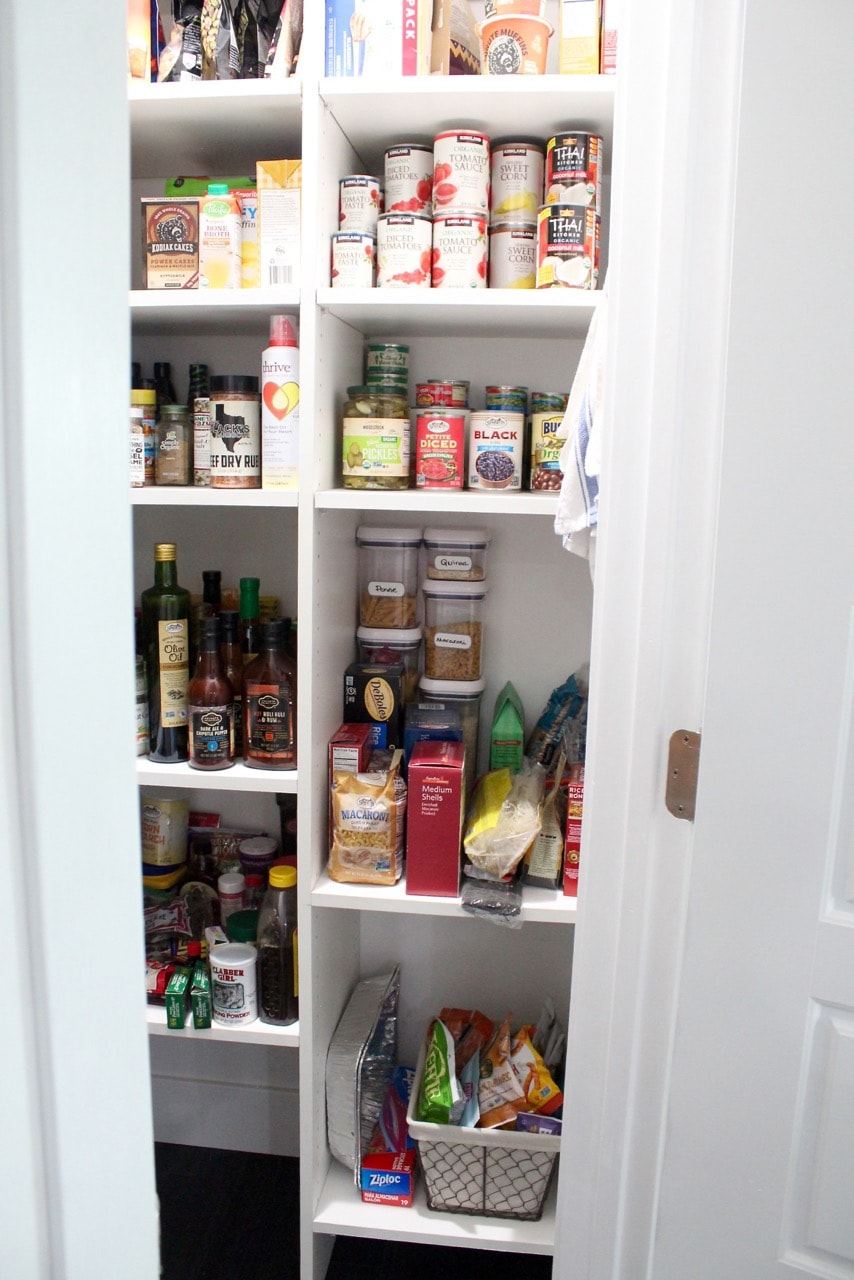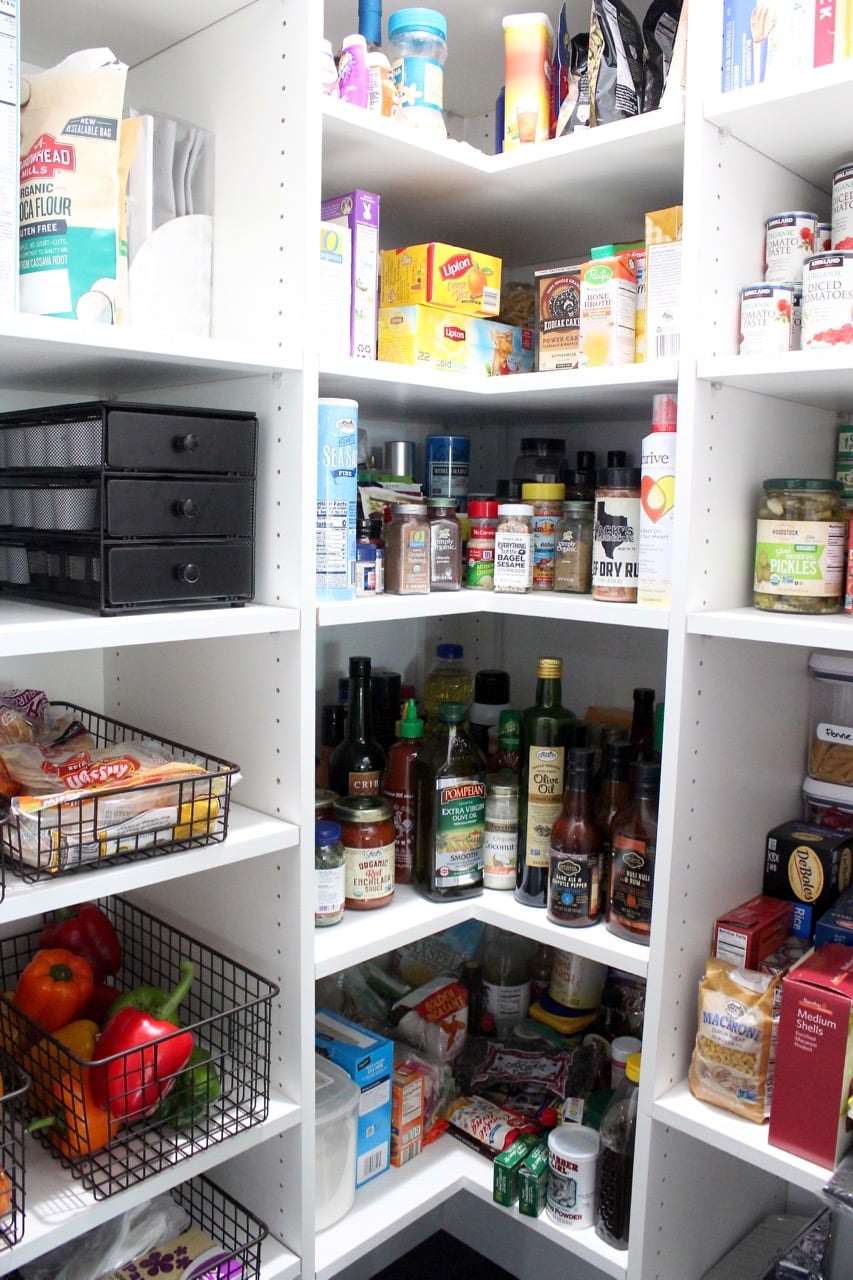 To organize my corner food pantry, I used deep wire baskets for fruit, veggies, plastic cups and paper napkins and shallow wire baskets for tortillas and bread, plastic silverware and straws. I also added a 3-drawer K-cup organizer, which holds 54 K-cups for my morning coffee!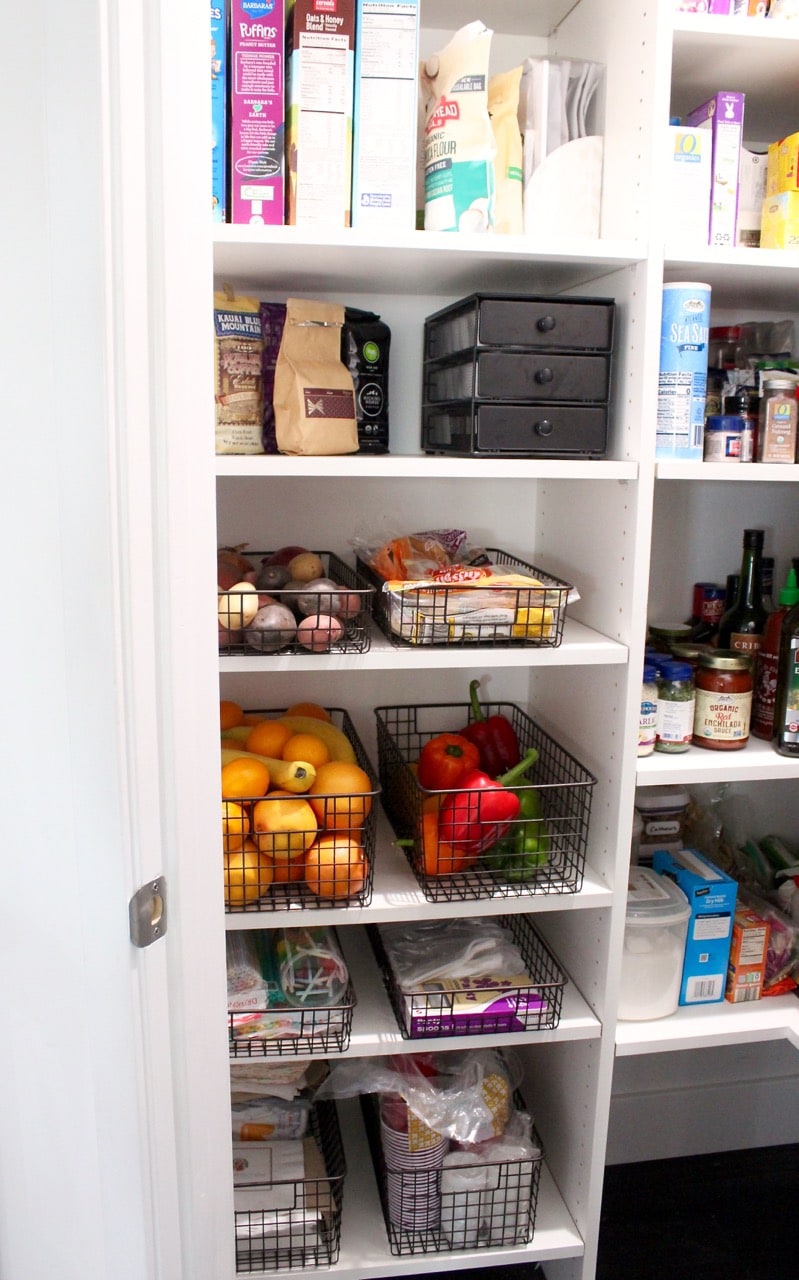 For the countertops, I went with New River White granite. I love the little dots of purple in the pattern, it gives it just a little pop of color! The island is 12′ x 6′, we actually call it "the continent" because it's so big! Because of it's size, we had to purchase two slabs of granite for the island and a third for the countertop behind the island.
For the cabinet handles, I wanted something a little different than I'd seen before and I liked the idea of black instead of silver, so I went with these Modern Flat Black Cabinet Handles.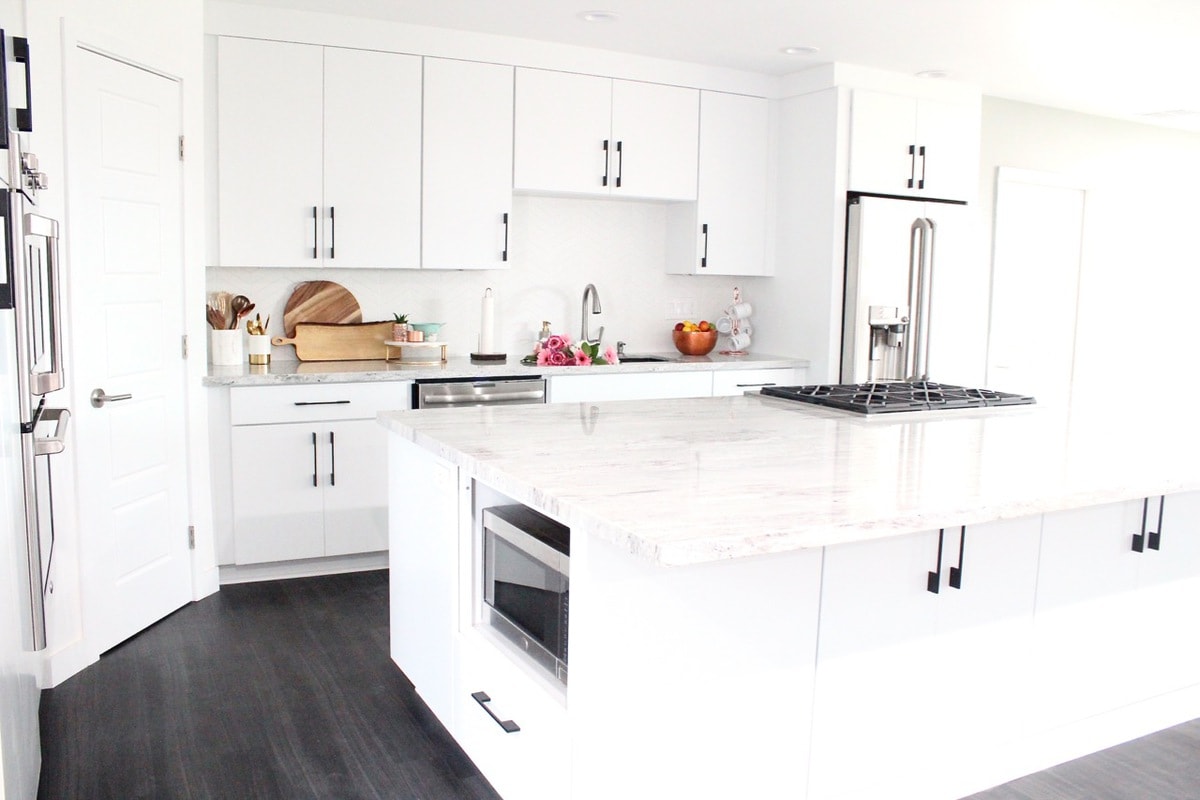 For the sink, I wanted a large, deep sink, so I went with a Blanco Super Single Bowl Sink, the color is called anthracite and it's made of 80% solid granite. The sink is easy to keep clean and super deep, which I love!
For the faucet, I went with a Kohler Touchless Pull Down Faucet and I LOVE it! You just wave your hand under the faucet to turn it on and off, which is SO convenient for washing your hands, washing dishes and filling pots with water!
For the tile backsplash, I went with a Retro Soho Chevron 1.75″ x 7″ Porcelain Tile, I wanted a clean white look, but with a cool, fun pattern and that's exactly what I got!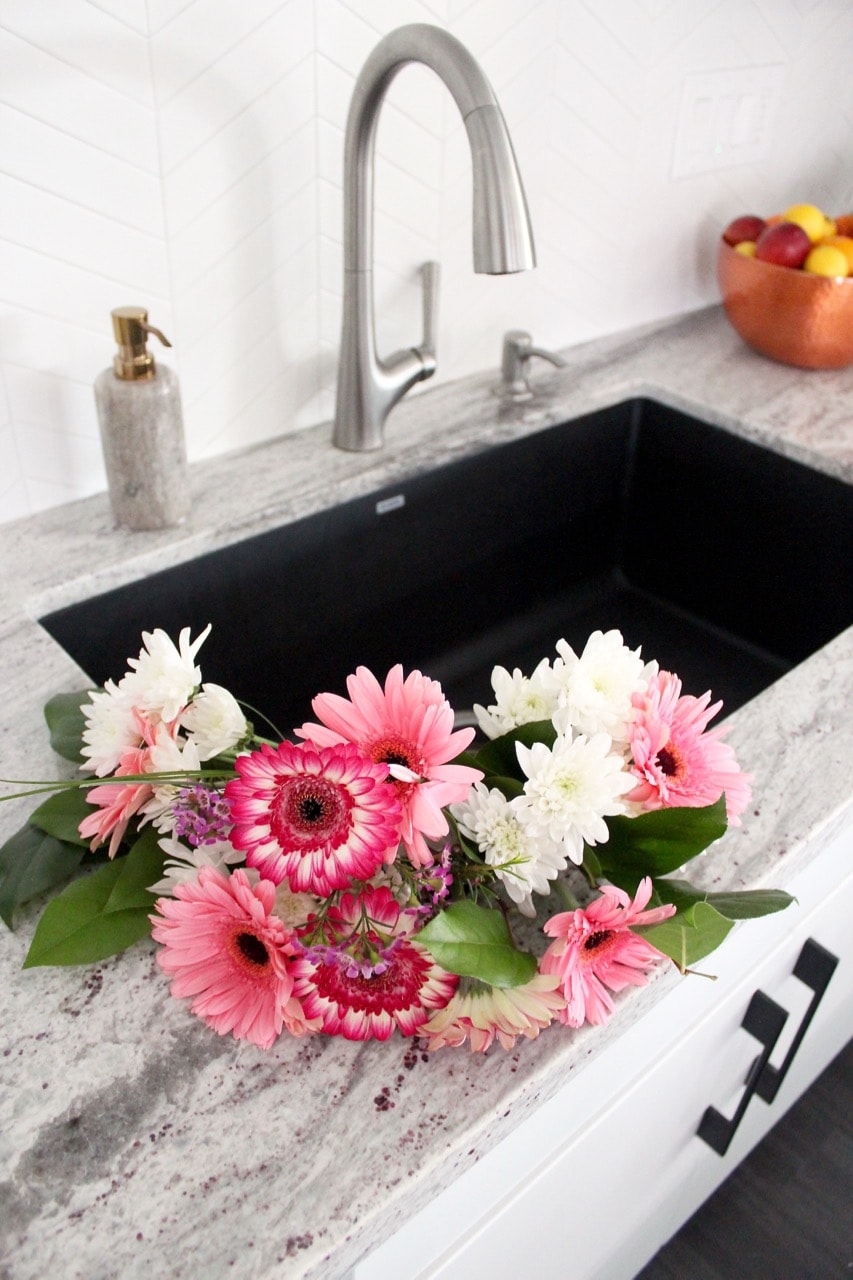 For the appliances, I partnered with my friends at GE Appliances on the kitchen remodel to make my new kitchen smart with WiFi enabled appliances!
From the fridge that makes coffee, to the french door oven that can be preheated from any WiFi enabled device, to the dishwasher that alerts your phone when the cycle is complete, I'm totally obsessed with these smart appliances!
If you want to learn more about my favorite smart appliances for the kitchen, check out this post with my Top 10 Smart Home Devices for the Kitchen!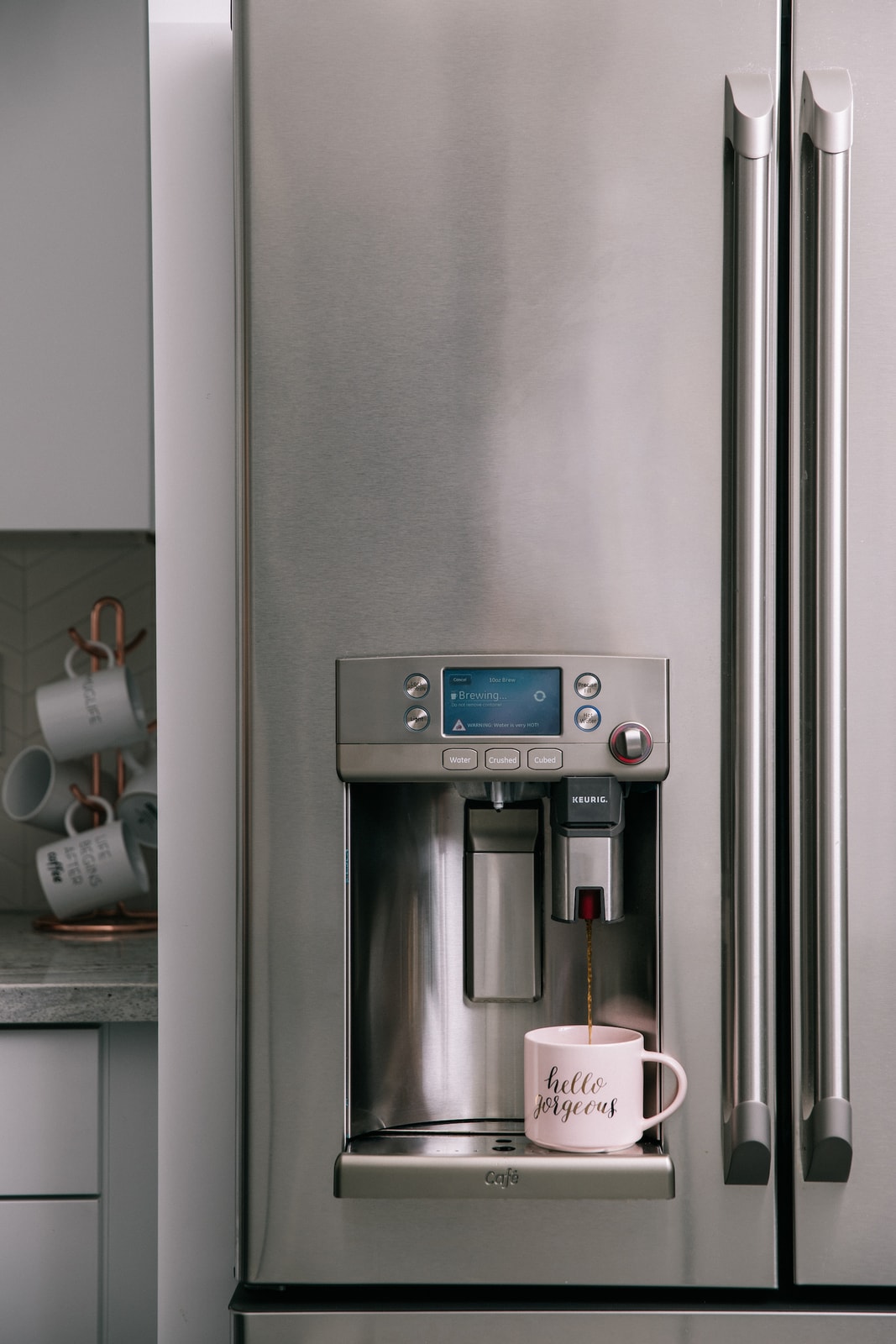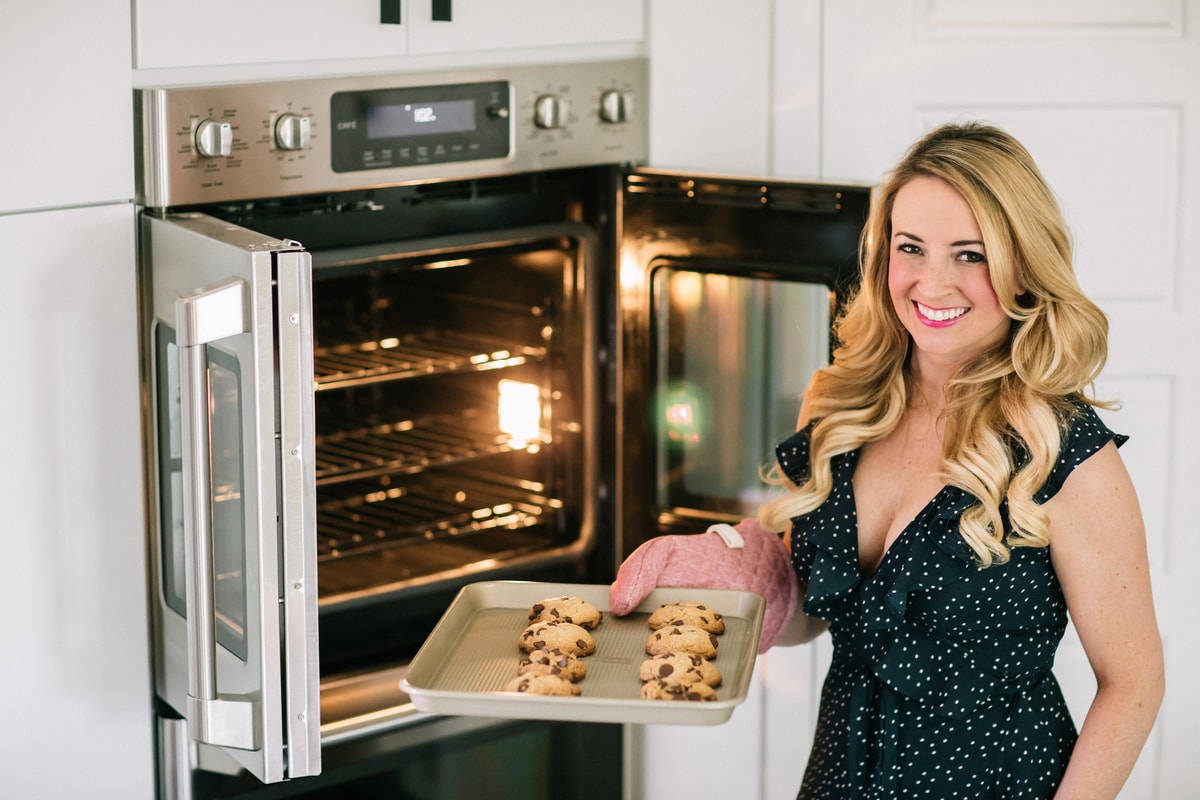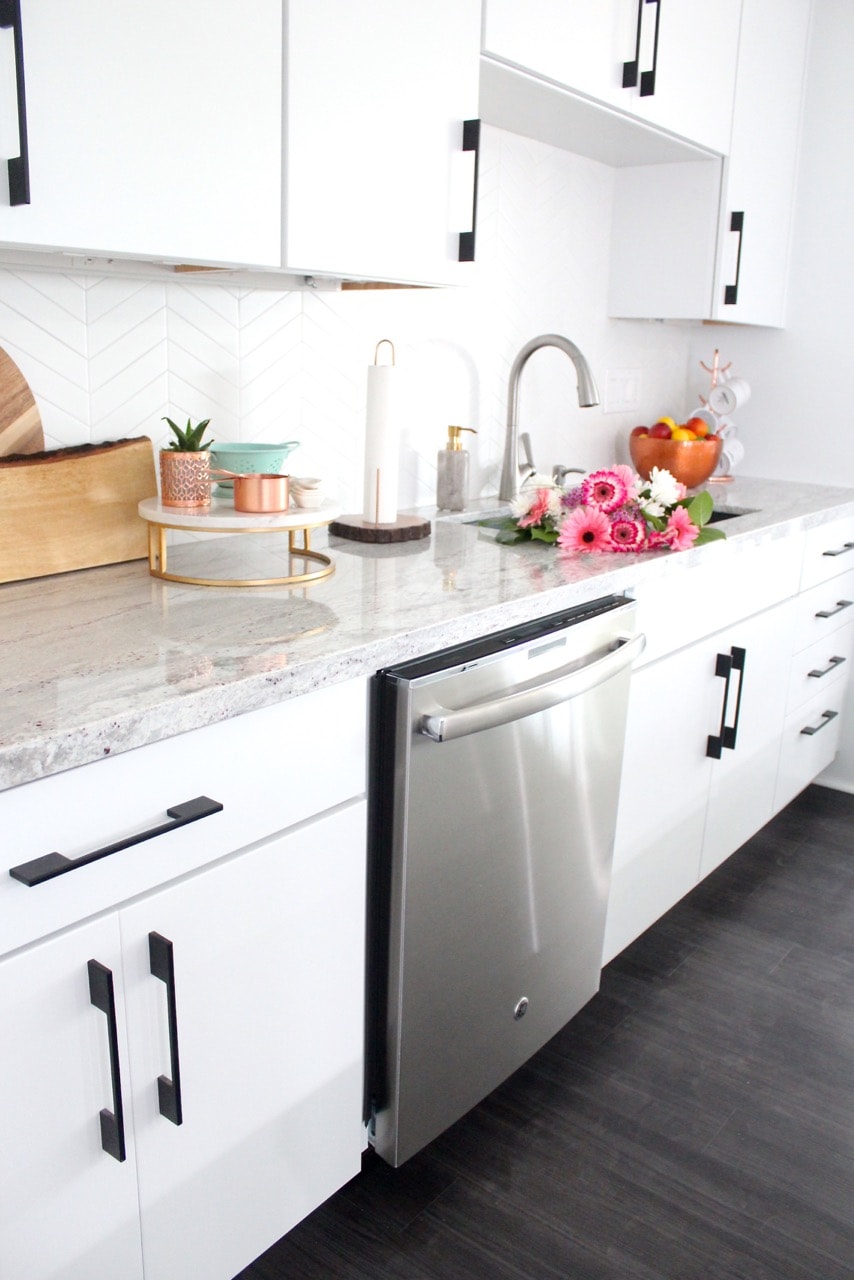 The line-up of Stainless Steel GE appliances in the new kitchen:
Check out this video to learn more about how all of the smart appliances work!
Now last, but certainly not least, I have to give a HUGE shout out to everyone that made this kitchen remodel possible. My parents and Kurt's parents, Muffet, Bill, Dave and Judy, traveled from Oklahoma and Arizona when we closed on the house to help us demo. They came out again while we were building the house to help us work on the build, then again when we finally got to move into the house, to help with the move.
Seriously, we're the luckiest people in the world to have parents that care about us so much that they are willing to travel half way across the country to spend their weekend ripping out old toilets and taking trips to the dump (seriously, the dump is like the worst place ever!)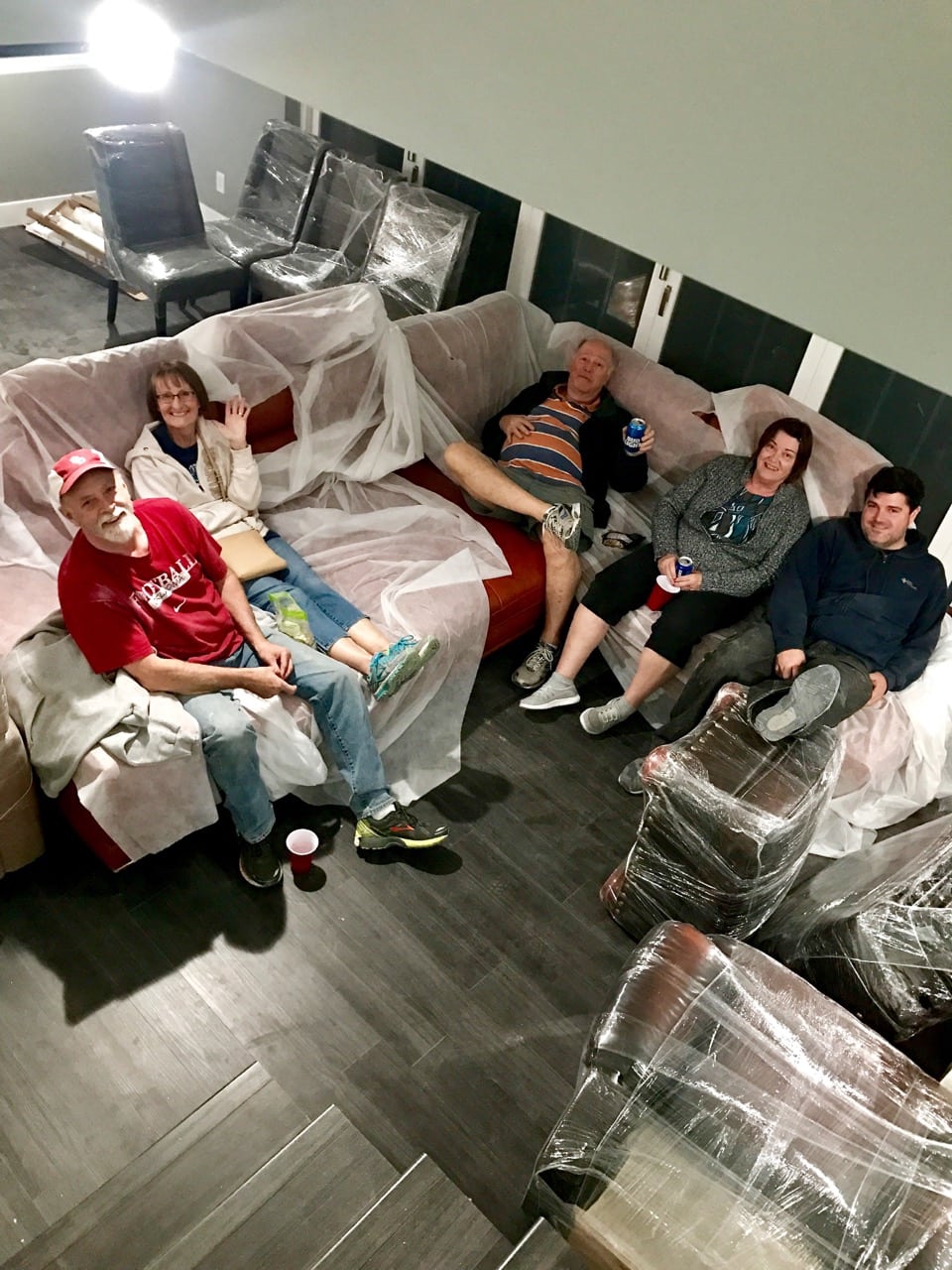 And to our friends that came over and helped us lay subflooring (the worst job ever, OMG, for the love, please if you ever need subflooring, HIRE IT OUT!), helped us stuff our walls with insulation, literally hung out of windows to rip the old siding off of the house (Yay for Josh's crazy long arms!) and were there whenever we called. They came over after work and on the weekends to help us on this crazy remodel journey and it will never be forgotten. You are my heroes and I literally will never be able to thank you enough! Rachel, Josh, Mitch, PK, Ryan, Matt and Ketty, we are SO grateful!!
And to our new neighbors across the street who brought us food and drinks, let us use their bathroom when we literally had no working plumbing, came over and helped install light switch covers, cleaned paint off of windows and were literally always willing to help. We hit the neighbor jackpot and could not be more grateful to have you as our friends and neighbors!
Have kitchen remodel questions? Ask away! I've been through it all now and I'm happy to help anyone I can along the way!
Favorite part of the new kitchen? I'd love to hear what you think about the kitchen remodel! Comment below and let me know!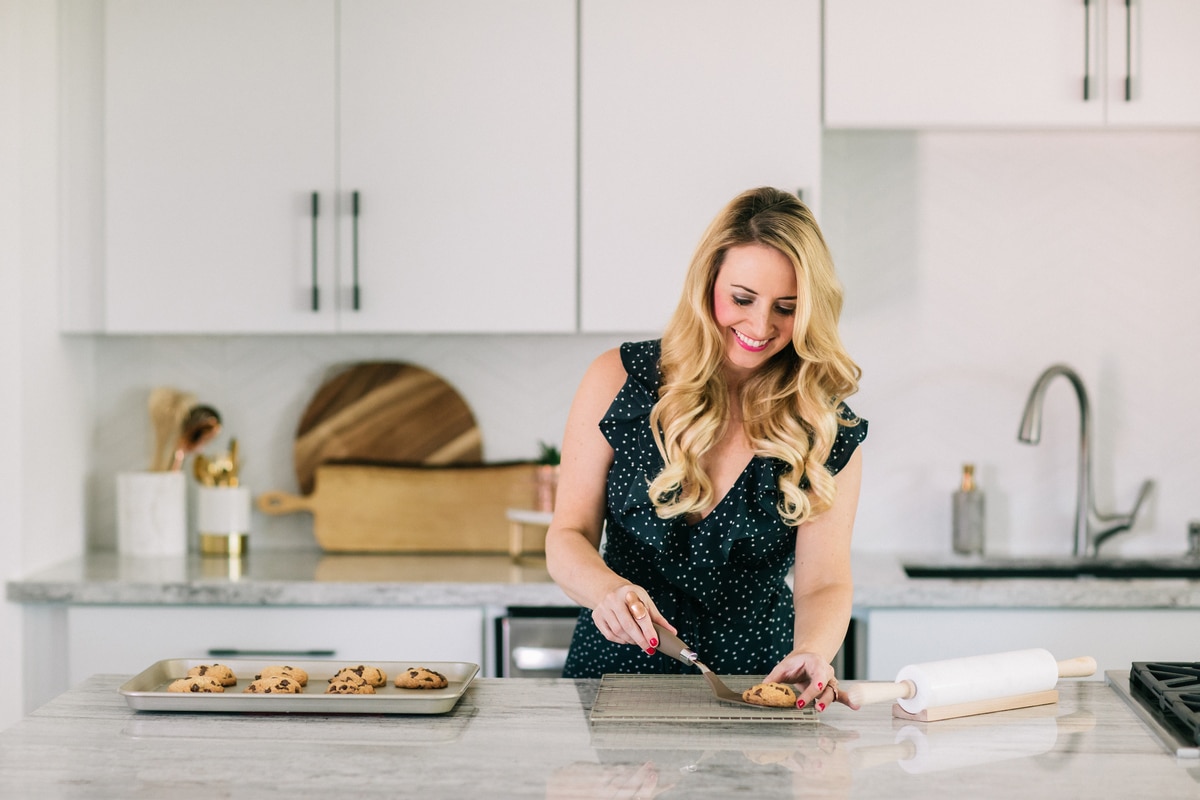 Happy cooking… and if you're so inclined to rip out your kitchen after this post, happy remodeling! 😉
We are a participant in the Amazon Services LLC Associates Program, an affiliate advertising program designed to provide a means for sites to earn advertising fees by advertising and linking to amazon.com.