Crispy bacon, juicy tomatoes and creamy avocado dressing make THE BEST pasta salad recipe! This BLT Pasta Salad is quick and easy to prepare. It's delicious served warm or cold and the perfect side dish for summer BBQ's!
Serve it on the side of Grilled Tomato Basil Chicken Skewers, Buffalo Turkey Meatball Subs or Onion Fried Cheeseburgers! And don't forget a glass of Grilled Strawberry Lemonade to go with it!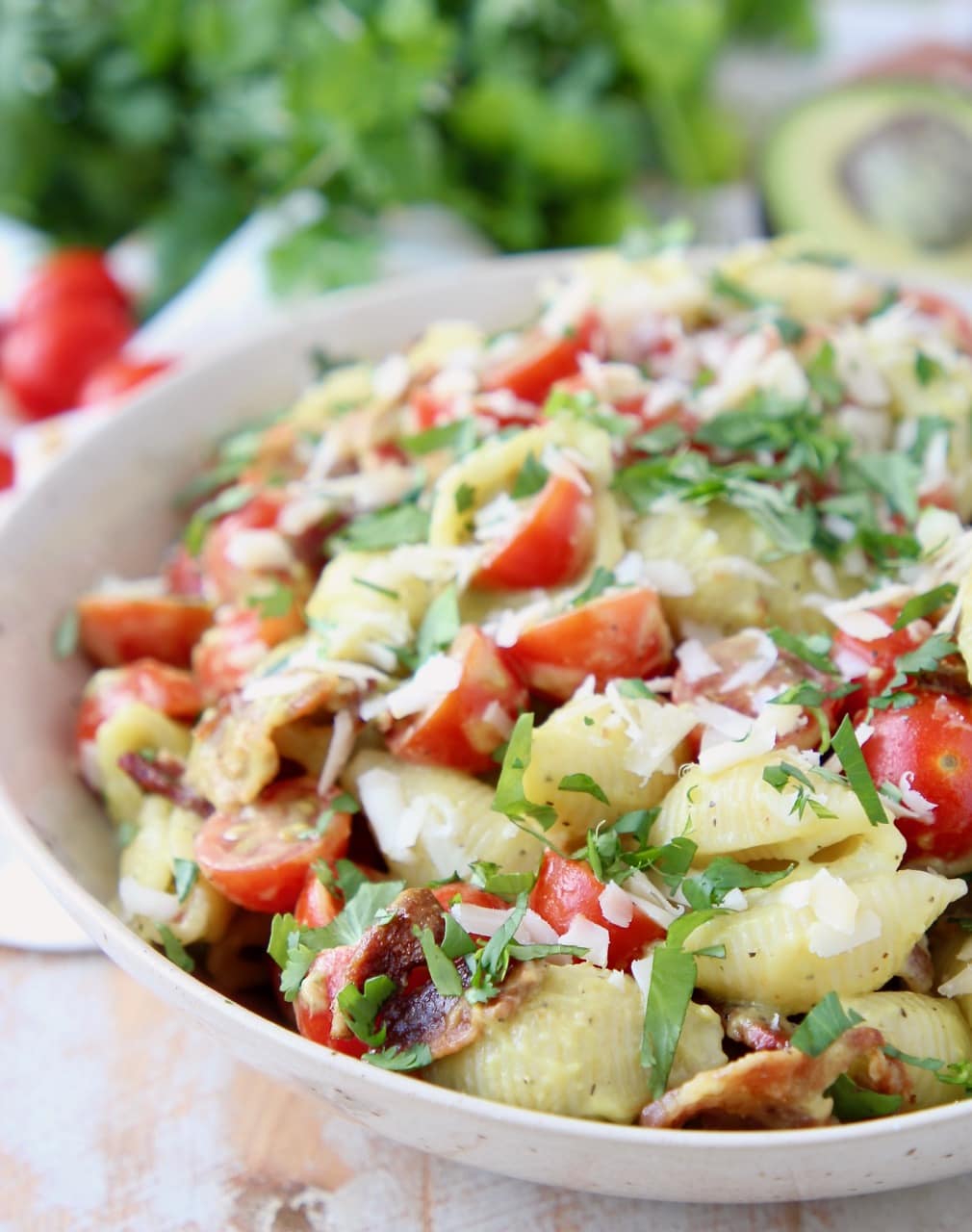 I was never a big fan of potato or pasta salads growing up. Blasphemy, I know! I'm not a big fan of mayonnaise, which is the base for a lot of potato and pasta salad dressings.
I also found a lot of pasta salads to be boring. They were lacking in that delicious kick of flavor I was looking for!
But today, I'm here to introduce you to THE SECRET ingredient for making a creamy, flavorful pasta salad dressing without mayonnaise. Avocado! That's right, the creamy avocado dressing in this salad packs a serious punch of flavor and the texture is deliciously creamy.
Bonus, it's so much healthier than a mayonnaise based dressing! And you only 6 ingredients to make it, two of which are salt and pepper! Simply add all of the ingredients to a blender and boom, you've got one tasty pasta salad dressing!
I love replacing mayonnaise with avocado on a BLT sandwich. So I decided to make a BLT Pasta Salad with my homemade avocado dressing. Who can deny the combination of crispy bacon, creamy avocado and juicy tomatoes?! I know I sure can't!
This recipe will be your new go-to summer and BBQ staple! My family loves this recipe. And every time I make it for a party or BBQ, it gets rave reviews from all my friends!