Chicken Mole
This post may contain affiliate links.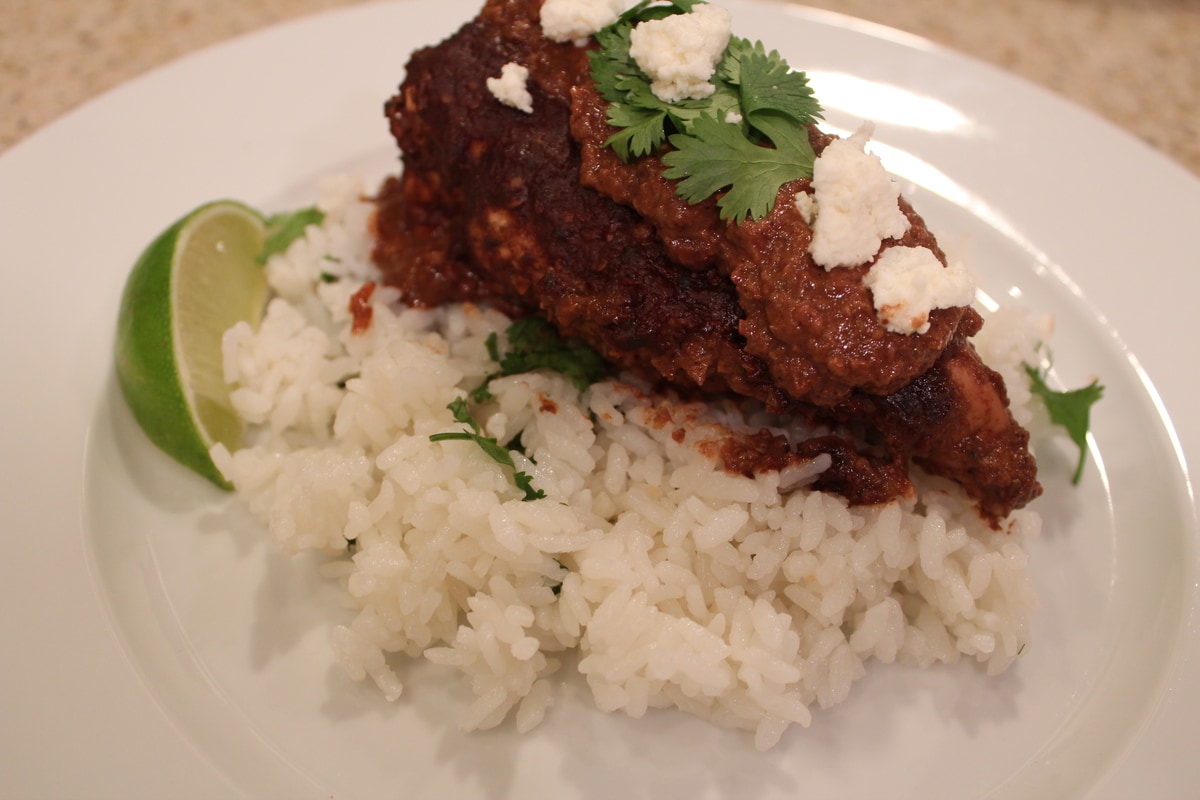 Holy Mole, I am so excited to share this recipe with you all!
My mole mission began when a friend brought me fresh chilies and peppers he had grown. I decided to put them to good use and make my first mole! The sauce is slightly spicy on the stove, but cooks out in the oven for the final product with the perfect balance of sweet and spicy.
I know the laundry list of ingredients is intimidating for some people, but never fear, this recipe is not as hard as you think and definitely worth the time, effort and ingredients!
Ingredients (mole sauce – serves 8)
1 lb tomatillos
1 large anaheim chili (chopped)
4 pasilla chilies (chopped)
1/4 cup raisins
1/4 cup almonds
1/4 cup sesame seeds
1/2 tsp ground cloves
1 tsp cinnamon
1/2 tbsp black pepper
1 tbsp oregano
2 tbsp olive oil
1 onion (chopped)
4 cloves garlic (minced)
6 small serrano peppers (chopped)
2 oz dark chocolate
2 tbsp brown sugar
1 tbsp peanut butter
2 tbsp fresh cilantro (not pictured – for garnish)
4 oz queso fresco (not pictured – for topping)
Ingredients (chicken)
8 chicken breasts
1 cube chicken bouillon
1 lemon (sliced)
1 cinnamon stick
1/2 cup white wine
Start by roasting the tomatillos on the grill or in the broiler until lightly charred on the outside. Set to the side and allow to cool.
Next, lightly brown the anaheim and pasilla chilies on the stove top in a dry skillet over medium heat for 2-3 minutes.
Remove from the skillet and add to a medium bowl with the raisins. Cover with warm water then set aside.
In the same skillet over medium heat add the almonds, sesame seeds, ground cloves, cinnamon, black pepper and oregano.
Toast for 2-3 minutes then place in a spice grinder and ground until a powder forms. If you do not have a spice grinder a coffee grinder works well or a small food processor.
Still using that same skillet (yay for less dishes!) add the olive oil, onions, garlic and serrano peppers.
Brown in the skillet until vegetables are tender, about 10 minutes.
Now peel the cooled tomatillos and place in a blender or food processor with the ground spices.
Next add the vegetables, chocolate, peanut butter and brown sugar to the blender. Then add the peppers, raisins and a small amount of the soaking liquid. Start with about 1/2 cup, then add more if the sauce is too thick.
Blend well. This could take 3-5 minutes, that's a lot of yumminess to blend together!
When blended well enough that no large chunks exist, transfer the mole sauce back to that one amazing skillet over low to medium heat and allow to simmer for 10 minutes.
Now, it's time to prepare the chicken.
I know what you're thinking "this seems like a lot of work", but see how delicious that sauce looks, I promise it smells and tastes even 10 times better!
Have I convinced you to keep going? I hope so, because it's easy, breezy from here on out!
Place the chicken breasts in a large pot and cover with water. Place on the skillet and bring to a boil.
Add the chicken bouillon, cinnamon stick, white wine and sliced lemon, squeezing the juice out as you add them to the water.
Boil for 10 minutes, then drain.
Add the chicken breasts to a large casserole or baking dish.
Cover with the mole sauce.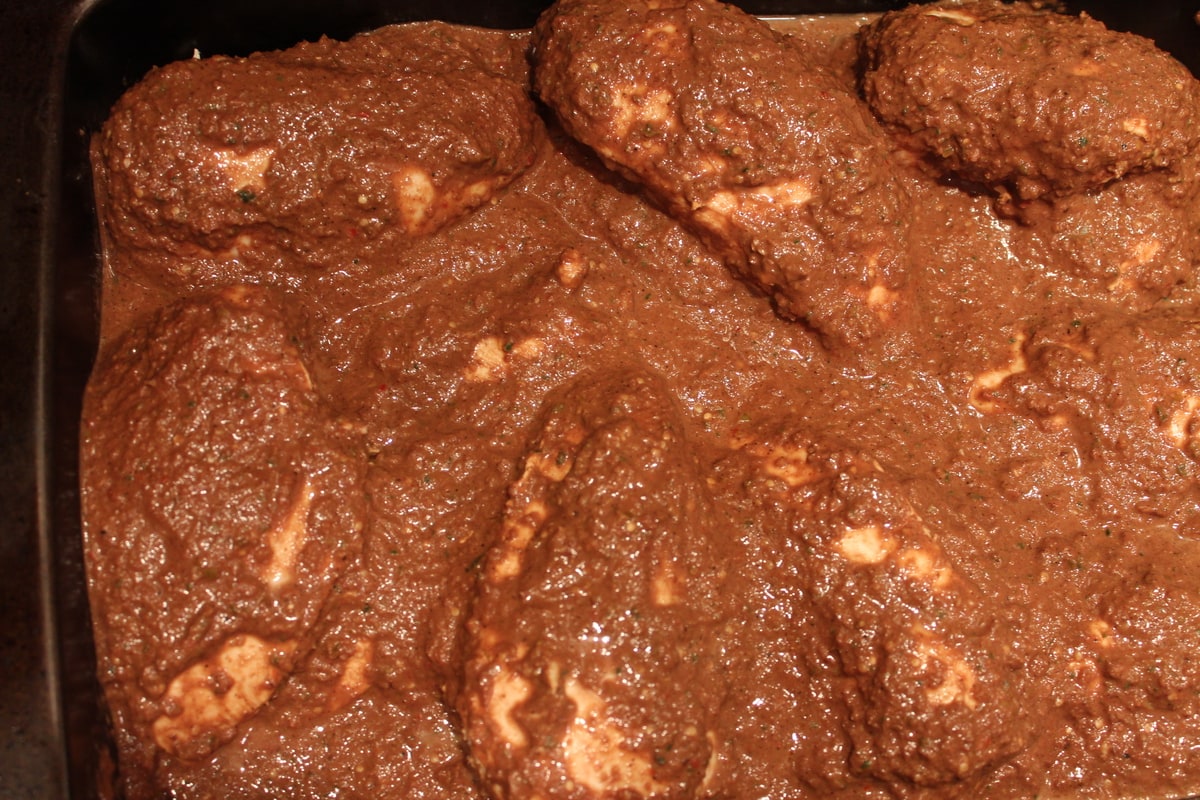 Bake at 375° for 20 minutes.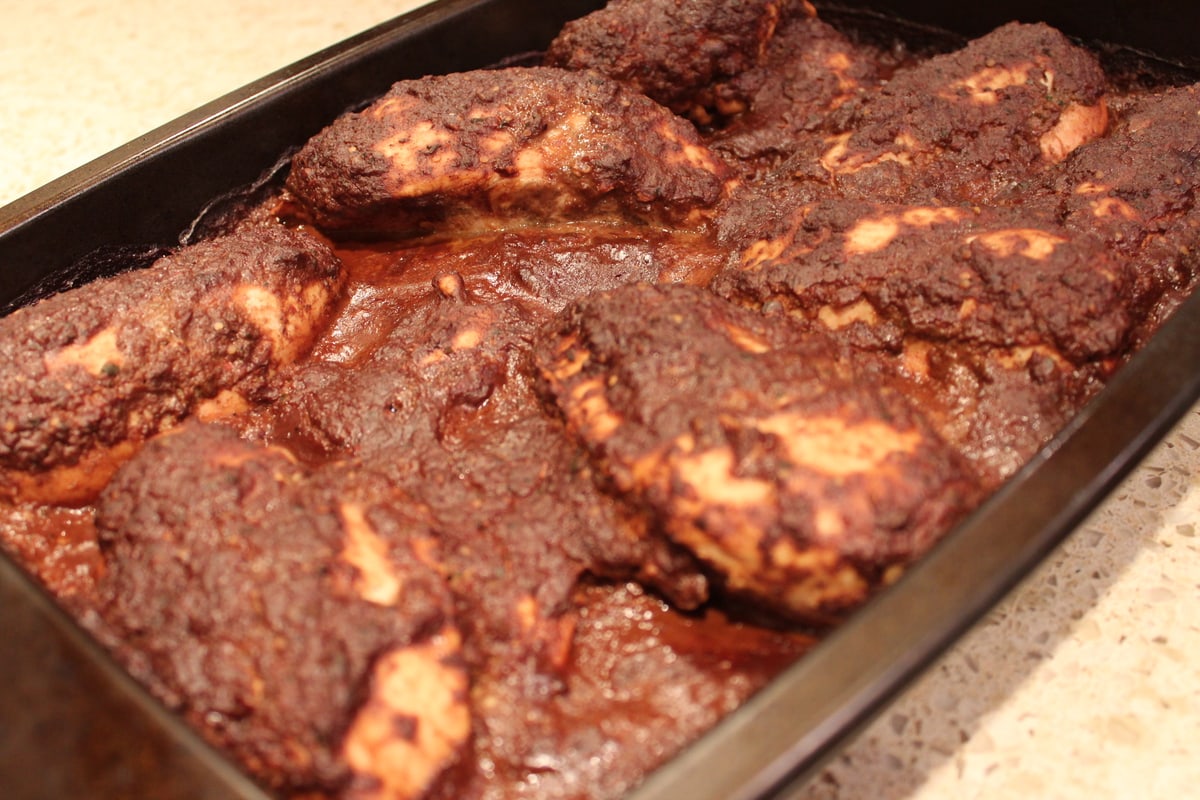 Serve on a bed of cilantro lime rice topped with queso fresco and fresh cilantro.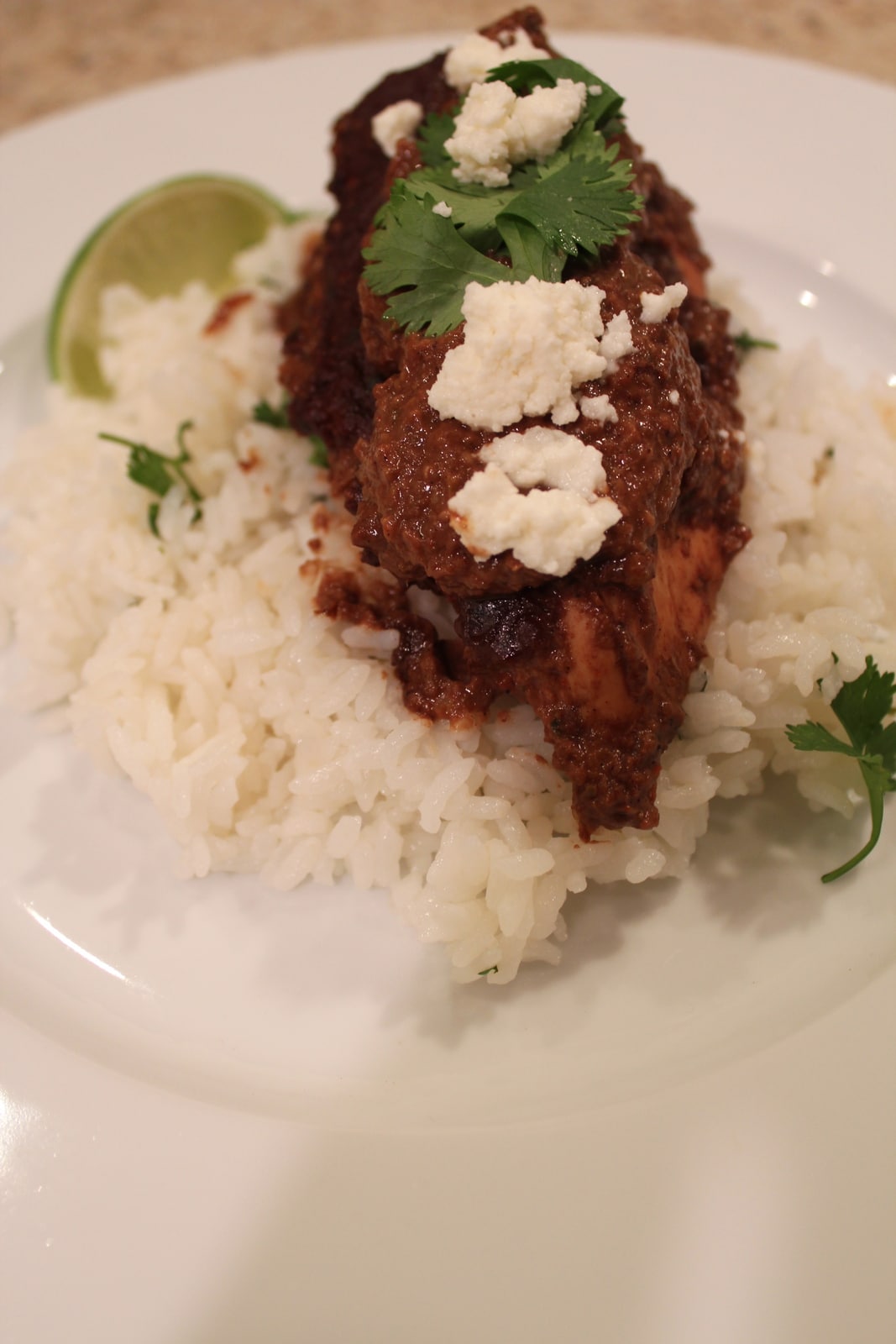 I also served mine with a side of Rajas Con Crema.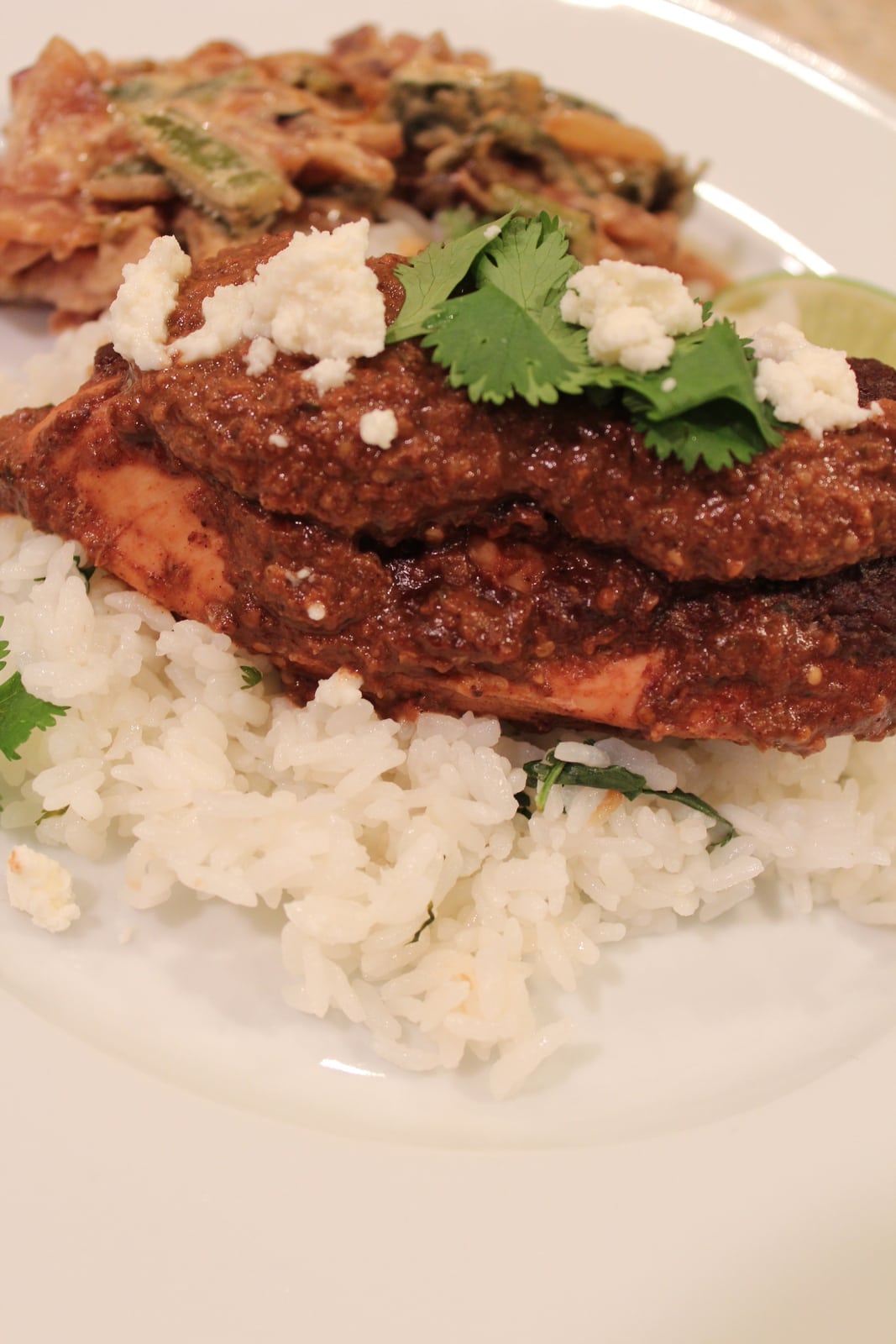 A little close up of the goodness…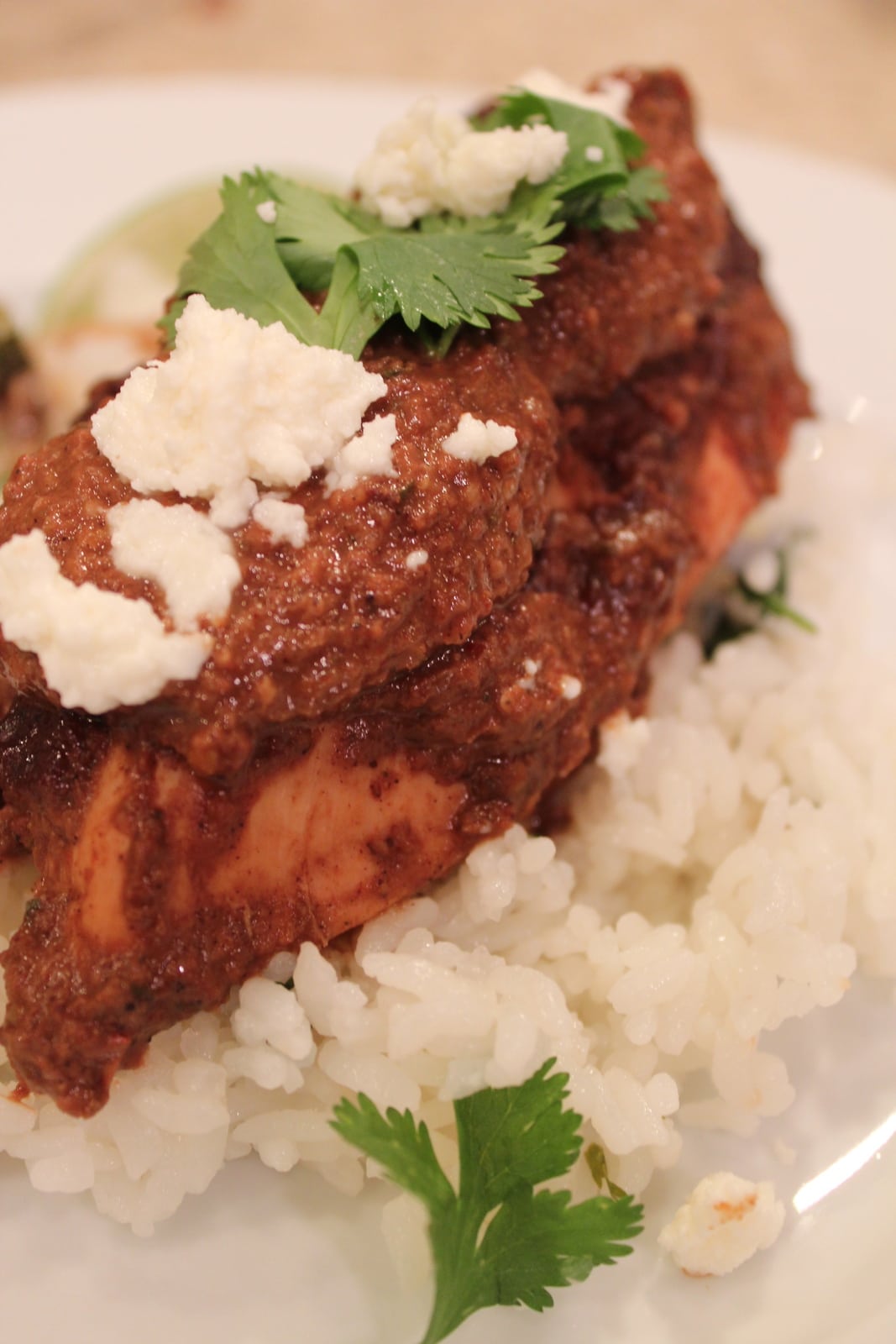 We are a participant in the Amazon Services LLC Associates Program, an affiliate advertising program designed to provide a means for sites to earn advertising fees by advertising and linking to amazon.com.