Seared Duck Breast with a Balsamic Burgundy Reduction and Raspberry Chutney
This post may contain affiliate links.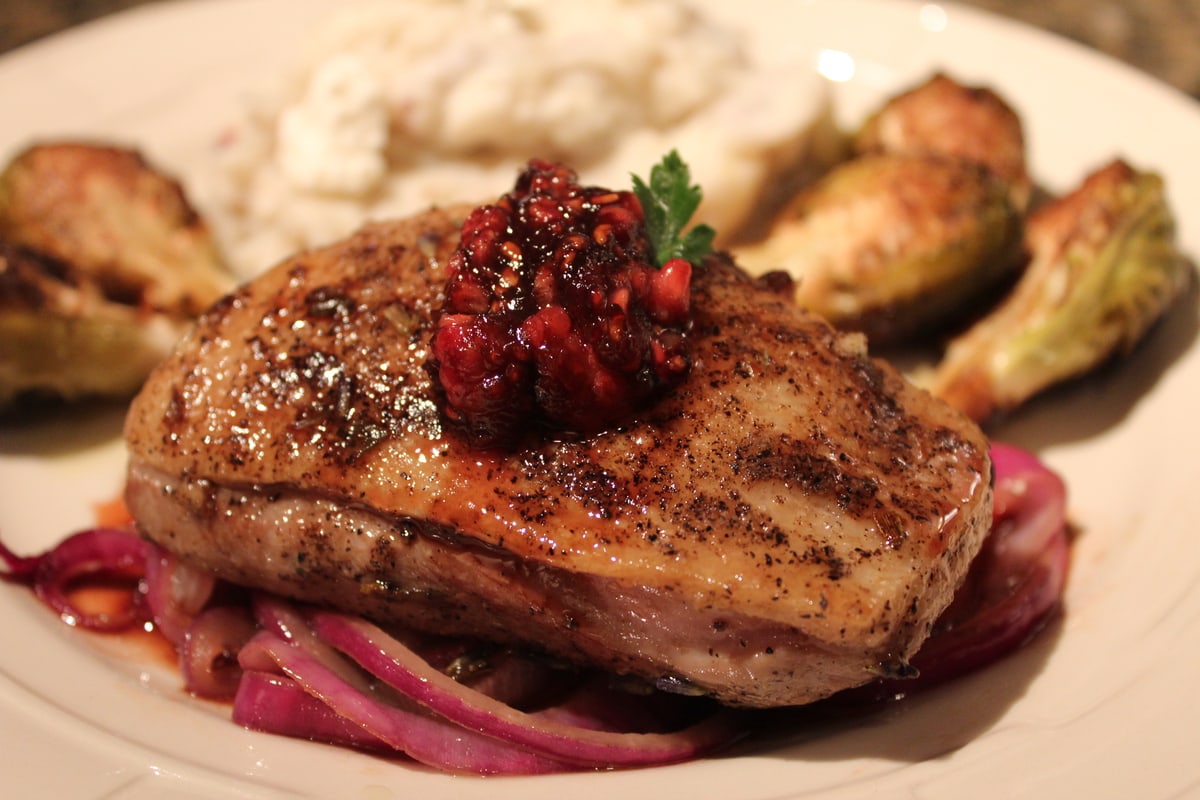 After a long summer of living out of a suitcase I am so happy to be settled in my new home in San Diego! With my new home came my beautiful new kitchen and all of my lovely kitchen gadgets which have been collecting dust in my storage unit all summer!
After unpacking (and cleaning off all that dust!) I was so excited to cook my first meal in my new kitchen! What, oh what, would it be? I knew it had to be something new and fabulous as I was cooking for my ever-so-amazing movers. (i.e. my guy friends with big muscles!)
After watching Masterchef on demand all summer I was inspired to cook duck for the first time. I thought about getting real crazy and buying a whole duck, butchering it, confiting the legs and searing the breasts, but then I decided to take it one step at a time and just purchase the breasts for searing.
Luckily for me, my lovely new neighborhood in the Little Italy district of San Diego has a market just two blocks from my home which sells beautiful duck breasts. If your local grocery store does not sell them, try a meat market or specialty grocery store near you.
I decided to rub the duck breast with lavender. This rub was inspired by my morning purchase of lavender and honey goat cheese at the farmers market. Many people use rosemary or thyme when cooking duck and since lavender is close to that family of herbs, I figured why not try something new!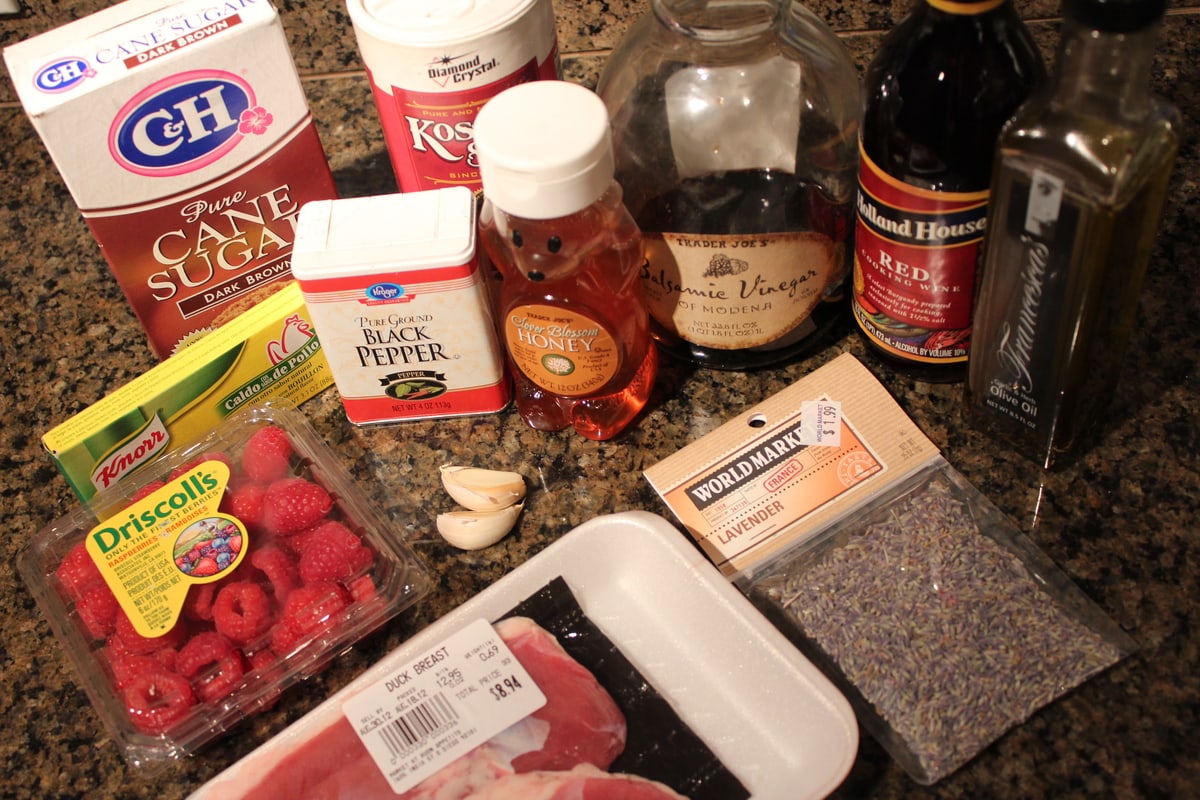 Ingredients
2 duck breasts (app 1/2 lb each or less in weight)
1 tbsp kosher salt
1 tbsp black pepper
1 tsp lavender
1 tbsp olive oil
2 cloves garlic (crushed)
2 tbsp balsamic vinegar
1/2 cup burgundy (or red) cooking wine
1/2 cup chicken stock ( I made my own with one cube chicken bouillon)
2 tbsp brown sugar
1 tbsp honey
1/4 cup raspberries
Combine the salt, black pepper and lavender with a mortar and pestle to release all of the flavors.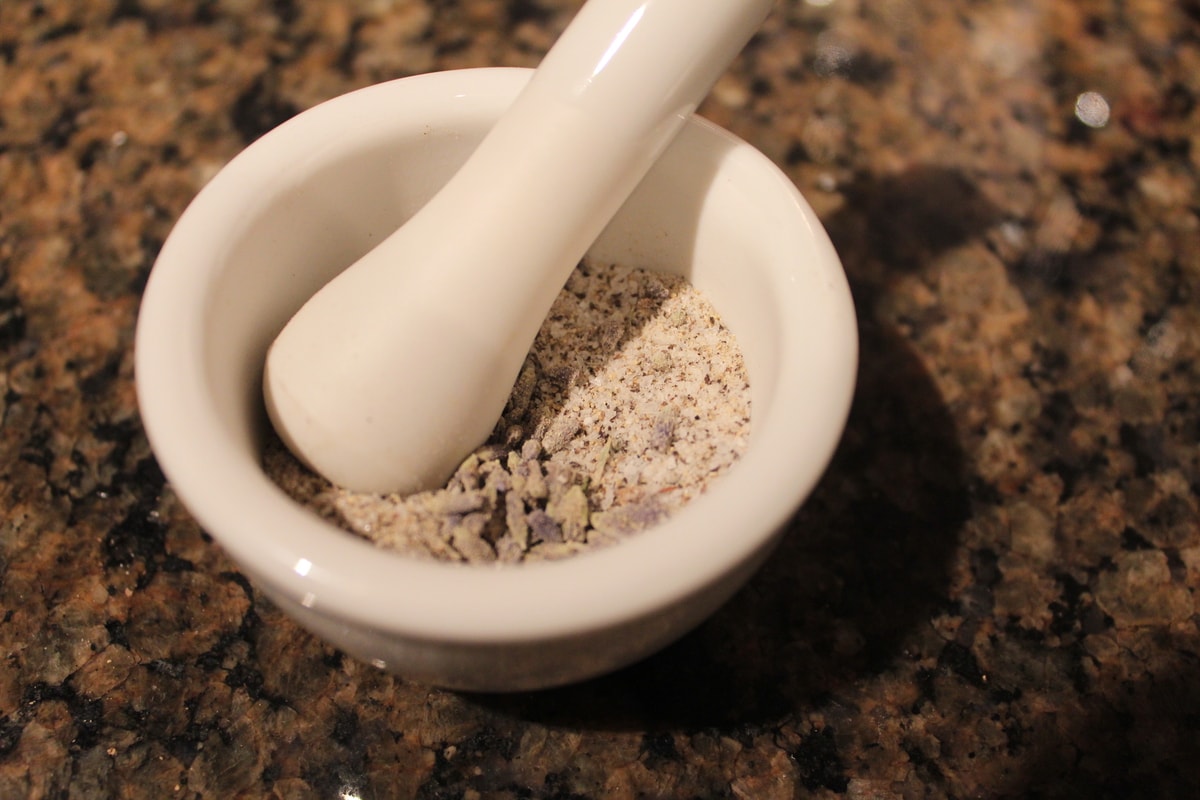 Rub the duck breast down on both sides with the mixture.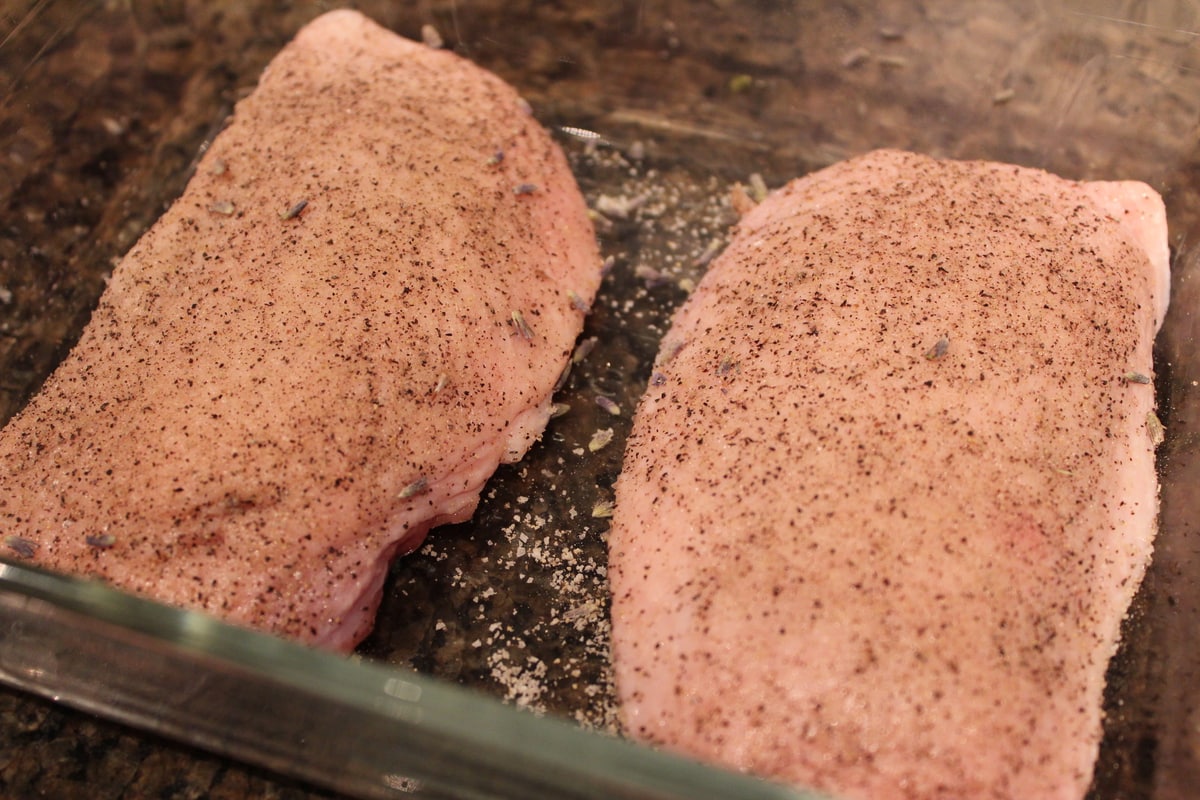 Allow to rest for 5-10 minutes while you heat the olive oil in an oven-safe pan or skillet.
Add the garlic to the olive oil and sauté for 30 seconds. Next add the duck breast, skin side down.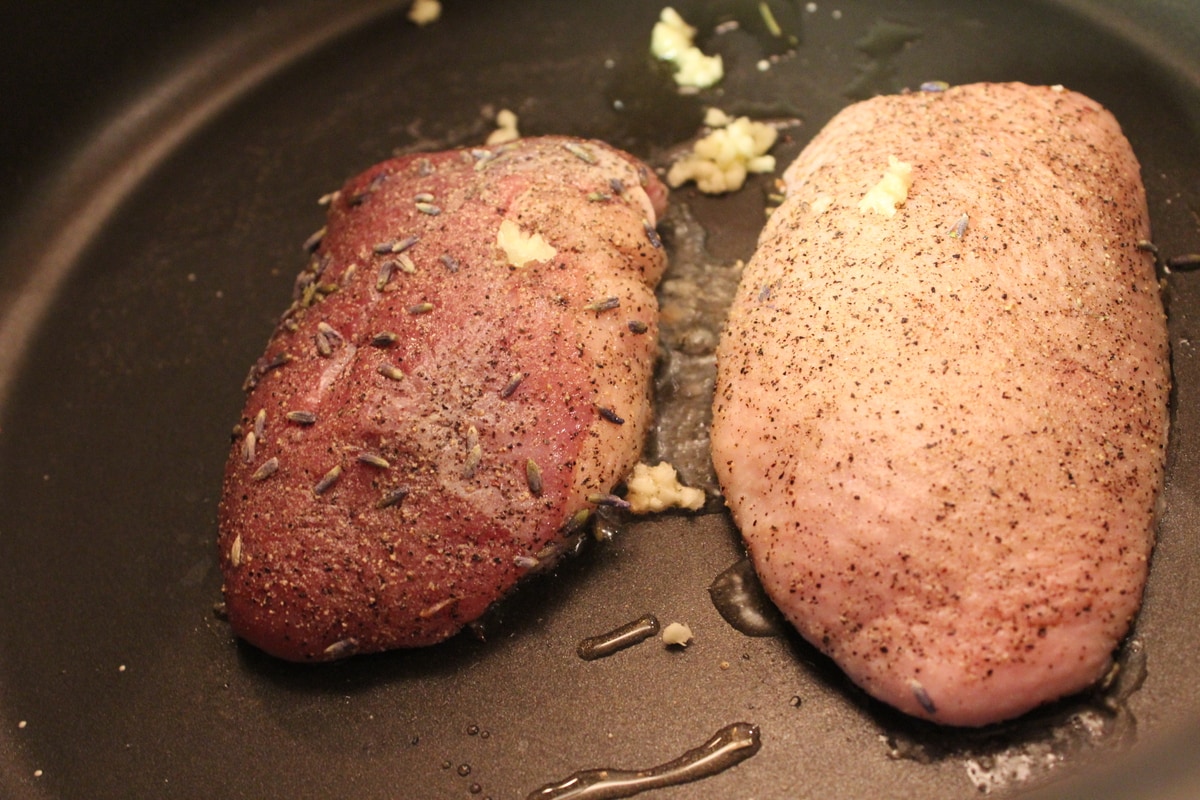 Cook for 5 minutes or until the skin starts to lightly brown, then flip and cook for an additional 5 minutes. Next move the duck into an oven pre-heated to 375° and cook for an additional 5 minutes in the oven.
Remove from the oven and place the duck in a separate pan.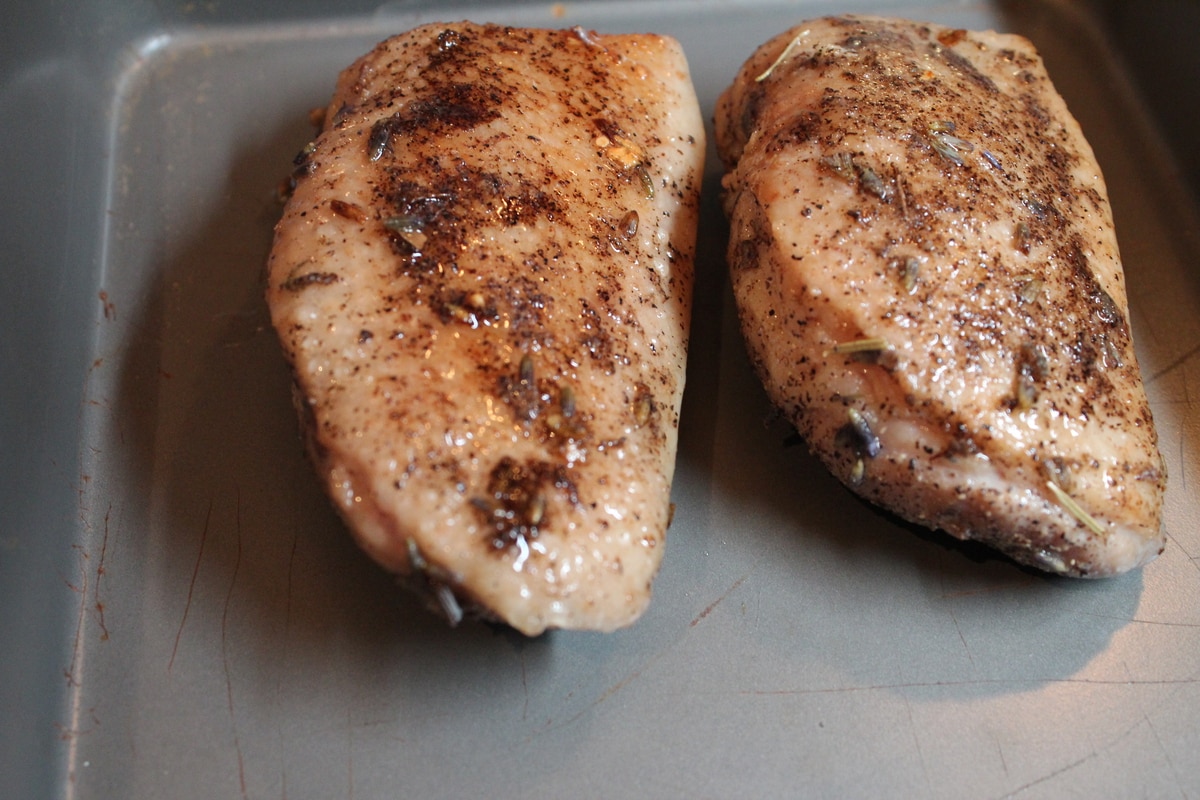 Cover with foil and allow to rest. Use the pan juices from the duck breast to make your reduction and raspberry chutney.
Start by adding the red wine and balsamic vinegar to the pan over medium-high heat. Allow to reduce to almost half, then add the chicken stock. Reduce by half again, then add the honey and brown sugar. Mix well, then lastly add the raspberries.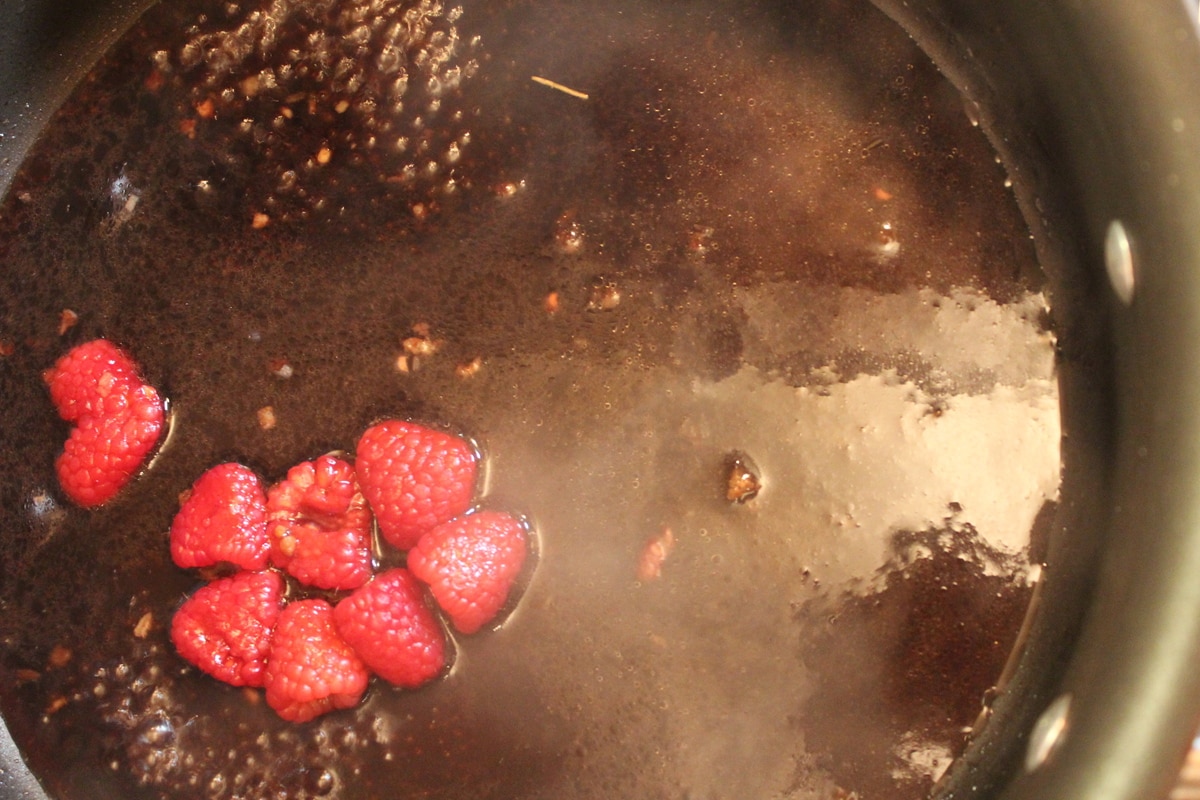 Crush the raspberries into the reduction. Allow to cook for 3-4 minutes then drain with a mesh strainer. This will separate the chutney from the reduction.
Return the duck breast to the pan and cook for 2 minutes on each side to bring some heat back to the duck.
Place the duck on a plate and glaze with the reduction, then top with the raspberry chutney.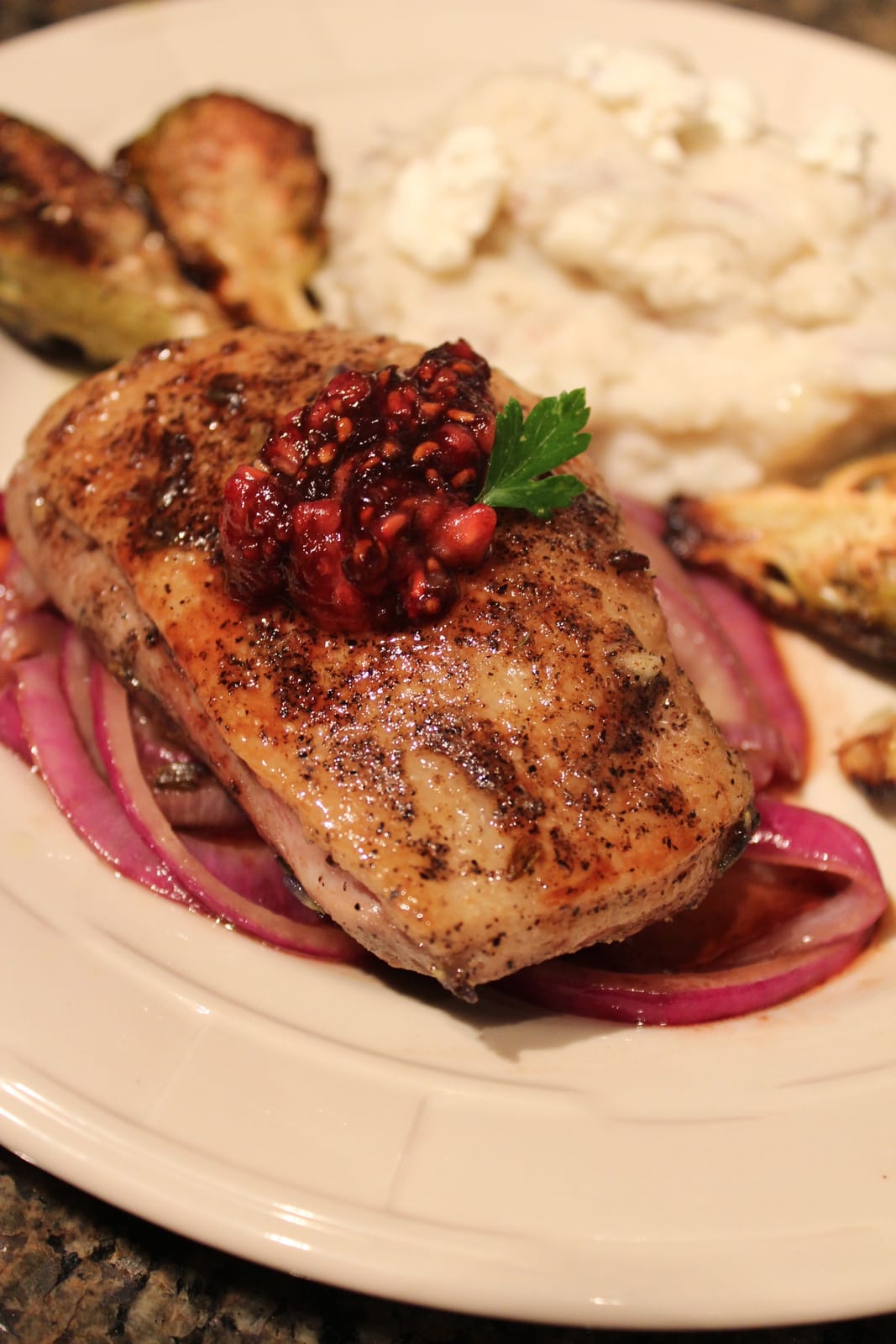 Packed with flavor, this was a dish I was definitely proud to serve my "movers"!
We are a participant in the Amazon Services LLC Associates Program, an affiliate advertising program designed to provide a means for sites to earn advertising fees by advertising and linking to amazon.com.