Chipotle Bacon Guacamole
This post may contain affiliate links.
Chipotle Bacon Guacamole is the perfect combination of spice, flavor and crisp bacon crunch! It's great for dipping up with chips, or served on top of tacos, sandwiches or burgers.
The bacon guacamole is gluten free. Serve it with a lettuce wrapped burger or Chipotle Lime Chicken Fajita Skewers for a delicious low carb meal, perfect for those on the keto diet!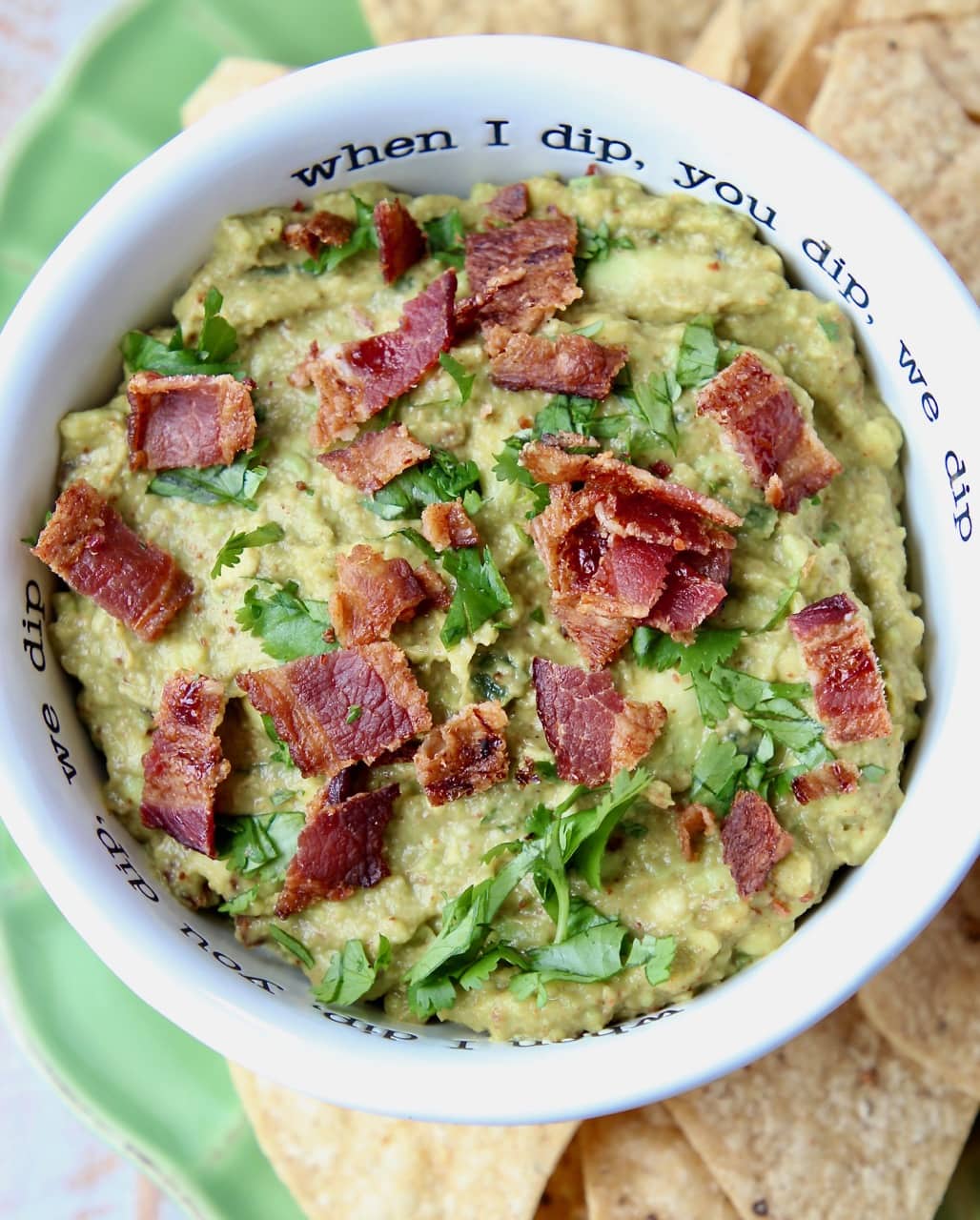 If your life motto is "always add bacon!" then this guacamole recipe is for you!
My friends Joe and Nicolle first introduced me to Bacon Guacamole many years ago and I've been making it for parties ever since. While it's always a hit at a get-together, it's also great to make during the week and toss on top of a number of dishes.
Same ol' scrambled eggs for breakfast? No way! Add Bacon Guacamole to take bacon and eggs to a whole new level!
Boring turkey sandwich for lunch? Not anymore! Add this Bacon Guacamole recipe to kick things up a notch!
Plain cheeseburger for dinner? Not in this house! We put Bacon Guacamole on our burgers!
Whether it's dipped up with chips, served on tacos, sandwiches, burgers or grilled chicken, you just can't beat the salty, smoky flavor of this Chipotle Bacon Guacamole!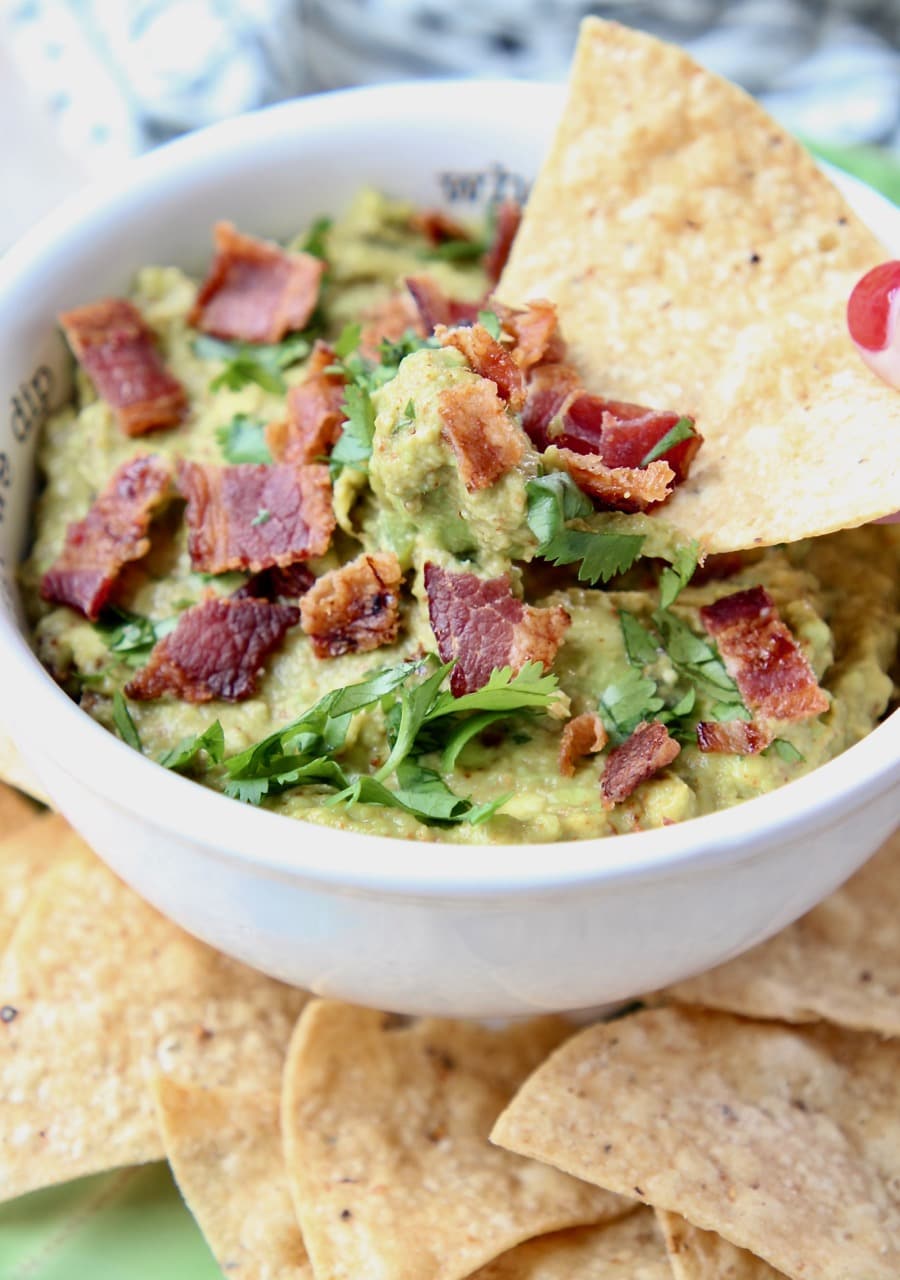 Step by step instructions
Add avocados to a large bowl and mash avocados with a fork or potato masher.
Stir in minced jalapenos, chipotle powder, ground cumin, paprika and salt.
Squeeze fresh lime juice into the guacamole, then stir in fresh cilantro and cooked, crumbled, crispy bacon.

Quick Tip! If you don't already have cooked, crumbled bacon on hand, use this quick and easy method for how to cook bacon in the oven. You'll need approximately 6 slices of cooked bacon to equal 1/2 cup of crumbled, cooked bacon, which is what you'll need for this recipe.
How to pick avocados for guacamole
You want to make sure you have ripe avocados to make delicious guacamole. To make sure your avocados are ripe, you want to give them a gentle squeeze. If they feel just slightly soft to the touch, they're perfect.
If they feel hard, you will need to wait until the avocados ripen, or you will have chunky, instead of creamy guacamole. To help the avocados ripen quickly, place them in a brown paper bag with an apple or banana.
If a gentle squeeze leaves an indentation in the avocado, that probably means it's too ripe and is going to be brown inside.
One of my tricks to keep avocados ripe for the maximum time is to store them in the refrigerator after they ripen. Once the avocados are soft to the touch or just a little before, transfer them to the refrigerator. They'll stay ripe, without turning brown, usually for 3-4 days.
How to keep guacamole fresh in the fridge
Guacamole will stay fresh in the fridge for up to 3 days. With proper storage, you can prevent the guacamole from turning brown. The trick is to make sure no air gets into the guacamole while it's stored.
To do this, press a piece of plastic wrap on top of the guacamole, before placing it in the refrigerator. Be sure to press out any air bubbles before storing the guacamole.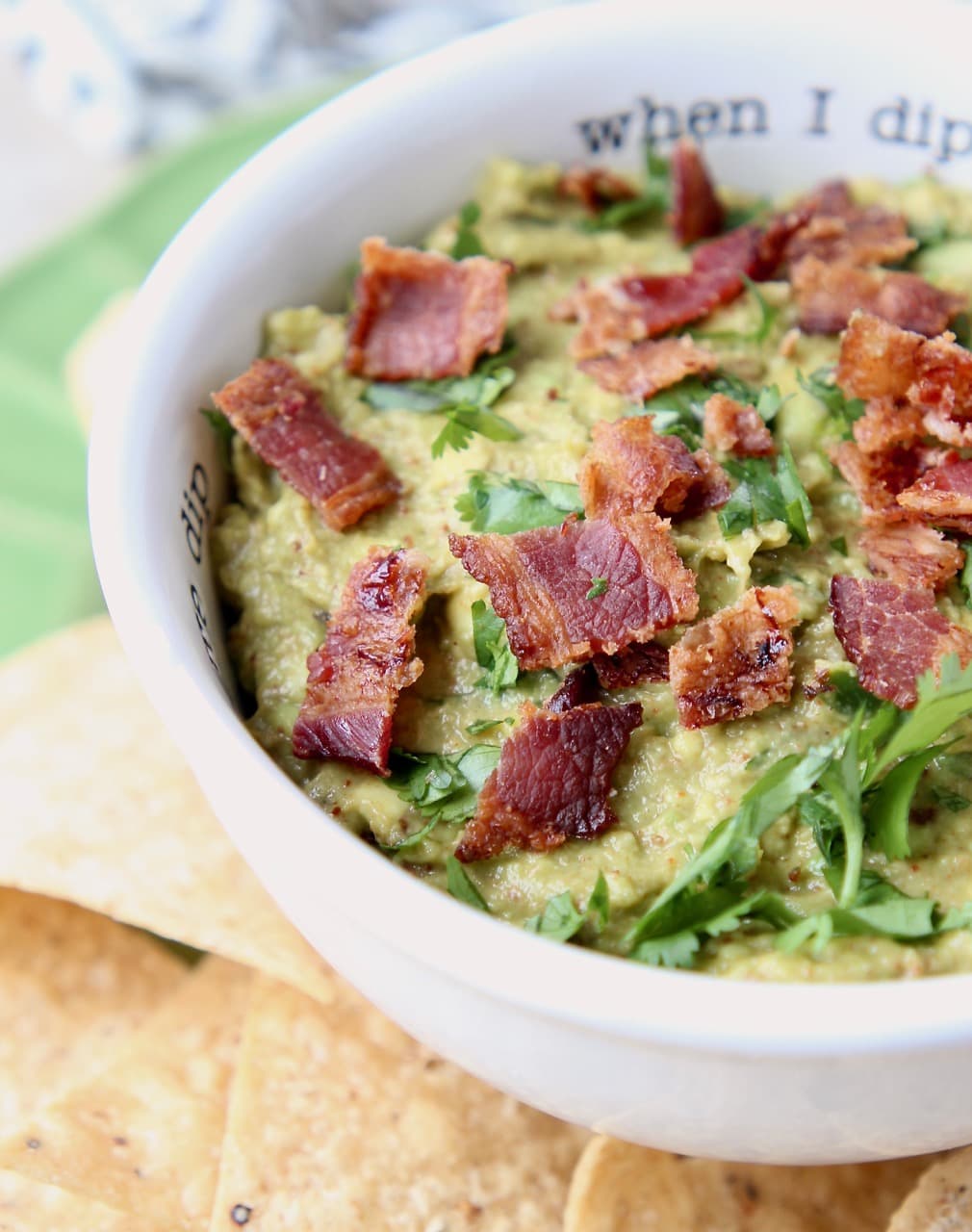 More guacamole recipes
The only thing extra about the guac in my house is how much I put on my tacos! Be sure to try these other delicious guacamole recipes.
Bacon Chipotle Guacamole
Chipotle Bacon Guacamole is the perfect combination of spice, flavor & crisp bacon crunch! It's great for dipping, or on tacos, sandwiches or burgers!
Instructions
Add the avocados to a large bowl and mash with a fork or potato masher.

Add the remaining ingredients and mix everything together.

Serve immediately or place in the refrigerator, covered with plastic wrap, until ready to serve.

Serve with chips or veggies for dipping, or serve on tacos, cheeseburgers, sandwiches or grilled chicken.
Notes
Storing: The guacamole can be stored in the refrigerator for up to 3 days. Be sure to press plastic wrap on the guacamole and make sure no air bubbles exist before storing the refrigerator. This will prevent browning.
Bacon: To make bacon for this guacamole, I like to use my easy oven baking method. Place 4-6 strips of bacon on a wire rack, on top of a foil lined baking sheet. Bake in a 400°F oven for 20 minutes or until the bacon is crispy. Remove and place the bacon on paper towels to drain the grease. Once cooled, crumble the bacon and add it to the guacamole.
Nutrition Facts
Calories
455
kcal
(23%)
Carbohydrates
24
g
(8%)
Protein
6
g
(12%)
Fat
41
g
(63%)
Saturated Fat
6
g
(30%)
Cholesterol
3
mg
(1%)
Sodium
453
mg
(19%)
Potassium
1317
mg
(38%)
Fiber
18
g
(72%)
Sugar
2
g
(2%)
Vitamin A
925
mg
(19%)
Vitamin C
33.8
mg
(41%)
Calcium
32
mg
(3%)
Iron
1.9
mg
(11%)
We are a participant in the Amazon Services LLC Associates Program, an affiliate advertising program designed to provide a means for sites to earn advertising fees by advertising and linking to amazon.com.