The Best Veggie Burger with Black Beans & Sweet Potatoes
This post may contain affiliate links.
Quinoa, sweet potatoes, black beans & veggies are combined in this healthy, gluten free, black bean veggie burger recipe. These veggie burgers can be prepped ahead of time and stored in the refrigerator or freezer!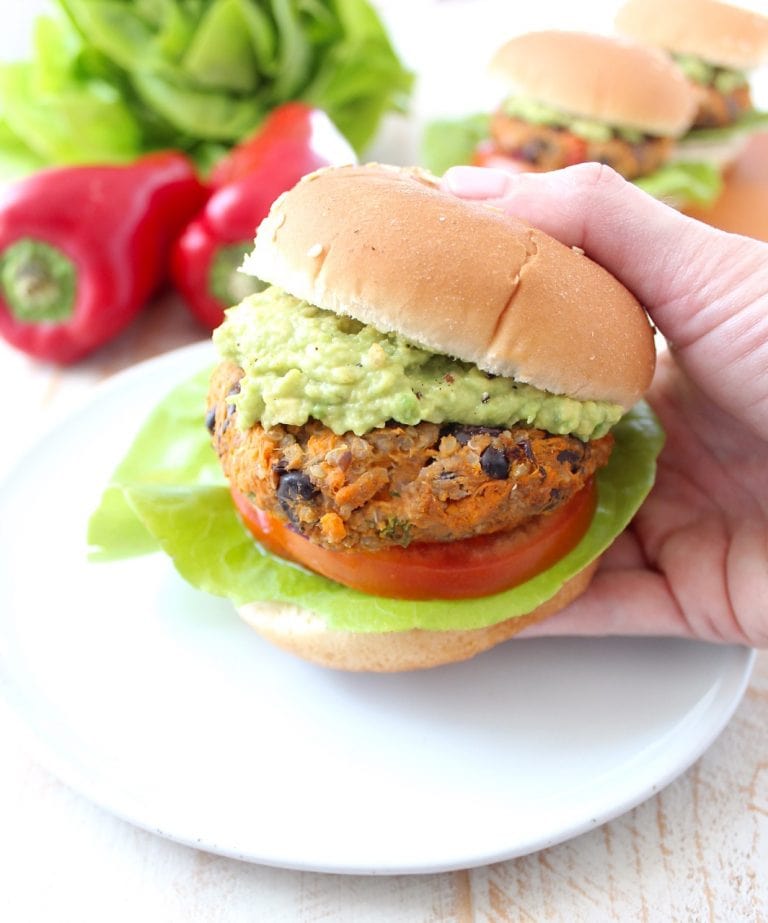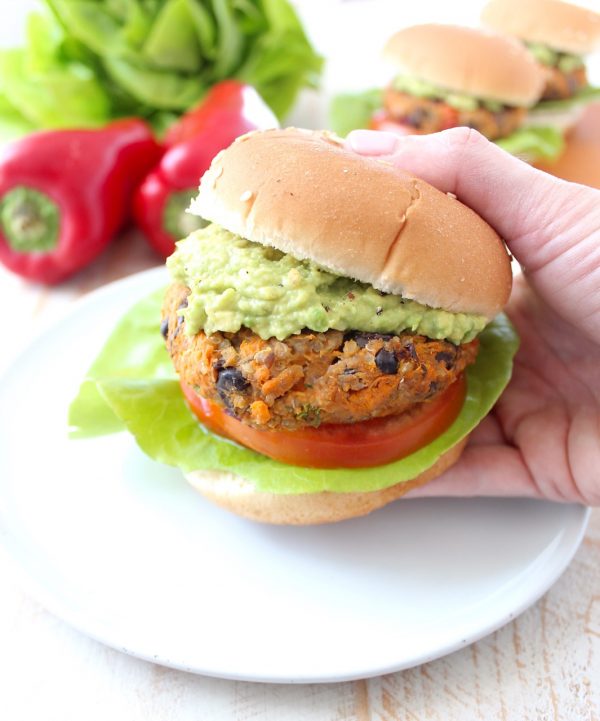 Over the years I've tried many veggie burgers, from homemade, to restaurants, to pre-packaged at the grocery store, you always get one of two things, a burger filled with veggies or a vegetarian burger that's masquerading as a meat burger, which tastes more like meat than veggies.
While I've had great versions of both, I tend to prefer the veggie-filled burgers. Since I'm not a vegetarian, when I eat veggie burgers I'm not trying to replace a beef or turkey burger, I'm simply looking for a super flavorful and unique way to go meatless and add more veggies to my diet!
After years of working on creating the perfect veggie burger, I'm here today to introduce you to The Best Veggie Burger you'll ever have!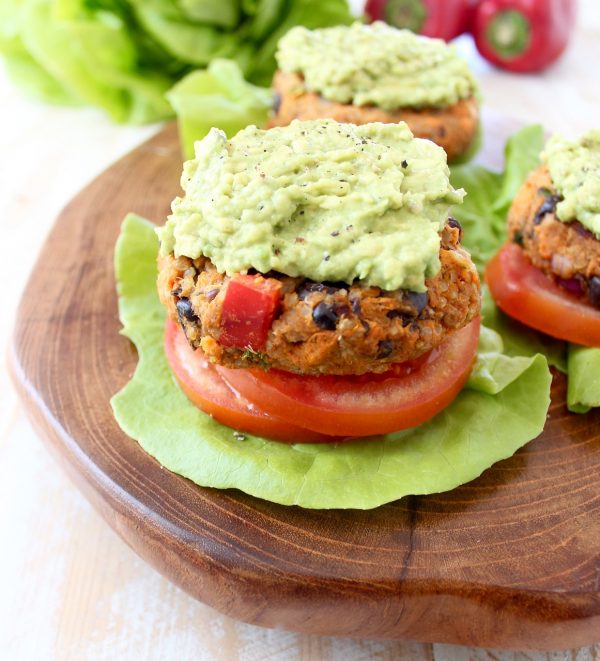 What is in a black bean veggie burger?
Gluten free black bean burgers are filled with a combination of quinoa, black beans, sweet potatoes, jalapenos, red peppers, onions, egg, crushed rice chex (or gluten free breadcrumbs) and spices.
Are veggie burgers good for you?
This black bean veggie burger recipe is very good for you. Each veggie burger patty only contains 130 calories and 1 gram of fat, yet provides 6 grams of fiber, 150% of your daily Vitamin A needs, 19% of daily Vitamin C needs and 11% of your daily iron needs.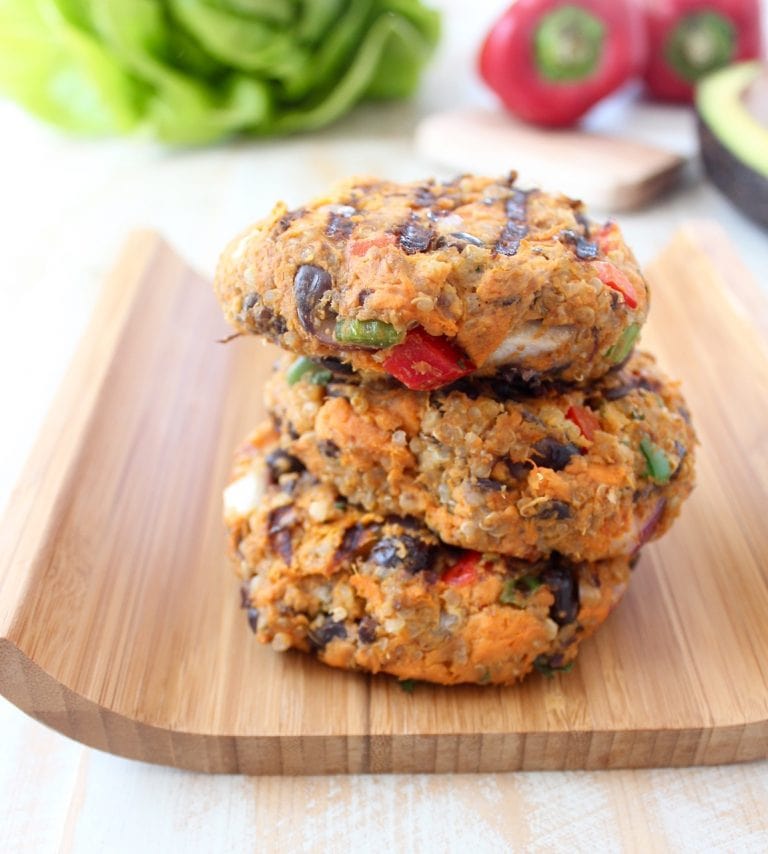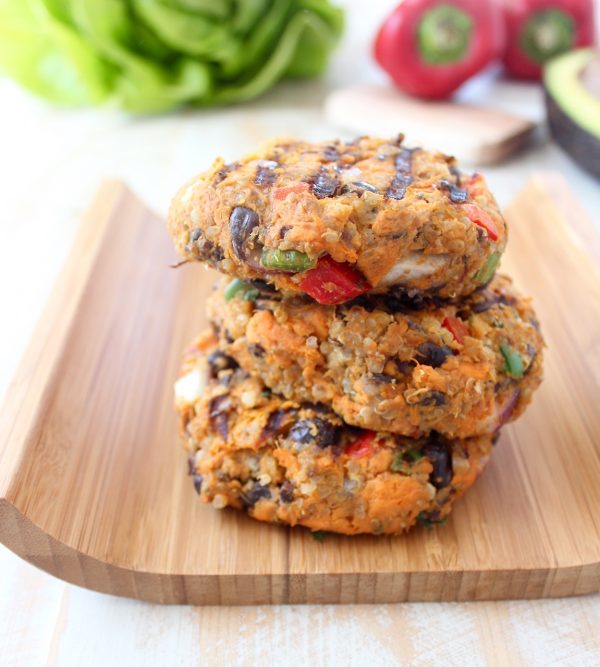 What sauce to put on veggie burgers?
I top these veggie burgers with mashed avocado and usually a drizzle of hot sauce. This Vegan Ranch Dressing would also be delicious drizzled over these gluten free veggie burgers or a dollop of this Green Tahini Sauce.
What goes with Veggie Burgers?
Gluten Free Sweet Potato Tots, Rosemary Parmesan Fries, Buffalo Potato Salad or a Grilled Tomato Kale Salad are all great options to go with this Sweet Potato Black Bean Burger Recipe.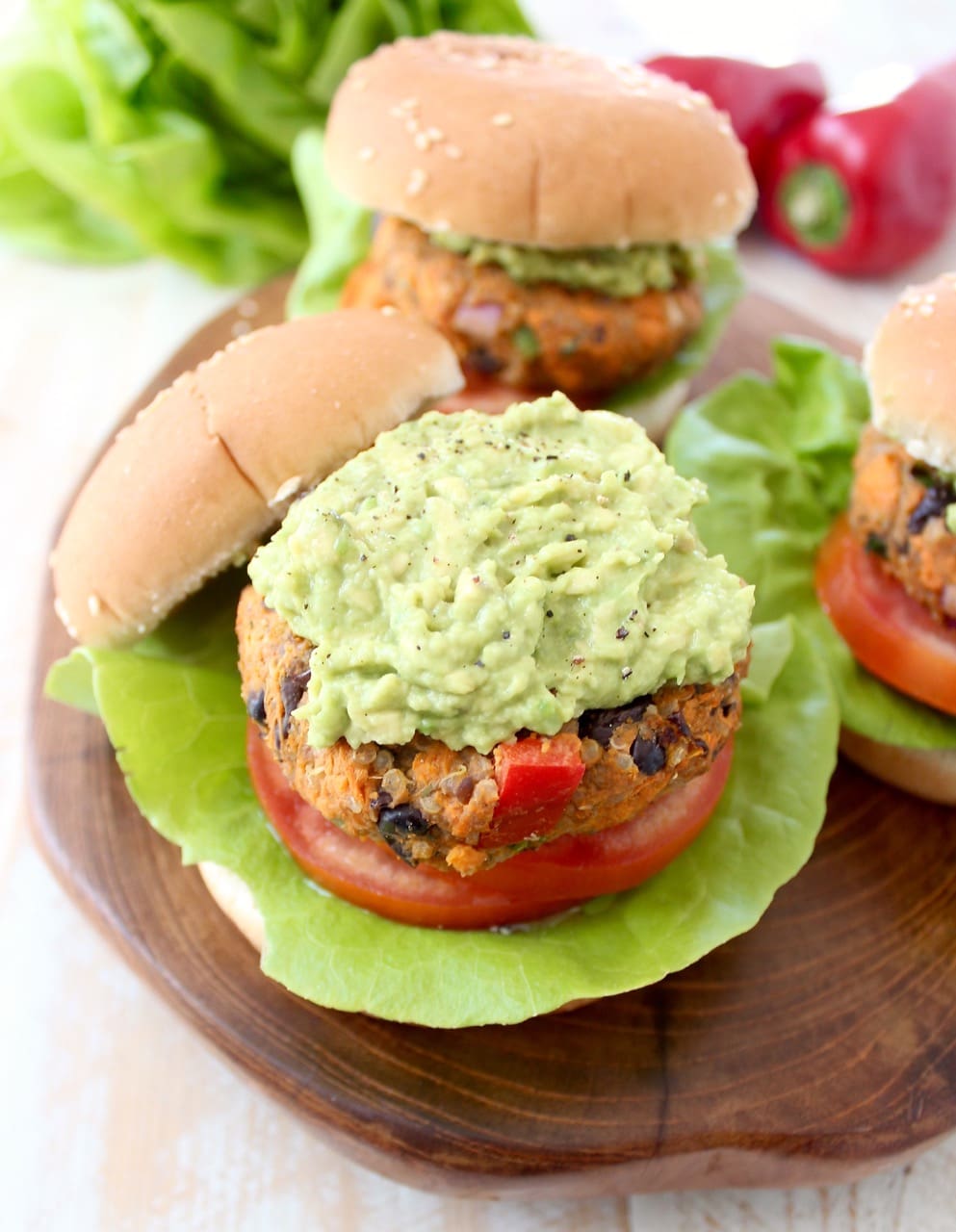 Can I freeze black bean burgers?
Yes! I like to place each black bean veggie burger in it's own plastic zipper bag before placing it in the freezer, so that I can take one out at a time to eat for a meal. If you're planning to eat more than one at a time, you can freeze 2 or more together, but be sure to place wax paper between each burger so that they do not stick together.
To thaw the veggie burgers, I place them in the refrigerator the day before, then cook them according to the recipe below. If you don't have that much time, you can use the defrost function on your microwave to thaw them quicker. If you go straight from the freezer to the grill, or a skillet on the stove, the outside of the burgers will burn before the inside gets cooked completely, so you will want to thaw them out before cooking them.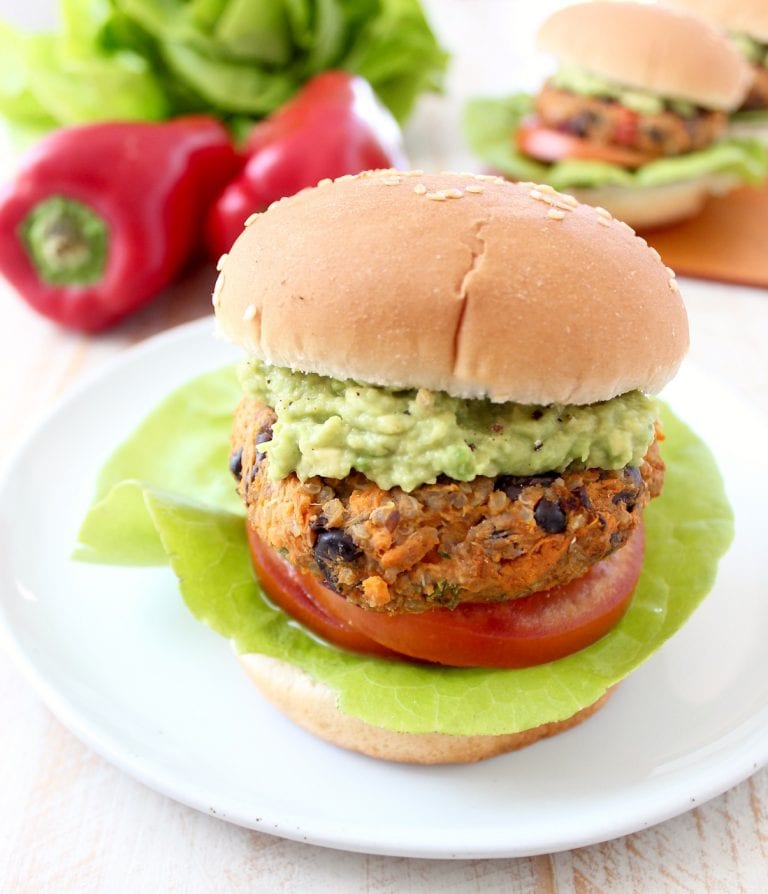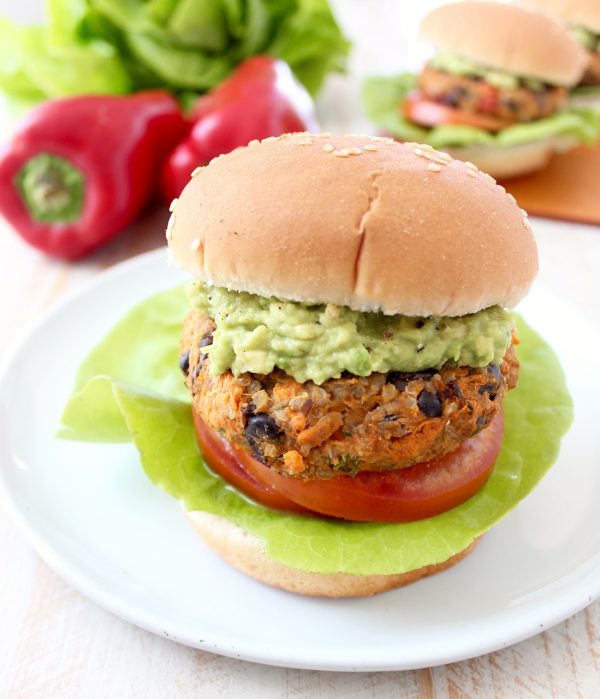 Tools & Pantry Items Used To Make Black Bean Veggie Burgers:
Sweet Potato Black Bean Veggie Burgers
Quinoa, sweet potatoes, black beans & veggies are combined in this healthy, gluten free, black bean veggie burger recipe, which can be prepped ahead and stored in the refrigerator or freezer!
Ingredients
1

lb

sweet potatoes

,

peeled & cubed

15

oz

can black beans

1

cup

cooked quinoa

1/2

cup

red onion

,

diced

1/2

cup

red bell pepper

,

diced

1

jalapeno

,

de-seeded & diced

2

cloves

garlic

,

crushed

1

tsp

ground cumin

1/2

tsp

ground chipotle powder

1

tsp

fresh cilantro

,

chopped

1/4

cup

rice chex cereal

,

crushed

1

egg
Optional - For Serving
9

hamburger buns

9

butter or iceberg lettuce leaves (for wrapping)

1

avocado

,

mashed

1

tomato

,

sliced
Instructions
Boil a large pot of water. A

dd the sweet potatoes to the boiling water, cook for 15-20 minutes, or until fork tender.

While the potatoes are boiling, rinse and drain the black beans. Add 1 cup of the beans to a large mixing bowl and smash with a fork to create a paste to hold the burgers together.

Drain the sweet potatoes and add them to the smashed beans. Smash them into the mixture with a fork without turning them into a puree.

Add the cooked quinoa to the mixing bowl.

Add the chopped onion, red pepper, jalapeño, garlic and the remaining whole black beans.

Add the cumin, chipotle pepper, cilantro, crushed rice chex and egg.

Mix together, then use your hands to form into 9 patties.

Place the burgers on a grill over medium heat for 10 minutes, flip and grill for an additional 10 minutes.
Notes
The nutritional information provided is for each veggie burger patty and does not contain any toppings or hamburger buns.
Other Cooking Methods: Place the burgers on a baking sheet in a 375°F oven for 20 minutes, flipping half-way through, or cook them in a cast iron skillet on the stove over medium heat for 10 minutes per side.
Gluten free breadcrumbs can be substituted for the crushed rice chex cereal.
Nutrition Facts
Calories
130
kcal
(7%)
Carbohydrates
25
g
(8%)
Protein
6
g
(12%)
Fat
1
g
(2%)
Saturated Fat
1
g
(5%)
Cholesterol
18
mg
(6%)
Sodium
227
mg
(9%)
Potassium
392
mg
(11%)
Fiber
6
g
(24%)
Sugar
3
g
(3%)
Vitamin A
7499
mg
(150%)
Vitamin C
16
mg
(19%)
Calcium
46
mg
(5%)
Iron
2
mg
(11%)
We are a participant in the Amazon Services LLC Associates Program, an affiliate advertising program designed to provide a means for sites to earn advertising fees by advertising and linking to amazon.com.