Caprese Pasta
This post may contain affiliate links.
This flavorful Caprese Pasta recipe, with fresh basil, cherry tomatoes and mozzarella, is so delicious and easy to make in less than 30 minutes! It's guaranteed to become a new weeknight family favorite!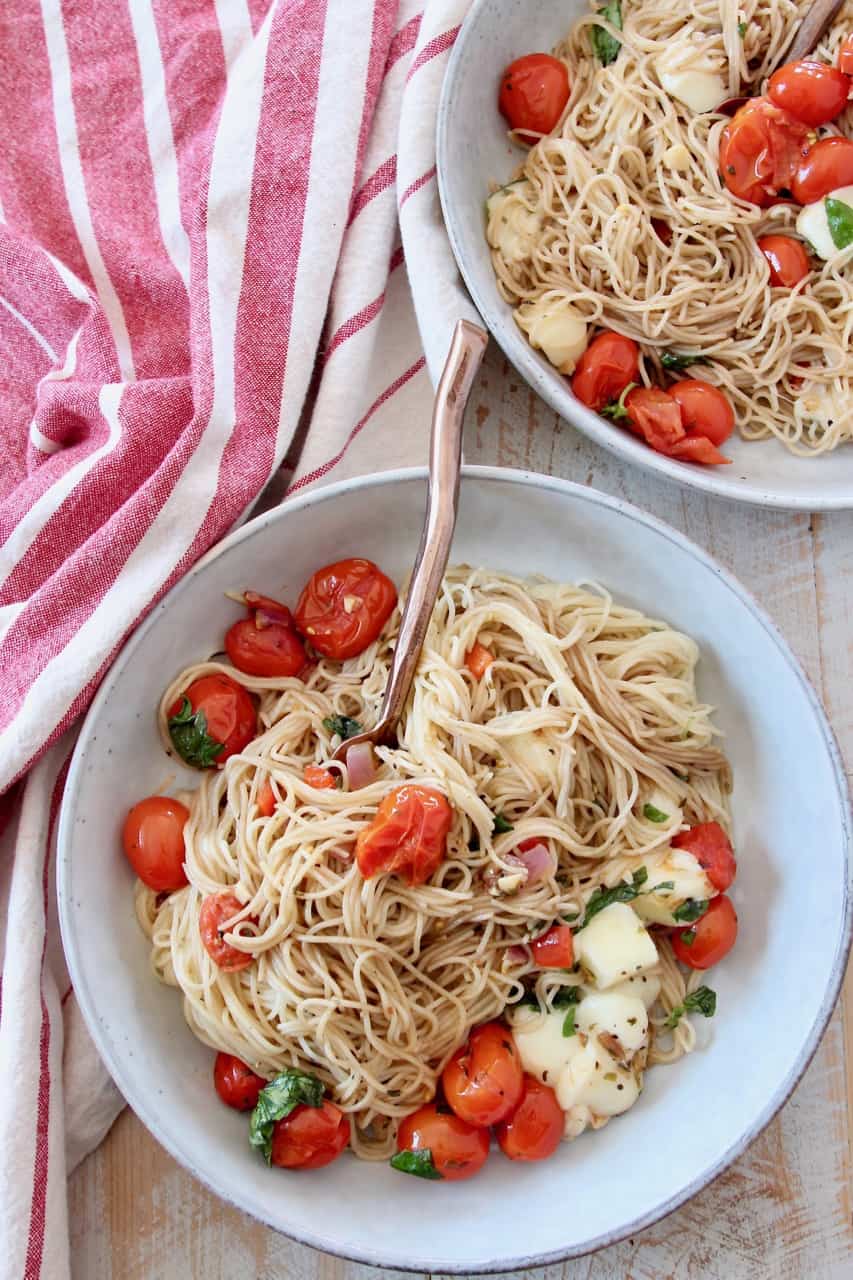 Light, fresh and flavorful, the three perfect words to describe this easy caprese pasta recipe! This is one of those dishes that you can eat over and over again. I promise, I would know, because I have!
In this recipe, the classic caprese salad, which combines mozzarella cheese, tomatoes and fresh basil, is transformed into your new favorite pasta dish. It's easy to make in just 20 minutes, perfect for weeknight meals.
Since the stars of the show in this recipe are the fresh basil, tomatoes and mozzarella, you want to use the best, freshest ingredients possible!
In this recipe, you'll see that I don't add the basil until the very end. This is because prolonged heat will cause the basil oils to dissipate, which reduces the distinct flavor. And in this recipe, we're going for maximum fresh flavor!
Ingredients
Angel hair pasta – while other varieties of pasta can be used, I highly recommend trying it first with the angel hair pasta. This thin, delicate pasta pairs perfectly with the light, fresh flavors of this dish.
Olive oil
Red onion
Red bell pepper – green, orange or yellow bell pepper can also be used, it's really up to your preference!
Garlic
Grape tomatoes – cherry tomatoes can be swapped in if you'd like.
Lemon juice – I always recommend fresh-squeezed for the best flavor!
Italian seasoning – you can purchase a pre-made seasoning mix at the grocery store, or use the link to the left to make my easy homemade seasoning in less than 5 minutes!
Salt
Black pepper
Balsamic vinegar
Olive oil
Fresh basil leaves – simply snip the basil right from the root, rinse it, pat it dry, then roughly chop it. For this recipe, I used all of the basil from the package you see pictured above.
Mozzarella cheese – I recommend a whole milk, low moisture fresh mozzarella cheese if possible. This will lightly melt into the pasta and add a nice creamy, texture to the dish.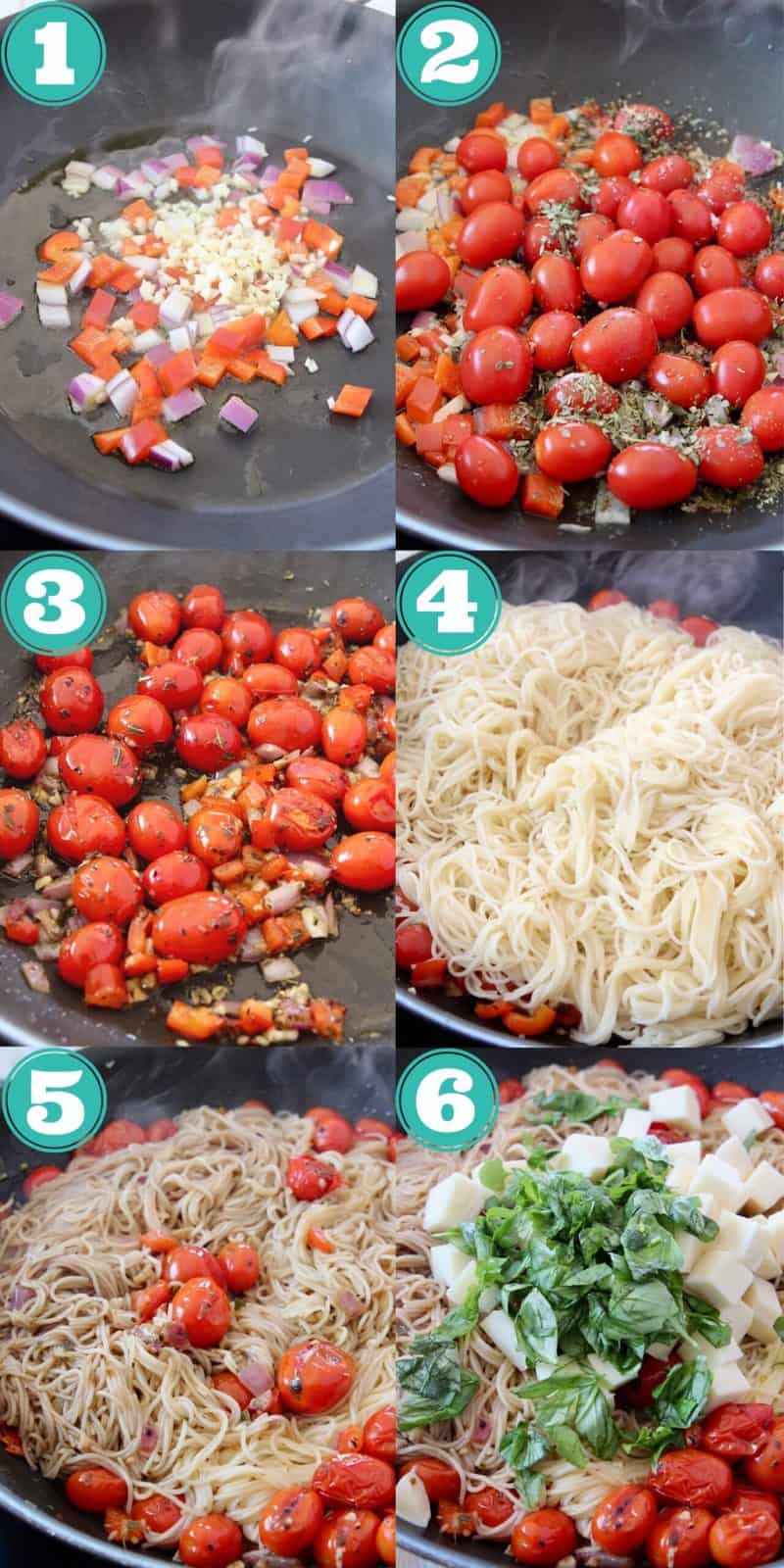 Instructions
It's so easy to make this caprese pasta recipe. Simply boil the angel hair pasta according to the package directions, then drain and set aside. Next, follow these 6 simple steps to toss the pasta together in no time!
Heat a large skillet on the stove over medium-high heat. Add the bell pepper and onion, saute 2-3 minutes, then add the garlic and saute for an additional minute.
Add the tomatoes to the skillet with Italian seasoning, lemon juice, salt and pepper.
Cook, stirring occasionally, until the tomatoes begin to burst, about 6-8 minutes.
Add the cooked pasta to the skillet with the tomatoes.
Add olive oil and balsamic vinegar and toss everything together.
Remove the skillet from the heat and add the mozzarella cheese and fresh basil.
Easy as that, the dish is ready to serve immediately for a delicious Italian meal!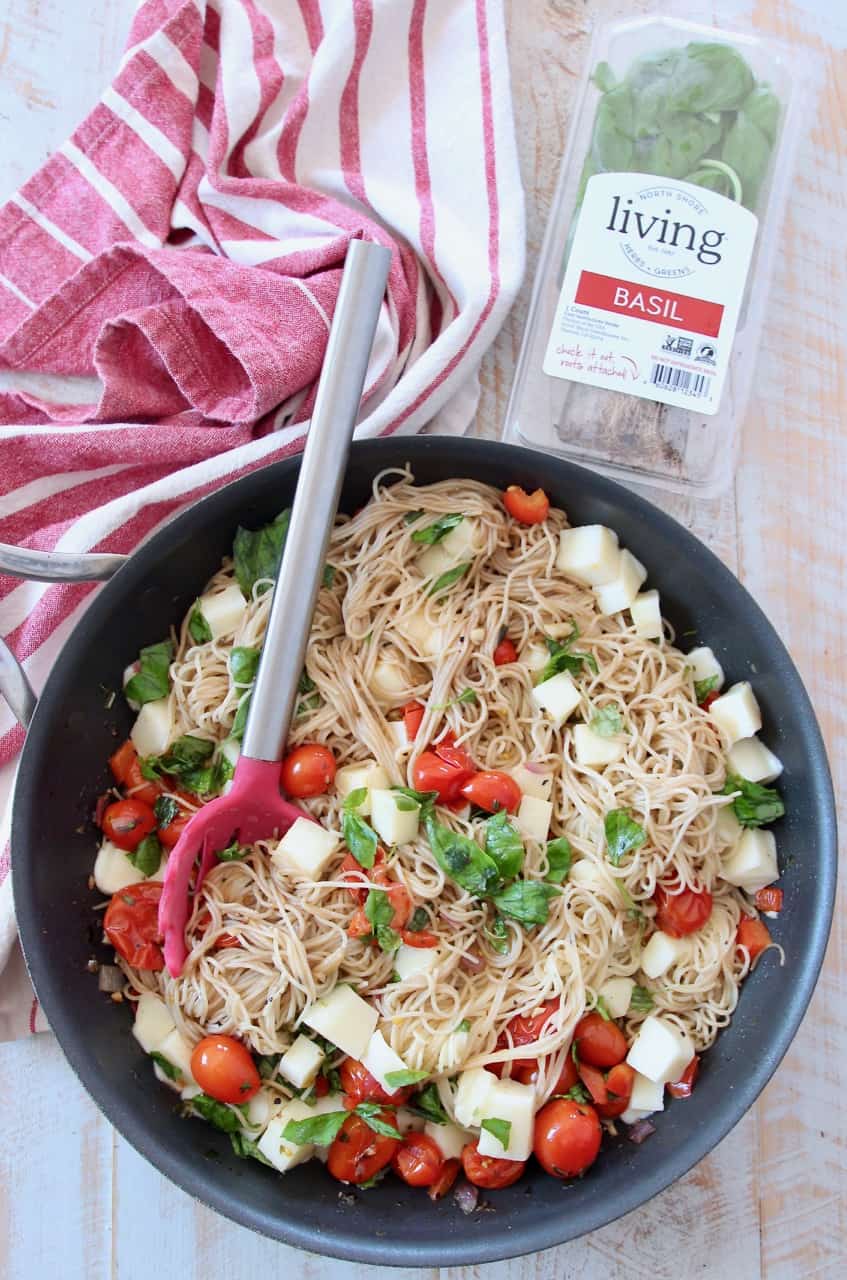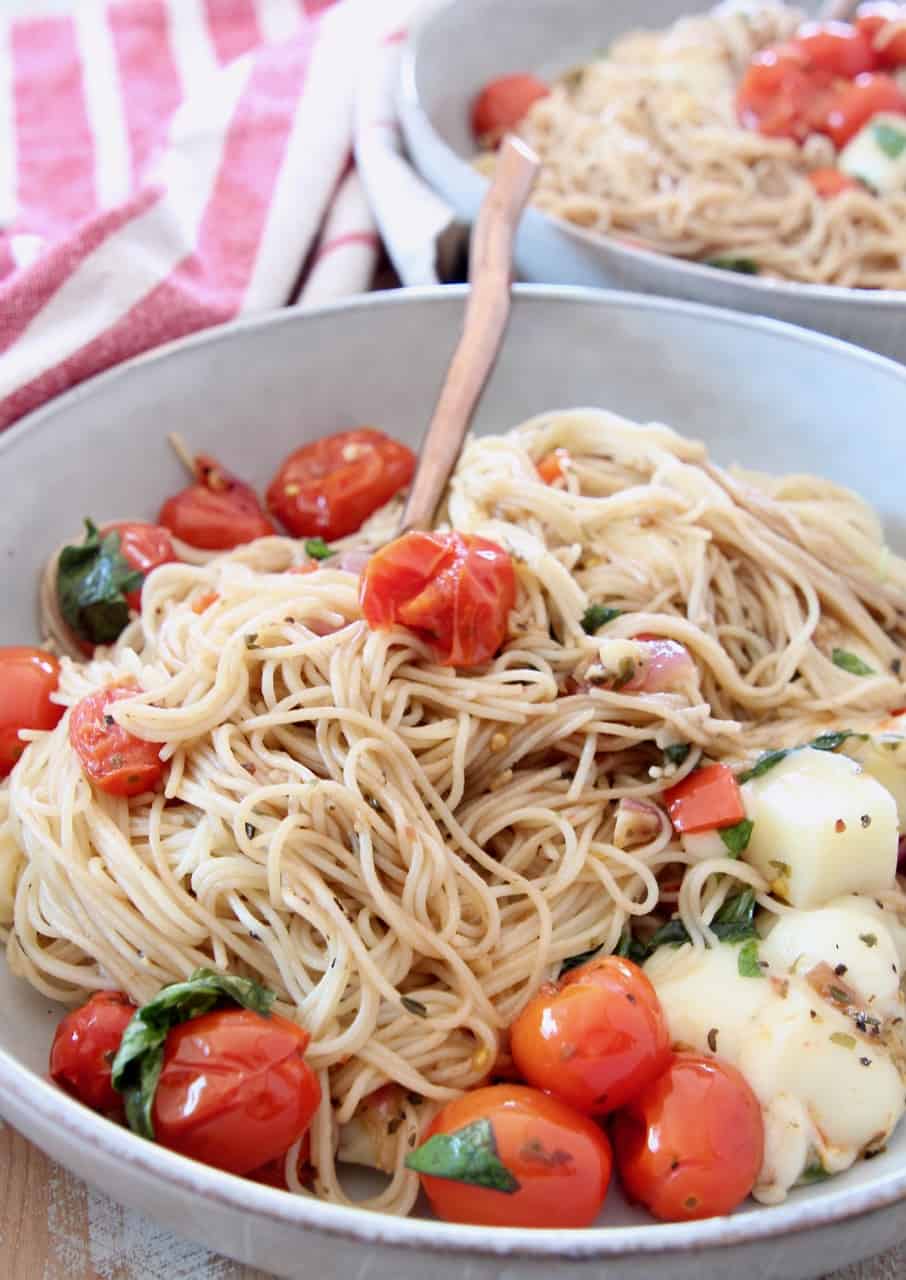 We are a participant in the Amazon Services LLC Associates Program, an affiliate advertising program designed to provide a means for sites to earn advertising fees by advertising and linking to amazon.com.