How to Make Your Own Photo Booth
This post may contain affiliate links.
I constructed a homemade photo booth for my housewarming party last weekend with the help of my roommate's girlfriend Doni.
It was a smashing success so I wanted to veer from food for the day to share how to make your own totally fun, yet budget friendly, homemade photo booth!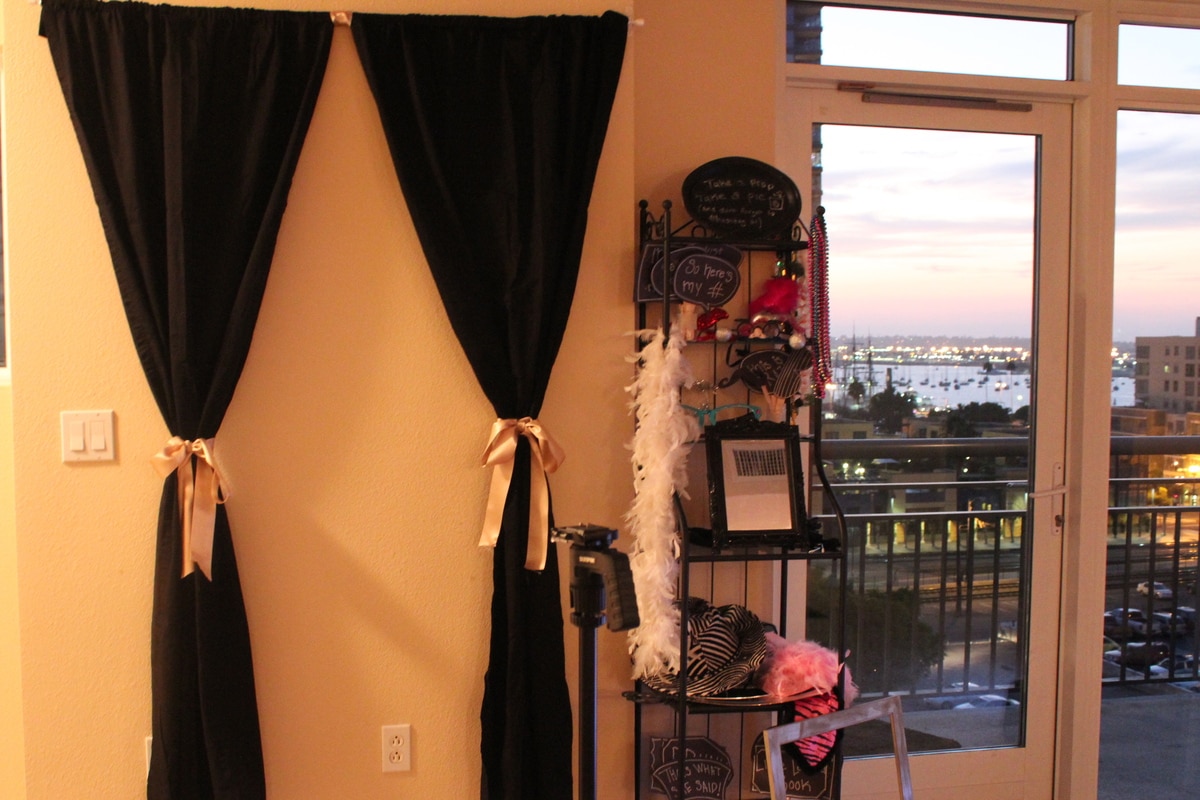 Supplies Needed
48 Inch Dowel Rod (or shower tension rod) ($2-$4, available at Walmart, Target, Home Depot)
Pair of Curtains ($5-$10, available at Walmart, Target, Bed Bath and Beyond)
Ribbon for tie-backs ($2-$4, available at Walmart, Michael's)
2 medium Command adhesive hooks ($6-$8, available at Walmart, Target, Michael's)
Tripod (or stand for camera)
2 chalkboard signs (see instructions below on how to make your own)
Optional Props
Word or phrase signs
Large Empty Frame
Neck-wear (beads, leis, ties, boas)
Headwear (hats, glasses, tiaras)
Hand-wear (gloves)
"Action" Props (plastic sword, pom-poms)
Start assembling the actual photo booth wall by placing the Command hooks on the wall. These are great for this kind of project because they do not leave any damage on the wall after the party.
Next, place the curtain on to the dowel or tension rod, then simply place the tension rod in the command hooks.
Next, tie each curtain panel in the middle with the ribbon.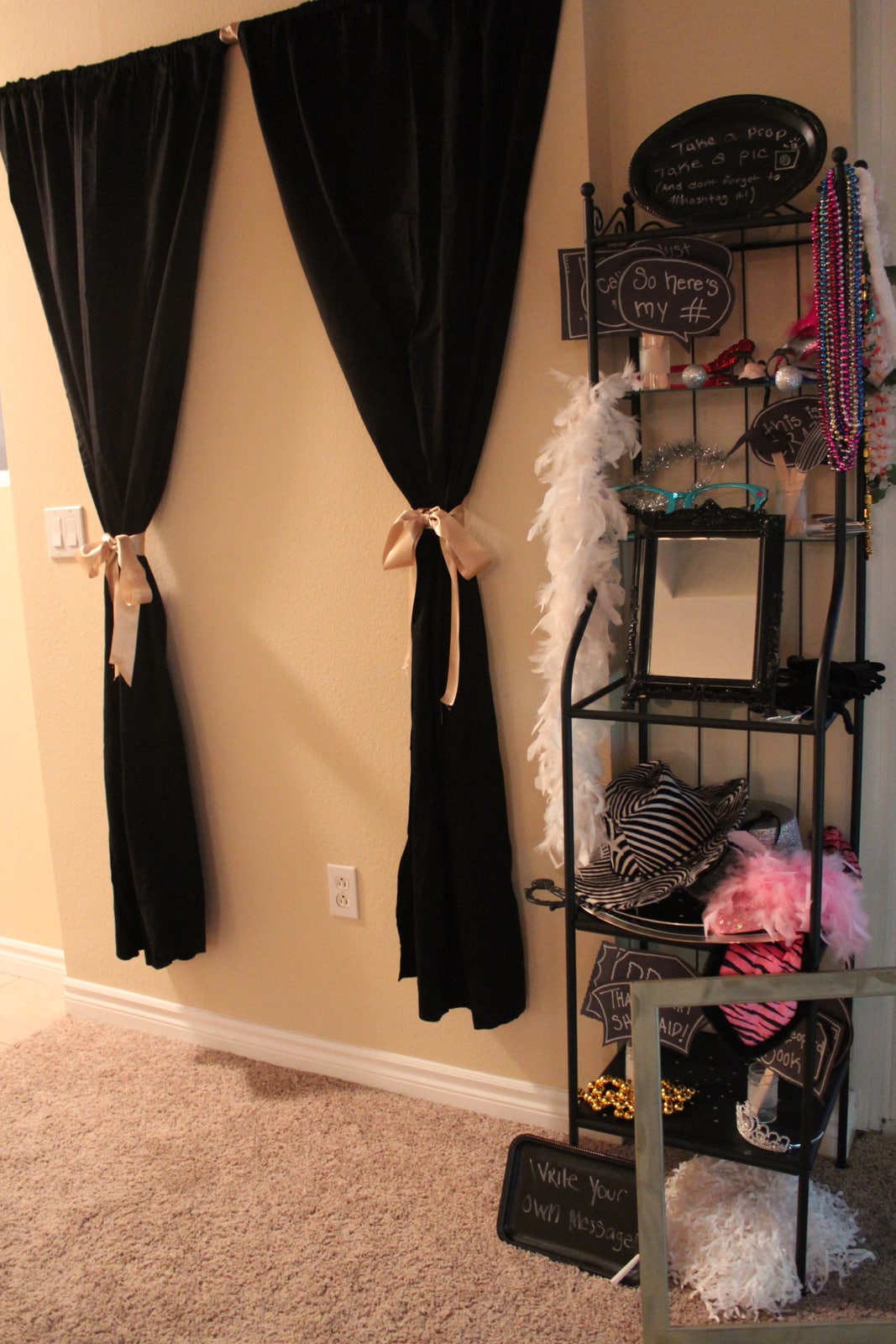 Now it's time to prepare the props.
I loved having the large empty frame for people to hold and pose in. If you would like one too, it's very simple to do-it-yourself!
I purchased the frame at a thrift store for $3.99 and then purchased a can of spray paint at Michael's for $6.99.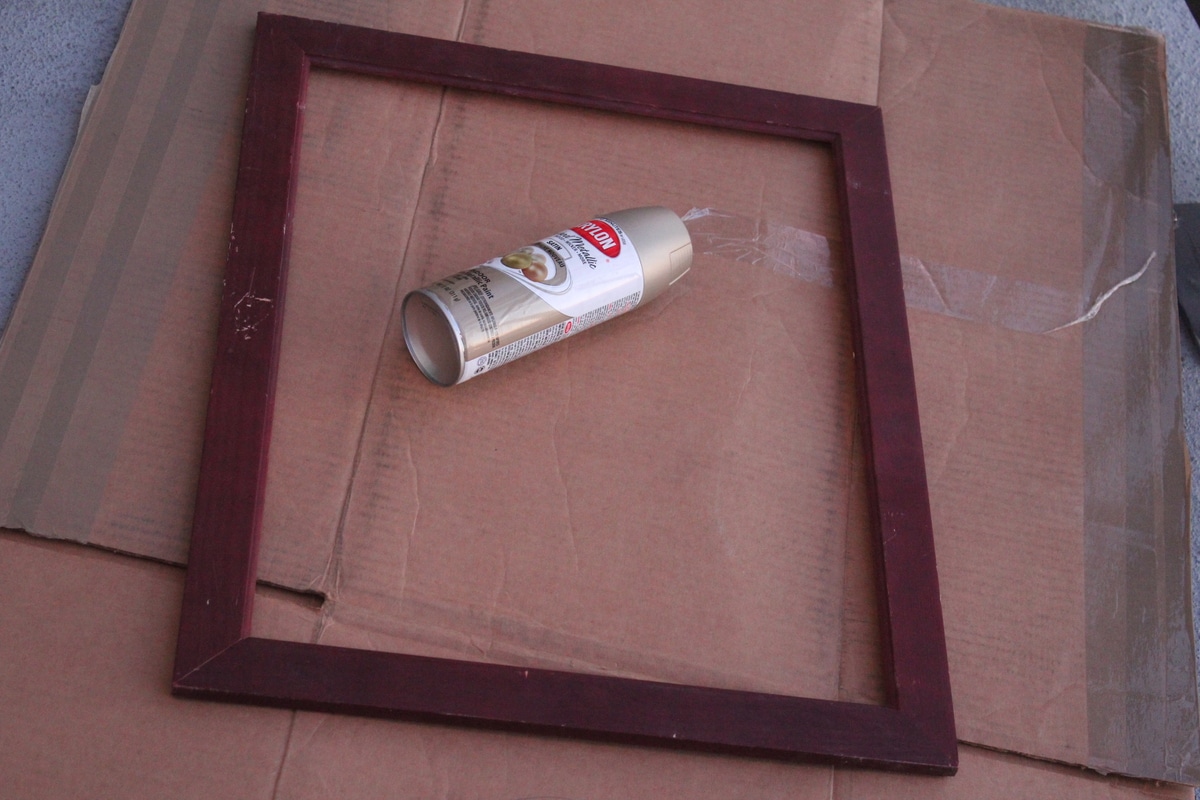 I spray painted the frame with two layers of paint then allowed to dry. The next morning I sanded the frame down to give it more of an antique look. The final result…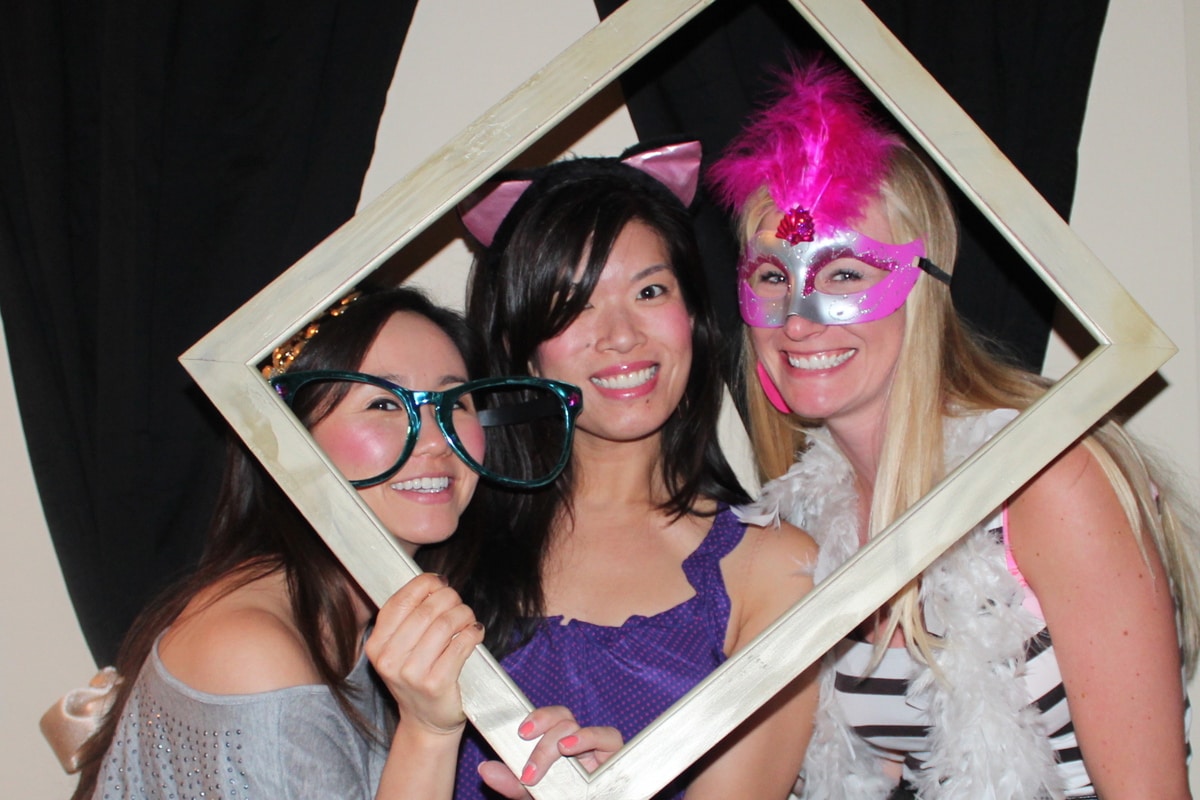 A super fun way to "frame yourself" in the photo booth!
Next up on the do-it-yourself portion of the photo booth were the chalkboards.
I purchased two silver trays and a tray stand from the dollar store for.. $1 each (obvi!) then found an old Ikea magnetic board (still available at Ikea for $12.99) and used chalkboard spray paint ($3.99 at Walmart or $6.99 at Michaels) to turn all of these items into chalkboards.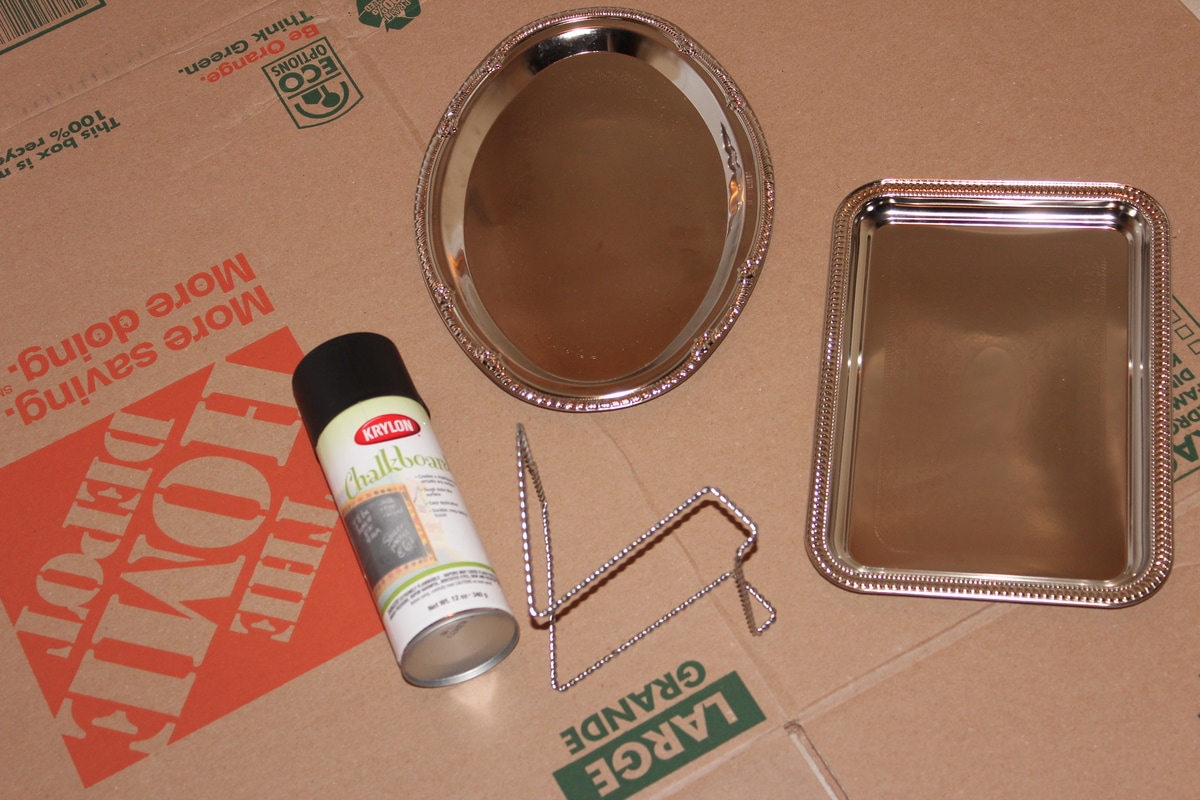 I used one of the silver trays as an "instructional board" in which Doni came up with this very cute rhyme!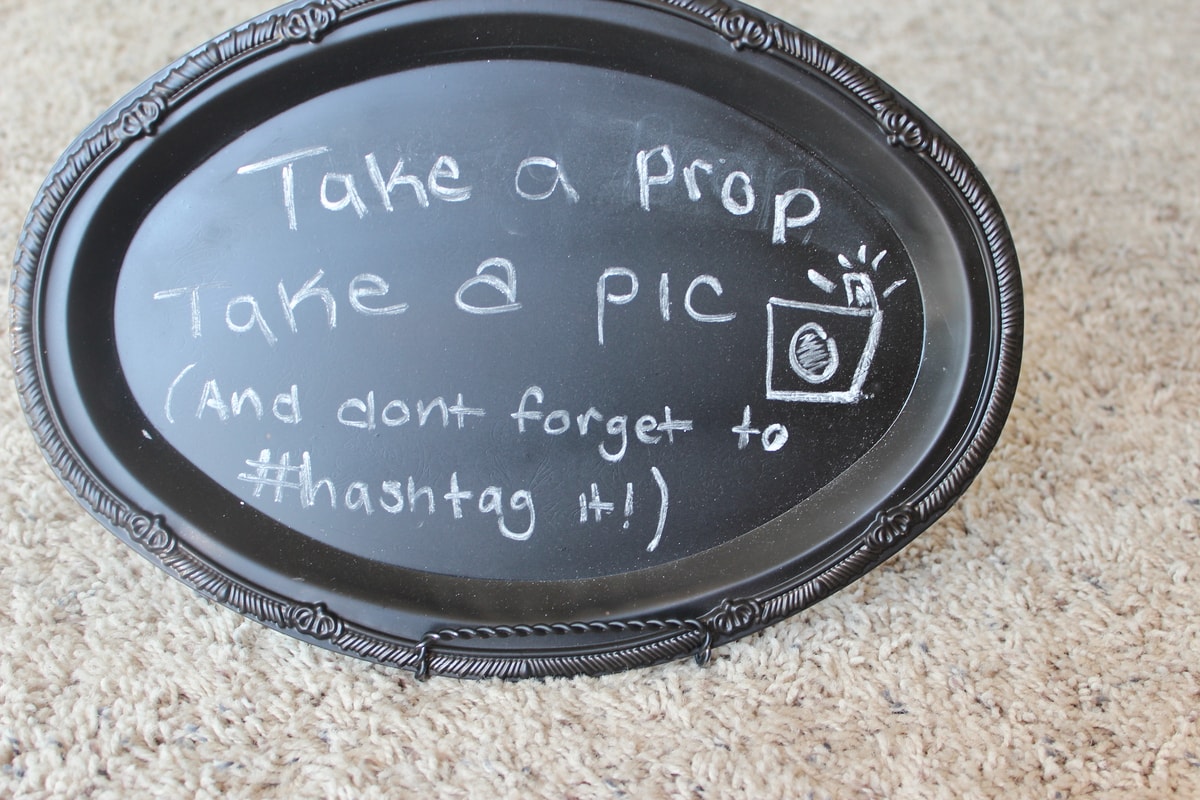 I used the other tray as a "write your own message board", in which my fellow Oklahoma girl Tess started it off right with Boomer Sooner!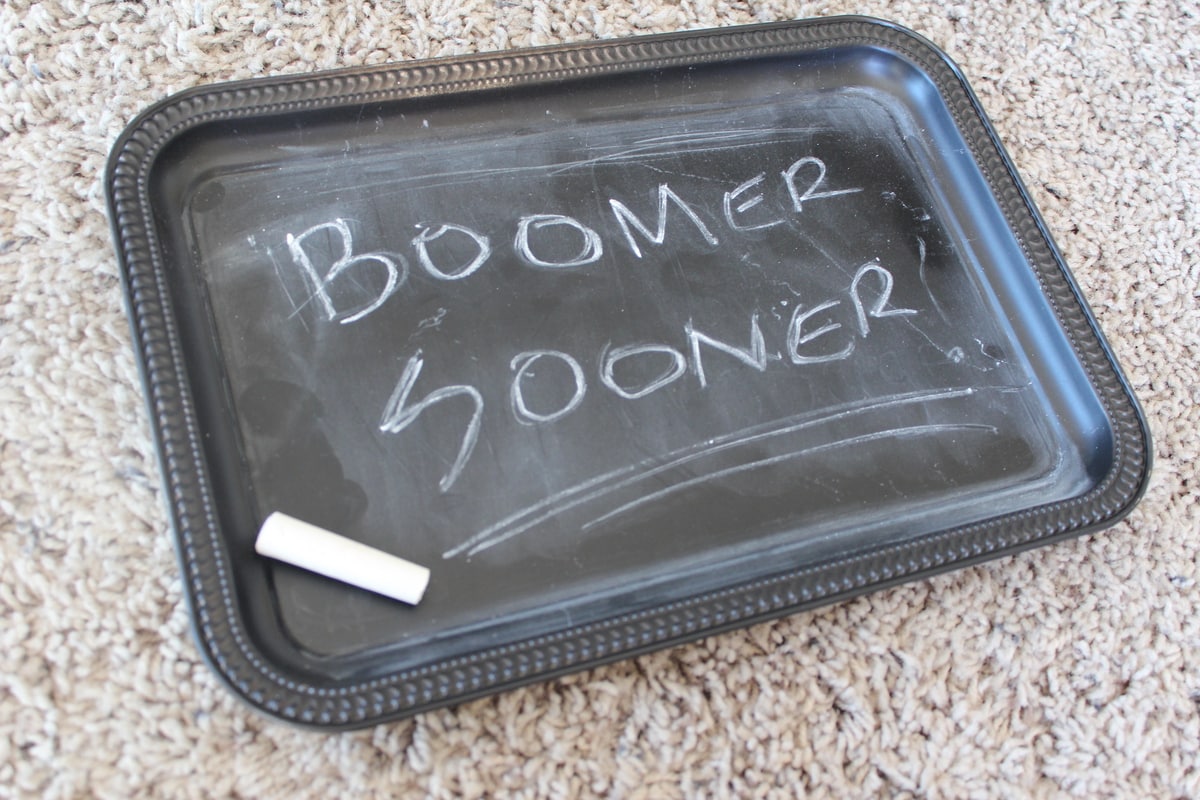 I used the Ikea magnetic board to add our "Instagram Hashtag Message" which was inspired by Pinterest.
This is a great way to see everyone's images from the photo booth as they upload them onto Instagram (or Twitter) using the unique hashtag you create for your party.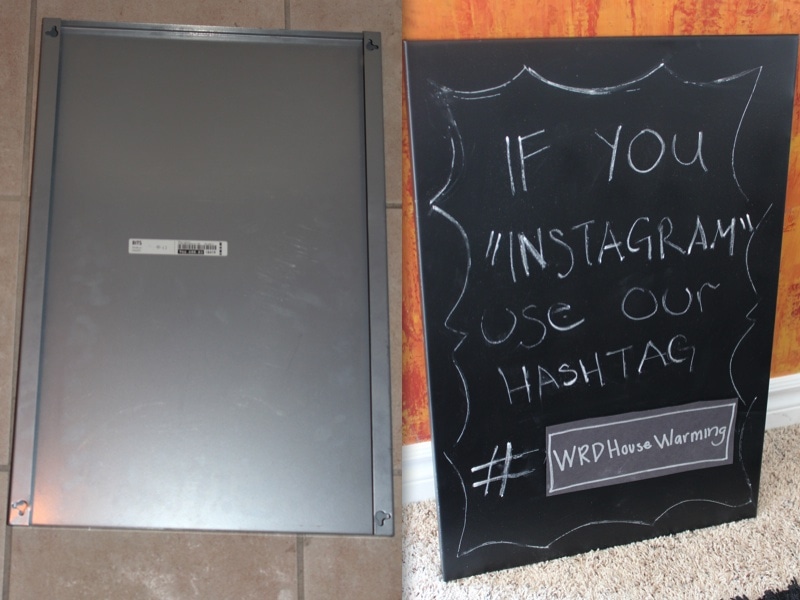 I personally used the hashtag throughout the day and into the night to catch all of the housewarming party action!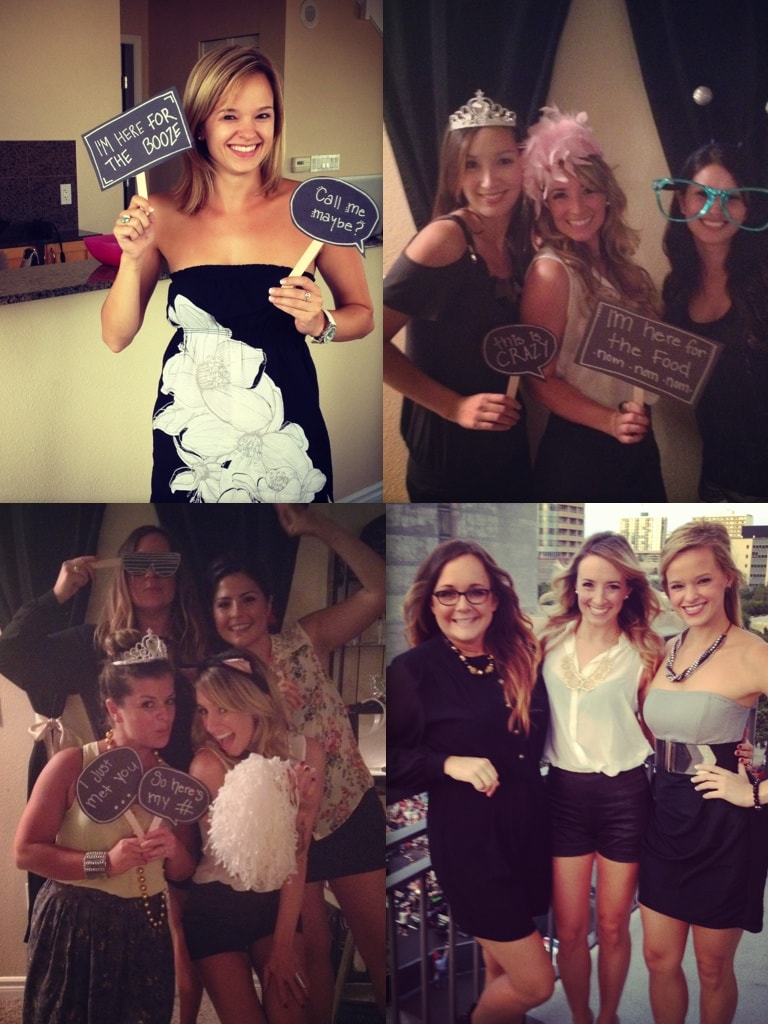 Now, on to those fun, crazy, silly props!
Doni snatched up almost half of the props at a Goodwill Thrift Store for about $10. The rest, as much as I am embarrassed to admit, actually came from my closet, ha ha.
Headwear is a must!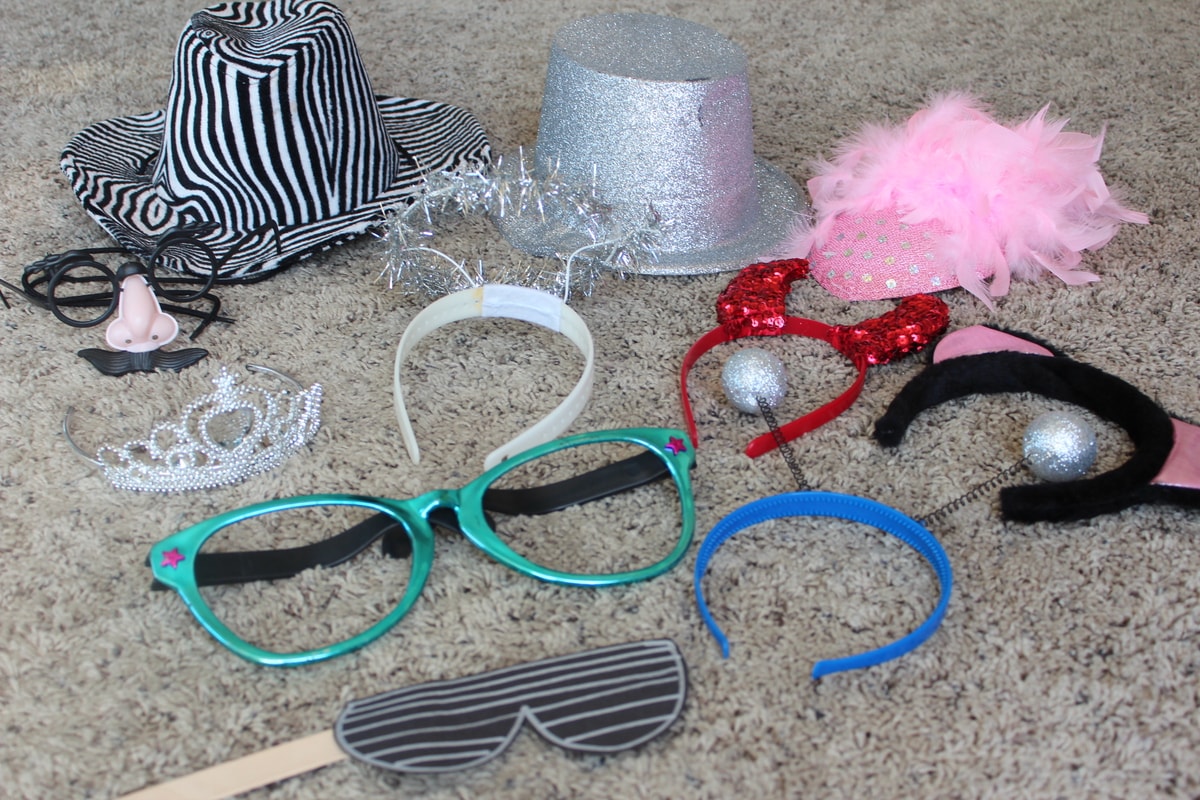 Headwear Options
Oversized Glasses
Cowboy Hats
Top hats
Feather Flapper Hats
Tiaras
Kitten Ears
Devil Horns
Angel Halos
Funny noses/moustaches
There also must be neck-wear involved!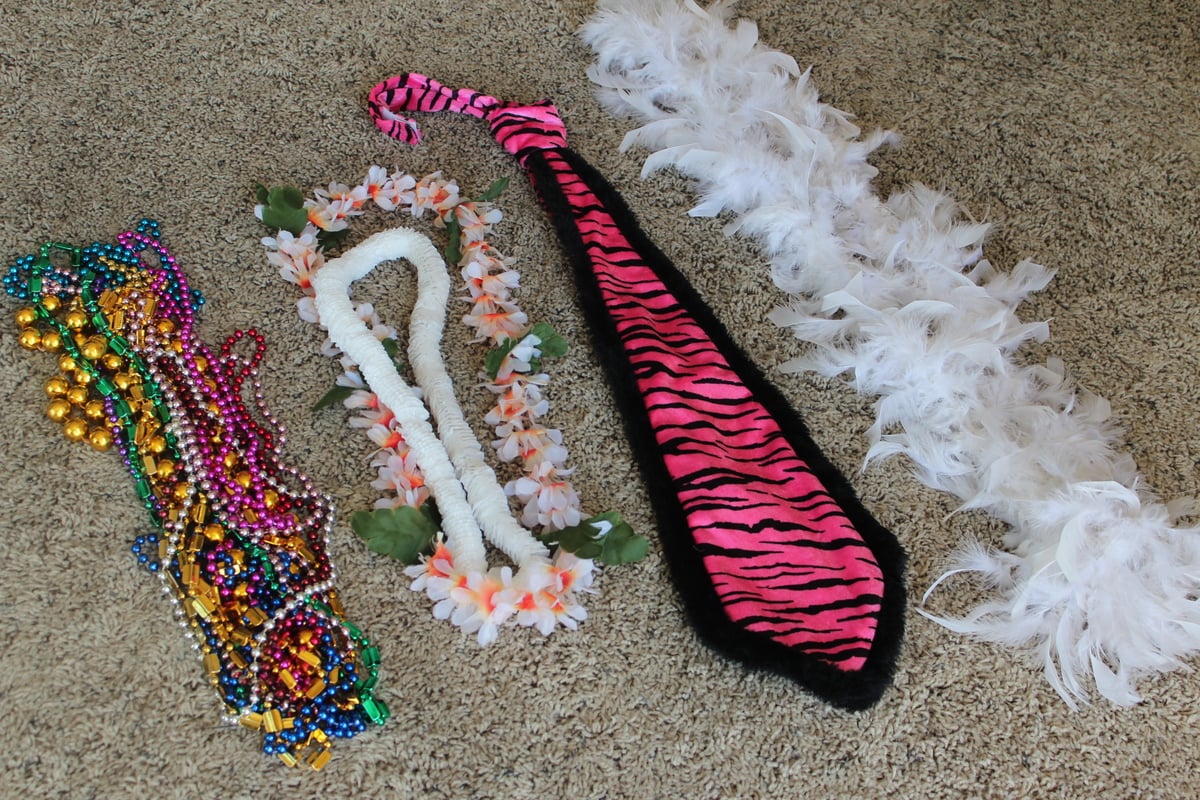 Neck-Wear Options
Mardi Gras Beads
Leis
Funky Ties
Feather Boas
What to do with your hands you ask?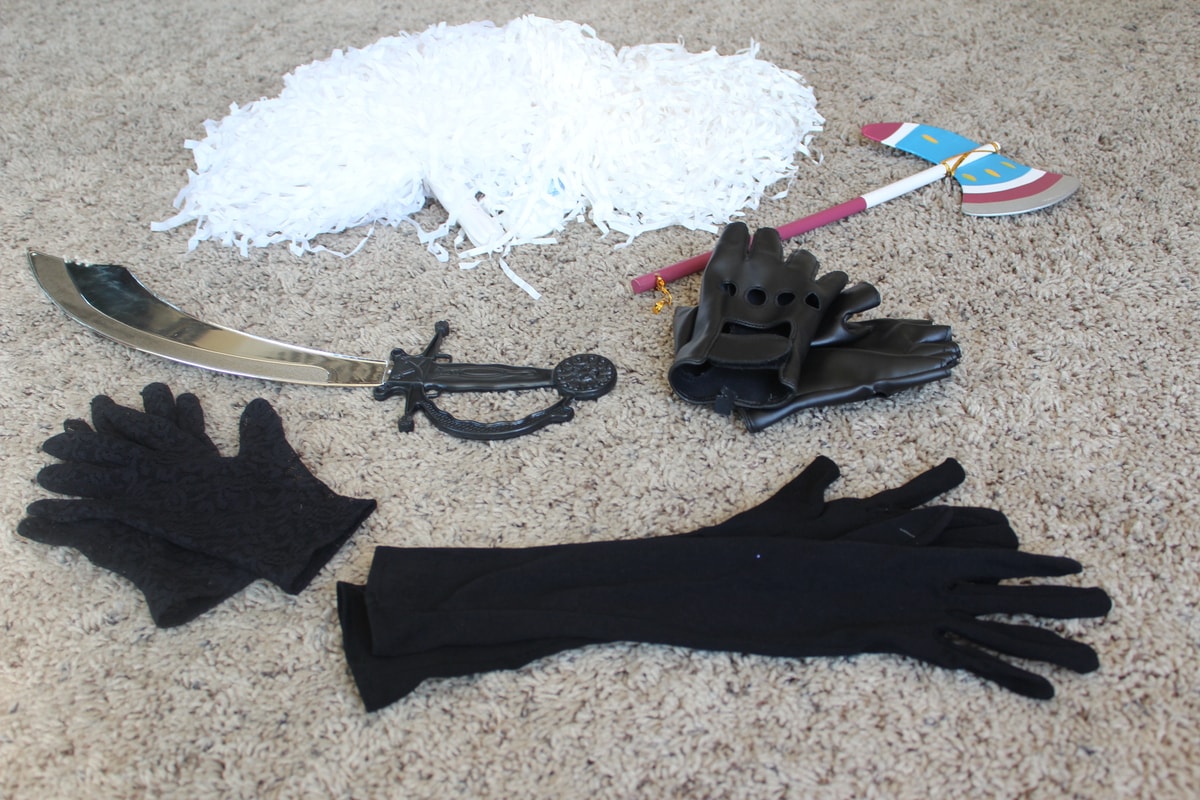 Hand-Wear/Hand-Held Object Options
Gloves
Pom-poms
Plastic Swords
Plastic Tomahawk (because, why not?)
If you would like your guests to send a message in their image using a word or phrase, make your own signs!
Simply write whatever you would like on black construction paper using a silver sharpie, then cut it into a cute shape and tape it onto a large popsicle stick.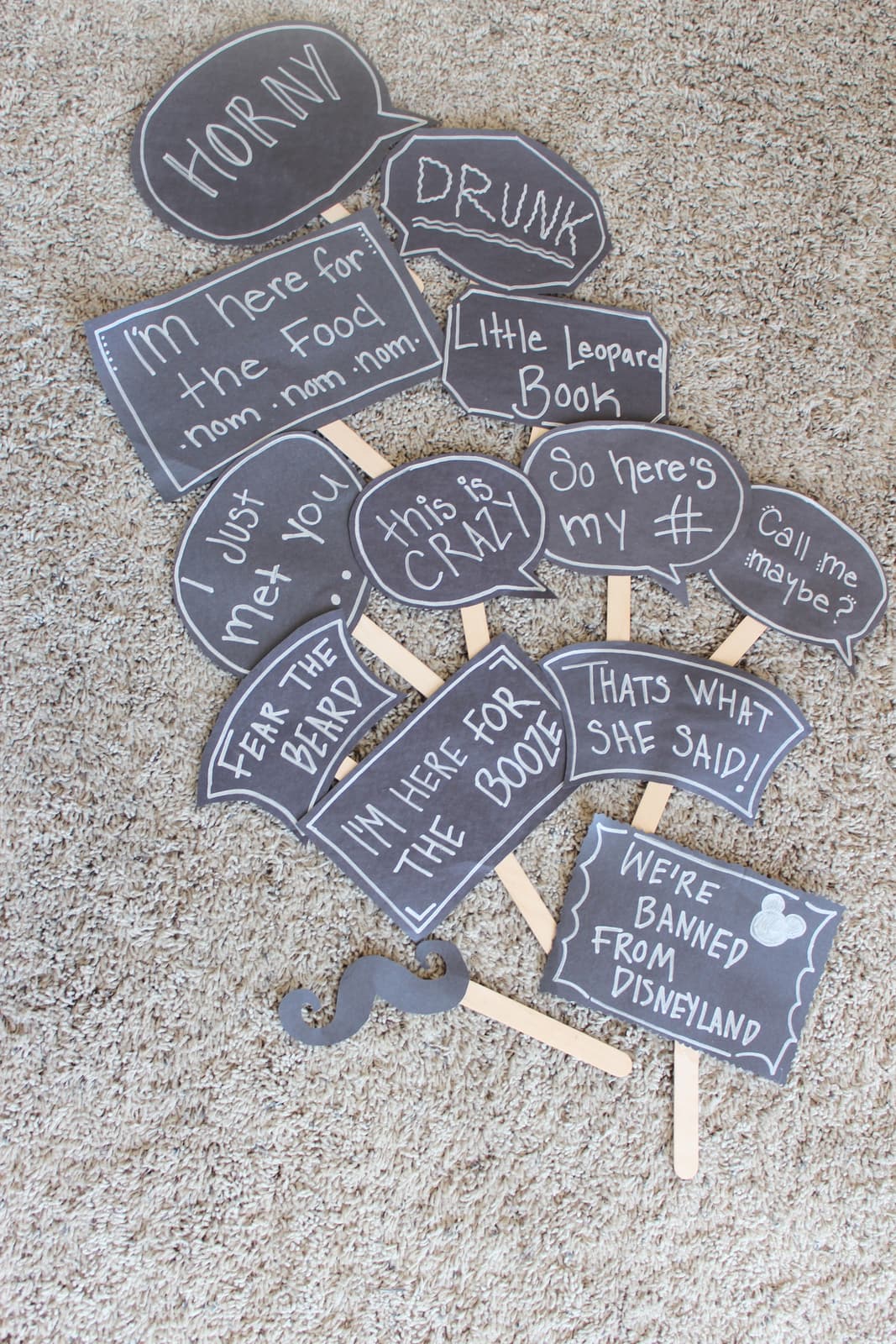 I did allow my male roommates to input on these, so don't judge me for all of them, I am definitely not "Banned from Disneyland" (that would be like the worst thing ever!) I will, however, take all the credit for "Fear the Beard" and "I'm Here for the Food"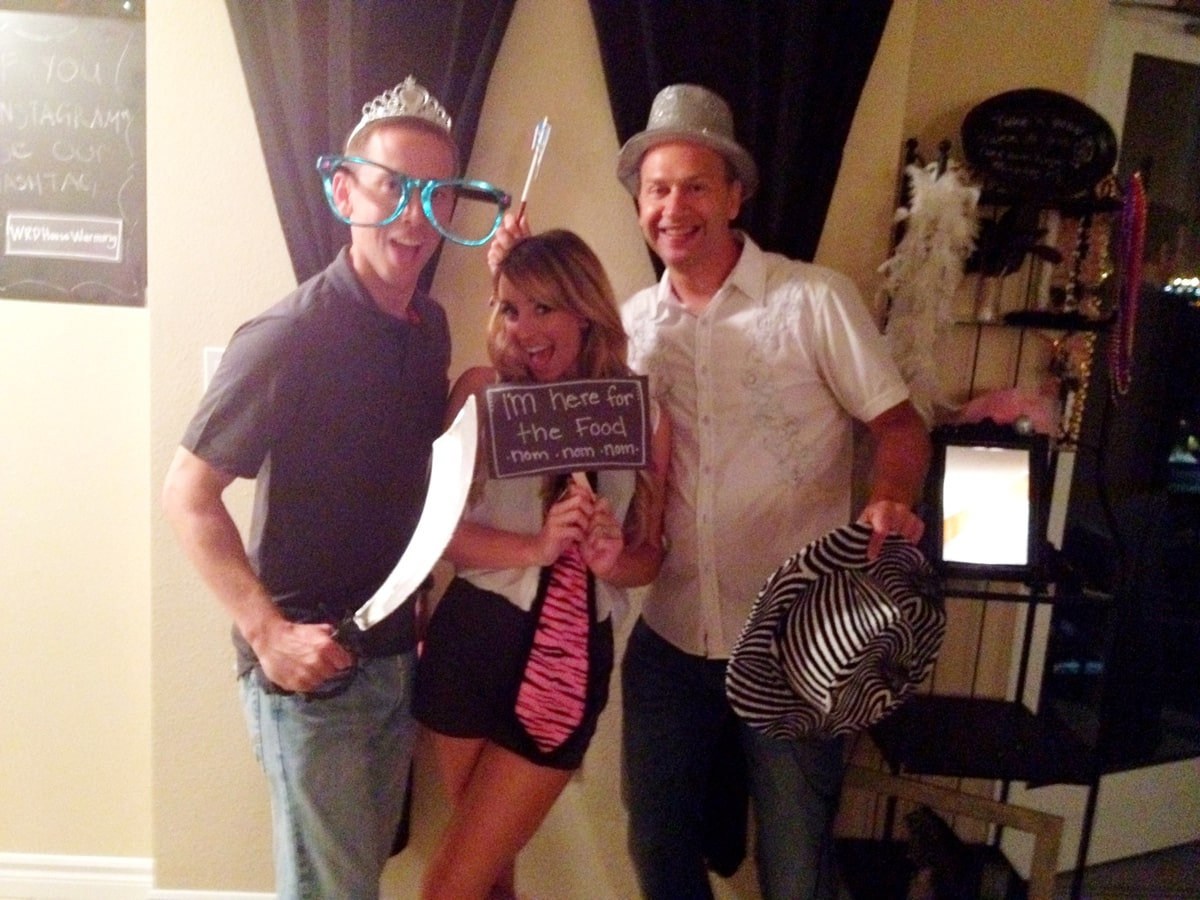 The total cost of the homemade photo booth will vary depending on what supplies you already have and how many props you want to add but can be easily made for as little as $20!
And, let's be honest, you can't put a price on all this fun!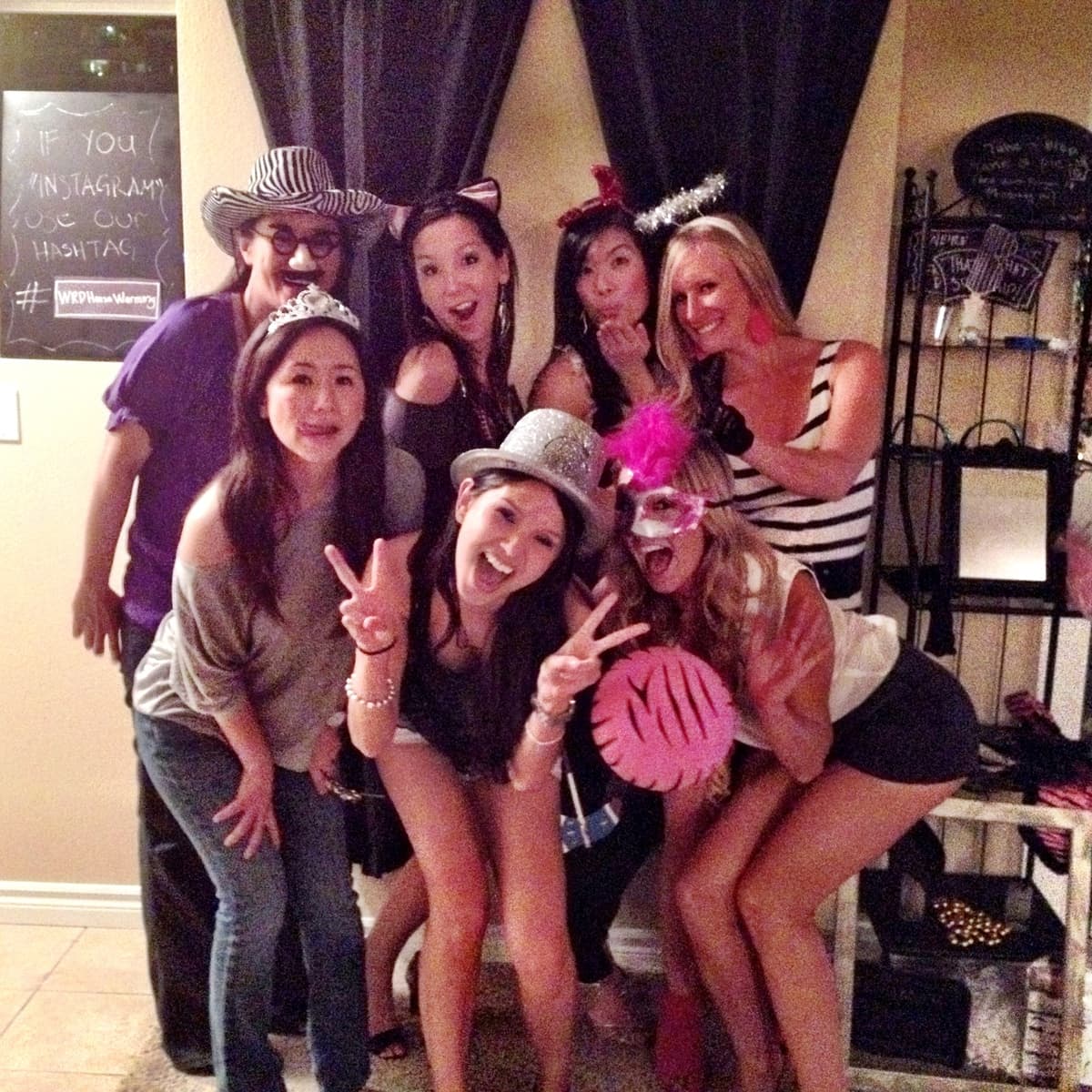 Feel free to Tweet me or leave me a comment on Facebook with any questions about making a photo booth for your next party!
We are a participant in the Amazon Services LLC Associates Program, an affiliate advertising program designed to provide a means for sites to earn advertising fees by advertising and linking to amazon.com.