Little Leopard Book to become WhitneyBond.com!
This post may contain affiliate links.

I'm so excited to announce that on Saturday, August 15, 2015 LittleLeopardBook.com will become WhitneyBond.com!
I'm sure you all have questions, and I've got answers!
How will I find all of the delicious recipes that I love on LittleLeopardBook.com?

You'll find them all on WhitneyBond.com! All of the content from Little Leopard Book will simply be transferred to the new domain, WhitneyBond.com.
What if I've pinned recipes from LittleLeopardBook.com or bookmarked links to recipes?

Those links will still work just fine! All LittleLeopardBook.com links will automatically redirect to WhitneyBond.com.
What's going to change on the new site?

Besides the name, not much! You can expect 3 delicious new recipes every week (sometimes 4 if I'm feeling crazy 😉 ) but you'll also find new Foodie City Guides, like the one I created for San Diego, with all of my favorite restaurants, and favorite dishes in different cities all over the US!
Where can I find you on social media?

Why the change?

When I started blogging at LittleLeopardBook.com on August 22, 2011, I had no idea that it would become what it is today. I thought I would take some ideas, stories and recipes that I'd written down in my little leopard print notebook and put them on a blog. Now four years down the line, that little blog has turned into a big career and I couldn't be more excited! As I embark on new endeavors with the blog, including national TV appearances, pitching my own show & writing more books, I felt it was time to retire the Little Leopard Book name. Luckily my parents gave me a pretty awesome name 😉 so I decided to move forward with branding all of my endeavors under my name!
I'm so excited about the new brand, how can I celebrate with you?

I'm glad you asked 😉 Along with my friends at Delicious Buzz PR, I will be throwing a huge rebranding party on Thursday, August 27, 2015 at Kettner Exchange in Little Italy, downtown San Diego. Come say hi, grab drinks and have your photo taken by my fabulous photographer Stacy Keck in front of the beautiful WhitneyBond.com backdrop created by my friends at V Group! E-mail [email protected] to be added to the guest list for the VIP portion of the event from 5-6:30 PM.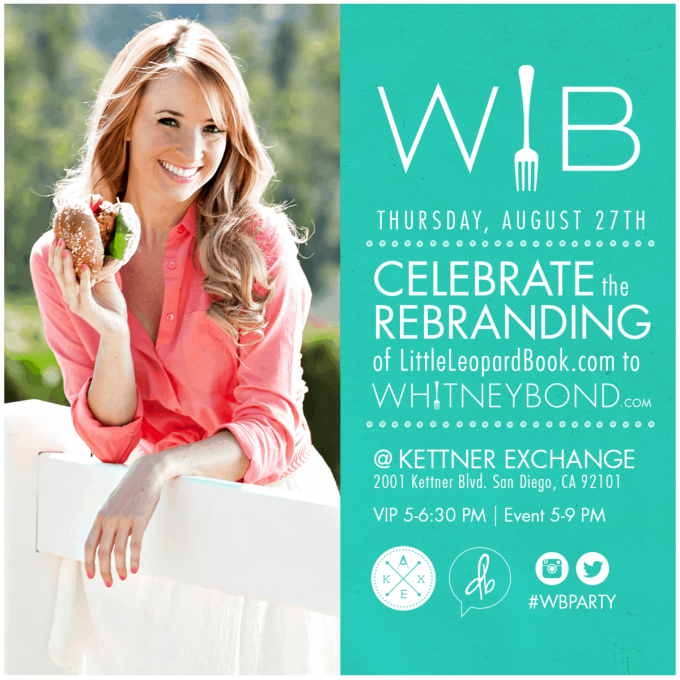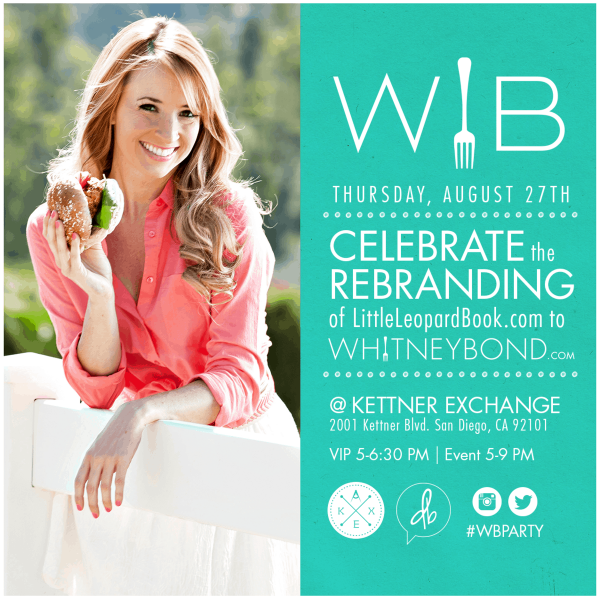 Please leave any questions, comments or general excitement about life, coffee or the rebranding below! I'd love to hear what you think about the exciting changes coming later this week!
If you want to know a little more about "Whitney Bond" before the big switch, visit my about page with 43 fun & random facts about me, including some of my biggest obsessions, like college football, glitter, coffee, breakfast burritos and pizza, you know, all the good things in life 😉
We are a participant in the Amazon Services LLC Associates Program, an affiliate advertising program designed to provide a means for sites to earn advertising fees by advertising and linking to amazon.com.