Miso Ramen
This post may contain affiliate links.
Make the best Miso Ramen with this easy recipe, made in one pot, in only 20 minutes! The secret to a delicious ramen soup is the broth, and the broth in this recipe is incredibly flavorful. It has been tested and perfected, so you can make perfect ramen at home every time!
A few months ago my husband requested ramen, for a taste of nostalgia from his college years. Of course, I couldn't just open a $.35 package of ramen and call it a day. I had to recreate one of our favorite ramen dishes from Menya Ultra in San Diego, the miso ramen.
When it comes to dining out for ramen, or making it at home, the key to a successful, flavorful ramen dish is all in the broth. The noodles, pork, vegetables and topping are all important, but to truly make the best ramen, you have to have a broth that has salt, spice and tons of flavor!
After testing and perfecting this recipe over the last few months, I have made the perfect broth. It includes garlic, ginger, chili sauce, miso paste, soy sauce and sesame oil. This combination of ingredients is absolute perfection. I make this ramen recipe every week now, because we simply can't get enough!
The best part is, you can whip up this miso ramen recipe in just 20 minutes! It's easy to make with pork, or just veggies, you can use ground pork or chopped bacon, make it spicy, or keep it mild, and add as many toppings as you wish. This recipe is truly versatile, and seriously scrumptious!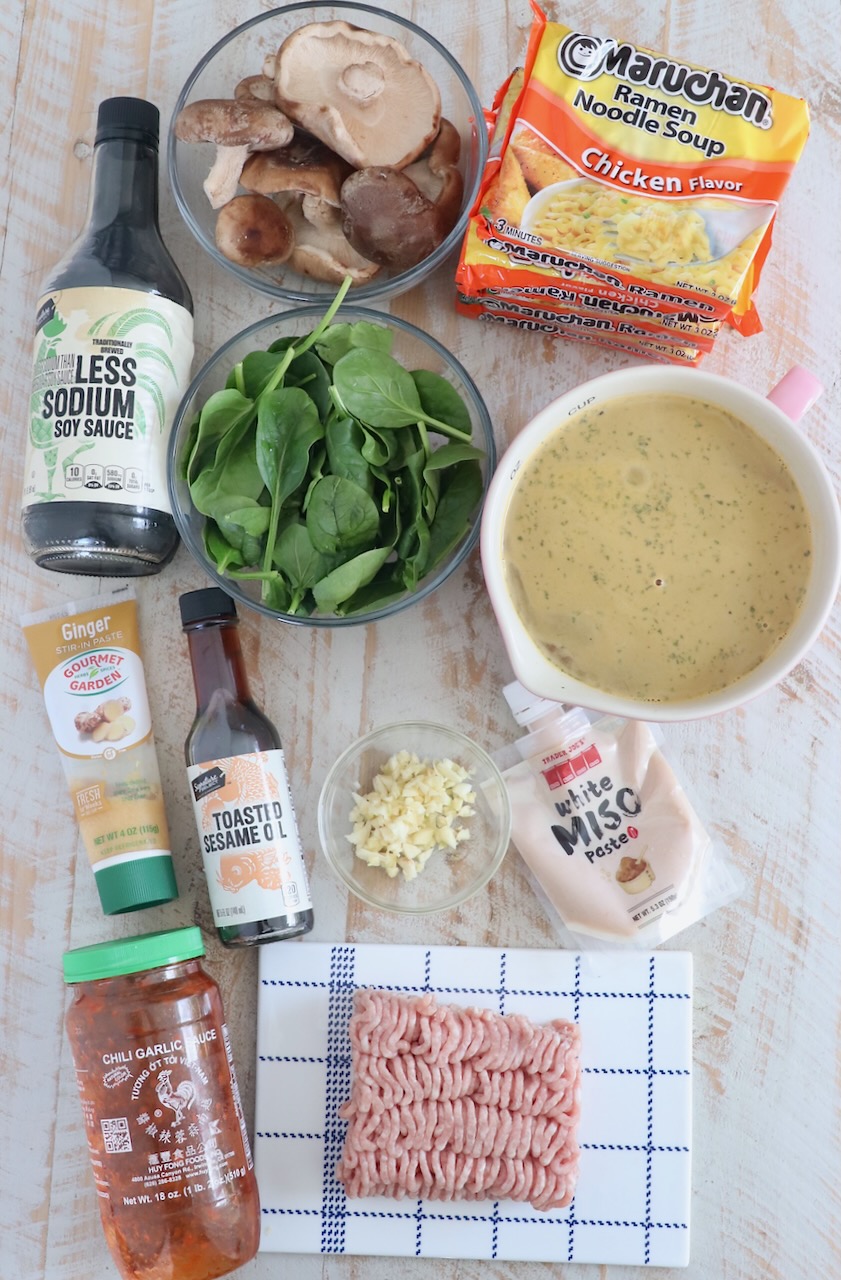 Ingredients
Ground pork (or bacon) – I have tested this recipe with ground pork and chopped bacon. The result of both is delicious. If you already have bacon at home, simply chop up 3 slices of bacon and use that instead of ground pork. If you like a little more meat in the ramen, I recommend using the ground pork.
Shiitake mushrooms – these mushrooms are native to Japan, and therefore the type of mushroom most commonly found in ramen. I've purchased shiitake mushrooms at Costco, Sprouts, Asian markets and a traditional grocery store in San Diego. They're usually easy to find in the produce section of most major grocery stores, but if you can't find shiitake mushrooms, I recommend using sliced baby bella mushrooms instead.
Soy sauce – for this recipe, I recommend a low sodium soy sauce. The chicken broth and miso paste both already add a lot of saltiness to this recipe.
Garlic – I recommend fresh minced garlic for the best flavor.
Ginger – feel free to fresh grate the ginger into the broth, or use ginger paste, like I did.
Sesame oil – for this recipe, you'll want toasted sesame oil, as it's there to add flavor to the broth. Sesame oil that has not been toasted, will not add the same level of flavor to the broth.
White miso paste – the difference between miso ramen and other types of ramen is the miso paste added to the broth of miso ramen. Miso is a delicious fermented soybean paste found at most major grocery stores in the refrigerated vegan section of the grocery store, near the produce. Trader Joe's has also started selling their own, which I highly recommend! And you can always find miso paste at Asian markets.
Chili garlic sauce – this sauce will be found in the Asian section of major grocery stores. It combines dried chilis with garlic, salt and vinegar, and adds spice to this ramen recipe. You can also use chili paste if you want a stronger chili spice flavor and lighter garlic flavor.
Chicken broth – feel free to make your own at home with chicken bouillon, or purchase boxes of premade chicken broth at the grocery store.
Ramen noodles – for this recipe, I used 4 packages of chicken-flavor ramen, which are each 3 ounces in size. I discarded the seasoning packets, but you could also use the packets to make the chicken broth.
Spinach – to add some greens, and finish the dish, I added a heaping handful of spinach leaves. You could also use the leaves from baby bok choy, if you prefer.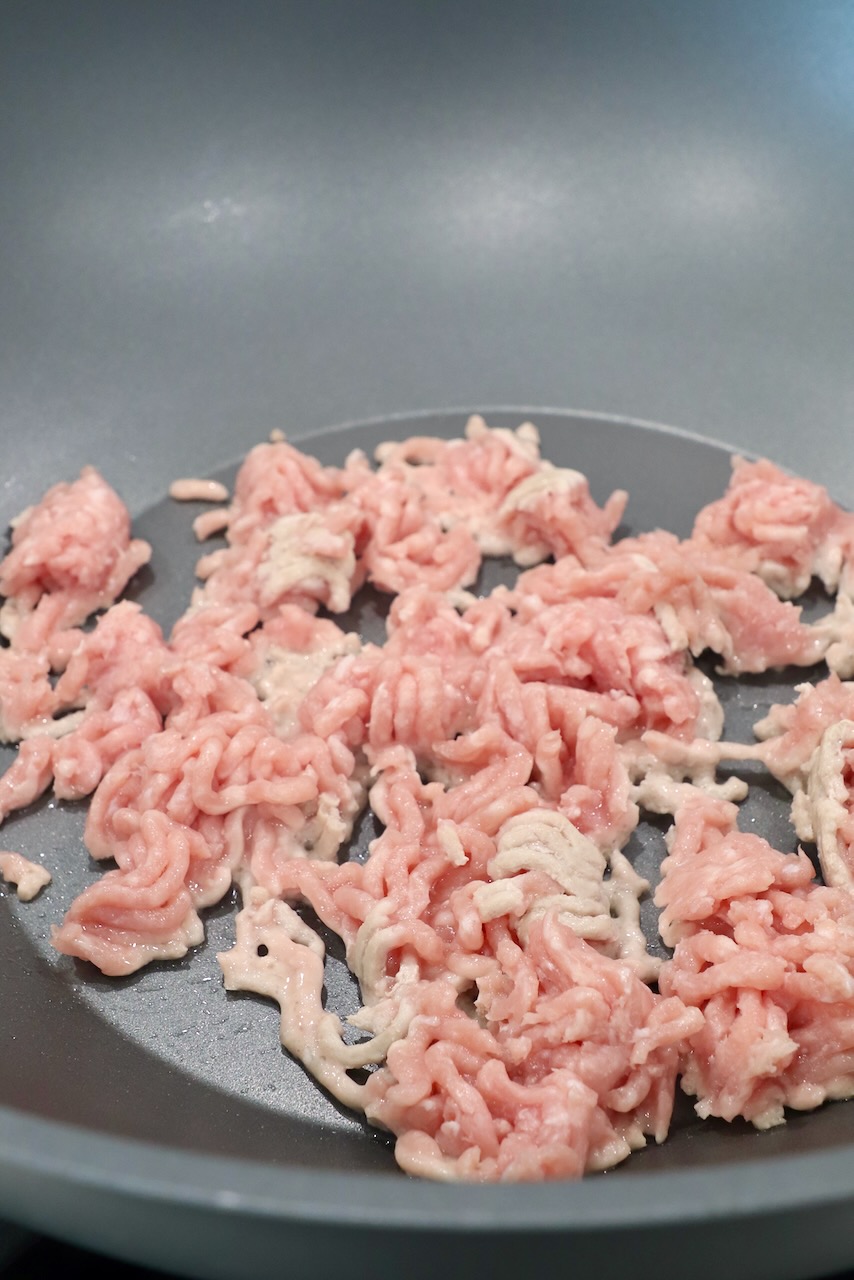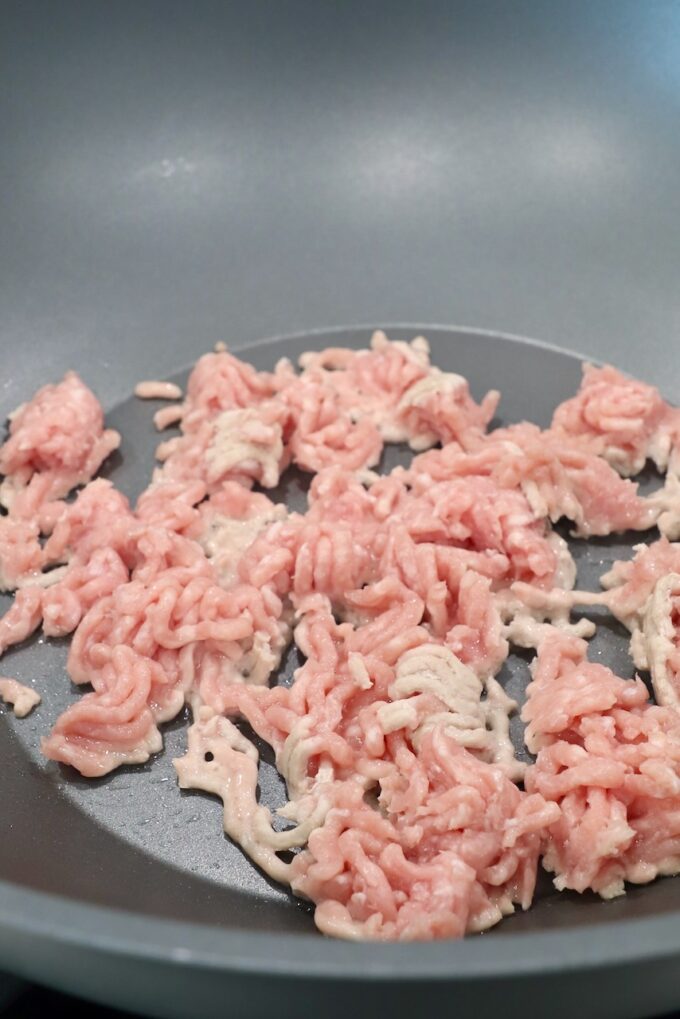 Instructions
I've included step by step photos above to make this recipe super easy to follow at home. For the full detailed recipe instructions and ingredient quantities, scroll to the recipe card at the bottom of this post.
Cook the ground pork, or bacon. Add 1/2 pound of ground pork, or 3 slices of chopped bacon to a large skillet, or wok, over medium high heat on the stove. Cook the pork for 6-8 minutes, or until cooked through. Use a slotted spoon to remove the pork from the skillet and set it aside in a bowl.
Cook the mushrooms. Add sliced shiitake mushrooms to the grease in the pan left from the ground pork, or bacon. Add soy sauce and stir everything together. Allow the mushrooms to cook in the pan for 5 minutes, without stirring.
Add garlic and ginger. After 5 minutes, add minced garlic and ginger paste to the mushrooms in the pan. Stir everything together and cook for 1-2 minutes.
Make the broth. Add toasted sesame oil, white miso paste, chili garlic sauce and chicken broth to the pan. Turn the heat on the stove up to high and bring the broth to a boil.
Add the noodles. Once the broth is simmering on the stove, add the ramen noodles and cook for 3 minutes, using a spoon, or spatula, to separate the noodles as they cook in the broth.
Add the spinach and pork. Add the cooked pork back to the pan, along with the spinach. Stir to combine all ingredients and cook for an additional 1-2 minutes before serving the ramen soup in bowls and adding the toppings of your choice.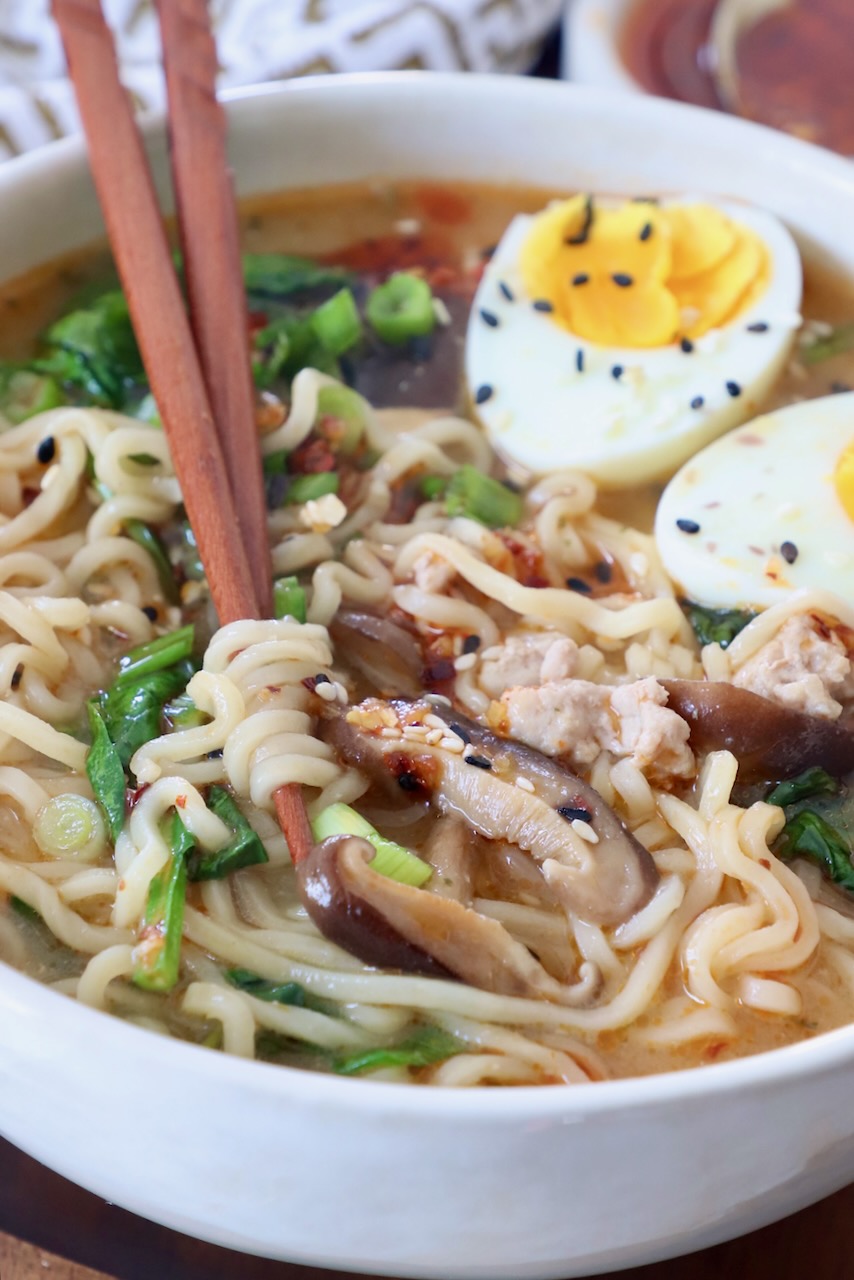 Diet variations
Vegetarian: to make this recipe vegetarian, omit the pork. Start the recipe with 1 tablespoon olive oil, or vegetable oil, to cook the mushrooms. Use vegetable broth, instead of chicken broth. Or check out this recipe for Vegetarian Ramen.
Vegan: follow the instructions above to make the ramen vegetarian, then omit the egg on top to make it vegan.
Gluten free: use gluten free ramen noodles, and gluten free soy sauce, also known as tamari. The other ingredients pictured above are gluten free. Always make sure to check the labels on sauces and broths to verify that they're gluten free.
Storage options
To store: leftover miso ramen soup can be stored in the refrigerator for up to 7 days.
To reheat: reheat the ramen in a pot on the stove over medium-high heat for 5-8 minutes. Or reheat the ramen in a microwave-safe bowl in the microwave for 2 minutes.
To freeze: I do not recommend freezing this ramen recipe, as the noodles will loose their texture once frozen, defrosted and reheated. You can, however, make and freeze the broth, to thaw, reheat and add noodles to, at a later time.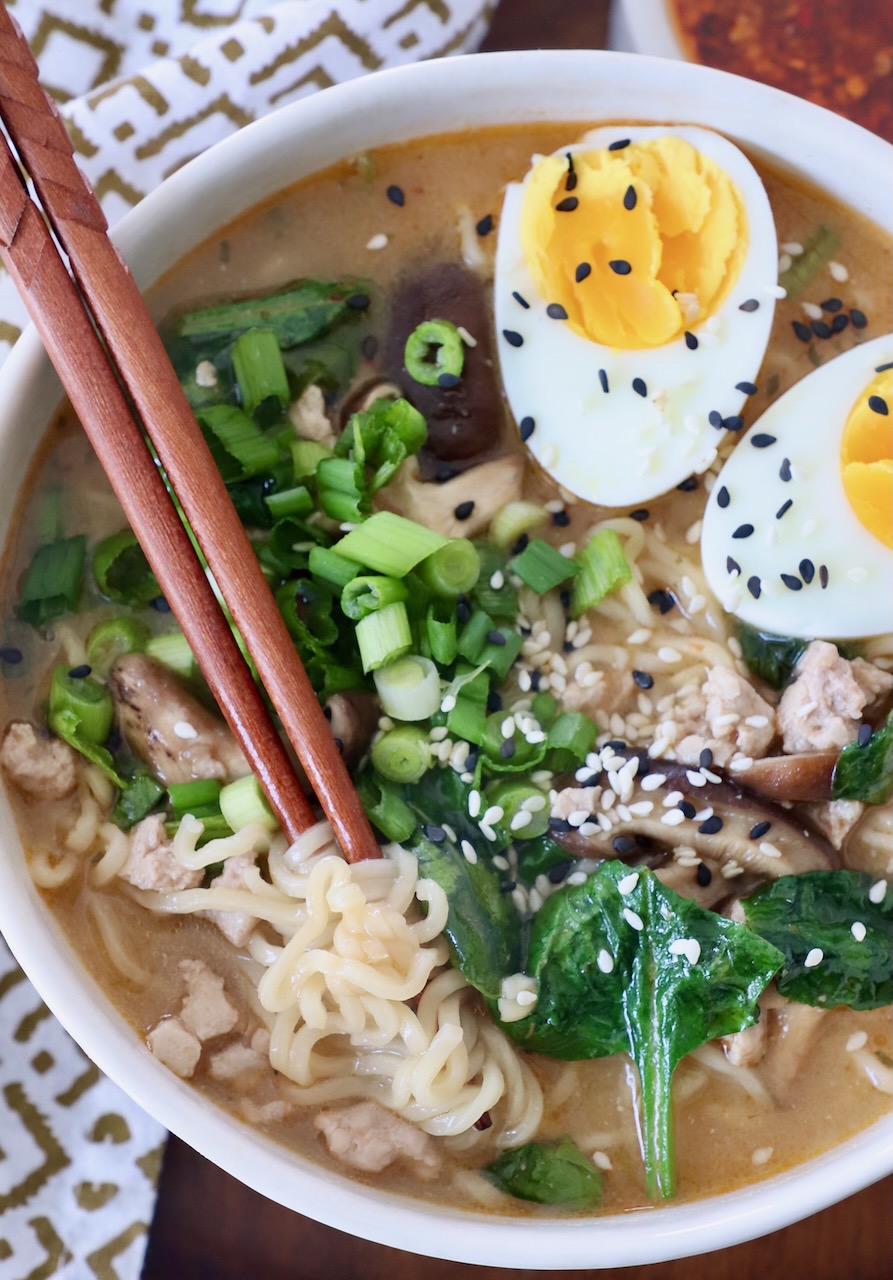 We are a participant in the Amazon Services LLC Associates Program, an affiliate advertising program designed to provide a means for sites to earn advertising fees by advertising and linking to amazon.com.