Sous Vide Turkey Breast
This post may contain affiliate links.
This Sous Vide Turkey Breast recipe is absolutely the easiest way to make the juiciest, most flavorful turkey breast ever!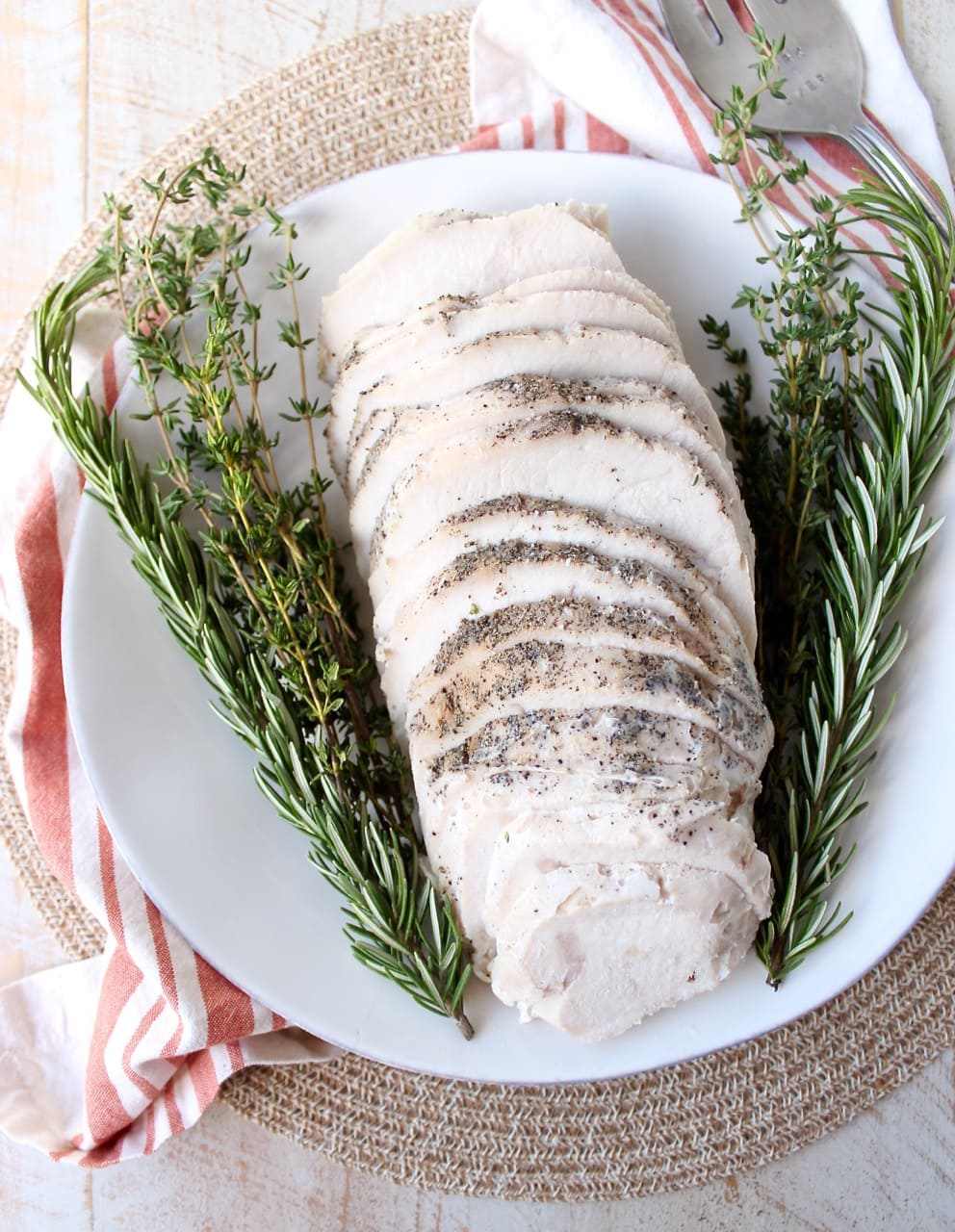 It's Thanksgiving Week 2 on the blog and I'm so excited to share my first Thanksgiving recipe made in the sous vide!
Over the last year I've become completely obsessed with my sous vide! I make dinner in the sous vide at least once a week and I've shared several sous vide recipes on the blog, including these melt-in-your-mouth Korean BBQ Short Ribs, the best Italian Flank Steak you'll ever have and this life-changing Chipotle Apple Pork Loin recipe!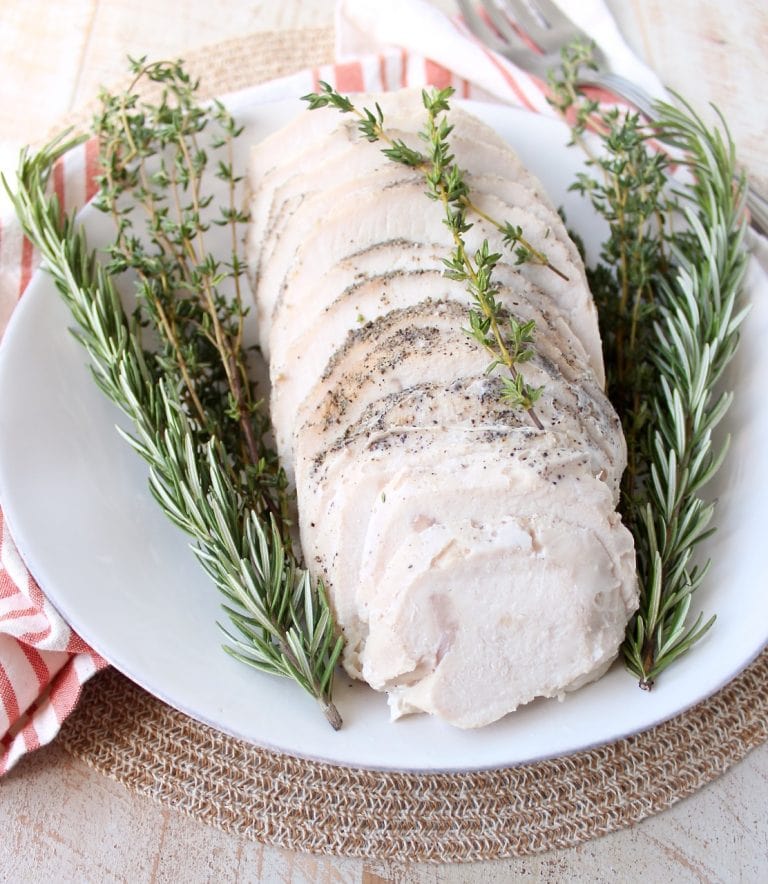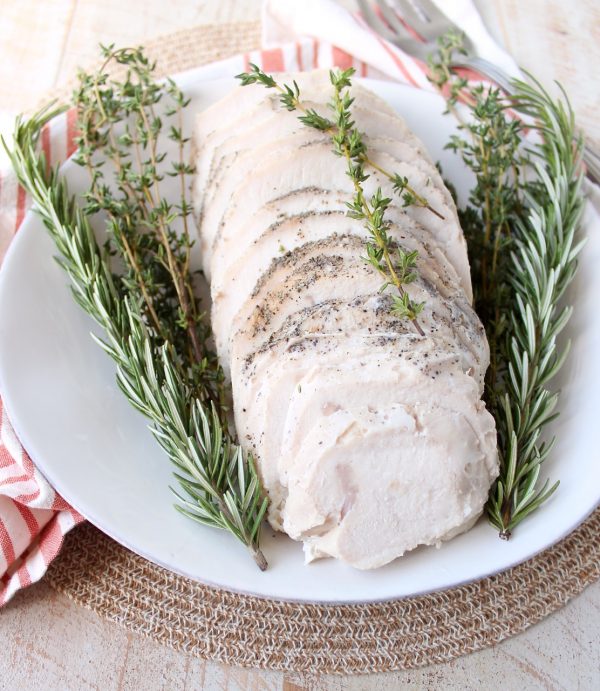 Last week I hosted another fun Smart Home event with Cox Communications in Roanoke, Virginia. With Thanksgiving season upon us, we decided to switch up the Sous Vide Steak Crostini recipe I usually share at these events, and instead serve this Sous Vide Turkey Breast on Stuffing Biscuits.
The event was so fun and the Sous Vide Turkey Breast was a hit! The comments I received were things like "I can't believe this is white meat, it's so flavorful!" and "This is the juiciest turkey I've ever tasted!"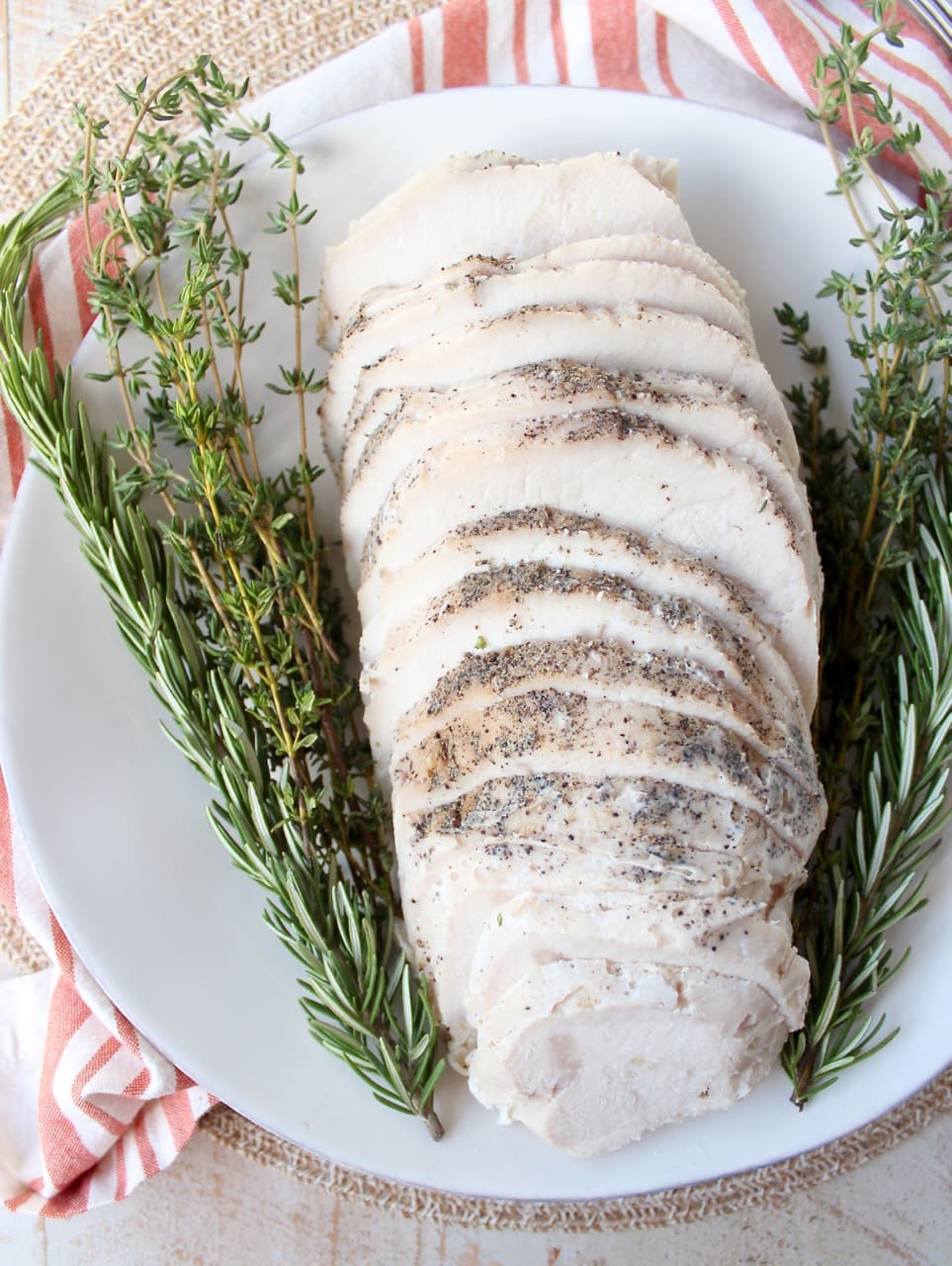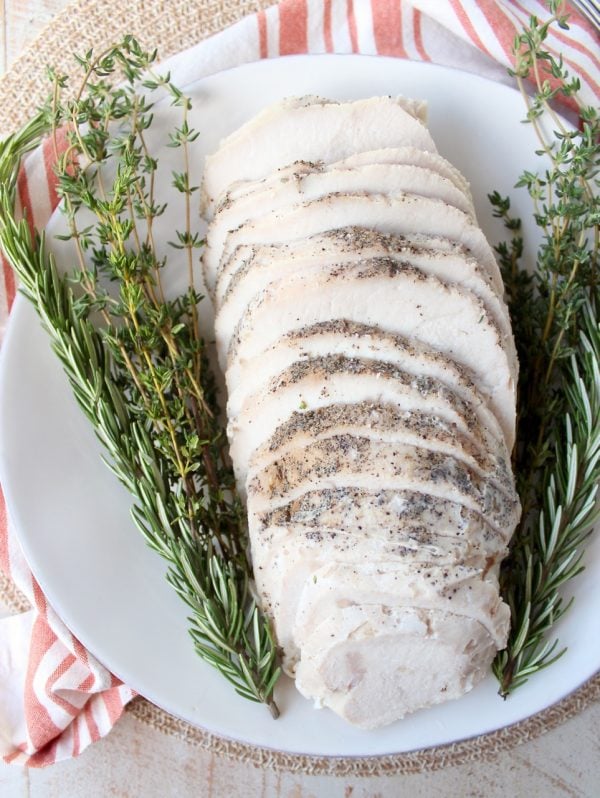 Say goodbye to dry, boring turkey breast and hello to juicy, flavorful sous vide turkey breast!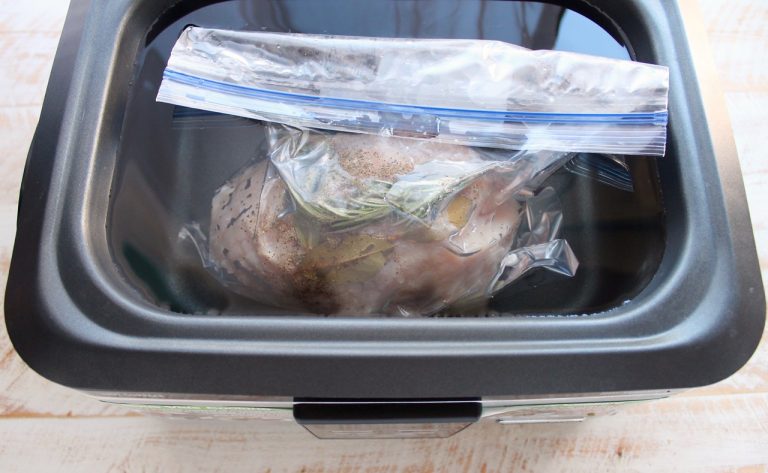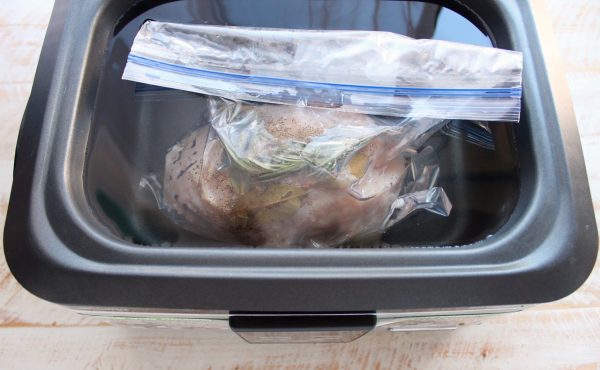 This recipe couldn't be easier! Just toss the turkey breast in a ziplock bag with the herbs and seasonings, dunk it in the water and squeeze the air out around it, zip it up and let it sous vide for 2 hours.
Seriously, the easiest turkey breast recipe I've ever made and it doesn't take up any room in the oven on Thanksgiving day!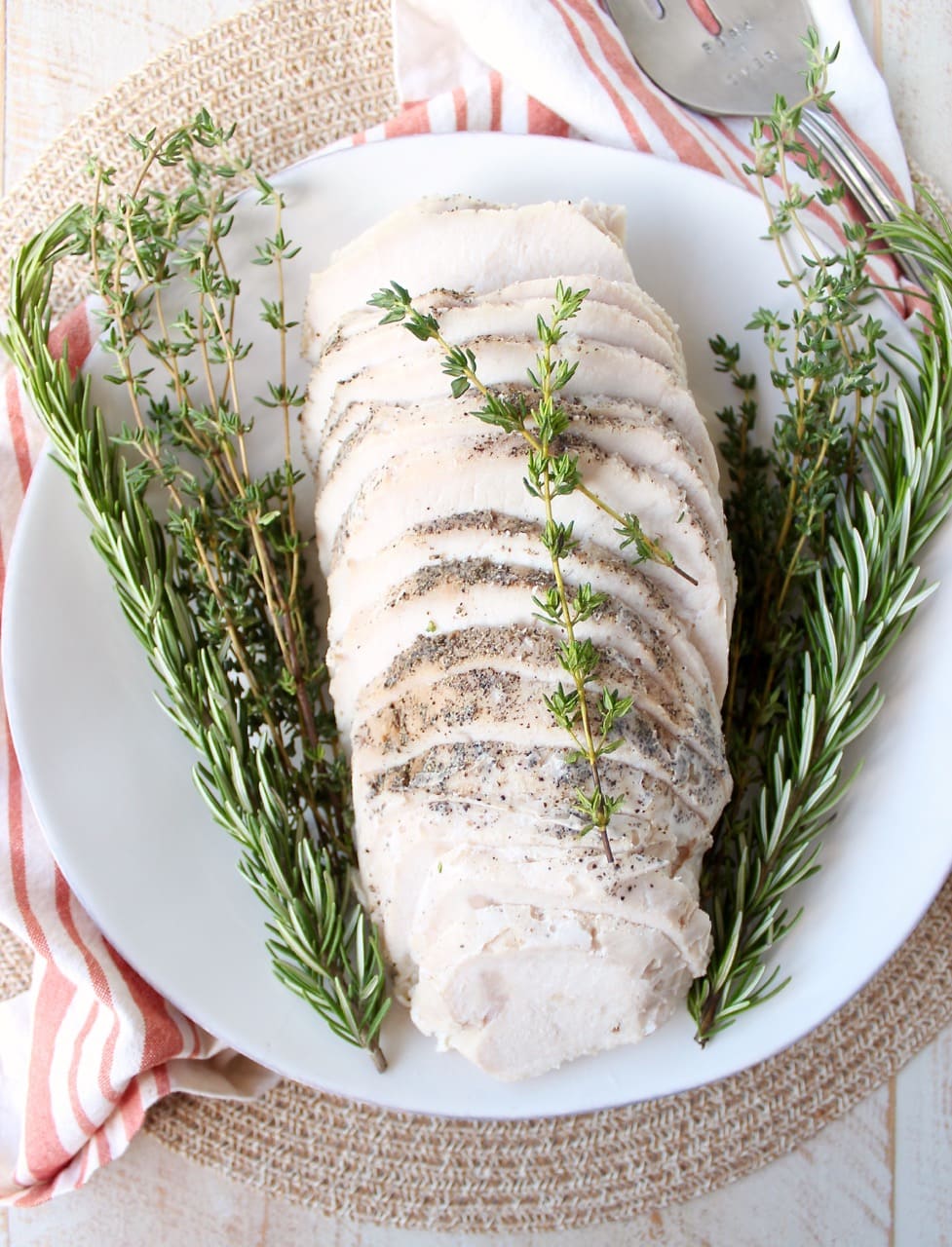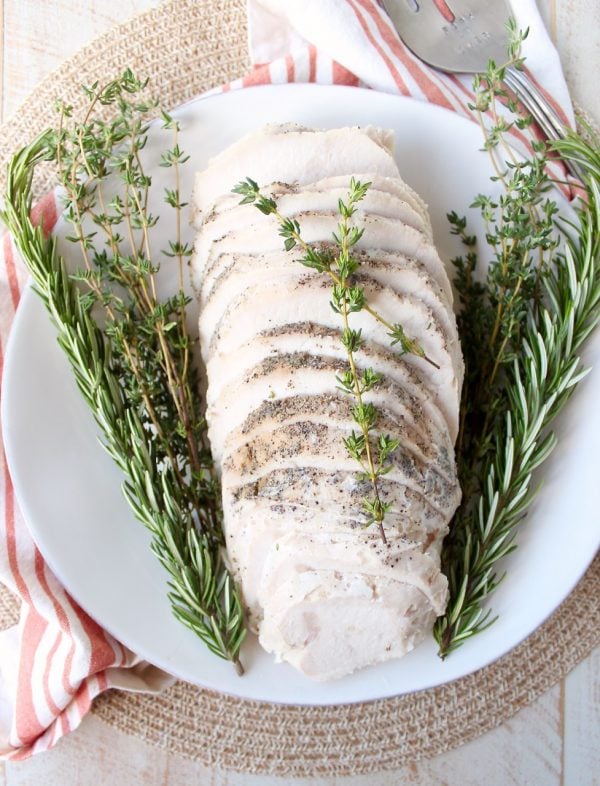 Serve with delicious Thanksgiving sides like Rosemary Blue Cheese Mashed Potatoes, Maple Apple Brussels Sprouts and Butternut Squash Apple Bruschetta.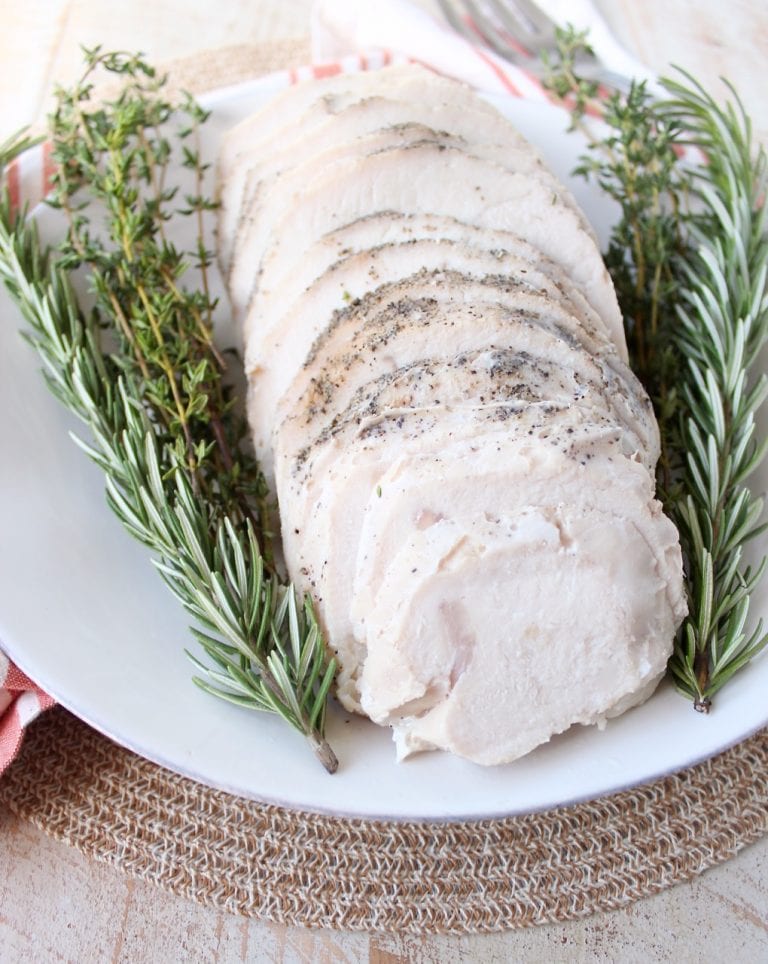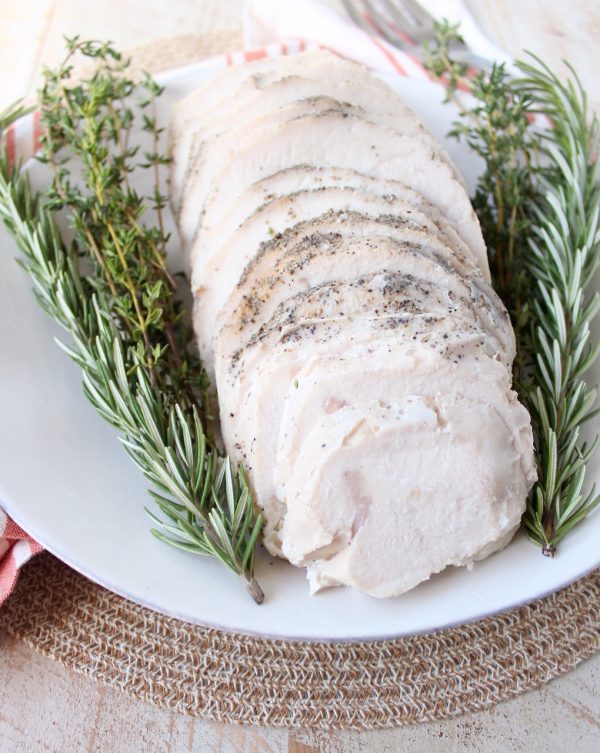 Sous Vide Turkey Breast
This Sous Vide Turkey Breast recipe is absolutely the easiest way to make the juiciest, most flavorful turkey breast ever!
Instructions
Set the sous vide to 152°F.

Place the turkey breast in a large ziploc bag, season with the salt and pepper.

Add the sage leaves, bay leaves, rosemary and thyme to the bag.

Since I don't have a fancy vacuum sealer, I simply use the "water displacement method" of placing the airtight sealed bag with the turkey in it, almost all of the way under the water, leaving just about an inch of the top of the bag open, the water will press out all of the air around the food in the bag, you can then seal the bag closed and place it down completely in the water.

Cook for 2 hours.

Remove the turkey from the water bath and bag, place on a cutting board and slice.

For a brown crust on the outside, sear the turkey breast in a large cast iron skillet over high heat for 2-3 minutes per side before slicing and serving.
Notes
Swap out the salt and pepper with 2 teaspoons of turkey seasoning, for even more flavor.
Nutrition Facts
Serving
4
g
Calories
230
kcal
(12%)
Carbohydrates
1
g
Protein
49
g
(98%)
Fat
4
g
(6%)
Saturated Fat
1
g
(5%)
Cholesterol
122
mg
(41%)
Sodium
661
mg
(28%)
Potassium
549
mg
(16%)
Fiber
1
g
(4%)
Sugar
1
g
(1%)
Vitamin A
61
mg
(1%)
Vitamin C
1
mg
(1%)
Calcium
32
mg
(3%)
Iron
1
mg
(6%)
We are a participant in the Amazon Services LLC Associates Program, an affiliate advertising program designed to provide a means for sites to earn advertising fees by advertising and linking to amazon.com.