Turkey Seasoning
This post may contain affiliate links.
Whether you're roasting, smoking or deep frying your turkey, this Turkey Seasoning is the perfect dry rub to add tons of flavor to a whole turkey, turkey breast or ground turkey! It's a great homemade seasoning to have on hand for Thanksgiving, but it's also convenient to use throughout the year. A simple combination of herbs and spices makes this the best turkey seasoning ever!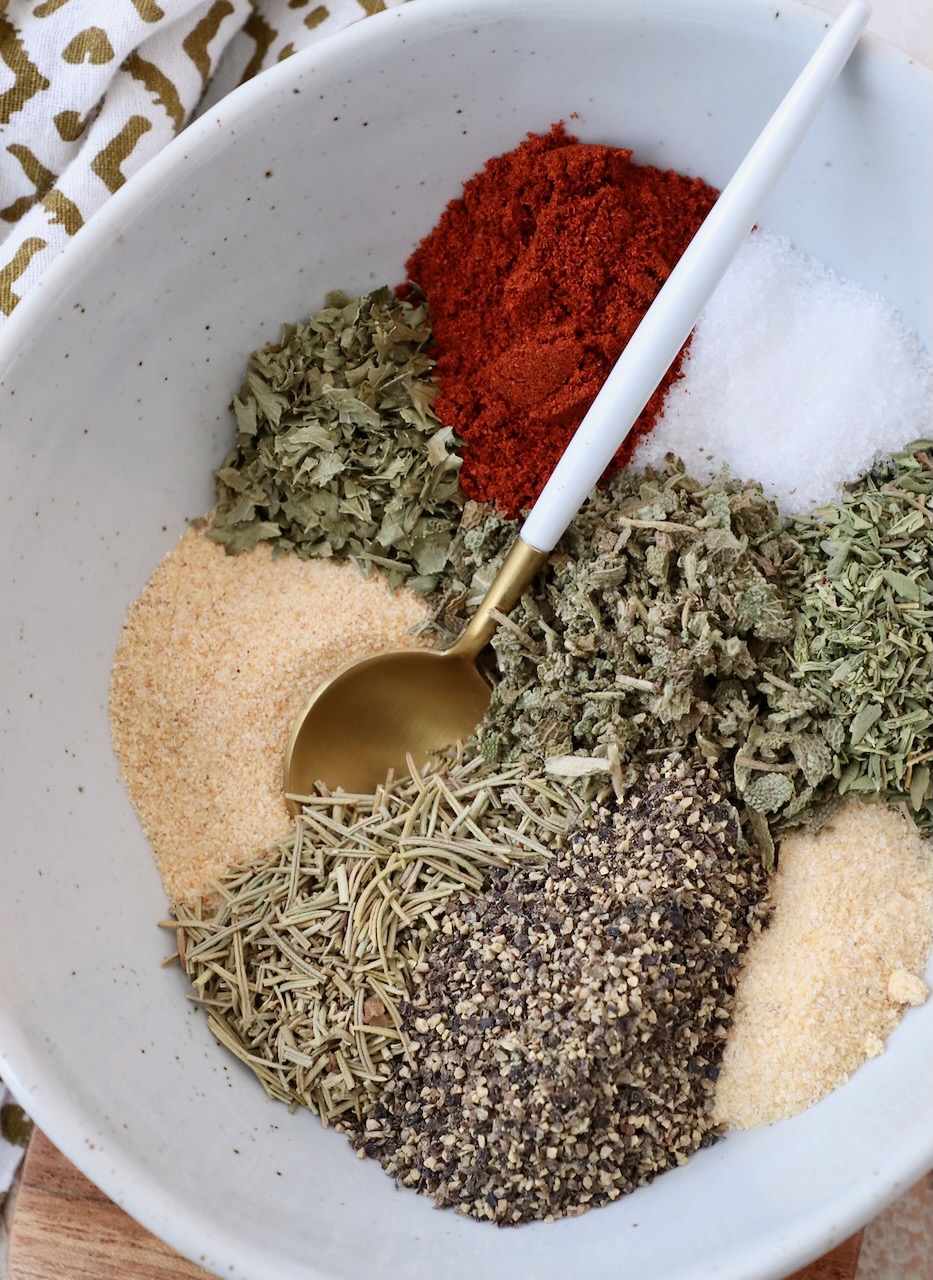 Say hello to the new secret ingredient that will help you make the best turkey recipes ever! Whether you're planning your Thanksgiving meal, or just looking for a go-to seasoning to spice up ground turkey, this turkey seasoning is the perfect place to start!
A delicious combination of 9 herbs and savory spices packs this turkey rub with so much flavor. This homemade seasoning blend combines herbs that pair well with turkey, including thyme, rosemary, parsley and sage. It's fresh, easy to make and contains no additives, artificial flavors, or ingredients that you can't pronounce.
And it's incredibly versatile!
Making ground turkey burgers in the summer? Season them with this spice mix! Roasting a 22 pound Thanksgiving turkey? Rub it down with the seasoning blend. Smoking a turkey breast to make the best turkey sandwiches ever? Season the breast with this dry rub.
The possibilities really are endless. When it comes to turkey, this seasoning blend is your new go-to recipe for kicking up the flavor!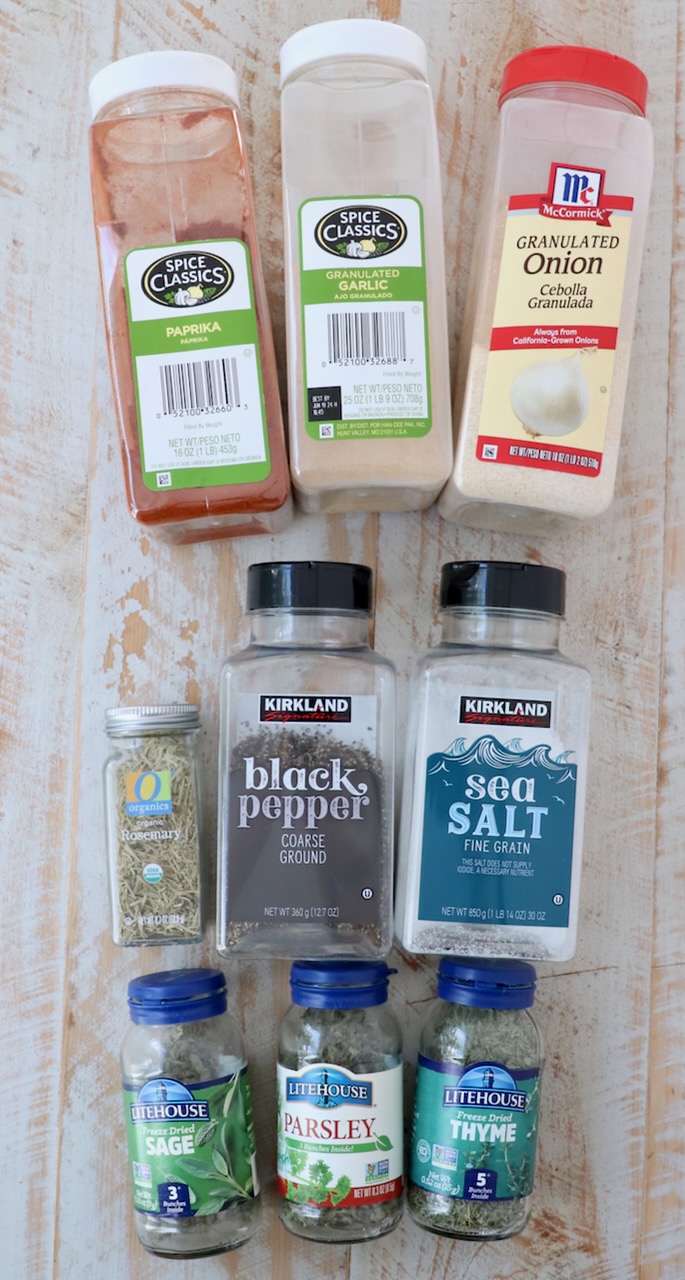 Ingredients
For the ingredient quantities, scroll to the recipe card at the bottom of this post.
Dried thyme – the lemony notes of thyme pair perfect with poultry, like turkey.
Dried rosemary – this robust, woodsy herb is another common pairing with turkey. It adds a peppery taste to the seasoning.
Dried parsley – even in it's dried form, parsley adds a bright, fresh flavor to this seasoning mix that pairs well with the other herbs.
Dried sage – while sage is traditionally thought of as an herb for stuffing, what do we pair with stuffing? Turkey! This makes it the perfect herb for seasoning both turkey and stuffing.
Sea salt (or kosher salt) – both sea salt and kosher salt can be used interchangeably when cooking. I prefer either kosher or sea salt, over table salt, in this seasoning mix because of their coarse texture and superior flavor.
Black pepper – I recommend a course-ground pepper for this recipe, as it adds great texture to the spice blend.
Garlic powder (or granulated garlic) – the only difference between granulated garlic and garlic powder is that the powder has been ground finer, than the granulated garlic. I prefer to use granulated garlic because it's less likely to clump over time, than garlic powder.
Onion powder (or granulated onion) – the only difference between granulated onion and onion powder is that the powder has been ground finer, than the granulated onion. I prefer to use granulated onion because it's less likely to clump over time, than onion powder.
Paprika – to add both color and flavor to the seasoning blend.
Instructions
Combine all of the ingredients in a small bowl.
Store in an airtight container in the pantry for up to 6 months.
Easy as that, in 5 minutes or less, you have a flavorful turkey seasoning, ready to spice up all your favorite turkey recipes!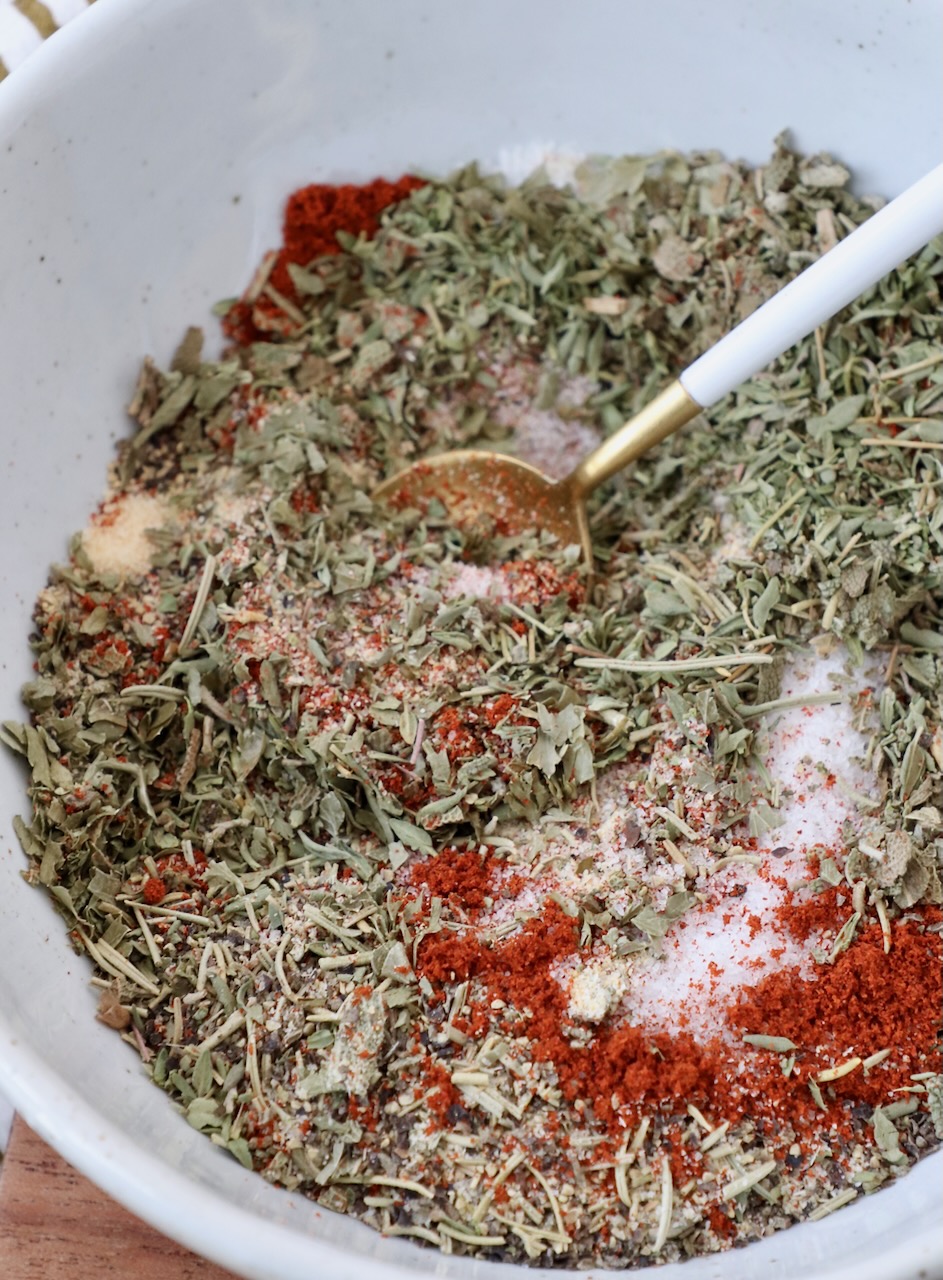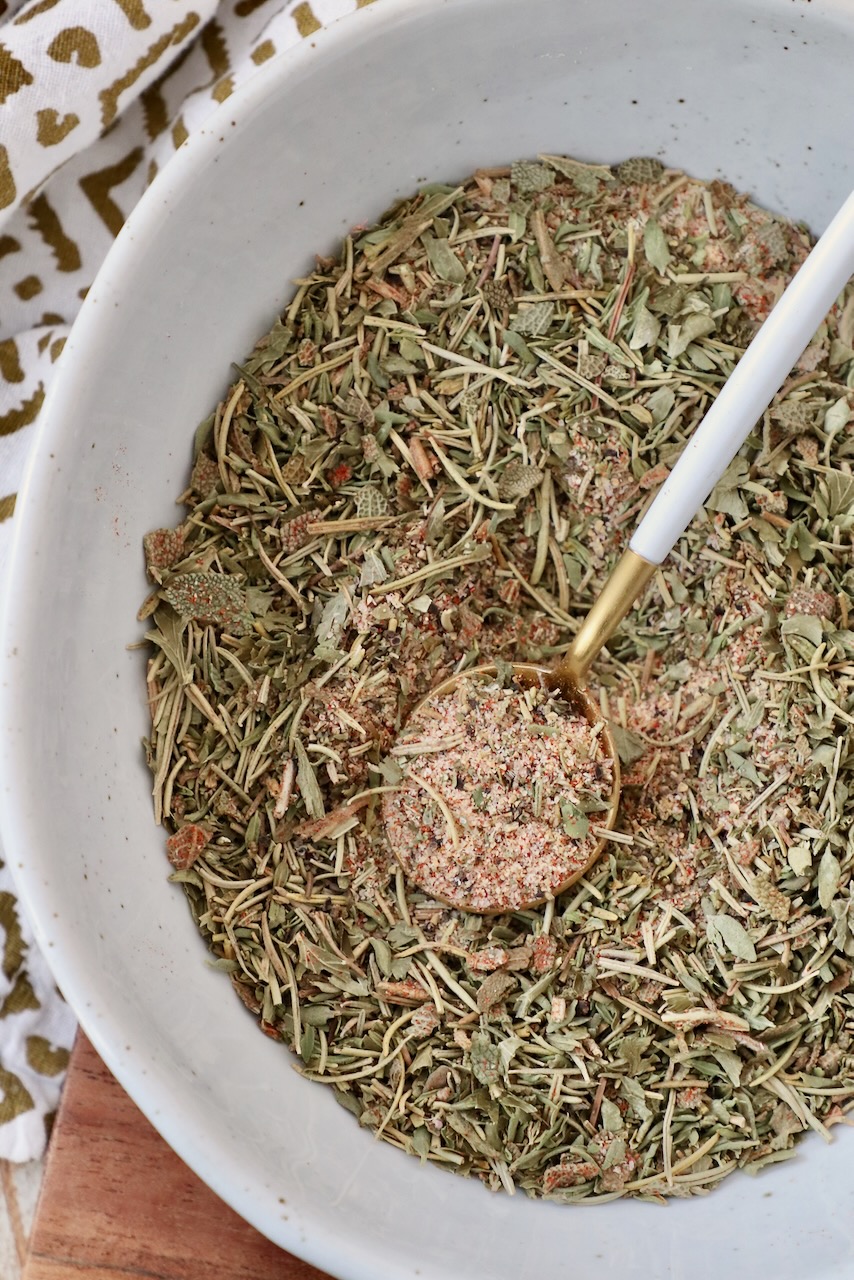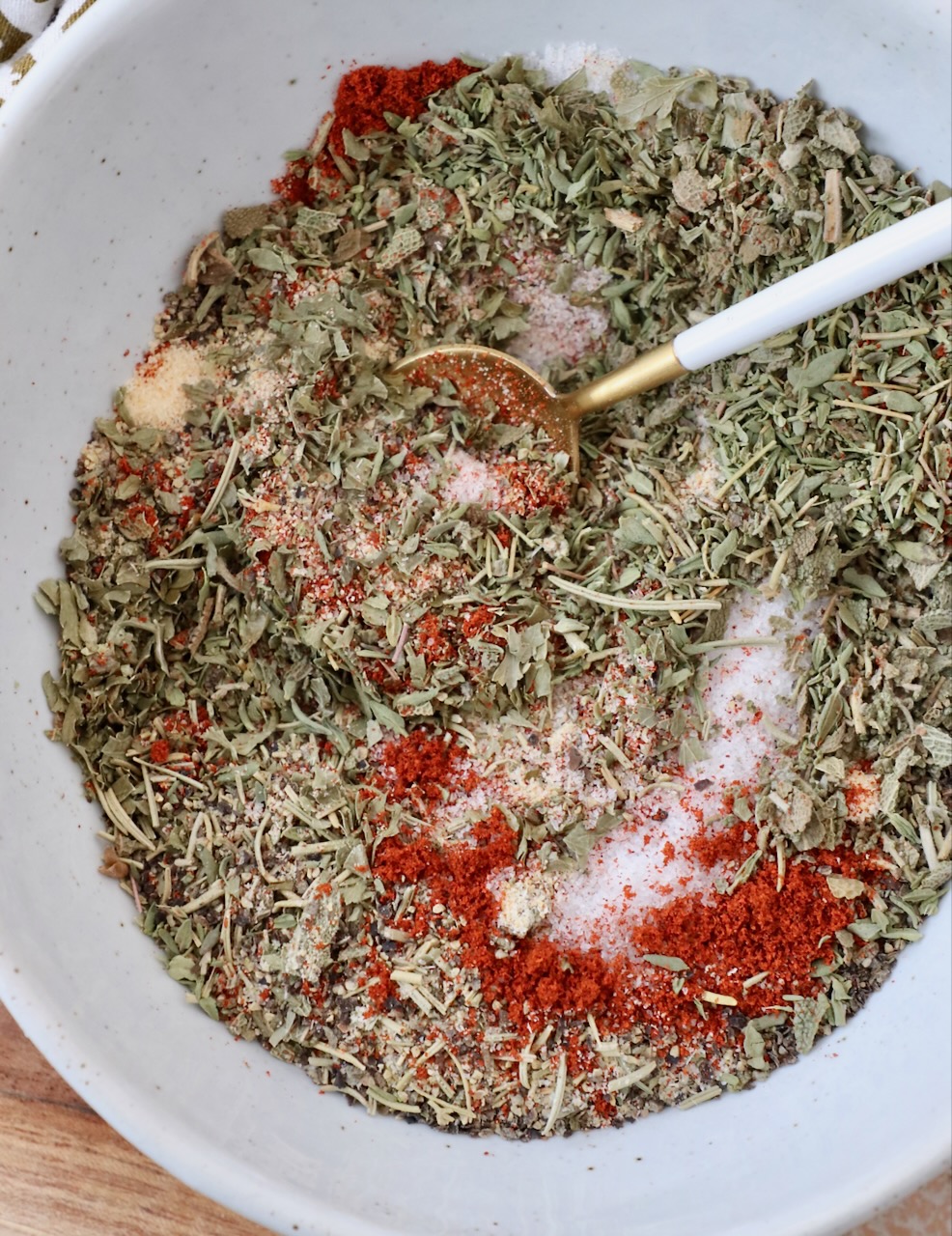 We are a participant in the Amazon Services LLC Associates Program, an affiliate advertising program designed to provide a means for sites to earn advertising fees by advertising and linking to amazon.com.