Fajita Seasoning
This post may contain affiliate links.
Homemade fajita seasoning is easy to make with this simple 8 ingredient gluten free and whole 30 recipe. It's perfect for steak, vegetables, shrimp or chicken fajitas!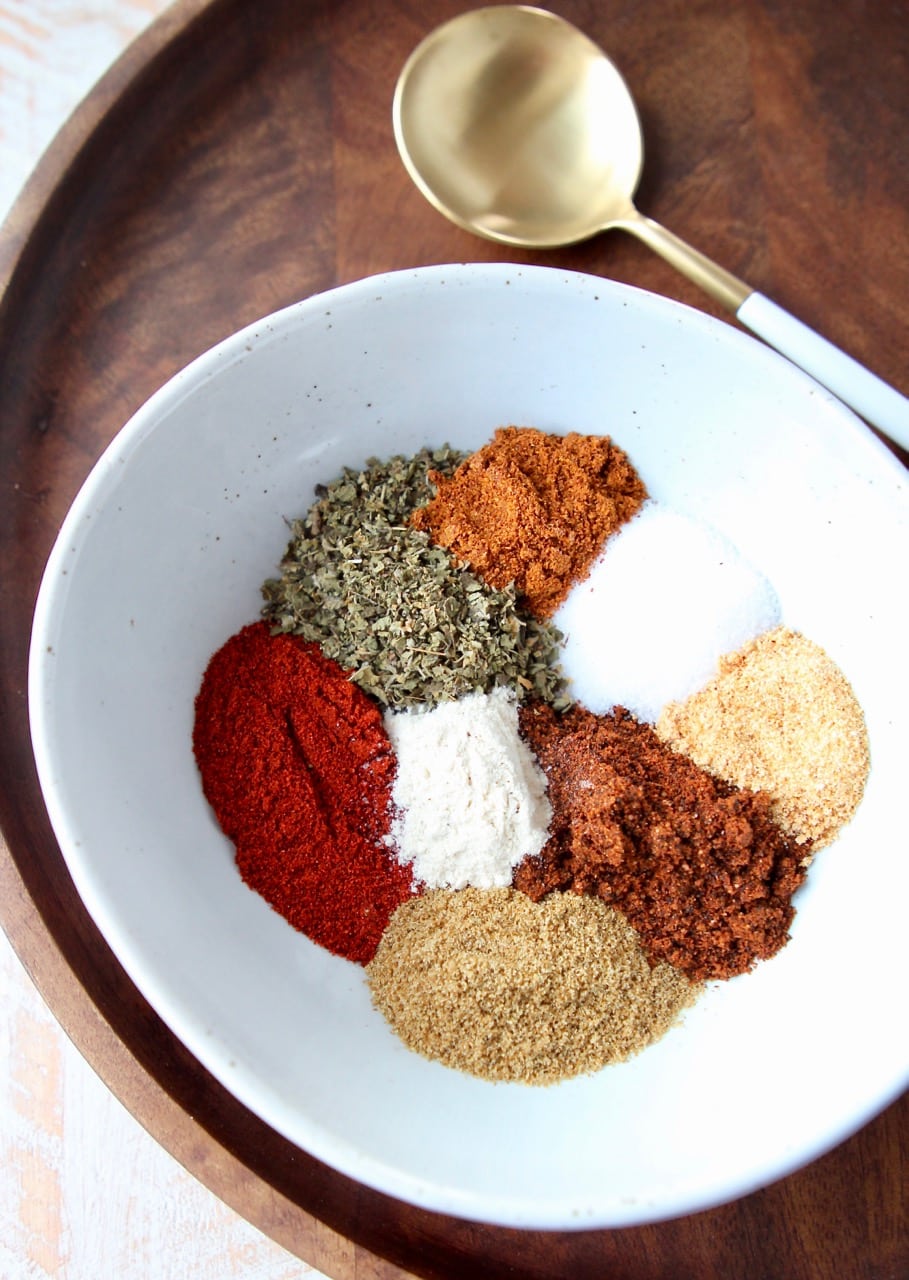 I love making my own seasonings at home! It has so many benefits vs. buying store bought pre-made seasonings.
It's cheaper! Check out the bulk spice section at your local grocery store for spices at a fraction of the cost. The commercial size spices at Costco, Smart and Final or on Amazon are also great for making your own seasoning blends. You can then make spice blends for an entire year at a fraction of the cost!
You know exactly what's in it. No hidden ingredients. No secret products that I can't pronounce containing gluten or sugar!
Making a big batch of your own seasoning blends at home means you always have them on hand.
You'll always find Italian Seasoning, Taco Seasoning, Ranch Seasoning and French Onion Dip Mix stocked in my pantry.
When I met Kurt, he lived on a cereal and fajitas diet most of the time. Needless to say, his diet has gotten quite the upgrade over the last 4 years! Even though I've incorporated a lot of new recipes into his weekly diet, he still loves his fajitas.
We make chicken fajitas, steak fajitas and veggie fajitas regularly for dinner. With this homemade Fajita seasoning, it's easy to make any night fajita night!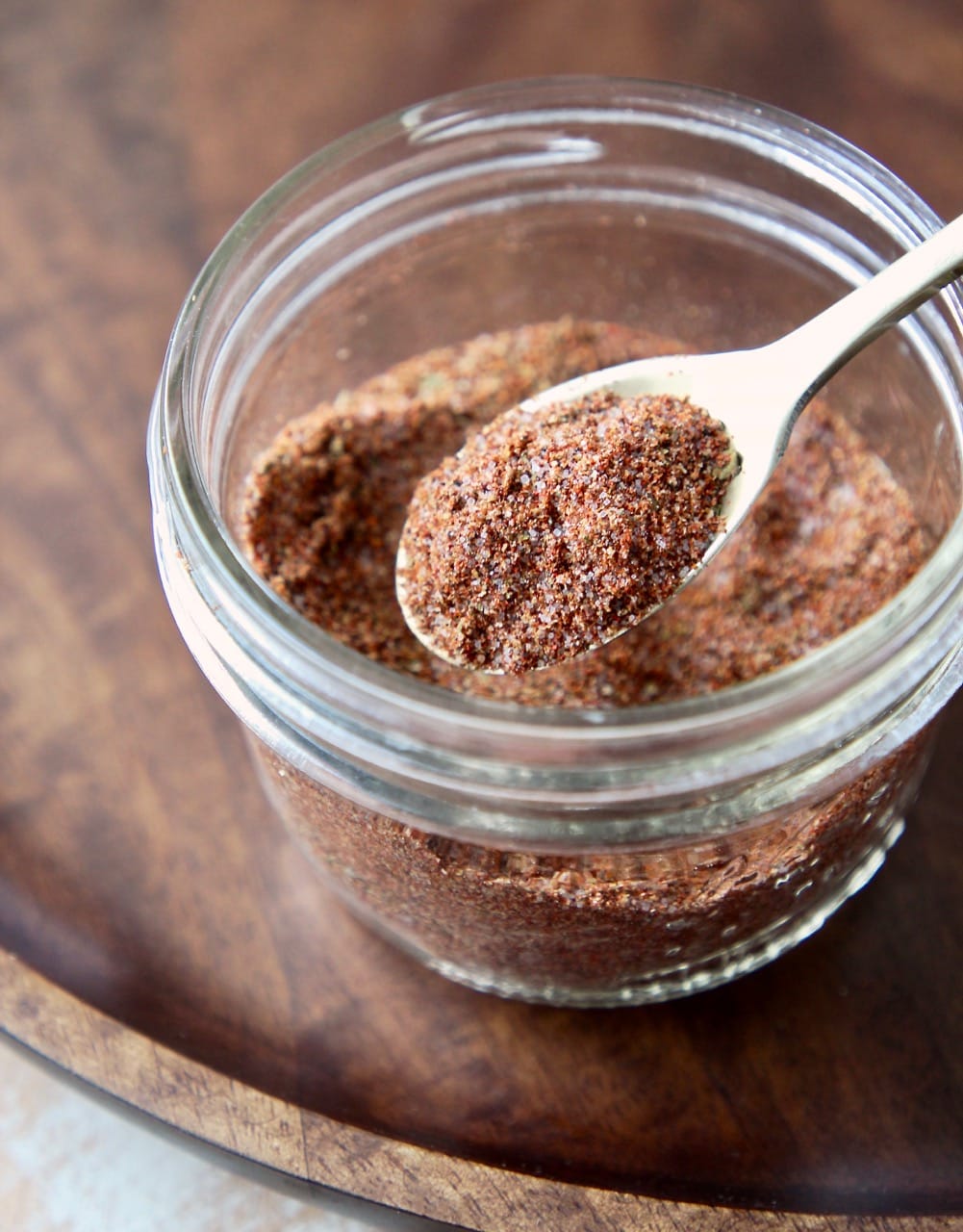 What is fajita seasoning made of?
This homemade fajita seasoning recipe is made up of a combination of 8 spices. Those spices include Cumin, Chili Powder, Paprika, Kosher Salt, Oregano, Garlic Powder, Onion Powder and Cayenne Pepper.
How to store Fajita Seasoning
I store all of my fajita seasoning mixes in half pint mason jars. You can double this recipe and it will fit in the half pint jars.
If you want to multiply the recipe by 5, use a pint size mason jar. If you want to multiply it by 10, use a 32 oz mason jar.
The fajita seasoning will stay good in the pantry for 2-3 years.
Is there a difference between taco seasoning and fajita seasoning?
The portions of spices are different in taco seasoning and fajita seasoning. In a pinch you can use them interchangeably, but I recommend making both to keep on hand.
The fajita seasoning contains more dried oregano and salt, with less garlic powder and onion powder than the tacos seasoning.
How do you make fajitas?
Add olive oil to a skillet over medium high heat. Add sliced bell peppers and onions, saute 4-5 minutes then add one pound of sliced meat or vegetables. Skirt steak, chicken breasts, shrimp or mushrooms all make delicious fajitas.
Add  2 tbsp fajita seasoning per pound of meat or vegetables with ¼ cup lime juice. Saute for 4-5 minutes or until the meat is cooked through.
Place the fajitas in tortillas or serve over rice for fajita bowls. For low carb fajita bowls, serve with Cilantro Lime Cauliflower Rice.
What goes good in fajitas?
My go-to fajita toppings are fresh sliced avocado and cilantro. You can also add cheese, sour cream, salsa or hot sauce.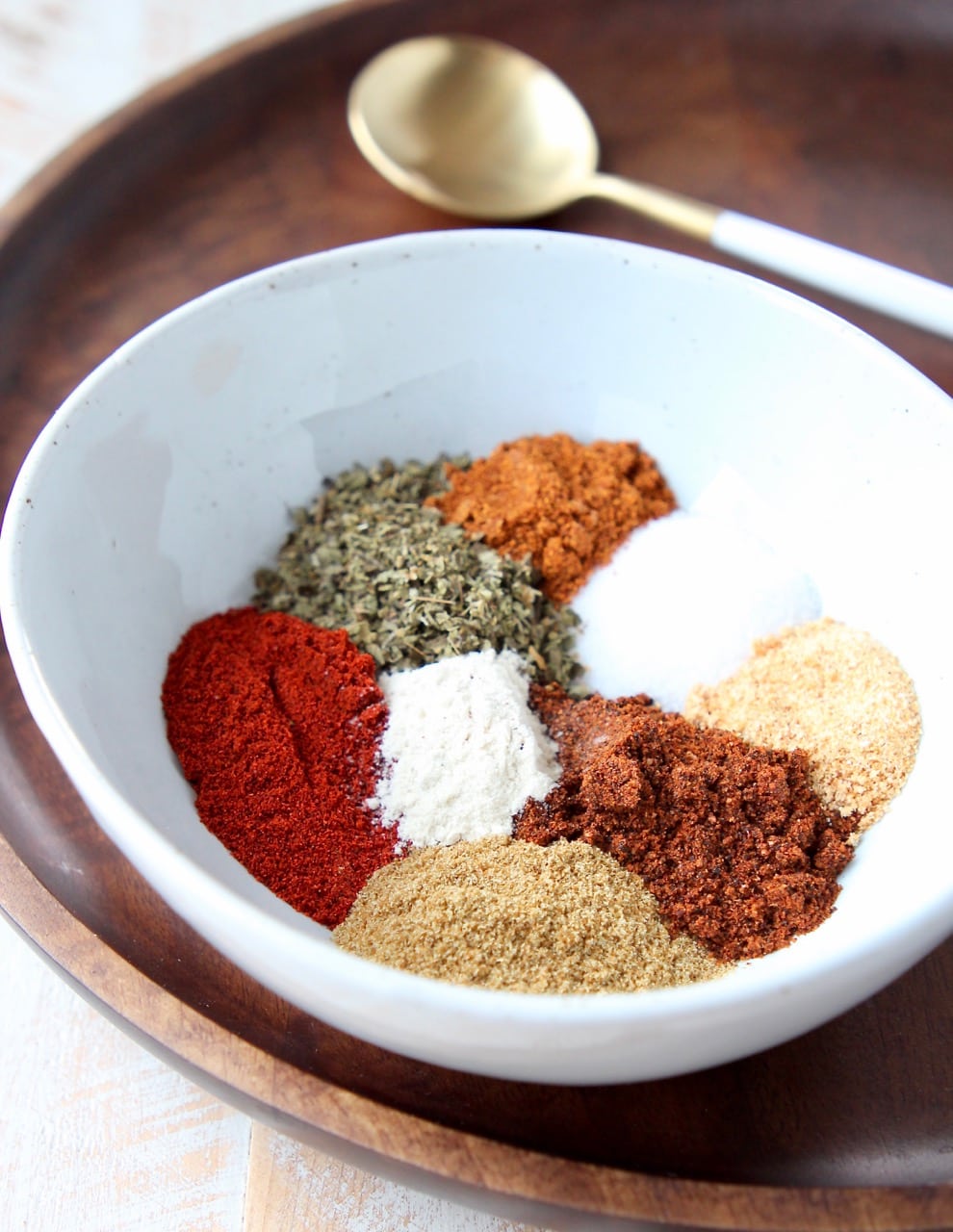 Try this fajita seasoning in these delicious recipes!
Fajita Seasoning
Homemade fajita seasoning is easy to make with this simple 8 ingredient recipe, perfect for steak, vegetables, shrimp or chicken fajitas!
Ingredients
1

tbsp

cumin

1

tbsp

chili powder

1

tbsp

paprika

1

tbsp

sea salt

1

tbsp

dried oregano

1

tsp

garlic powder

1

tsp

onion powder

1

tsp

cayenne pepper
Instructions
Combine all of the spices together in a small bowl or mason jar.

Store in an airtight container until ready to use.
Nutrition Facts
Calories
16
kcal
(1%)
Carbohydrates
3
g
(1%)
Sodium
1187
mg
(49%)
Potassium
92
mg
(3%)
Fiber
1
g
(4%)
Vitamin A
1105
mg
(22%)
Vitamin C
0.2
mg
Calcium
30
mg
(3%)
Iron
1.4
mg
(8%)
We are a participant in the Amazon Services LLC Associates Program, an affiliate advertising program designed to provide a means for sites to earn advertising fees by advertising and linking to amazon.com.