Homemade Chili Seasoning Recipe
This post may contain affiliate links.
Homemade chili seasoning mix is made in less than 5 minutes! This easy recipe is gluten free, vegan, whole 30 compliant & keto friendly!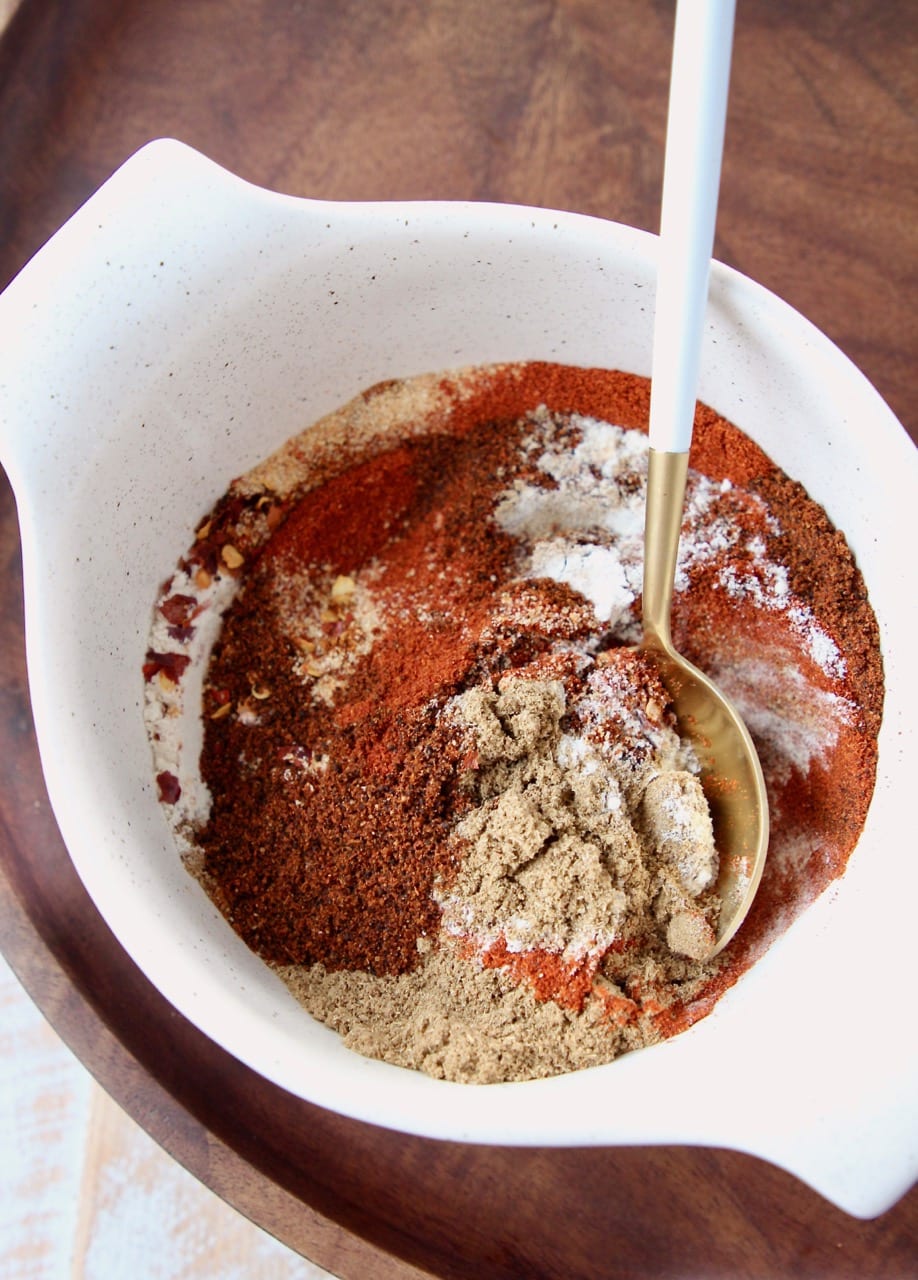 When you hear the word "chili seasoning", you probably think of a big bowl of chili. This seasoning mix does make one delicious batch of chili, but it can also be used in a variety of recipes!
I love tossing sweet potatoes in chili seasoning, then adding them to this Sweet Potato Cranberry Spinach Salad. I also love making an easy skillet turkey chili, then adding it to spaghetti squash.
When you make your own homemade spice blends, you know exactly what's in it! Just like in these recipes for homemade taco seasoning, Italian seasoning, pork chop seasoning and fajita seasoning.
This recipe combines 8 common spices that you probably already have in your spice cabinet. I like to buy the most common spices I use in my seasoning mixes in bulk.
You can do this by purchasing large containers of the spices on Amazon. Or find them in stores like Costco or Smart and Final. You can also head to the bulk spices aisle at your local grocery store. Fill up bags of your favorite spices at a fraction of the cost!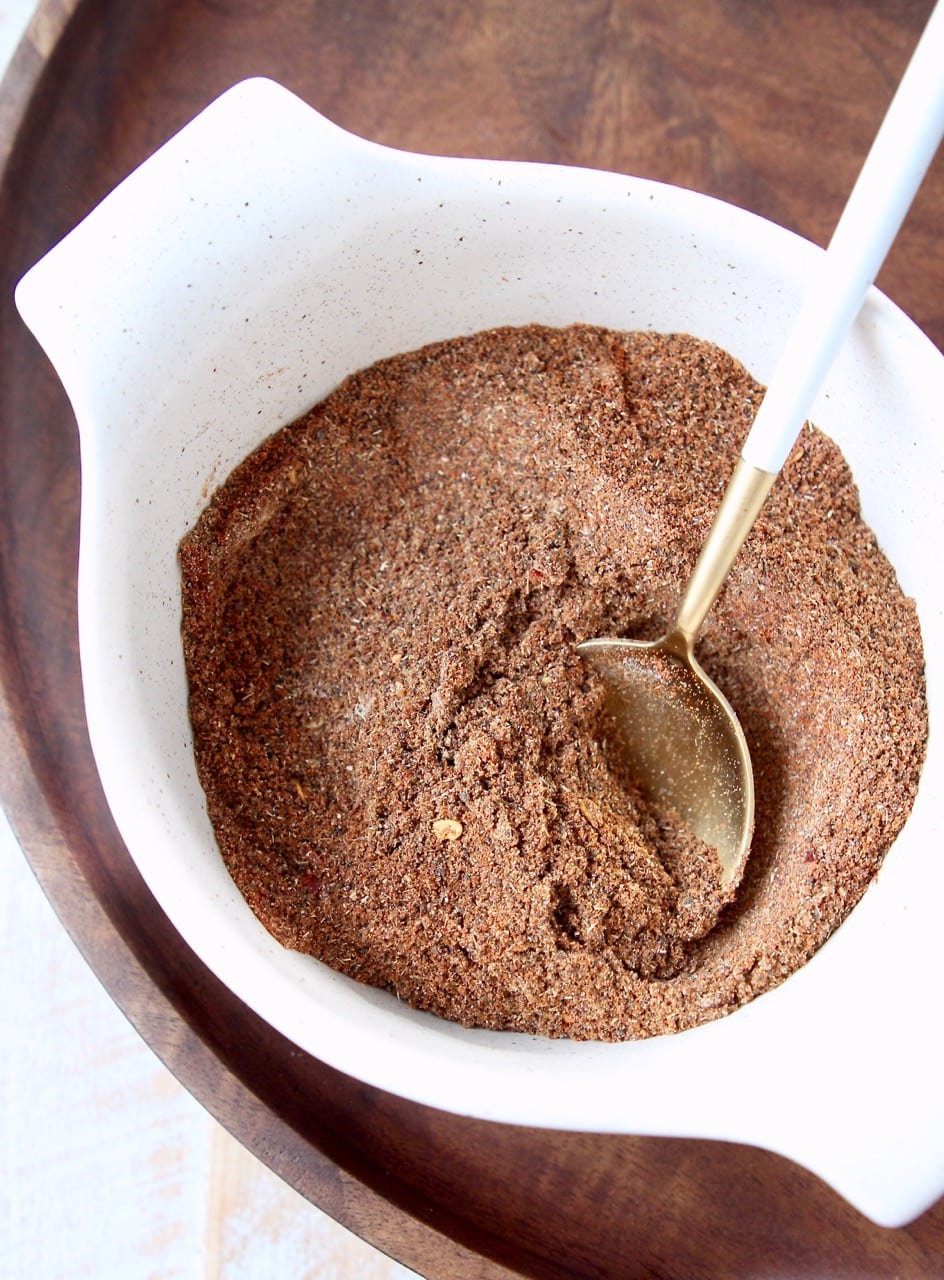 How to make it
In a small bowl, combine:
chili powder
cumin
garlic powder
paprika
onion powder
salt
crushed red pepper flakes
cayenne pepper
Store in an airtight container, such as a mason jar.
Frequently asked questions
How long does it last? Homemade chili seasoning will last for up to 2 years stored in an airtight container in a cool, dry space, such as the pantry.
Is chili powder the same thing as chili seasoning? No. Chili powder is made with ground chilis and sometimes the addition of paprika, cumin and Mexican Oregano. Chili seasoning is a combination of 8 spices used to make chili or other recipes that call for chili seasoning.
Can I use cayenne pepper instead of chili powder? Not unless you want an extremely spicy seasoning blend! Ground cayenne pepper is exactly what it says it is. It's ground red cayenne peppers with no added ingredients. It is much spicier than chili powder.
Can I substitute chili seasoning for taco seasoning? Chili seasoning and taco seasoning use similar ingredients, but in different quantities. You can substitute chili seasoning for taco seasoning in a pinch. The chili seasoning will have a stronger chili flavor. There is 4 times the amount of chili powder in chili seasoning than in taco seasoning.
How much seasoning does this recipe make? This recipe makes 8 tablespoons, which equals 4 ounces of chili seasoning. Most seasoning packets you'll find at the grocery store are approximately 1 ounce. This equals 2 tablespoons of this homemade seasoning mix.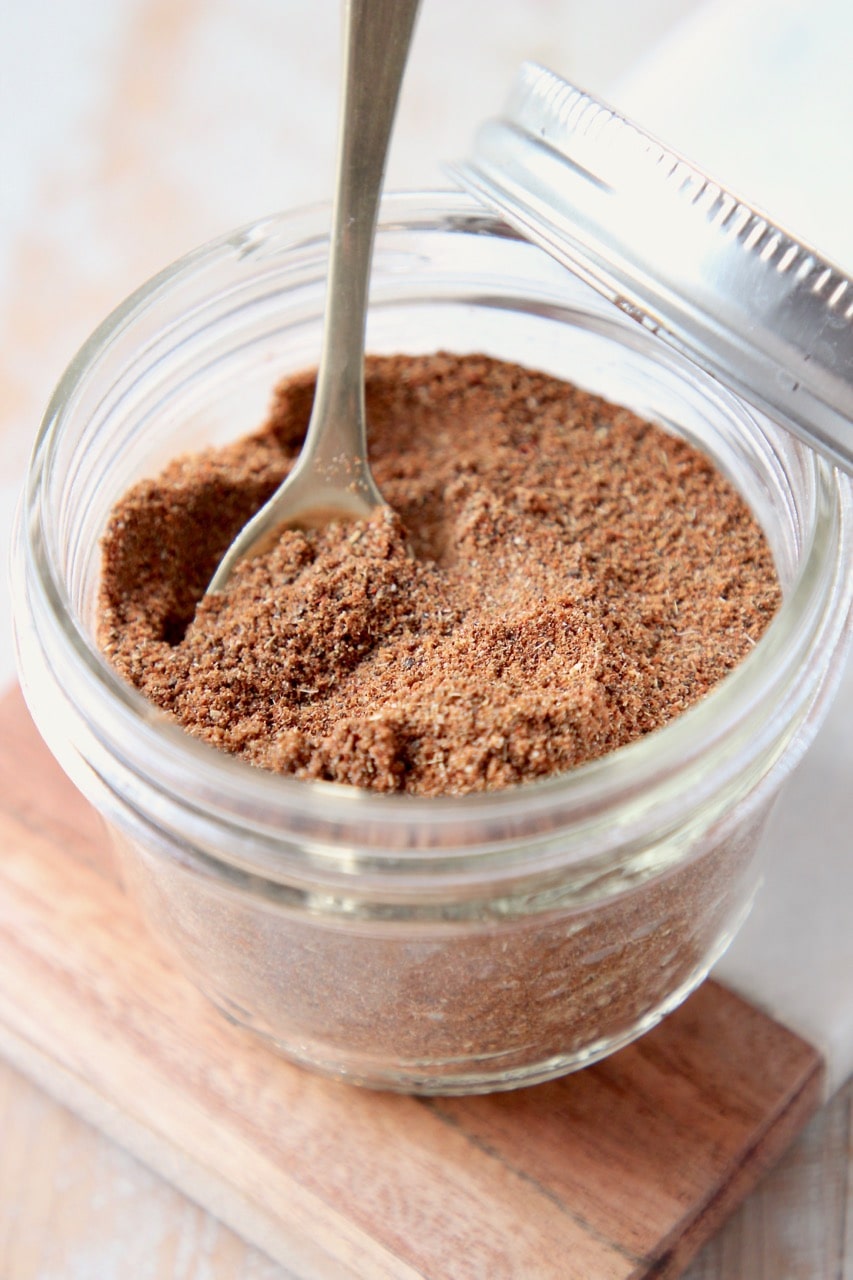 How to make homemade chili
Add 1 pound ground beef to a large skillet on the stove over medium heat. Cook through until the beef is browned. Drain any grease from the skillet, then add the ground beef to a slow cooker.
Add a 15.5 oz can of chili beans to the slow cooker. Add a 14.5 oz can of diced tomatoes and 10 oz can of diced tomatoes with green chilies. Finally, add an 8 oz can of tomato sauce and 2 tablespoons of the chili seasoning.
Slow cook on low for 6-8 hours, or on high for 3-4 hours.
Other ways to use it
Make a big batch of this homemade chili seasoning and use it in each of these 5 tasty chili recipes.
The best secret ingredient for chili
Over the years, I've tried adding several different ingredients, from beer to cinnamon, to add a little something extra to my chili! If you're looking for a secret ingredient to try in your next chili recipe, check out these additions.
Cocoa Powder – add one teaspoon cocoa powder to add a rich, earthy flavor to chili.
Ground Cinnamon – add 1/4 teaspoon ground cinnamon to enhance the flavor of your chili.
Cornmeal – to thicken your chili, add one tablespoon cornmeal.
Honey – for a natural added sweetener, add one tablespoon honey to your chili. The combination of sweet and spicy in a chili is absolutely delicious!
Chipotle Peppers – for a spicy, smoky flavor, add 1-2 chopped chipotle peppers from a can of chipotle peppers in adobo sauce. To really kick your chili up a notch, add a teaspoon of the adobo sauce from the can.
Stout Beer – with both a malty sweetness and hoppy bitterness, stout beer adds delicious flavor to chili!
Lime Juice – for a bright, citrus flavor, juice 1-2 limes into your chili.
Hot Sauce – for a simple, spicy addition, add one tablespoon of your favorite hot sauce to your chili. We're obsessed with Pico Pica around our house!
Homemade Chili Seasoning
Homemade chili seasoning mix is made in less than 5 minutes! This easy recipe is gluten free, vegan, whole 30 compliant & keto friendly!
Instructions
Combine all ingredients in a small bowl.

Store in an airtight container until ready to use.
Notes
This recipe makes 4 ounces of seasoning mix, which equals 8 tablespoons. Most packets of chili seasoning found at the grocery store contain 1 ounce, or 2 tablespoons.
Nutrition Facts
Calories
43
kcal
(2%)
Carbohydrates
7
g
(2%)
Protein
2
g
(4%)
Fat
2
g
(3%)
Sodium
723
mg
(30%)
Potassium
245
mg
(7%)
Fiber
3
g
(12%)
Vitamin A
3145
mg
(63%)
Vitamin C
0.2
mg
Calcium
57
mg
(6%)
Iron
3.6
mg
(20%)
We are a participant in the Amazon Services LLC Associates Program, an affiliate advertising program designed to provide a means for sites to earn advertising fees by advertising and linking to amazon.com.