Homemade Taco Seasoning
This post may contain affiliate links.
Make THE BEST taco seasoning at home to use in chicken or ground beef tacos, in taco soup or taco spaghetti! It's easy to triple the recipe and store it in the pantry until you're ready to use it. This recipe is mild, gluten free, preservative free and Whole 30 compliant!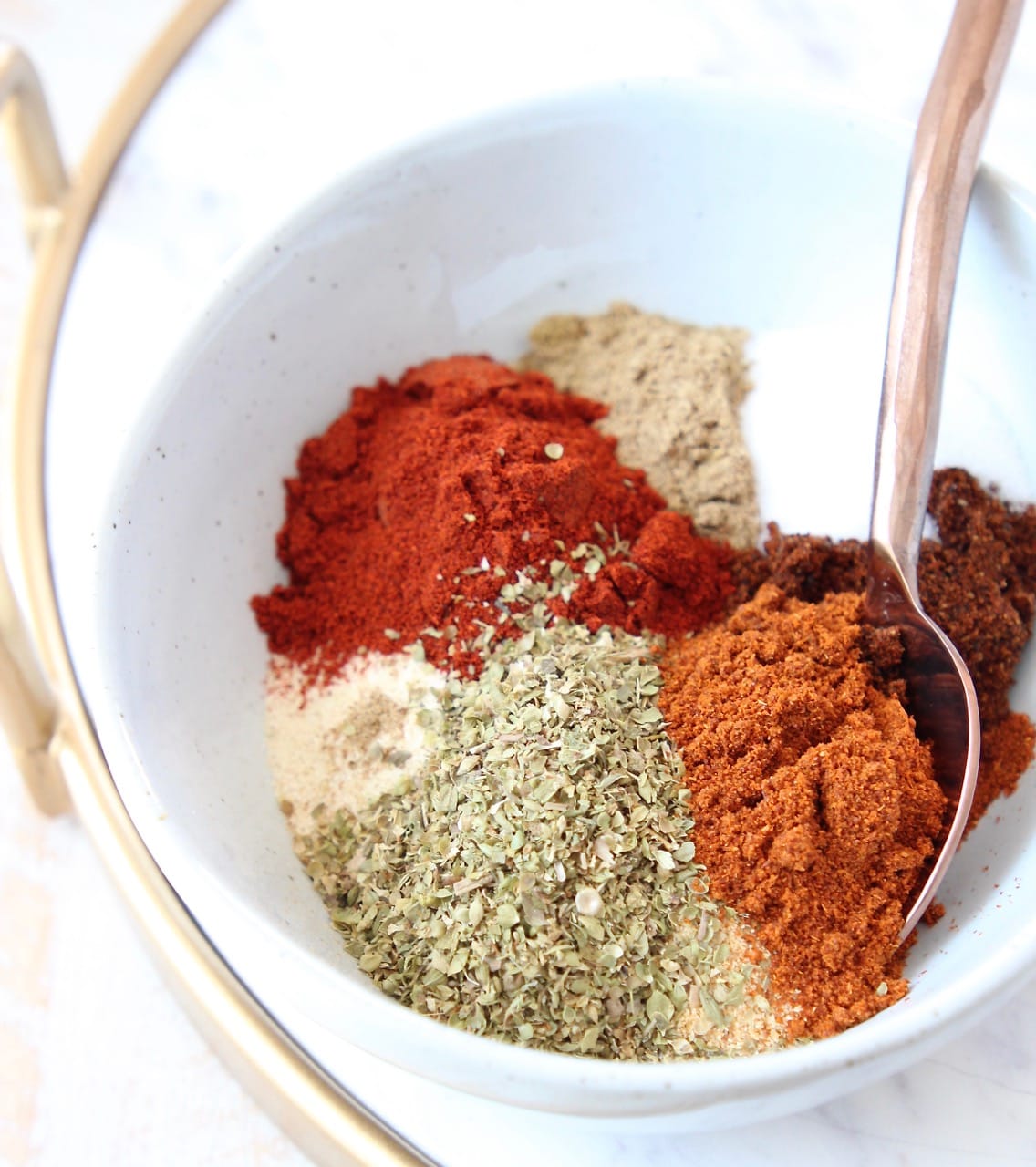 I've been making this homemade taco seasoning recipe for years. I use it in Taco Soup, Buffalo Taco Spaghetti, Taco Croissants, simple ground beef tacos and so many other recipes!
I always make a big batch to keep on hand, along with my homemade Italian Seasoning, French Onion Dip Mix and Fajita Seasoning. The seasoning mixes are stored in half pint mason jars in the pantry, so they're always ready to use when I need them for a recipe.
It's so easy to make your own taco seasoning at home. It only takes 5 minutes to mix up the spices and you'll love the flavor it adds to tacos, soups, dips and more!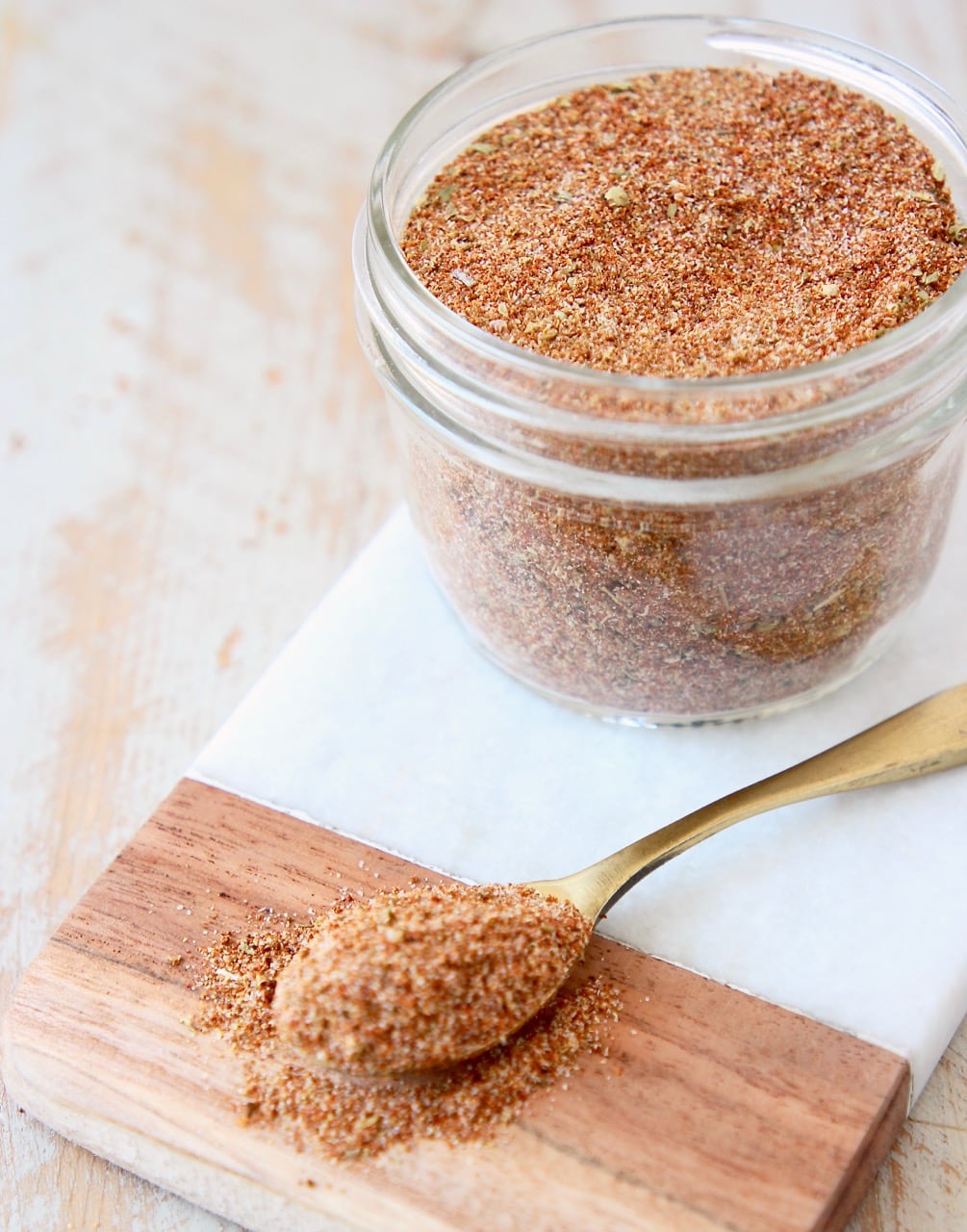 How to make it
Making homemade taco seasoning is as easy as mixing 8 spices together in a small bowl or mason jar. The ingredients you'll need are:
I like to buy the spices in large bulk containers, either online or at Costco. It saves money and I know I'll always have them on hand to mix up my favorite seasoning blends or to refill smaller spice jars.
How much seasoning do I need for 1 pound of meat?
For every 1 pound of meat, you'll want to use 2 tablespoons taco seasoning.
A typical packet of taco seasoning found at the grocery store contains 1 ounce of taco seasoning. This is equivalent to 2 tablespoons of homemade seasoning.
How do you make taco meat with ground beef?
Add 1 pound of ground beef to a large skillet on the stove over medium high heat. Cook until the beef is browned, then drain any grease.
Sprinkle 2 tablespoons taco seasoning mix over the browned beef, along with 1/2 cup of water, chicken broth or beef broth. Simmer for 5 minutes, then add the taco meat to crispy taco shells or tortillas. Top with shredded cheese, sour cream, lettuce, tomatoes or your favorite taco toppings.
Ground chicken or ground turkey can also be used instead of ground beef for a taco meat that's lower in fat and calories.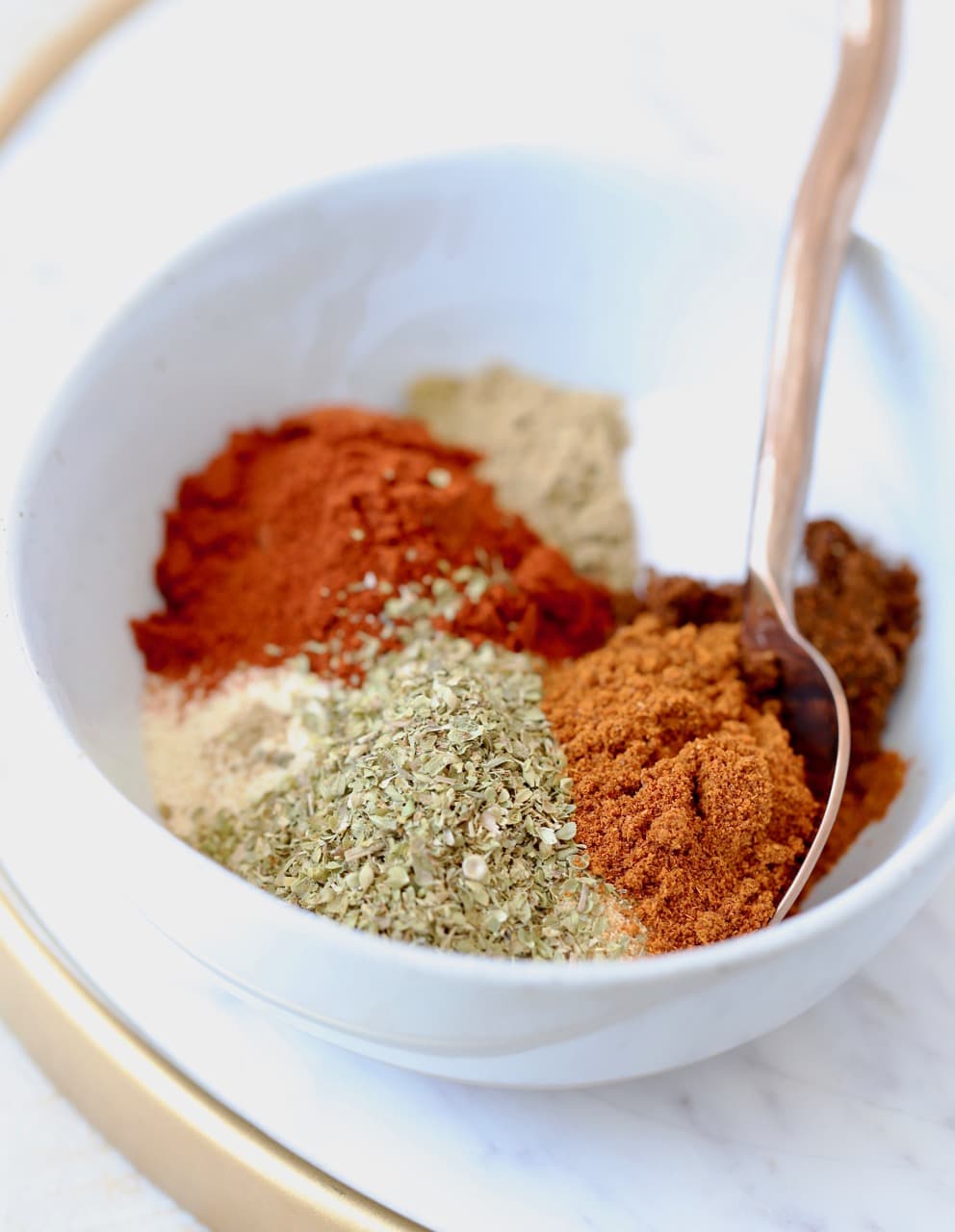 Frequently asked questions
How long will it last? Stored in an airtight container, such as a mason jar, homemade taco seasoning will stay good in the pantry for 2 years. But is best when used within 6 months for the freshest flavor!
Is it spicy? This taco seasoning is mild, but if you want a seasoning on the spicier side, simply add more cayenne pepper to taste. This recipe calls for 1 1/2 teaspoons cayenne pepper, you can double or triple this for a spicy taco seasoning.
Can I double or triple this recipe? Yes and I highly recommend it! I always triple the recipe, because we use this taco seasoning every week. To increase the recipe, simply hover over the serving amount in the recipe card below that currently says "7 tablespoons". Adjust this up to 14 or 21 tablespoons, to double or triple the recipe. The ingredient amounts in the recipe card will automatically update to reflect the increased serving size.
What's the difference between taco seasoning and chili seasoning? Chili seasoning and taco seasoning use similar ingredients, but in different quantities. Homemade chili seasoning is going to have 4 times more chili powder, with a little more spice than taco seasoning from the addition of crushed red pepper flakes. You can substitute taco seasoning for chili seasoning in a pinch. Or do what I do, and while you have all the spices out, make both seasoning mixes at once and store them in the pantry, so you'll be ready for taco or chili night anytime!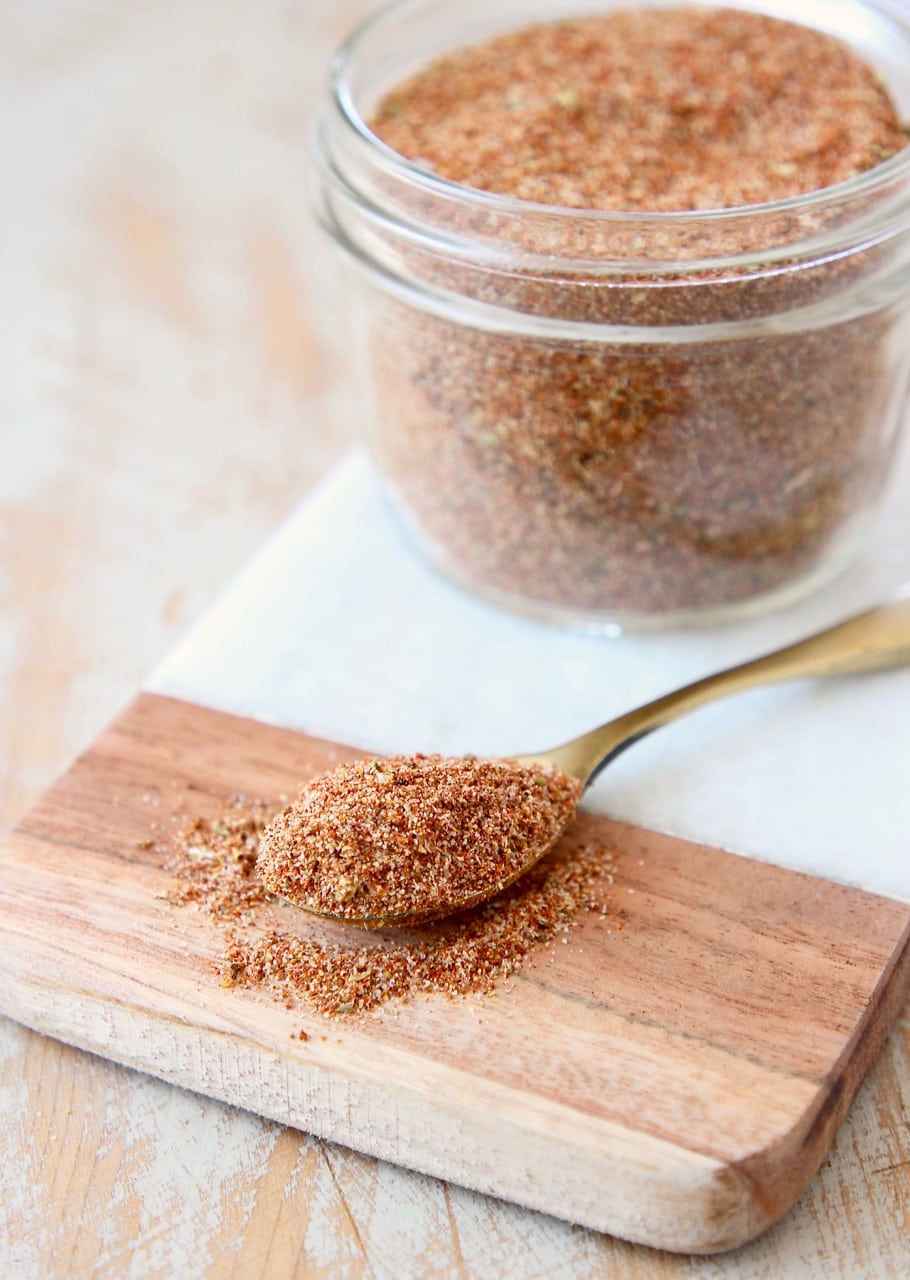 Ways to use the seasoning
Mix up a batch of the homemade seasoning then use it in these delicious dishes throughout the week. It's tasty in more than just tacos, use it to make scrumptious soups, dips, pasta dishes and more!
Don't forget to pin this homemade taco seasoning for later and when you make it, be sure to share a pic on Instagram and tag me @WhitneyBond or use the hashtag #WBRecipes!
Homemade Taco Seasoning
Make your own taco seasoning at home to use on chicken or ground beef tacos, in taco soup or taco spaghetti. It's easy to triple the recipe and store it in a mason jar in the pantry until ready to use. This recipe is mild, gluten free, preservative free and Whole 30 compliant!
Instructions
Combine all of the spices together in a small bowl or mason jar.

Store in an airtight container until ready to use.
Nutrition Facts
Calories
20
kcal
(1%)
Carbohydrates
4
g
(1%)
Protein
1
g
(2%)
Fat
1
g
(2%)
Saturated Fat
1
g
(5%)
Sodium
521
mg
(22%)
Potassium
102
mg
(3%)
Fiber
2
g
(8%)
Sugar
1
g
(1%)
Vitamin A
1033
mg
(21%)
Vitamin C
1
mg
(1%)
Calcium
29
mg
(3%)
Iron
1
mg
(6%)
We are a participant in the Amazon Services LLC Associates Program, an affiliate advertising program designed to provide a means for sites to earn advertising fees by advertising and linking to amazon.com.