My FAMOUS Thai Peanut Sauce is tossed with vegetables and noodles in this QUICK AND EASY 15 minute recipe! It's packed with flavor and easily made vegan and gluten free!
This vegetarian recipe for Thai Peanut Noodles is one of my favorite dinners. It's simple, packed with vitamins from all of the veggies and most importantly, it's SO DELICIOUS!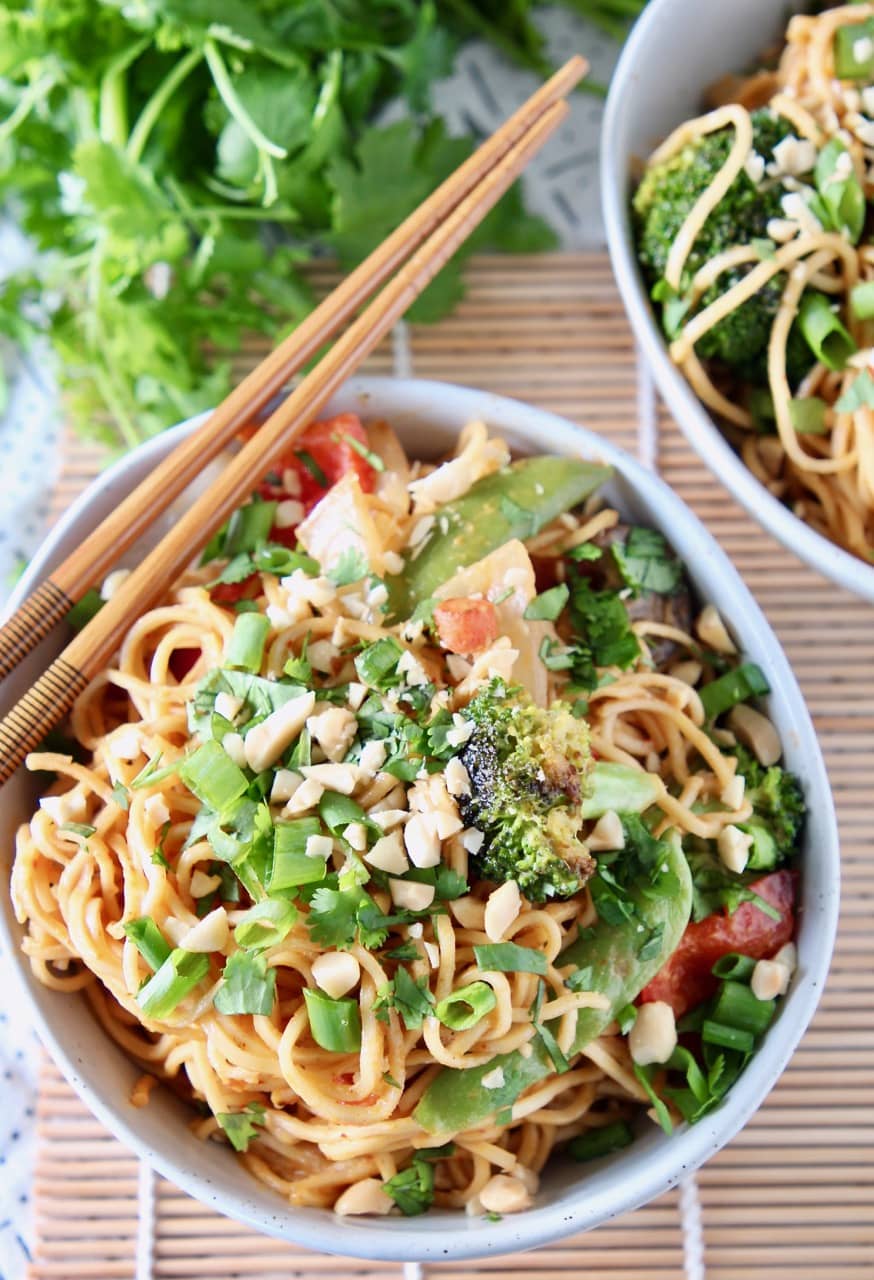 Noodles are one of my favorite things in life! Rice noodles, ramen noodles, spaghetti noodles, udon noodles, if it's a noodle, I'm in! There's just something about cuddling up on the couch with a big bowl of noodles that makes my little heart so happy!
One of my other favorite things in life is this recipe for Thai Peanut Sauce. It was one of the first recipes I ever made on the blog in 2011. And it continues to be my favorite sauce to toss on just about anything!
It's sweet, creamy peanut butter goodness, with a little bit of spice and tons of flavor! Everything goes right into a blender and 5 minutes later, you've got creamy, dreamy peanut sauce!
Over the years, I've added this peanut sauce to a number of different recipes. Chicken Skewers with Peanut Sauce, so delicious! Meatballs slow cooked in Thai Peanut Sauce, super scrumptious! And Thai Peanut Sweet Potato Buddha Bowls, the most popular vegan recipe on the blog, for good reason!
In this recipe for Thai Peanut Noodles, I'm simply tossing the sauce with noodles and stir fried vegetables. The recipe is made in just 15 minutes and you can totally make it your own! Shredded rotisserie chicken, shrimp or tofu can easily be added for more protein.
Want to make spicy peanut noodles? Add sliced Thai chilies or jalapenos to the stir fried veggies or serve them raw on top of the dish. A drizzle of sriracha or sprinkle of red pepper flakes on top will also spice these noodles up!