Roasted Garlic Parmesan Broccolini is the easiest, most delicious side dish recipe. It's healthy, vegetarian, gluten free & easy to make in just 25 minutes!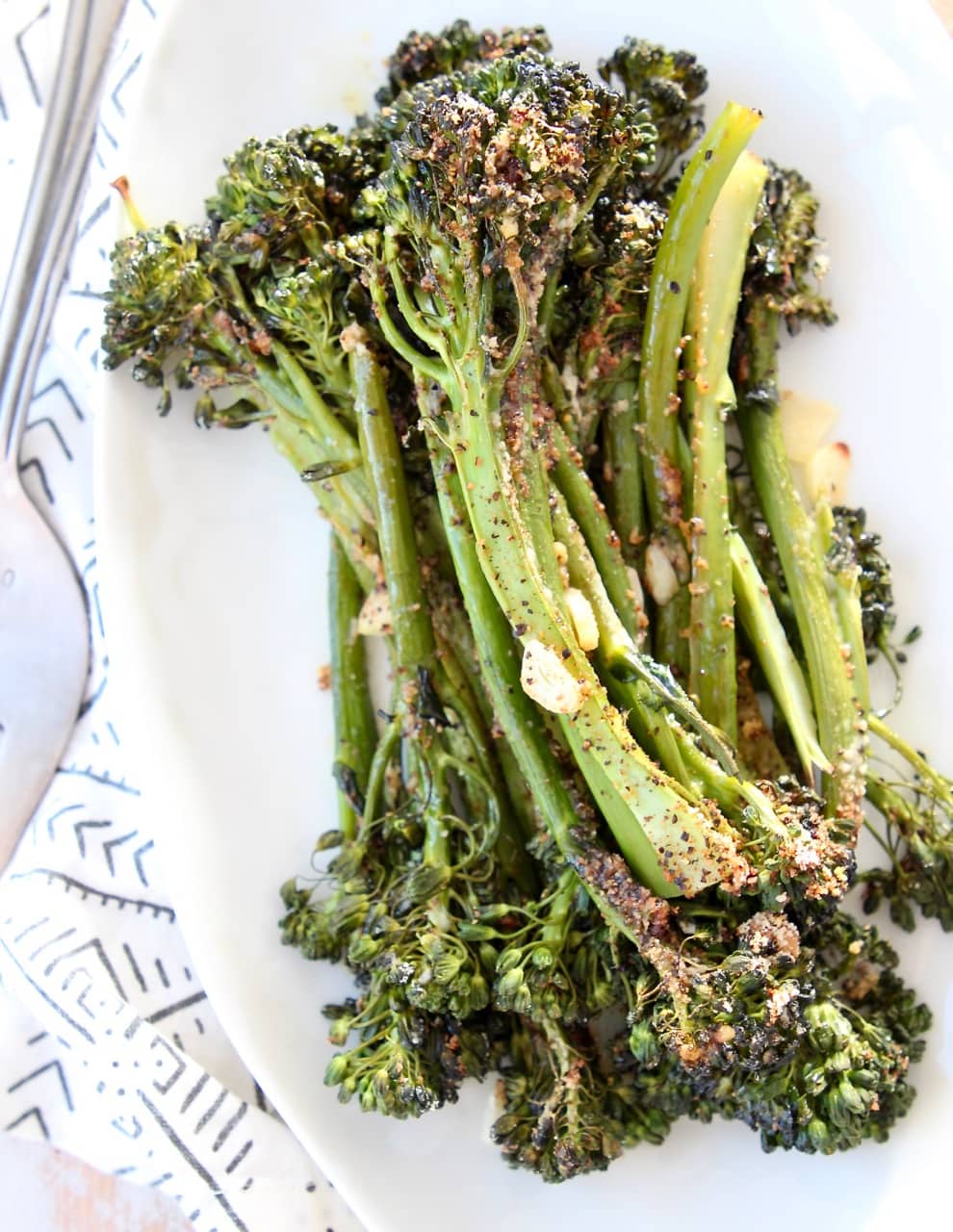 Roasted veggies are so easy to make, they're one of our go-to sides for weeknight meals. This roasted broccolini recipe is regularly seen on our dinner table with Bruschetta Baked Salmon and Bacon Wrapped Pork Loin. It bakes right along these delicious main dishes so dinner is ready in no time!
I love the simple seasoning of garlic, olive oil, steak seasoning and parmesan cheese in this recipe. You can even leave off the parmesan cheese to make it vegan! With about 5 minutes prep time and 20 minutes in the oven, this recipe is ready to go!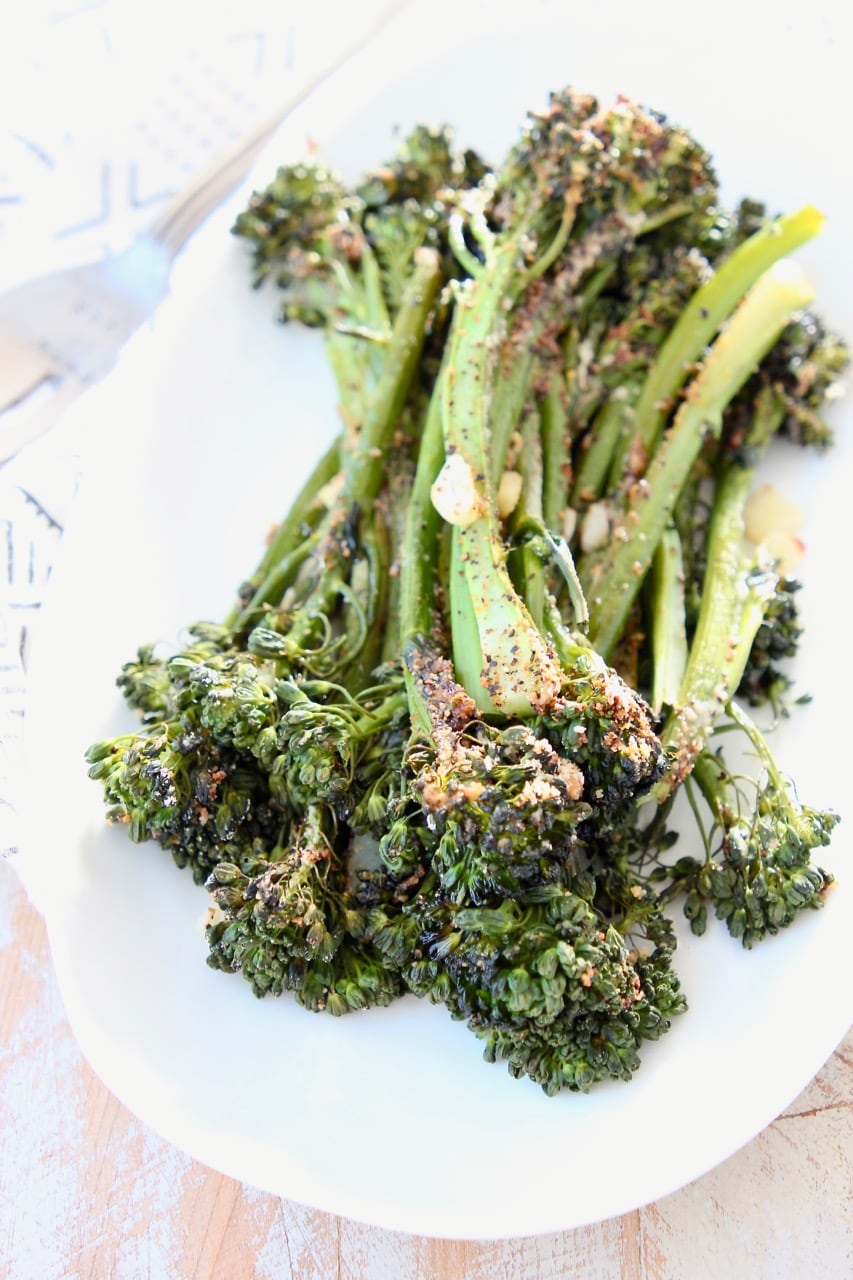 How to make Roasted Broccolini
Slice between the broccolini stems and place in an even layer on a baking sheet with thinly sliced garlic cloves. Drizzle with olive oil.
Sprinkle steak seasoning and grated parmesan cheese on top. Place in a 400°F preheated oven for 20 minutes.
I generally use Montreal Steak Seasoning for this recipe. It contains coarse salt, pepper, garlic, onion and paprika. It can easily be found in the grocery store next to the salt and pepper. If you have another similar steak seasoning at home, that will work too!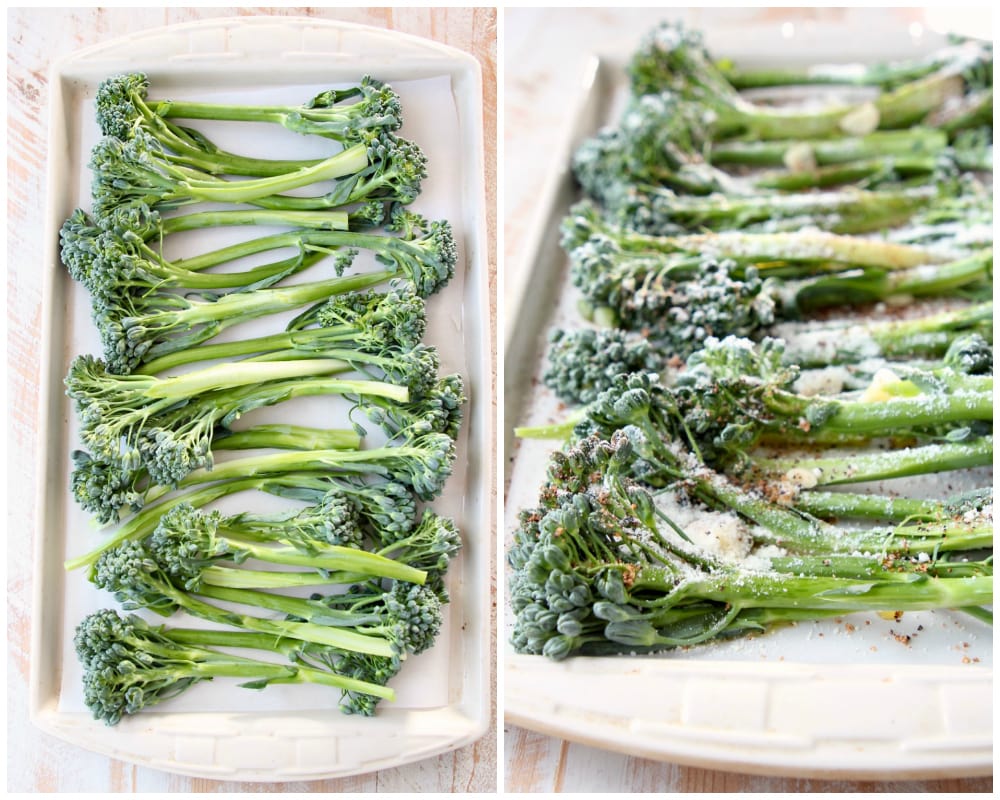 What is the difference between broccoli and broccolini?
While the taste of broccoli and broccolini is very similar, the appearance is different. Broccolini, also known as baby broccoli, has smaller florets than broccoli and longer, thin stalks.
Broccolini is a hybrid of broccoli and gai lan, which is also known as Chinese broccoli. Check out my recipe for Drunken Noodles to see a picture of the three different types of broccoli.
The stems, small florets and leaves found on broccolini are all edible and can be roasted together in this recipe. Broccolini can be found at most major grocery stores and farmers markets. If you can't find it at your grocery store, traditional broccoli can be substituted in this recipe.
Are broccolini and rapini the same?
Rapini, also known as broccoli rabe, isn't actually a member of the broccoli family. It is a member of the turnip family and has a more bitter, pungent flavor than broccolini.
Is broccolini keto?
At only 9 carbs per serving, this recipe is great for those on a low carb or keto diet. It's also gluten free and easily made vegan by omitting the parmesan cheese on top.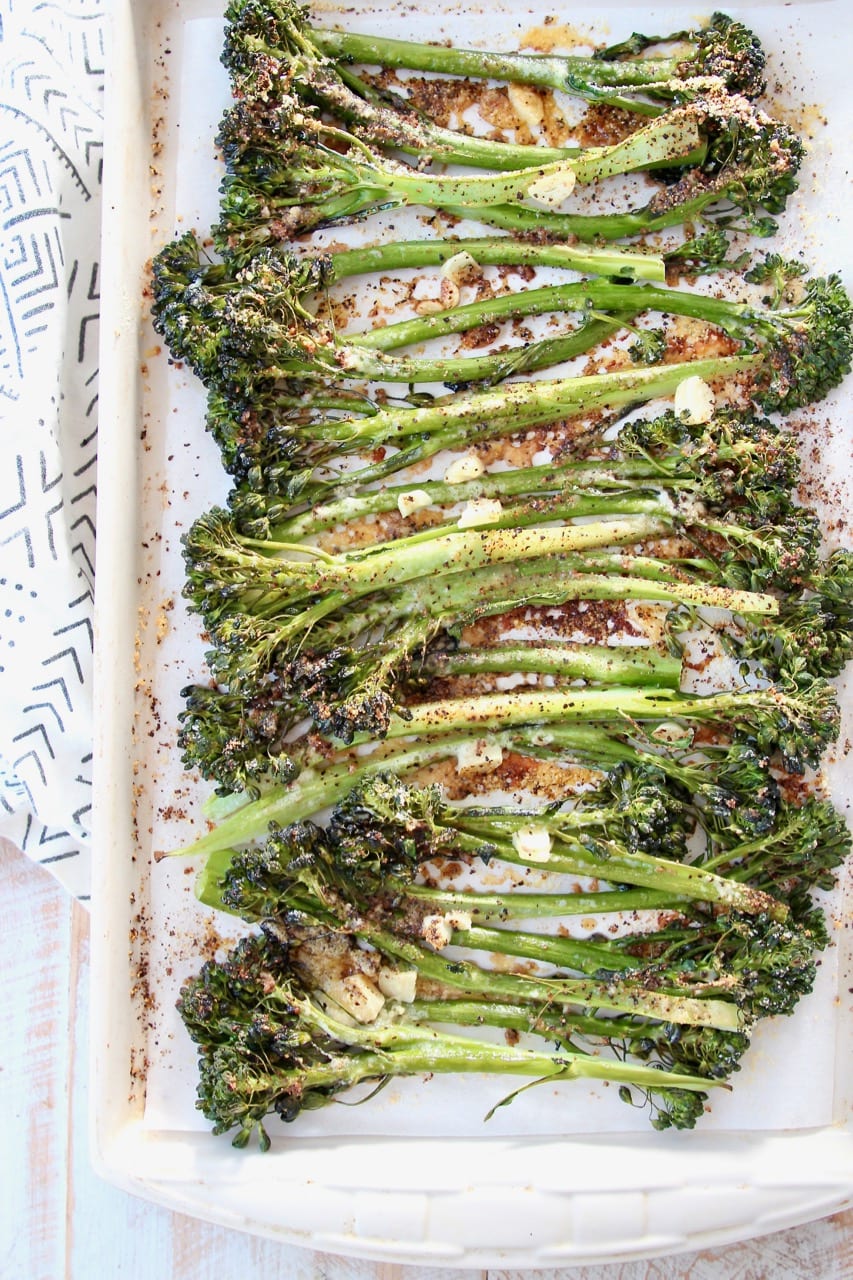 Wondering what other delicious main dishes to serve with this recipe? Try a few of our favorites!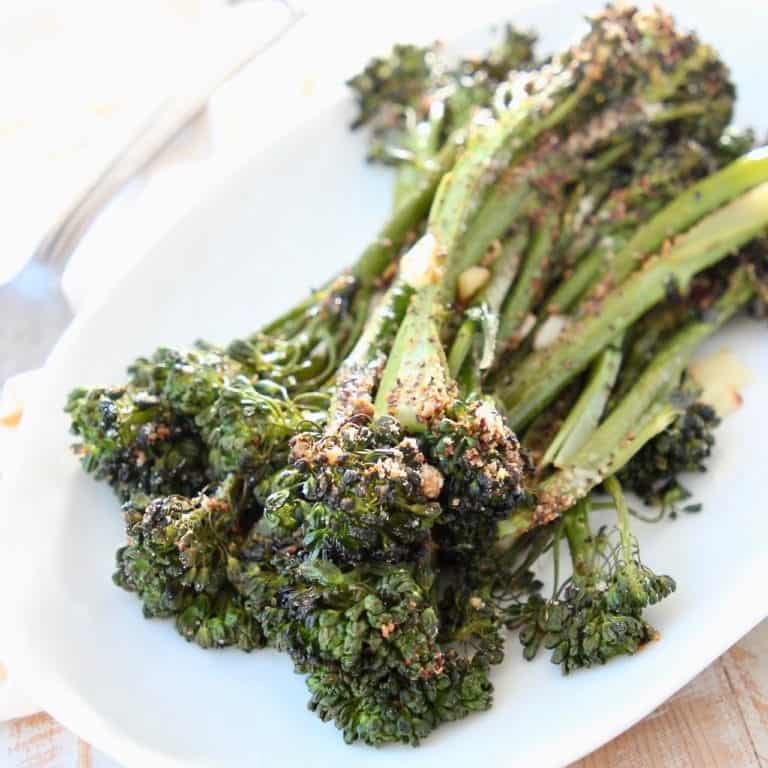 Roasted Garlic Parmesan Broccolini
The easiest, most delicious side dish recipe, Roasted Garlic Parmesan Broccolini is healthy, vegetarian, gluten free & easy to make in just 25 minutes!
Ingredients
1

lb

broccolini

4

cloves

garlic

thinly sliced

2

tbsp

olive oil

1

tbsp

steak seasoning

2

tbsp

parmesan cheese

grated
Instructions
Preheat the oven to 400°F.

Place the broccolini and garlic on a baking sheet.

Drizzle with the olive oil, then sprinkle the steak seasoning and parmesan cheese on top.

Place in the oven and roast for 20 minutes
More From WhitneyBond.com