Easy 10 Minute Broccoli Salad
This post may contain affiliate links.
What if I told you that it only takes 10 minutes to whip up THE BEST Broccoli Salad recipe ever?! That's right, this delicious broccoli salad with bacon, raisins and cashews is so easy to make and everyone at your next BBQ or party will absolutely go crazy for this recipe!
If you ever had Joan's Broccoli Madness at Sweet Tomatoes, then you're going to love this copycat recipe! For a quick and easy shortcut, I toss the salad in my favorite store bought creamy Coleslaw dressing. It's sweet, salty, crunchy and did I mention SO EASY to make!
This summer salad pairs perfectly with Smoked Brisket or Grilled BBQ Chicken for the ultimate Summer meal!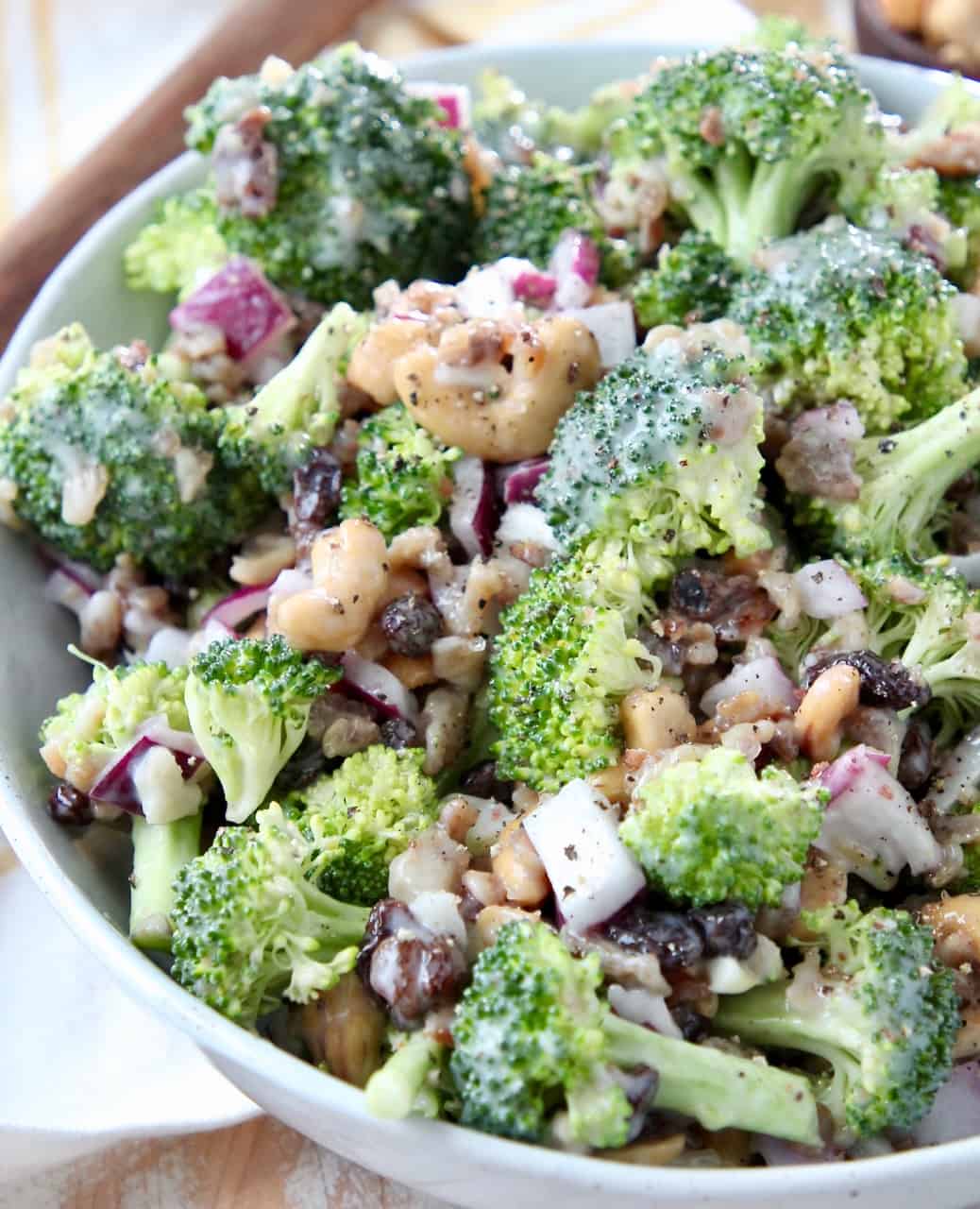 When I met Kurt, I had never been to one of his favorite restaurants, Sweet Tomatoes (or Souplantation as they were called in Southern California). If you've never been either, it was a soup and salad buffet style restaurant and they had a very famous salad called Joan's Broccoli Madness.
After my first trip to Souplantation, I could tell why it was so famous, it's seriously delicious! It actually became so famous that you can find it packaged at Costco to make at home.
After seeing it on the shelves of Costco, it gave me the idea to make it at home myself. I started making this Broccoli Salad over two years ago and somehow never shared it on the blog! I absolutely love this salad recipe and today, I'm so excited to share it with you all!
This broccoli salad is so easy to make, I whip it up almost every time we BBQ. It's the perfect side dish to go with grilled or smoked chicken, beef, pork or sausage! Even if we're not having people over, I'll make it just for Kurt and I, and we'll continue to eat it throughout the week. The leftovers are amazing!!
As a shortcut to make this salad quick and easy, I use Litehouse Coleslaw Dressing. I fell in love with this dressing 3 years ago when I used it to make Cilantro Jalapeno Slaw to top these Blackened Mahi Mahi Fish Tacos. YUM!
The dressing is easy to find in the refrigerated section of the grocery store near the produce with the other refrigerated salad dressings. I always keep some on hand in the spring and summer months, so that I can whip up this broccoli salad anytime! It's slightly sweet and when tossed with all of the broccoli salad ingredients, it tastes almost identical to Joan's Broccoli Madness at Sweet Tomatoes!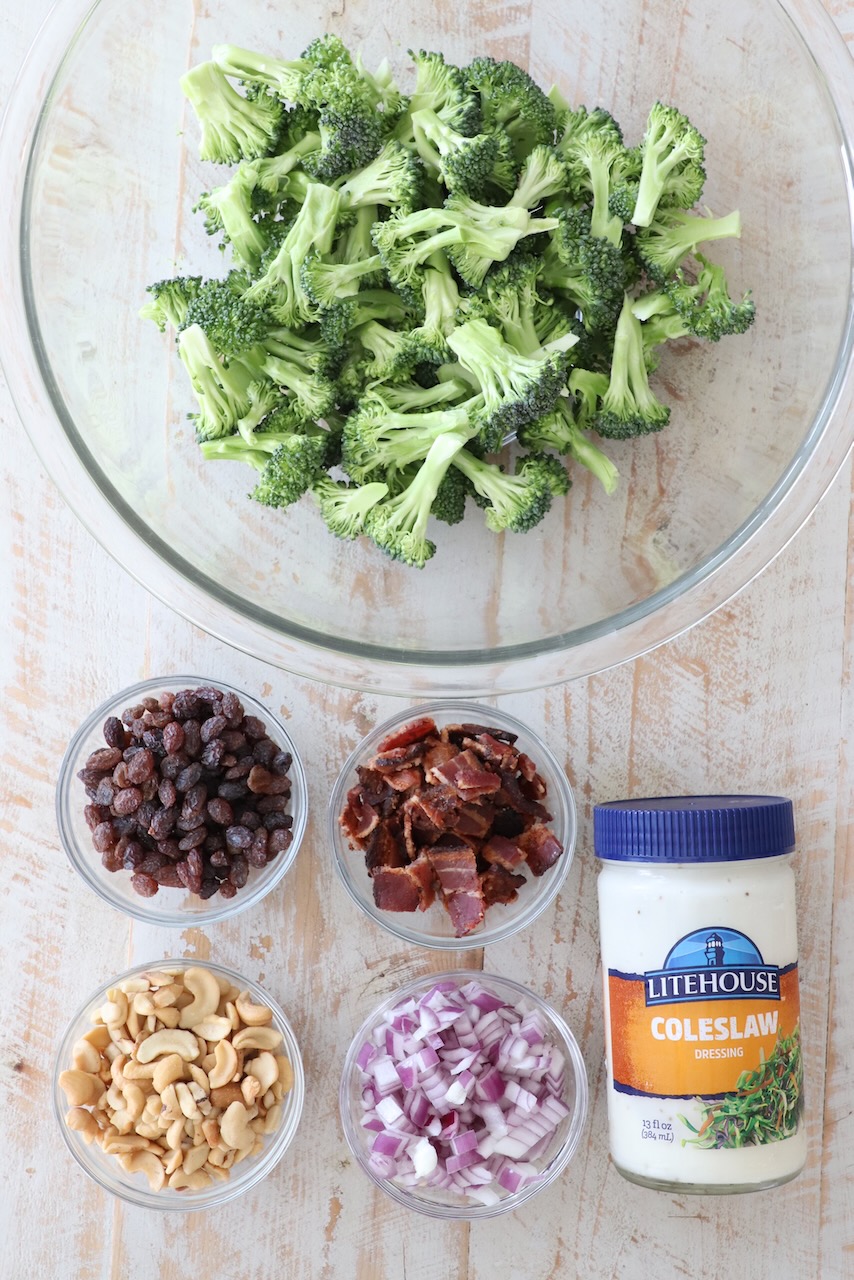 Ingredients
Fresh Broccoli – raw broccoli florets are used in this salad. No need to cook, blanch or roast the broccoli before adding it to the salad! You can purchase a head of broccoli and cut off the florets into small pieces, or purchase a bag of broccoli florets in the produce section of the grocery store.
Red Onion – white, yellow or sweet onions can also be used in place of the red onion, if that's what you have on hand!
Raisins – I use traditional seedless purple raisins in this recipe, but if you wanted to get a little fancy, you could use a combination of golden raisins and purple raisins.
Cashews – I recommend roasted, salted cashews for this recipe. You can use whole, halves or pieces.
Bacon Bits – I recommend real bacon bits for this recipe. You can either purchase real bacon bits at the grocery store, or cook up your own bacon at home, crumble it and add it to this recipe.

Note: Imitation bacon bits are made with textured soy flour and can be used to make this recipe vegetarian.

Coleslaw Dressing – as I mentioned above, I recommend using Litehouse Coleslaw Dressing. It makes this recipe come together so quickly with just 6 ingredients! And the flavor is delicious!

Note: If you'd like to make your own coleslaw dressing at home, check out my friend Sabrina's recipe over at Dinner then Dessert.
Note 2: Not a fan of coleslaw dressing? Try this Creamy Avocado Dressing instead! This creamy dressing is not only delicious, it's filled with healthy fats making it a healthier option to toss with this salad!
Step by step instructions
It only takes 2 simple steps to make THE BEST Broccoli Salad!
In a large bowl, combine broccoli florets, diced red onions, raisins, cashews and real bacon bits.
Add coleslaw dressing and toss all of the ingredients together.
Seriously, it's that simple! I recommend letting the salad sit, covered in the refrigerator, for at least 30 minutes before serving, so all of the ingredients have a chance to soak up the delicious dressing!
How much salad per person?
This broccoli salad makes 6 cups of salad. I usually plan for 1 cup per person if I'm only serving one or two sides. If I'm serving more than two side dishes, I plan for a 1/2 cup per person.
And don't worry about leftovers! If there's any left (which barely ever happens at my house!) this salad is GREAT leftover! All of the ingredients soak up the salad dressing and the flavor is almost even better the next day!
What to serve it with
More easy summer side dishes
This broccoli salad is a great recipe for your next summer BBQ! Pair it with any of the grilled or smoked meats listed above, and one or two of the sides below for a seriously delicious cookout.
Broccoli Salad
It only takes 10 minutes to whip up THE BEST Broccoli Salad ever, made with bacon, raisins and cashews! It's so easy to make & always a crowd favorite!
Instructions
Combine the broccoli, red onions, raisins, cashews and bacon bits in a large bowl.

Add the coleslaw dressing and toss to combine.

Serve immediately or store in the refrigerator until ready to serve.
Notes
To make this recipe vegetarian, use imitation bacon bits.
This recipe is gluten free. Always make sure the salad dressing used is gluten free, the dressing linked to above is gluten free.
Leftover broccoli salad can be stored, covered in the refrigerator, for up to 5 days.
Nutrition Facts
Calories
242
kcal
(12%)
Carbohydrates
23
g
(8%)
Protein
8
g
(16%)
Fat
14
g
(22%)
Saturated Fat
3
g
(15%)
Cholesterol
12
mg
(4%)
Sodium
386
mg
(16%)
Potassium
410
mg
(12%)
Fiber
5
g
(20%)
Sugar
6
g
(7%)
Vitamin A
391
mg
(8%)
Vitamin C
56
mg
(68%)
Calcium
62
mg
(6%)
Iron
2
mg
(11%)
We are a participant in the Amazon Services LLC Associates Program, an affiliate advertising program designed to provide a means for sites to earn advertising fees by advertising and linking to amazon.com.