One of the easiest and MOST DELICIOUS dinners you'll make, fresh grilled salmon topped with a flavorful chimichurri sauce. It's healthy, gluten free & made in just 20 minutes!
Pair this chimichurri salmon with roasted garlic broccolini and cilantro lime cauliflower rice to create a gluten free & low carb meal.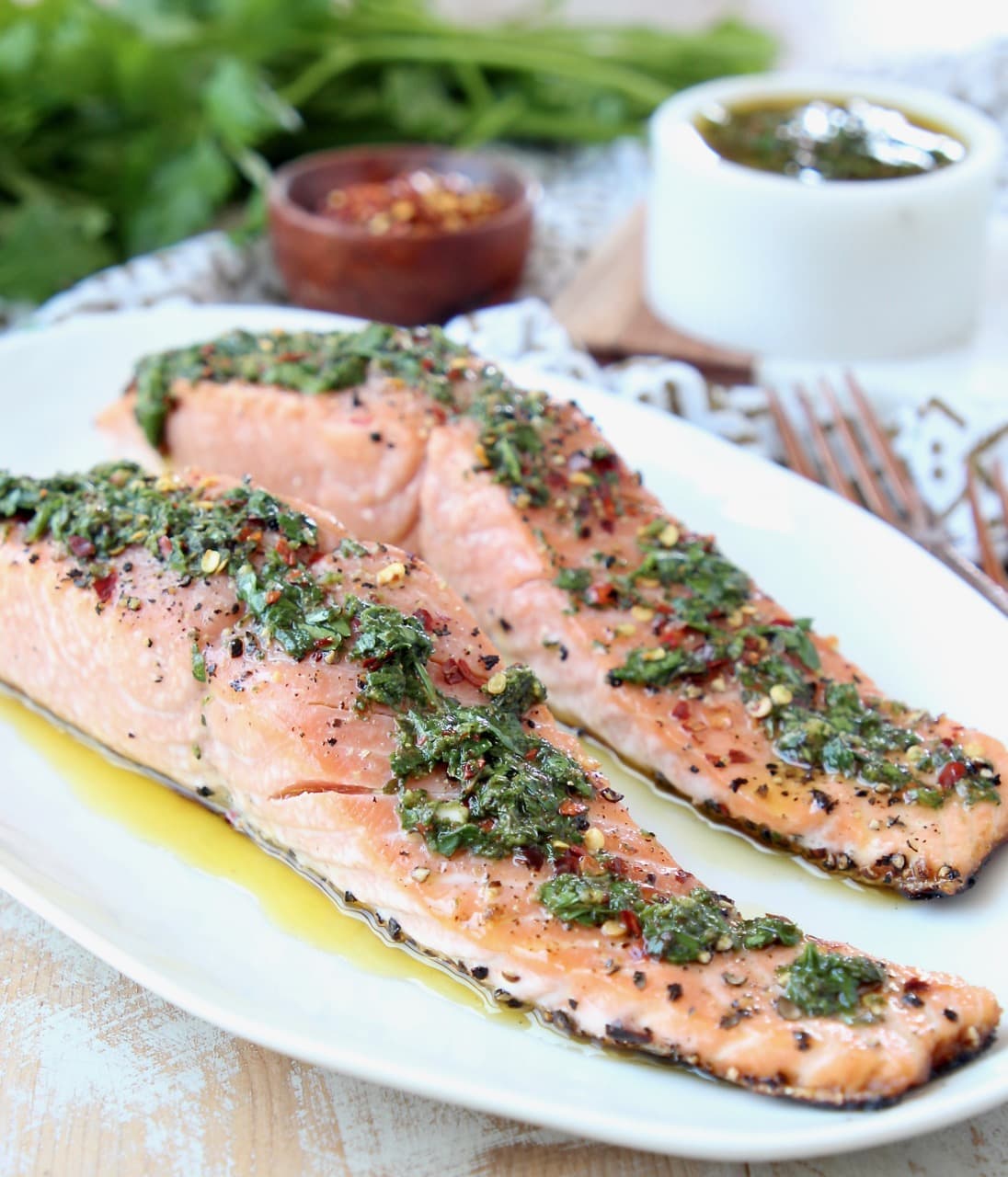 Today's post is sponsored by Vons and Santa Monica Seafood.
A couple of weeks ago, I joined my friends at Vons to visit Santa Monica Seafood in Costa Mesa, California. We sampled local wild caught Troll King Salmon from Morro Bay, California.
While wild king salmon isn't available year-round, when you can get it, you should! It has a delicious flavor and is given a "best choice" sustainability rating.  It's also loaded with Omega 3's, those wonderful healthy fats that your body needs. Good for you and good for the environment, this salmon is a win-win!
I brought some of this scrumptious King Salmon home with me, lightly seasoned it and tossed it on the grill. I love to grill salmon on foil for easy clean-up and no worries about the fish sticking to the grill. As soon as I removed the salmon from the grill, I spooned my favorite 5 minute Chimichurri Sauce right on top.
This grilled salmon recipe is quick and easy to prepare with minimal ingredients. I prepared it this way to let the flavor of the fish shine through! This is a great recipe for busy weeknights when you're looking for a fast and fresh meal to make in under 30 minutes.