Tomato Basil Gnocchi Soup
This post may contain affiliate links.
You're going to love this super easy Tomato Basil Gnocchi Soup recipe! It's vegetarian, flavorful and made in just 15 minutes!
Serve it with a crispy baguette for dipping into the soup! Add a Quinoa Caprese Salad for a scrumptious soup & salad combo!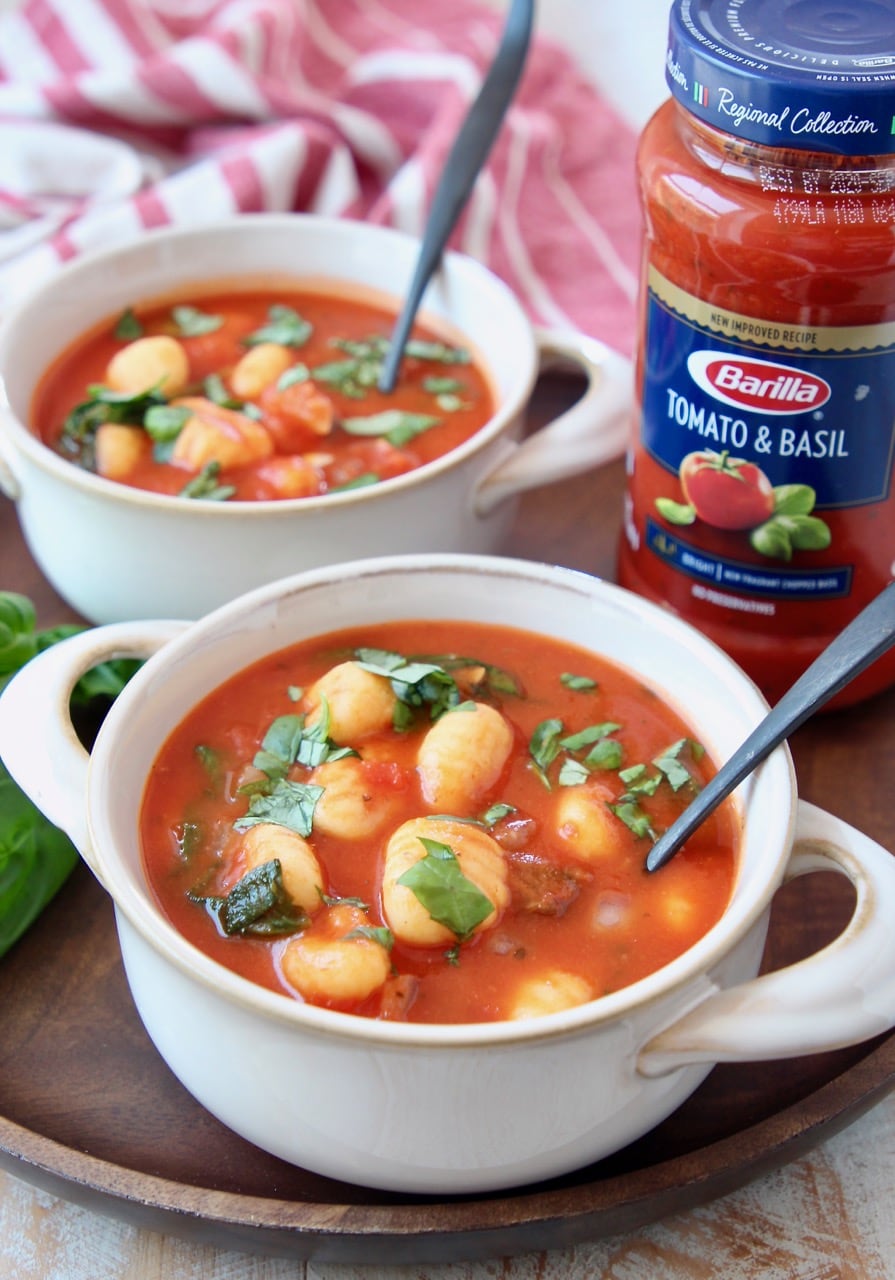 This post has been sponsored by Barilla America, Inc. All thoughts and opinions are my own.
Gnocchi is a delicious cross between pasta and a dumpling. It's soft, comforting and the perfect addition to a warm bowl of tomato basil soup!
To bring the flavor to this easy recipe, I headed to my local Vons and picked up a jar of Barilla Tomato & Basil sauce. The flavor and texture of the sauce is inspired by the Countryside region of Italy.
The sauce starts with vine-ripened tomatoes that are then combined with aromatic herbs and extra virgin olive oil. Since the sauce is already perfectly seasoned, it limits the amount of ingredients needed in this recipe.
In fact, you only need 8 ingredients to make this recipe! And it's easy to make it your own!
Want to add a few more veggies? Go ahead and toss in bell peppers, carrots or zucchini. Want to spice it up a bit? Add some red pepper flakes!
Looking for a gluten-free gnocchi soup recipe? Use cauliflower gnocchi instead of traditional gnocchi!
I love shopping at my local Vons because they have everything I need to make fresh, flavorful meals at home. I picked up everything I needed for this recipe in just a couple of aisles. The Barilla sauce was easy to find in the pasta aisle. Right now it's 2 jars for $5 making the whole trip an even bigger win!
I found the refrigerated gnocchi I used to make this recipe near the deli counter. Dry gnocchi can be used in this recipe and is found in the pasta aisle near the Barilla sauce. Refrigerated, frozen, or dry gnocchi will all work for this recipe—cook times will just vary slightly.
This recipe is flavorful, fun and a delicious dinner that the entire family will love! Click HERE to learn more about all of the Barilla premium sauce flavors!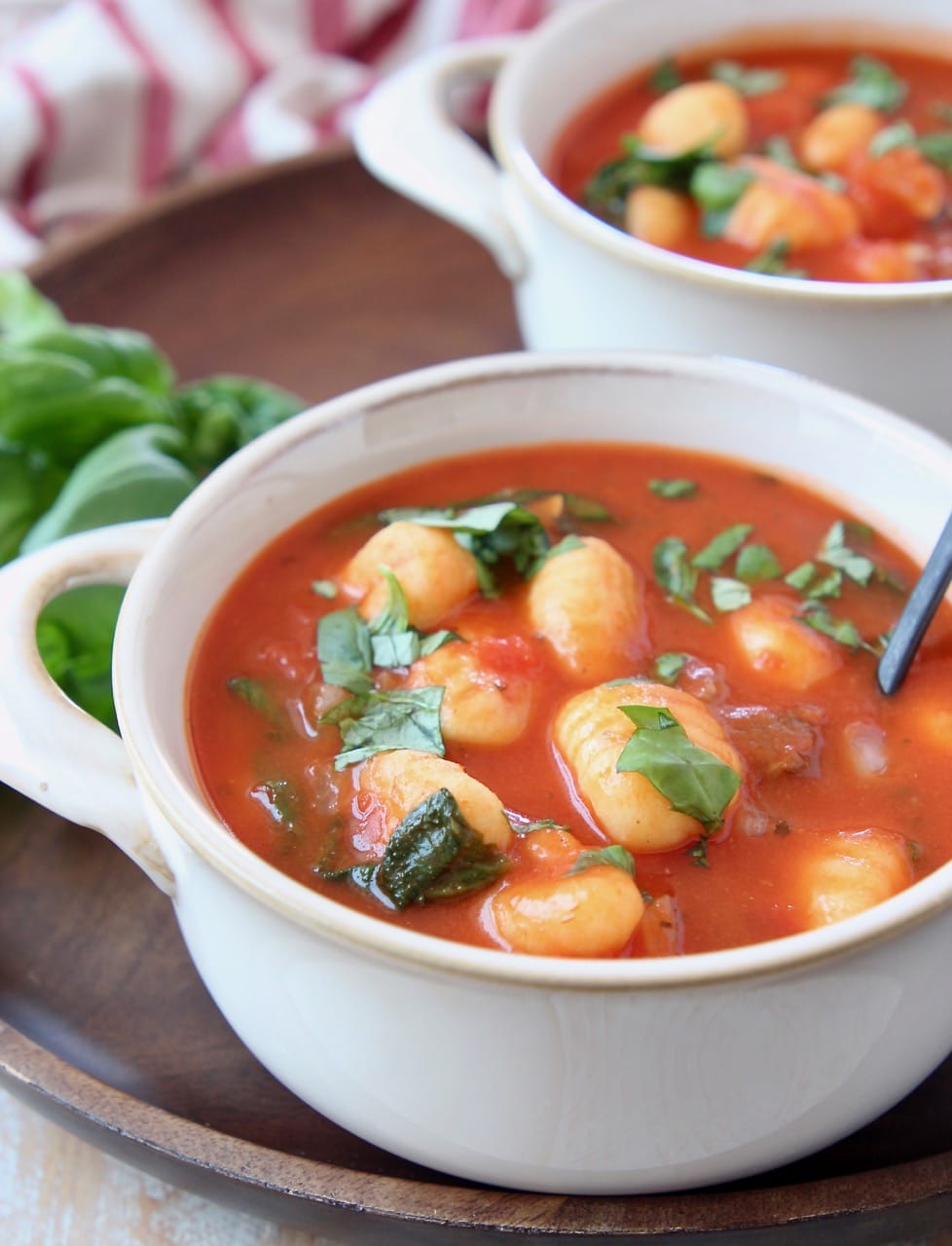 How to make Gnocchi Soup
Saute veggies. Heat olive oil in a large pot or dutch oven over medium high heat. Add onions, garlic and spinach. Sauté for 5 minutes.

Quick Tip! Additional veggies, such as

diced zucchini, bell peppers or carrots, can also be added and sautéed at the same time.

Prepare the soup. Add a jar of Barilla Tomato & Basil sauce to the pot with vegetable broth. (Chicken broth can be used if you're not vegetarian.) Bring to a simmer, then add potato gnocchi and continue to simmer for 2-3 minutes. Remove one piece of gnocchi after two minutes to check if it's tender and cooked through.
Serve the soup. Use a large ladle to transfer the soup to bowls. Top with fresh chopped basil and serve immediately.

Quick Tip! Crushed red pepper flakes can also be added on top to spice up the soup!
What are gnocchi made of?
Gnocchi are Italian dumplings, traditionally made with flour and potatoes. They can also be made with mashed cauliflower instead of potatoes and various gluten-free flours to make gluten-free gnocchi.
Cooking gnocchi is as easy as boiling it for 2-3 minutes in water. For this soup recipe, we're cooking it right in the soup!
Can you make gluten free gnocchi soup?
Yes, you can make Gluten-Free Gnocchi Soup when gluten-free gnocchi is used in this recipe. The other ingredients in the recipe are already gluten free. Check out your local Vons for refrigerated or frozen gluten-free gnocchi options.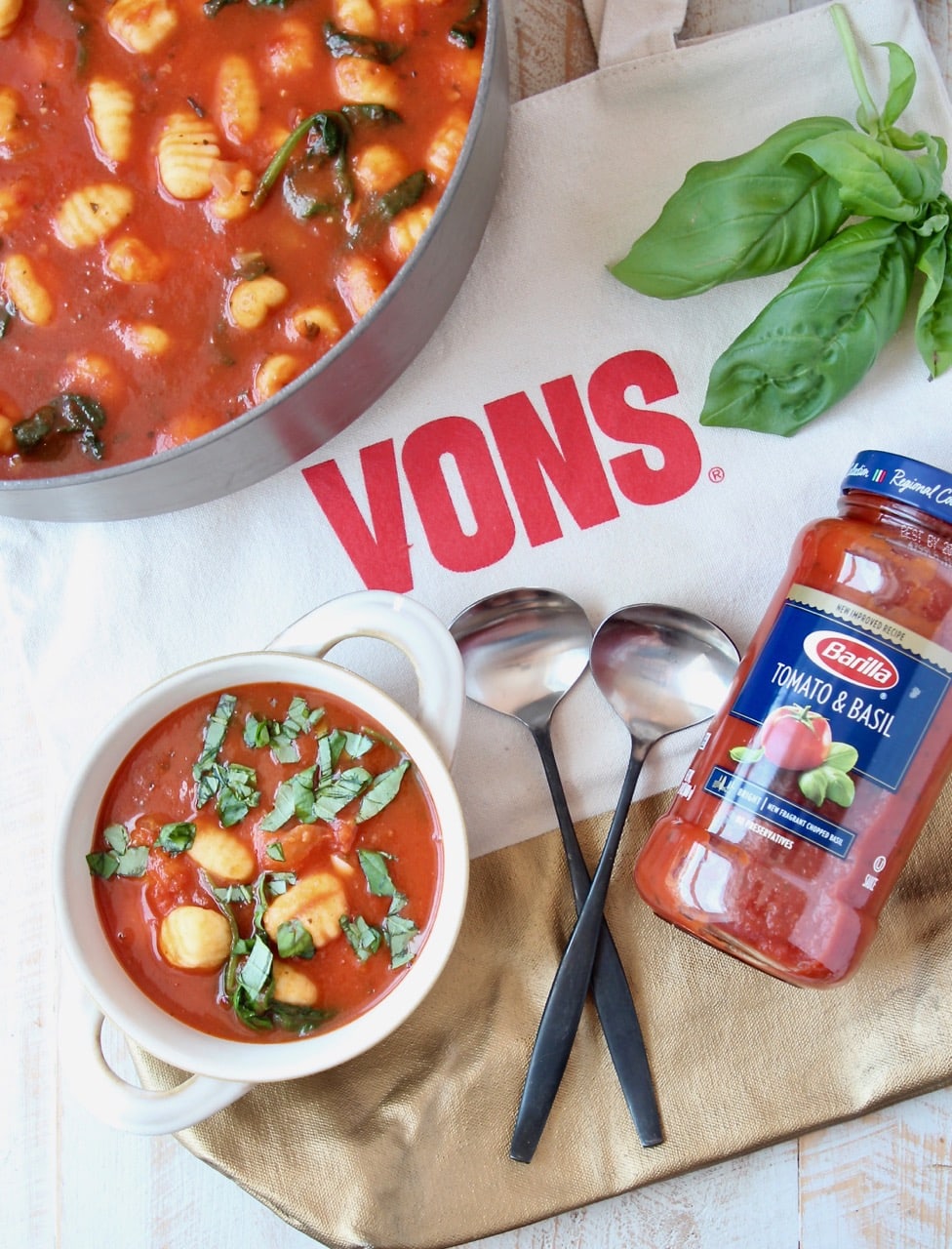 Be sure to pick up a jar of the NEW Barilla Tomato & Basil Sauce at your local Vons grocery store. They're currently 2 for $5! All of Barilla's New Premium Sauce's are non-GMO project verified and contain no preservatives! You'll love the quality, taste and texture of these delicious new sauces.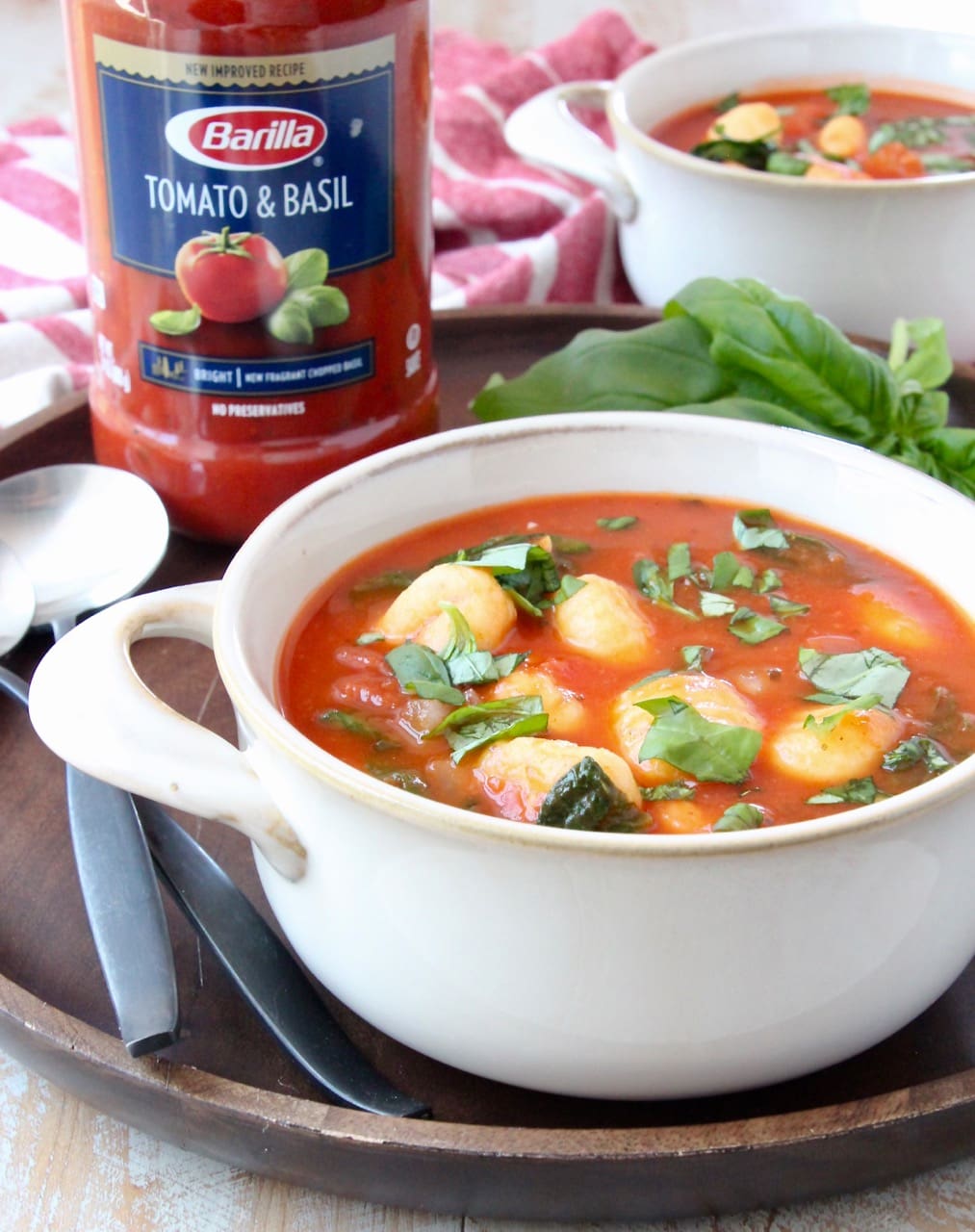 For more scrumptious soup ideas, check out these 5 recipes!
Tomato Basil Gnocchi Soup
You're going to love this super easy Tomato Basil Gnocchi Soup recipe! It's vegetarian, flavorful and made in just 15 minutes!
Instructions
Add the olive oil to a large pot on the stove over medium high heat.

Add the onions, garlic and spinach. Saute for 5 minutes.

Add the Barilla Tomato Basil Sauce and vegetable broth, bring to a simmer.

Add the refrigerated gnocchi, cook 2-3 minutes.

Remove from the heat and serve topped with fresh basil.
Notes
Gnocchi: I recommend using fresh, refrigerated gnocchi in this recipe, but frozen gnocchi or dried gnocchi can also be used. If using dried or frozen gnocchi, add 1-2 minutes to the cook time in the soup. Test one piece of gnocchi after 2-3 minutes to make sure it's soft and cooked through.
Gluten free: To make this soup gluten free, use fresh, frozen or dried gluten-free gnocchi. The other ingredients in the soup are gluten free.
Nutrition Facts
Calories
456
kcal
(23%)
Carbohydrates
84
g
(28%)
Protein
11
g
(22%)
Fat
9
g
(14%)
Saturated Fat
2
g
(10%)
Sodium
1946
mg
(81%)
Potassium
750
mg
(21%)
Fiber
10
g
(40%)
Sugar
15
g
(17%)
Vitamin A
4279
mg
(86%)
Vitamin C
19
mg
(23%)
Calcium
127
mg
(13%)
Iron
8
mg
(44%)
We are a participant in the Amazon Services LLC Associates Program, an affiliate advertising program designed to provide a means for sites to earn advertising fees by advertising and linking to amazon.com.