Chicken and Sweet Corn Tamales with Green Chili Avocado Salsa
This post may contain affiliate links.
These homemade tamales are filled with a sweet corn masa mixture and shredded chicken for a deliciously authentic and gluten free Mexican dinner recipe!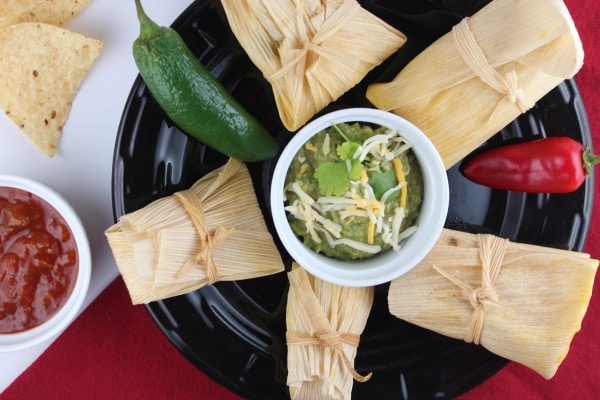 After having the best sweet corn tamales of my life in Malibu last week, I was inspired to make my own. Let me start by giving you two bits of advice people:
There's a reason making tamales is a family event.
There's a reason they sell packaged tamale corn husks.
For these two reasons, my tamales took about 5 hours to make the first time I prepared them!
I attempted to use the corn husks from actual ears of corn and they are far too small. Therefore I ended up making 60 baby tamales instead of 12 normal size tamales!
Since each tamale must be filled, wrapped and tied, the time to make 60 vs 12, no matter the size, makes a huge difference! On the upside I filled each with a different assortment of ingredients so they were kind of like the fortune cookie of tamales, you opened each one not knowing what you were going to get!
Round two of making tamales: I've since wised up and purchased large tamale corn husks at the grocery store!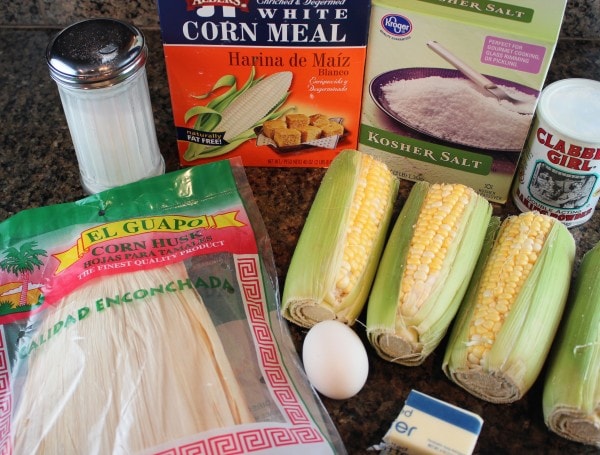 Ingredients (serves 6)
6 ears of corn (app 6 cups kernels)
2 cups harina de maiz
1/2 cup lukewarm water
2 tbsp sugar
1 tsp baking powder
1/2 tsp salt
4 oz unsalted butter (softened)
1 egg
"Optionally Awesome" Filling Ingredients: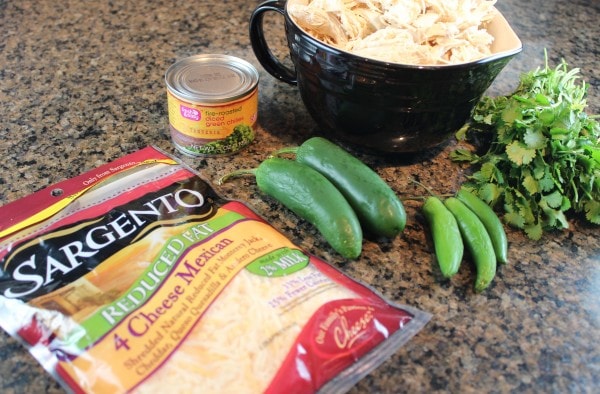 Cooked Chicken Breasts (Shredded)
Jalapeños (diced)
Serrano chili peppers (diced)
Mexican cheeses (shredded)
Diced green chilies
Fresh Cilantro
Begin the recipe by deconstructing the ears of corn. If you are not able to find packaged corn husks in the grocery store or you want to use the actual corn husk to construct the tamales, carefully remove the husks from the corn ears and reserve. If not, just rip those puppies off and get to the kernels!
Next, begin removing the kernels from the ears of corn. Use a sharp knife and they should slice right off the cob. Reserve the cobs for a cool little trick I learned from the Cooking Channel.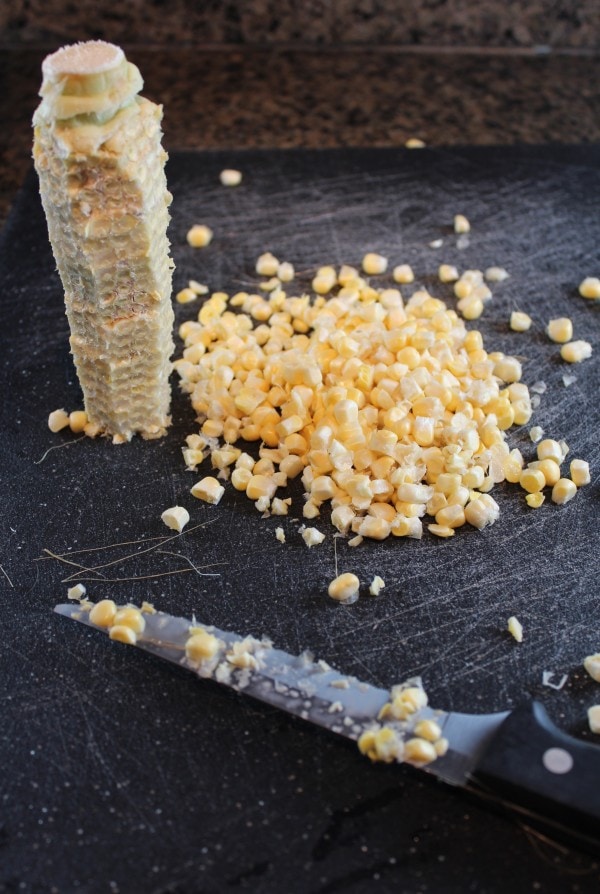 Next, add the corn kernels to a blender or food processor.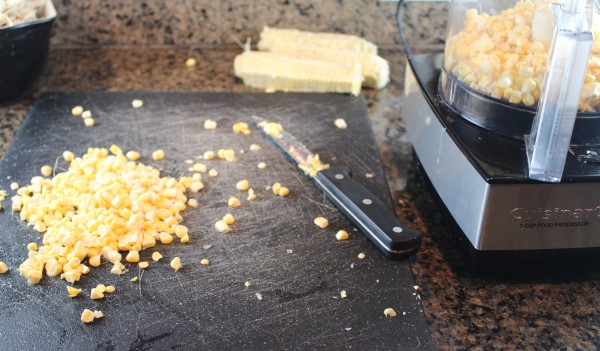 Blend until creamy.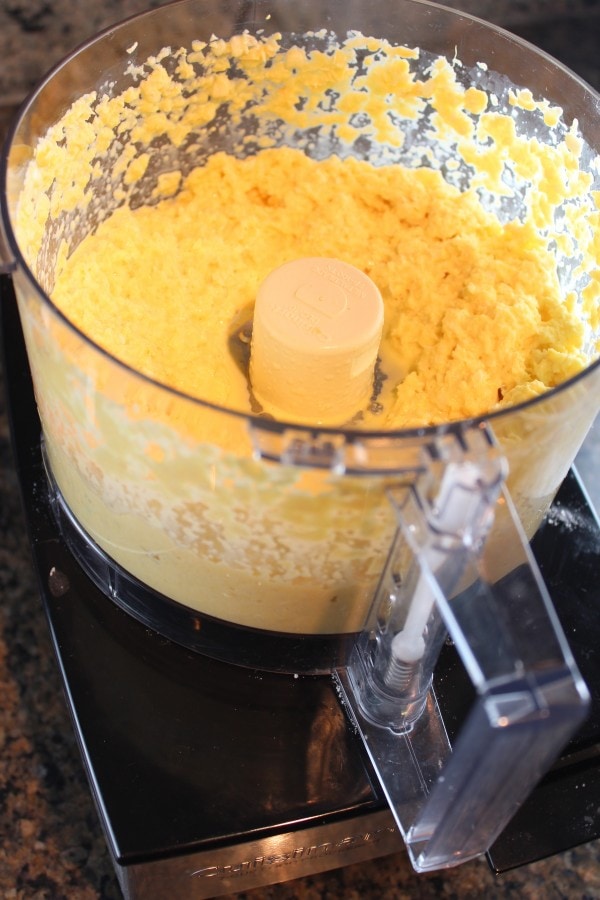 Begin soaking the corn husks so they'll be ready to fill. A little 10 minute bath should do the trick!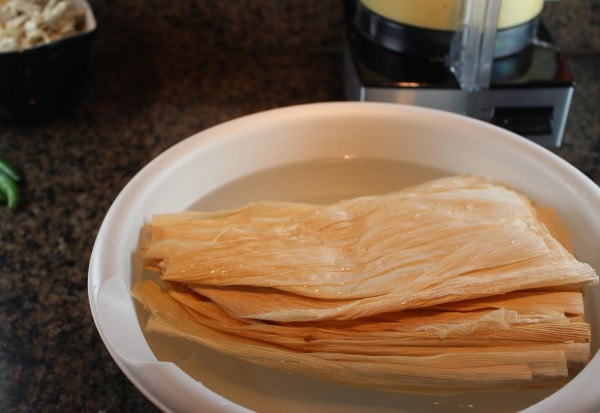 While the husks are soaking prepare the corn masa mixture.
Using an electric hand mixer, blend together the harina de maize, water, sugar, salt, baking powder, egg and butter in a large mixing bowl.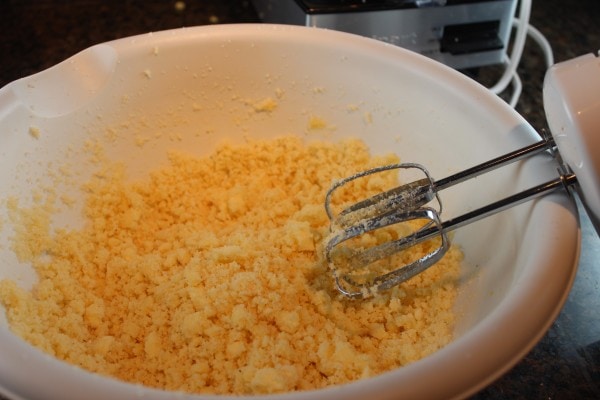 Hand mix in the blended corn kernels.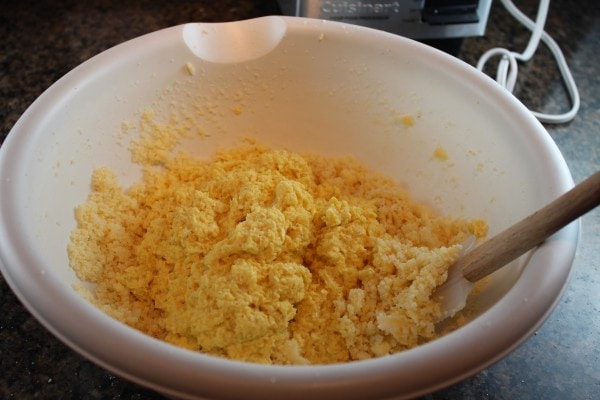 Now for my fun Cooking Channel trick. Start with a large pot (I used my dutch oven) and if you are like me and you don't have a steam basket that fits, use the trick of lining the bottom of the pot with corn ears.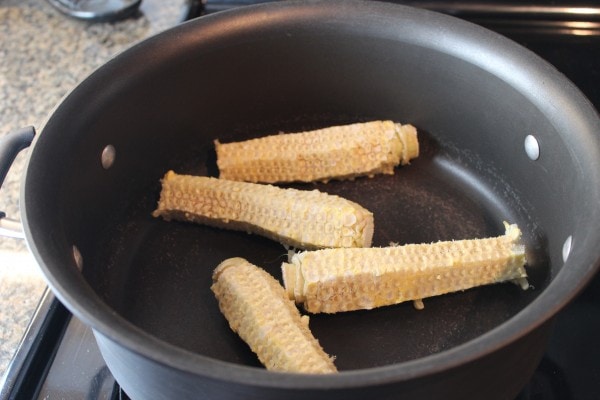 Next, fill the bottom of the pot with about 1-2 inches of water, then place a small steam basket on top of the cobs to make sure that the tamales do not touch the water.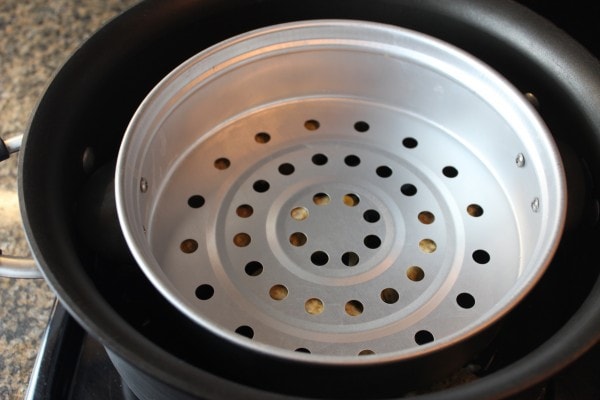 Turn the stove on and bring the water to a boil. Now all that's left to do is put these tamales together!
I constructed a tamale making station on my counter top with my accouterment of different filling ingredients.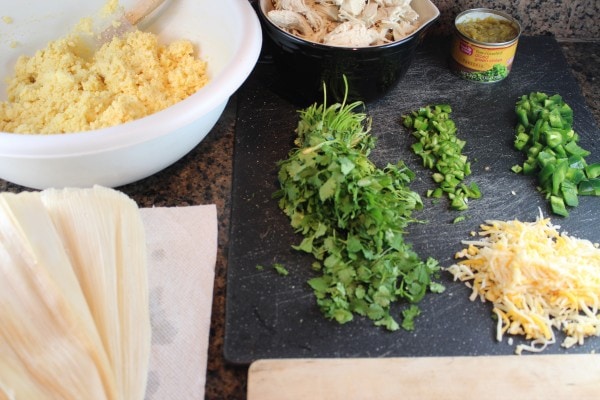 Start assembling the tamales by opening a corn husk and filling with the sweet corn mixture, then add some of those "optionally awesome fillings". The little guy got some shredded chicken and diced green chilies, Yum!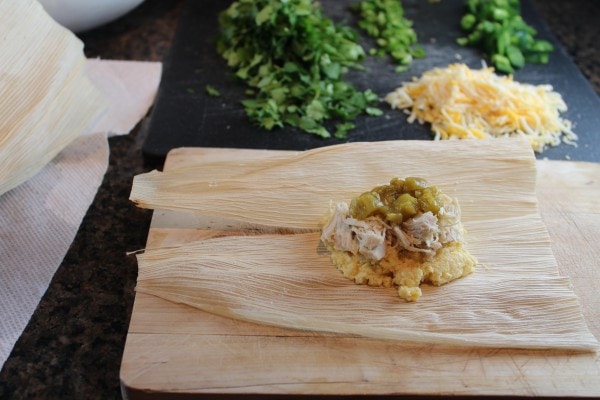 Then, fold one side of the tamale over the mixture.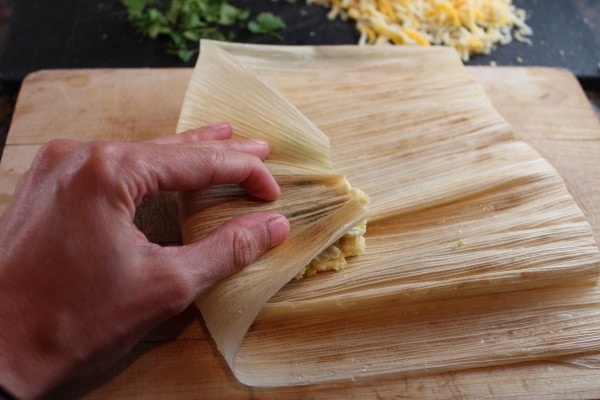 Then the other side…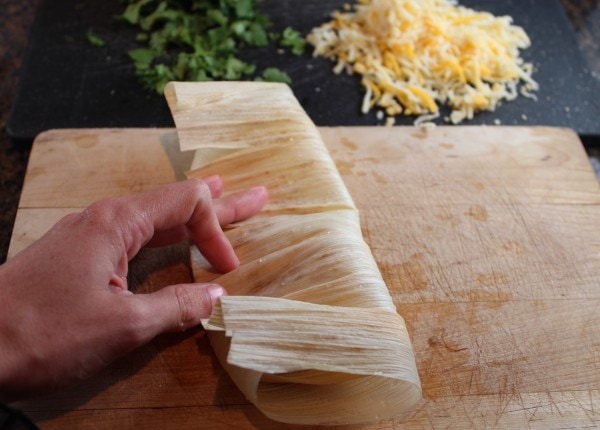 Then fold the other two sides over the middle…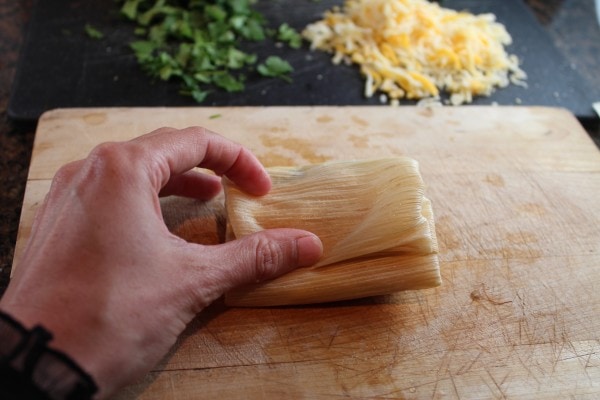 Now it's time to do a little gift wrapping of deliciousness!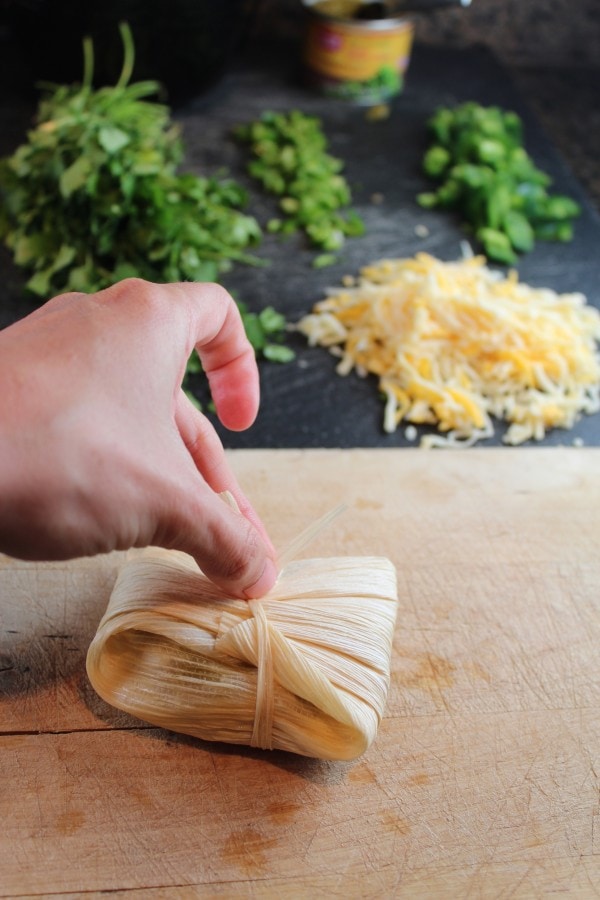 After all of the tamales are assembled, place them standing up in the steamer basket or atop the corn ears, just make sure they do not touch the boiling water.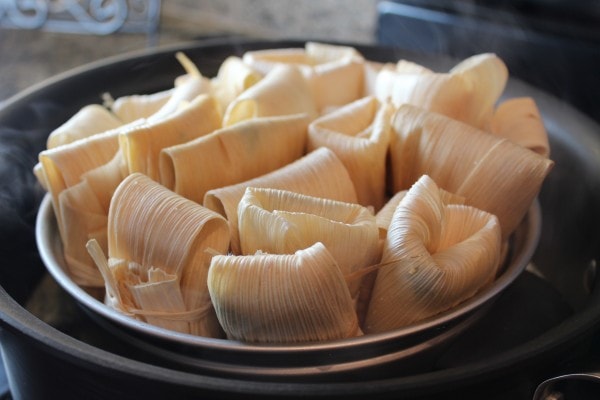 Now cover and allow to steam for 45 minutes. Remove one tamale from the steamer after 45 minutes, if the filling is firm and pulls away easily from the husk then they are ready to be gobbled up!
If not, steam for an additional 10-15 minutes. Be sure to check the water level every 10-15 minutes and re-fill if necessary.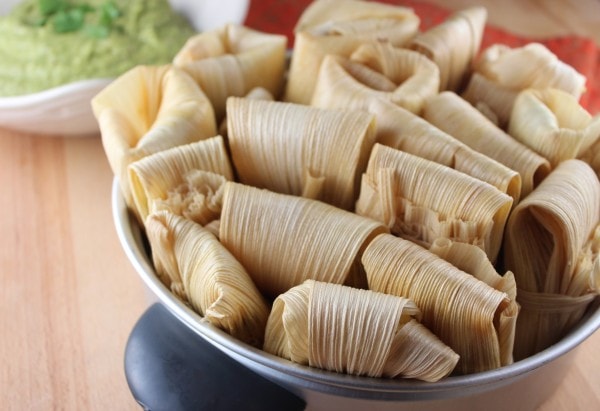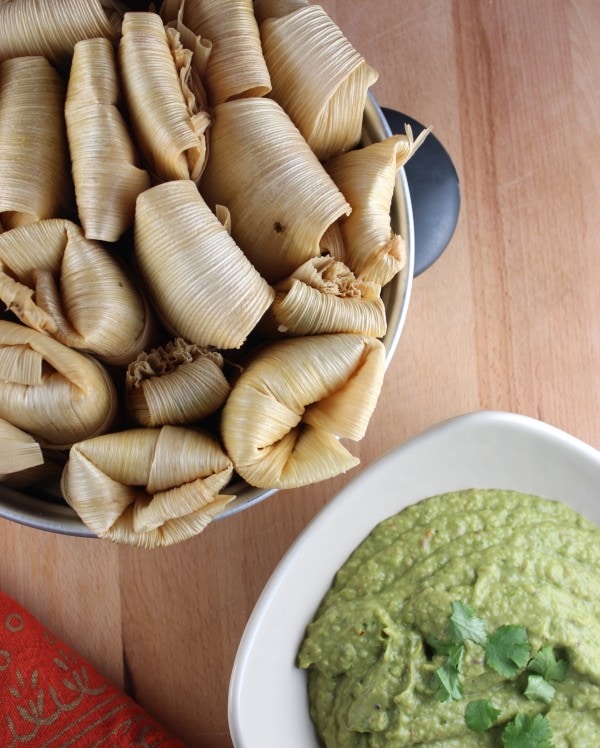 While the tamales were steaming I prepared the Green Chili Avocado Salsa, then served the delicious dinner with chips and salsa, Chili Lime Garlic Grilled Shrimp and White Peach Sangria!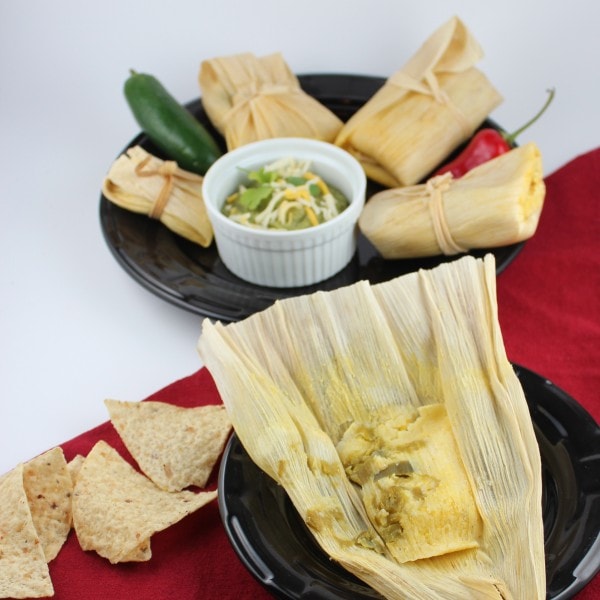 Mmmm look at that plate of scrumptious tamales! In the words of Forest Gump "Life is like a box of tamales, you never know what you're gonna get!" Ok, so maybe that was not the exact quote, but close enough!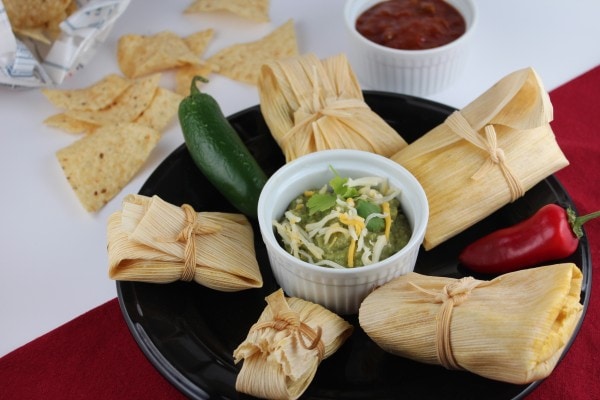 I prepared half of the tamales with chicken and half with a combination of chilies and peppers for my guest who was a vegetarian!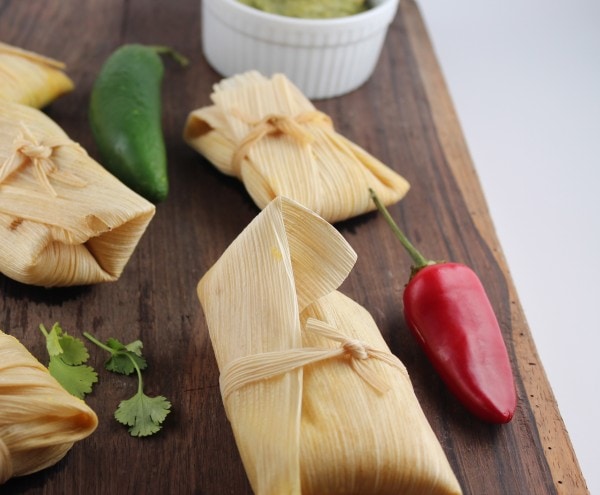 Both versions were delectably awesome!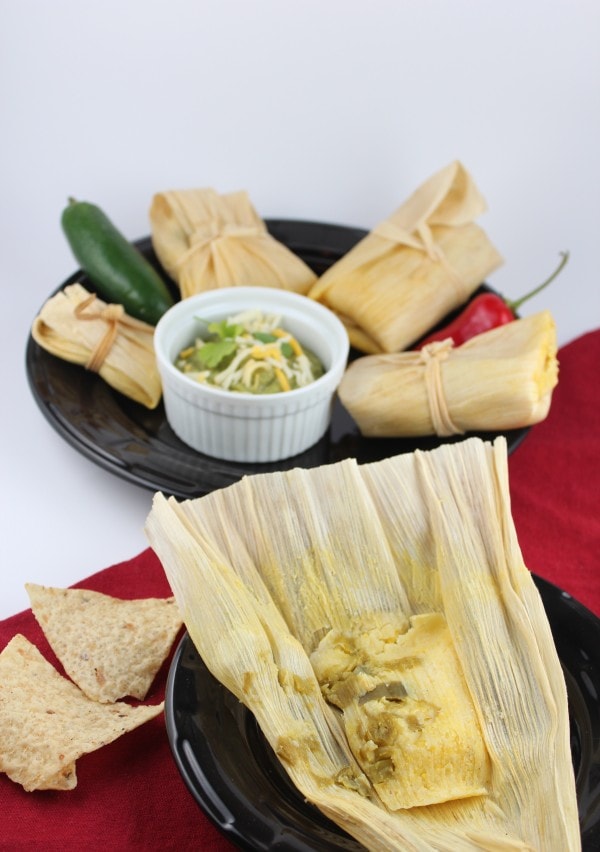 The harina de maiz is corn based, therefore gluten-free!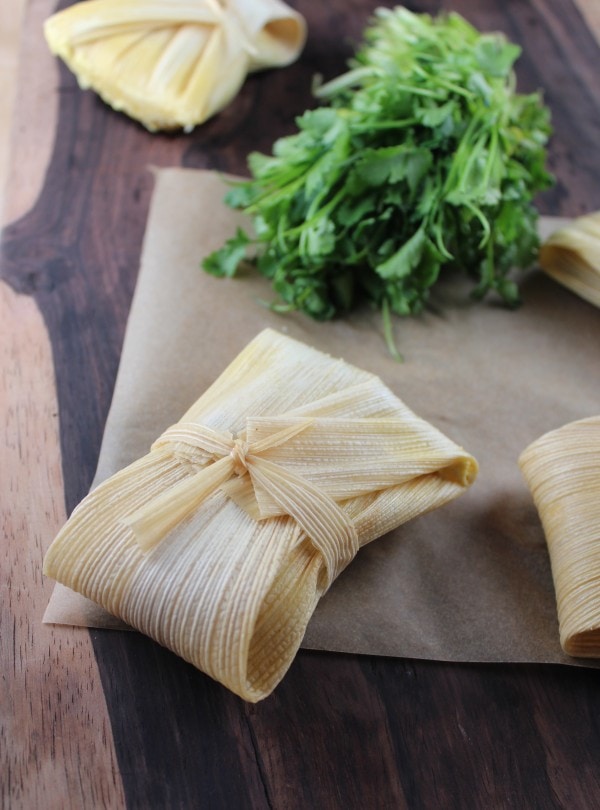 We are a participant in the Amazon Services LLC Associates Program, an affiliate advertising program designed to provide a means for sites to earn advertising fees by advertising and linking to amazon.com.